I'm saddened there are those who believe differences in opinion is best left unexpressed at all. With that said, it gratifies me to hear confirmation that there are plenty of folks who enjoy the exercise in constructive debate within an atmosphere spanning the gamut of differing perceptions. Up until now I've enjoyed parts of Missing You enough to warrant the continuing recapping, especially since I actually have quite a lot to say about why certain parts work while others are just inconsistent or falling flat. I usually drop dramas when it bores me, and up until now MY hasn't bored me. The last episode was the first one where I felt like the drama didn't make much headway and was just treading water, but this episode was a read dud through and through. Unless something drastic happens to the narrative (and the writer's ability to write a cohesive tightly wound story) this drama is sinking fast in all facets of its main plot lines.
Yes, the ending to episode 12 dropped a not insignificant reveal, but once again it feels so forced and laughably absurd I wanted to laugh instead of gasping in shock. If anyone wants a clue, MY just went Old Boy on us. Not all of Old Boy, because jesus that would give the viewers a collective stroke and Korea would run out of smelling salts for the ahjummas. It just went the way of the first section of Old Boy, which in the construct of this drama seems both wholly implausible as well as totally in line with the degree of implausibility the writer has been producing one after another. Surprised the cleaning ahjumma had a raped and dead daughter and she's now gone vigilante, well don't be surprised with more mommy-related surprises forthcoming. This episode focused a lot on Hyung Joon, which made me happy even as I cringed at his posturing when he's in his mastermind lair. With this drama almost 2/3rd of the way done, all the heaped on emotional woe has gone the way of soggy toast.
Episode 12 recap: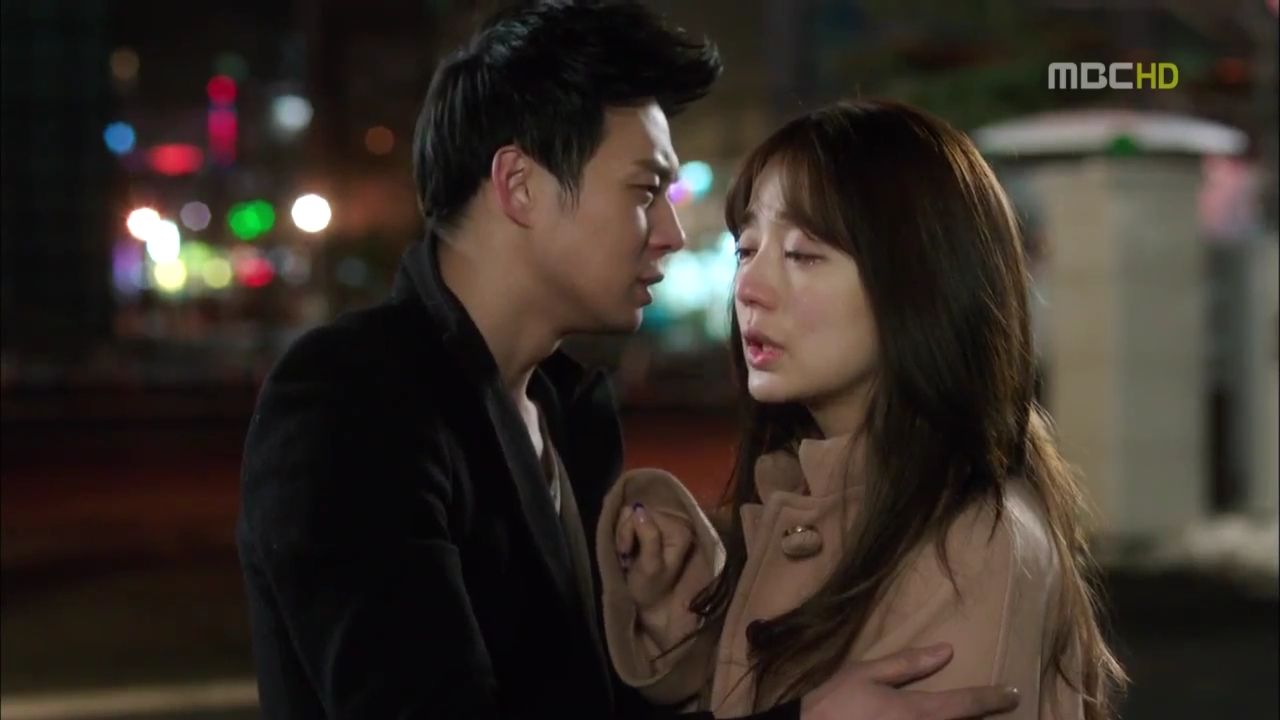 Jung Woo hugs Soo Yeon and then releases her when he remembers Mom saying she hates being Soo Yeon. He tells her to turn and leave.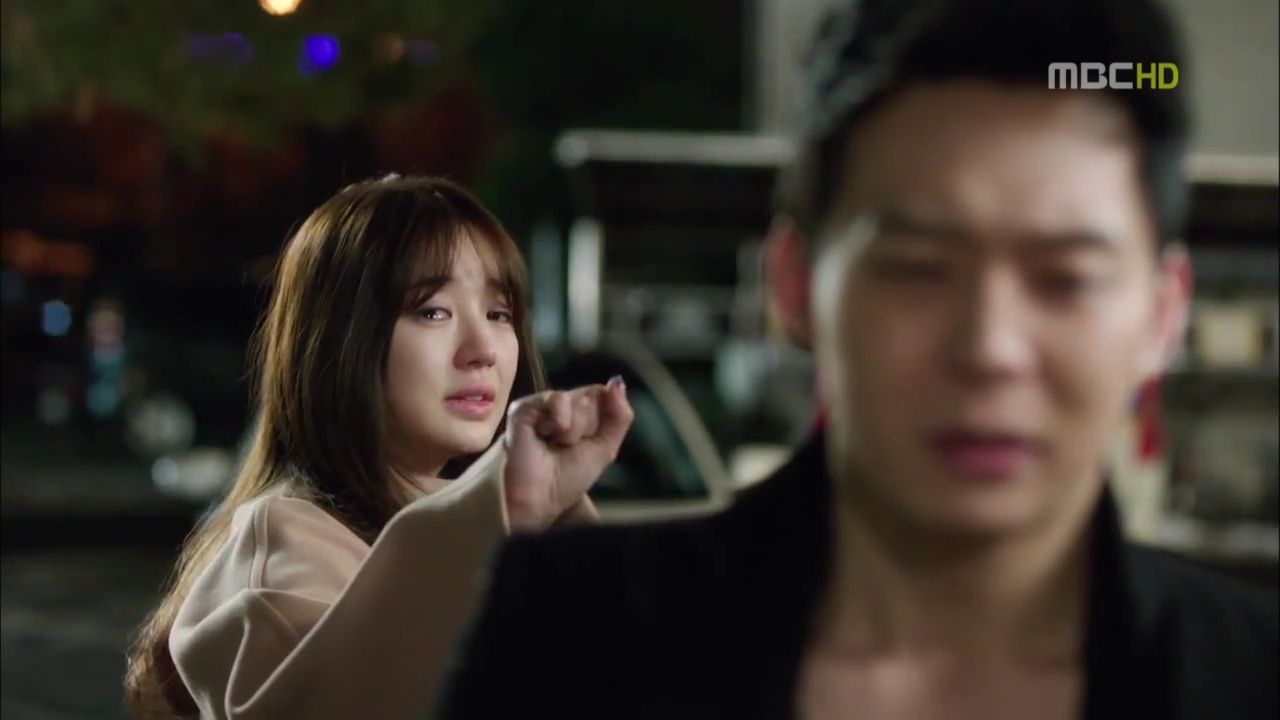 Soo Yeon turns back and does the memory erasing gesture behind his back, knowing he's been living in pain and wanting to take away his bad memories. He turns around and is crying, telling himself that these are not tears, he just has wind in his eyes.
Soo Yeon cries as she drives home. Jung Woo stands there for a good long while before walking into the police station and asking to take over the interrogation. He walks into the room and the cleaning ahjumma calls him son-in-law. He's all business and asks her why she killed the rapist.
Soo Yeon wipes away her residual tears in the elevator and composes herself. When she walks into the house it's all oddly silent. She walks into Hyung Joon's room and finds him curled under the blanket seemingly asleep.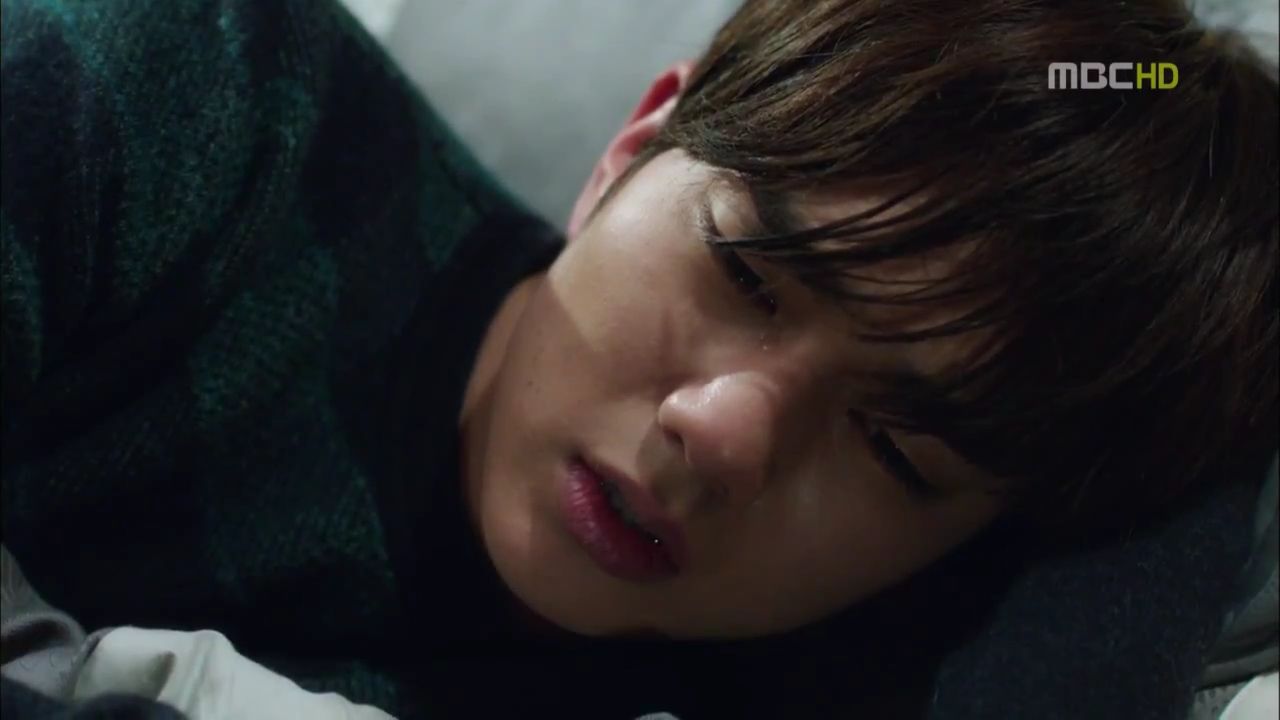 Soo Yeon walks over and sits down, hearing that he's not feeling well. She touches his forehead and is alarmed that he's feverish. She grabs the thermometer and sees that his temperature is at 40 degrees C and wants to take him to the doctor. Hyung Joon mutters that he's been to the doctor and taken medicine already.
Hyung Joon says he went to the pojanmacha and drank by himself. His heart hurts and he wants to just sleep it all away. He asks her to do the memory erasing gesture for him and she hesitates before admitting it's not her gesture, she learned it from someone else.
Hyung Joon starts to cry and Soo Yeon apologizes. Hyung Joon grabs Soo Yeon's hand and says he's also scared to pieces that she wasn't coming back. Soo Yeon calls him silly, where could she possibly go. He gets up and grabs her waist and starts to sob. Soo Yeon tells him not to cry in his condition. He holds her tightly and asks her not to go anywhere. Soo Yeon doesn't answer directly but holds him.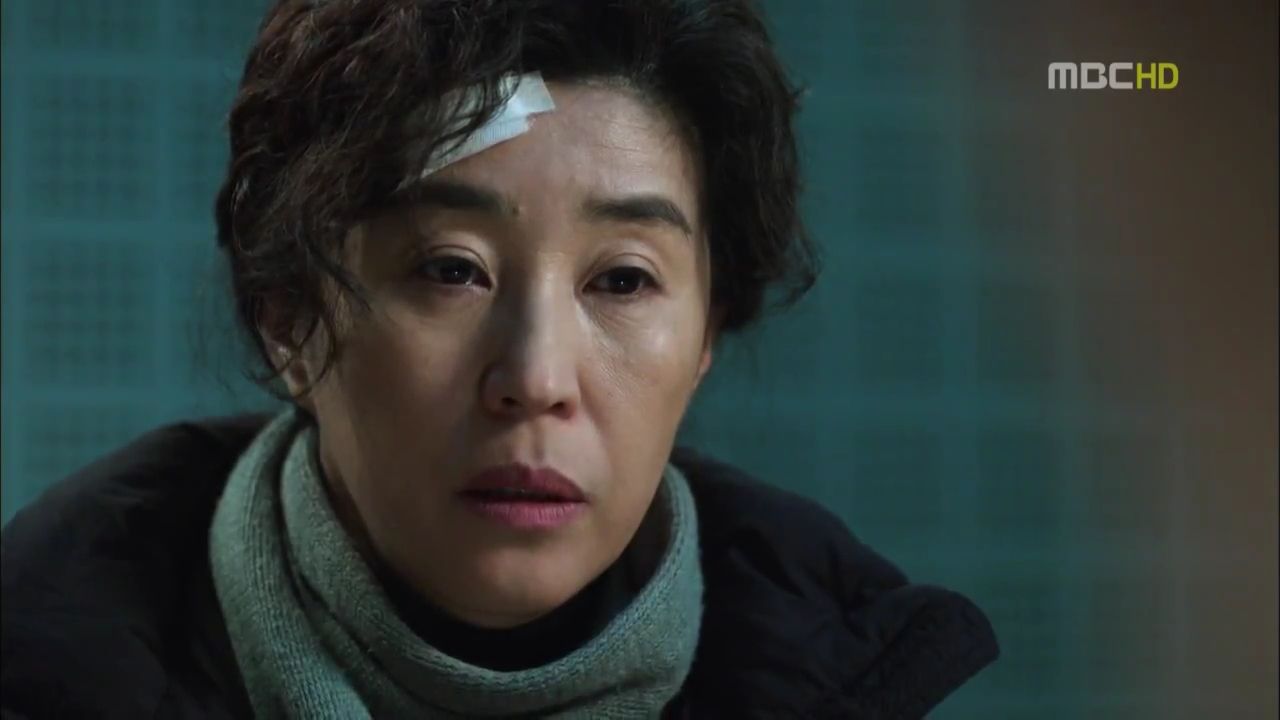 Jung Woo asks if the cleaning ahjumma killed three men. She says its not cleaning, she's clearing away the filth in society. Those people should not have been let out. Jung Woo remembers Soo Yeon saying the rapist deserves to die for what he did. She says they killed her Bora, why should they get to live? She asks him to continue her job, to kill other rapists who will be let out in the future.
Jung Woo doesn't believe in an eye for an eye and Bora wouldn't want it either. Because she killed the rapist, he will never accept his transgressions. He wanted the rapist to beg forgiveness from Soo Yeon's mom. Plus he knew the people who kidnapped Jung Woo and why they falsely lied about Soo Yeon being dead. Now it's all over and she ruined his plan to keep investigating. Right now ahjumma is just a criminal to him and he wants her to tell him every detail of how she committed the murder.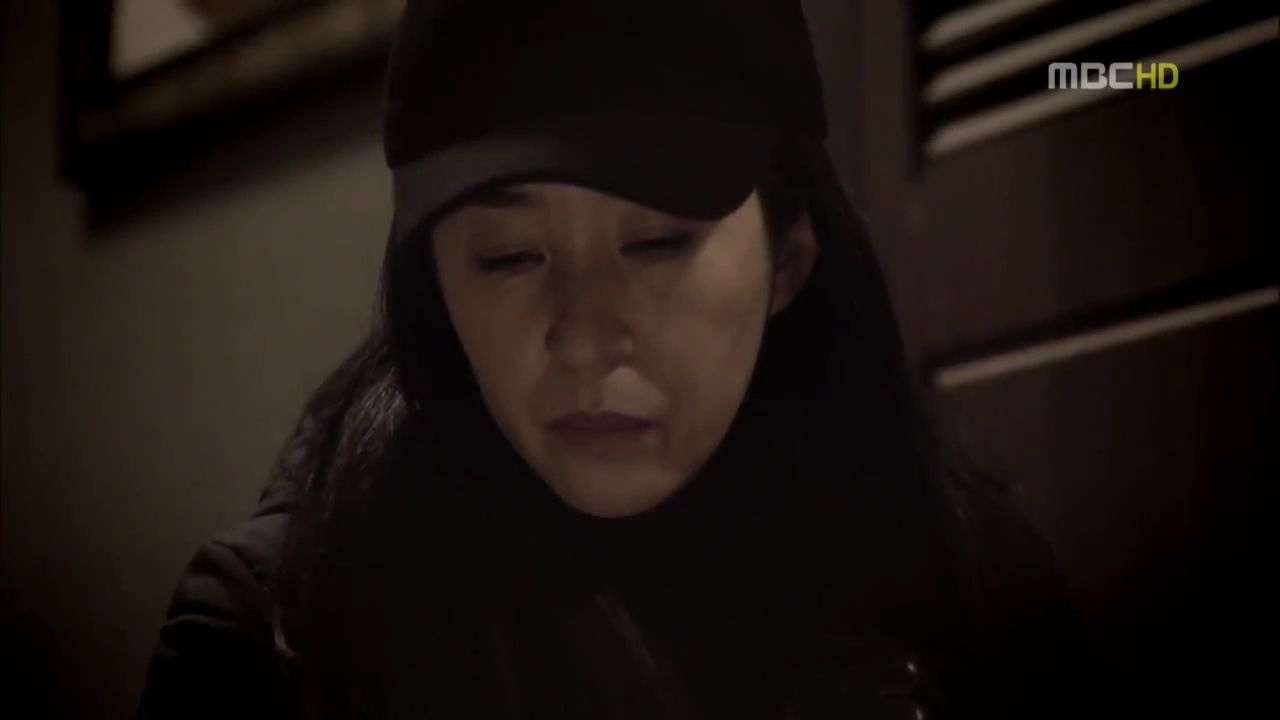 Flashback to the night of the rapist's death. He opens the door and is tasered by the ahjumma wearing a long hair wig. She read Lee Soo Yeon's case file and knows he likes young girls. She drags him into the bathroom and ties in up in the bathroom. Jung Woo asks how she has the strength? Ahjumma has the strength because she thinks about her Bora.
She prepares the dry ice to burn off his lower region. She cooks rice for him to eat since a person who is about to die ought to have one final meal. We see ahjumma tell the rapist that there is no reason for him to live. She reveals her daughter is called Choi Bora and she is her mother. She is sending him hell and she'll follow soon. Once she gets there, she will kill him again.
Jung Woo shows her crime scene photos and asks why she suffocated him since using dry ice was enough to kill him. The ahjumma recalls someone arrived during the commission of the crime and she hid in the closet. The person turned on the lights and she hears her footsteps. The ahjumma flashes back to taking Soo Yeon into the police station and turning to stare at her shoes as she listened to her footsteps. She doesn't answer Jung Woo's question.
Instead she asks Jung Woo if he likes Lee Soo Yeon? Jung Woo tells her to stay on topic. She ends the conversation then and says she wanted to kill the rapist faster. Okay, my gut tells me she tortured the rapist but didn't kill him. That was probably the other person who arrived. Jung Woo asks why she took Soo Yeon's cell phone from the scene, which ahjumma says it's because she was cleaning up. He asks where she tossed it? Ahjumma doesn't remember and asks if he wants her to say that she regrets killing him and wouldn't do it if she could turn back time? She ends the interview and asks for something to eat.
Soo Yeon has tended to sick Hyung Joon all night and he wakes up to find her sleeping on the edge of the bed. He strokes her sleeping head and tells her that even if she's right next to him he's still scared. He asks Soo Yeon to not waver again. Next time, please don't waver again.
Hyung Joon and his IM friend chat about the secret account ledger. It's been leaked and the media is in a frenzy wanting to talk to Han Tae Joon. Stepmom is home watching people coming in and out. They hear that Secretary Nam has gone missing. Ah Reum doesn't have any sympathy for her dad, a man willing to hang up on his own kidnapped son.
Han Tae Joon looks through prosecutor's investigation request in his study and hears that Secretary Nam and his family have run off to New Zealand and he took the money the bank was scheduled to pay out to Hyung Joon. Han Tae Joon orders him tracked down in New Zealand.
Jung Woo's partner skips into work all happy since his parents aw him on TV yesterday. The captain tells him not to be so happy since the cleaning ahjumma is the one in trouble. He sees a box of Jung Woo's belongings on his table and wonders what happened.
Soo Yeon's mom is packing up more Jung Woo items at home and Eun Joo finds out he's been kicked out. She wonders where he can go and Mom says he has a home to go back to and parents who miss him. Eun Joo says he can't leave because he still needs to help her find the person responsible for her dad's death. Mom says to let Jung Woo go, she will be Eun Joo's mom and dad from now on.
Inside the police station, Jung Woo is still questioning the ahjumma. She says that she's admitted everything and even seen Soo Yeon's mom. She tells Jung Woo to believe in what she says and not trust anything he might find in the computer or what others tell him.
Jung Woo says that if Bora was stronger and was alive today, he might really be her son-in-law. Ahjumma asks what about Lee Soo Yeon? Jung Woo says he can let her go, he asks that they do it together now. She forgets Bora and he forgets Lee Soo Yeon, and this will be their secret. Jung Woo apologizes to her for the police failure in getting justice for Bora. Ahjumma says that if only she had a police officer like Jung Woo then, she wouldn't have become like this.
Jung Woo asks ahjumma to let everything go now because of Bora. Jung Woo grabs her hand and cries and ahjumma asks him not to cry for her. Jung Woo asks her to forget all the painful memories for Bora's sake. Ahjumma grabs Jung Woo's hand and says that he waited so long for Lee Soo Yeon and she's alive and now he has hope to keep waiting. He cannot end up like Bora writing a final letter.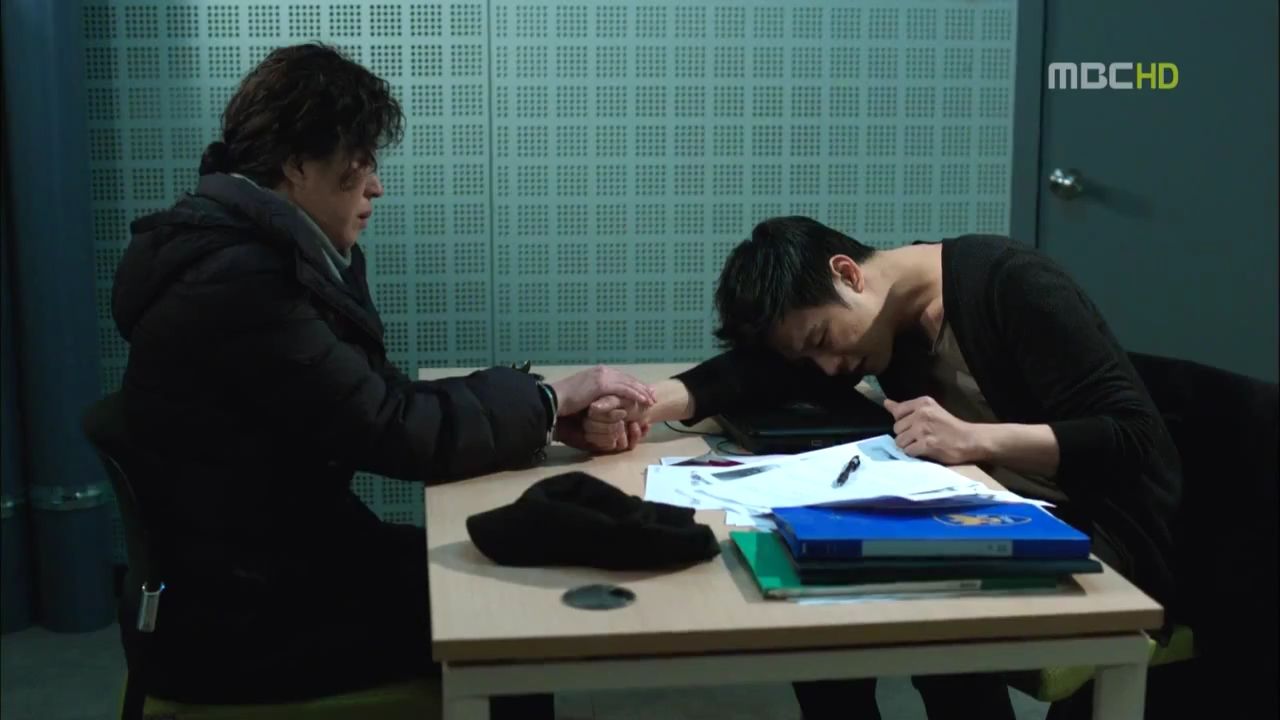 Jung Woo and his partner drink and he's such a lightweight so his partner tries to stop him. Jung Woo wonders if he drinks everyday he can make the time pass like that and everything will be fine. Jung Woo asks why he never once thought about forgetting? He confesses that he told Soo Yeon to leave. He likes her so much but she hates him, she hates the past that he's a part of. He asks his hyung what he can do?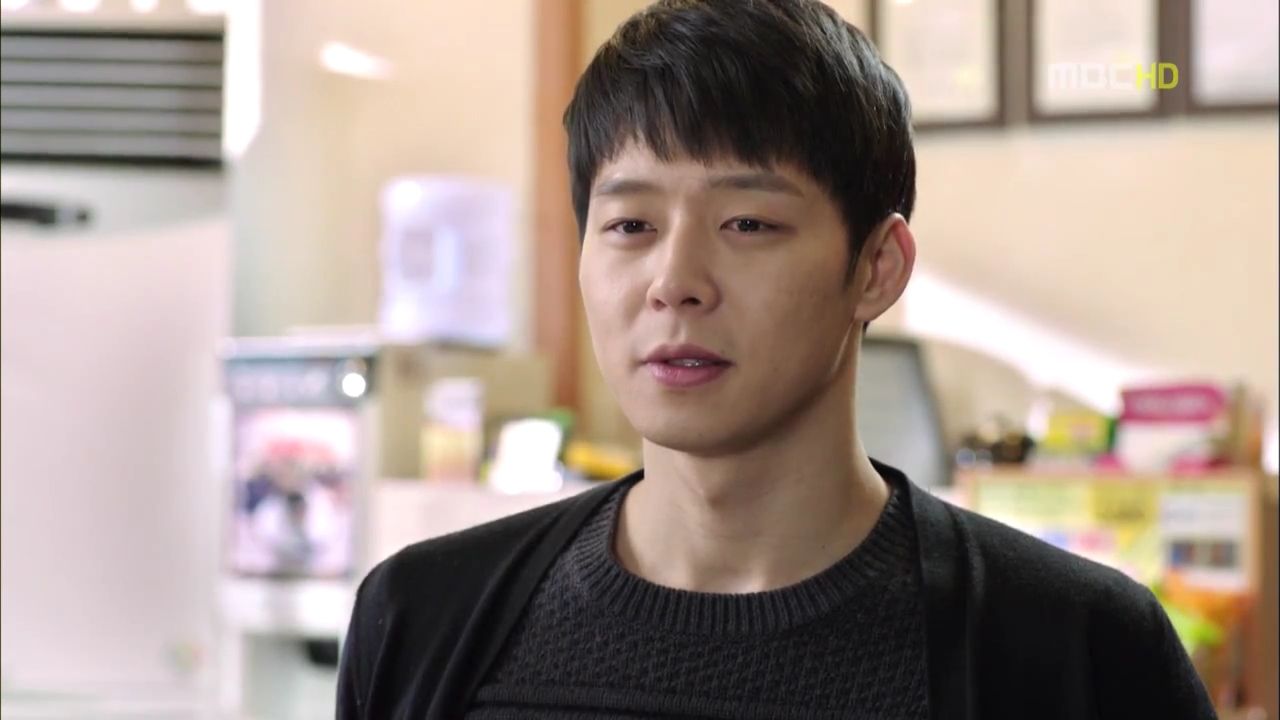 Jung Woo talks to his glass of soju and calls it a bad person. He threatens to drink it and starts asking the soju if she'll come or not come. Suddenly the phone rings and its Hyung Joon, asking to meet to discuss some concerns with Nurse Hye Mi's autopsy report. Jung Woo says he's been out drinking and asks for another day to meet. Hyung Joon asks if he can come over since it's important.
Jung Woo arrives at Hyung Joon's house and sees Soo Yeon, who directs him to Hyung Joon's room. She notices that he's been drinking and is worried. He says there isn't anything that can't be done if he gets used to it. He suggests they can drink soju in the future together.
Inside Hyung Joon's bedroom, Hyung Joon starts off by saying that he also has the same memory, that it's 280 steps from the Soo Yeon's house to the street lamp. Jung Woo is surprised they have the same memory.
Hyung Joon reaches out his hand and Jung Woo gives him his arm as support so Hyung Joon can get off the bed and stand up. Hyung Joon suggests they drink today since Jung Woo has already started drinking. Jung Woo declines since he's been drinking already but then agrees when Harry presses him. Hyung Joon asks for his computer and Jung Woo grabs it for him. He turns on the computer and smiles, which leads Jung Woo to surmise that something good happened today for Hyung Joon. Han Tae Joon is in his car heading somewhere and he asks where Hyung Joon lives.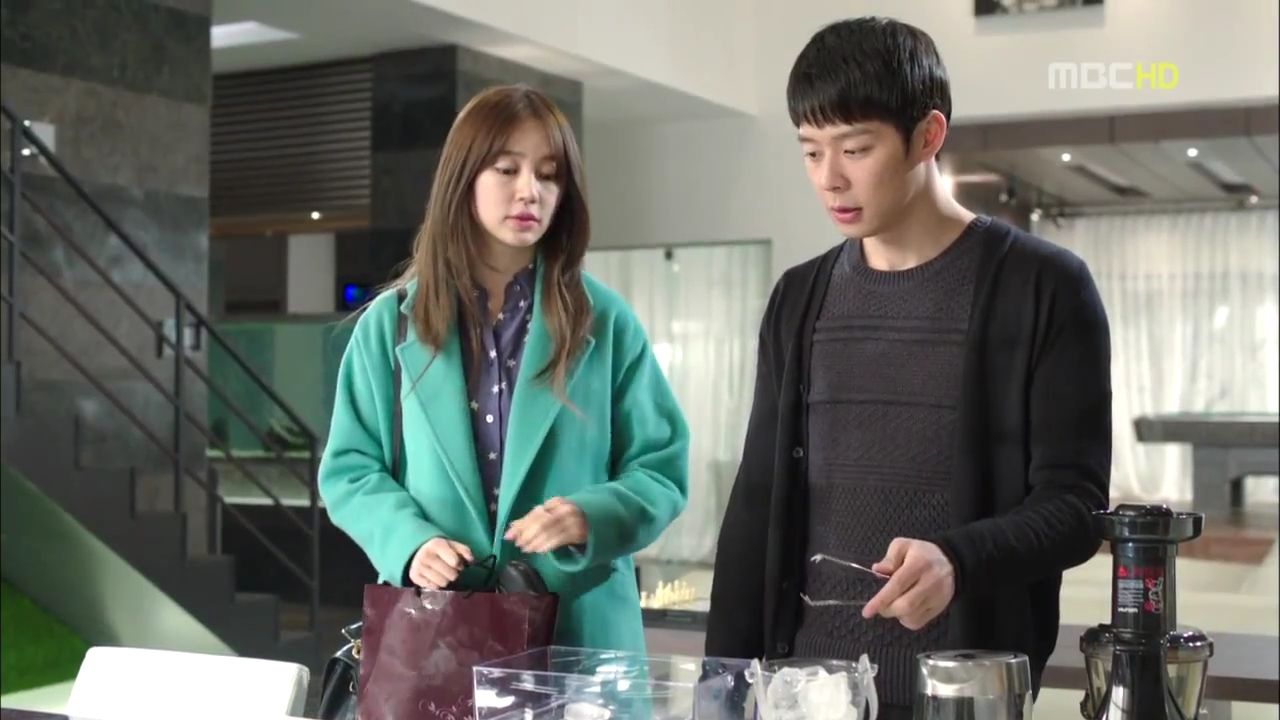 Jung Woo is in the kitchen grabbing ice for the drinks and Soo Yeon offers to help and Jung Woo says it's not necessary. She grabs him some napkins and he sees her Mom's shoes in a bag. He knows she's headed to see her Mom and tells her to have a good meeting. Soo Yeon is taken aback by Jung Woo's newfounded calmness. After Soo Yeon leaves, Jung Woo murmurs that Mom will be happy.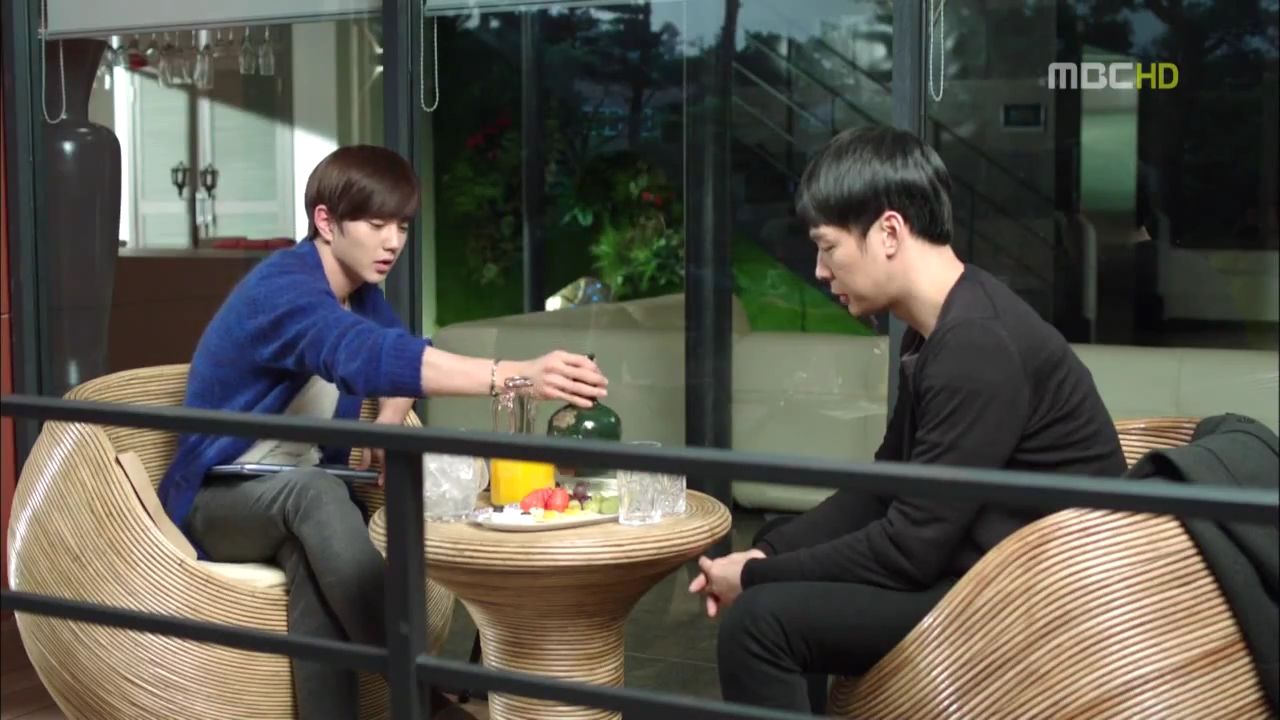 Jung Woo walks over to Hyung Joon, who is staring at him. Hyung Joon asks to find out more about Han Tae Joon since Jung Woo is his son. Jung Woo says he has no ties with Han Tae Joon anymore and wonders why Hyung Joon is asking. Hyung Joon says he thinks Nurse Hye Mi's death may be tied to Han Tae Joon's bank. He says this is a suspicion of his lawyer.
Hyung Joon hands Jung Woo a paper which show an account that was used to invest with Stepmom, with Hyung Joon as a guarantor. Jung Woo tells Hyung Joon to be careful, if anything happened to him, it will be very hard on Soo Yeon.
Soo Yeon arrives at her Mom's restaurant with the shoes. She finds her Mom rather out of it but they sit down to talk. Soo Yeon suggests they drink some soju when her Mom asks why she's here. She asks if Mom likes her pretty nails? Does Mom not want to see her? But she wants to see Mom. She wants Mom to see her successful. She tells Mom that she's now a fashion designer.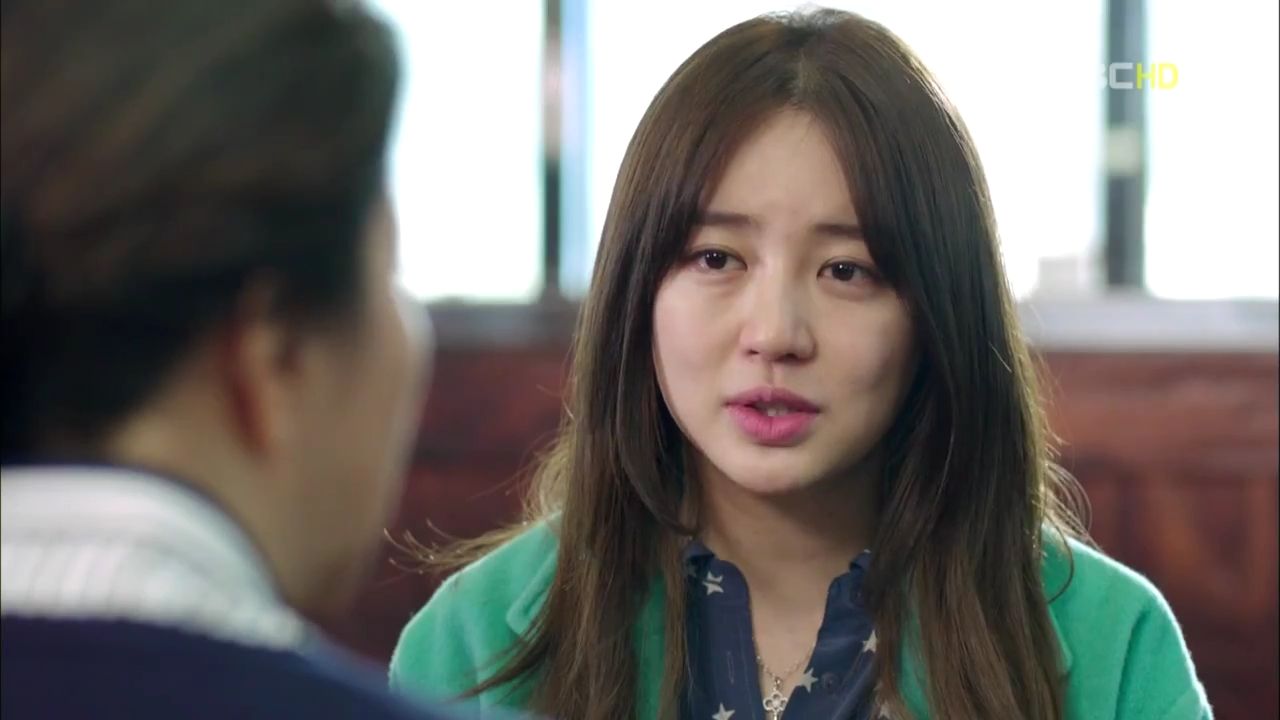 Mom asks if Soo Yeon wants Mom to apologize for the past? Mom says she is bow her head and admit all her past transgressions. Soo Yeon says her heart hurts. Mom asks if she'll ever be back and Soo Yeon replies that she will go back to France but will sneak back from time to time to meet secretly with Mom. Her Mom doesn't want that and tells her not to appear before her and Jung Woo even if she comes back. It's easier to move on if they don't meet again.
Mom says she has to go back to work and tells Soo Yeon to leave. Mom says she likes Jung Woo now and doesn't want Soo Yeon around anymore. Soo Yeon sits there and cries. After Soo Yeon goes back to her car, she realizes she didn't return the shoes to her mom. She had wanted to buy pretty new shoes for her mom.
Soo Yeon gets a call from Hyung Joon asking when she'll be back. She says she's not done with what she needs to do yet. Hyung Joon can tell from her voice that she's been crying. He asks her to come home soon, he has something to say to her. Soo Yeon promises to be back quickly after she's done.
Jung Woo is leaving the house and gets the text from Secretary Nam. Secretary Nam wanted to leave but couldn't bear to leave Jung Woo as is. He wants to apologize because he was acting on orders of Han Tae Joon as his lapdog. He tells Jung Woo not to look for Lee Soo Yeon anymore, the person who will be hurt is himself. Hyung Joon looks at him and asks him to keep investigating Nurse Hye Mi's death. Jung Woo calls his partner.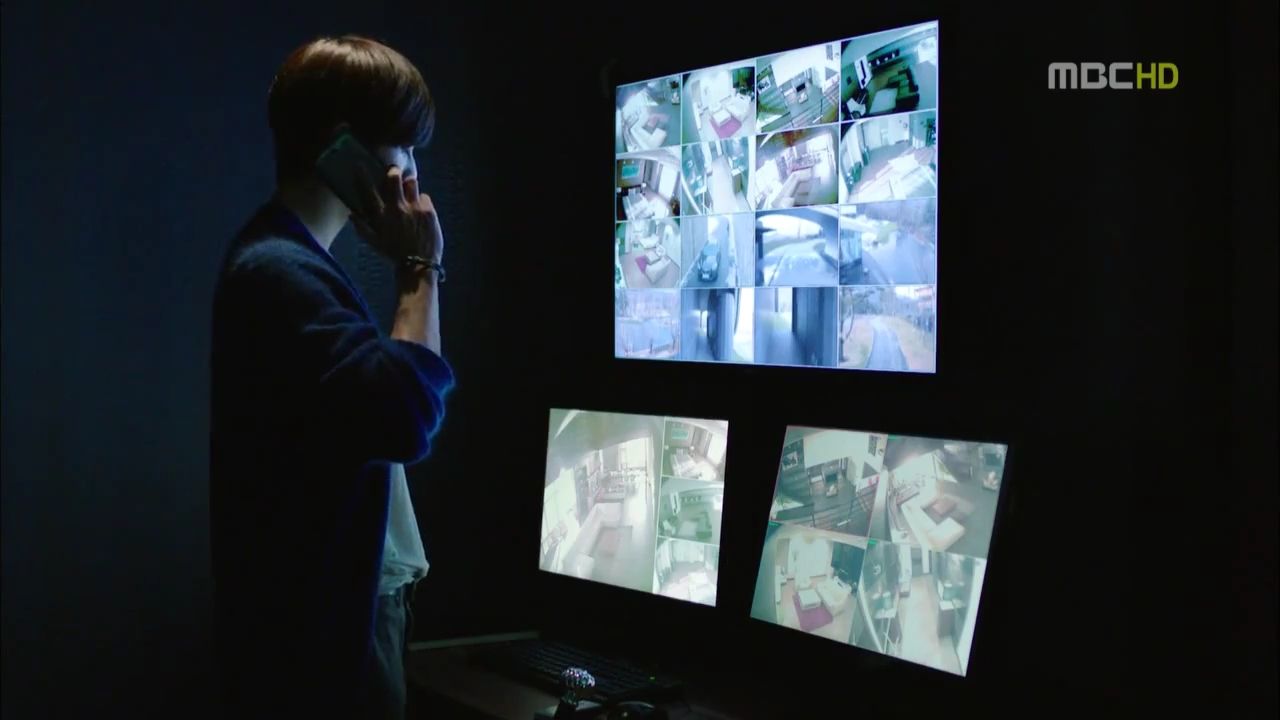 As Jung Woo walks down the driveway, he passes by Han Tae Joon driving into the house. Hyung Joon watches this from the CCTV cameras. He smiles and welcomes Han Tae Joon to Heaven as the gate opens for him.
In the living room, Hyung Joon has an ice pack on his leg. Hyung Joon asks if Han Tae Joon needs help to cover that missing money and offers to help him within the week. He asks Han Tae Joon to hand him his cane. Hyung Joon stands up and Han Tae Joon thanks him for the help. Hyung Joon asks in the future if he has any need, Han Tae Joon will help him, right? Han Tae Joon says he'll remember this.
Jung Woo's partner goes back to the police station and tells everyone to never mention Lee Soo Yeon's name anymore so Jung Woo can start anew. Jung Woo calls his stepmom and doesn't get an answer. He goes to the store and is told she's meeting with a customer, who turns out to be Soo Yeon. He goes to the storeroom to wait for her. He sees a white one-sleeve dress and pays special attention to it. Stepmom begs Soo Yeon to get Hyung Joon to help her husband with his current monetary needs.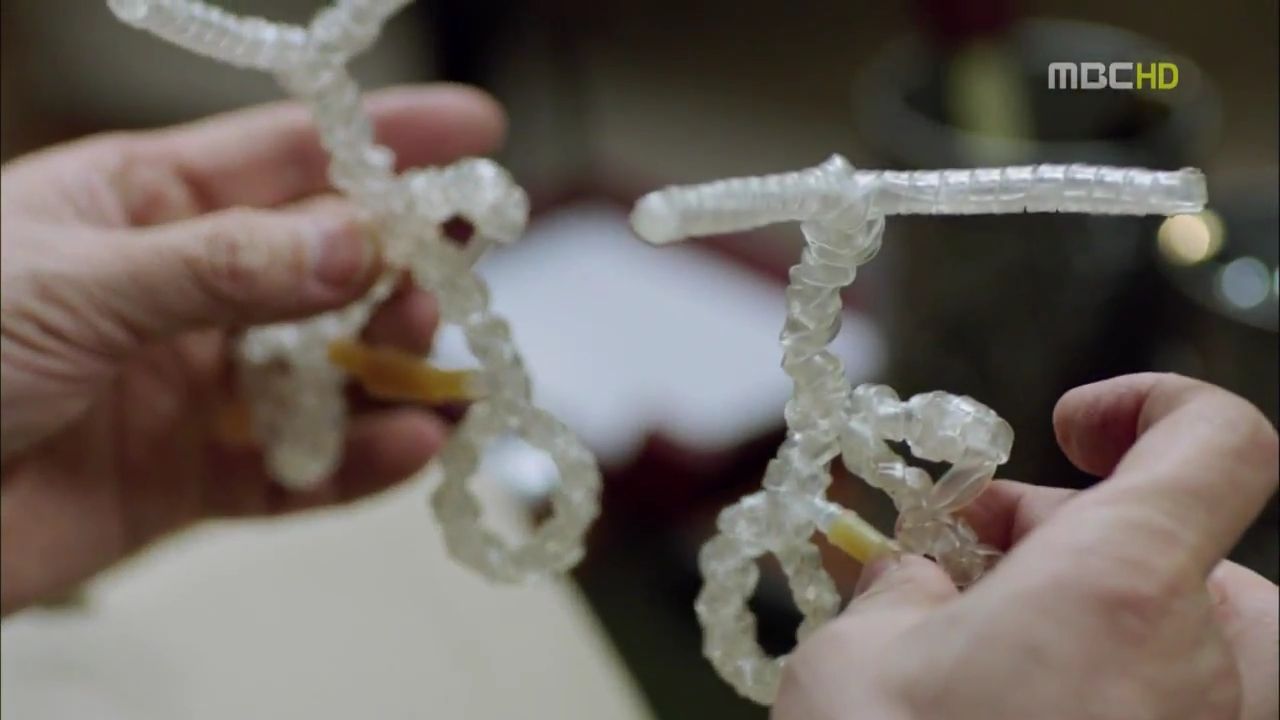 Han Tae Joon receives a package that appears to be mailed by a Kang Sang Chul and he opens it to find a plastic tie craft shaped like a bike. Inside is a card that reads "Even God cannot save you now, just wait". He opens his desk and takes out an identical one, which he got from Hyung Joon's mom. He laughs, knowing that Kang Hyung Joon is back.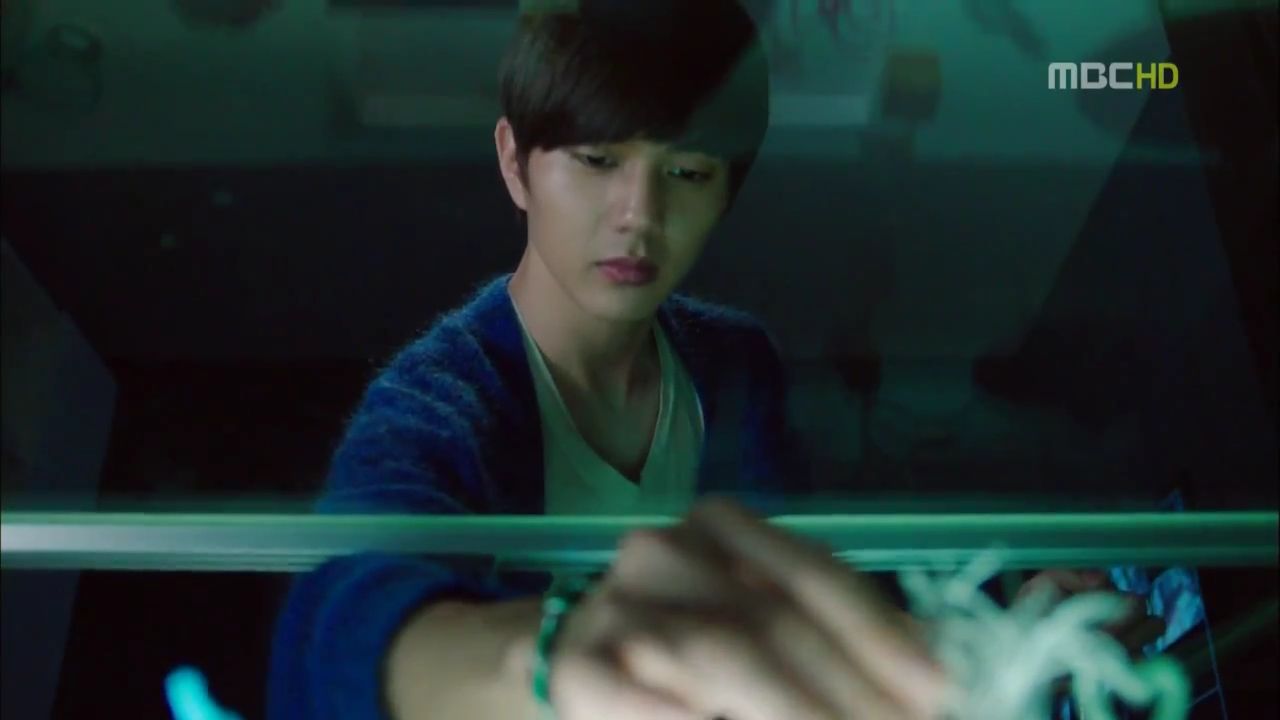 Hyung Joon is in his lair and we see a display case filled with such plastic tie crafts. He arranges them and smiles.
Stepmom takes Soo Yeon to her storeroom and leaves. Soo Yeon looks around and sees the same white dress. She wonders who designed it? She sees feet behind a white curtain and opens it to see a sleeping Jung Woo.
She walks over and peers at him silently. She notices that he still has the button from before. She wonders why her heart hurts every time she sees him. It's so odd.
Jung Woo suddenly awakens and says Soo Yeon-ah and asks why she's here. Soo Yeon thinks to him asking her when they were kids and her response in her mind was that she missed him.
Stepmom comes in and Soo Yeon rushes out and pulls the white cloth closed to keep Jung Woo on the other side.
Han Tae Joon drives somewhere and enters a room that's been padlocked. A women is making a plastic tie craft and she turns around and lo and behold its Hyung Joon's not-dead mom. She smiles at him.
In his lair, Hyung Joon looks at the necklace rubber pendant his mother gave him and he smiles. I wished he cackled a few times, you know, just for kicks.
Thoughts of Mine:
Okay, at this point Hyung Joon can slice and dice Han Tae Joon into mincemeat and I wouldn't even blink an eye or think he's evil. Who the fuck locks up a woman for 14!!! years simply because of money? That doesn't even compute on the evil scale because the intent would require such startling degrees of lack of empathy and rage but the motive being money could not possibly correlate the trigger with the underlying action. It's like the cleaning ahjumma could not have snapped if her Bora was simply pelted with a rock. The cause and effect in this drama really baffles me time and again. I had a hard time understanding why an admittedly traumatic instance of cowardice could lead Jung Woo to wallow in guilt for 14 years rather than living with the residual regret but moving on with his life until a chance reunion with Soo Yeon allowed him to work through the guilt and perhaps start over with her after they had a chance to resolve the hurt and regretful feelings. Anyways, back to the locked up mom situation – I wasn't surprised Hyung Joon's mom wasn't dead since the drama never showed her death so obviously that was a giant red herring, but it comes off as just one more clunky makjang mystery.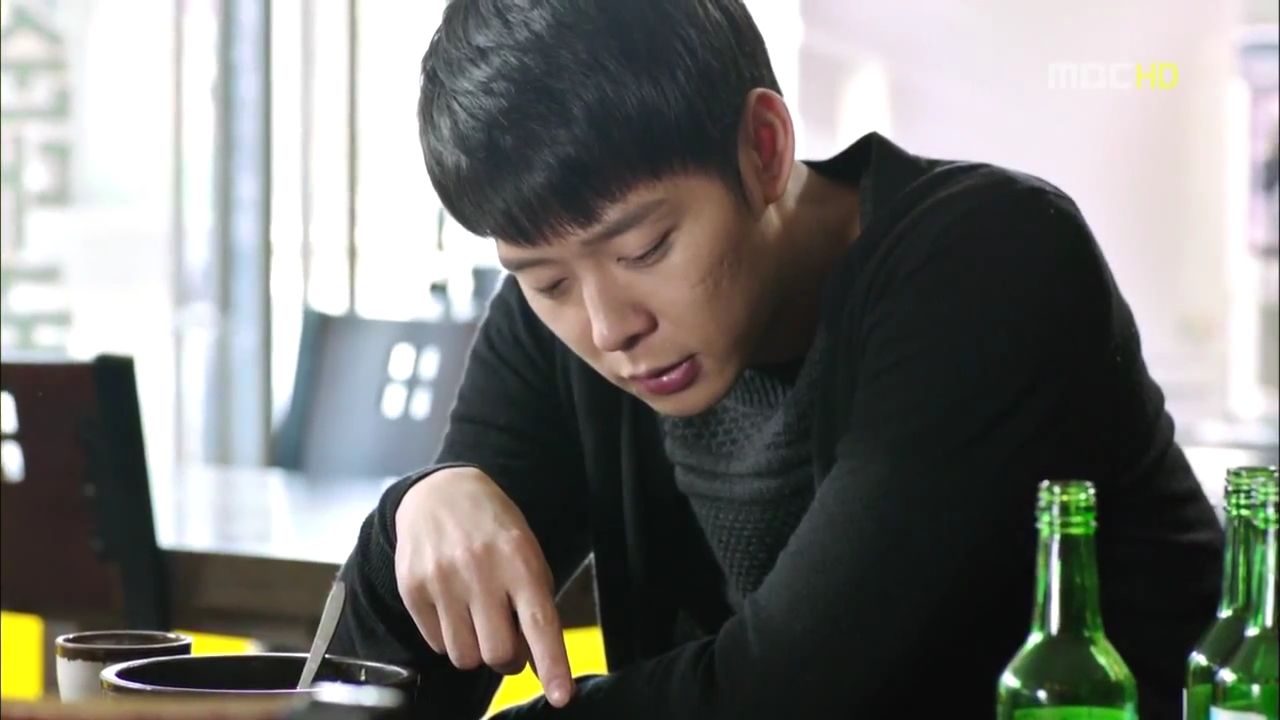 This was the first episode where adult Jung Woo completely won me over in liking him as a human being. So he is capable of restraint, of thoughtful communication, of perceptive empathy, of not sucking as a police detective. If Jung Woo continues to let Soo Yeon dictate the terms of their interaction as he's doing now, then I wouldn't have a problem narratively for the two of them to get back together somewhere down the road. Don't get me wrong, I still think the writer is throwing Hyung Joon and Soo Yeon's 14 years with him under the bus to get there, but the flip side is that at least I will not be upset at Jung Woo anymore should Soo Yeon pick him. And let's not fool ourselves, she's gonna pick him and she might as well do it now. Dragging on the inevitable will just amplify Hyung Joon's pain and hurt, and that's a shitty thing for her to do to him. There was one scene that was filmed really beautifully in this episode for the love triangle – where Soo Yeon walks out the door, Jung Woo walks towards the balcony, and Hyung Joon sits outside looking in through the window. A lovely visual presentation of what we know is the reality of these dysfunctional connections.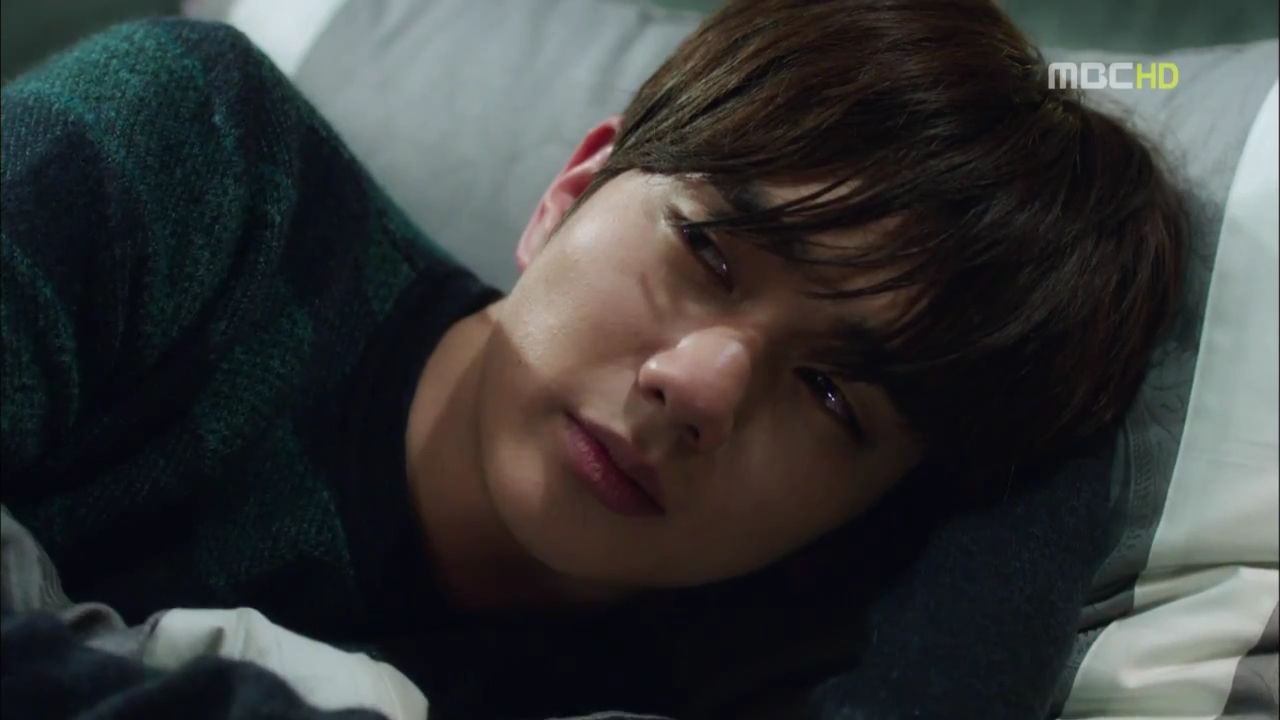 I never understood why some people think Hyung Joon has ever wronged Soo Yeon – he told her the truth as he knew it saying everyone believed she was dead and no one was looking for her. He didn't lie at all. He's not keeping surveillance on her either – he CCTV'd a house that she never lived in until she suddenly showed up in Seoul, which he didn't want her to do. He CCTV'd the house, not Soo Yeon. And poor Detective Kim's death was a tragic accident with zero intent. Tell me a 12 year old who knows the difference between a brake or accelerator pedal. He placed a can under one to keep the person he believed was pursuing him on Han Tae Joon's orders from chasing them. When Detective Kim died Hyung Joon didn't look sad in the least, because who the heck would feel bad if an evil minion chasing you to bring you back to certain death fell off a cliff. We're sad because it's Detective Kim, otherwise if it was in fact one of Han Tae Joon's goons, we'd all be saying good riddance. Hyung Joon never knew who it was, he ought to look relieved and happy if anything.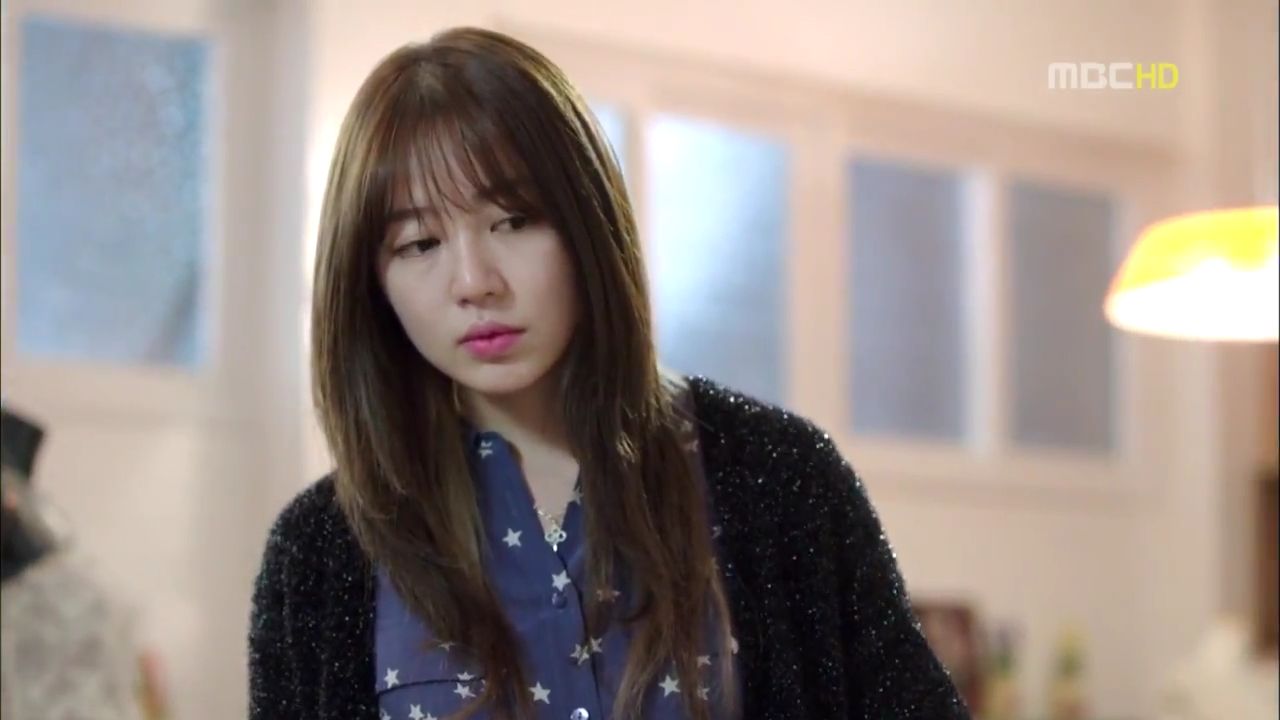 I find the writer is all over the place with her characters, unable to get a good grip on their personalities and how to develop them. Jung Woo has veered from obsessed freakout to calm detective again, while Hyung Joon turns on a dime from clingy weepy boy to brilliant puppeteer depending on the time of day. Soo Yeon has been shoved on the back burner more and more as she barely gets any substantive screen time of her own. Aside from her meeting with Mom, which was lovely and sad, she just sits around reacting to either Hyung Joon or Jung Woo. Enough with that! Get the lady back to being a designer and figuring out which guy she wants and which life she wants to lead. Be Zoe-Yeon for all I care, just not a wallflower sticking by guy 2 out of guilt while secretly pining for guy 1. She's more than that, she started off being a feisty playful girl with lingering separation anxiety to a girl who cries all the time and sort of mopes through every scene onscreen. I want my darling Yoon Eun Hye's character to be more than the drama is showing of her. Such a waste of her presence here. At this point I've given up on the writer spending more time on her POV, but putting her in the corner is going to really pissed me off. I hope this is temporary and she starts to get more integrated into the action soon.
Click here to watch Missing You.