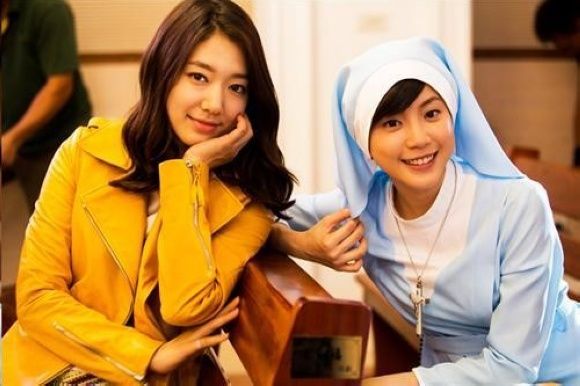 We've got the first peek at the leads in the Taiwan adaptation of You're Beautiful starring Jiro Wang and newbie actress Su Li Wen. Above is Su Li Wen dressed like a nun-in-training and posing with Park Shin Hye, who cameos in the first scene at the church. Apparently she's the one who is listening to music very loudly, heh. The rest of A.N.Jell will be – Shin Woo played by Korean newbie Hwang In Deuk who was in tvN's Flower Boy Casting: Oh! Boy reality show and Jeremy played by Taiwanese idol Evan Yo. Directing will be the director who helmed Love Forward and Ex-boyfriend (where he reportedly had a thing going with his leading lady Gina Lee), and gossip-aside I really like his directorial style which is very sophisticated with a romantic sheen to it. The drama doesn't have a network or airing date yet but I wouldn't be surprised if it ends up on GTV during the 2013 Summer calender where it would be a good fit.
I'm still marveling at the need for this remake since neither the original K-drama or the Japanese remake last Summer garnered decent ratings that would warrant this story being retold with a new cast and a different style. I actually think Ikemen desu ne flew under the rather since it aired along with Hana Kimi 2012 and Ouran High School Host Club, and three cross-dressing doramas at the same time is two too many if you ask me. I actually really liked Takimoto Miori's take as the herione but was not fond of Tamamori Yuta, though I have heard he'll grow on me. This will be Su Li Wen's first drama and already she's playing the lead and that worries me immensely. Jiro will do fine playing an idol singer since he is one in real life AND he's playing such a character in 2 previous dramas already. I'll keep my expectations low but will definitely keep tabs on the filming because I remain curious as to what this version will look like.
First look at Jiro Wang as Hwang Tae Kyung. He definitely makes the character look older than either Jang Geun Seok or Tamamura Yuta's versions. A recent picture of Su Li Wen below, she looks pretty tomboyish and hip so I can see she isn't a terrible choice for this role on looks alone.