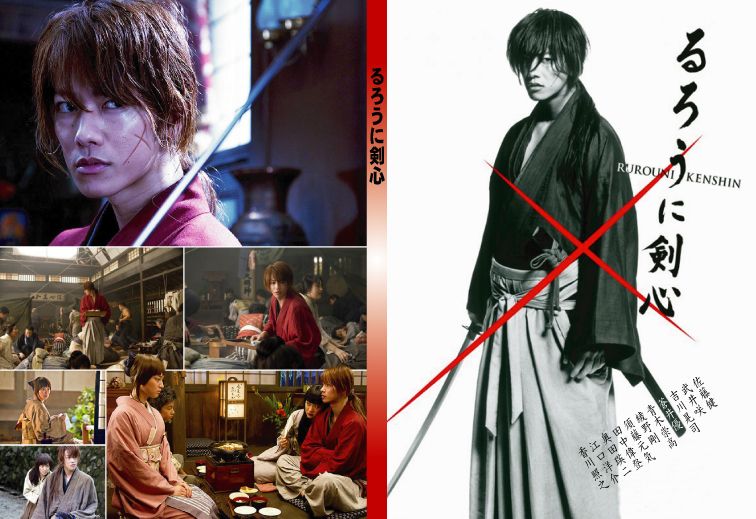 While I was in Taiwan and Japan these past two weeks, I got to watch a ton of inflight movies. I must've hit the motherlode because almost every Asian movie I wanted to watch last year was available on demand and I gorged on them only to be left majorly disappointed (Thieves? Highest grossing K-movie of all time? So overrated and zzzzz-inducing. The Four? Like a wuxia Gossip Girl mixed with X-Men). In this scrimmage came the shining star of Asian cinematic fare so awesome I nearly started squeeing in the middle of a crowded plane and hyperventilating as I watched. The live action adaptation of the critically acclaimed manga Rurouni Kenshin is every bit as good as the trailers and stills looked. This movie shows us how manga adaptations can be done right, and done well. The casting was mostly across-the-board perfect (Sato Takeru as Kenshin = MARRY ME!, Takei Emi as Koaru = puuuurty but the sole weak link) and the directing was phenomenal. The movie is basically the first two arcs of the manga story, with some later elements deftly woven in seamlessly.
The pacing for this slightly longer than two hour movie was exquisite, with the slow character developments buttressed by a handful of thrilling action sequences that fairly scream out KENSHIN YOU ARE MY IDOL. My only disappointment was not being able to watch this movie on the big screen and instead made do with my tinny inflight television screen. *shakes fists of unfairness* The movie has done gangbusters business in Japan and all over Asia where it enjoyed a successful wide release. The production company has announced that a sequel has been greenlit (YAY!) with the same cast. For so long Takeru has been the sidekick best friend of his more high profile acting colleague Miura Haruma, but I can safely say that this role and performance has now launched him into the A-list as far as I'm concerned. He brought to life Himura Kenshin's sweetness and deadly fighting skills, plus an added dose of sexy that wasn't as evident in the manga. I never thought the day would come I would want to jump Kenshin but that day has arrived and I couldn't be happier.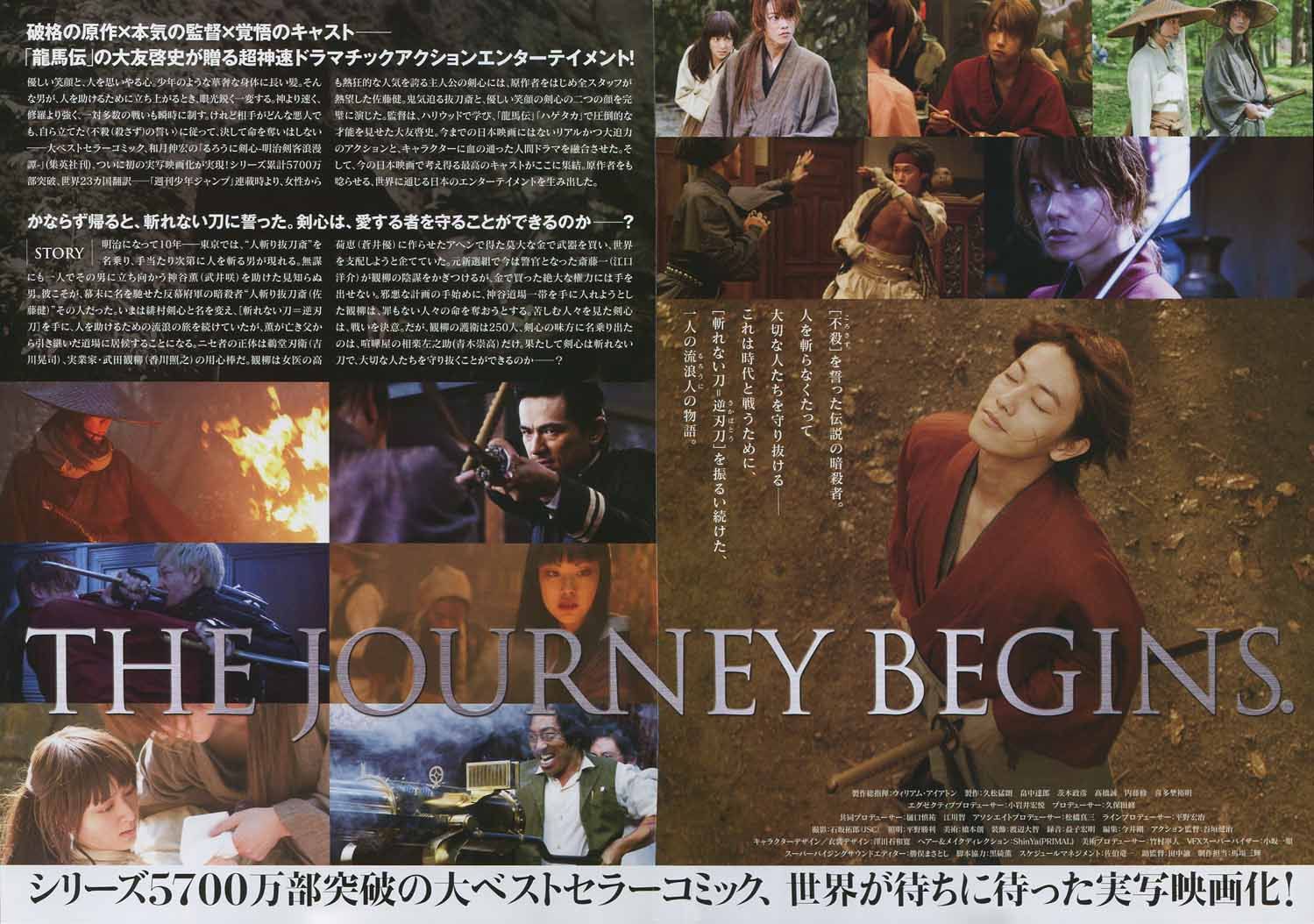 I think Rurouni Kenshin's two biggest strengths are its directing and nearly pitch perfect casting. The directing we have to thank veteran historical epic director Ohtomo Keishi, who last helmed the highly rated Taiga Ryomaden with Fukuyama Masahiro. This is a man who knows how to capture the historical Japanese cultural era, especially the post-Edo/early-Meiji restoration period. The story begins at the end of the Bakumatsu War – fought between the forces of the Tokugawa Shogunate seeking to maintain its military rule over the country and the way of the samurai against the forces seeking to restore the Emperor to actual power rather than as a figurehead to promote the modernization of Japan. At the Battle of Toba-Fushimi, a deadly samurai assassin known only as "Hattokiri Battosai" (人斬り抜刀斎 or Battosai the Manslayer) is singlehandedly slaughtering the remaining samurai forces of the Tokugawa Shogunate. Word comes that the Shogunate has surrendered to the Imperial Forces and the war is over. He puts down his sword and leaves. Later a survivor emerges from the battlefield littered with dead bodies and takes his sword.
Ten years pass and Japan is knee deep in the Meiji era where samurai are a dying breed with no purpose in life because the warrior way has ended. It is against the law to carry a sword in public now. A man named Himura Kenshin arrives in Tokyo and he carries a sword, but we learn later that it is a reverse blade that cannot be used to kill. A murderer is on the lose in the city claiming to be the once feared assassin "Hattokiri Battosai" and represents a dojo run by Kamiya Kaoru. She vows to capture this fiend and clear the name of her dojo which was started by her late father. It turns out that a rapacious and ambitious businessman by the name of Kanryu Takeda has orchestrated this plot in order to discredit the dojo so he can buy it. Kanryu has found a way to manufacture an even more addictive strain of opium and wants to use the dojo land as a distribution channel to spread it across Japan and bring down the Imperial government. He is also acquiring wandering samurai as his mercenaries along with modern weapons with a plan to establish his own government. In his employ is a deadly assassin posing as "Hattokiri Battosai". Kaoru's investigation brings her in contact with Kenshin, who seems like an affable harmless fellow at first blush but when he is forced to step in and save Kaoru it becomes clear that he is not what he seems.
For those of you who have read the manga or watched the anima, the movie follows closely to the plot of the first arc of the story, though stripped of much of the humorous asides and pratfalls of Kenshin and his fellow friends such as Sagara Sanosuke and Myojin Yahiko. The movie cast the three guys so wonderfully it was a genuine treat to see Kenshin, Sanosuku, and Yahiko come to life. Same goes for the villains Kanryu and the fake "Hattokiri Battosai" Udo Jin-e. I've already said Takei Emi was the weak link as Kaoru, and in truth Yu Aoi as Takani Megumi was also slightly off. Neither lady stood out like a sore thumb, but I thought Emi's limited acting skills hampered her ability to really spark with Takeru, whereas Yu was phenomenal in acting out Megumi but she never made me feel like she was that character come to life. But all in all, these two were good enough as to complement the kickass male performances. When watching Takei Emi, I kept wishing it was Ishihara Satomi playing the feisty righteous Kaoru, since she has ridiculous onscreen chemistry with Takeru plus the right amount of youthful passion the character needs.
Even if the movie sucked on directing and acting, it would still be worthwhile a watch for the cinematography alone. The director bathes the screen in dual color schemes – the cold blues and grays for the battle scenes and the warm yellows and browns for the character interactions. I felt like I was actually there in the chaotic early Meiji era Tokyo, a time when the old ways of samurai Japan was still struggling to find a place in the brave new world. Even better is the soundtrack for the movie, which eschews the traditional Japanese strings and flutes for a modern sound that surprisingly works phenomenally in amping up both the emotional moments as well as the stirring battle sequences. Takeru not only looked and acted like Kenshin straight from the pages of the manga, he also brought forth Kenshin's duality – a past as the most-feared assassin in Japan as well as a man who has now renounced killing for good.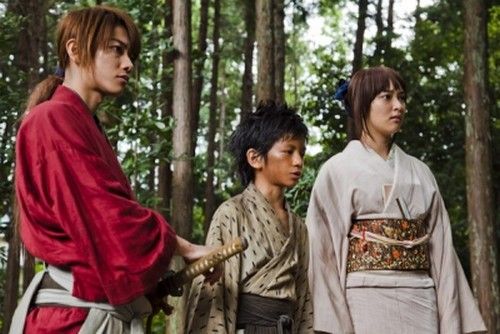 I haven't watched J-movie in years that was anywhere as good as Rurouni Kenshin, and in truth this movie is better than most period epics coming out of Korea or HK/China/Taiwan these days. The manga is one of my favorite Shonen works and I was so scared the live version would butcher it much like the live version of Paradise Kiss destroyed the realistic emotional grittiness of the original manga. I still have nightmares involving PK-the movie featuring Kitagawa Keiko's cringe inducing runway walk and Mukai Osamu's sleazy smirking. It's such a relief to see a beloved work respected and lovingly adapted, especially in this era where movies are all about making a buck and less about artistic integrity. Rurouni Kenshin is that rare combination of a movie that respects its source material but repackages it thoughtfully for a different medium. And really, what more needs to be said when Sato Takeru, with that trademark red hair and sporting the cross scar, simmers so potently onscreen as the titular wandering swordsman Kenshin. You all must watch it now! To enjoy this movie one need not have familiarity with the source material, it stands as fantastic entertainment on its own merits. I henceforth give thee all permission to go forth and fall in love with Sato Takeru as Himura Kenshin, one-half world weary peerless warrior, one-half mellow easy-going nice guy.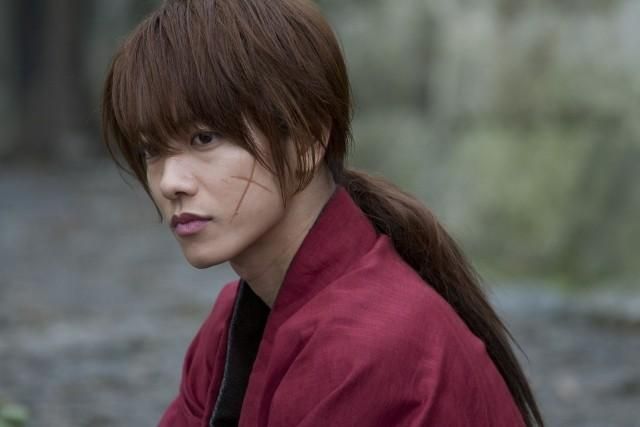 On a completely random note, Sato Takeru's lips are a work of art. He'd be the first in line for any role that requires the male lead to wear a half-mask. When his Kenshin says his trademark "oro" I just gape in wonder at how he makes being a cheeky doofus so insanely smoldery. Clearly I will be rewatching this movie over and over again until the sequel is released. Word on the street is that it's slated to be a trilogy, so I'm assuming part 2 will cover the Kyoto arc while part 3 will deal with the Yukishiro arc (and the fall out from Kenshin's romantic past). CANNOT WAIT!