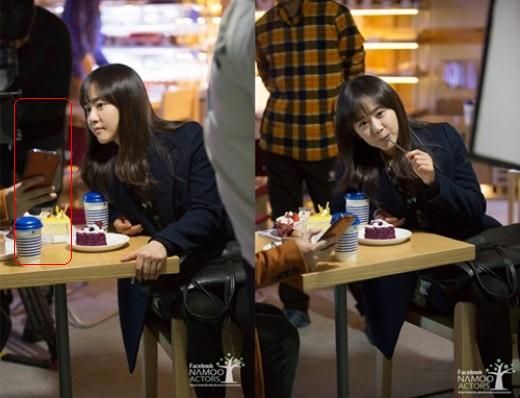 I was thrilled with the Cheongdamdong Alice preemption last weekend because I was traveling and couldn't even watch the episodes, much less recap it. Who would've known that episode 8 would be the weak link in an otherwise strong slew of episodes, plus end on a note that felt uncertain and rather precipitous. Thus the two week wait between episodes 8 and 9 felt like pouring cold water on my ardor and suddenly my passion for CA has cooled immensely. This isn't anything a fantastic episode 9 can't resurrect, much like seeing a beau after too long of a break but once together all the feelings come rushing back. Did anyone else feel like the addiction to CA inexplicably waned? I'm still mulling over how I feel about Se Kyung's decision to pursue Seung Jo with an ulterior motive rather than simply out of her natural feelings for him. Perhaps she reasons to herself that since she already likes him, and he likes her, then she can continue with the Candy charade and all will be well. It's almost like she's buying into the justification that the purpose need not matter if the outcome is beneficial for both parties.
But that is hardly the case. If one party to a contract intended to defraud the other, it doesn't matter that the ultimate deal reached was fair to both parties. Once discovered the shady intentions will taint everything else. Watching the preview for episode 9 was disconcerting. On one hand Seung Jo is clearly happy and there is lots of cute fun times. On the other hand I feel like there is like anvil hanging over his head and once someone like Tommy Hong drops the bombshell on him about Se Kyung, then he's going to be in for a wicked headache and heartache. I also want Seung Jo to toughen up, because while loopy Seung Jo is entertaining, it's going to get real old real quick when he continues to lack any discernible defense mechanism or any ability to cope with emotional set backs. One reason Se Kyung and her ex-boyfriend In Chan's relationship was so compelling was their mutual love existing within a realistic world of financial worries and disappointment. Right now Seung Jo's world feels like a fantasy and he needs to put his feet firmly on the ground so that I can start seeing some growth in him. Here's to hoping episode 9 lights my inner fire again.
Preview for episode 9:
http://www.youtube.com/watch?feature=player_embedded&v=I1pcC43RYJk
Seung Jo: After learning I was the President she immediately accepted me, but I feel so insecure. Also, in that instant, it seemed like everything was solved.
Yoon Joo: You really don't know? President your relationship with your son will be done with immediately.
President Cha: If you weren't around then everything would be solved.
Tommy Hong: If you leave now, I'll give you compensation.
Se Kyung: My feelings right now, you must know what it feels like more than anyone else. So please give me one chance……….