Everything was going along swimmingly in this episode of Cheongdamdong Alice, until the very end of the episode. HOMG did I want to smack Seung Jo upside the head. What the hell does he think he's doing? Or am I too weary of this type of grand public displays that are counterproductive that I fail to enjoy the "in your face!" declarative intent of it all? I really loved how this episode dug deep into the past and present, allowing Seung Jo and Yoon Joo to find closure in their past relationship as well as paving the way for Seung Jo to form a productive new relationship with Se Kyung. I was annoyed with Se Kyung's multiple attempts to come clean with Seung Jo always running into a disruption, but I'm actually with Yoon Joo on asking Se Kyung to reconsider whether she should come clean with Seung Jo, whether now or later on. I don't know if it serves any productive purpose other than to avoid Tommy outing Se Kyung later on, but telling Seung Jo is in truth to preserve Se Kyung's candor in Seung Jo's eyes but isn't necessarily for his benefit. Seung Jo is very emotionally weak and I can't say his actions in this episode gave me any comfort that he's learned his lessons from the past and can actually handle the truth.
The final scene in episode 10 was just so classic petty and thoughtless Seung Jo, wanting to make big declarations and stick it to the old man at the same time. But he didn't consider Se Kyung's situation or her feelings. How can she go back to work at GN Fashion? How will rubbing the faces of Royal and GN Group into the ground help make his relationship with Se Kyung stronger or more viable, not to mention muddying up the waters on the business collaborations. I was mightily disappointed in Seung Jo, but conversely that helps to level the playing field with him and Se Kyung. Just like Seung Jo and Yoon Joo both wronged each other and failed in their relationship, now its clear to me that Se Kyung doesn't owe Seung Jo anything nor has she done anything she needs to be ashamed about. These two are totally 半斤八两 (Chinese proverb meaning "six of one, half a dozen of another" – ergo they are the same but simply has a different name) and the scale is even going forth. I like that so many more secrets are out in the open and that Se Kyung and Seung Jo are managing to happily date while opening up to each other (him more than her). I hope this drama isn't extended because I'm not feeling there is enough material for an extension, but I am curious how this gamechanger at the end of episode 10 will lead the drama forward. I hope Seung Jo's big announcement doesn't bit him in the ass, even if my gut tells me it will.
Episode 10 recap:
Se Kyung informs Tommy that even if her love for Seung Jo is dirty, it is still love and she won't give it up. She'll love Seung Jo in all her dirty glory so he should just let her go. Tommy glares at her and she glares right back. Seung Jo waits by the banks of the river for her.
Se Kyung is not scared anymore and if he wants to stop her, he needs to find another way. Tommy points out that she won't dare come clean with Seung Jo, to which Se Kyung points out that Tommy also can't come clean with Seung Jo. If he does, Se Kyung might be out of the game, but so will Tommy. He points out that she'll still be poor but Se Kyung says that is what she has always been. Especially since she's poor she can't sign the contract with Tommy because that is just getting herself into debt, which will continue to snowball and increase over time until she loses her direction. That is why she won't deal with Tommy. Se Kyung leaves Tommy standing there frustrated.
Se Kyung walks out of Tommy's and has to stand outside to catch her breath. She gets a call from Ah Jung saying that Seung Jo has been standing at the same freezing cold spot for the last hour. Se Kyung rushes there, calling him a dumb bear for not waiting somewhere warm. She arrives and sees Seung Jo shivering. Team Seung Jo has retreated to the warm confines of the car and is watching Seung Jo freeze his butt off. They wonder if they should bring him in but Dong Wook says no, Seung Jo never listens. Ah Jung introduces herself Dong Wook while Se Jin whispers that she already has dibs on him. Secretary Moon seethes as the two ladies gush over Dong Wook.
They notice Se Kyung has returned and everyone snaps to attention to watch the scene unfold. Se Kyung watches Seung Jo and thinks about what Tommy said. Seung Jo finally notices her and smiles in relief. He walks over and everyone in the car holds their breath. He asks if she's really here? Does that mean she accepts him? Se Kyung starts to say something but he cuts her off and asks if she's ready to accept him. Se Kyung smiles and nods. Seung Jo breaks into a mile-wide grin and grabs Se Kyung and spins her around.
Everyone in the car cheers and Ah Jung takes out a camera to snap a picture. They giggle about how they will peep until the couple kisses.
Seung Jo thanks Se Kyung for accepting him and says he would have waited her until he froze. Team Seung Jo gets out of the car and congratulates the new couple. They want to continue the planned event but Seung Jo says no and shoos them all away. Team Seung Jo wisely take their leave. Se Kyung and Seung Jo go inside to keep warm and she wraps her scarf around him and warms him with a hot beverage. Seung Jo smiles that they are just like a real couple.
Yoon Joo is at home and thinks about seeing Seung Jo piggybacking Se Kyung home. She gets a call from her worried brother asking what is going on?
Tommy tells his assistant that Se Kyung is smarter than he gives her credit for. She is done pretending to be good, and now she'll act thoroughly bad. She is right, he can't come clean with Seung Jo. But Han Se Kyung also can't come clean because with Seung Jo's temper it'll be over immediately. He asks for someone to keep an eye on Se Kyung.
Se Kyung walks Seung Jo home and tells him to hurry inside and take a hot shower. Seung Jo is reluctant to walk inside so he asks her to go first. Se Kyung walks away and Seung Jo keeps calling her with a be safe and see you tomorow. They happily wave goodbye to each other.
Seung Jo walks inside his apartment and sniffs Se Kyung's scarf and almost trips over a step. He sits down and happily buries his face into her scarf. He raises his face and his eyes are wet with happy tears.
Se Kyung gets a text from happy rabbit asking where to meet tomorrow? She says anywhere with a smiley face emoticon. Seung Jo texts back that he will pick her up at 10 am and she needs to leave the entire day for him. He happily hugs the rabbit to his chest. Se Kyung thinks to herself that she will tell him the entire truth tomorrow with all her sincerity. She encourages herself to have the courage to do it. Se Jin and Ah Jung inform the parents that Se Kyung has accepted Seung Jo. Dad wants them to calm down about it until Se Kyung is ready to discuss.
Morning arrives and Seung Jo picks up Se Kyung outside GN Fashion. She asks where to and he says Paris, France! Se Kyung and Seung Jo walk into the airport and she asks if they are really going to Paris? He says they are both on vacation and she has her passport and first class always has empty seats. Turns out that Seung Jo asked Ah Jung to put it in her purse but Se Kyung actually doesn't have a passport. Seung Jo grumbles that he even made reservations at the crepe restaurant.
Se Kyung thanks him but a place she has been planning to go for the last 7 years, he seemed to make a reality anytime he wanted to. Seung Jo worries that she thinks they are too far apart again, but Se Kyung says no. He makes her promise to go with him in the future.
Seung Jo puts Se Kyung in a passport photo booth and then sneaks inside the take couple pictures with her. They then enjoy French pastries at the airport cafe. Afterwards Seung Jo drives Se Kyung to have tea and during the car ride Se Kyung tells herself to get ready to come clean with Seung Jo.
Seung Jo takes her to an art gallery where two of his portraits are hanging on the wall. He painted it in Paris when he was very poor. Seung Jo confesses that when he was in Paris and broke ties with his dad, it wasn't just because he went to Paris to study art. It was also because he met a woman there. Se Kyung asks if his dad disapproved? Seung Jo's dad has always disapproved of everything he did so at that moment he stiffened his spine and decided to break ties with his father, giving up his identity and inheritance. All he had left was 150 euros and he understood what it felt like to be hungry and cold.
Se Kyung asks if Seung Jo still refuses to see his dad. Seung Jo sees his dad on occasion but every time they argue. After severing ties with his father, his life with his woman was bordering on poverty, which is when he painted that picture and it was sold at an art gallery for 30,000 euros. Seung Jo was surprised since he was just a no-name artist, but after that painting was sold more people came to buy his paintings. He doesn't know the identity of the person who bought that painting but that person gave it to this gallery owner Carrie Park which is why it is hanging here. Betcha money Seung Jo's dad bought it. Seung Jo is very grateful to that person because that is how he came to be here today.
Seung Jo asks why Se Kyung isn't asking why he stopped painting and entered Artemis? Seung Jo says he had something to do, and he hands Se Kyung a USB drive. But he changes his mind and doesn't give it to her, saying he is worried that she will dislike it after she sees it. Se Kyung says she also has something to tell Seung Jo that he will likely dislike her when he hears it. Se Kyung is about to come clean but Seung Jo stops her. He is afraid that if her secret is no big deal, he'll be afraid of telling her his secret in the future.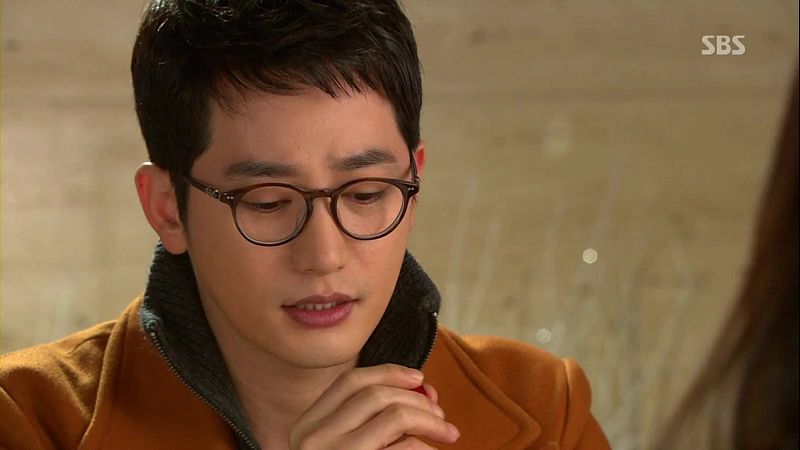 They fight over who should reveal their secret first but he asks her to wait. He wants her to see what he has to say first before telling him. Tommy's spy is in the gallery and hears all of this. As they are driving home, Se Kyung asks what Seung Jo's dad thinks seeing him return so successful. Seung Jo says his dad is angry and upset but Se Kyung doesn't think so, her dad might disapprove of her but also secretly keeps tabs on all her accomplishments. Seung Jo says his family is not like hers.
Seung Jo drops Se Kyung off and Yoon Joo is waiting outside in her car and sees this. Seung Jo asks why she seemed subdued today and she confesses feeling trepidation. Seung Jo thinks he should have listened to Dong Wook and scrapped the going to Paris idea because it makes him look like a loony. Se Kyung says it wasn't that, she's too happy and had too much fun which is why she will work hard to make it not so fearful for her in the future. She sends Seung Jo off. Yoon Joo gets out of her car and is about to call Se Kyung but stops herself. Se Kyung goes back to her room and prays that Seung Jo tells her his secret soon so she can come clean to him before she becomes even more despicable.
Seung Jo goes home and puts the USB drive in an envelope addressed to Se Kyung. Tommy looks at pictures of the couple and realize Se Kyung hasn't come clean yet. His spy says Se Kyung looked like she wanted to tell him but didn't. He also reveals a woman was lurking outside Se Kyung's house observing the couple as well.
In Hwa arrives to meet with Tommy and both think the marriage prospect is progressing well. In Hwa offers to meet with President Cha since last year Royal lost out on a bid with GN Group to sell outlet items. Seung Jo gets an invite to the Royal Charity Bazaar while Tommy meets with President Cha to discuss another collaboration with GN Group that will also involve Artemis.
Seung Jo walks through a sales floor with In Hwa and they discuss upcoming fashions. Seung Jo compliments In Hwa's taste and style. President Cha arrives and notices In Hwa with Seung Jo. In Hwa is called away and father and son walk towards each other. Seung Jo asks why his dad is staring at him without talking.
Dad asks when he is done with work? Dad finally spits out "foo….fooooo….food!" He asks Seung Jo awkwardly if he wants to eat some food. Seung Jo agrees and they sit down to eat at a nice restaurant. Dad asks Seung Jo how things are going with Han Se Kyung? He cautions Seung Jo on marrying the wrong woman and points out rich men who married poor wives. Seung Jo points out the proper marriages that have all ended in divorces. Dad rails at Seung Jo to stop talking back and he should just say yes to everything dad says. Finally dad barks at him to just eat and the two silently shove food into their mouths.
At the Shin family dinner, the family says President Cha looks intrigued at the new collaboration because it will give him more opportunity to see Seung Jo. Mom thinks the marriage prospects are going to get better. In Hwa reveals that Seung Jo dined with his dad today and Mom thinks Tommy Hong is credited for the thawing of the father-son impasse. Yoon Joo thinks to herself that its likely because of Se Kyung. Min Hyuk asks if In Hwa gets along with President Cha and In Hwa smiles and says she does. Yoon Joo smirks that In Hwa doesn't know anything about Cha Seung Jo and things will never go according to their plans.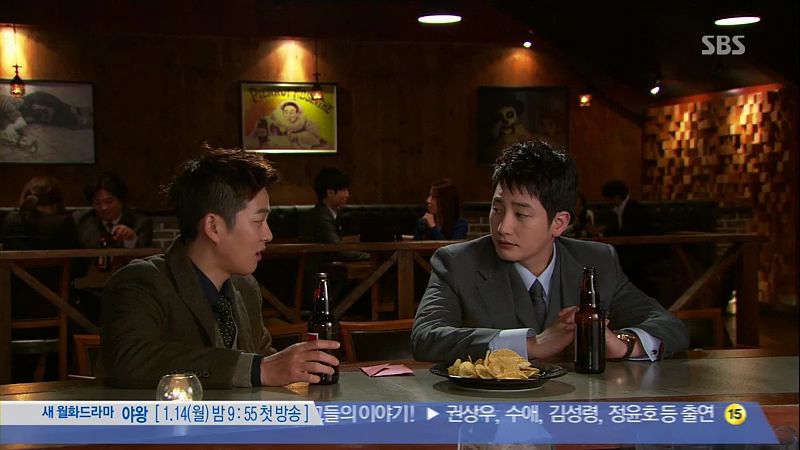 Seung Jo drinks with Dong Wook who asks if Dad has changed? Seung Jo says his dad is still the same. Dong Wook credits the power of love for getting Seung Jo to warm to his dad. He wonders why Seung Jo hasn't revealed everything to Se Kyung yet? Seung Jo is afraid and just wants to know that Se Kyung will respond with an "I love you" even after knowing. Dong Wook runs off with the envelope and says he will deliver it if Seung Jo can't, leaving Seung Jo to chase him out of the bar.
Yoon Joo is drinking and calls Se Kyung, asking if things are going well? Se Kyung says she intends to go forward with her own methods. She intends to breach the defenses straight on. Yoon Joo asks if Se Kyung means to come clean and confess everything. Se Kyung says yes. Yoon Joo yells at her, asking if she doesn't want to succeed and enter Cheongdamdong? Doesn't she know men? Yoon Joo reminds Se Kyung that if she wants to go dark, she has to go all the way. She cannot confess now. Se Kyung ends the call.
Yoon Joo cries and thinks to herself that Se Kyung not coming clean is the only way Yoon Joo can survive. She needs Seung Jo with Se Kyung so that the marriage with In Hwa is stopped. She breaks her wine glass in frustration and Min Hyuk walks over, wondering what is going on with Yoon Joo lately? Yoon Joo cries that she doesn't know what's going on? Min Hyuk is genuinely concerned about her but all Yoon Joo can say is that she's sorry.
Se Kyung reads a letter from Yoon Joo telling her not to confess. Se Jin comes in with an envelope from Seung Jo and inside contains the USB drive and password. Seung Jo sits in his room praying knowing that Dong Wook express mailed the USB drive to Se Kyung. His doorbell rings and he can't see anyone outside so he opens the door and finds Yoon Joo slumped against the wall.
Yoon Joo walks inside and says Seung Jo did more wrong to her than she did to him. He used her as well and he didn't trust her. Yoon Joo says Seung Jo didn't give up everything for love, he did it to win over his father and prove his backbone to his father. That is why he used Yoon Joo. He said that he gave up everything for Yoon Joo, but really he was testing her to see if she will stay with him if he had nothing. Because he didn't trust her.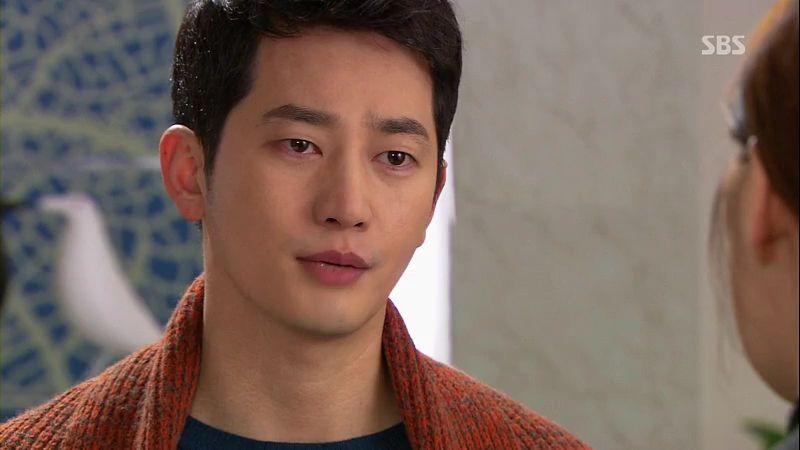 Seung Jo admits that she wasn't that type of person. One day he woke up and she was gone. It took him three months to find out she was still in Paris, another five months to find out where she was staying, an entire year before he saw her again. He wanted to find evidence that she actually existed. She once looked at him with even more warmth than his mother looked upon him when he was small. He knows that she really did love him, but how much of it was real or fake was driving him crazy. He kept asking himself and doubting himself.
Yoon Joo cries and says she knew he was crazily looking for her all year in Paris. The letters he wrote to her that year, she read them all. She also knew that all he had left was to seek revenge. Seung Jo doesn't know if he was looking for a way to keep himself alive, or he really hated his father and Yoon Joo that much. But now he is certain of one thing, he and Yoon Joo never really broke up. One day she disappeared and he kept looking for her. That is why they are standing here having this conversation right now. Seung Jo apologizes to Yoon Joo for not protecting her and not trusting her. That was all his mistake. From now on, he hopes that she is happy. Yoon Joo sobs and sobs and Seung Jo tries to comfort her.
Se Kyung watches the video Seung Jo recorded of his confrontation with his dad after returning to Korea. She also listens to Seung Jo's recorded conversation with Yoon Joo. Afterwards Seung Jo records a video for Se Kyung explaining how he orchestrated revenge against his dad and former lover and recorded it all. Clearly he wasn't right in the mind. When he gave up his inheritance six years ago, he thought to himself that all he needed was an expensive watch that would sustain him for a few months. But his dad noticed the watch and made him take it off. Inside he felt so ashamed he wanted to bash his head against the wall and die. He was so weak.
Seung Jo left his password for Se Kyung and she can find all his online postings, the things he could not say to people. He purposely would write online mean things because he couldn't sleep at night. He is that kind of guy, someone filled with dirt in his soul. Can she still accept him like this? Se Kyung cries as she watches him confess so much to her. No matter how dirty he is inside, Se Kyung brings out the best in him. If they can stay by each other and protect that love, that is happiness in his mind. Can she still accept him?
Se Kyung grabs her things and rushes out to Seung Jo's place, sending him texts that she is coming. Seung Jo is standing by the window and doesn't notice her texts. Se Kyung runs into Seung Jo's building and Yoon Joo sees her and chases after her. Se Kyung rings Seung Jo's doorbell but Yoon Joo drags her away before Seung Jo comes running out of his apartment after reading Se Kyung's texts.
Yoon Joo asks if Se Kyung is here to confess but Se Kyung asks why Yoon Joo is here? Se Kyung says Seung Jo revealed everything to her so she wants to do the same. Yoon Joo says men are different. When Se Kyung dismisses Yoon Joo, she confesses that she was the woman who broke Seung Jo's heart. Wasn't she known as Cha Yoon Joo back in France? Yes, she was Cha Seung Jo's woman, the woman who dumped him as a business arrangement. After it happened, Seung Jo almost died. He suffered from PTSD because of it.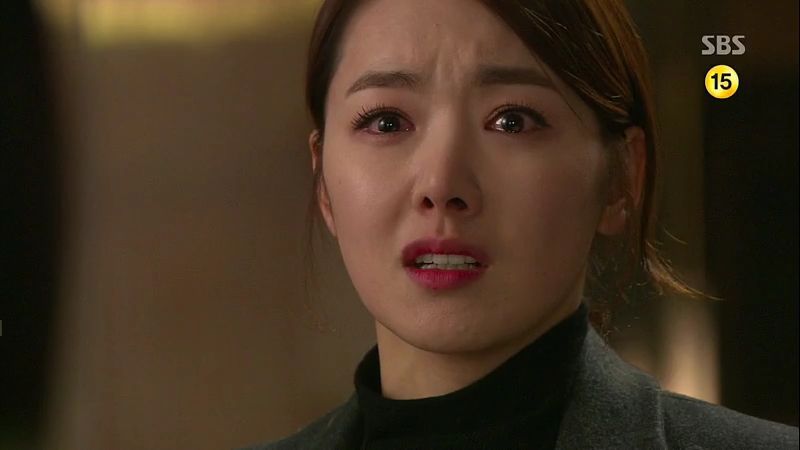 Since he was born he only loved two woman, if he learned that both women are friends and both approached him for money, he could not possibly survive this truth. He would die because of this. Seung Jo is outside looking around for Se Kyung. Yoon Joo says confessing is to relieve one of their own guilt, but what about the person hearing it. She asks Se Kyung to think carefully about what will happen to Seung Jo and her own life if she confessed. Dayum, Yoon Joo you just put Se Kyung in a deep pile of crap she can't crawl out of. Yoon Joo says Se Kyung has to save Seung Jo (and in her mind, she thinks that Se Kyung needs to save her as well). Se Kyung drops to her knees in shock.
Seung Jo finally spots Se Kyung outside and runs over to ask what she wants to see him about? He asks if she's watched it all, and if she's still okay with him being that kind of person? Se Kyung doesn't saw anything so Seung Jo grabs her hands and puts them on his cheek while saying he is too embarrassed to face her. He asks again and again if she can accept him. Se Kyung quietly says yes. Seung Jo is so happy but Se Kyung is forlorn and subdued. Seung Jo notices it but Se Kyung dismisses it as nothing.
Seung Jo pulls Se Kyung in for a hug and thanks her. Se Kyung closes her eyes in his embrace. He asks her to go somewhere with him tomorrow, does she have time? Se Kyung says yes again. Seung Jo confirms she will come tomorrow and he wants to take her home but she declines. Se Kyung walks home through Cheongdamdong and recalls Yoon Joo sharing her own failed history with Seung Jo, as well as Seung Jo confronting Yoon Joo about how much he was shattered after she left him. Se Kyung gets a text from Seung Jo to meet him at the Cheongdam Convention Center tomorrow. She responds with an yes.
The Royal Charity Bazaar Party is underway at the Cheongdam Convention Center and the GN Group folks are there as well as Tommy. The other rich ladies are discussing the potential marriage alliance between Artemis and GN Group. President Cha arrives and goes over to join the group. Seung Jo arrives as well and meets up with Se Kyung. He happily brings her inside.
In Hwa is the first to notice Seung Jo arriving, but he pauses at the entrance and goes to bring Se Kyung inside, holding her hand. Everyone stares in shock and when Se Kyung sees everyone she stops and looks stunned as well. Seung Jo smiles and brings her over to the group.
Se Kyung shrinks behind Seung Jo but he proudly introduces her as his girlfriend to the entire group. Tommy looks absolutely horrified while everyone else gapes in shock. Seung Jo then introduces Se Kyung to his father, President Cha Il Nam. Seung Jo then calls him father and informs him and he intends to marry Se Kyung.
Everyone stares at Seung Jo and Se Kyung like they sprouted five heads and was suddenly doing the naked shimmy. Se Kyung looks totally disconcerted and shaken while In Hwa tries to mask her discomfort and disappointment. Seung Jo smiles broadly and smirks proudly.
As much as I wish Seung Jo would behave more maturely and thoughtfully, I can't deny the frisson of satisfaction that passed through me when watching Tommy's look of utterly disbelief and In Hwa's silent rage. Also, why and how did those other two random rich ladies suddenly vanish into thin air from when Seung Jo and Se Kyung walked in the door and when they reached the group. So weird.