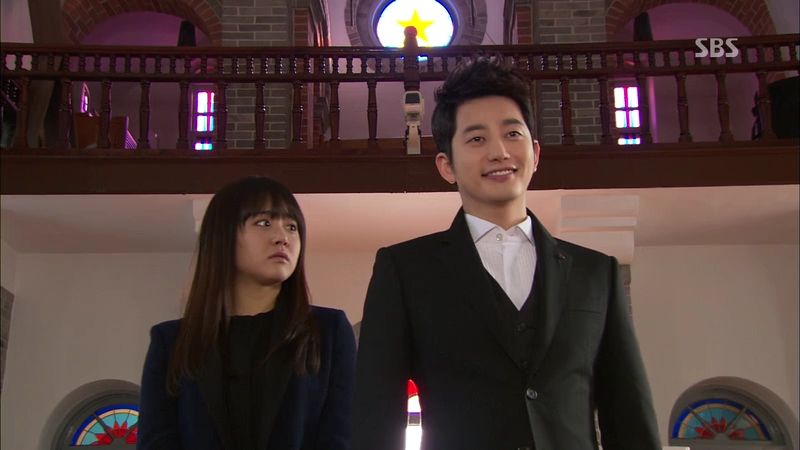 The last 5 minutes of episode 14 of Cheongdamdong Alice was the best plot development to happen in this drama for the past 6 episodes. It was also what should have happened like 5 episodes ago, which continues to grate that so much time was wasted on pointless filler tension. The entire last 5 episodes was all about keeping the truth from various people, most importantly Seung Jo. I get that, that has some tension worth milking. But it was dragged on and on (with In Hwa's attempt to video bomb Seung Jo spanning 2 episodes worth of precious time), when really it warranted at most one episode. Let me explain why – this "secret" wasn't that big a deal. It was a shocker, people will have their perceptions realigned, some hard to deal with things might happen, but it wasn't some sort of "HOMG, you are married to your long-lost brother" type of axis shifting secret that must be kept AT ALL COSTS. So the drama dragged on something that we all knew was going to come out anyway (and ought to come out for the greater good of everyone going forward without being smushed by the burden of lying) and now we're two episodes from the end and finally the story gets to the meat of it all.
Episode 14 was supposed to be all sad and mopey but instead I laughed and was pretty thrilled. Yoon Joo wins my love forever by being proud of who she is when confronted with horrible hypocrites who has the some motivations as her but act holier than thou. Tommy continues to transform himself into the prototypical understanding and supportive second male lead, though spending an entire episode trying to call people left and right feels like such a waste of a character that had the potential to be more substantively involved in this story. Se Kyung finally FINALLY shows the spitfire spirit she displayed in the early parts of the drama, when she confronted Seung Jo about his hypocrisy when trying to help In Chan, but sadly its too little too late for me to fall back in love with her character. I actually like Seung Jo because he is a really good person inside, but I hate how the drama has emasculated him to the point that he feels like a plot device rather than a relatable character. I love me some beta-male leads but his character is written with such a far-fetched emphasis on his traumatic past and inability to deal that he doesn't feel even remotely real to me. I guess if I take the Alice in Wonderland theme a step further, if in that story Alice fell in love with the crazy Mad Hatter, this is probably what would have happened.
Episode 14 recap: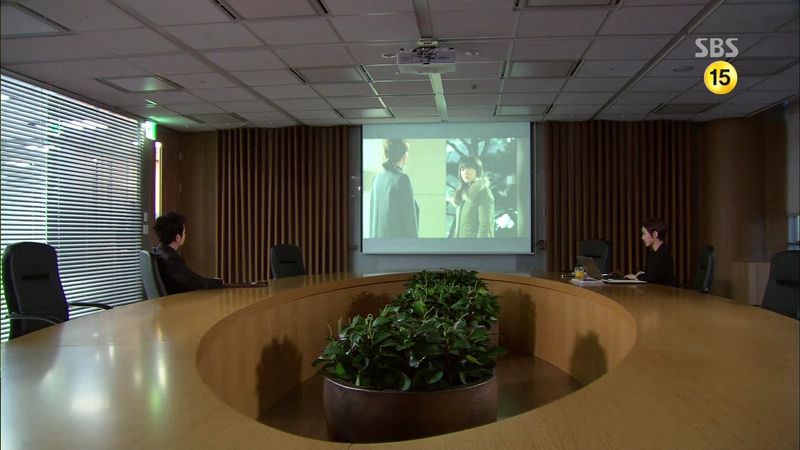 In Hwa shows Seung Jo the video of Se Kyung and Yoon Joo and Seung Jo calmly watches it all.
Afterwards he smiles and says in all seriousness why there are two people in that video who look just like people he knows. In Hwa's like "what the hell?" She asks if he watched clearly and Seung Jo says yes. Seung Jo thanks her for the business proposal and ends the meeting. In Hwa wonders if he already knew and intends to keep concealing it.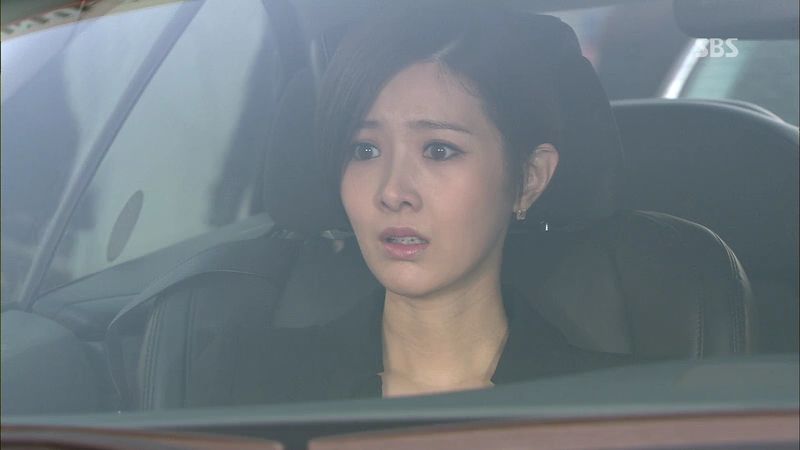 As In Hwa is being driven back to GN Fashion, she keeps wondering how come Seung Jo had no reaction.
Dong Wook explains that once he learned that Seung Jo had cut off ties with his dad, he returned to Paris but Seung Jo moved out and quit school. He found him 6 months later living in a ramshackle pit and he had let himself go. He lived like that for another year before picking himself back up. Se Kyung asks what Seung Jo would do if faced with another huge shock? Dong Wook says to treat Seung Jo as a ticking time bomb and to never leave his side. Always stay beside him.
Seung Jo goes back to his office and sits down with a smile that slowly disappears. He starts to digest what he just learned and his shock and pain are evident in his eyes.
Se Kyung leaves Dong Wook's office and gets a call from Seung Jo. She heads over to his place and walks around inside not seeing him anywhere. Se Kyung finds him in the kitchen pouring wine and sighs in relief. She asks what this is for? Seung Jo ordered wine from the small French town he told her about. They toast and he takes a sip and smiles while she stares at him.
Tommy gets a call from his spy at the meeting ended at Artemis and Seung Jo left work like usual. He seemed fine and in a good mood. Yoon Joo wonders if In Hwa didn't say anything? Perhaps she changed her mind? Yoon Joo intends to go check. When Yoon Joo gets back to work, she sees In Hwa storm into her office and slam the door. Yoon Joo finds out the meeting ended but In Hwa didn't get the reaction she wanted.
In Hwa walks out and Yoon Joo whispers to her, asking directly if she told Seung Jo? In Hwa smirks and says Jean Thierry Cha is a piece of work, but how long he can hold it in, no one knows? Yoon Joo rushes off to call Tommy and confirm that In Hwa told Seung Jo. Tommy is upset to hear this.
Se Kyung flips through childhood pictures of Seung Jo, saying that he was a handsome boy and is still very handsome now. They turn and stare at each other. Se Kyung can tell something is off but Seung Jo says nothing and goes off to grab another bottle of wine.
Se Kyung gets a call from Tommy and goes to the bathroom to answer. He urgently asks if anything happened and reveals that Seung Jo knows everything, In Hwa told him today. Se Kyung's world spins and she drops the phone and sinks to the ground. She remembers Seung Jo greeting her with a smile and how Dong Wook told her Seung Jo deals with trauma by pretending it didn't happen.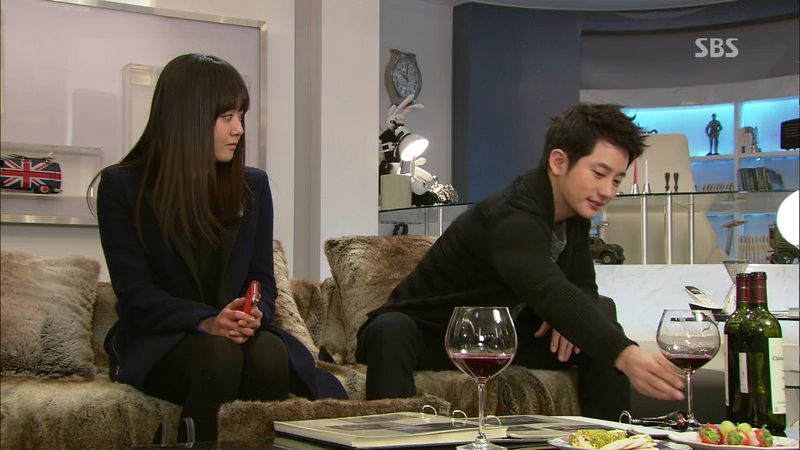 Seung Jo calls out for Se Kyung, worried about her in the bathroom for so long. Se Kyung tells Tommy she can't talk anymore and walks out of the bathroom. She finds Seung Jo opening another bottle of wine and slowly walks towards him. He asks her to come over because he has something to say to her. Starting tomorrow they will be busy picking locations, wedding dress, buying a house, preparing invitations, he wants her to not be stressed and take it one at a time. Se Kyung looks stricken but musters up a smile for him.
Tommy is with Yoon Joo and he's trying to reach Se Kyung but her phone is turned off. Tommy wonders if Seung Jo is berating Se Kyung right now, or acting like nothing happened. He wonders why Yoon Joo isn't even worried and Yoon Joo says Se Kyung chose this path so she has to deal with the consequences. Man, I'm really appreciating Yoon Joo's character more and more.
Se Kyung sits beside Seung Jo who has nodded off right on the sofa. She cries and then puts him to bed. She remembers his dad telling her to stick by Seung Jo her entire life and never let him know the truth so that she can unburden her soul. She holds his hand and says that she will take responsibility. Even if it ends now, she will face it head on and not run away from responsibility.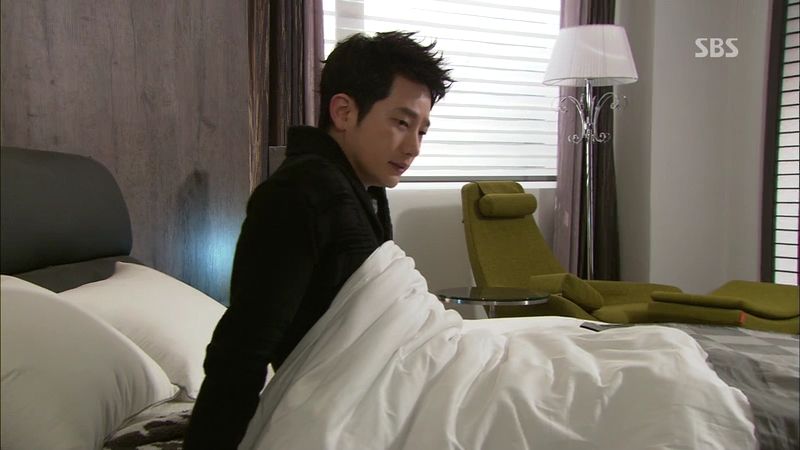 Seung Jo wakes up the next morning and remembers seeing Se Kyung in the video and In Hwa saying that it's not two people who look the same. He hears noises from the kitchen and walks out to find Se Kyung has prepared breakfast for him. She slept on the sofa last night and laughs at his lightweight tolerance falling asleep after drinking so little.
They sit down for breakfast and she asks if he slept well. He says yes. Se Kyung brings up how Seung Jo claimed he was not a prince but instead a coward. Se Kyung says Seung Jo is not a coward but he doesn't need to always show her his best side. Se Kyung is about to tell Seung Jo everything when he cuts her off and says with a smile that he has something to show her today.
Seung Jo drives Se Kyung to a beauiful church and they walk inside to find it empty. Seung Jo leads her up to the altar and starts to describe what he plans to do here for their wedding. Oh boy, this is not going to end well. Can he not tell how stressed she is? Seung Jo points out that their friends and family will be here and they appear in this imaginary sequence. Funnily enough, imaginary Seung Jo dad gives Se Kyung a stern look like "you better not screw this up."
When Se Kyung and Seung Jo arrive at the altar, an imaginary priest appears and they exchange their vows and pretend rings. When it comes time to ask if anyone has any objections to this union, Se Kyung finally has enough of this farce and tries to say something.
Se Kyung tells Seung Jo that he needs to listen carefully to what she has to say. She is about to say she lied to him when his face turns and he warns her to not say a single word. If she talks he will kill her (this is the Korean metaphorical way of warning someone). Suddenly the imaginary priest and family and friends all disappear. Seung Jo warns her again not to say anything, to pretend that nothing happened. Se Kyung's eyes fill with tears. He tells her that nothing will change.
Se Kyung cries and says that she is sorry. She was wrong, he did nothing wrong, it was all her fault. So can he please stop tormenting himself. He doesn't need to face anything because this is all her fault and her responsibility to bear. She'll be the one to go to hell. Seung Jo cries and says she ruined it all before turning and walking out of the church.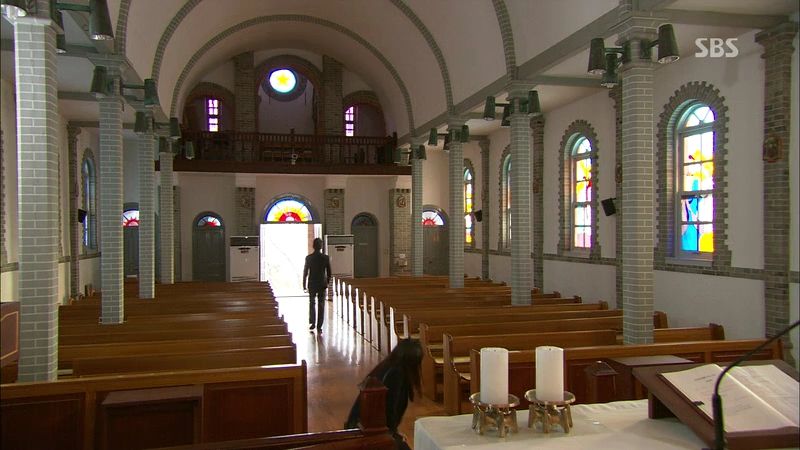 Se Kyung sinks to the ground at the altar and sobs her guts out. Seung Jo walks out of that church without looking back once, getting into his car and driving off. Se Kyung wipes her tears and runs after him but he's gone already. Great, just ditch your fiancee at some random church.
Se Kyung calls Seung Jo but he doesn't pick up his phone. She keeps calling and he pulls over to look at her picture. He appears to want to answer but then the call ends. He cries and cries in the car.
Se Kyung calls Dong Wook and asks him to help find Seung Jo. They rush to Seung Jo's apartment but he's not there and his phone has been turned off. Se Kyung asks Dong Wook to wait in the apartment in case Seung Jo comes back. She find Secretary Moon but he's not at the office either. Everyone wonders what happened and she promises to explain later when he's found. Seung Jo's dad is also told that he's gone missing.
Seung Jo's dad calls Se Kyung in and rages at her, demanding to know why she didn't stop him from leaving. She should have claimed In Hwa manufactured everything and she didn't do anything wrong. He tells her to find Seung Jo no matter what and bring him home. Se Kyung quietly says yes.
Se Kyung remembers about Seung Jo's painting hanging in the gallery and rushes there and finds out Seung Jo came by today. The painting has been moved and Seung Jo went to see it. Seung Jo's dad has notified the cops to look for Seung Jo as well. He's told the meeting with GN Fashion is about to start.
Seung Jo's dad walks into the meeting with GN Fashion and says Seung Jo won't be coming and this project is over. Royal will not be working with GN Fashion anymore and he pointedly looks at Shin In Hwa and says she knows exactly why. After he leaves, her dad and brother turn to her and ask what the hell happened? In Hwa says she will explain on the way home. Yoon Joo tells her brother that In Hwa told Seung Jo already and he worries that Min Hyuk will know soon. Yoon Joo is very calm and says she will call him later.
Madam Shin comes home and tells Yoon Joo that Royal won't work with them anymore. Everyone else comes home and Yoon Joo composes herself and goes to join them. The elevator door opens and Yoon Joo sees that In Hwa has the tablet in hand. Everyone goes inside and In Hwa drops the bomb on the entire Shin family. Everyone watches in horror but President Shin tells In Hwa to turn it off!
Madam Shin gets up and splashes water on Yoon Joo, saying that she should not have been allowed into this house with her dubious background and greedy ways. She's ruined two families and brought embarrassment to them all. Min Hyuk gets up and tells Yoon Joo to speak privately with him.
Once alone, President Shin rakes In Hwa over the coals for doing something so thoughtless. Madam Shin tries to defend her daughter but In Hwa gets a clue and says even if they get rid of Yoon Joo from their family, Se Kyung's situation had to be concealed at all costs. President Shin says of course, a billion dollar deal was ruined over her inability to control her hurt feelings. In Hwa says they forced her, even if her marriage to Cha Seung Jo was aborted they still had to bow their heads to him. President Shin says In Hwa lost and in business she needs to learn what is a loss that she has to endure in order to succeed at the bigger picture.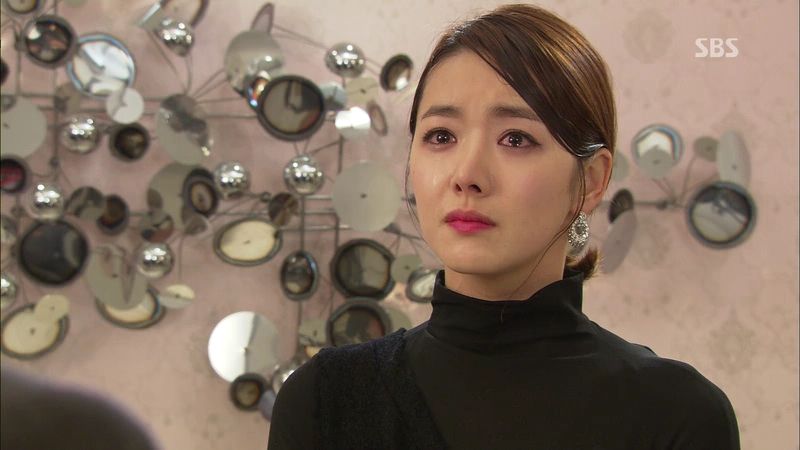 Min Hyuk asks Yoon Joo if this was what she tried to tell him? Did she think he wouldn't kick her out if she told him first? Did she plan to endure In Hwa, Seung Jo, her past marriage, all to stay with Min Hyuk. Yoon Joo cries but says nothing to all that. She finally speaks up and asks what is important now? Does he want a divorce? Min Hyuk says yes, the marriage wasn't important to her. She liked him not because of his personality or looks, she just needed someone to protect her in this harsh world. He knew that actually, but now its just too blatant.
Min Hyuk is about to leave and Yoon Joo says that she really intended to protect what they had. She wanted to protect and treat well the person who was protecting her. She wanted to be good to him. She wanted to do well by him. She did everything she could to protect this all. She cries and Min Hyuk does look affected by what she is saying but he still walks out. I love that Yoon Joo held her head high through this all. Go girl!
In Hwa is out walking and runs into Yoon Joo leaving the apartment. The two women meet each other's eyes but this time In Hwa doesn't smirk like some mean girl in junior high.
Madam Shin wants the divorce immediately and Yoon Joo doesn't get a penny. President Shin says not yet, they need to win back Royal and Artemis and the only way is through Yoon Joo, who is friends with Se Kyung. Min Hyuk says he doesn't intend to end it like this either.
Yoon Joo walks through her massive closet and dispassionately surveys everything. She gets a call from Tommy and finds out that Se Kyung can't be reached. Yoon Joo says its game over for all three of them. Her family found out and the deal is over between the three companies. Se Kyung ought to be over, too.
Se Kyung heads to the second gallery and finds Seung Jo's painting hanging on the wall and learns that he was just by a few hours ago. Se Kyung continues her "run around Seoul like a crazy woman in search of Seung Jo" mission, narrowly avoiding getting run over by a car. Tommy finally reaches her and worriedly asks if she's alright? Se Kyung reveals that Seung Jo has disappeared and he tells her to wait for him. She just says over and over again that Seung Jo is gone. Jesus, he's not like a lost dog or anything. He's a grown man.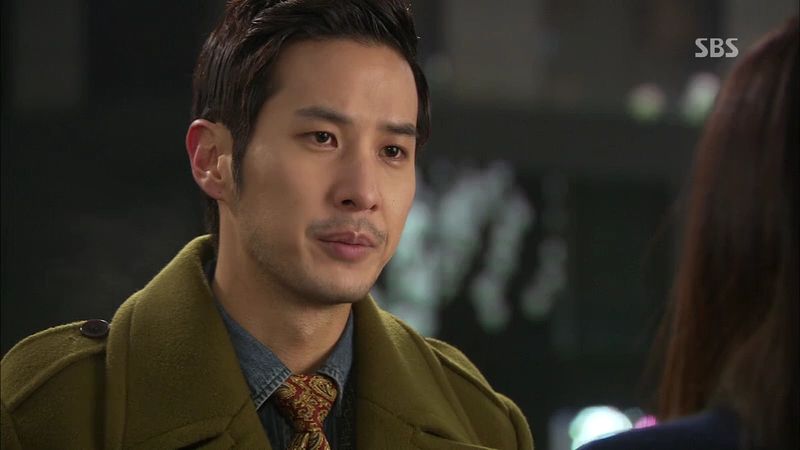 Tommy manages to track down Se Kyung on the streets of Cheongdamdong. She wanders off to look for him, crying that there is still so much she wants to do for him and so much she needs to show him. Tommy gives her a sympathetic look and suggests they check his apartment. He might intend to leave but he's still the President of Artemis Korea and can't just ditch everything.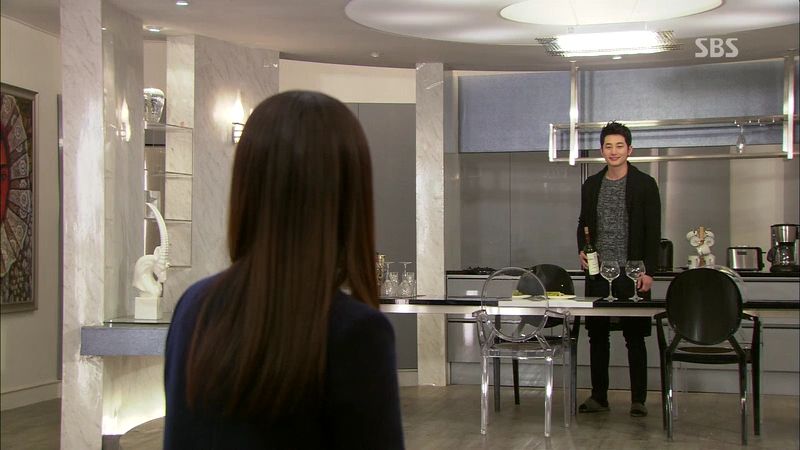 They rush to Seung Jo's apartment and finds it still empty. Se Kyung imagines him waiting for her in the kitchen but its just an illusion. Tommy waits outside for her. Dude, pick this guy instead. Se Kyung finds the picture she drew of Paris and remembers that Seung Jo is great at running away. She gets a call from Secretary Moon that Seung Jo may be leaving the country and returning to Paris because his travel bag is gone. Se Kyung and Tommy rush off to the airport.
Seung Jo is at the airport and remembers being here last time with Se Kyung and their promise to go to Paris together. Tommy and Se Kyung arrive at the airport and rush towards the gate where Seung Jo is currently waiting to go through customs.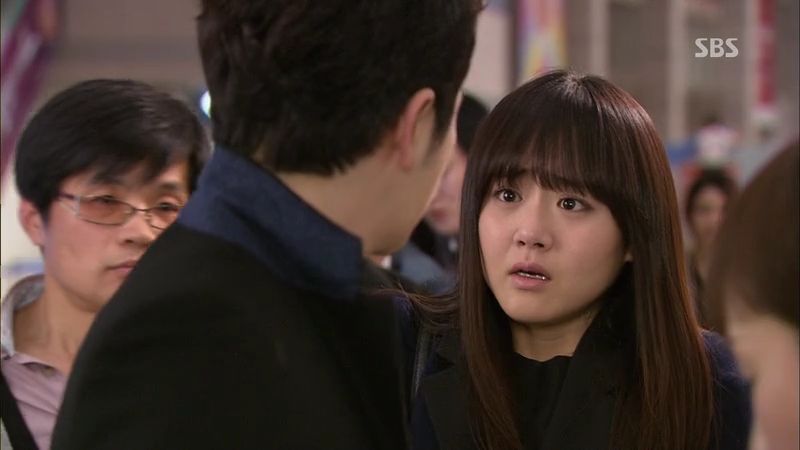 Se Kyung finds Seung Jo right before he walks through and she rushes over and literally drags him out of line. He shakes her off and asks what she is doing since its all over. They can't return to the way it was before. He wanted to forget but he is once again like an idiot. Everywhere he looks she's all around him. Even though he wants to ignore the truth she still forced him to confront reality. So it would be best if she disappeared from his eyes.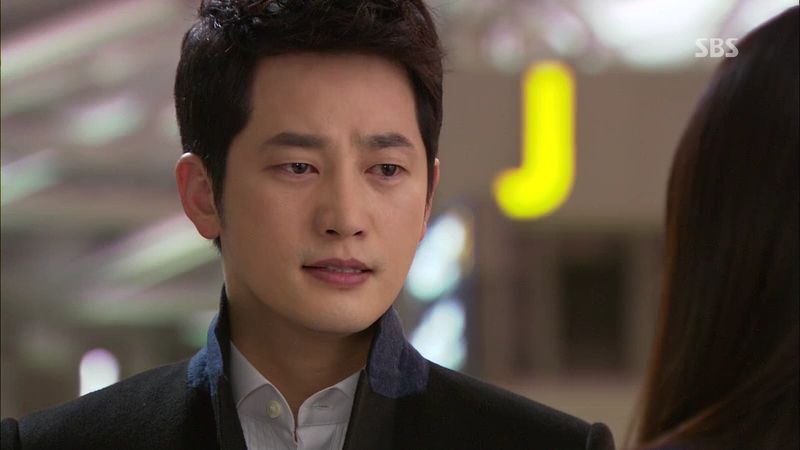 Se Kyung points out that he'll just pretend that she's away and he can just pretend he's on vacation. Seung Jo says love can end and he can be abandoned by the person he loves. So from now on, there is no Han Se Kyung in his life.
Se Kyung walks way but Se Kyung pulls him back. Se Kyung tells Seung Jo that if he wants to end their relationship, it needs to be done properly. He cannot run away. Seung Jo says he ended it but Se Kyung says no, its not over. She wants to show him her true self and not the ideal version of her that he's constructed. If after that he still wants to leave, then fine. He's shown her everything about him, now its her turn.
Thoughts of Mine:
Where is the love? I don't care what Cheongdamdong Alice was marketed as (and it was horribly marketed to begin with), this story whether as a rom-com or a melodrama or a societal expose was premised on a love story driving the narrative. I don't see or feel a love story anymore. Yes, the characters talk about love – but Seung Jo discusses it as some type of ideal projection while Se Kyung has taken love beyond the romantic into the nurturing and sacrificial side. I feel like this drama barely allowed the OTP to have any romance before they were plunged into a farcical courtship resulting in a rushed engagement and predicated on a marriage built on keeping key realities from one person. That's not romantic at all, and the way the drama sets it all up doesn't feel realistic either. It's not like we're trading one for the other, we're just losing out on both. Seung Jo's love-starved life resulting in his PTSD from Yoon Joo dumping him is really a stretch to begin with, even more so considering he's fully functioning everywhere else, such as running a multi-million dollar subsidiary of a billion dollar international conglomerate. Nowadays CEOs are often asked to pass critical mental tests (and some are even required to see a psychiatrist) before being hired to such positions. It's really shoddy writing to portray Seung Jo as so emotionally fragile he'll snap to learn that Se Kyung isn't perfect (and really her failings and lies towards him are really not that big of a deal) yet ask us to accept that he's perfectly fine in all other aspects. It's not impossible, but highly improbable. Which leads to this story getting stretched to the edges of credulity in order to sustain a very flimsy narrative.
I also am pretty irritated with Seung Jo's "I and Me" reaction to everything. The moment he's faced with the truth, he shuts down and everything is about his own emotional hurts and fears. What about Se Kyung? Didn't he say he loved her? Does he understand what it means to love someone? Obviously not, as Yoon Joo as pointed out before to him. He puts himself above the feelings of the woman he professes to love, and then holds her to unrealistic standards that she can't help but fail. Se Kyung did not set out to seduce Seung Jo knowing he was rich. She did intend to marry rich and it was by a series of coincidences, which he perpetuated himself, that led to them falling for each other. She merely continued the pretense a bit longer but that is hardly some unforgivable transgression. Faced with the same golddigger shaming, I'm so proud Yoon Joo held her head high and didn't let those horrible rich tools make her feel ashamed. I like to believe In Hwa and Min Hyuk might wake up and realize their own double-standards, but I'm not holding out hope. I'm looking forward to the final two episodes so that I can say I finished the drama, plus all the pointless running in circles has finally ended so what's to come should be satisfying and exciting. But CA really let me down from its early potential-filled start and for that I am really sad this drama couldn't execute on its own interesting set up.