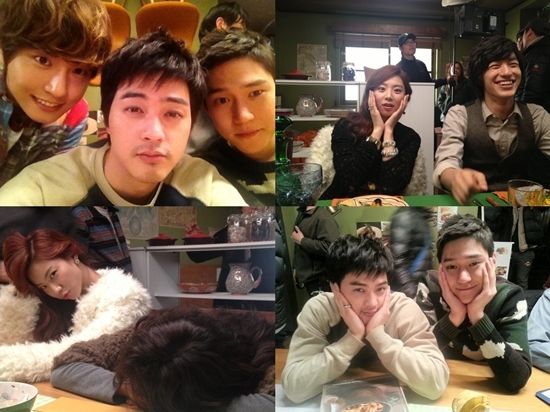 There was a new song introduced in Flower Boy Next Door that was a stark contrast to the peppy uptempo first few songs off the OST. This one is an angsty ballad and it played over the ending sequence for episode 9, which perfectly captures how this drama went from mellow contemplation to cranking up the intensity in a few short minutes. Seo Young whips out the plane tickets and unleashes a potential hornet's nest of issues. If Enrique didn't have to decide between staying in Korea or returning to Spain with Seo Young, he could continue his flitting about the apartment buildings and being a social butterfly. I notice that he's rarely serious, but because he can't be, but because he's letting the inner childhood id reign because he probably grew up too fast. Only with Dok Mi is he forced to be serious, and I still get goosebumps remembering their confrontation in her apartment when he pushed her to deal with her issues with Do Hwi. It does make it amusing to watch Jin Rok try to have adult conversations with him only to end up thoroughly defeated by Enrique's joie de vivre. Now that Seo Young has upped the ante, suddenly Enrique is faced with making a decision. And making a decision is what adults do, because from every decision flows the consequences.
I'm assured he's no longer harboring any interest in Seo Young but its too early to say he is interested in Dok Mi in a romantic sense. He's curiosity about her likely stems from an unconscious interest in her, but I actually see Dok Mi falling for Enrique first. She's falling for her because he both frustrates her and moves her, that fascinating dynamic between inertia and force. Initially he literally dragged her out of her safe haven but gradually she's become proactive in stepping outside and interacting with people. She's not comfortable with it, but the anxiety seems to be fading with time. I wished she would have time to figure out what Enrique means to her before facing the prospect of him leaving, because I really love the slowness of how this drama develops the OTP relationship. It's relaxing to watch them blossom around each other. But with this new twist suddenly the leads will be pushed towards dealing with their feelings earlier rather than later. Will Enrique stay for Dok Mi? Will Dok Mi go back to her former lifestyle at the prospect of him leaving? Will Jin Rok stand back and watch those two avoid dealing with the pink elephant in the room, and how must be feel seeing this happen when he's like Dok Mi for so many years? I love me my weekends but right now I need it to be Monday ASAP.
Written preview for episode 9:
The denizens of the apartment building plan a farewell party for the soon to depart Enrique Geum. Do Hwi takes Jin Rok's straight up rejection of her as resulting from his feelings for Dok Mi. She vows to destroy Dok Mi and starts planning a party. Jin Rok sees it and questions her intentions, but its Enrique who hears what she is planning to do………
Preview for episode 9:
Dok Mi: Sometimes I will think of you. It's goodbye now. You….can you really leave?
Jin Rok: Dok Mi, you just continue like you are standing there right now.
Enrique: Please give up. I already said I wasn't getting embroiled in it anymore.
Dok Mi: When are you leaving?
Jin Rok: When did you know your heart? That you like Dok Mi, when did you realize it?!