The he said/she said/everybody else said rape investigation that has been dominating the K-ent headlines continues to roll along on its own like a muddy snowball. The lie detector test results from Park Shi Hoo, alleged victim A, and third party involved K, has been expedited and come back to the Western Police Station. The police have commented that the answers from the three remain consistent with their initial statements to the police, and remain completely contradictory to each other. Great. Glad that was so useful. The police will not be releasing the report and will be studying it carefully and comparing their responses to the evidence to weigh the case. Then the case will be passed on to the prosecutor's office who will make the determination whether to charge Park Shi Hoo. In the meantime, the dizzying number of civil suits filed and cross-filed by Park Shi Hoo and other ancillary parties remain but will likely be resolved in the long run by settlement or dismissal, probably hinging on the Big Tuna charge of whether Park Shi Hoo is indicted and/or convicted for allegedly raping A. The facts of this case remain so tainted with too much contradictory facts not to mention too many unreliable hearsay statements that the possible rape itself might never be determined. Park Shi Hoo's friend K has gone on record to give a second much more comprehensive interview to the media, which needs to be read from the understanding that he believes nothing criminal happened and is trying to exonerate Park Shi Hoo. The fact that his interview contains statements that are contradictory to his own text messages with A is very telling indeed. Gossip rag Dispatch has purportedly gotten even more Kakao text messages between A, her supposed friend B, and even A's mother, that sheds more light on the intentions of A and B after the alleged rape happened. Read on and make your own call.
K prefaced the interview by saying: "After Shi Hoo was accused, I talked with him so I know a good chunk of the truth. A made allegations through various avenues whereas Shi Hoo has only stated his side during the police investigation and has not said anything else. Most people are looking at him through tainted lenses when they ought to reserve judgment."
R (reporter), K (Kim Hee Jun):
R: On the night of February 14th, the meeting place was changed to a bar in Cheongdamdong. Was it to get A drunk as rumored?
K: That day I offered to introduce A to my hyung Shi Hoo. It was February 14th Valentine's Day and there were many people in the original spot. We switched to a bar in Cheongdamdong with private rooms so Shi Hoo would not be subject to other people's prying eyes.
R: What happened inside the room? Park Shi Hoo is known for not being able to drink and you did not drink, so was A the only one who drank?
K: Park Shi Hoo has never been able to drink much and I was not feeling well, so I did not drink. A was drinking and being happy while playing drinking games with Shi Hoo. Shi Hoo could not hold his liquor and was half dozing. I took some photos. A drank a lot, but I did not drink.
R: When you three left the bar, why did you not separate and instead all go to Park Shi Hoo's apartment. Was a rape being planned?
K: The atmosphere at the bar was very good and we had wanted to continue drinking but it was already quite late. A was a little drunk so it was hard to just put her in a cab to her home in Sangamdong. Shi Hoo's apartment was a 5-minute car ride away so we decided to go there for another round of drinks. I drove because I didn't drink while Shi Hoo sat in the passenger seat to give directions. A was in the backseat.
R: A walked down the stairs just fine when she left the bar but when she arrived at Park Shi Hoo's garage she could not walk and had to be carried on your back. Why? It was only a 5-minute drive.
K: Both Shi Hoo and I could not understand why and we remain confused.
R: What was the situation when you three to Park Shi Hoo's apartment? A claimed she was raped by Park Shi Hoo while she was unconscious, and you also molested her.
K: Originally we planned to continue drinking in Shi Hoo's apartment. When A got out of the car she was already drunk and later vomited in the elevator. This was not caught on CCTV but the apartment security guards confirmed this fact. It's not true that I took off A's clothes to wash off the vomit. A drunk person becomes somewhat conscious after vomiting. A sobered up enough to go to the bathroom to wash up and then to bed.
R: So was it like the Kakao Talk about it being cramped in bed so you went into the living room?
K: I often joke around with A and I just wanted to put her at ease in Kakao Talk the next day. The Kakao Talk is just word-for-word chat and doesn't mean everything. At the bar the atmosphere was very good, so I just wanted to leave Shi Hoo and A alone. That is why I went into the living room. It is not true that we were involved in a threesome or that I sexually molested A.
R: Then what really happened between Park Shi Hoo and A in the room?
K: What happened between Shi Hoo and A in the room that day, only the two of them know. But the case is simple – If A was sober, she could refuse to have sex with Shi Hoo. If A was drunk and unconscious and Shi Hoo forcibly had sexual intercourse with her, then it was rape. If force was used, there would be injury on A's body. But A had no injuries at all, so there was absolutely no rape. A claimed she was raped while she was unconscious. According to Shi Hoo, A was conscious during sexual intercourse and cooperated aggressively. I will not say in what ways she was aggressive. A also insisted that Shi Hoo wear a condom so they had protected sex twice. If A had been raped while drunk, she would not have such reaction. Shi Hoo told the police about the aggressive sexual intercourse.
R: You left Park Shi Hoo's home around noon on February 15th and A left at 2:40 in the afternoon. What was the mood like then?
K: It was cordial when the two of them parted. Shi Hoo and A even exchanged cell phone numbers. CCTV footage showed A was looking cheerful in the elevator, fiddling with her cell phone and touching her hair. If she had really been raped, would she have looked so calm?
R: Park Shi Hoo panicked for some time after being accused of sexual assault?
K: Shi Hoo was traumatized to experience something like this for the first time. Many people who cared about him wanted to help but there are too many speculations and the situation was getting out of control.
R: Why the sudden change of lawyers from the original law firm to PURME? Did the original firm quit because it knew there was no way to win the case? Or because it was referred by his old agency?
K: Park Shi Hoo switched to PURME because it was highly recommended by the people around him. It was not because the first law firm was introduced by his former management company or because his first law firm quit.
R: Why did Park Shi Hoo apply for the case to be transferred to Gangnam Police Station? Was Park Shi Hoo hoping to receive favorable treatment from Gangnam Police Station?
K: Western Police Station scheduled Shi Hoo's attendance for Feb. 24th but he was just changing to his new law firm PURME who needed time to familiarize themselves with the case and to investigate the incident. Western Police Station only sent him one summons and never called Shi Hoo directly. The police said they did not have Shi Hoo's contact number, so they called Shi Hoo's former management company to ask Shi Hoo to attend the investigation, and Shi Hoo only heard about it from his former management company. It does not make sense for the police to contact Shi Hoo's former management company representative Hwang. Shi Hoo applied to transfer the police station on the advice of PURME. A's lawyer used to work at Western District Prosecutors Office with jurisdiction over the Western Police Station, and this fact caused some anxiety.
R: Some reports say the Park Shi Hoo offered A 100 million won as settlement but A rejected it because she wanted Park Shi Hoo punished. Is this true?
K: It's true. Both sides wanted to settle and 100 million won was mentioned. The media refers to Shi Hoo as Goliath and A as David. But in a sexual assault case, the celebrity is actually David. Because he has lost so much already, even if it turns out that he is innocent, he would still receive strong public condemnation. Shi Hoo was in that situation so both sides were trying to work out a settlement. As the media reported, A did not explicitly ask for a figure but she made unacceptable demands like "wanting to live in a foreign country" and "PSH must be responsible for her until she is 80 years old." So they could not reach a consensus. It is true Shi Hoo's mother met with A's father, but the media did not mention the above facts and just presented it like Shi Hoo's mother was trying to solve everything with money. It is despicable that A should twist things like this.
R: Some people who claim to be on Park Shi Hoo's side have been talking to the media. Are what they have said true?
K: Not long ago, someone who claimed to be a close friend of Shi Hoo's gave an interview claiming Shi Hoo intended to keep seeing A. But Shi Hoo never said such a thing to anyone. Which is why even though I've been watching everything, I hesitated for a long time to enter the fray for fear of causing more confusion.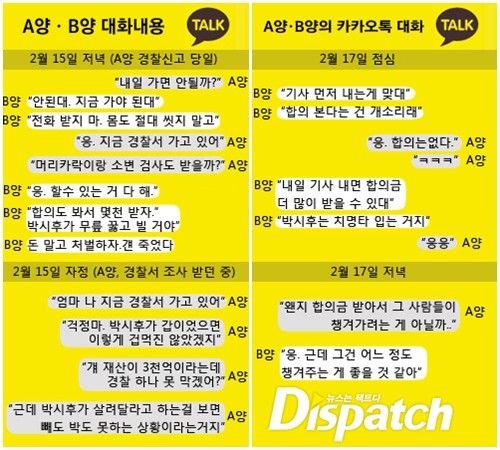 Kakao messages between A and B on February 15th (the day after the alleged incident):
A: Do you think I can go tomorrow?
B: No. They said you need to go now.
B: Don't answer the phone. Don't wash yourself either.
A: Yup. I'm going to the police now.
A: Should I get my urine and hair strands tested too?
B: Yup. They said do everything you can.
B: Let's settle too and get several tens of millions won. Park Shi Hoo will probably get on his knees and beg.
B: Actually instead of money, let's just get him punished. He's dead now.
Conversation between A and her Mom on the night of February 15th:
A: Mom, I'm going to the police now
A: Don't worry. If Park Shi Hoo had the upper hand, he wouldn't be this scared
A: I heard his entire fortune is about 3 hundred billion won so do you think he can't even stop the police?
A: But seeing that Park Shi Hoo is asking to let him live, it means he's caught in a situation where he can't do anything about it.
Kakao messages from February 17th between A and B:
B: They say its good to get news articles out first.
B: They say that settling is nonsense.
A: Yup. There is no settling.
A: Kekeke
B: They say that if we get articles out tomorrow, we can get even more settlement money.
B: And Park Shi Hoo will be getting a fatal blow.
A: Yup Yup.
A: Do you think those people are telling us to take settlement money so they can claim it for themselves.
B: Yup, but I think it'll be good to give them a bit of it, too.