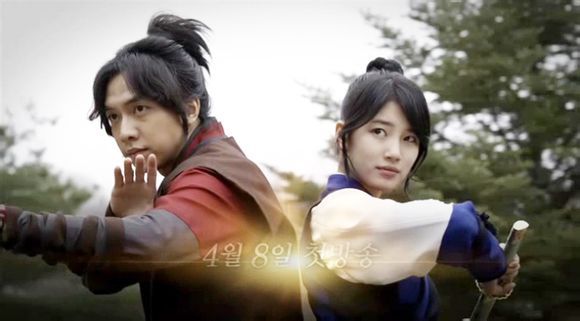 Kyaaaaa~ I can't take this much goodness all at once! MBC is not dithering around that's for sure. Right after releasing the super adorable and squee-worthy official stills of Lee Seung Gi in Gu Family Book, the production up and dropped the first video teaser as well. It's like getting an unexpected inheritance and then winning the lottery later in the afternoon. Or something like that. I'm probably way more excited than I ought to be because right now there isn't a single K-drama that has my interest, and that totally bums me out because I worry that the days of my drama addiction are slowly passing me by. But then baby boy and his GFB arrive and I feel all my addiction nodes tingling and standing at attention. The drama hasn't revealed the first official stills for leading lady Suzy yet, but she appears for the first time in the teaser so check it out. She looks fantastic – her hair pulled up and wearing a masculine-type attire which fits her character who is described as a martial arts instructor and a tomboy.
In the teaser, we first are introduced to the parents – Lee Yeon Hee as the fallen noblewoman-turned-gisaeng and Choi Jin Hyuk as the god of the mountain and her protector and later husband. They fall in love in what looks to be a really emotionally charged way, but then we see poor Lee Yeon Hee giving birth alone in a cave. Afterwards a baby is floated down the river and picked up by a Joseon officer. The teaser ends with adult Choi Kang Chi smiling and fighting his way through the marketplace, joined by Suzy who deftly wields a sword. I know this story sounds like a cross between the story of baby Moses floated down a basket and Inuyasha with the half-human/half-beast mythical being with super fighting skills but a human's heart and empathy. Funnily enough, Suzy's character Dam Yeol Wool reminds me of a mash-up of Inuyasha's two leading ladies Kikyou and Kagome, with her fighting skills and likely bickering relationship with Kang Chi. The directing looks solid from the teaser so my sole reservation for this drama still remains the scriptwriter. Oh vey, please let writer-nim suddenly grow some brains before starting this script.
First teaser for Gu Family Book:
From legend it slowly emerges, Kang Chi's contract book to achieve his dream of becoming human. The mythical half-man/half-beast, his eyes opened. Gu Family Book – premieres on April 8th.