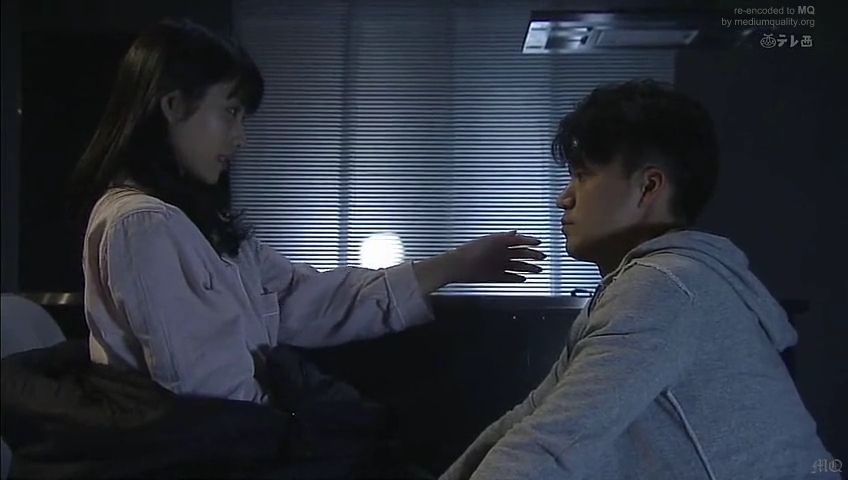 After watching the special episode for Rich Man, Poor Woman, there isn't a doubt in my mind that it was warranted. It wasn't just necessary, it was satisfying and entertaining with a sense of freshness missing from dramaland lately. The SP captured the effervescence of the original dorama and took it to new places. After this, I'm pretty much onboard for a season 2, even if it might rehash some of the central conflicts in the story between the main characters. I believe now there is room for organic and believable conflict that is rooted in two very in-love but wholly different people trying to figure out not only how to have a relationship, but how to grow together and as individuals. I loved how the SP was set in the Winter and really used the contrasting season from the original's Summer warmth to great effect. The characters were bundled up and so were their emotions, almost as if the breakthroughs that happened at the end of the dorama got wrapped up and hidden away with the passage of time.
The SP fills the narrative gap between the airport confession when our heroine Natsui Makoto headed off to Brazil and her rich man Hyuga Toru promised to shrink the distance between them and keep their new flame burning, to when Makoto returned to Tokyo over a year later. One would think what happened in between would feel pointless to watch since we all know they stay together afterwards, but that turned out not to be true. The emotional journey in RMPW is as important as the end game, with every push and pull between emotionally-distant Hyuga and feelings-driven Makoto meaningful in pushing their characters forward as well as enriching their story. The SP was a total home run, filmed beautifully, scored perfectly (with a kick-ass new song from Miwa), acted naturally, and written meaningfully. What more can I say – RMPW is still the crackiest J-romcom that ever cracked.
Rich Man, Poor Woman in New York:
A quick video montage of the original dorama shows us how the rich man, poor woman meet, go through hardships together, and fall in love. It's been done to death, this particular trope, but here it feels magical again.
A man is walking through a warehouse in New York and he takes out his cell phone to access the live translator. It's Hyuga Toru, President of Next Innovation, he's here to buy some hard disks from a US company. He's turned down flat, and the US manager even sneers that Japan is over and done with in terms of leading edge technology. Hyuga is pissed.
Backtrack to a few days ago and Hyuga is in a meeting at Next Innovation telling his team that the personal file project has greater potential than just keeping files for people. He wants it to contain all the important milestones and memories for each person, much like one's virtual closet. He tells the team to expand the scope of the project which he code names Oshi-ire or closet, he wants to add the ability for a person to add their own storage folder. His team grumbles that the project is 90% done, how can Hyuga change it now? Hyuga shrugs and says whatever, he thought of it so it's going to happen. All they need now is to increase storage capacity in the cloud for this new data. Hence he heads to the US to buy greater capacity hard disks.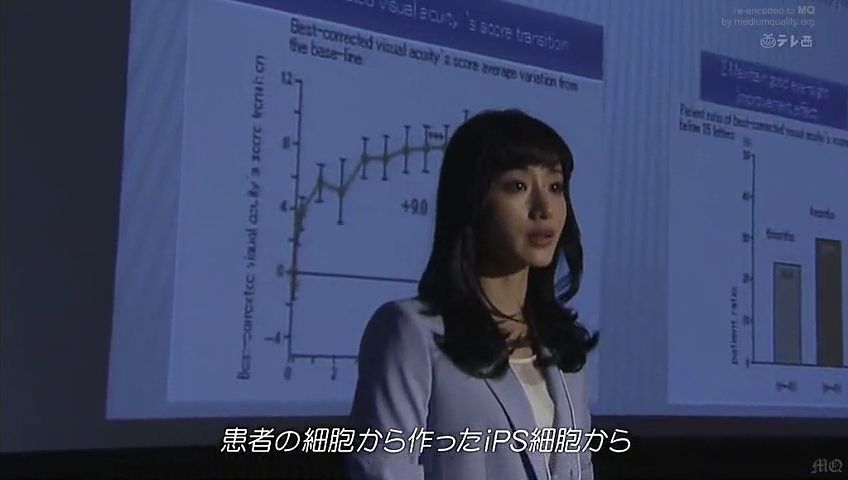 Natsui Makoto gives an impressive presentation in English on her latest research and she's no longer the uncertain young college graduate from a year ago. As she walks out a colleague compliments her which makes her beam.
She jumps into a NYC cab and whips out her tablet to show the cabbie where she wants to go. She tells him her man is waiting for her there and she needs to hurry. LOL, she actually says "my man." I love her.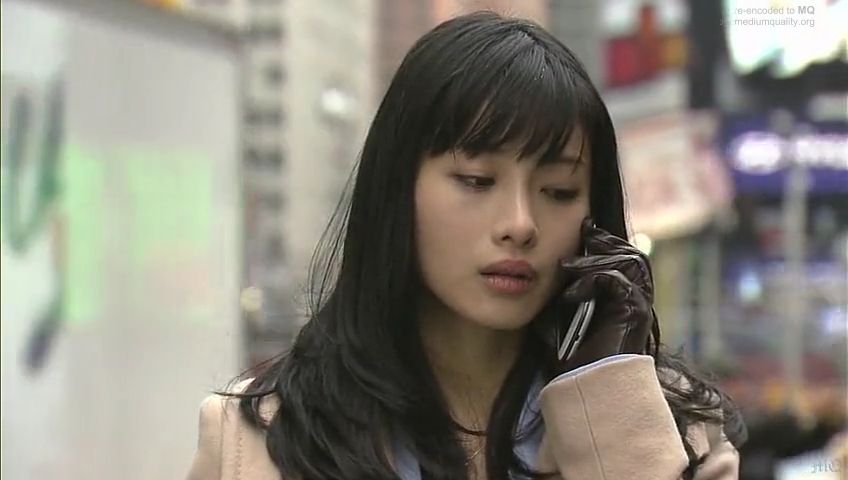 Makoto stands in the middle of Times Square and looks around for Hyuga. She tries calling but his phone is off. Suddenly she hears his voice and turns around to find him standing behind her. He says other than phone and internet, sometimes its still best to meet in person.
Makoto beams and drops everything to run to him. He makes the finger gun gesture to indicate he found her. He tells her to pick the stuff up and then grabs her hand and off they go.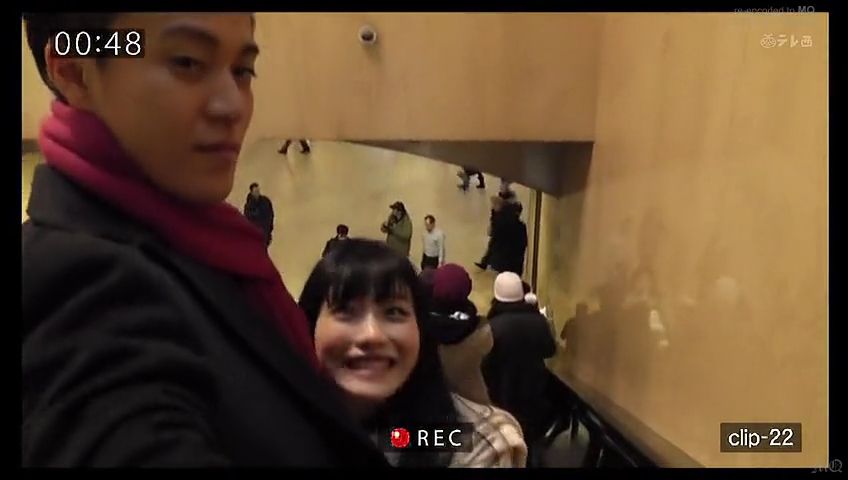 Cue a cute montage of them holding hands and strolling through Grand Central and other famous landmarks in NYC. She even feeds him a donut and takes a bite at the same time.
As Makoto buys some coffee, Hyuga remarks that she looks different – she looks put together and confident. He snaps a picture of her. Makoto smiles at the compliment.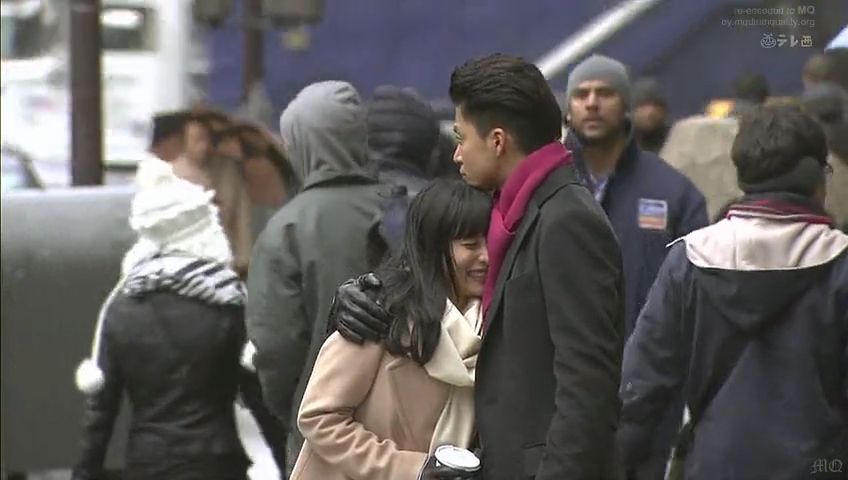 As they walk through Midtown, Makoto can't believe they are together now. Hyuga points out he saw her face already this morning and heard her nattering voice as well. Hyuga tells Makoto he needs to go catch a flight to Boston next. Makoto says Hyuga is very attractive when he's working as a way to make it easier to let him leave so quickly after they reunite in the same city. He can see her reluctance to let him go and pulls her in for a hug.
It's nighttime when they part, Makoto heading off in a taxi while Hyuga stands there in the rain under an umbrella seeing her off.
Some time later, Hyuga is back in Tokyo and attending a dinner with lots of pretty ladies to celebrate the successful launch of a new software. The ladies swoon and are about to toast him with champagne when suddenly everyone shrieks and all run away.
Hyuga takes a sip of his champagne and turns around only to spit it out when he sees a horror-movie like Makoto lurking behind him. He pokes her and wonders if she's real, laughing that the new technology for making robots is so good that it even feels warm. Makoto in turn asks if those one-chans were also fake, because they looked so real to her. Heh.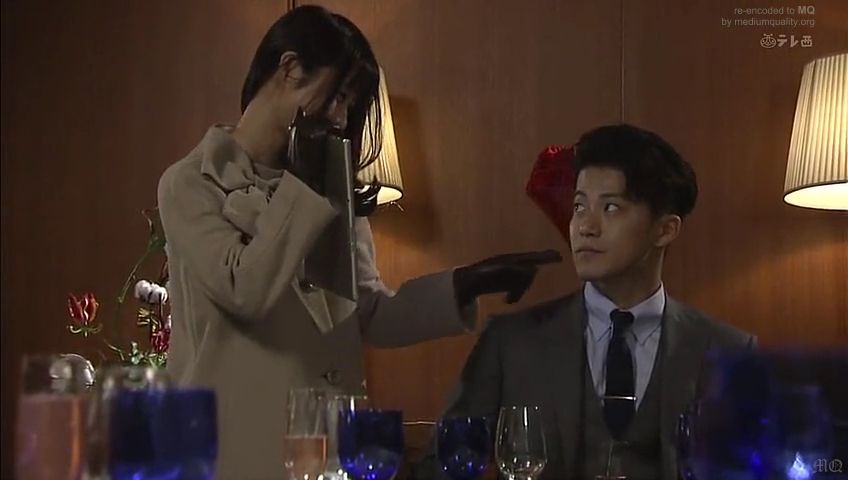 Makoto lurches forward and shows him her tablet where she found an article about where he was going to be tonight. She pokes him back that IT is sooooo useful. Hur, they are so cute. Turns out she has a week of vacation because the company is closed for Carnival so she is back in town.
Makoto walks into Next Innovation and greets everyone happily. She hears that Yasuoka is getting married to Risa and is so happy for them. When Makoto mentions finding a cheap hotel to stay during her week in Tokyo, both Risa and Yasuoka push her to stay with Hyuga who has no choice but to agree.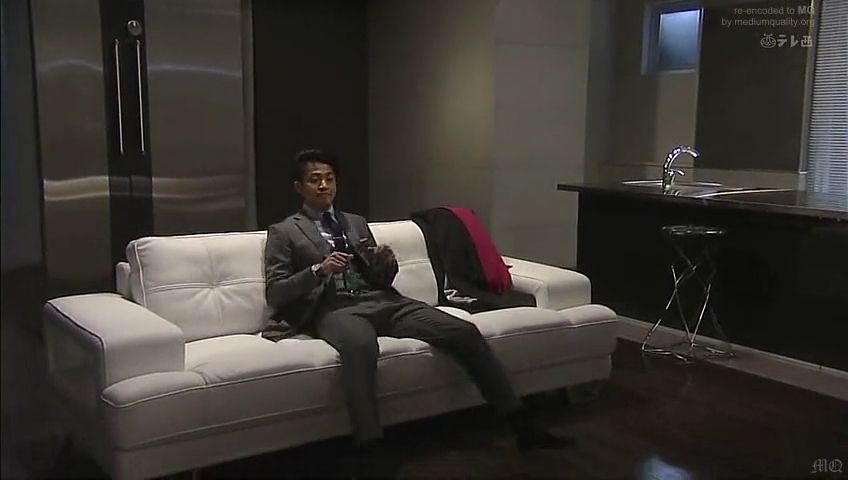 Makoto walks into Hyuga's barren and clean apartment and notices there are no appliances or household items anywhere. There also is no bed and she finds out Hyuga sleeps on the sofa because he can't stand having stuff clutter up his place. He happily shows off the perfect fridge that took him years to select and also reveals he found the perfect tables he was looking for.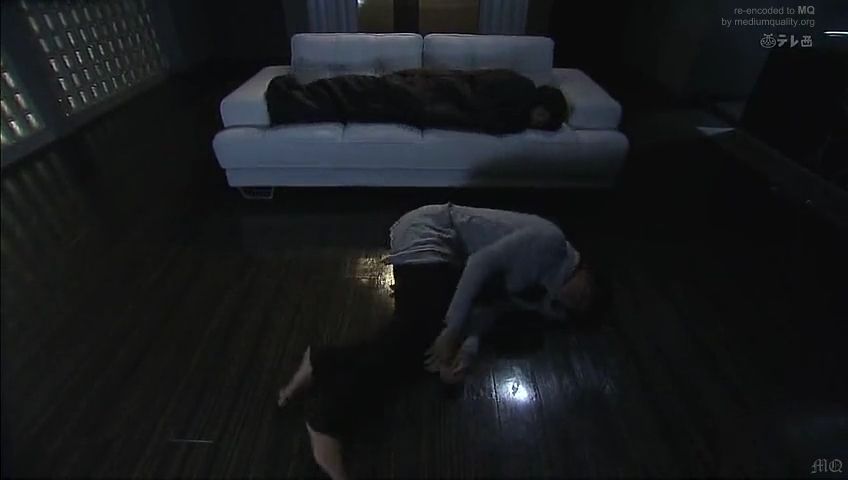 Makoto is bundled up in a sleeping bag on the ground while Hyuga sleeps on the sofa. She complains so he picks her up and puts her on the sofa, still wrapped like a burrito, and he takes the ground.
Makoto asks him to unzip her because she can't believe he's so close that she can reach out and touch him. Hyuga unzips her and they lean in so their foreheads touch before hugging each other.
Hyuga wakes up in the morning and freaks out at the mess Makoto made – she's cooking breakfast and has appliances and food all over his countertop. He goes to the bathroom and freaks out some more at her cute bear towel hanging on the towel hanger.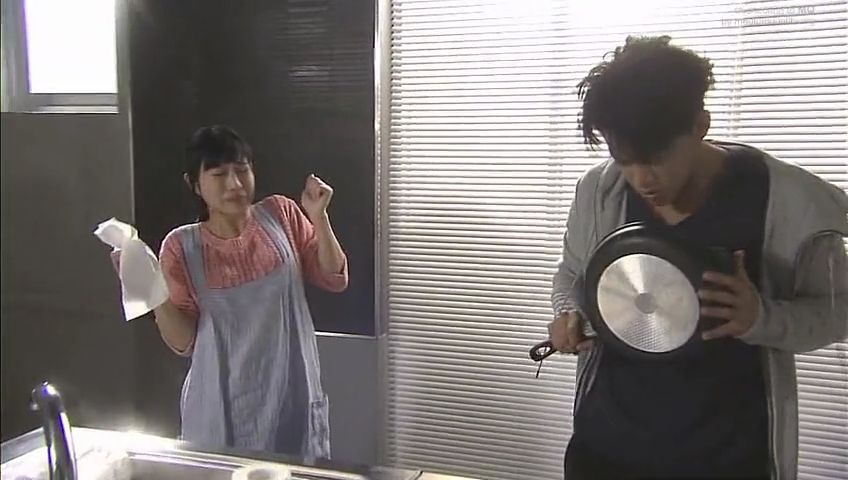 Hyuga finally snaps when he sees Makoto dirtying up his perfect pan and he chews her out for all her habits that drive him crazy. Makoto points out that pans are for cooking and towel stands are for hanging towels, and Hyuga's habits are the ones that are not normal.
Asahina is out of prison and has found an IT job. He heads back to his apartment and Yoko tracks down her brother and begs him to come home. He refuses and says he likes his simple life now.
Hyuga attends a meeting with the big wigs at JI Tech who have unilaterally decided to roll out the personal file system via a series of P-boxes installed in hospitals and post offices like ATM machines. They will make more money of installing and maintaining those P-boxes rather than releasing the system via personal computers, and it keeps the data more secure. Hyuga disagrees with this approach.
Makoto visits Yoko at a new restaurant where she is working, aiming to save up some money to open her own restaurant. Nogi arrives grumbling about her new job, clearly he likes her and wishes she still worked with him.
Hyuga holds a meeting and tells his IT team to find a way to keep the data more secure. His team complain that it's too hard and JI Tech has already decided on the P-box system. Hyuga suddenly gets an idea.
Asahina reads in the newspaper that NI board is revolting over him going back to the company, which is news to him. Hyuga finds him and asks him to return, he wants them to start over again. Asahina declines saying he can't go back to NI. Hyuga reveals that the employees won't do something because its too hard. If they are not interested he gets it, but to not want to do something because its too difficult baffles him. Wasn't NI established to do the things that are too hard or no one wants to do? Asahina asks if Hyuga wants to give up on NI now? Hyuga says why not, they can start over here in this run down apartment. Asahina says no, this would just be them doing the same thing over again. Hyuga needs to be able to round up employees with different points of view and get them to do the same thing. NI is so big now it finally can do what it wants. Is Hyuga that afraid of facing a future he can't predict? Hyuga wanted to change the world when he had nothing, now he has everything so how can he run away. Asahina tells Hyuga to try hard now. Hyuga agrees and walks away, but he turns and says Asahina is really the one who is trying to take it easy and run away. He offers Asahina their fist bump but Asahina doesn't take it.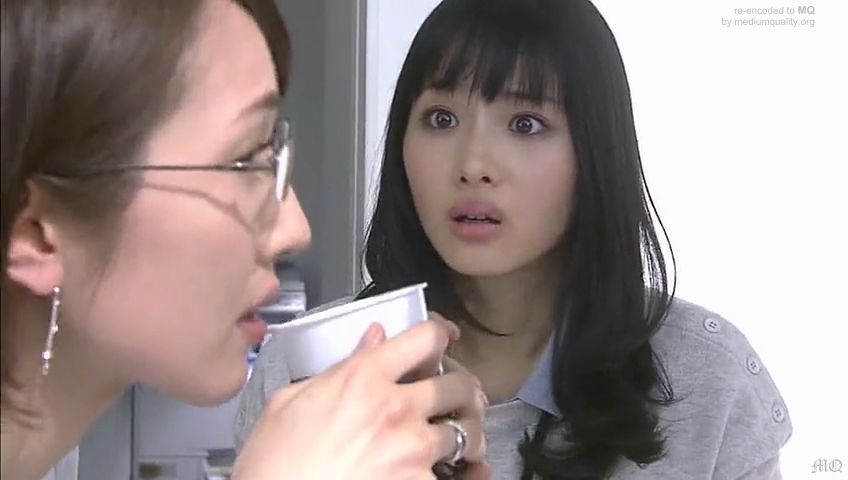 Makoto goes her company headquarters and finds out the company is potentially being acquired by an American company and she might have to move to Boston for work. Makoto doesn't want to quit but her colleague reminds her that moving to Boston will make it impossible for her to come back one day. Makoto thinks about looking for a new job and breaks down because of the painful process to come.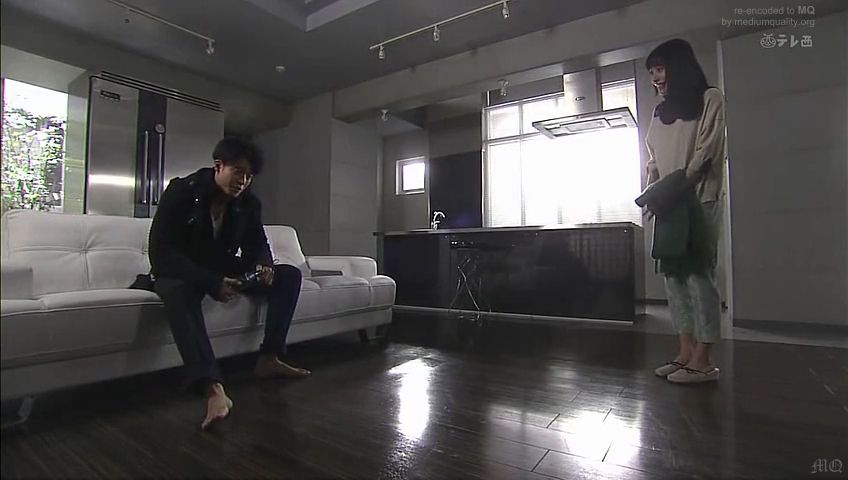 Hyuga comes home and goes to wash him face. He naturally reaches for her hand towel to dry his face and stares in horror at the cute bear design. He discusses with Makoto about attending Yasuoka's wedding, promising he'll go because if he can smile at watching those two idiots get married that'll prove how mature he's become. LOL. She has nothing to wear and asks him to pick out an outfit for her.
Cue makeover scene that is a cute reference to episode 1. Hyuga doesn't like anything Makoto tries on and he even picks out a pink jumpsuit for her. Initially Makoto is wary saying this isn't her style, but she tries it on anyways and agrees that it looks good on her.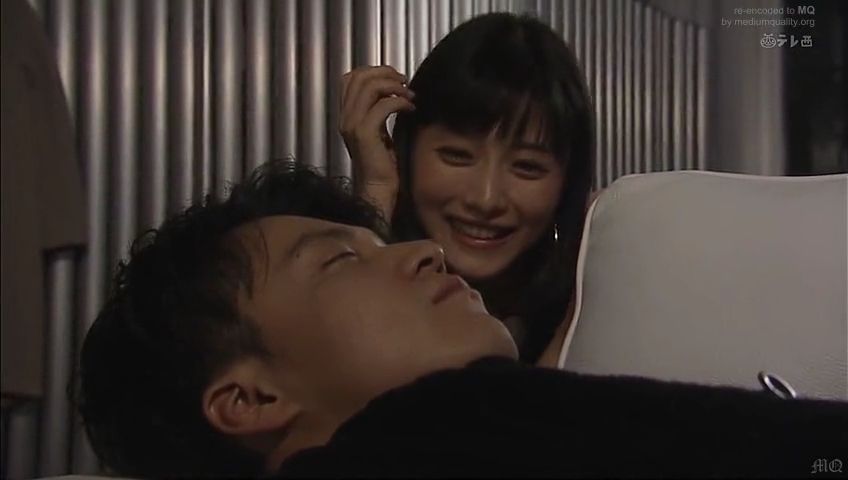 Makoto is at home and watches Hyuga sleeping on the sofa. She smiles and pokes him on the cheek. Makoto decides to stay with Hyuga which means she's going to quit her job. When Makoto goes to quit her job, her bosses deride her for thinking she's a hot shot after working for just a year and delivering one presentation.
Hyuga's team revolts during a meeting with he asks them to work on the personal file project beyond the scope that JI Tech wants. They argue it's a waste of time and too difficult. They would rather go work for Wonder Wall then to do this, because they don't agree with it.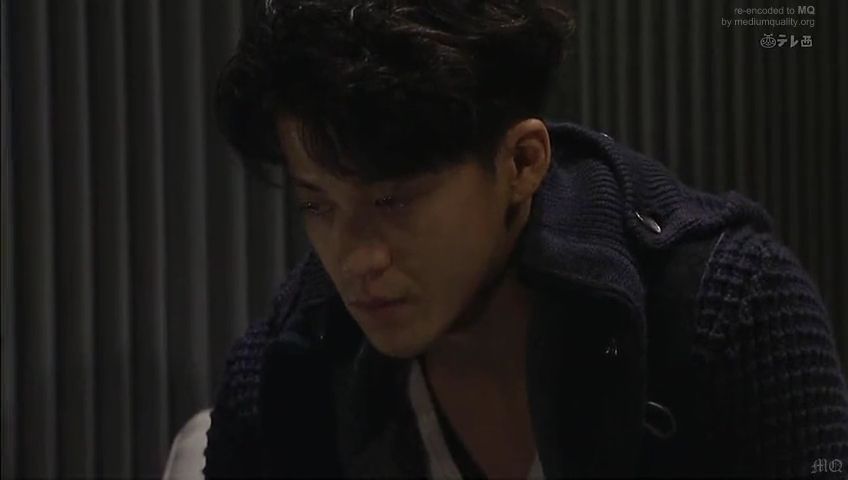 Hyuga goes home and he's in a pissy mood. When Makoto wants to talk about her company situation, he cuts her off and starts bitching about how employees need to do what they are told and who are they to know any better. He says employees should just do as they are told rather than second guess their leader.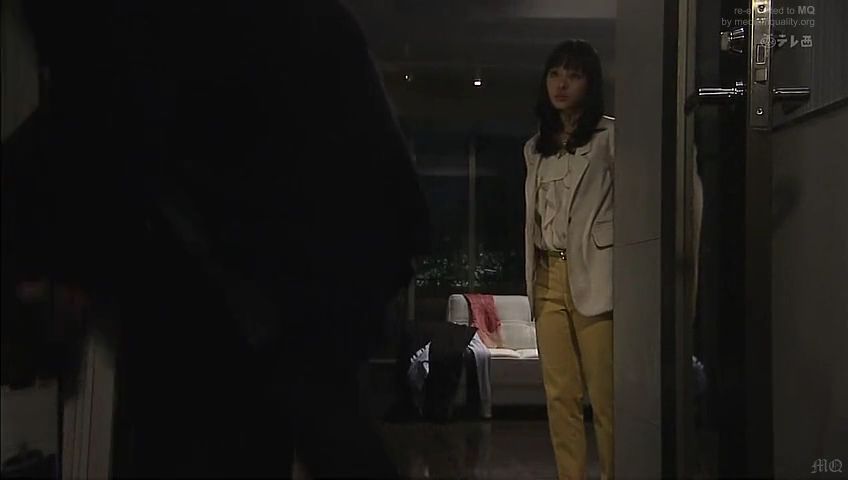 This rubs Makoto the wrong way since she's still smarting from the put down from her own bosses. She is disappointed that after all Hyuga went through, he still hasn't learned to be understanding of others. They argue which leads to Hyuga muttering that its better when they were apart.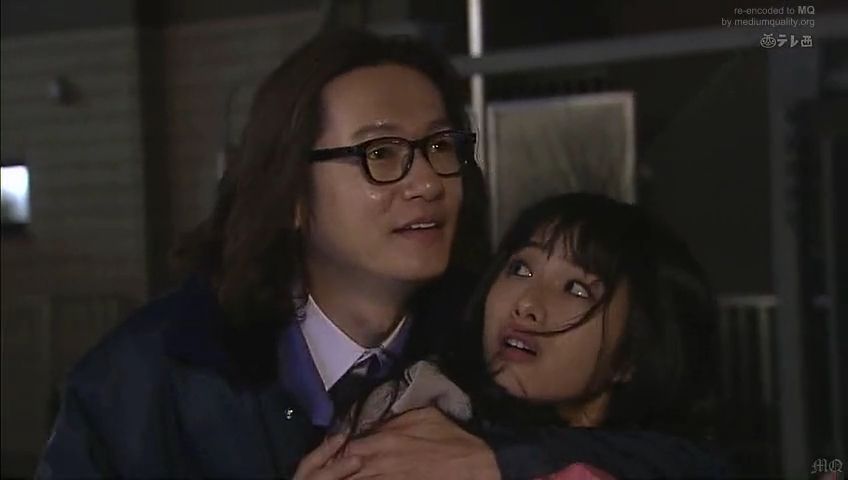 Makoto leaves the apartment and heads out to cool off. She's being accosted by drunk guys when Asahina spots her and swoops in for the quick rescue.
Asahina takes Makoto to a comic book store and they sit down in a reading room to chat. Makoto shares her current relationship woes with Asahina and he assures her that she is the only one in Hyuga's life that he needs. She shares how Hyuga wants the personal life to be like a person's closet, containing all the important memories in a person's life. Asahina reveals that Hyuga doesn't have a closet, his personal life has been empty since he was abandoned by his mother. He gets called back to work so he takes her to find Yoko to spend the night.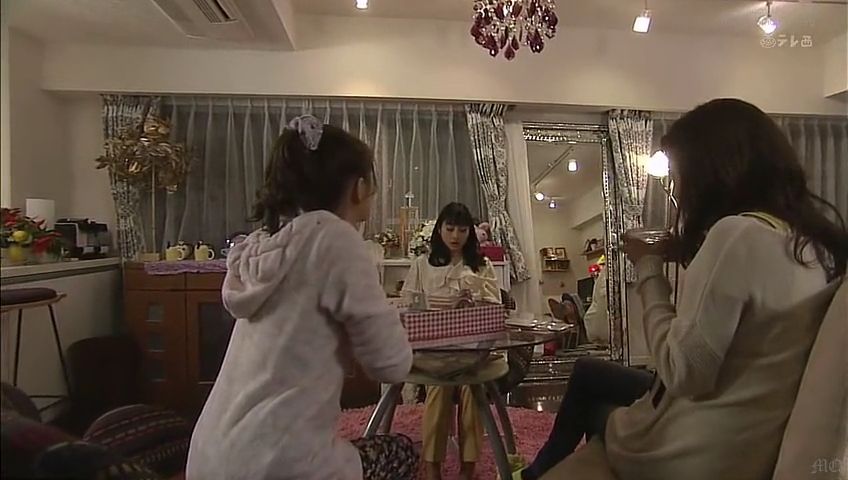 Since Yoko lives at her parents home now, Makoto ends up crashing at Risa's and she ropes Makoto and Yoko into helping her make wedding favors and invitations. Makoto shares her fight with Hyuga with the girls and Risa offers to seat her next o Hyuga so they can make up.
Hyuga finds a note from Makoto saying she's headed home to the countryside for a few days and will be back for the wedding. It's wedding day and Hyuga gets a call from Yasuoka to prepare his best man speech. But then Hyuga gets called into work.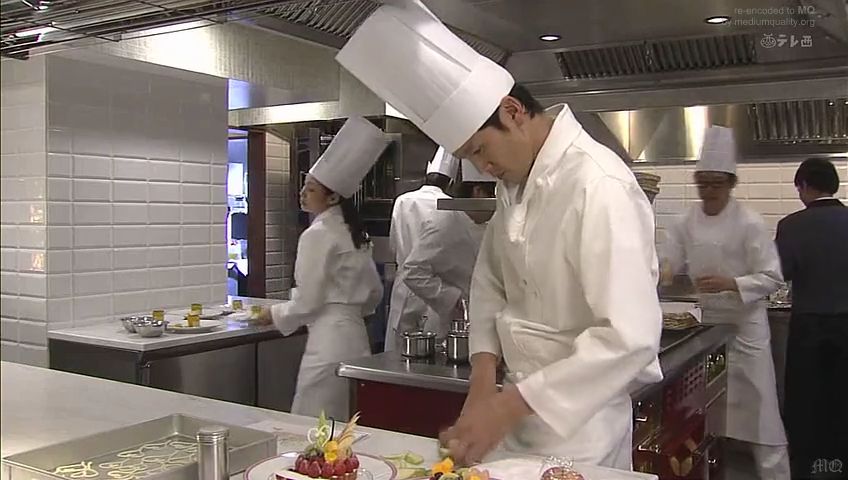 At the wedding, Yoko is cooking in the kitchen with Nogi and they two are bickering. It's clear he likes her and she tells him to just confess his feelings rather than always picking fights with her.
The wedding guests sit down to watch a video greeting prepared by Hyuga, and in it he thanks Yasuoko for sticking beside him during his lowest point. Makoto keeps drinking as she watches the video, clearly upset Hyuga isn't at the wedding and he's made no mention of her.
Hyuga argues his case against the P-box to a panel of JI Tech management and screams that they are all about profit at the expense of innovation. He shares how the US company derided that the time of Japanese innovation is over, and asks why they are content with that since JI Tech has always been at the forefront of innovation? He reveals that even the PC is soon obsolete, much less a P-box, the future is the tablet phone. He wants to make the personal file code into an open source software so that it can be on every phone and accessible by all users at the tip of their fingers. The JI Tech President is impressed with Hyuga's passion and drive and tells his team to contact all the cell phone makers and get their buy in to create the software for this.
Hyuga finally makes it to the wedding and awkwardly sits down next to Makoto. They watch the newlyweds happily perform a song-and-dance routine and Hyuga wonders if they will ever be like them? Drunk Makoto bursts out laughing at the absurdity of it.
Hyuga tells Makoto that they are just too different and she agrees. He ruefully smiles at how they are in agreement this once. He heard about her company acquisition and knows she's going to Boston. He asks to break up and Makoto cries but doesn't say no.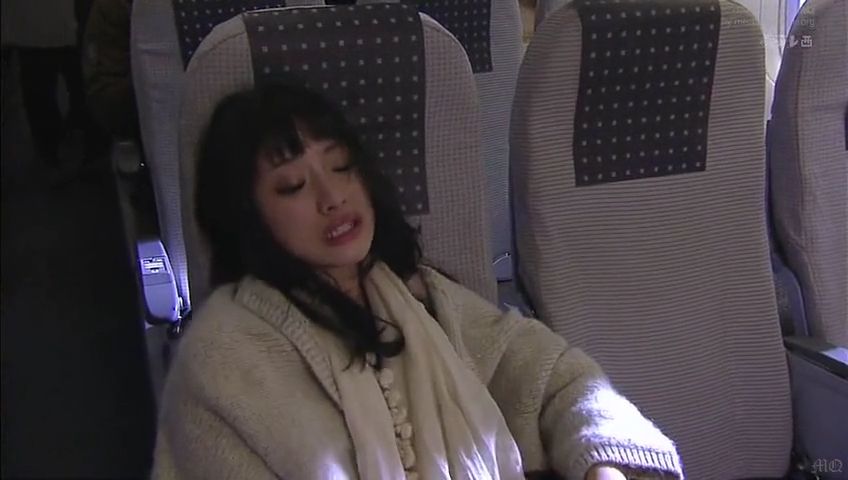 Makoto is in the plane sobbing her guts out.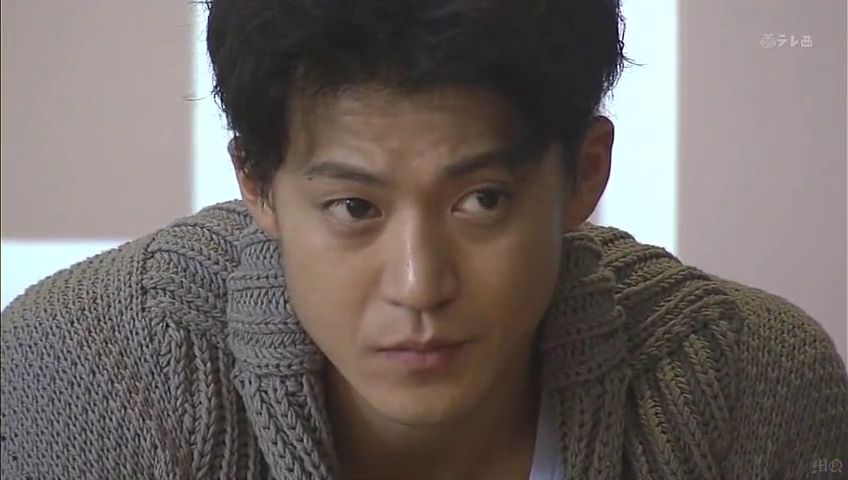 Hyuga tells his NI team that JI Tech has agreed to toss the P-box approach and go one step further and put the personal file on tablet phones. He knows this is more work for the team so if anyone doesn't want to do it, they don't belong at the company.
Asahina reads in the newspaper about the expanded personal file mobile project and he finds Yoko to ask for all his belongings which she packed up.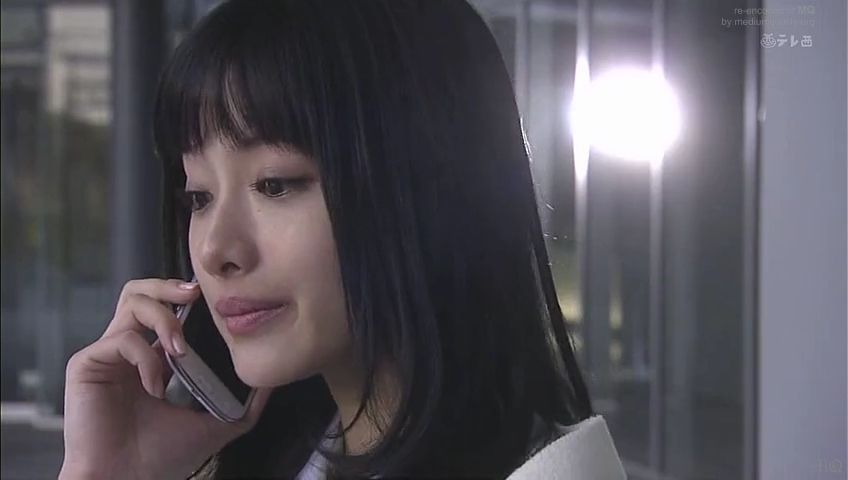 Makoto is at work in Boston and she answers a call from Yoko asking why Makoto purposely turned her phone off and wondering exactly why she and Hyuga broke up? Makoto puts on a brave face and says they never really dated, they were always just work colleagues or professional partners. We see a montage of their past interactions, and then cut to Hyuga sitting in the dark at NI holding his phone and restraining himself from calling Makoto. Back in Boston, Makoto tells Yoko that its not a matter of liking each other, it was work that brought them together and without that tie there is nothing keeping them together now. Hyuga walks back to his lonely apartment and looks around the empty room and sadly says "this is my room."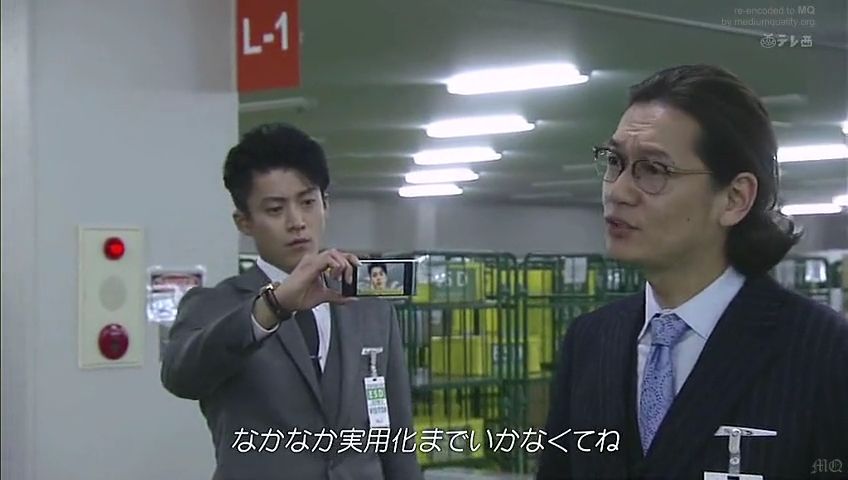 Hyuga goes to NYC and back to that company to try and buy the harddisks. He is once again rudely refused when Asahina arrives to the rescue and tells Hyuga not to buy it. He reveals that JI Tech has a division working on a thermal breakthrough to more then double the capacity so Hyuga doesn't need to buy it from here. As Hyuga and Asahina walks out, the rude Americans demand to know who he is and Hyuga announces that Asahina is his partner.
Hyuga and Asahina stand in Battery Park City and chat. Apparently JI Tech is so big it has small divisions working on innovations that might never come to market because its not deemed profitable, which is where Asahina learned about this new breakthrough in capacity method. Hyuga points out their company has thrived on not making any hardware but Asahina says things change and they need to enjoy an unpredictable world. Hyuga smiles and agrees that they need to go see a different view. He also notices that Asahina has changed and Asahina says he wants to live differently now.
Makoto gets a series of texts from everyone at NI telling her Hyuga is going to be in Boston. She then gets a video text from Risa that shows all the NG videos Hyuga made for the wedding. Hyuga can't bring himself to wish the newlyweds happiness because he fundamentally doubts two strangers could live in bliss forever together. Yasuoka tells Hyuga to cut it out but Hyuga yells back that he's speaking from personal experience! He says Makoto brings stuff into his home without asking and when he gets mad, she gets twice as angry. Plus she says the very things he doesn't want people talking about him, which is why he thinks its okay to say whatever he wants to her and she'll still forgive him. Hyuga discusses how he hurt Makoto and it might be best that she not stay by his side. Hyuga howls that he totally went off topic and goes back to recording the greeting. Makoto cries, asking how come she's seeing this now and what to do?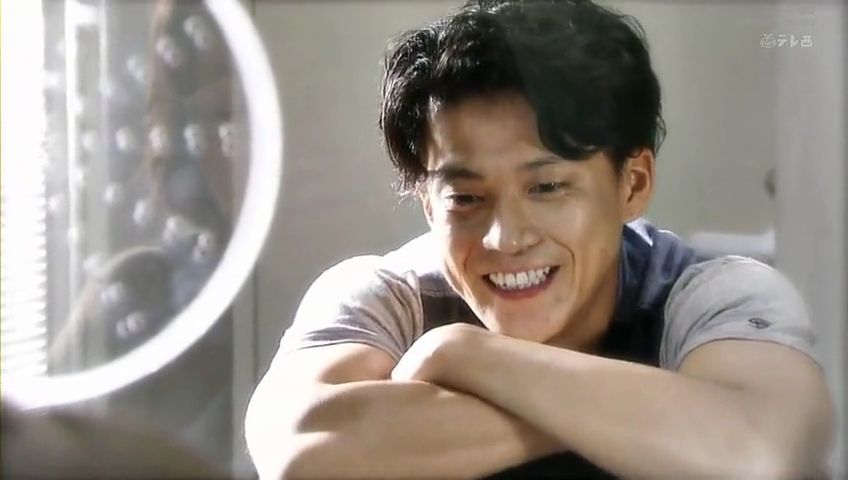 Asahina calls Makoto and tells her to go see Hyuga because he needs her. Makoto yells back that he doesn't want her around.. He shares what Hyuga told him the day he visited him in jail, Hyuga has changed since he met Makoto and Hyuga likes who he is now.
Hyuga walks through Boston and thinks that she lives in this city somewhere and he might see Makoto. He turns around and does see her stumbling around looking for the company he was visiting. He cutely coughs and gets her attention.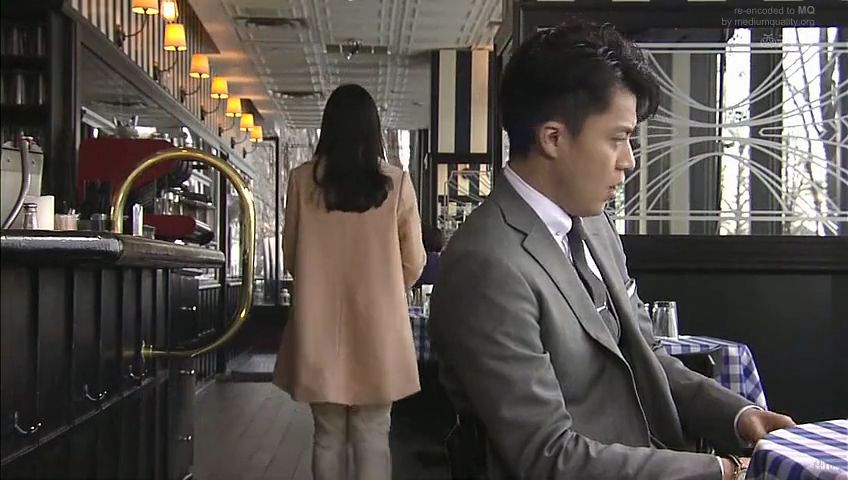 Makoto and Hyuga sit down to talk in a restaurant. He asks how she knew where to find him and she lies that she saw him on GPS, to which he says he turned off his GPS. She finally admits she's here to talk with him and asks what he means about them being different? If so why did he ask to stay with her and admit her liked her? Hyuga grumbles that she made him say it. She yell at him for being a bastard and saying something he didn't mean. He bitches back that if she wanted to yell at him so could have called or texted. She reminds him that they agreed not to contact each other. Ahaha, they are totally emotional babies with each other. Makoto gets up and leaves but Hyuga stops her.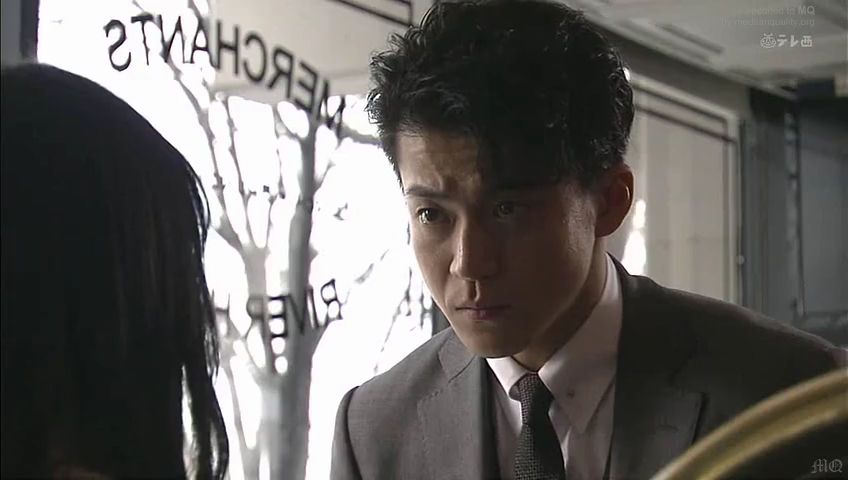 He walks up and stares at her face long and hard before dismissing her. She asks what he wanted and he claims all he wanted was to see her face. He tells her that she can go now. She cries and says how can she go when all she can think about is him. She misses him and wanted to talk with him but they always end up arguing.
Even though all their memories are filled with painful moments, even if all they do is fight, she wants that person to be him. She has tried to change herself, to learn to use a pan correctly and not bring ugly items into his home. So can he change a little for her as well? Hyuga listens to all of this but says nothing. Makoto says he won't change for anyone. Hyuga retorts that he hasn't responded yet. Makoto says he's someone who refuses to change and Hyuga asks if that is how she sees him? Makoto points out that he said himself that he can't change!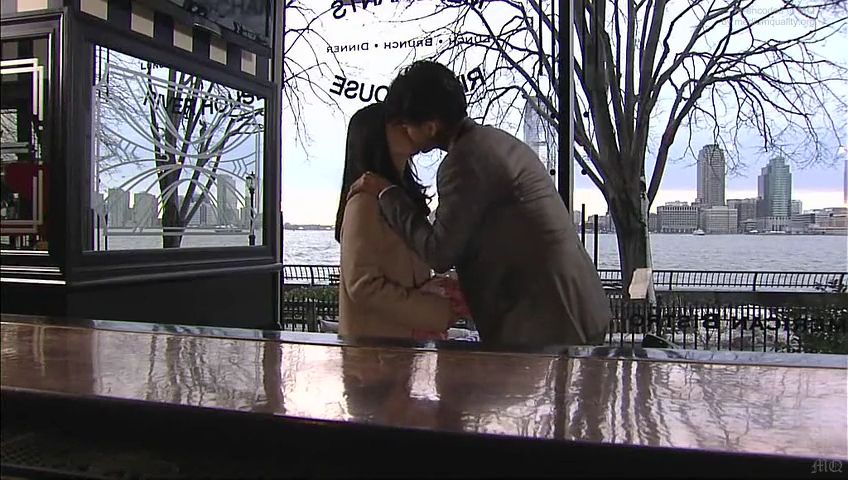 Hyuga nods and says yes, that kind of person is indeed a bastard. Someone who refuses to change is a coward who clings to comfortable things. But a person can change in an instant as if a miracle happened. Makoto is confused so Hyuga says all that matters is whether he likes it. He stands up and says that changing isn't anything hard, so who does she take him for? Poor Makoto is so flustered and stunned to hear this from him. Hyuga then cuts to the chase and leans in to kiss Makoto.
Hyuga says that for her, he wants to and will change himself. Makoto starts to cry and gets all verklempt for good reason. She sobs out a request for him to show her a change right now. She asks him to call her by her first name which Hyuga immediately says no and walks away. Hyuga walks out of the restaurant just like that leaving Makoto screeching that this isn't enough and runs after him.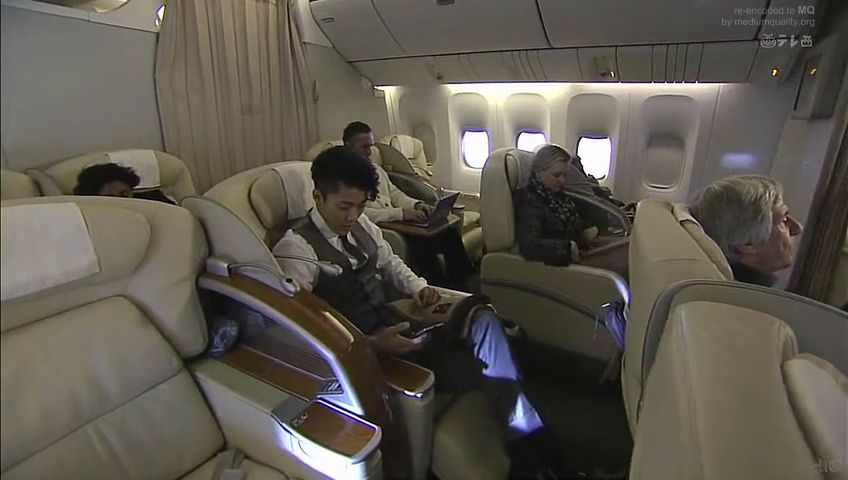 Hyuga sits in the plane and gets a text from Makoto vowing to fill up his closet (filled with a bajillion fist bump emoticons and ending with a heart). Hyuga mutters that his closet is about to get all messy. He takes out the note she left for him after their fight and takes a picture before storing it in his personal file. He then leans back and goes to sleep with a smile. The new song from Miwa plays perfectly in the background.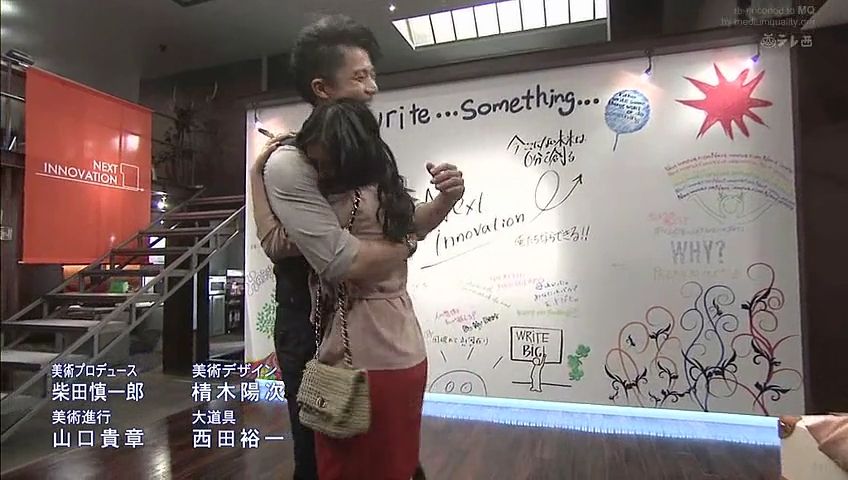 Segue to the ending sequence of the dorama, which actually doesn't make sense now since the returning Makoto was wearing a Brazilian flag on her cheek but in the SP she's now in Boston. Oh well. Cuteness ensues as Asanina officially returns to work and Makoto transfer back to Tokyo.
This time Hyuga welcomes her into his home and says she is allowed to hang a towel on the rack but it can't be of cute little bears. She goes to the bathroom and notices there is already a hand towel hanging on the towel rack. Little victories. Hyuga tosses her a bath towel and says this is for Makoto to use. She goes gaga at the first time he's called her by her first name and launches herself at him.
Makoto pulls him in for a kiss and asks him to say her name again. He grudgingly complies and she adorably calls him Toru. Hyuga says "one more time." They embrace and the ending scene says "The end…….is the next beginning." Are we getting a season 2 or what? Most assuredly.