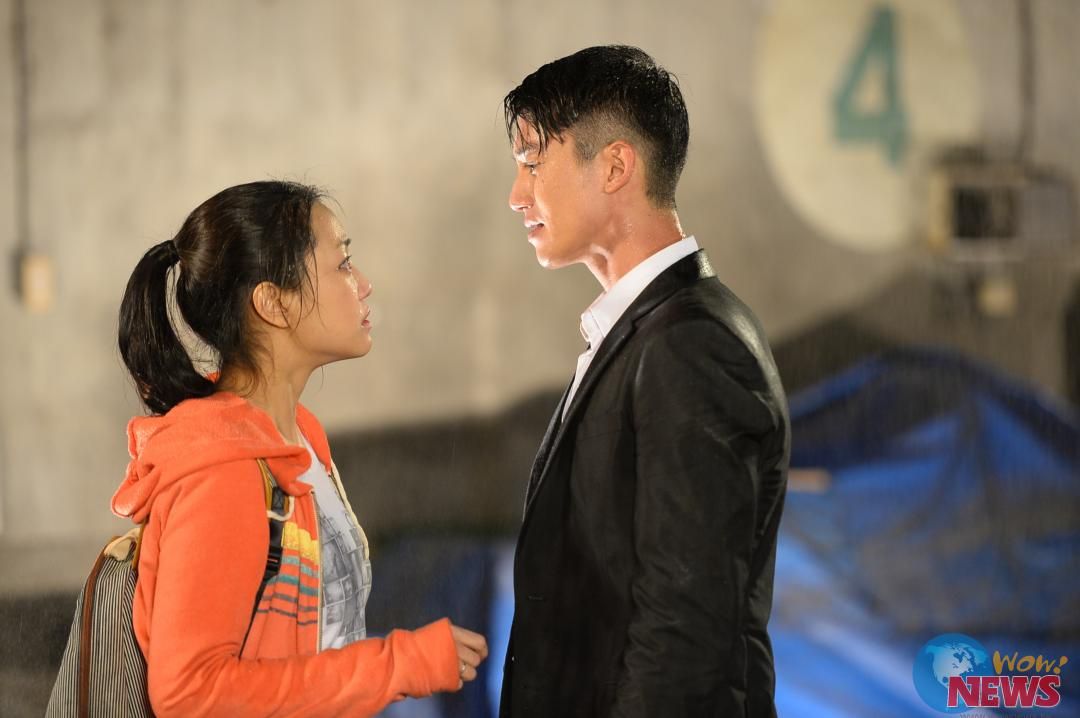 The first half of episode 16 of King Flower was so good I was crying and smiling simultaneously. I would have recapped this sucker already if I didn't have girlfriends in town to entertain. This episode was one successive revelation after another and everything was fantastically done. Terry came clean with President Du, Qin Mo made his usual Dr. Crazy Eyes appearance to take responsibility for his involvement for why Liang Yen's situation was kept from her dad, and President Du asked all the right questions and started to work through his grief. That is all good and fine, but it was the Terry-Da Hua moments (and there were TONS of it) that turned me into a gibbering mess. That and seeing the preview for episode 17 when Da Hua and Terry meet to exchange Grey Bear and he ends up piggybacking her (HOMG I need this now). I haven't watched an episode of a drama that captured my heart so wholly in months and months – all the build up between Terry and Da Hua just flowed amazingly into the most squeeworthy and heartbreaking separation sequence that needs to be watched immediately. Perfect music, perfect directing, perfect acting – what more can I say. It was perfect. I've linked to the sequence below with my discussion and quickie recap.
There was a moment of fear around episode 12-13 that the writer may have to blacken Terry to validate Guan Jun, but that hasn't turned out to be the case. It's clear this drama is being written on the fly, since Lene Lai has completely disappeared from the drama for the most part since episode 11 and this girl is actually on the drama posters itself! I feel like the writers are stepping into Da Hua's shoes, maybe initially fixated on the Guan Jun ship, but with the time spent developing Terry's awesome character and writing one perfect Da Hua-Terry scene after another (and there are so many to count, in fact Terry gets all the good scenes with Da Hua in this drama), there has been this gradual realization that it's not so simple to go back to the way things used to be. The rain kiss, and everything before and after that scene with Terry and Da Hua, was absolutely perfect. It was a kiss that was meant to be a goodbye from Terry, but in Da Hua you can see it triggered a new beginning. The way he said "Da Hua, I love" and then a smile and "Thank you" before he strode away. I think my heart did a high dive with somersaults there. This drama is now crack that I don't have to be angry about loving, it's back to being my most fun drama addiction this year so far.
Episode 16 (Terry and Da Hua cuts):
Terry's refusal to explain himself in front of President Du is telling. He feels guilt, mountains and mountains of it, and he's willing to take any punishment. Despite not deserving such censure, because he was as much a victim of Qin Mo telling him Liang Yen just needed a year to recover. When Terry goes home and Da Hua cooks for him, her happiness at making a good meal for him is such a wife wanting to take care of a husband type contentment. It's so bittersweet that she picks this night to make those cute little hog dogs cut into squid shapes that he loves. He notes with a sad happiness that she remembered his favorite secret snack. Then he allows himself to eat her dinner rather than tell her right away she can leave, because its the only bit of comfort he has after one of the hardest days of his life. And she notices that he's down, that something is on his mind. When she hears its all over, the first thing she asks is whether they are really going to be parted this time? And of course, when she packs, her reluctance is imprinted on her face. The way she is loathe to leave Terry is so impossible to deny, and impossible to explain away as her loyalty to finish that contract. When poor Grey Bear got knocked down, she completely forgot about it. This is her most precious present from Guan Jun, and she forgot about it.
EVERYTHING about this segment was perfect. Their final conversation in the car, how she keeps worrying about him, how he tells her honestly that he'll probably lose everything and its something he's ready to accept. When he compliments Da Hua on being such a kind and considerate girl, he actually says without jealousy but only acceptance that "Lin Guan Jun is very lucky to have a girl like you who loves him". Yet Da Hua's expression when he says that is this awkward look. When he pulls up in front of the store, she looks so startled that they are back already, and sits in the car not even moving to get out. When he grabs her suitcase and walks her out, she just stares and stares at him. I love how he keeps smiling during this entire time, from the car ride til now, even though we know his heart is breaking to let her go. And then he urges her to quickly go in because if she catches a cold he's not going to be around to make ginger tea for her anymore. The way he grabs her hand to make her hold the umbrella because she doesn't do it on her on. The way he pulls her hood over her head. The way she just stares and stares at him. When he sends her off and she starts walking, that is when his smile drops. And then the look on his face – utter pain and longing. And the kiss! What more can I say about the perfect perfect rain kiss. The way he called her name so decisively – she is Jin Da Hua. She is not Du Liang Yen. And he knows that, he knows that in his heart and mind. The way he walked forward, his determination and decision made. The way he pulled her in and held her head as he kissed her. The way he just sank into the kiss, it wasn't too aggressive or passionate, it was filled with emotional heartache. After he pulled away, the two things he said to her just made me cry. "Da Hua, I love you. Thank you."