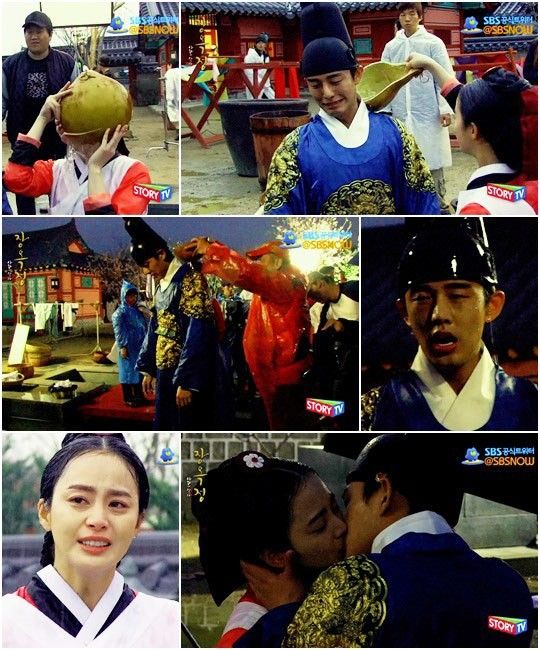 Episode 8 of Jang Ok Jung, Live in Love might've turned the switch on for some drama viewers on the fence about watching, but I've been all-in since episode 1 and what made this episode a fantastic gripping one was not the rain kiss but everything else that led up to it. This was not about seeing Yoo Ah In and Kim Tae Hee finally kiss, or seeing Lee Soon and Ok Jung finally kiss, this was about the two of them acknowledging candidly their attraction but dealing with it in the context of their night-and-day positions in life. He is the King, she is the daughter of a slave woman. That's pretty much as far apart as they can get, and I loved Ok Jung's analogy that he is the sky and even if she's walked miles to get to the Palace to find Lee Soon, when she discovered Lee Soon was the King, then the road to him is so vast even traversing the Heavens and the Earth she cannot reach him. So poetic and hopeless, so accepting of her lot in life. Which is why I loved it even more when Lee Soon gets angry, because he refuses to let the Heavens dictate his life and when he sees the woman he desires pushing him away because of pre-ordained notions of suitability, that pushes him over the edge. When he steps down, steps into dirty water, steps towards her because she refuses to climb to him, my heart burst into tears of joy and sorrow. They are so very meant to be because they both want to break the chains of their life and love the person they want. This drama gets me right there in the gut and it hurts so good. Check out the written preview for episode 9 as well as the BTS of the kiss below (the screencaps from that BTS above show how hard it is to film and how unromantic it is in doing so).
Written preview for episode 9:
Prince Dongpyung drinks with Lee Soon and asks with a smile whether there is a woman that Lee Soon loves? On the other hand, Ok Jung gets the bedding from Lee Soon's eunuch and heads over to Lee Soon's bedchambers…….
BTS of the Rain Kiss: