SBS can breath a sigh of relief with a big hit (in this day and age) on its hands as the Wed-Thurs drama I Hear Your Voice raced past 20% in ratings nationally this week. With it comes confirmation that the network is extending the drama 2-episodes to end at 18 now. Apparently a leaked synopsis for episodes 10-16 went viral last week and the extension may be connected to allowing the writer to completely re-write the ending (I'll discuss the spoiler after the jump). This will push back the premiere date of The Master's Sun with So Ji Sub and Gong Hyo Jin for a week, which the drama doesn't appear to need since it started filming weeks ago but who wouldn't benefit for extra time to get things spiffy. Starring Lee Bo Young (now a bona fide hitmaker with her last weekend drama My Daughter Seo Young breaking 40% in ratings in the second half of its 50-episode run) , Lee Jong Suk now following up School 2013 with another well-received drama, and Yoon Sang Hyun who is no stranger to big hits having starred in Queen of Housewives and Secret Garden – IHYV is billed as a thriller, supernatural, romance drama and appears to have garnered quite the fandom both domestically and internationally. PD Joo Soo Won has a long list of dramas under his belt with the most recent ones being Cheongdamdong Alice and Swallow the Sun, while screenwriter Park Hye Ryun did one of my fave youth dramas Dream High back in 2011.
Normally I'd be all over this drama like a cat on cream – I love Lee Bo Young and Yoon Sang Hyun – but despite all the requests for me to check it out and write about it, I can only do the former but have no desire to do the latter. I rarely write about things I don't like for the sake of just saying I don't like it, unless I have good reason. Here I watched the first two episodes and thought the drama was just okay. It was fast-paced and gripping at times, but also strangely grasping without feeling organic. Too many coincidences and leaps of legal procedure and logic, the fantasy hearing voices part was actually the easiest to swallow. Folks who have read my blog since I started writing ought to know my biggest drama pet peeve is legal shows that have no resemblance to the actual practice of law. It's the same reason my sister cannot watch K-drama medical shows because she starts screaming "That shit does not happen in the ER/OR/hospital!" When I watch shows with significant legal proceedings and court cases, I'm seriously appalled that what's happening onscreen might actually lead folks to think that is how the profession works. It does not, and thank god for it. So IHYV hit my one pet peeve and that was enough for me to say sayonara. But really the main reason I can't even tune in is because I have a serious allergy to leading man Lee Jong Suk. I can't stand him. There, I've said it.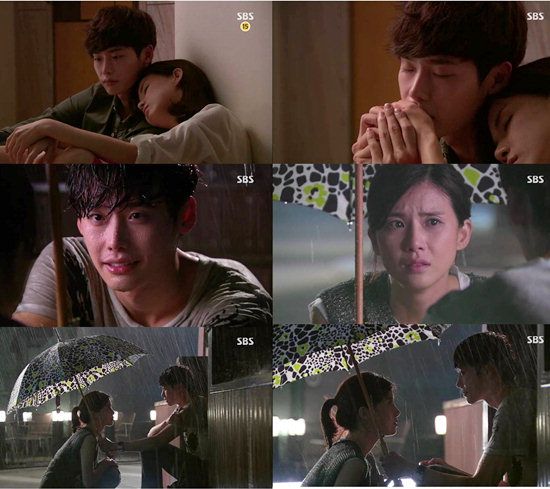 I've seen him in Secret Garden where he was annoying and a bad actor, then School 2013 when he was just as bad and I had to drop that drama, but being a generally limited actor isn't a turn off inasmuch as I find him freakish looking. He looks like the Joker to me, with the pale face, the wide smile with the fleshy lips, and the cheekbones pulled taut like he had too much plastic surgery (though I'm not saying he's had anything done). He could be the nicest boy on the planet, a budding thespian with time and projects, and everyone else can find him handsome beyond compare. That is all fine with me and I don't have a need to debate that or impose my opinion of him on anyone else. I am merely sharing my person allergy to his looks which is totally subjective, and coupled with the fact that I think he's not a very good actor, then I just have no desire to watch his dramas. Even if I love Lee Bo Young and Yoon Sang Hyun, IHYV is a pass for me for the reasons above. Y'all keep enjoying it!
On the note of the spoiler, the leaked synopsis was quite detailed and most likely true, though now the writer has an extra two episodes to re-write the conclusion of her story. In the leaked spoilers, Lee Jong Suk's Soo Ha dies at the end of episode 15 in a confrontation with the super villain Min Joon Gook while attempting to protect Hye Sung. All the characters deal with the aftermath in episode 16, which ends with a reunion of Hye Sung and Lawyer Cha outside a fried chicken store she is running after she leaves the practice of law. They look at each other and smile, alluding to them being together in the future and Soo Ha's sacrifice brought about justice and paved the way for happiness for Hye Sung. Once this spoiler leaked, SBS and the writer has said the ending WILL NOT be that and asks the audience to be patient and watch until the end. I'm sure Hye Sung and Soo Ha will be together, this drama didn't get all that ratings because folks loved the chemistry of Lee Bo Young and Yoon Sang Hyun. Who knows? Maybe one day I'll watch a Lee Jong Suk drama or movie that will change my mind about him and I can join the fangirling. Never say never, right?
I'm sure I'll get tons of comments like "How can you not LUUURVE Lee Jong Suk?!?!?!?!" or "You have no taste, how can you not LUUURVE Lee Jong Suk yet think [insert an actor I love] is hot/cute/talented/humpable?" or "Are you blind, don't criticize someone's looks because you are so ugly you need to break all the mirrors in your home." And so on and so forth. I've learned like is not only subjective, it's totally defensible even against the onslaught of everyone thinking no one could possibly not like it. I borrow Anya's words (and song "Bunnies") from one of the best episodes of singing television ever "Once More, With Feeling" from the 6th season of Buffy the Vampire Slayer – How could anyone hate bunnies? Anya hates bunnies because who the hell can eat that many carrots clearly they are evil. Anya's logic is just as valid because she thinks bunnies are freakishly scary just like I think Lee Jong Suk is freakishly weird looking. Ahh, good old BtVS, always good for a quote whenever I'm feeling like a shallow minority.