It's a triplicate of K-drama finales this week what with Cruel City (Heartless City), Shark (Don't Look Back), and I Hear Your Voice all ending. IHYV fans will have to wait two more days to see how their beloved drama wraps up after getting a 2-episode extension, but CC and Shark aired their 20th and last episode today and the reaction from fans was interesting indeed. I'll keep everything that happened until after the jump to be a good spoiler-free Koala. In a nice symmetry, both dramas were intended to be dark and gritty, though only CC really captured the mood and stayed with it the entire way. CC also benefitted from a mesmerizing performance by Jung Kyung Ho that helped smooth over the leaps in logic whereas Shark never had that kind of performance from its leading man Kim Nam Gil. I always think romance should be well-integrated but remain ancillary to the narrative in dramas like these, where there is a greater objective to be reached for the main character whether its revenge or redemption. The viewer is in for the journey and the ending needs to feel organic to the road traveled even if it's not a happy one or even one that feels particularly gratifying. As the storyteller, the drama owes the audience to say "this is what happens after all is said and done" even if it doesn't necessary have catharsis. This is the backbone of noir, the very framework requires that the storyteller never let the dictates of the audience influence the ending. CC always reminded me of the critically acclaimed movie Infernal Affairs and that movie famously had two endings – the international one what remained true to its vision and one for Mainland China at the request of its censors. I appreciate storytelling that has integrity and confidence, and I think both CC and Shark bore the hallmarks of its creator's vision from beginning to end. Whether as the viewer we are particularly pleased with that vision, that remains for each viewer to ascertain.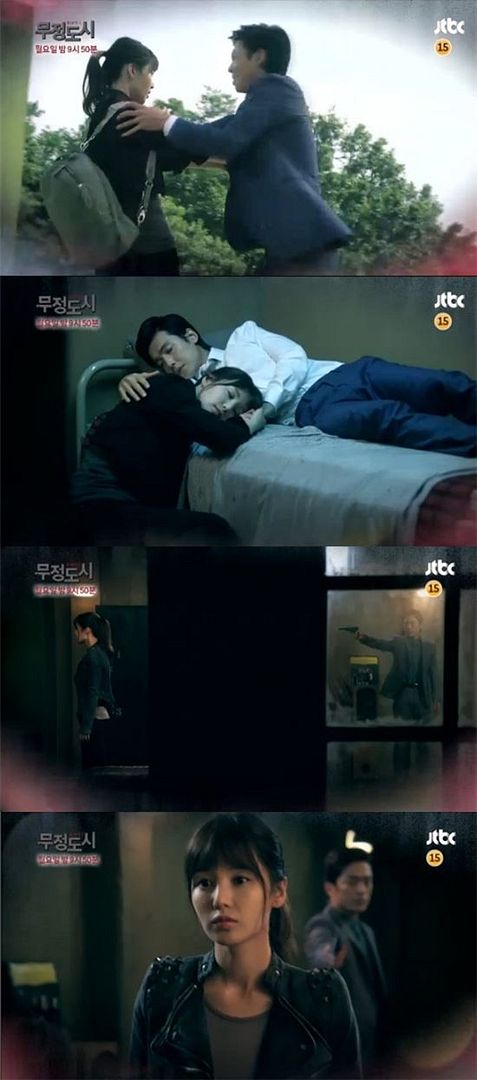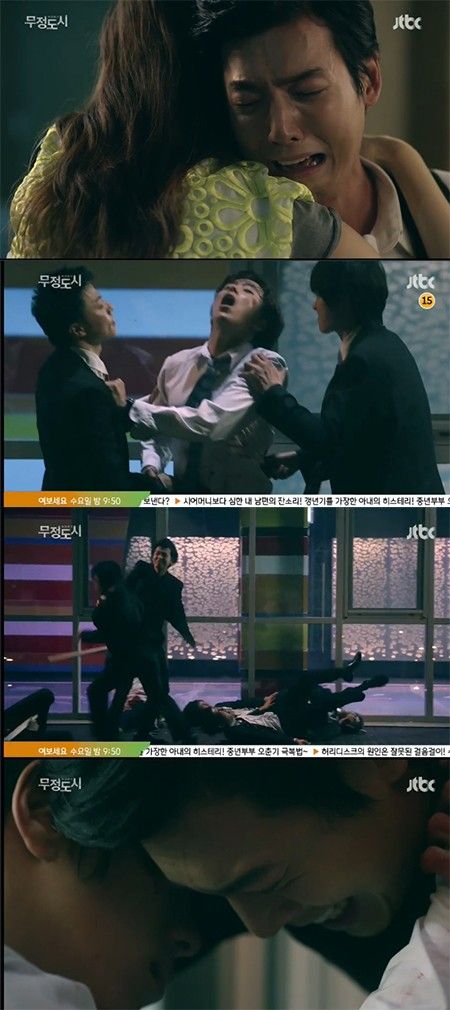 So what happened in the last episode of CC. Soo died but he went out in full bromance mode, with poor Shi Hyun sobbing like his guts had been ripped out. Jin Sook learned that everyone around her really were undercovers but she was fine with it because the woman is made out of resilient adamantium. Busan is killed but Shi Hyun has to deal with the big bad Commissioner Min. With guns pointing at each other, and Hyun Min and Soo Min rushing to the scene, with a bang Commissioner Min takes out Shi Hyun, and then Hyun Min takes out Commissioner Min. In the end the city is cruel indeed, there is no justice because crime and the chase to stop it continues regardless of who is sacrificed along the way. Soo Min finally becomes a cop but she's lost two people she genuinely loved.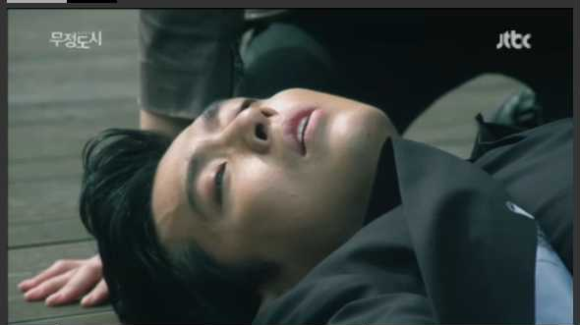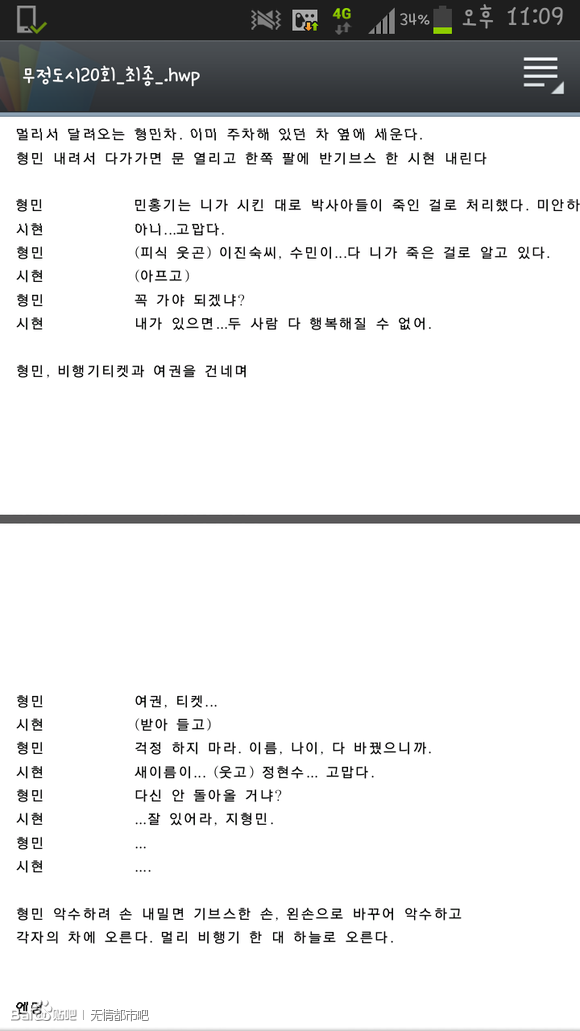 Apparently this is the ending floating around DC that was cut from the script. Shi Hyun doesn't die and Hyun Min gets him a new identity. The Doctor's Son is dead after taking the blame for killing Commissioner Min. Shi Hyun goes abroad while Soo Min follows the same script trajectory and becomes a cop. She believes that Shi Hyun is dead. CC isn't a rom-com and the romance was never the selling point, nor was it the end point of the journey we took with Shi Hyun. I'm glad he got to experience passion and affection with Soo Min, but I didn't need to see them get a happily ever after that would have felt jarring with the particularly nihilistic tone of this drama.
But a what-if possibility could still be the ending – after the voiceover and montage of Shi Hyun's journey in this drama, the final scene is of a man in a beige suit standing in the crowd talking on the phone. It's clearly Shi Hyun from the back, and the drama gives us nothing to confirm or deny what this scene means. Shi Hyun isn't dead? It's yet another fantasy sequence? It's not Shi Hyun? I'm content not to over think things, whether he lives or dies is not the point of the story. The question is whether he lived his life with purpose and he definitely did. Jung Kyung Ho was absolutely flawless as Jung Shi Hyun.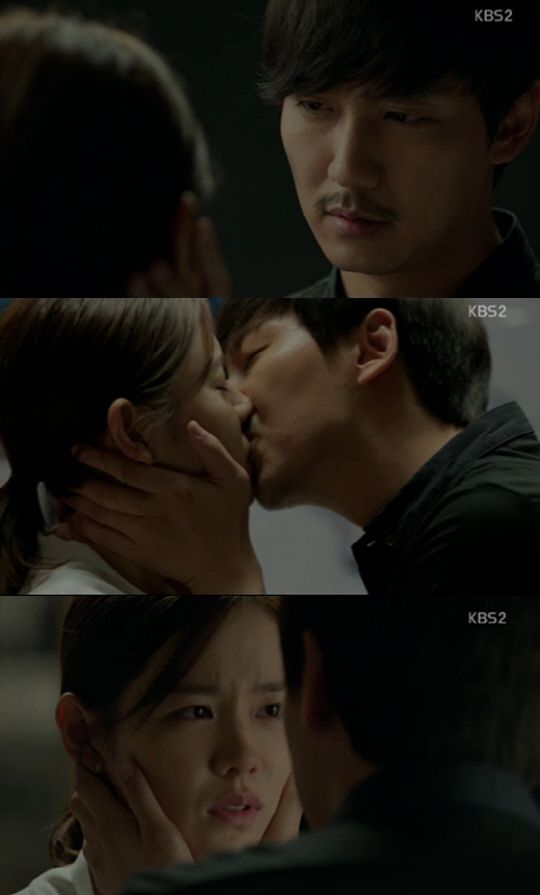 So Shark also ended today. It was the third drama in the so-called Revenge trilogy, where the first one Resurrection (Rebirth) is one of my top-10 best dramas ever and Mawang (The Devil) was even better technically and great on its own but didn't quite own my soul like Resurrection did. Shark, on the other hand, I just felt so apathetic towards. Nothing about it worked from me. In the end, Kim Nam Gil's Yi Soo died (again, and this time for real). It also marks the fourth time Kim Nam Gil has died in his dramas. The man keeps on dying on TV, let this be a lesson for his fans not to expect happily ever endings. He died in Be Strong Geum Soon, then all bloody and dramatic in Queen Seon Deok, and finally in the most WTF way in Bad Guy. His character totally had to die here since he did all sorts of law breaking things in the name of revenge so it was either die or go to prison for a very long time. I'm not sure if Shark fans were actually expecting a happy ending but that was bloody unlikely.