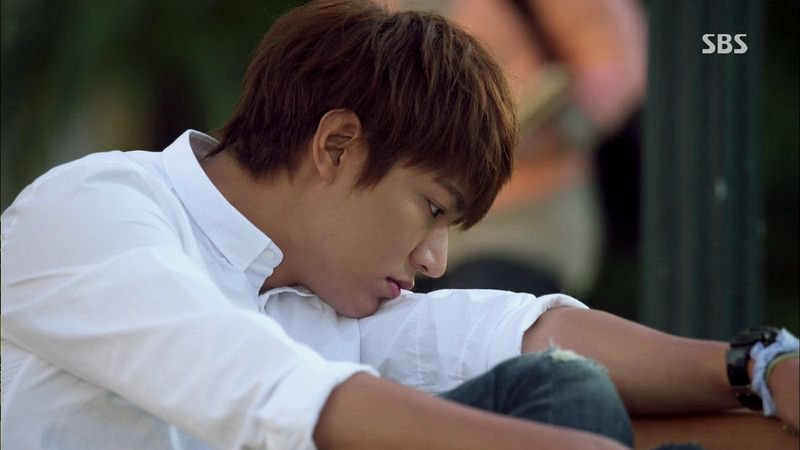 The action fully moved back to Korea in episode 4 of Heirs/The Inheritors, but it doesn't immediately pick up the pace or amp up the narrative hook. It's still a drama that aimed high and is delivering a curveball. This really is not the drama I was expecting, and the sense of being surprised adds to my enjoyment of it. Part of me wonders if Kim Eun Sook had a script and assembled the right cast for it, or had an idea that she wanted a drama with a huge cast and then wrote the script around it. The former is fine, the latter is what creates a sense of disjointedness with Heirs. Try as she might, Kim Eun Sook can't spend more of her drama with Tan and Eun Sang and then throw in bits and pieces of everyone else and expect the entire thing to coalesce into something truly engaging. When watching the drama, I'm merely shown scenes that functions as concentric circles that don't always overlap, but so far the story has presented a formative impression that a cohesive picture is forthcoming. Other than everyone in the drama being connected somehow, however organically or stretching the credulity, I'm disappointed not to feel like the world of Heirs is a living breathing beast waiting to rear its head and roar.
Like Young Do's allusion to Tan being a pretender king of the jungle, Heirs is so far a drama that is like a pretender to the throne of Kim Eun Sook whip fast dialogue and electric storytelling. It's slow and plodding, and that only works when I apply it to Kim Tan's character and his inertia, melancholy, and dissonance. For many of other characters, I'm just wondering what the heck is all this much ado about nothing for each of them to be so negative all the time. The size of this cast has spread the character building too thin, so while I can accept the motivations of the characters, there remains a lack of visceral connection to their angst. With the exception of Tan, and to a lesser extent Eun Sang, I see it but the drama doesn't make me feel it. I'm looking forward to when the main cast starts spending time in school and letting the school yard conflicts drive the story forward. The drama has made it easy for Tan and Eun Sang to develop their relationship since they are now living together and will soon attend the same school. I would squeal more if their romance felt compelling but it still doesn't. But they have a lovely budding friendship that remains the sole motivation of this drama that keeps me happily tuning in each week.
Episode 4 recap:
Rachel hugs Kim Tan goodbye at the airport and he stands there like a log and endures her hug. These two are totally going to turn into their parental generation if they went along with the plan and did get married. Eun Sang happens to arrive at the airport for her flight back to Korea and sees this tableau. She freezes and then turns to walk away.
Tan sees Eun Sang and calls out for her to stop right there! Really bad idea to be calling out to one girl while getting hugged by another, Tan. Eun Sang stops in her tracks and then turns around. Rachel stares in shock, because who wouldn't be flabbergasted by the sheer number of coincidental meetings between Tan and Eun Sang.
Tan bids Rachel a safe trip and says he'll call her. He stomps over to Eun Sang and demands to know why she didn't call him like he asked. Eun Sang got his message but didn't see the need. Tan holds out his cell phone and asks for her number back in Korea. Let's not forget Rachel is standing there watching all of this.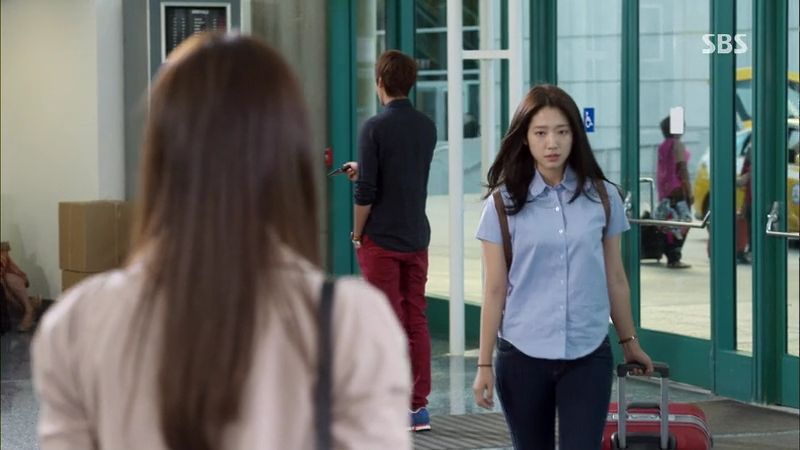 Eun Sang thanks him for everything again and reminds him not to leave his fiancée waiting right there. She then just walks away, past Rachel and up the escalator, leaving Tan standing there holding his phone out.
Of course Rachel and Eun Sang end up on the same flight back to Korea. Rachel can't restrain herself and heads back to economy class to badger Eun Sang some more. She believes they have a pathetic fate to see each other again because of their mutual Kim Tan connection. Eun Sang says no way, but Rachel knows Tan and if he's sad the first person he'll think of is Eun Sang. She takes Eun Sang's customs arrival form so she knows who Eun Sang is and hightails it back to first class, where Eun Sang is barred from entering lest she disturb the rich people.
Rachel walks out of baggage claim to find Young Do waiting to pick her up like he was told to, complete with a snarky welcome poster. These two may have some bite and certain things they say ring true, but I still find them wholly distasteful for the time being. Eun Sang is a step behind her and finally returns to Korea. Whew. That felt like an eventful and much too long of a trip.
Young Do purposely turns the music up in the car drive home with Rachel, and she turns it off and he turns it back on. She brings up Kim Tan, knowing Young Do is dying to know what's up with him. Tan is doing well, and she told Tan that Young Do is doing well, running the show now that the real king of the jungle isn't around. Ha, hit him where it hurts, girl.
Young Do snips back that perhaps the king of the jungle was just a pretender all along which is why it ran away to avoid being exposed. Looks like Young Do knows Tan is illegitimate but no one else outside the family does. Young Do stops the car and gets out right there on the street. What a petulant child, the whole lot of them.
Eun Sang arrives home but is too scared to go inside. When she does open the front door, she's stunned that the house is empty and cleaned out. She hears from the neighbor ahjumma that her mom moved while she was away. Eun Sang borrows a phone to call her mom and is told to go spend the night at a jjimjalbang and come to Chairman Kim's house in the morning.
Tan is throwing a pool party but he's not interested in having fun. He looks at the picture of Eun Sang and Chan Young sightseeing.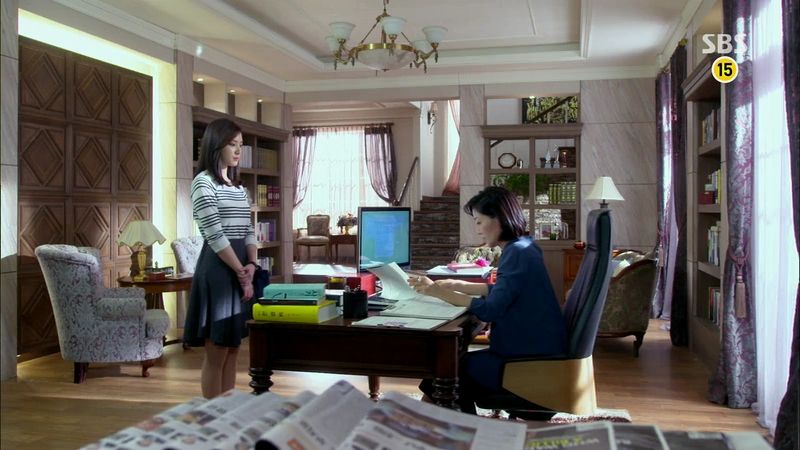 Hyo Shin enters his house and hears his mother speaking with his private tutor Jeon Hyun Joo, who is also a teacher at Empire High. Mom demands absolute perfection from Hyo Shin and warns Hyun Joo to do her best and not provide any distractions for Hyo Shin. She's not even allowed to wear perfume or look pretty when she tutors him. Hyo Shin's mom chews out Hyun Joo for wearing a skirt today and shorts last week. Damn mom, pay attention to your son and stop trying to slut-shame Hyun Joo.
Hyun Joo and Hyo Shin go back to his room to start working. Hyun Joo is not happy to do this but the pay is good. Hyo Shin likes all the distractions that his mom has prohibited by Hyun Joo is not about to flaunt the rules right off the bat.
Hyun Joo's phone rings and Hyo Shin asks if it's from her boyfriend? Hyun Joo is all business and won't answer it while she's on the job. The caller is Kim Won, who is calling from a jewelry store in the US. He picks up a beautiful necklace.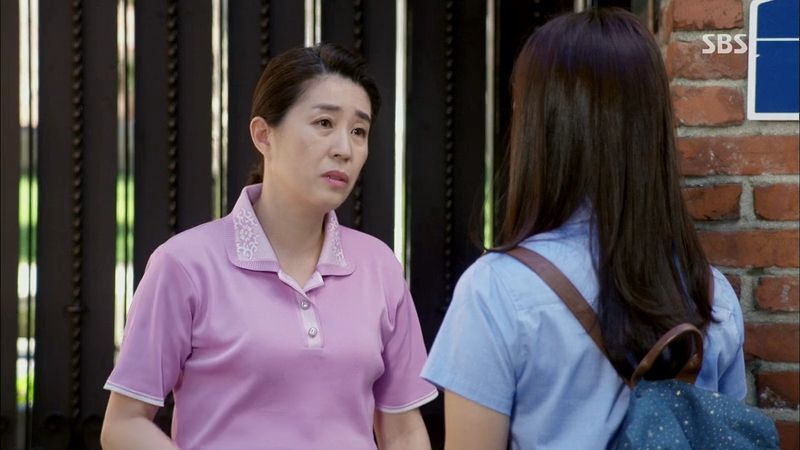 Eun Sang arrives at Chairman Kim's house and finds out that unni Eun Seo called mom to apologize but she still won't return the money. Mom says they don't even have money to pay their apartment deposit anymore, so they need to stay with Chairman Kim. Eun Sang demands to know for how long?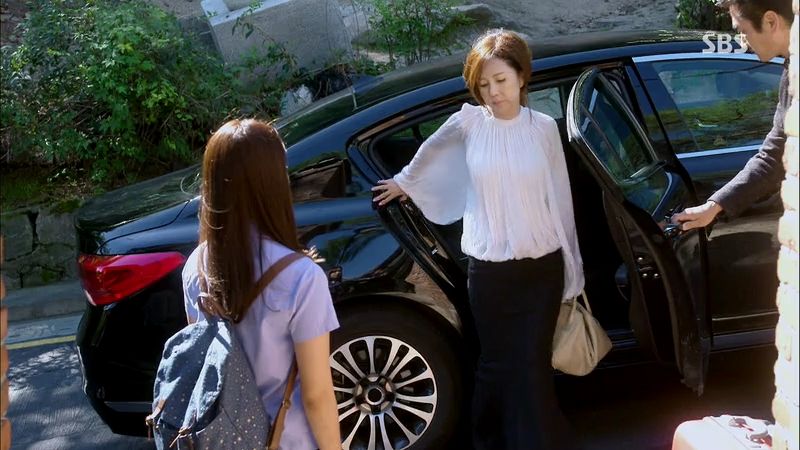 Eun Sang stands outside the house as Mom heads inside to talk with Ki Ae. A car pulls up and Ji Sook gets out. She passes by Eun Sang at the front door, glaring at her as she enters.
Mom gets Ki Ae to agree to let her and Eun Sang live in the backyard servants quarters by using Ki Ae's attempt to entrap Ji Sook into an affair. Mom says she's sad to blackmail Ki Ae, too but she has no choice.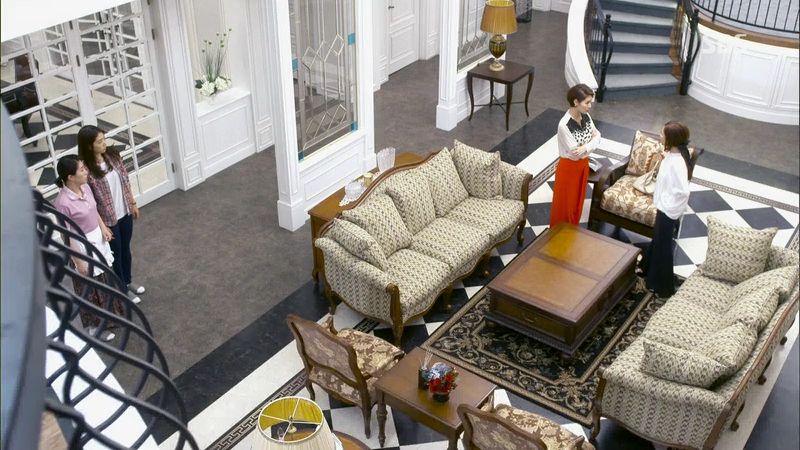 Mom brings Eun Sang into the house and she marvels at the luxurious digs. They walk into the living room and happen to chance upon Ki Ae and Ji Sook having an argument about how the Chairman is sick and Ji Sook is being kept out of the loop. Ki Ae says he gets sick often, she can't always tell Ji Sook, and snarks that she came bright and early to cause a scene.
Ki Ae insults Ji Sook as a bitter childless woman clinging to a legal marriage, while Ji Sook calls Ki Ae a woman without an official name and acting like the lady of the house. Ji Sook says Ki Ae is the same as her since her child isn't here. Ki Ae tells Ji Sook to leave the house now before one day getting kicked out and taken off the family registry. Ji Sook slaps Ki Ae hard. Ouch.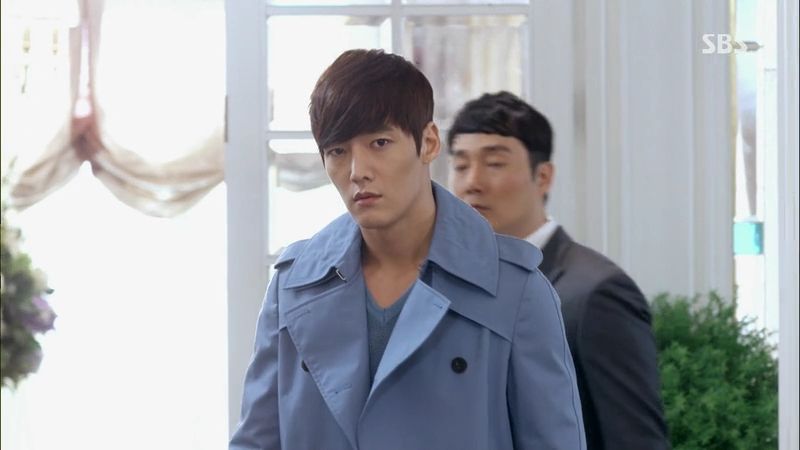 The two stop fighting when a servant announces that Kim Won is home. He barely acknowledges the two fighting women and goes upstairs. Ji Sook warns Ki Ae that Tan may be her son, but he also shares the same blood as Won and their father. So Ki Ae shouldn't expect Tan to stick up for her against the men of the family. Ji Sook storms off and Ki Ae asks Mom for some ice for her cheek.
Mom has Eun Sang bring medicine for Chairman Kim. Won notices her and she tries to avert his gaze. He sees what she's holding and gestures with his head towards his father's study. Eun Sang goes inside and sets the tray down and introduces herself as the housekeerper's daughter and excuses herself.
Chairman Kim talks with Won about ending his brother's exile or else he would do it. The Chairman heard from the guests that no one met Tan at the party. He knows Won is hurting Tan because he was hurt, which is why the Chairman let Won do it. To be fair he let Won do it, but Won is more cruel than he expected. The Chairman has never once embraced Tan because he was watching Won's reaction. Won wasn't raised in love either and asks if the Chairman doesn't regret it. But enough is enough and the Chairman won't let it continue anymore.
Mom brings Ki Ae some ice for her cheek and ask swhy she had to talk back to Ji Sook and incur her wrath? Ki Ae says Mom is so poor she'll never endure this mistreatment.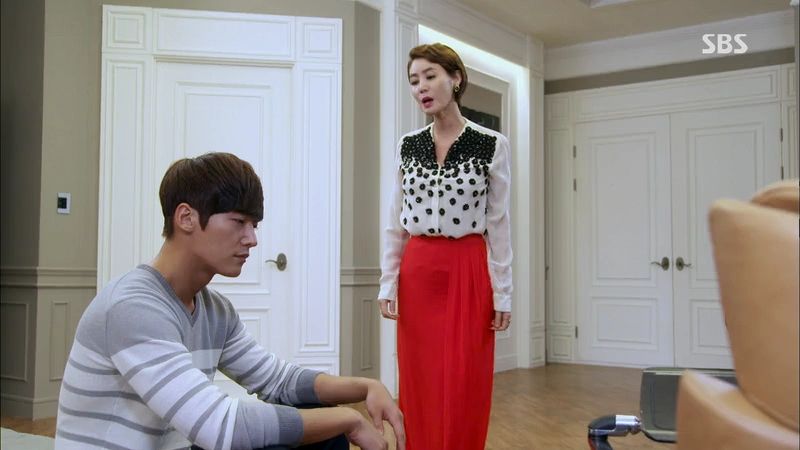 Ki Ae goes to see Won and wants to ask about Tan. Won tells her to call Tan herself. She asks if Tan can come back but Won isn't interested in chatting with her. She asks why he has to be so cruel, Tan is only 18 years old. Won said that at 18 he was already a major shareholder in Empire Group. Ki Ae laments being a bad mom to Tan but Won could care less and tells her to go to a church to confess her sins.
Kim Won is in his room and looks at a picture of himself sitting by the beach at sunset. The camera shifts to Tan in the exact same pose by the beach. Tan thinks back to his painful meeting with Won at the almond farm.
Eun Sang and her mom are eating dinner in the kitchen when Ki Ae comes in. Ki Ae tells Eun Sang to not say anything or do anything while living here, or reveals what goes on inside the house to the outside world. Ki Ae says she trusts Eun Sang's mom because she can't ever divulge the family secrets. She's unconsciously condescending but Eun Sang bites her tongue and says she is thankful they can live here. Mom signs Eun Sang and walks out. Ki Ae asks what Mom signed and Eun Sang lies that Mom said Ki Ae was a good madam of the house. Ki Ae laughs that Eun Sang is smart indeed (for the lie), but she was never good to Eun Sang's mom.
Eun Sang goes back to their little room and sees her mom nodding off while ironing. Eun Sang takes the iron out of her mom's hand and helps her down to rest. She watches her mom mouth "thank you" before falling asleep.
Eun Sang is fixing up their little room and arranging all her things. Mom comes back and they smile at each other. Eun Sang takes out a bag of nuts for her mom that she bought from the US. She teases that her mom can find a wealthy second husband and they can move out of this house soon. Eun Sang starts to cry and tells mom that she's really sorry, she thought about abandoning mom and staying in the US. Mom simply embraces Eun Sang.
Eun Sang gets back to her regular routine of working multiple part time jobs at the café and at the fried chicken place. Tan walks by the Hollywood sign and thinks about Eun Sang. He goes by the message board at school but Eun Sang's note has been covered up so he doesn't see it. Eun Sang puts her clothes away and sees the I love California t-shirt in her drawer and smiles.
Tan sits alone on the stairs and eats a sandwich. Outside the dreamcatcher waves in the wind.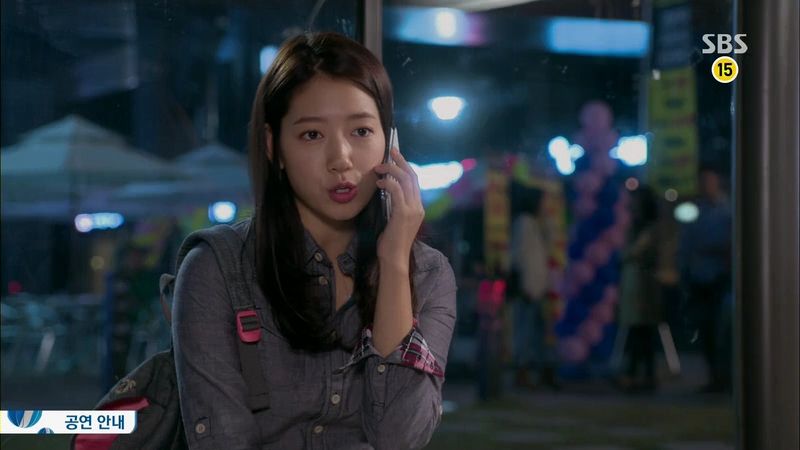 Eun Sang finally earns enough money to pay back Chan Young. She calls him and finds out he's coming back to Korea tomorrow.
Ki Tae is in bed with the Chairman, though they have separate beds. She tells him that she misses Tan and can't sleep well. The Chairman indicates wants to help her but if Tan is afraid of Won and won't come back then there is nothing they can do.
Ki Ae calls Tan but he still doesn't pick up. He's at school sitting on a bench in the courtyard. He wonders what the purpose of his life is. He doesn't feel like he exists to the people around him.
Tan imagines seeing his dad in the study and he says he wants to come you, and then seeing his mom sitting on his bed missing him and he misses her too. He imagines his brother Won standing alone looking out the window and Tan wishes Won felt bad about sending him away.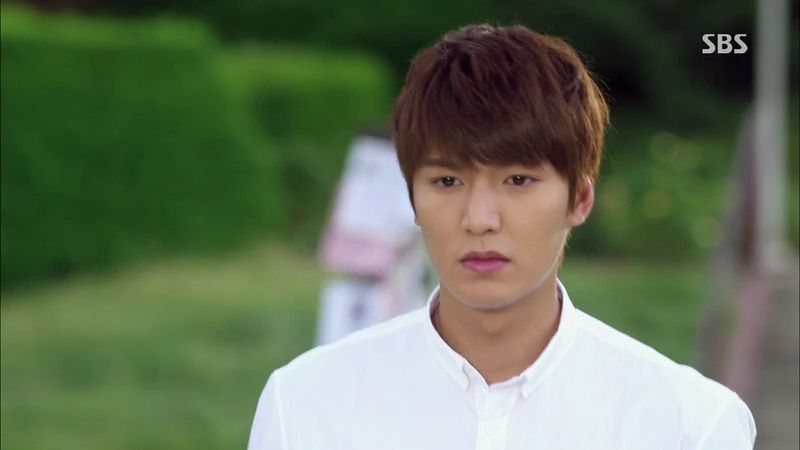 Tan finally makes up his mind to go home. He calls Secretary Yoon and makes plans. Tan goes to his English professor and finally turns in his book of writings. As written in his journal, he realizes now that "Those Who Wants to Wear the Crown, Bears the Crown."
Tan arrives in Korea and Secretary Yoon is there to pick him up. He notes that Tan has grown since the engagement when he last saw him. He tells Tan to go see his mother and the Chairman but Tan wants to go see Won first.
Tan walks into Won's office and he asks how long Tan plans to stay this time. Tan is here to stay for good and tells Won that he won't be vying with him for the inheritance so there is nothing for Won to worry about. All he'll do is play in Korea as well. Won's not worried since Tan is just an illegitimate bastard and isn't a threat.
Won storms out, leaving Tan standing there in a daze. Secretary Yoon follows and reminds Tan to go home to see his parents. Secretary Yoon catches up with Won, who wants him to book a hotel since Won doesn't want to go home now. Does everyone in this drama act like 12 year olds or what?
Tan goes home and Ki Ae caresses her baby boy's face, so happy to see him. The Chairman is dispassionate as usual and tells his son to sit. He asks what Tan learned over there and Tan says he just played.
Ki Tae follows Tan back to his room and he's not interested in catching up with her. She worries that he fell in with the wrong crowd in the US but he assure her he didn't. She asks if he saw Rachel in the US but he avoids answering.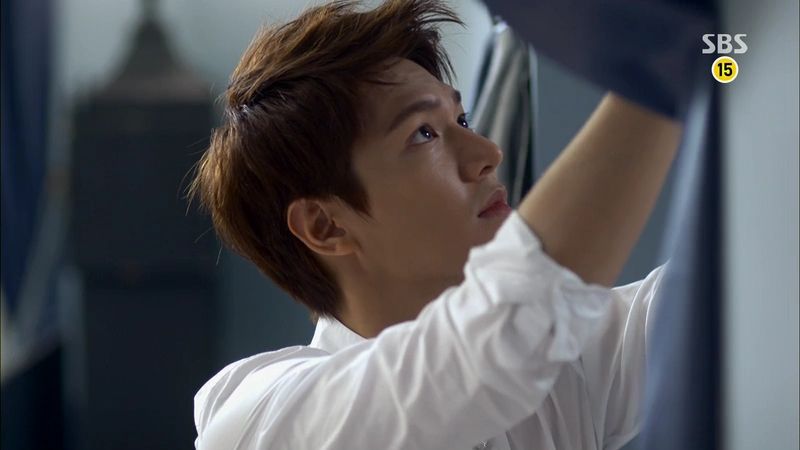 The servant taking Tan's clothes to the wash notices a pair of cute girl socks, which are the ones Eun Sang left behind. Tan takes out the dreamcatcher and hangs it on his window.
Tan stares at the dreamcatcher while outside in the courtyard, Eun Sang looks at the boarding pass of her flight and takes a picture. She posts it online and wonders if it was all just a dream? Will this prove that it wasn't just a dream? Both Tan and Eun Sang look skyward in the same direction, just yards from each other.
Tan walks through the courtyard in the morning and notices a pair of red girl sneakers drying on the line. He has breakfast and hears a phone ringing. He gets up and opens the door quickly and sees someone else enter another room. Tan is wearing a hoodie and earphones as he walks upstairs and Eun Sang spots him but doesn't see his face. She finds out from her mom and it's the second son of the household.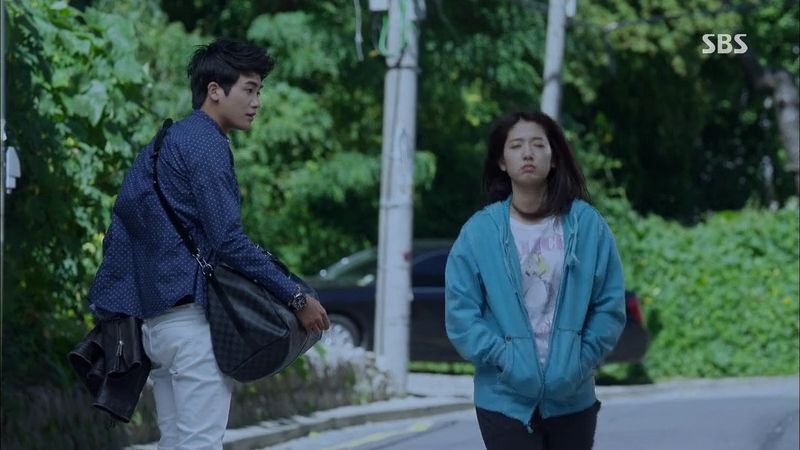 Mom wakes Eun Sang up before dawn and tells her to quickly leave the house. The second son is home, the first son has left, the Chairman is in a foul mood and so is Ki Ae. Young Do drops Myung Soo off outside of Tan's house since his house is down the street. Myung Soo walks up to the front door and freshens up a bit before heading home. Eun Sang walks out and he's shocked to see her. He asks if she lives there and where is Tan?
Young Do is at a convenience store having a bowl of ramyun. A sleepy Eun Sang walks in and grabs a drink. She stands next to Young Do and gulps it down with her eyes closed. He stares at her quizzically. Eun Sang finishes the drink and heads outside and plops down on a table and goes to sleep. Young Do takes his bowl of ramyun outside and sits down across her from. He reaches out his hand and confirms that she's really asleep.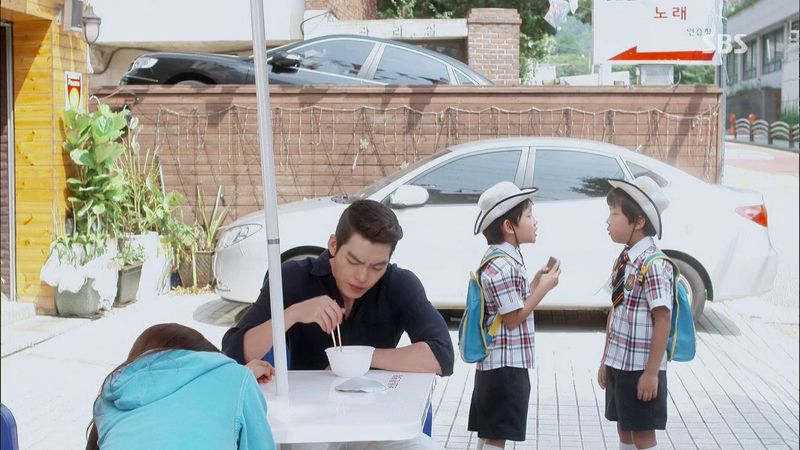 He starts to eat his ramyun while two kids walk up bickering about their game set. Young Do chastises them for speaking so loudly, don't they see someone is trying to rest. He scares the bejesus out of those two kids who start bawling. Eun Sang gets up and walks away. Myung Soo pulls up and Young Do asks for help to deal with crying kids. He gets up and looks at the back of Eun Sang as she walks away, before getting into Myung Soo's car.
Bo Na is at the rehearsal for the Mega Entertainment 2013 Concert. She's looking for her dad and says hello to all the famous idol stars. Cue cameos galore. She chats with Heechul and calls him oppa. Heechul flirts with her and asks who she likes the best, him or Kyuhun. Bo Na says Chan Young. Heechul asks if Chan Young is a boyfriend or a hostage? Say it like it is, Heechul!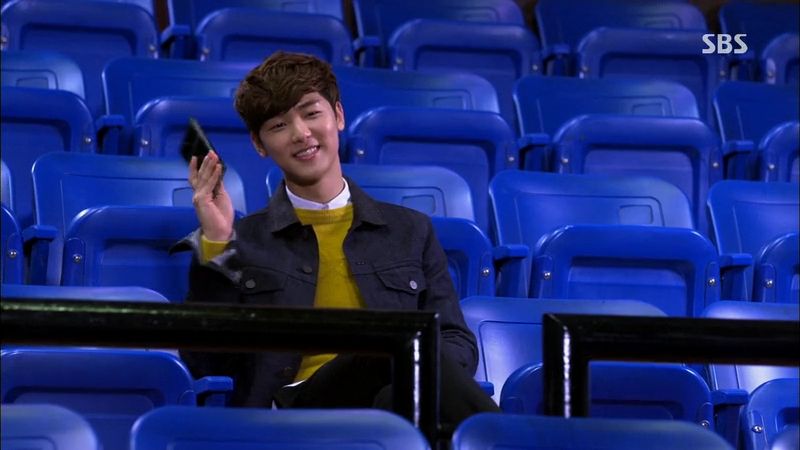 Bo Na gets a text from Chan Young, and lo and behold he's sitting in the audience having come straight here to look for her after he landed. Bo Na runs up to him and they happily greet each other, promising not to travel apart anymore.
Chan Young pulls Bo Na in for a tight hug. Bo Na totally ditches finding her dad since Chan Young is back, and he teases that he can't have a daughter in the future since she is so fickle.
Chan Young and Bo Na go back to his place where he and Secretary Yoon cooks dinner for her. It's noodles and Bo Na eagerly digs in. Chan Young suggests dad find a girlfriend and start dating again.
Secretary Yoon brings up Kim Tan and how Chan Young ran into him in the US. Bo Na nervously lies that she has no clue who Kim Tan is. Chan Young smiles and lets her stick with her fib.
Bo Na goes to the playroom and chats with Myung Soo about how Chan Young met Kim Tan in the US. She doesn't know if Chan Young knows she dated Tan before. She imagines they fought over her in the US. Ha!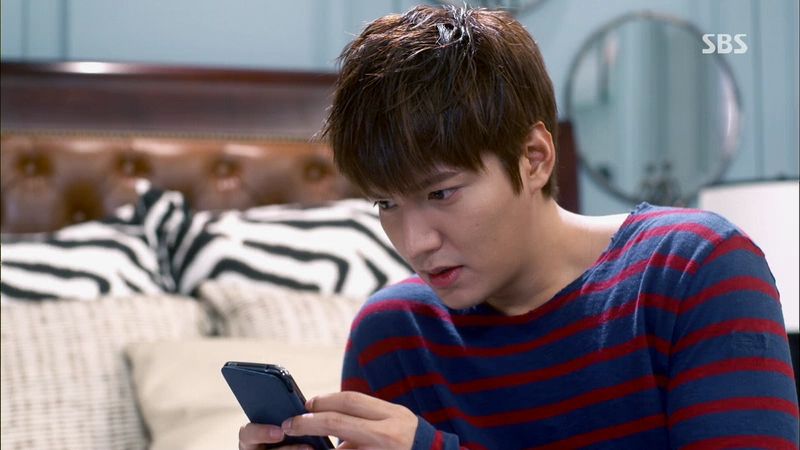 Tan is at home staring at his dreamcatcher. He checks Eun Sang's SNS and sees the post with her plane ticket. He posts back that he can vouch for it not being a dream. Eun Sang realizes he's still logged into her SNS.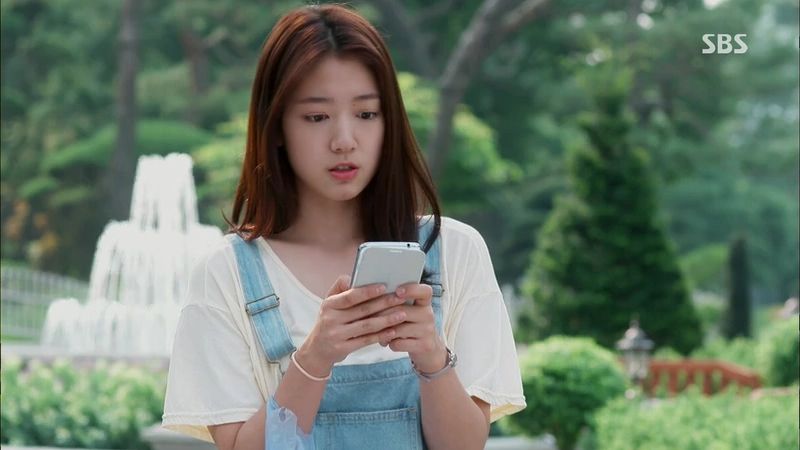 He asks how her kidney is doing? She dares him to come take it. He asks if she wants him to appear before here? They walk through the house, she's outside and he's inside, and it looks like they are about to run into each other. But in truth she's headed back to her servant quarters and he's walking out of the main house, so they don't run into each other.
Tan passes by Eun Sang's mom as she heads into the house with a bottle of wine. She's wearing Eun Sang's I love California t-shirt and Tan notices it. Ki Ae is reading comics in the house and wearing Eun Sang's cute bunny socks. She brings Ki Ae a snack and notices the socks. Ki Ae notices that Mom brought the wrong bottle of wine and Eun Sang says she'll do the wine retrieval from now on. Mom looks very sad that Eun Sang has to work so hard even in this household.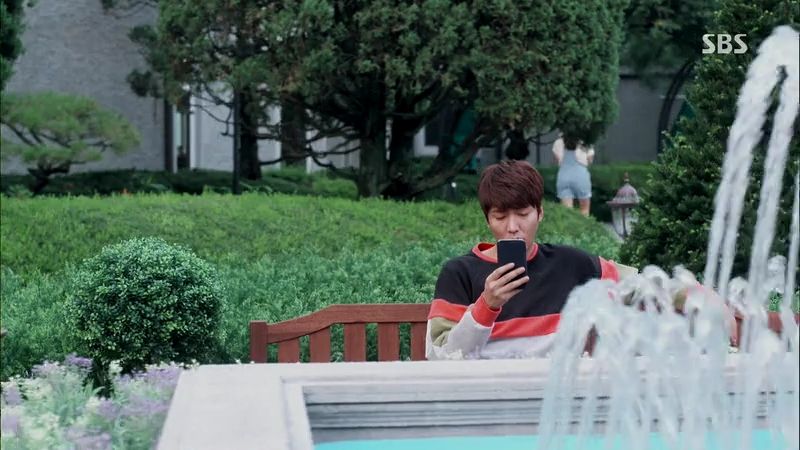 Eun Sang takes the wine back down to the cellar and grabs the right bottle. Tan is waiting for her to post back and sitting in the courtyard. Eun Sang walks right past him with the bottle of wine. Tan suddenly turns around after sensing something and sees a girl enter the house. When he walks into the house, he sees her figure behind a door.
Tan sits down with his mom and says he keeps seeing a girl's figure in this house. Mom explains that the housekeeper's and her daughter live here now. The older sister took all their money so they have nowhere to live. She slightly gets Eun Sang's name wrong and says that the girl is named Cha Eun Sung.
Tan goes back to his room and paces around, thinking of all the similarities including seeing Eun Sang's older sister take all the money. Tan logs on and demands to know what Eun Sang is doing right now. He keeps refreshing the page waiting for her to respond. He finally gets a response that she's drinking a glass of water. Tan runs downstairs to the kitchen but stops right outside the closed door.
He slowly opens the door and peers inside and sees Eun Sang standing by the kitchen counter drinking a glass of water and checking her phone. Tan looks absolutely floored that the object of his thoughts is right in front of him.
Thoughts of Mine:
As hard as I try, I can't make heads or tails of Kim Won and all the conflict he's created by sending Tan away. Is he mad his dad got another wife? That wife isn't even Tan's birth mother. Is he upset his dad got a mistress on top of the second wife? But how does that affect him since his birth mom is dead. Is he really seeing Tan as a threat to his position? I can't fathom how since Tan is the son of the mistress and so much younger that by the time Tan can even go work for the company, Won could easily have solidified his power hold. Is Won punishing Tan to get back at the lack of fatherly love he experienced, to avenge his mother's ill treatment at the hand of the Chairman, because he's just a big ass who likes to toy with others to make himself feel more in control? All of those motivations could be true, but Won comes across as a plot device and a very nebulously constructed one at that. Tan's desire for brotherly affection feels genuine, Won's pushing him away comes across as forced. I'm also a bit peeved at the way all the characters are inter-connected, some work while others feel blatantly mashed together. Rachel's mom who is marrying Young Do's dad but had something something way back when with Chan Young's dad. Really? Empire High teacher and Hyo Shin's private tutor Hyun Joo likely being Won's girlfriend? What a small world. I can get Bo Na having dated Tan, and Young Do being Tan's ex-friend and now future siblings with Tan's fiancée Rachel. Parts of this rich kids world with its small social circles is acceptable, other threads come off less fluid.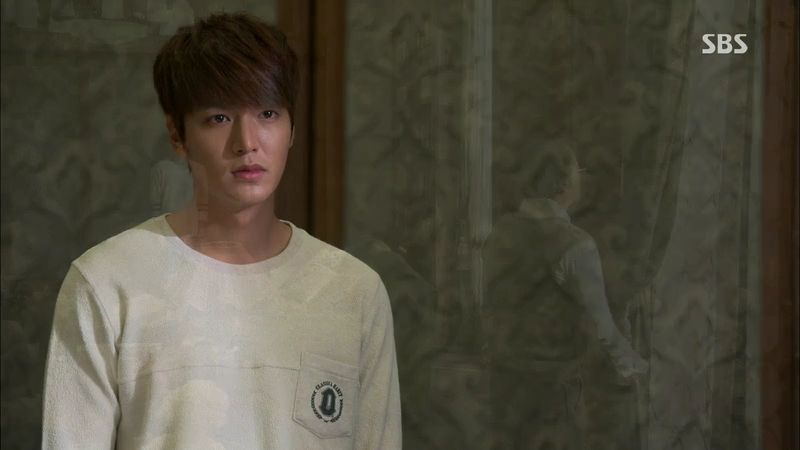 I'm loving the fact that Tan and Eun Sang get to live in the same household, so much so that I can overlook the giant coincidence that her mom just so happens to be the Kim family housekeeper in the first place and able to make it so the two kids have every excuse to keep orbiting each other. This is one drama where a birth secret might not be so shocking, though Kim Eun Sook hardly ever goes there so I'm not worried she'll toss in something at the end. It would be karmically hilarious if Won turned out not to be the Chairman's real son or something like that. I still find the directing a hot mess, with some scenes overly dreamy and others tension-filled to a point of absurdity. I find the dreamcatcher/dream leitmotif still very nicely weaved into the narrative, and not yet used to the point where I want to bash my head in. Since Eun Sang referenced Shakespeare's A Midsummer Night's Dream, I hope the drama can bring in elements of the play in a clever way. While the story is underdeveloped, there remains a glimmer of hope that going forward it can build on the established conflicts in a way that makes up for a weaker beginning. I don't see Heirs as just a romance drama, there is so much at stake for everyone because the main characters are still in high school and relatively unformed. The battle isn't just about the tangibles like wealth and power and survival, there is also the underlying need to see the kids mature and find their own way in life.