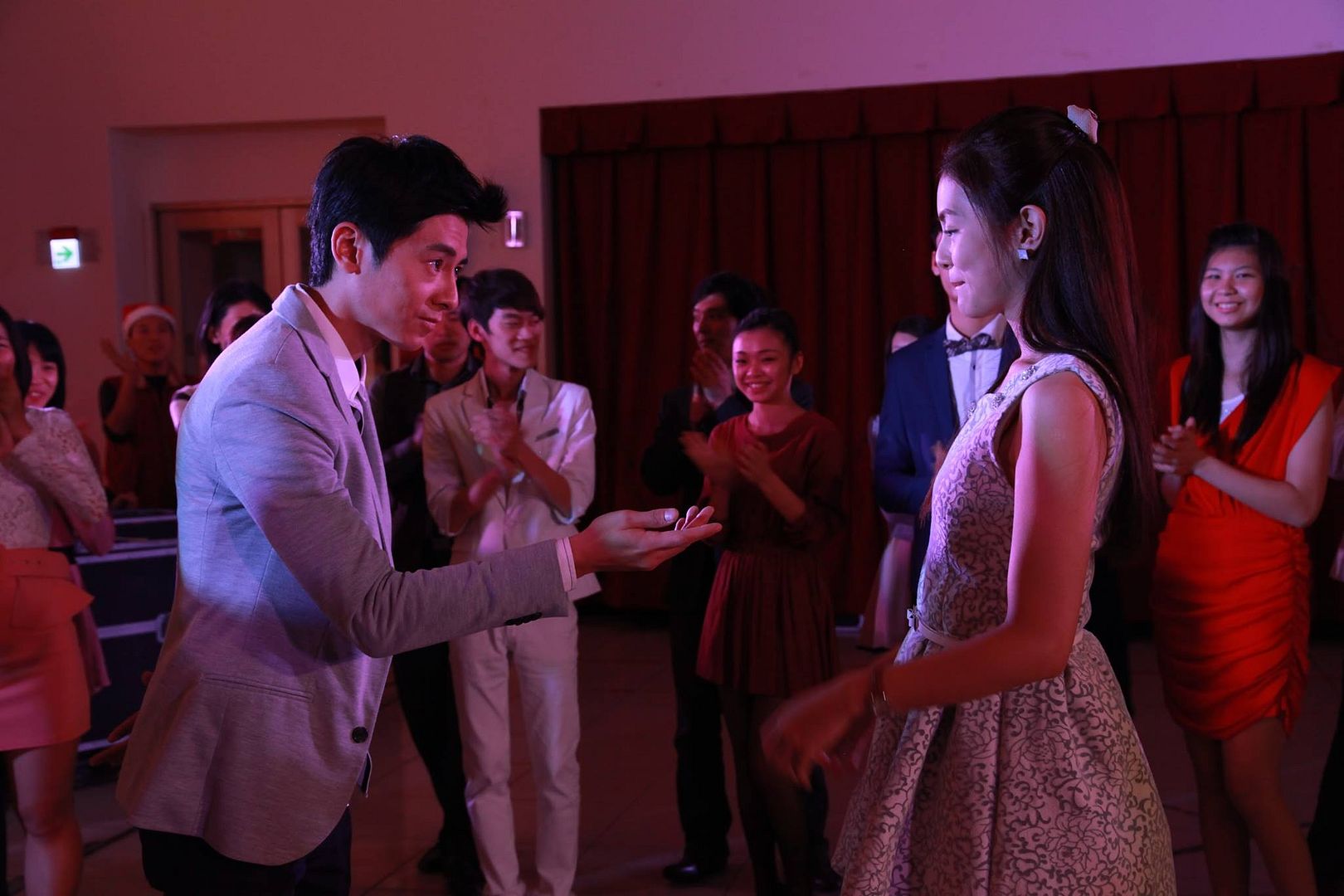 There is such a lovely romantic simplicity to In A Good Way. All this talk of Christmas parties and dancing and makeovers are really quaint but I enjoy watching it so much because it all occurs in the still formative years of a bunch of college students. Some are more worldly than others, but still its very entertaining to see everyone trying to have fun and bumbling their way through the confusing morass of their feelings. Episode 6 was yet another fantastic episode with all the action centered around the campus Christmas party but there was lots of great developments in every aspect of the story. Jia En's friendship with the girls has been such a treat to watch, with Tracy being very helpful and candid with Jia En but still complimenting her all the time on her strong suits. Bai Xue is every inch the perfect mentor and friend, even if she's clearly clued in that Liu Chuan might like Jia En. What I like about Bai Xue is that she doesn't force things, which is probably why nothing has changed in her friendship with Liu Chuan. She likes him but doesn't want to risk losing the comfortable friendship they have so she has never made it known unlike all the girls around him.
I'm not saying that if she told him then he would reciprocate because I've seen none of that from him, but she did have a choice about whether to confess and she chose not to so now she is watching Liu Chuan falling for Jia En before her eyes. I'm relieved Jia En's makeover finally arrived and am actually thrilled she did it herself! She chose her own style and beautifully donned her first party dress to wow all her classmates and she stayed true to herself. I'm a little disappointed Jia En didn't find out that Liu Chuan is 3631, because the earlier she finds out the quicker their friendship can start getting new clarity. I don't necessarily think Liu Chuan will confess his feelings when he tells her but it would help if Jia En discovered the extent of her connection with Liu Chuan. Ren Wei continues to be adorable as both Bai Xue's suitor as well as Jia En's friend but I don't know what to think of the possibility that he may have feelings for Jia En one day. I love their friendship too much to have it ruined, and it will be ruined because Jia En has Liu Chuan around to call her "Joan" and step up to dance with her when he dances with no one else. How could she ever pick Ren Wei when there is Liu Chuan?
Episode 6 baby recap:
Liu Chuan and Jia En run into each other on the MRT Muzha Line, with Liu Chuan realizing that Jia En is his BBS online chat buddy Sky but Jia En doesn't know he's 3631 yet. She apologizes for pressing him to share what was bothering him and that was overstepping as a friend. He accepts her apology and they've technically made up but still the mood is awkward between them. At the Treasure Hunting club, talk turns to the upcoming Christmas party where a girl is voted the queen of the ball and Bai Xue has won the last two years. Every year the Schumann piano concerto plays and legend has it that any pair that dances to the tune will become a couple, but they have to stop before the final notes otherwise they will break up. Last year a couple of girls fought over who got to dance with Liu Chuan but he took them aside and resolved it smoothly. When Ah Qing presses him on what exactly he said to resolve the situation, Liu Chuan is unwilling to answer since he doesn't gossip like that. Ah Qing goes to ask Jia En to ask Liu Chuan and she fairly yells at him to leave off and not push Liu Chuan because if he doesn't want to say anything then he won't.
Ren Wei and his Men of Steel are discussing the party as well with Ren Wei determined to dance with Bai Xue. Jia En claims she doesn't want to go but Ren Wei pushes her as a friend to continue trying new things and not get scared. Ren Wei asks Bai Xue to the party but turns out she's on the planning committee with Liu Chuan so she uses working the party that night to decline. Ren Wei mistakenly thinks she's into magic and decides to learn some tricks to impress her that night. Liu Chuan asks Ah Qing what to do if there is a fight with a girl and they've made but it's still weird. Ah Qing claims the girl is just playing hard to get and wants to have Liu Chuan keep thinking about her. They run into Jia En with Tracy and Xiao Wei and Ah Qing immediately zooms over to pick up Tracy. Liu Chuan only has eyes for Jia En and Xiao Wei notices it. Liu Chuan quickly takes his leave because the mood is weird since Jia En is very polite and formal around him, introducing him as a sunbae.
Jia En girlfriends Tracy, Xiao Wei, and Bai Xue all try to encourage her to go to the party and Tracy decides to take them all out shopping. All the girls buy something except for Jia En and Bai Xue tells her that even if appearances are not the most important it is still one part of who we all are. Jia En goes online and chats with 3631 and admits she wants to go to the ball but she's afraid of being embarrassed. She envies the Taipei girls who all know how to dress whereas she's so dorky. Liu Chuan tells Jia En that she's not dorky in the least and encourages her to think of her best assets and show it up and still be herself. She needs to love herself before others will love her. Liu Chuan promises to dance one dance with her at the party so she's not embarrassed.
Jia En decides to go to the party and spends all day getting ready. Ren Wei comes to pick her up and he's wearing a full coat and tails. Jia En walks down the stairs and everybody gapes at how pretty she looks wearing a short white dress. Ren Wei jokes that if she wasn't his best friend Lin Jia En he might just fall in love with her. They arrive at the party and meet up with Xiao Wei, Tracy, Jacky, and Ah Di. Everyone compliments Jia En's makeover and they head inside, with Ren Wei hilariously offering up his arm to Jia En and she asks if he has back pain since he's sticking out his elbow like that and Ren Wei tells her that she's so pretty that she needs to be his arm candy. The party goes underway and Jia En is quite the hit. She gets a note from 3631 to meet him outside. She heads out while Ren Wei tries to get Bai Xue to dance with him and eventually they do towards the end of the piano concerto.
Jia En goes out to meet 3631 but Liu Chuan has to step away to help the drunk and puking Jacky and Ah Di. Jia En finds a bag containing a note from 3631 and a pair of earrings as a present. She puts the earrings on and heads back to the party just in time to be crowned the queen of the ball. She gets to pick a dance and Jia En awkwardly says she only knows how to jitterbug. The music comes on and no guys step forward to dance since no one knows how to jitterbug. My heart fairly leapt into my throat when a familiar figure in a blue suit jacket steps up to Jia En and says "Joan" and she turns around to see Liu Chuan smiling at her and extending his hand to ask her to dance.
Jia En and Liu Chuan dance together while Bai Xue watches forlornly from the side, having been looking for Liu Chuan to dance with all night. Ri Qi asks Xiao Wei to dance and Ah Qing also manages to get Tracy to dance with him. The party ends as a success. Liu Chuan walks Jia En home and puts his jacket around her to keep her warm. He hears that she was supposed to meet a BBS online pal who never showed up. He's about to confess when her protective parents arrive to bring her home since she just missed curfew. Jia En wakes up the next day feeling like it was all very magical, especially the earrings she received. She reads on the BBS portal postings about her with guys talking about how pretty she is and how they all want to get to know her better.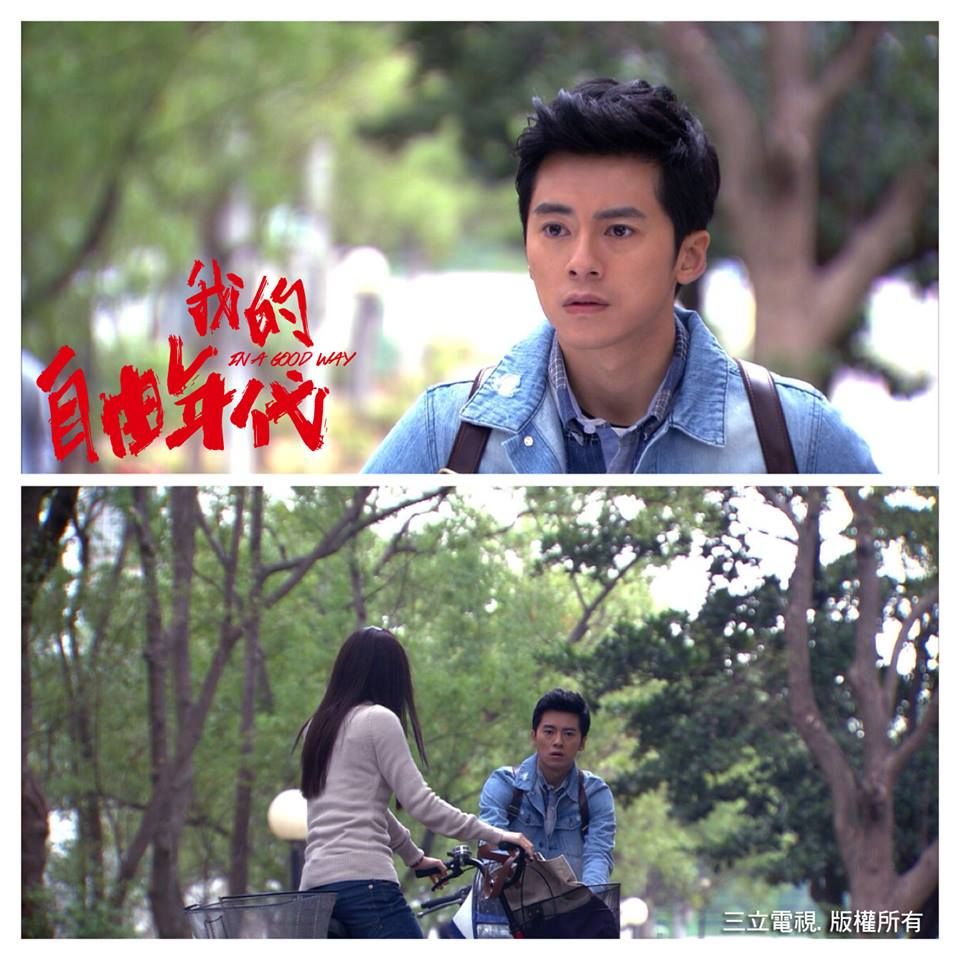 Everyone gathers at the outdoor lunch tables and when Jia En arrives with Bai Xue, Tracy, and Xiao Wei, other guys offer her a coke which confirms she's now very popular. Ri Qi makes a joke that Xiao Wei looks like omega (meaning her hair) and everyone winks at how they are getting close. Ah Qing tries to recruit Tracy to the Treasure Hunting club but gets shot down. Everyone thinks Jia En looks different and prettier now. Jia En wants to find out who 3631 is because he hasn't been online since the party and she hears from Ah Di and Ren Wei that Liu Chuan is the webmaster of the CDU BBS portal so only he can help her. Jia En rushes to find Liu Chuan and asks him to help her find 3631 and reveals she thinks he's got someone in the family in politics since she's gone back to read his old postings. Liu Chuan looks alarmed at her request.
Click here to watch In A Good Way.