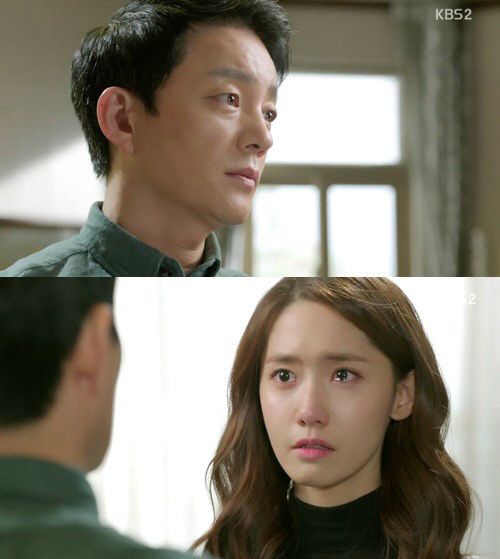 Does anyone else think Kwon Yul is reverse aging in Prime Minister and I? I already think Lee Bum Soo is the bees knees but in the last two episodes of PM he's literally so smexy I wonder how Da Jung can keep her hands off her hubby. Forget giving him time to figure out his feelings, I'd just kiss first and then talk later. The written preview is out for episode 14 and is a nice little treat to help stave off the wait until next Monday arrives and dealing with the return of Not Dead Na Young and what it means for the future of Yul and Da Jung. The question of why she played possum for 7 years will clear up her mind set and likely reveal what she wants now by returning. I don't see a reason good enough to exonerate a woman who would leave her kids behind and also let her husband grieve as some sort of bonus payback for being not there for her. I don't want to write her off as a vile family deserter but the problem with her return is that it's so late in the game I simply don't care about her as a character. It's easier to write her off if she's selfish and self-serving, but to explore her side of the story for the car accident faked death the drama would need to spend precious minutes on her and it's those minutes I don't want to waste on a character that is no longer important in the lives of the people I care about. Yul has moved on from a failed marriage and accepted his fault in it. He has grieved her death. Her children have grieved her death and endured 7 years of mother-less existence and is now just starting to bask in the warm glow of a two-parent household. I dislike her return for the disruption and intrusiveness, and less for her being a threat to the OTP. If Yul takes her back for the sake of his kids or some sort of pity party then he doesn't deserve Da Jung. If Da Jung gives up on Yul then she also doesn't cut it to be with him because that man has baggage in the past, present, and likely future with his career choice. I want the remaining four episodes to give sick Da Jung dad some more screen time, to allow Da Jung and Yul some romantic together time, and to let In Ho, Hye Joo, and Joon Ki to work through their disappointments or mistakes in life and become better people with a new and improved future path. All of that is more interesting than what the heck Not Dead Na Young has been up to, and definitely more worthy of the drama to explore going forward. All that is needed is to dispose of Not Dead Na Young and return her from whence her Not Dead rear end has been hiding.
Written preview for episode 14:
Yul's sincere confession bring happiness to Da Jung. Yul smiles at Da Jung and the two of them bask in the glow of the happy mood. On the other hand, Kang In Ho hears from Na Young that she was the cause of his brother's car accident. Na Young comes back to the Prime Minister's mansion and wants to see Man Se so follows him to the kindergarten. Da Jung discovers there that Yul's first wife is still alive…….
Episode 14 preview:
[youtube id="-prop6bSSLw" w="625″ h="445″]