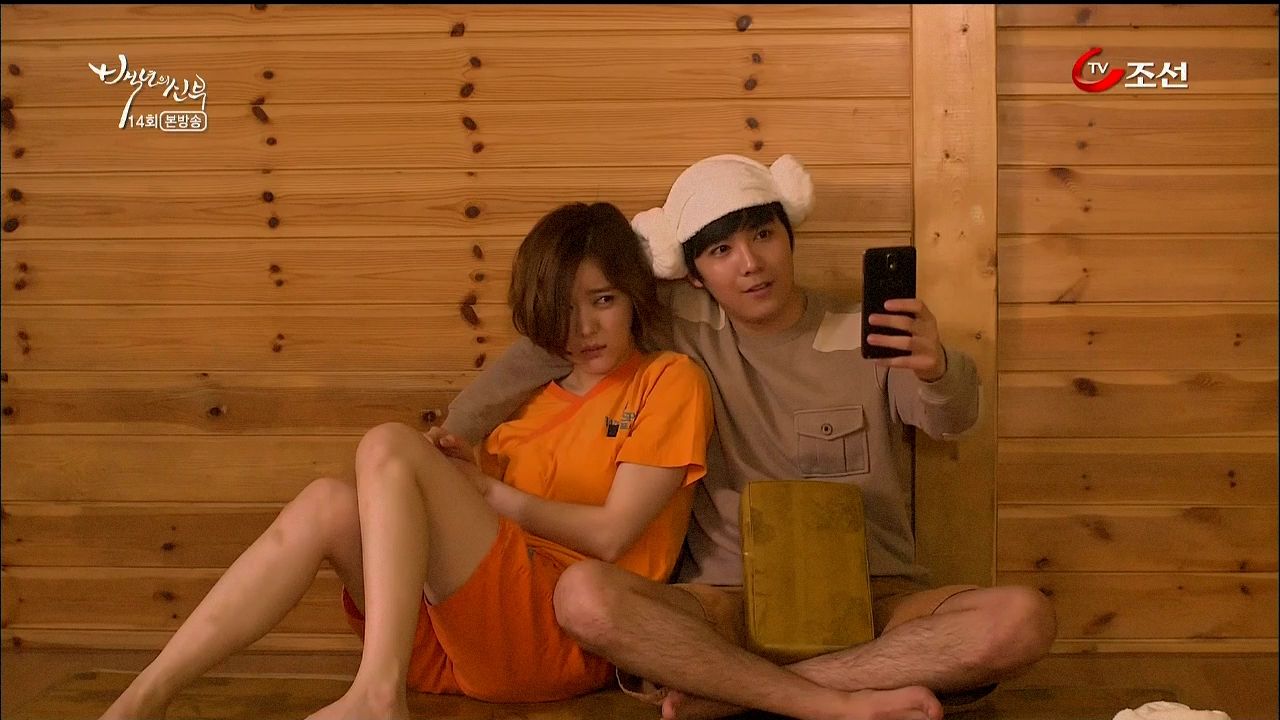 Episode 14 of Bride of the Century ups its own successful formula in the previous 13-episodes and shoves everything into one action-packed hour that left me literally screaming at the screen when the ending rolled around. Drama be leaving me hanging with that crazy cliffhanger? *claws at the screen for moar goodness* This episode had a death, an attempted suicide, multiple revelations, a divorce request, and it still found time to drop moments of Kang Joo and Doo Rim cuteness on us. This screenwriter needs a nice hefty bonus for tackling such a crazy concept and executing it to well and still managing to shock and awe me with the twists and turns. After enjoying the snarky and rather befuddling presence of the family ghost, this episode drops the major shocker hint as to how she became the ghost and what exactly she may be after. I figured she was herself a former bride of the Choi family and somehow met an untimely demise, what I didn't see coming was the how and the who involved.
It's fantastic to watch this drama remain so gutsy with its overarching plot line at the same time not holding back with the overwrought machinations. Doo Rim and Kang Joo have breached all obstacles and are together at last but they never forget the price they and others have paid to come this far together. I found Doo Rim's concern for Yi Kyung really moving because it rings true to her personality, and because I keep having this niggling sensation that they really are twins. I can buy the doppleganger premise but the whole ghostly presence in leading the two girls down different paths hints at their connection between looking identical. While I'm super content my OTP are together at last without any hint of romantic doubt or confusion about their love for each other, I expect a bit more anxiety still to come stemming from external forces that appear to have lurked around for the last hundred years and is ready to rear its ugly head at last. The biggest potential new obstacle was dropped at the end of this episode so make sure you watch with your knickers held on tight.
Episode 14 recap: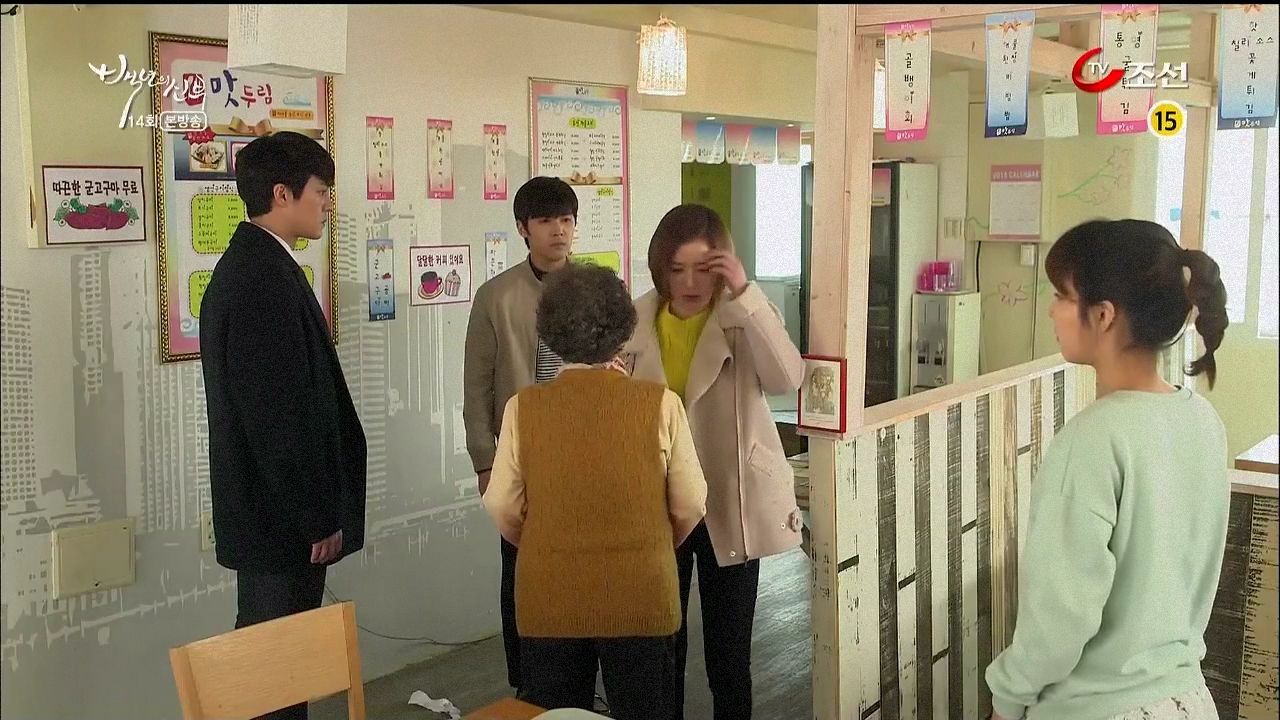 Kang Joo learns that Doo Rim plans to skip town and return to Namhae and decides he can't just hang around bickering with her anymore. He symbolically introduces himself as Choi Kang Joo who is happy to meet Na Doo Rim before pulling her in for a tight hug. Jin Joo gasps, Yi Hyun looks bemused, which leaves halmoni to yell at what he is doing! Doo Rim squirms out of his arms and feigns all upset but Kang Joo sincerely tells halmoni that he understands she doesn't like him but it can't be helped because he'll die without Doo Rim. Awwww.
Later that day halmoni pulls Doo Rim over to talk having been briefed on everything by Jin Joo. She knows Choi Kang Joo is the Taeyang Group heir and she doesn't like it because people like him aren't suited to be with folks like Doo Rim and halmoni. She blames herself because her surgery expense is what led Doo Rim to agree to this charade. She bemoans her fault in all this but Doo Rim assures halmoni it wasn't her fault. Halmoni hugs her Doo Rim tight for enduring so much during this time and not being able to talk to halmoni about it.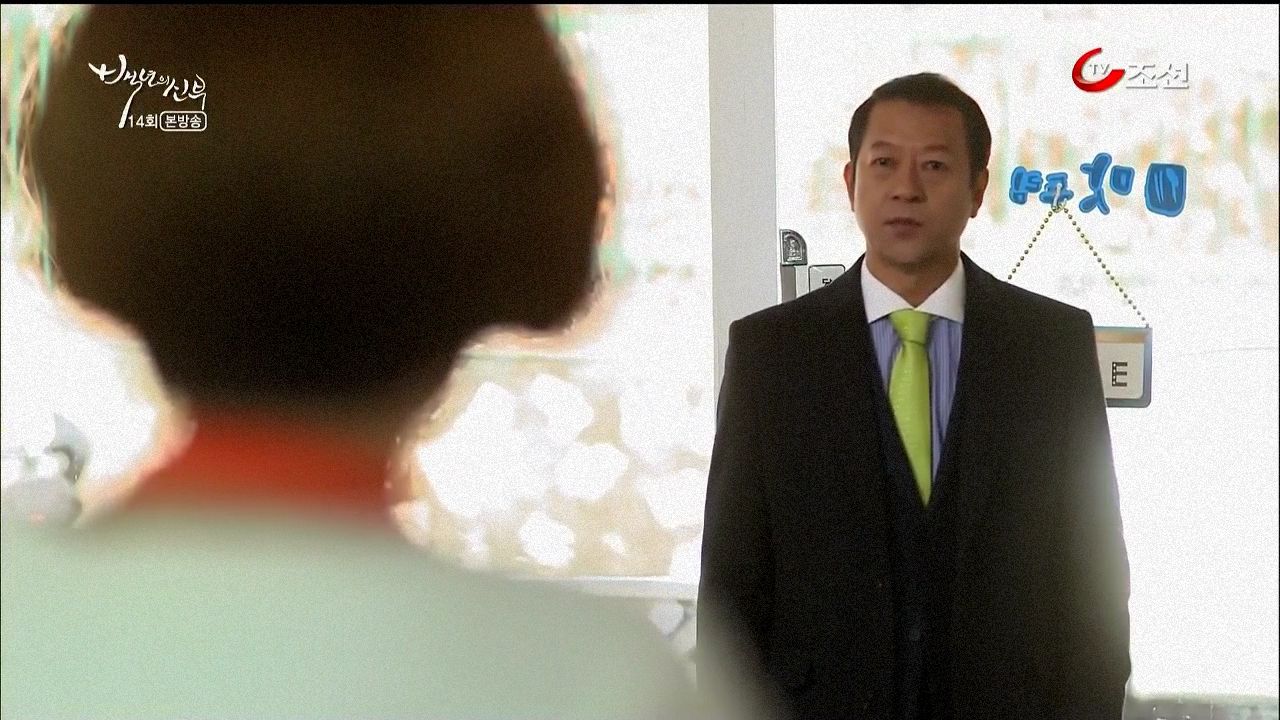 The Choi family butler drives Kang Joo's dad to the restaurant and he walks in to greet Doo Rim warmly with a long time no see. Doo Rim prepares a meal for Kang Joo's dad who eats it happily and teases that free food always tastes better. Doo Rim stares at him wistfully and he says it's embarrassing for her to keep staring. Doo Rim first apologizes and then says that he was always the one person who trusted her, like her, believed in her, and she felt terrible thinking she would never be able to apologize to him directly or see him again. Kang Joo's dad counters that if Doo Rim never appeared in front of Kang Joo again that is the only reason he wouldn't be able to forgive her.
Kang Joo's dad smiles and is happy that she's back in Kang Joo's life and that is all that matters. He's been sick during this time but is better now so she doesn't need to worry. If she needs anything then she just needs to tell him. Doo Rim smiles and tells him to keep on eating.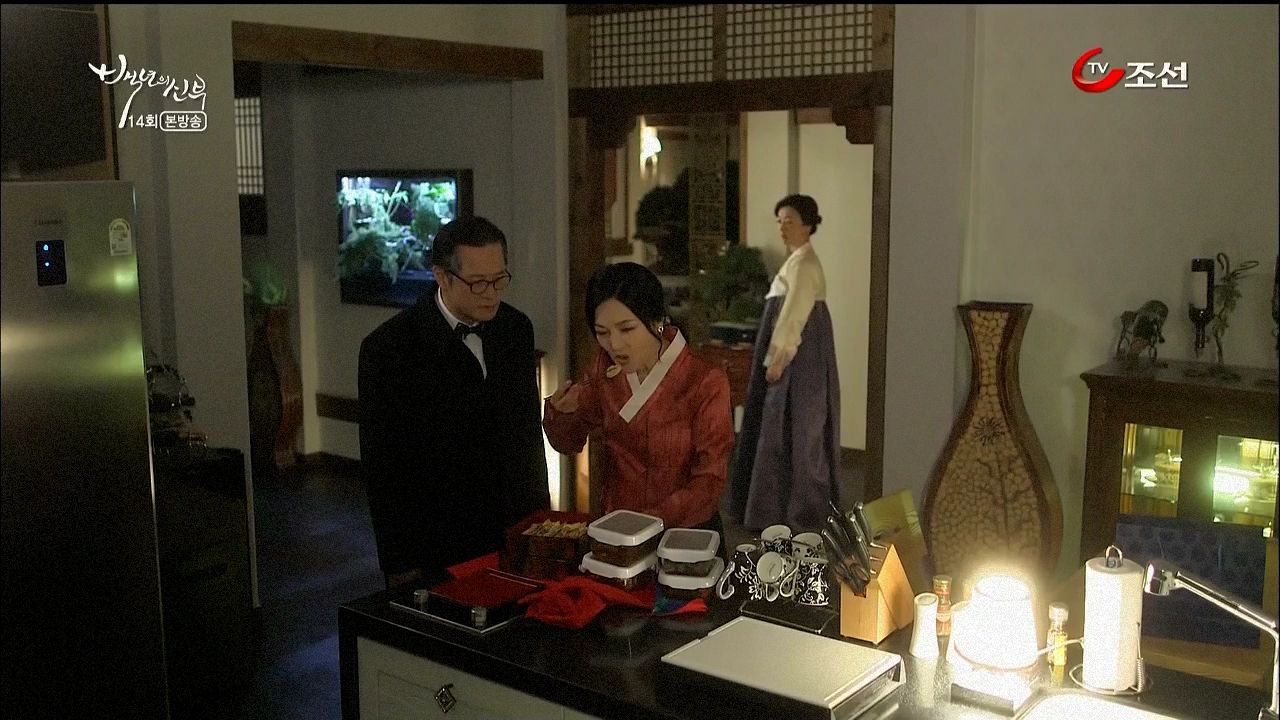 The butler brings back a lunchbox of food Doo Rim made for the family and the housekeeper marvels at how delicious everything looks and takes a bite to confirms it tastes just as good. Kang Joo's mom walks by and hears her husband went to see Doo Rim and brought back some food she made. The butler offers her some but she curtly declines, leaving the housekeeper gossiping with the butler about how Kang Joo's mom still won't accept Doo Rim. Kang Joo's mom goes back to her room and picks up the first wife's diary.
Yi Kyung plays the grandma confession tapes for Yi Hyun as a prelude to her exciting press conference reveal tomorrow. Yi Hyun tries one final time to talk sense into his sister. All he wants is for her to be happy and if he could give her all his happiness and everything he has then he would. Yi Kyung doesn't answer and Yi Hyun explains it clearly that she won't be able to happy if she makes others suffer. Yi Kyung doesn't care what he calls it, if she makes others hurt as much as she's hurting then she'll be happy. She will make Choi Kang Joo and Na Doo Rim unhappy and that will become her happiness. Yi Hyun stares at her like she's sprouted fifty heads and he's staring at a monster.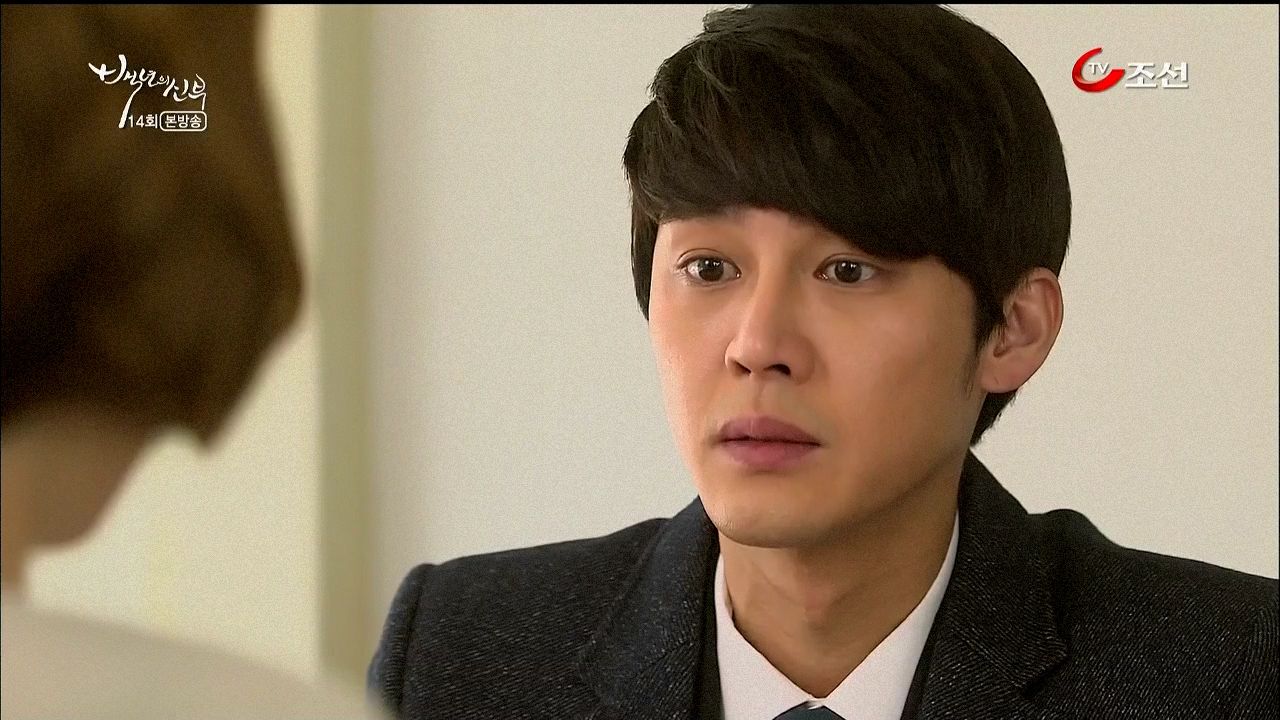 Yi Hyun hands the restaurant deed back to Doo Rim and explains that Kang Joo asked Yi Hyun for this favor. He bought the restaurant and is giving it to Doo Rim so she can stay and not worry about President Ma anymore. Doo Rim is about to decline but Yi Hyun takes his awesome oppa role to the next level and explains how Kang Joo staked his everything to be with Doo Rim. President Ma holds a devastating secret over the Choi family but Kang Joo chose to oppose her rather than lose Doo Rim.
The next scene is Doo Rim running out of the restaurant like her ass is on fire, clearly going to be with her man. Kang Joo is working at his desk when he hears someone walking in. He looks up to find Doo Rim standing there and wonders why she's here so early? Doo Rim just hugs him and calls him an idiot for risking so much. He could lose everything! Kang Joo smiles and says he got her and she is his everything. He didn't lose anything so she doesn't need to worry. He assures her that he's smart so she needs to trust him that he'll handle it.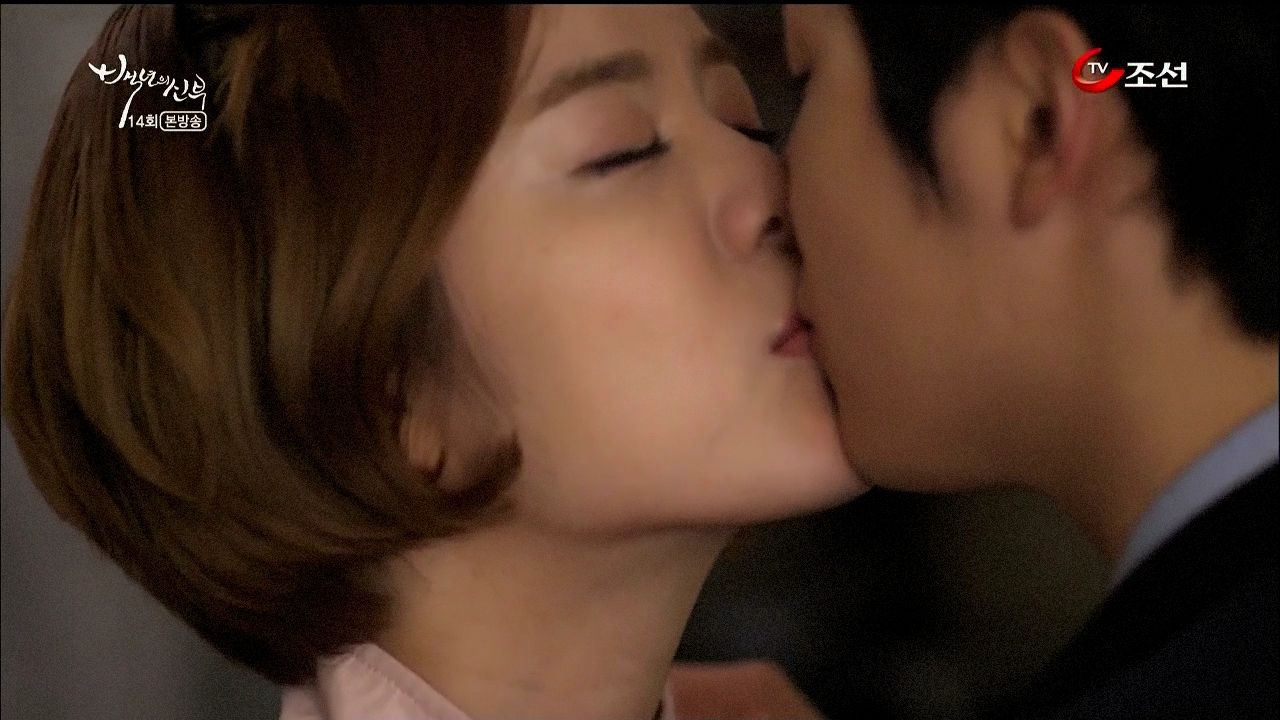 Doo Rim smiles and says if anything happens to Kang Joo, then she'll support him. LOL, that would be awesome. She assures him that she'll run the restaurant well. Kang Joo tells her that the restaurant isn't a gift and in the future she'll have to pay him back principal and interest. Doo Rim leans in to surprise him with a peck on the lips and then they happily hug.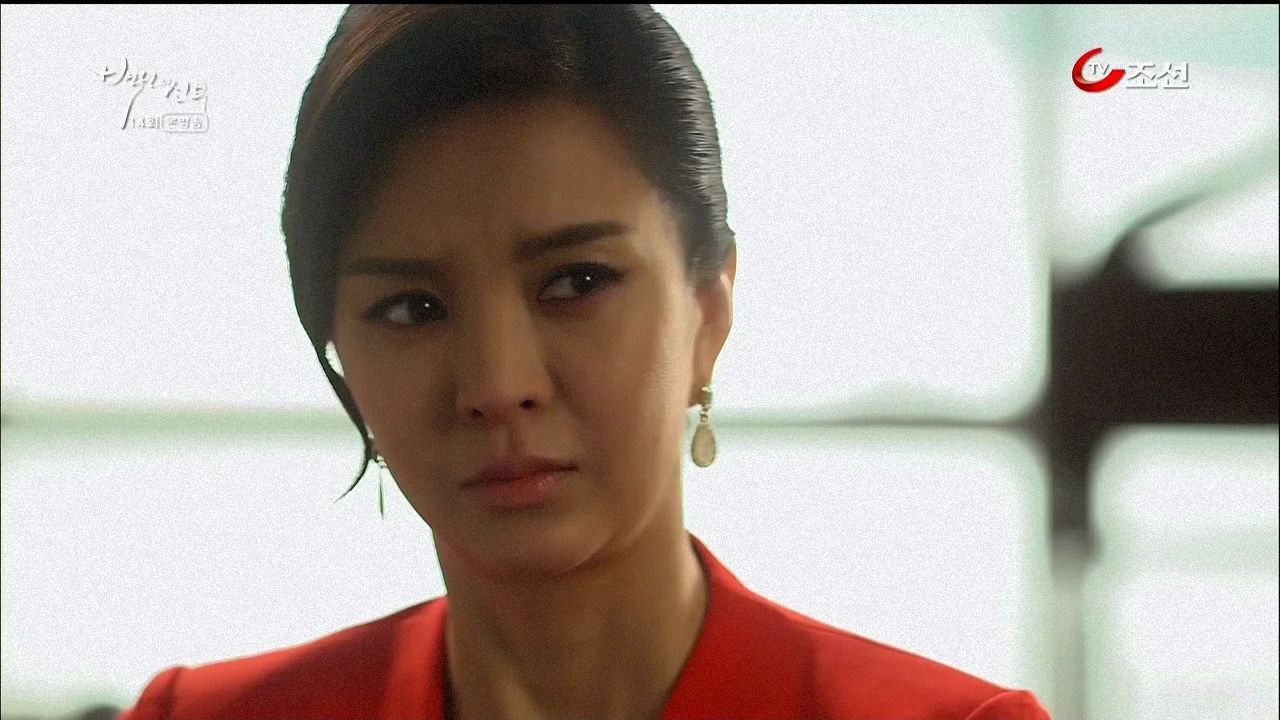 President Ma sits down with Kang Joo's mom to discuss how things have totally fallen apart, Kang Joo's mom has already taken back all the investment in her construction company and blocked all ties with her available partners. President Ma asks if Kang Joo's mom plans to go all the way and she does so President Ma is free to do so as well. President Ma plans to since both the company and her Yi Kyung is already thoroughly beaten up. Kang Joo's mom takes responsibility for things coming this far, if only she had the guts in the beginning to do the right thing and not think she can prevent everything from coming out.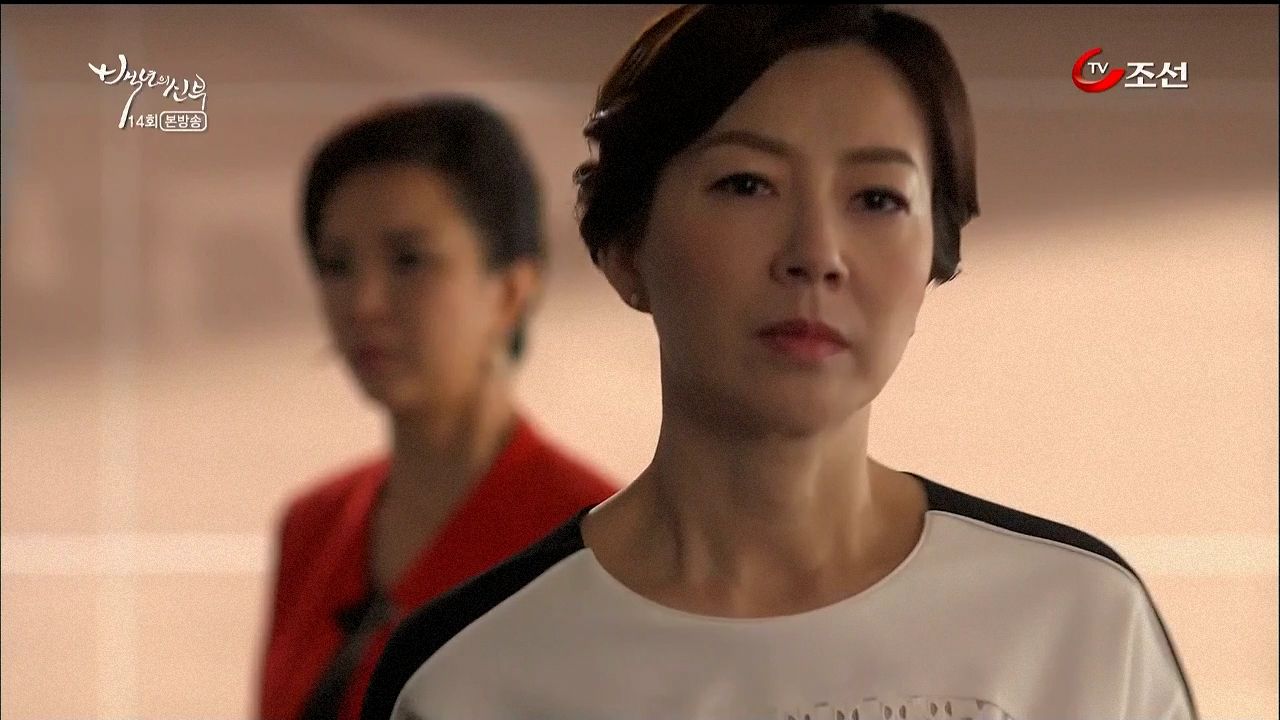 Kang Joo's mom ends the conversation but President Ma calls her just the daughter of a killer and asks how she will live with this association in the future. Kang Joo's mom tosses it right back at her and says the same sentiment should be applied to Yi Kyung who will need to live with her mom's crimes and dirty deeds in the future. She gets in the final word in this salvo as President Ma fairly seethes with no retort handy. President Ma calls in her lackey to make public her trump card and also get rid of anyone who can implicate them in their own crimes.
Kang Joo's mom sits with her mom in the hospital and holds her hand reassuringly. Swarms of reporters are arriving for the press conference when suddenly Kang Joo walks up to them to get the jump on President Ma.
Flashback shows that Kang Joo convinced his mom that they needed to reveal his grandmother's crime first, only by coming clean can they ask for forgiveness and have a new start. If they can't admit their past mistakes then they can't have a future. He offers to tell his dad but his mom says she will do it. Kang Joo's mom cries and tells her husband that his first love died because of her. Kang Joo's dad asks how she knows? Did she hear it from her mom? Kang Joo's mom is shocked and asks how her husband already knows?
Kang Joo stands in front of the reporters and reveals his grandmother's crime. His grandmother holds her daughter's hand and is grateful for her wisdom in allowing her to die in peace now with her heart at ease. Kang Joo's mother smiles and wishes in her heart and if there is a future life, her mom will become her daughter so she can take on her burdens. Grandmother passes peacefully in bed. Kang Joo's mom softly cries.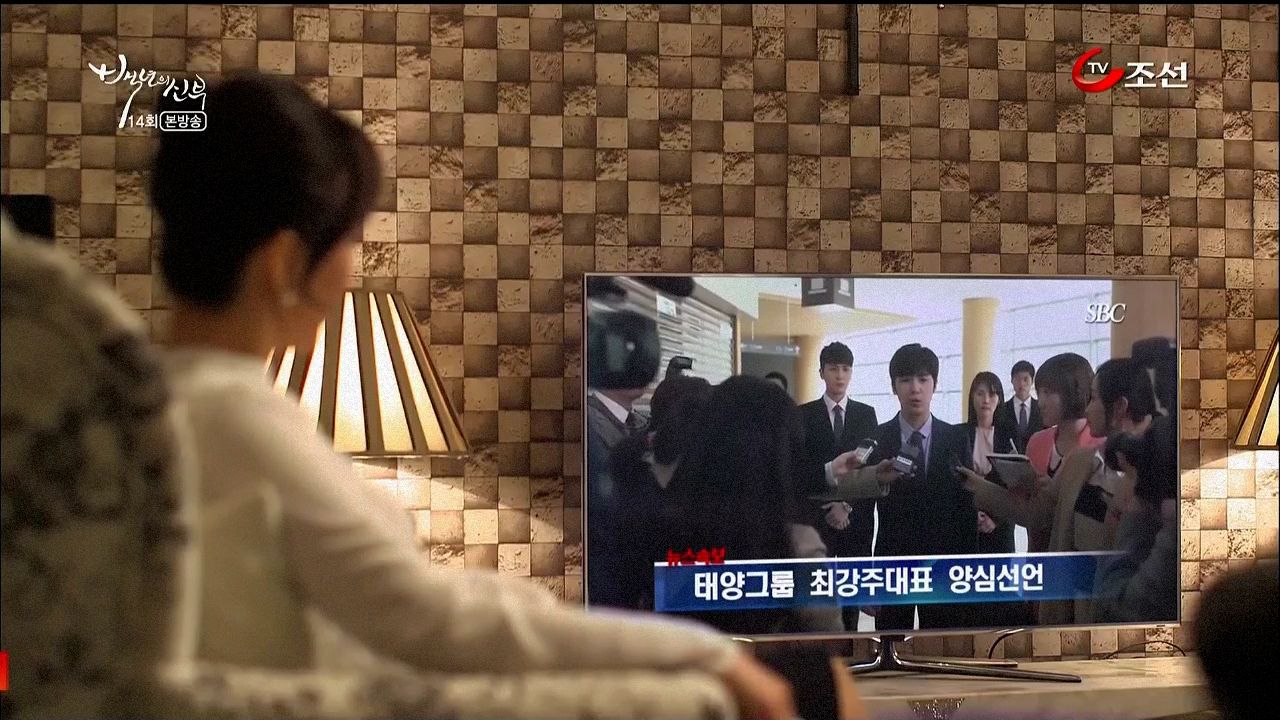 Kang Joo tells the gathered press that he will assume all responsibility whether legal or moral and asks that he be allowed to repent on behalf of the Taeyang Group and earn the world's forgiveness. President Ma watches this press conference with Yi Kyung who is furious at being thwarted. President Ma is impressed by how ruthless that family is, to get what they want they are even willing to hurt themselves first. Yi Kyung refuses to stop now being they have been so mistreated!
Yi Hyun urges Yi Kyung to stop now but she thinks he's happy to see her brought low. Yi Hyun is happy if this means she and her mom will stop now. President Ma calls him just half the blood of this family which is why he's not on their side when others have them by the neck. Yi Hyun tells her to wake up, she's the one who has others by the neck, not the other way around! President Ma is rendered speechless but Yi Kyung has her annoying voice working and yells at Yi Hyun for daring to talk to their mom this way.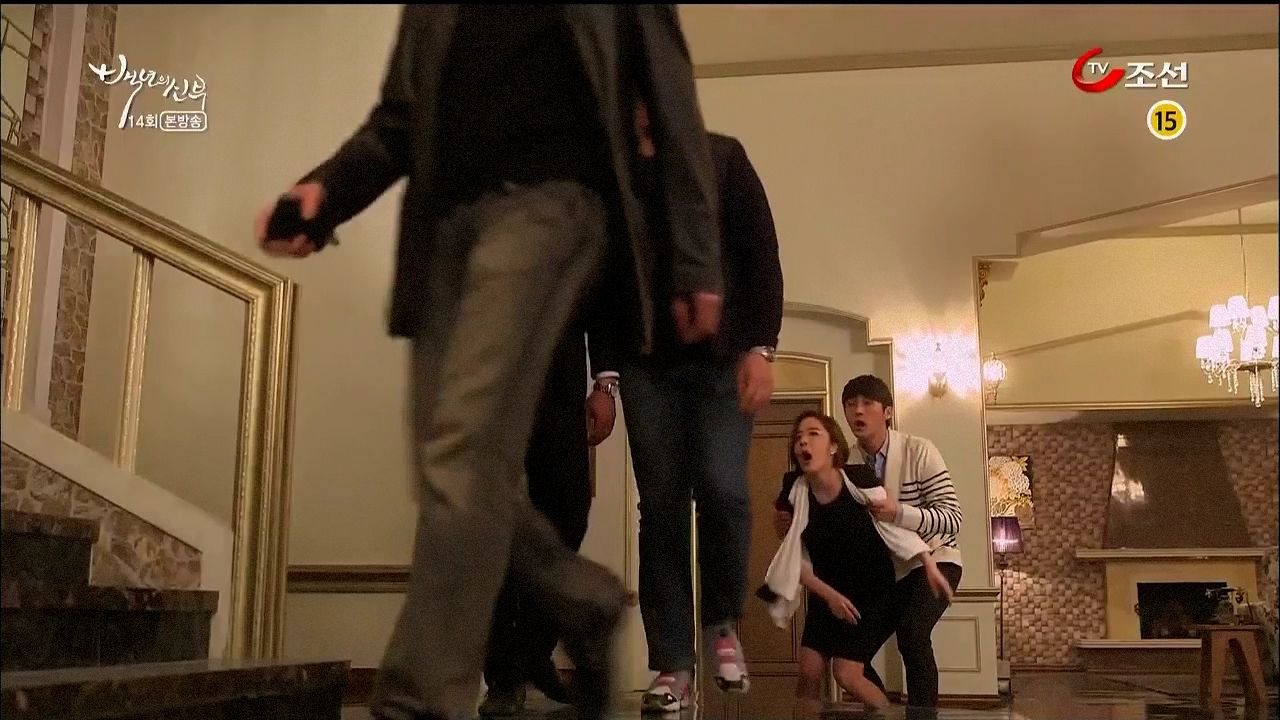 The doorbell rings and President Ma orders Yi Kyung to go upstairs and yells at Yi Hyun to leave as well if he's going to talk useless nonsense. Suddenly cops storm the house and drag President Ma away for the attempted murder of Doo Rim. They already have her lackey under arrest. Yi Kyung screams for her mom and then faints.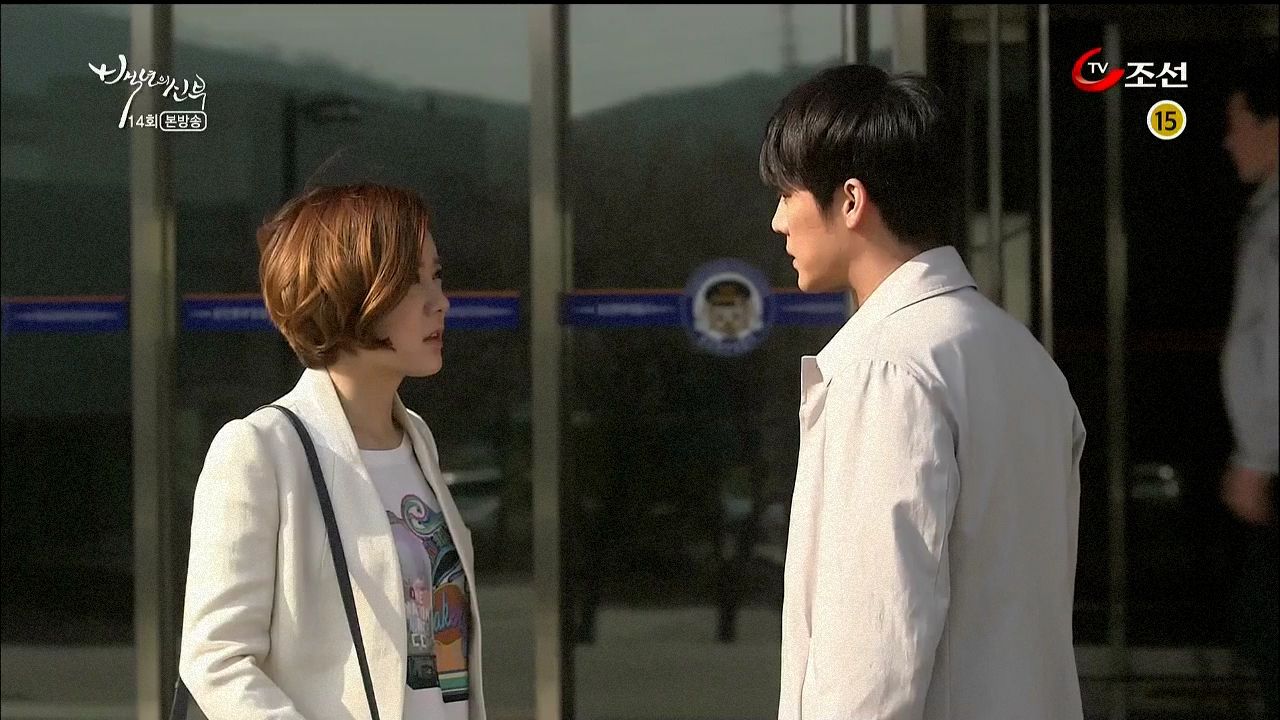 Yi Hyun is outside of the police station and Doo Rim walks out. He thanks her but she knows this is hardest on him. She did want President Ma to pay for her actions but realized it would hurt Yi Hyun more. They stand there looking at each other sadly.
Yi Kyung visits her mom in jail and asks if she's alright. President Ma is fine and tells Yi Kyung to be strong. Yi Kyung heard from the lawyer that if the gangsters don't confess then it's hard to pin the plotting on her mom. She assures her mom that Doo Rim gave a statement that didn't implicate her. President Ma knows it's Kang Joo's mom behind this, she found the gangsters hiding overseas and brought them back which means she's going to lean on the law enforcement to get her convicted. President Ma feels so wronged because she doesn't have the power to go up against them anymore.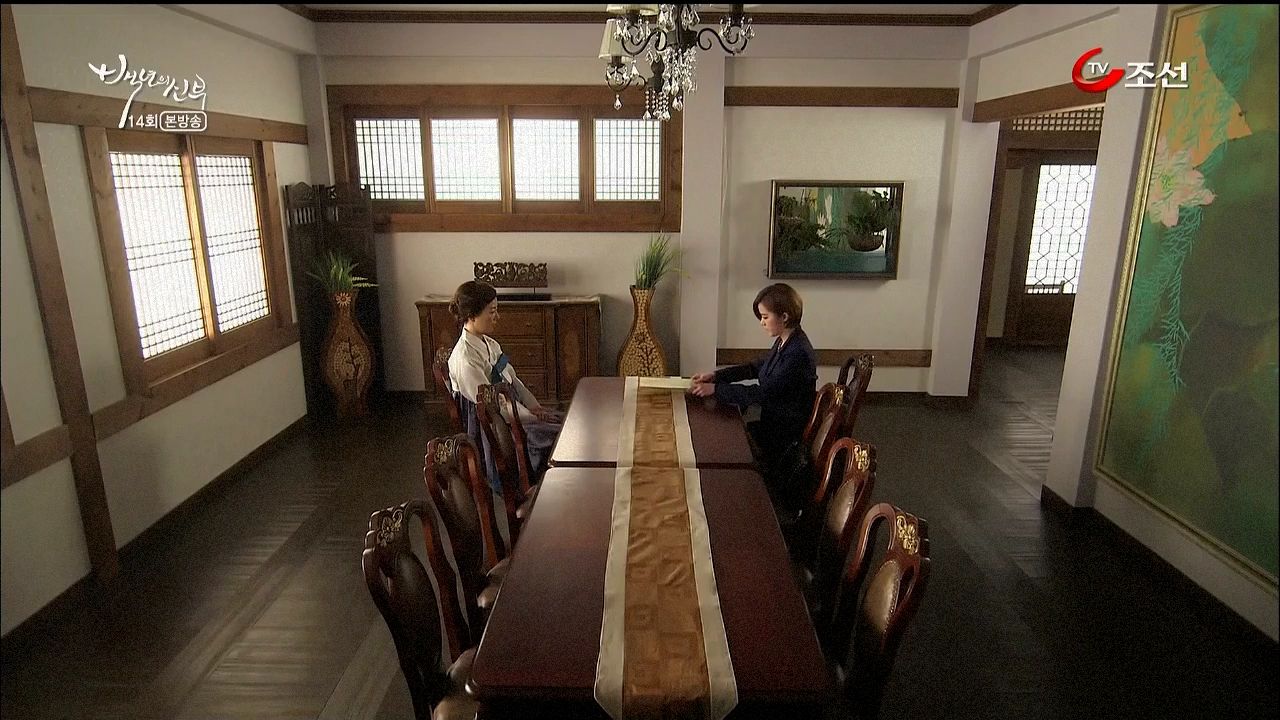 Kang Joo's mom is staring at a picture of the deceased grandmother when she gets a call from Yi Kyung. For once Yi Kyung actually bows her head low to save her mom. Yi Kyung hands back the Taeyang Group shares that Kang Joo's mom transferred to her and asks that she have the cops call off the investigation into her mom. Kang Joo's mom doesn't think it's any bargain to be returning something that belonged to her. Yi Kyung says she and her mom and the company are all suffering, isn't that enough?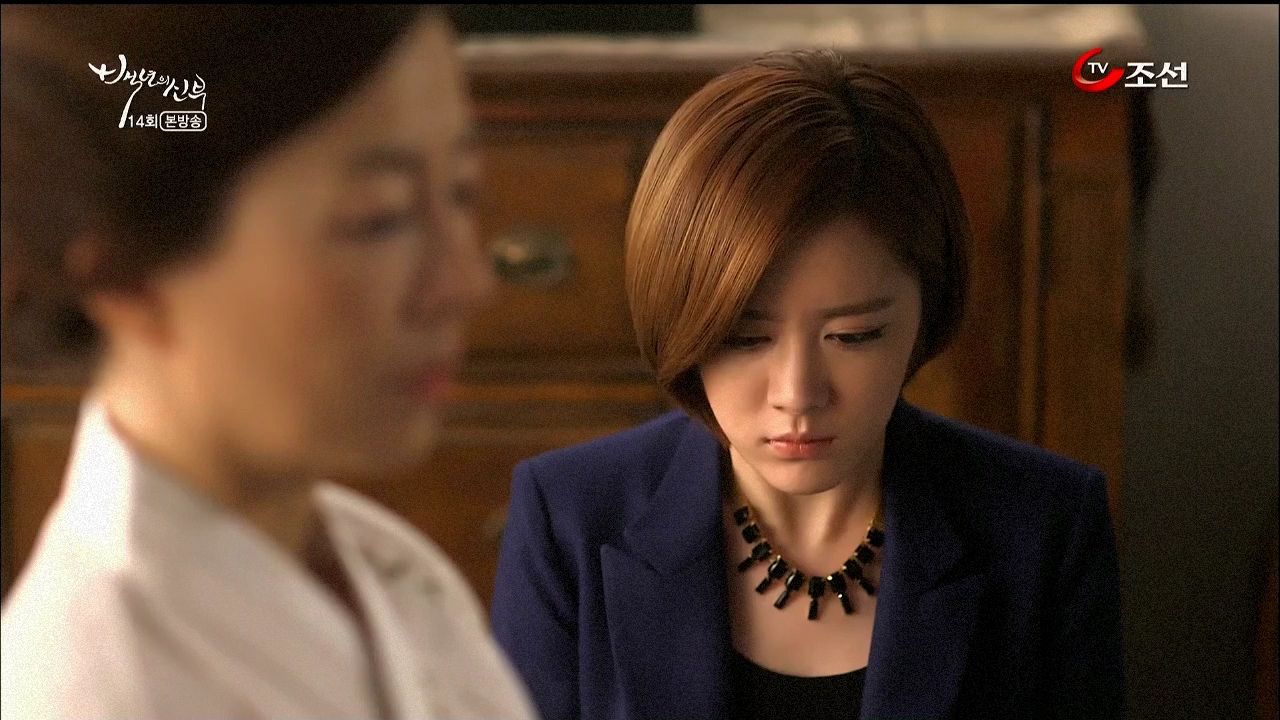 Kang Joo's mom throws back what President Ma said to her – what does it feel like to live as the daughter of a killer? Yi Kyung stands up and walks over to kneel abjectly before Kang Joo's mom and begs her to save her mom. She blinks back tears and her own sense of anger to beg as low as she can.
President Ma is let out of the holding facility without a hair out of place. She sees Yi Kyung and Yi Hyun waiting to take her mom. Yi Kyung runs up to her mom looking very relieved.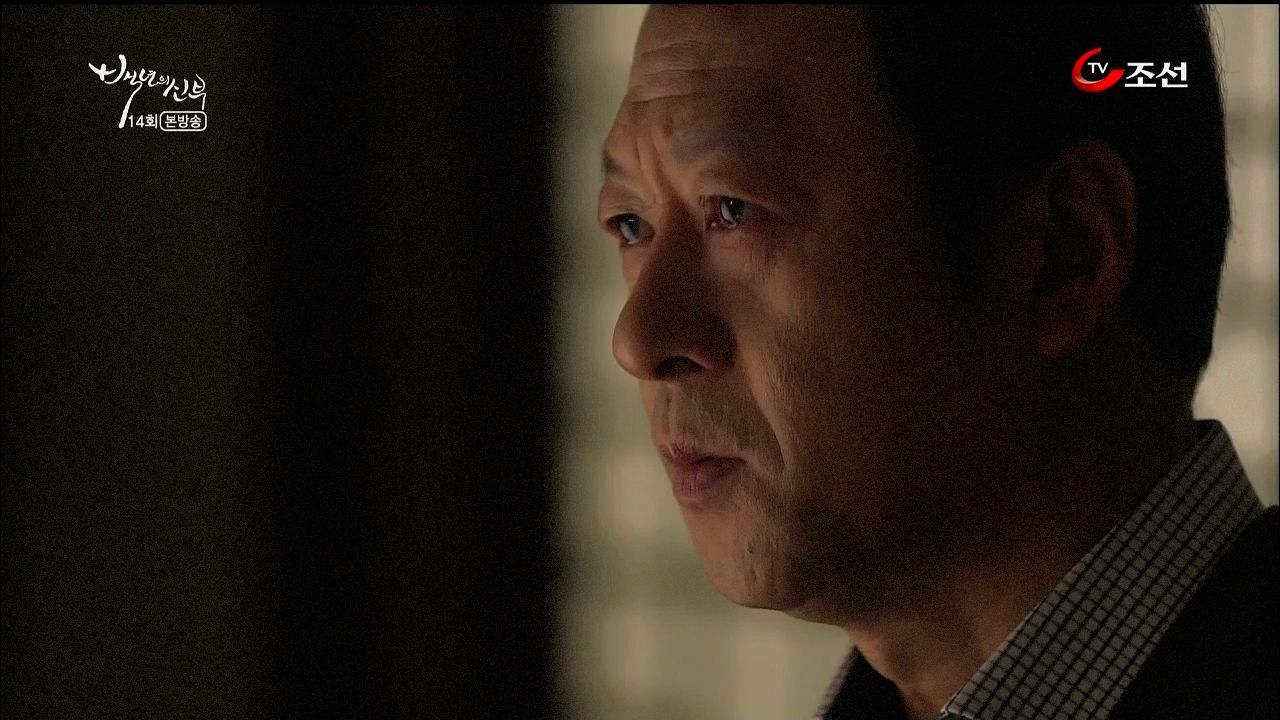 Kang Joo's mom hands over to Kang Joo's dad the diary that his first wife kept. Grandmother took it with her and gave it to Kang Joo's mom only shortly before she passed. Kang Joo's dad takes the diary and flips through it, which is when Kang Joo's mom silently hands over divorce papers. Man, she is really redeeming herself here. She wants to let everything go now because it all stemmed from her desiring too much. Desiring him, desiring to find a good bride for Kang Joo, everything happened because of her desire.
She no longer has any right to be a wife and a mother. She once hoped he would love her even if he carried his first love in his heart, but now she plans to use the rest of her life to atone. She tried to protect this family and Kang Joo by holding onto certain beliefs which have all come crashing down on her. She is tired now and has done all that she can do. The final thing she needs to do is leave this family. Kang Joo's dad calls her "honey" and looks very sad but says nothing else.
Doo Rim, Jin Joo, and halmoni are headed to the jjimjalbang when they run into Kang Joo outside the restaurant. He quips that he's here in case Doo Rim missed him too much. Heh. Jin Joo invites to join them at the jjimjalbang and Kang Joo says "jjimjalbang" like he's never heard the word before. Halmoni says he doesn't need to come and Kang Joo says he'll go, he'll go!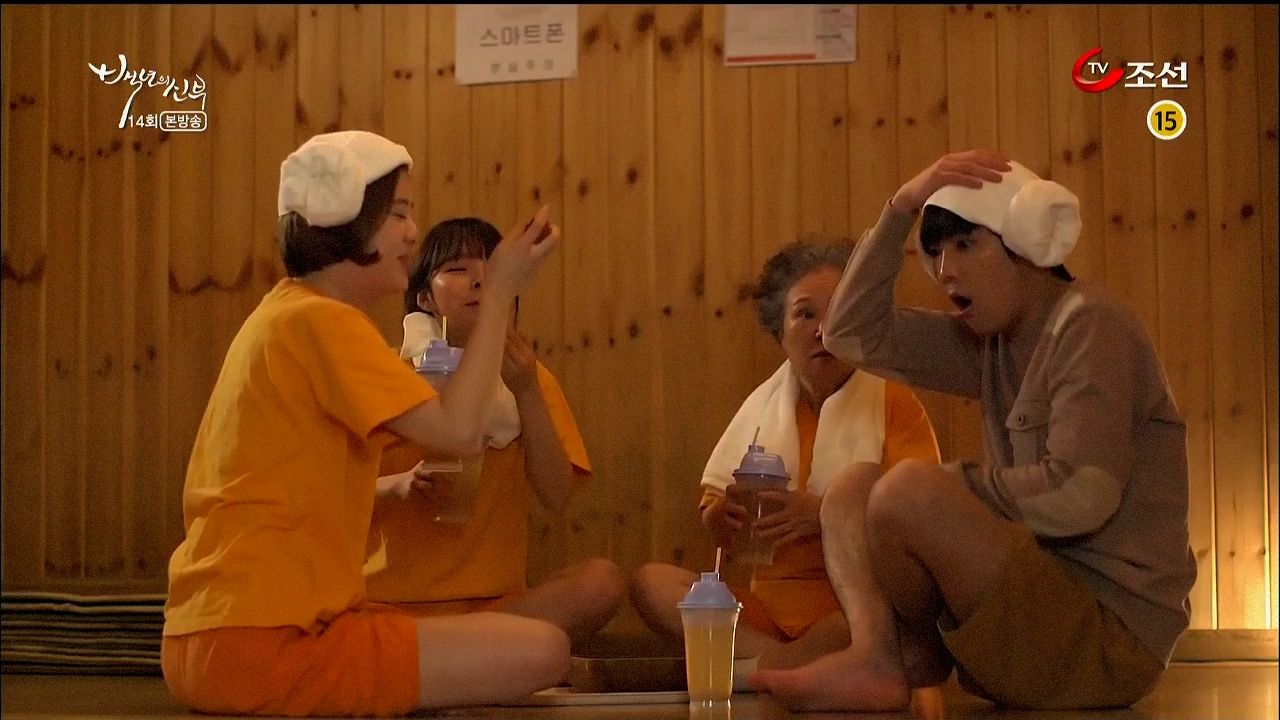 Doo Rim places a towel bun on Kang Joo's head and confirms it's his first time at a jjimjalbang. He wonders why people sleep here when they can just sleep at home. Doo Rim laughs at him for not living life more. Jin Joo and halmoni bring in the salt drinks and boiled eggs and the three ladies happily enjoy while Kang Joo looks on. Doo Rim hands him a drink and everyone watches him gingerly take a sip before admitting it's pretty delicious. Doo Rim then cracks an egg on his head and he retaliates the same and jokes that all his jokes about her hard head finally paid off.
The ladies are resting while Kang Joo rests sitting up and he decides to chastise a young boy playing his phone video game rather loudly and bothering the sleeping folks. The kid totally blows off Kang Joo so he resorts to straight up bribery to get the kid to take off and buy snacks with the money. When another dude walks over Kang Joo sprawls on the spot and claims it as his own.
Kang Joo then takes out his cell to snap a picture of sleeping Doo Rim which wakes her up and she angrily yells at him for taking a picture of her sleeping. They struggle over the phone until Doo Rim falls over in Kang Joo's lap. Halmoni wakes up and Kang Joo shoves Doo Rim off him and quickly explains its just a misunderstanding. Halmoni smirks and then turns over back to sleep.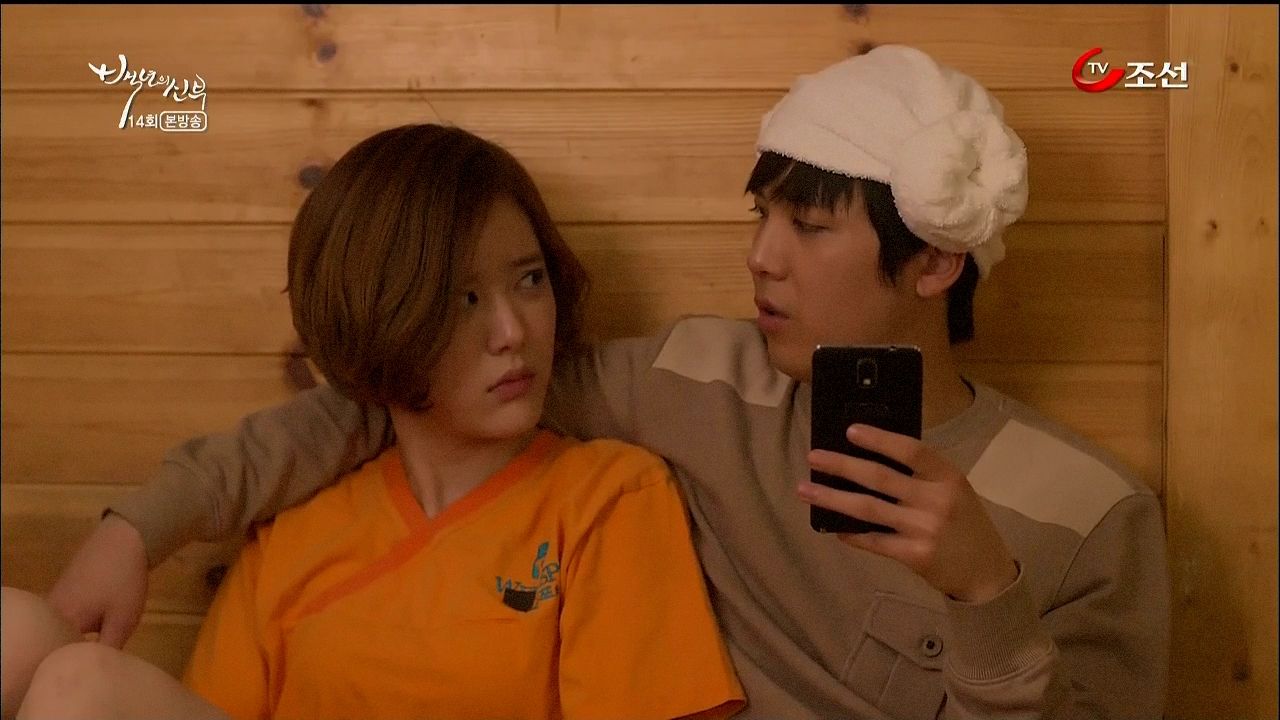 Doo Rim successfully grabs the phone and scrolls through the pictures and finds one after another picture of Kang Joo with pretty young things. He explains the girls are his hoobaes in college and they all wanted to take pictures with him. Doo Rim wonders how all his hoobaes are girls, and all pretty girls at that. And why is there no picture of her? Kang Joo did want a picture of her which is why he took one earlier but she doesn't want her picture to be of her in the jjimjalbang while the other girls are all dressed up. Kang Joo pulls her close to take a couple selca and then teases and it doesn't look good which gets him an elbow jab to the stomach. Oh these two.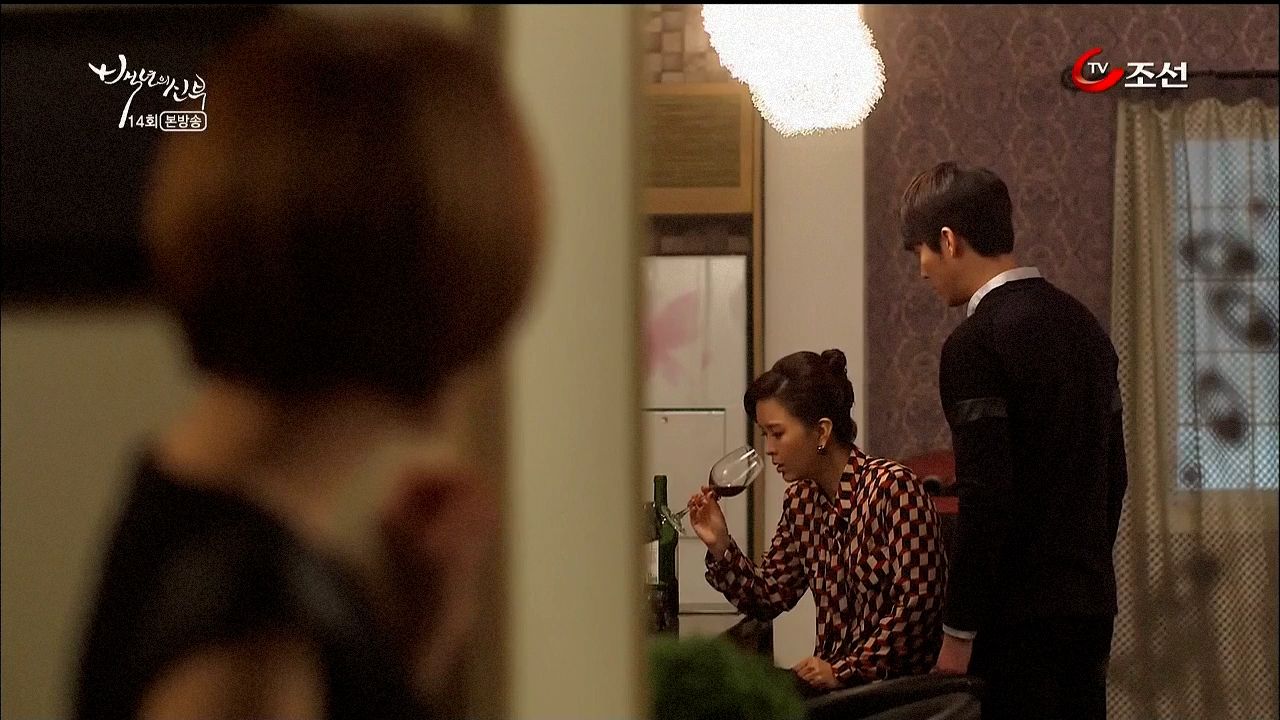 Yi Hyun reports to President Ma that without any investment their only recourse is to sell some properties and their shares to save the company. President Ma is drinking and grouses that the assets she holds as dearly as bone marrow will now be sold low, and with the swirling rumors that they are prime takeover targets, they will now be feed for the gaping maw that is Taeyang Group. Yi Hyun tells her not to worry too much, if they can finish the Namhae Resort then the company can be saved. She refuses to pin her hopes on such a slim success and keeps on drinking her frustrations away. Yi Kyung hides behind a wall and listens to this.
Roo Mi brings Kang In to visit Doo Rim at the restaurant and he's totally impressed that she does look exactly like Yi Kyung. Roo Mi suggests drinking to celebrate and Kang In wonders if it's to celebrate his Hallyu success. Roo Mi says it's to celebrate Kang Joo and Doo Rim becoming a couple. Kang In calls Kang Joo out to drink with them while Doo Rim changes the subject and asks Roo Mi how Yi Kyung is doing lately?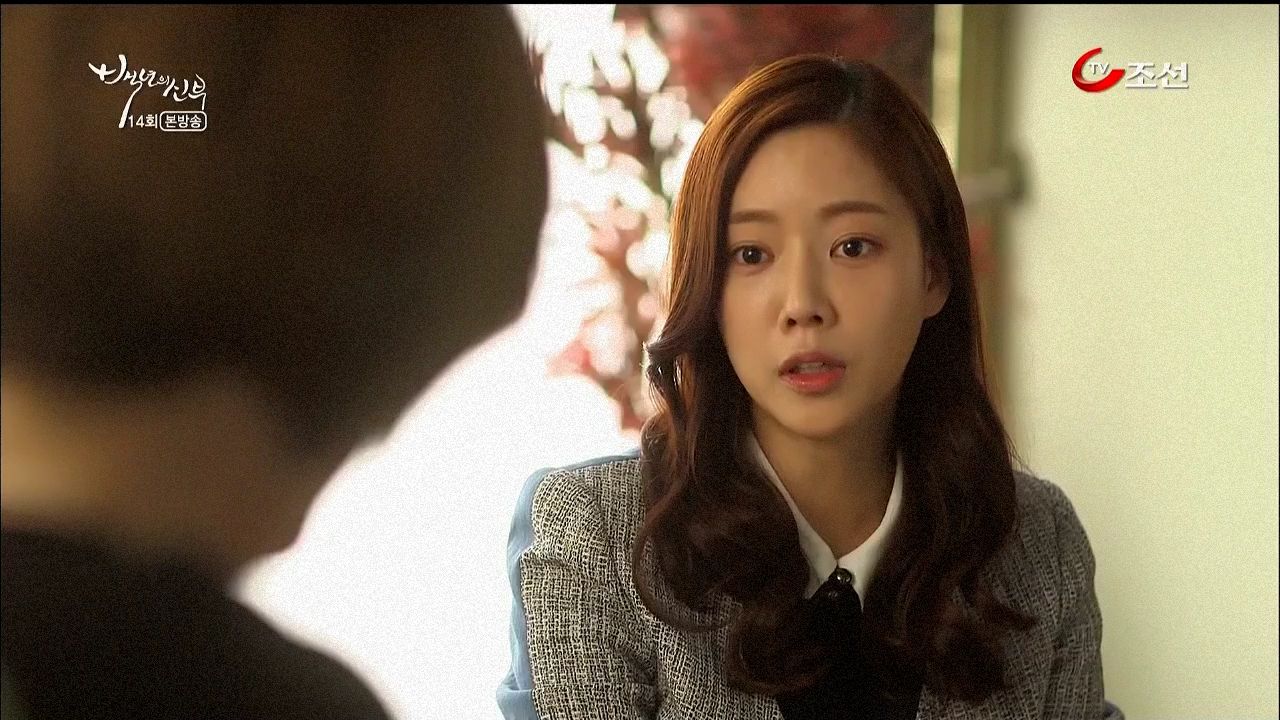 Roo Mi goes to visit Yi Kyung who thinks Roo Mi is there to laugh at her despondent state. Roo Mi hasn't the time and is here because Doo Rim asked her to check on Yi Kyung. Doo Rim is worried about Yi Kyung and President Ma. Roo Mi hands over food that Doo Rim made to Yi Kyung and tells her Doo Rim made it personally and asks her to eat it and feel better. That pushes Yi Kyung over the edge and she starts screaming at whether she's a pathetic basket case and people are just mocking her! Roo Mi is happy to see Yi Kyung angry over Yi Kyung acting like everything is fine.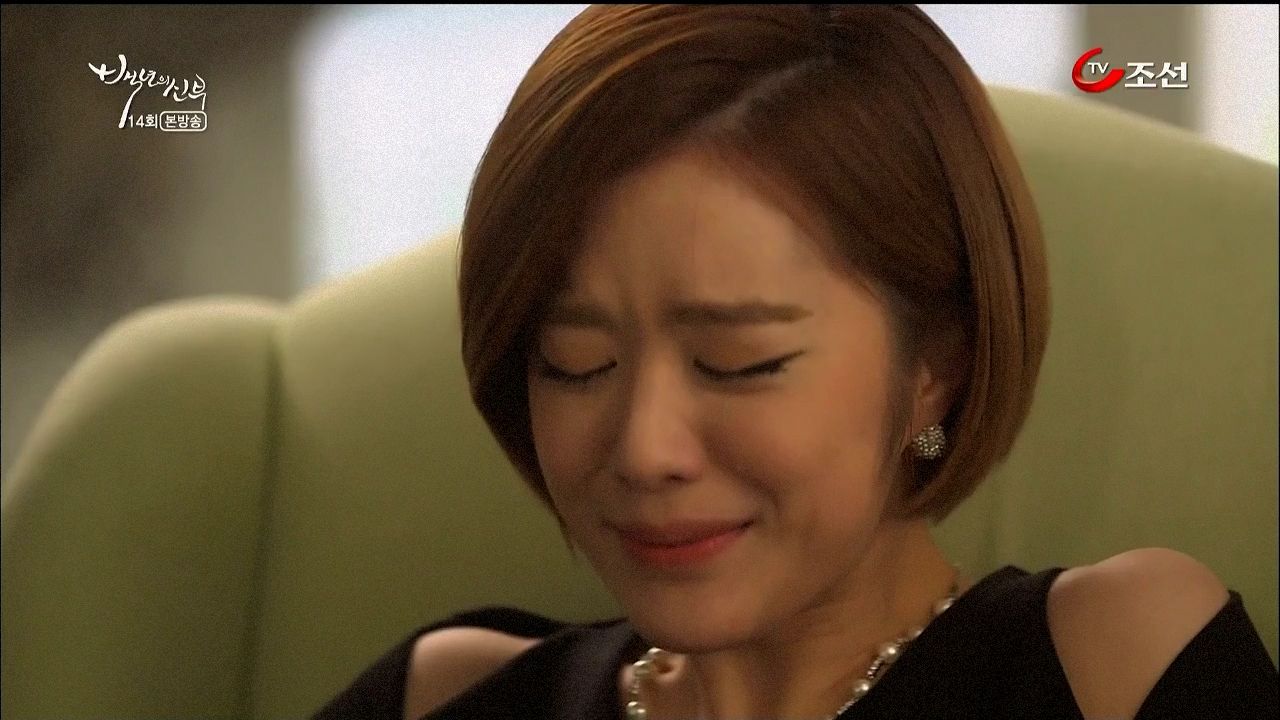 Yi Kyung tells Roo Mi not to come anymore because they aren't even friends. Roo Mi isn't worried anymore because if Yi Kyung has the energy to be angry then she'll live on just fine. Yi Kyung tosses Doo Rim's food aside and screams in rage before breaking down in tears.
Kang Joo is having a nightmare that Doo Rim is dead in the restaurant back patio. He goes to pick her up screaming "no, no, no!" He wakes up from the nightmare bathed in sweat.
Doo Rim gets ready to greet a new day when she sees Kang Joo waiting for her bright and early outside the restaurant. He's there to have her tie a tie on him and whether he'll go to work or not depends on how well she does it. Doo Rim takes the tie with a chuckle while Kang Joo adorably sticks his neck forward for her easy tying pleasure. She purposely chokes him gently and then ties it properly while he complains that she ties it well for other men while he has to deal with her.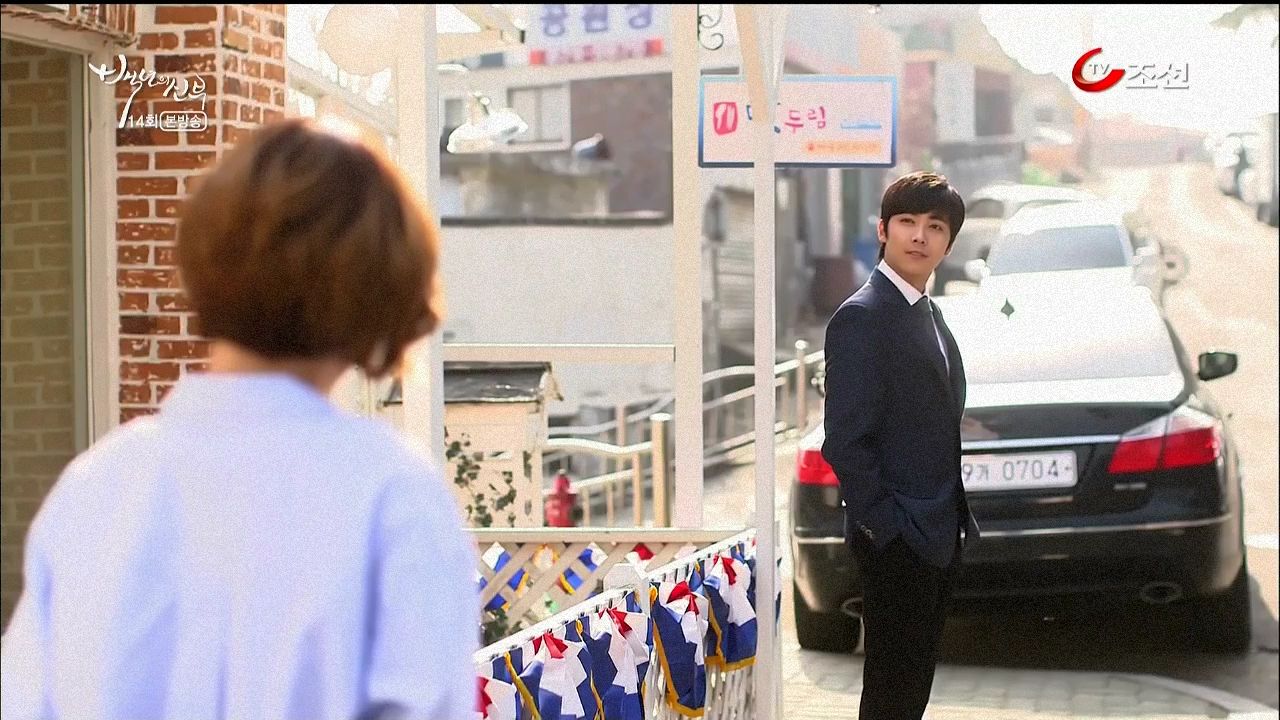 Kang Joo stops teasing and asks her not to go anywhere today, just stay here and wait for him to come say goodnight to halmoni after work. She agrees and Kang Joo leaves for work with a jaunty wave at his sweetheart. All of this is witnessed by Yi Kyung lurking outside the restaurant.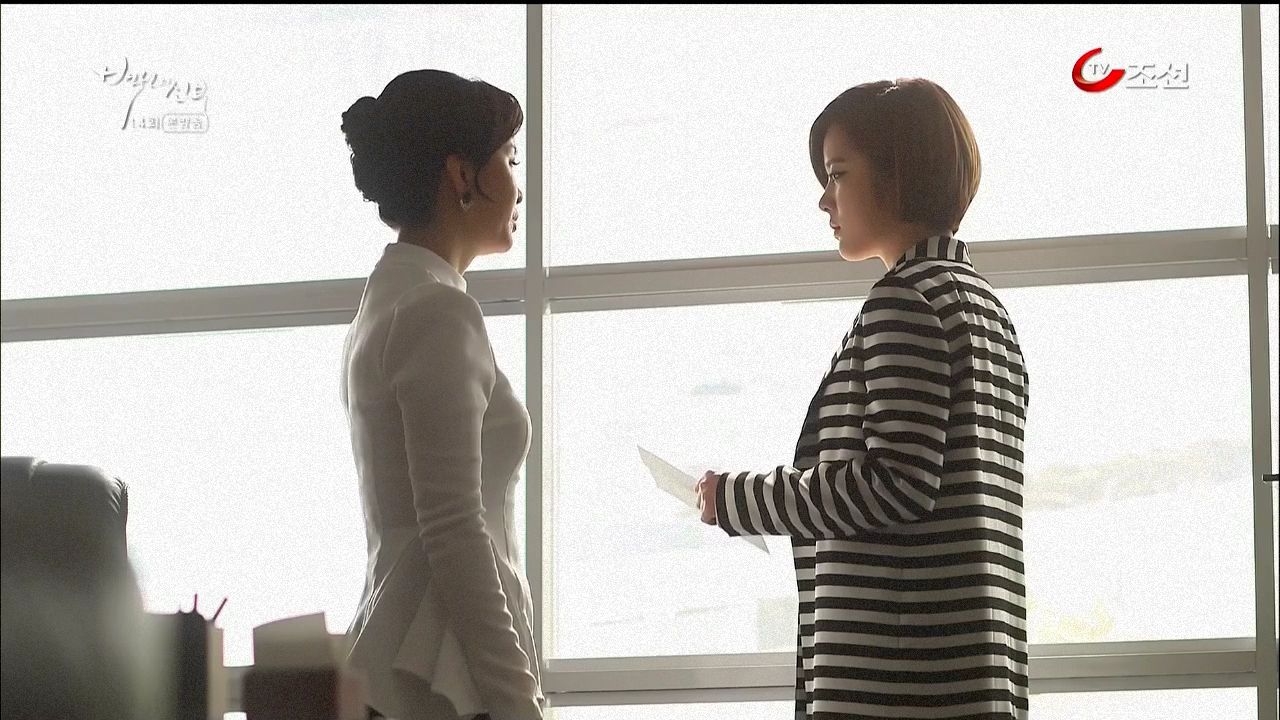 President Ma hands Yi Kyung a plane ticket to visit her aunt in Sydney and get away from all the negative press around here. Yi Kyung is so frustrated and just wants Doo Rim to disappear because she stole everything from Yi Kyung. She wishes this was a nightmare she can wake from, or maybe she can sleep forever and pretend none of this happened. President Ma takes her hand and assures her that she will resolve everything, saving the company and giving back Yi Kyung her life. She tells Yi Kyung to endure through this period and go stay with her aunt until she can come back.
Yi Kyung takes her mom's hand and cries that she never regretted being her daughter and thanking her for everything. She gives her mom a hug and both of them cry. She assures her mom that she will be with her forever no matter where she is.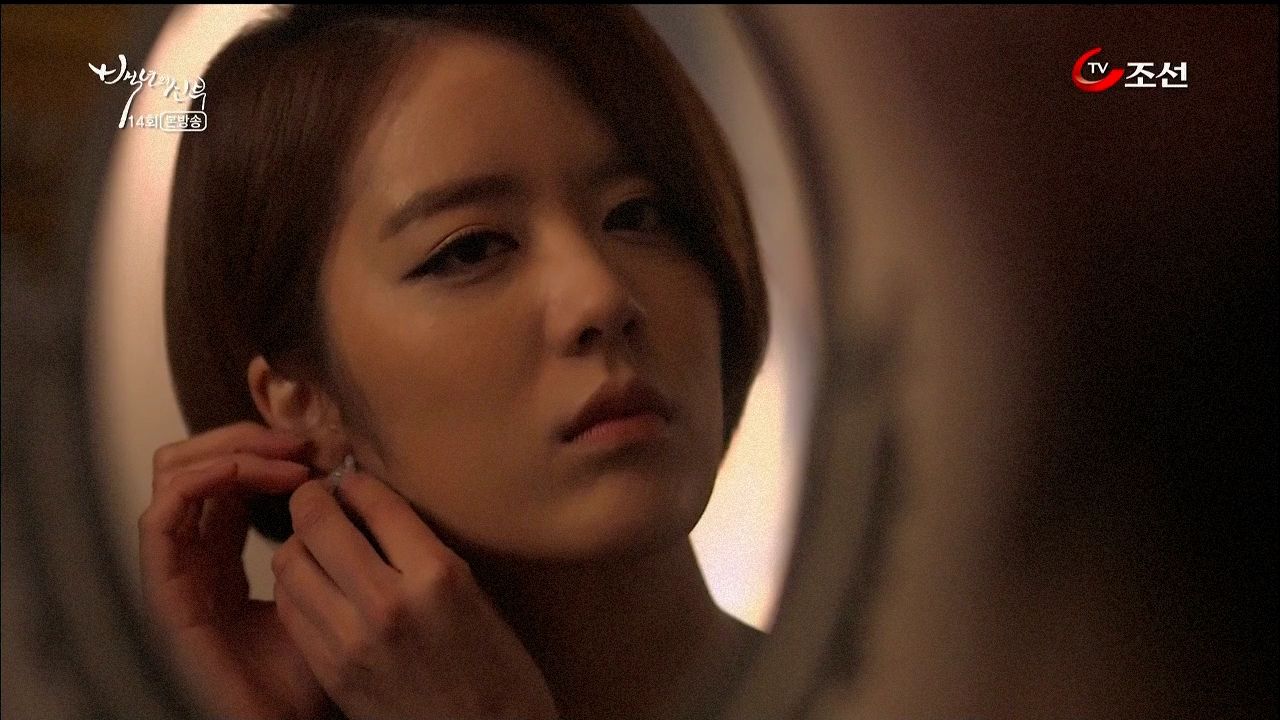 Kang Joo is headed to see Doo Rim bearing gifts for halmoni and calls her to say he'll see her soon. After he hangs up with Doo Rim, he answers a call from Yi Kyung asking to see him one final time before she leaves for Sydney tomorrow. She has something for him and it'll be quick. Yi Kyung puts earrings on and reapplies her makeup while Doo Rim is nodding off outside the restaurant patio.
Doo Rim sudden dreams of the family ghost coming to visit her and offering her the bracelet back and warning her that Kang Joo is in danger. The ghost closes her hand around the bracelet which breaks and the pieces shatter. Doo Rim wakes up from the dream and finds the bracelet still intact on the ground. Jin Joo walks in wondering if Kang Joo is here since he should have arrived by now. Doo Rim calls Kang Joo but he left his cell in the car while he's inside meeting with Yi Kyung.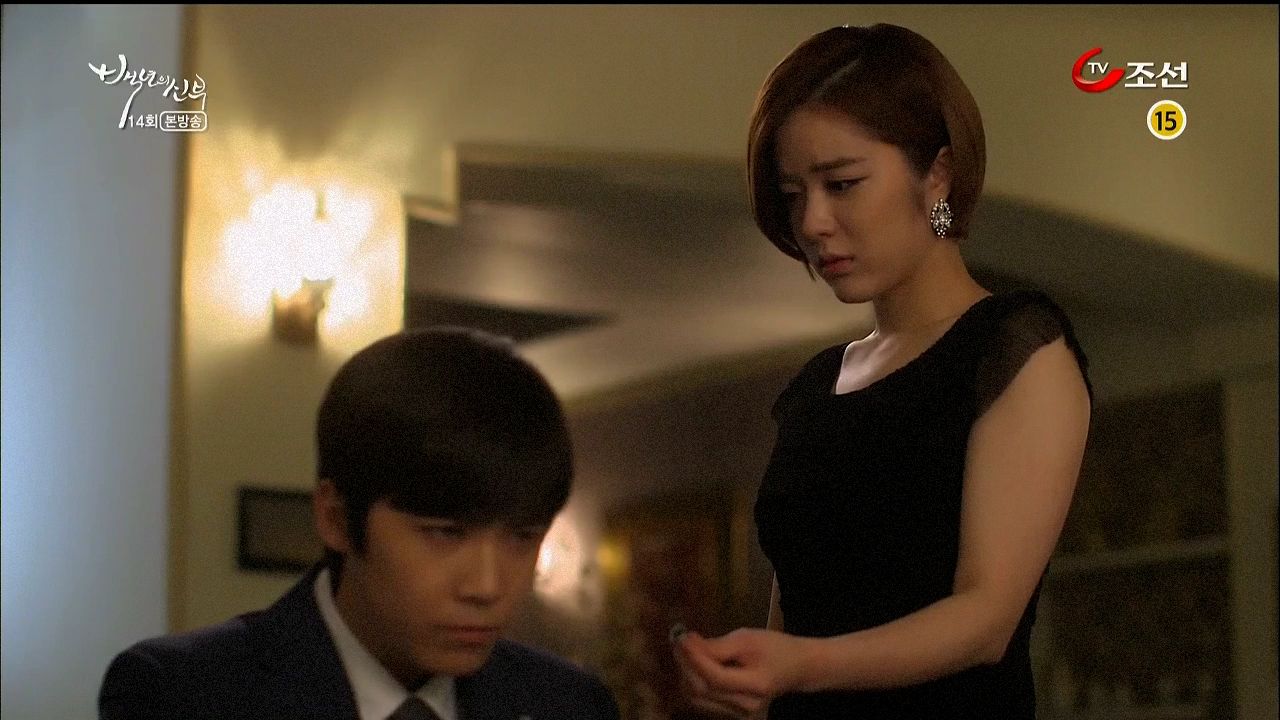 Kang Joo confirms Yi Kyung is leaving tomorrow and she asks for this last time to see him. Yi Kyung wonders if he remembers their first meeting and isn't surprised if he doesn't because it was just a brief minute. She takes out a cuff and asks if he remembers this? At Roo Mi's 22nd birthday party, Yi Kyung was also there and Kang Joo spilled champagne on himself and took off his jacket to wipe and lost his cuff link. Yi Kyung found it but didn't want to give it back to him but she's returning it now because it never belonged to her in the first place.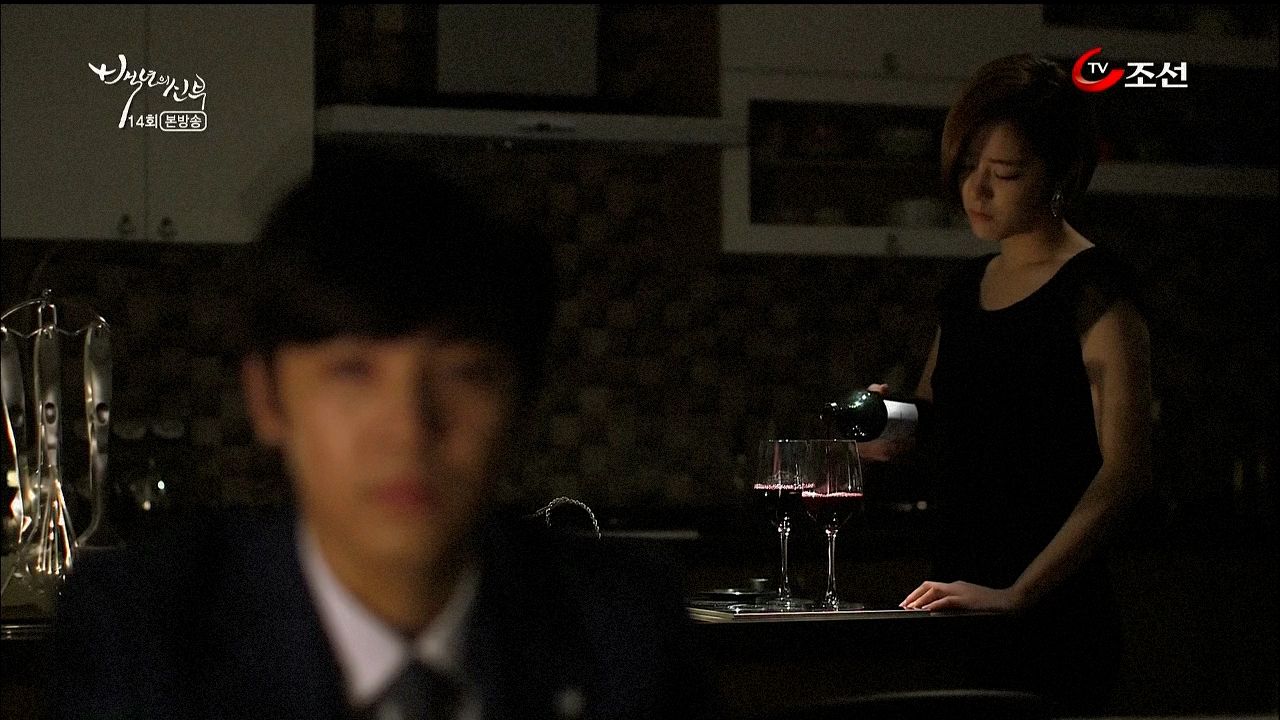 Kang Joo curtly takes his leave but Yi Kyung stops him and asks for one final parting wine with him. President Ma sits in her office and thinks about Yi Kyung's tearful statements earlier today. She gets up to rush home and runs into Yi Hyun and tells him that she thinks Yi Kyung is acting weird. Yi Kyung pours two glasses of wine and puts some powder from a pill inside only one of the glasses. Doo Rim waits outside the restaurant nervously for Kang Joo to arrive.
Yi Kyung and Kang Joo toast all atmospherically in the candle lit dark. Yi Kyung waits until Kang Joo drinks first before she takes a sip of her wine. She asks what Kang Joo's last image of her will be? He hopes to forget all the unpleasantness and have her live well going forward. Yi Kyung begs him to save the company since it's all her mom and oppa have. On account of her once being his fiancee, she is lowering her pride to ask him of this. Kang Joo agrees to think about it before getting up to leave.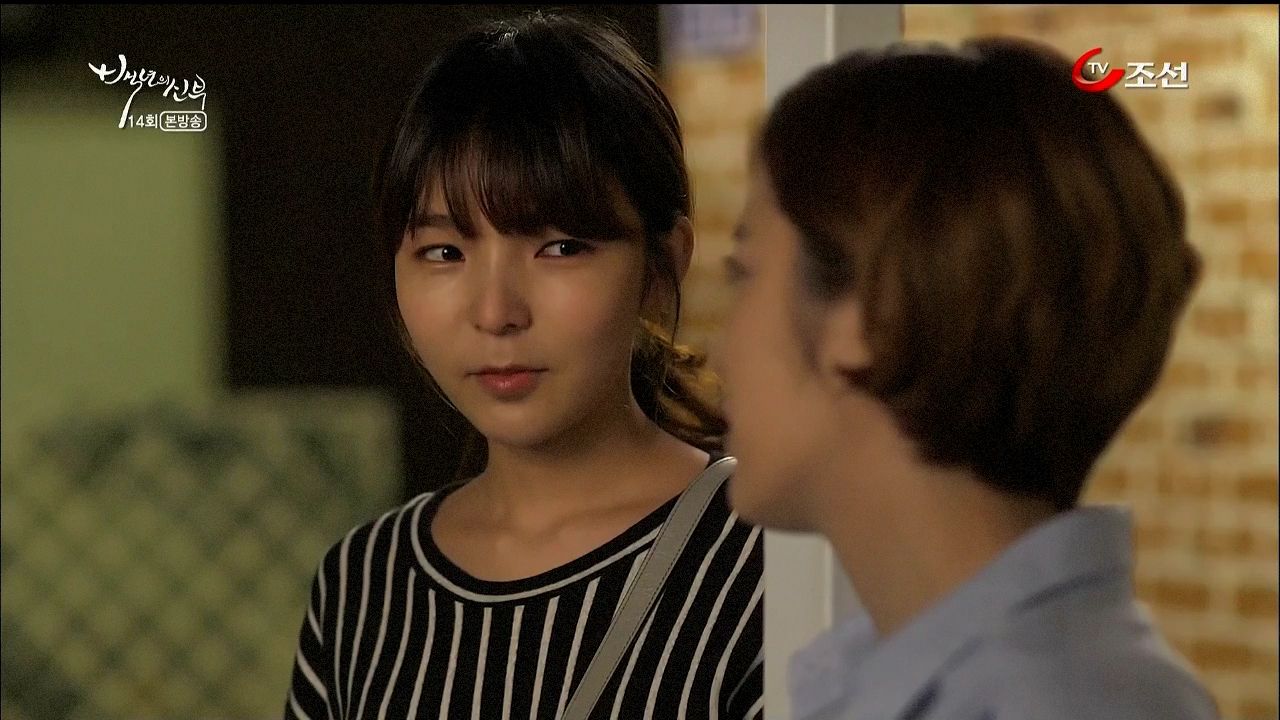 Yi Kyung tells him to go well and then sits there drinking the rest of her wine. Yi Kyung stands up and then collapses. Doo Rim gets a hold of Kang Joo and is relieved he's fine and headed her way. Jin Joo wonders when she'll have a romantic love of her own and then takes her leave so as to not be the third wheel.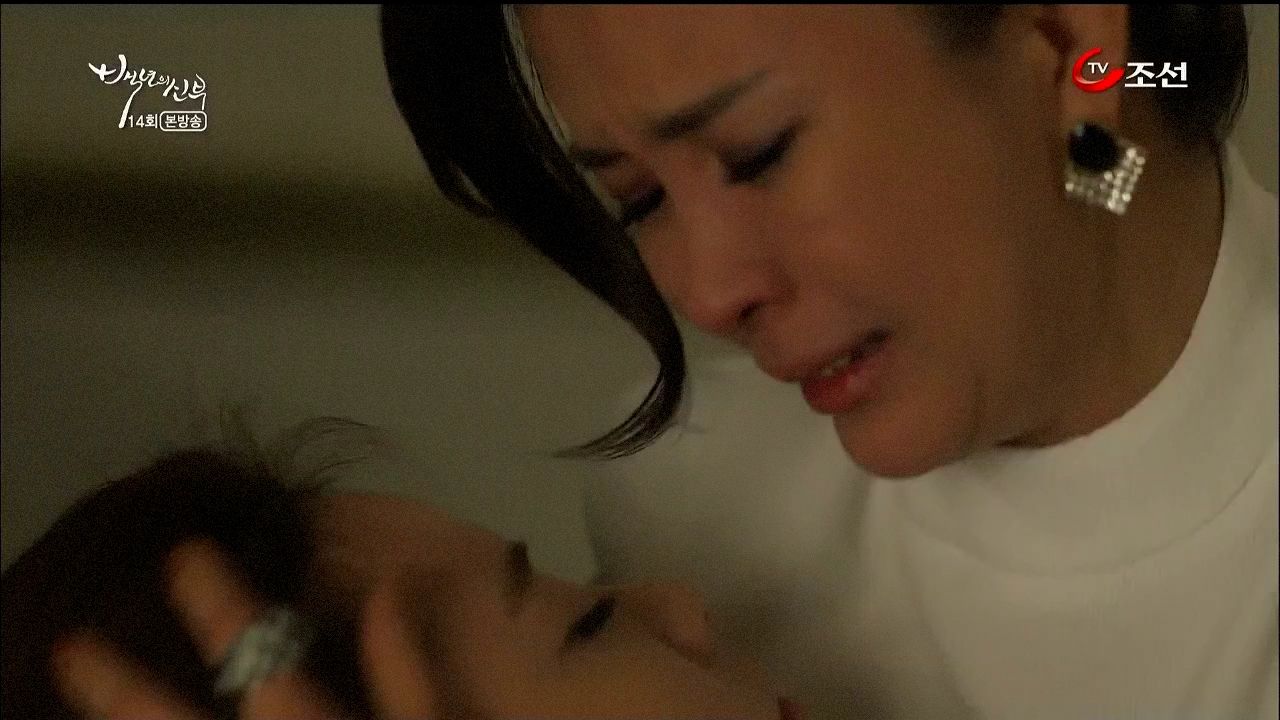 President Ma arrives at home with Yi Hyun and they find Yi Kyung collapsed on the ground. President Ma cries and screams for her daughter while Yi Hyun calls for an ambulance. Damn, she really did it.
Kang Joo gets a call from President Ma asking why her Yi Kyung needs to disappear? The one who should disappear is that other child, not her Yi Kyung. She will show Kang Joo the devastating consequences of him choosing that child. She will do everything a mother will do for her Yi Kyung. Kang Joo tries to get out of his car but finds the door locked. The family ghost shows up outside his car window and he stares in shock before passing out.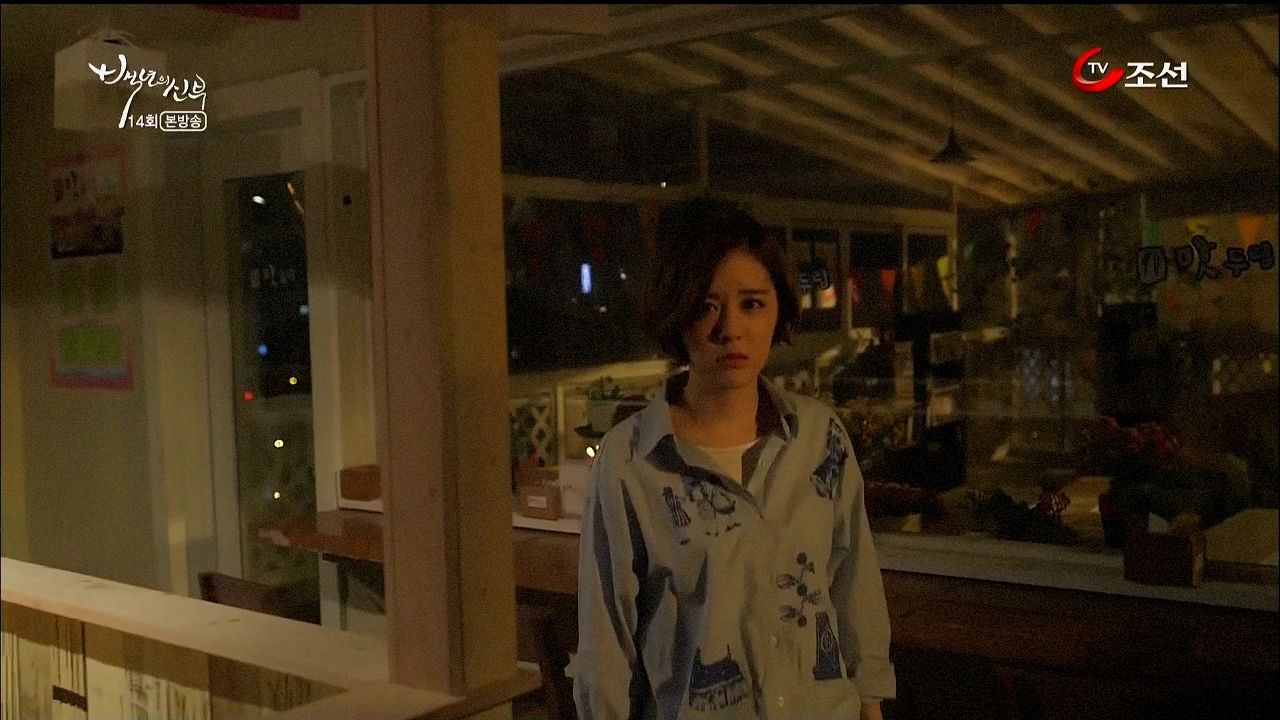 Doo Rim hears someone walk into the restaurant and asks if it's Kang Joo? She is shocked to see President Ma stumble in crying and screaming about her Yi Kyung. Why did she appear and caused her Yi Kyung to suffer. President Ma grabs a glass to stab Doo Rim with it but Doo Rim runs away and crawls into the patio. President Ma grabs Doo Rim around the neck to strangle her to death.
Suddenly the locked Choi side residence door bursts open and the family ghost stands there. Kang Joo remains sleeping in his car. President Ma suddenly freaks out when Doo Rim transforms into the family ghost who calls her a demon spawn that has finally revealed her true colors! What the what?!?! President Ma releases her hands and shrinks back while the family ghost reveals that she has been waiting for her for the past hundred years but President Ma has no clue why. The bad seeds President Ma planted in the past has finally come back to punish her.
President Ma shakes her head as if it can't be true and suddenly flashes back to her choking the woman who will become the family ghost to death. Oh my god! She succeeds and the woman dies.
Suddenly a woman who looks just like Doo Rim walks in the room and sees everything.
When the past life of President Ma goes to strangle a newborn next, the past Doo Rim grabs the baby and yells "No, mom!" and pushes President Ma aside. She backs out of the room while holding the baby and HOLY BEJESUS WHAT JUST HAPPENED?
Thoughts of Mine:
Shall I just jump over any discussion around the raging homicidal President Ma, and her hundred year ago former self, because frankly everything that just happened boggles my mind. I can't even begin to make heads or tails about what exactly happened one hundred years ago and what the relationship is between the previous lives of the characters. Suffice to say it was yet another fantastic reveal to see President Ma closely tied to the family ghost as well as what's going on with the Choi family beyond her present day machinations. It's not quality writing insofar as it's nuanced and thoughtful, but it is most assuredly fantastically dramatic writing that gets everything that needs done and leaves the audience wanting more. We got to see the evildoers punished somewhat in this episode, with Yi Kyung's intense pride whupping and President Ma getting a stint in the slammer albeit shorter than I would have liked. It's satisfying to watch Doo Rim remain a kind person who understands right and wrong but doesn't take pleasure in being the arbiter of justice. Just like Kang Joo's grandmother lived with shadow of her own crime all those years weighing her down, I think President Ma's punishment will also be less of the jail variety and more of an emotional and mental payment. I actually felt sad for her to lose Yi Kyung and I think it's due to the great acting of both ladies to show us that they really love each other, even if that love manifests itself in truly selfish and wrongheaded ways.
We've seen this drama show us how people can claim to love another and then act in horrible ways from murder to mayhem and everything in between. What makes Kang Joo and Doo Rim's love for each other really stand out is that their love makes them act in ways that is about taking responsibility for their own actions while still putting the other first. Kang Joo has grown so much from caricature of a chaebol male lead to someone who has insecurities and doubts and also lots of personality quirks. Doo Rim hasn't evolved nearly as much but her character didn't need as much emotional growth as Kang Joo and she has experienced plenty of mental anguish to lead to her convictions getting tougher. I was pleased with how effortless the grandma ran over the first bride reveal was handled, this isn't a gritty drama where I feel like grandma needs to do hard time to atone for her crime. This show is silly enough that I'm pleased the Choi family all owned up to the wrongdoings of its family members and are willing to atone on her behalf. This is one family where I think the mental anguish really is fitting payback. Just like I was moved by President Ma and Yi Kyung's love for each other, however evil both of them are, I was also pretty touched by Kang Joo's mom and her resigned farewell to her dying mother. This drama has been really female-centric and it does show us that mothers may be the scariest when it comes to winning on behalf of a beloved daughter.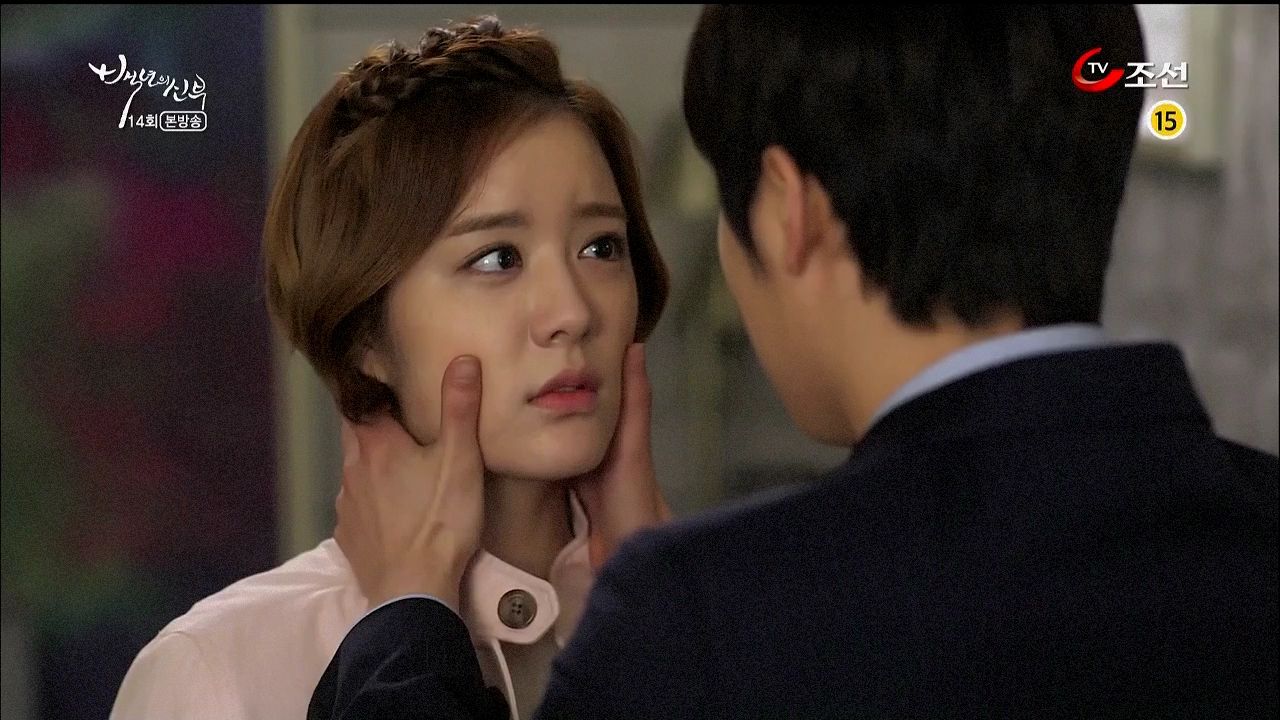 President Ma does go bonkers in this episode though it wasn't as fast and precipitous as Yi Kyung's slide into self-absorbed crazyville. For every bad person clinging to their selfish ways, the drama continues to redeem others. Roo Mi got her white-washing in the last few episodes and it was nicely done, so now it's time for Kang Joo's mom to step up and get a rinse in self-flagellation for her own mistakes. Yi Hyun remains underused but a nicely fleshed out character, one that understands love whether of the romantic or familial type. He deftly steps aside from any involvement in Doo Rim and Kang Joo's romance after delivering a nice opening for Doo Rim to have the guts to pick Kang Joo again. Then he spends all his time being a good son and brother to the horribly selfish woman in his family, which makes sense because he does love them and grew up with them. He can't cast them aside or toss them under the bus, so right now his priority is getting his family back on its feet and help atone for their mistakes. Too bad he doesn't know just how evil President Ma can me, especially if we chalk up past life's homicidal tendencies, and she's now been pushed over the edge with Yi Kyung's suicide. I'll call Yi Kyung as not dead yet but that's beside the point since she was always a mini-me version of her mom. We'll need to understand what happened a hundred years ago, how everyone is connected to each other, and how the curse can be broken now. Then we can dole out an adequate punishment for all while waving as our OTP sail off into the happily ever after.
Click here to watch Bride of the Century.