There are two C-dramas scheduled for airing towards the end of April and I'm interested in both just to stack the odds that if one sucks I still have another shot at striking a watchable one. The more high profile is Bu Bu Jing Qing, the modern day sequel to the Qing dynasty period drama Bu Bu Jing Xin. BBJX was adapted from the Tong Hua novel but the famous writer is not involved with the sequel other than letting the production company use the characters from her original novel. This is exactly what makes it so coincidental that the other C-drama about to air Perfect Couple is actually filmed from a screenplay written by Tong Hua herself! Yup, the upcoming period rom-com-with-a-side-of-melo Perfect Couple (金玉良缘 which literally translates Golden Jade Good Destiny but is a classic phrase for a fated couple) starring Wallace Huo and Tang Yan is actually the first screenplay Tong Hua has penned which is why I'm dying to check out whether her style and story construction works when constructed solely for the television screen.
I'm curious if the scheduling of these two dramas was intentionally to go head-to-head – Perfect Couple premiering April 21st and airing three episodes a night on Jiangsu Television while Bu Bu Jing Qing bows the day after on April 22nd also airing three episodes a night on Zhejiang Television. Thus far the only thing about both dramas that is a total win with me right off the bat is the theme song for Perfect Couple. All the released OST tracks for BBJQ has been uninspired to say the least but the brand new theme song for Perfect Couple is the perfect period ditty duet performed by Della Ding and drama leading man Wallace Huo. It's called "Good Times" and is composed by Richie Ren and ColaKai and I can't stop listening to it. It is so good. If that theme song alone makes Perfect Couple worth watching then so be it. Check out the short preview, the just released theme song, and watch the long 22-minute official trailer.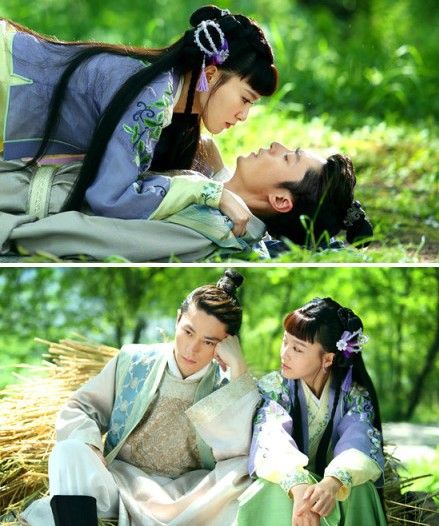 First official TV preview spot:
[youtube id="afPiiqr7vHI" w="625″ h="445″]
Opening theme song "Good Times" with Della Ding and Wallace Huo:
[youtube id="Mu8r4FZYWjM" w="625″ h="445″]
Official long 22-minute trailer:
[youtube id="KhaAg7VZPVo" w="625″ h="445″]
Did you guys like the OST theme song "Good Times"? I love love Wallace's singing voice (always have), but paired with Della it's just magic. Of course narratively it would have been great if Wallace and Tang Yan could have sung this duet, but Tang Tang's voice is just annoying and she can't sing. I hope she continues to rock her incredible chemistry with Wallace from Chinese Paladin 3 all the way here. Click here to download the song "Good Times" (mediafire mp3 file).