Imagine a delicious sundae with fragrant vanilla ice cream, warm and rich hot fudge, home made whipped cream, and salty Mexican peanuts. All the flavors and textures blend for a lovely sensual experience. Like most treats that please, your familiarity with the tastes doesn't make it any less wonderful, right? Now pretend it has no calories and that the dish actually makes you healthier. That is the Taiwan drama, Fall In Love with Me. The fact that isn't real doesn't mean it isn't enjoyable.
There are several reasons why this show is wonderful, and all of them are Aaron Yan. (Or is it all of them is Aaron Yan?) I will hereby refer to these reasons as A2. Not only is he adorable to look at, but he sings some fabulous OST songs as well. "This is not Me" has been on repeat on my Ipod since it was released earlier this week. I haven't watched the video yet, as Koala warned me that "the crazy bad MV … is a watch once and avoid forever thingie."
[So I'll readily admit to finding FILWM personally unpalatable for the Tia Li factor. The repeated requests for me to write about it is duly noted but hard to do when I cringe to even think of writing something when I want to pummel one-half of the OTP off-screen every single second. It's a testament to how cute Aaron is that I continue to stick around and try to FF though Tia scenes but finding it hard to do when she's in so many scenes with Aaron! It helps that the story is dumb and boring so I don't even need to wonder what's happening when I do pause to ogle his cuteness. As the maknae in Fahrenheit, he was my least favorite when the group launched and is my most favorite now. Go figure. Jiro would still be tops had he not massively rearranged his face. Enjoy jomo's take on this frothy confection and don't forget to check out the two MVs of Aaron's latest single that serves as the ending theme for this drama. The song is awesome, the official MV is…..just watch it. xoxoxo Koala]
Aaron Yan as Xiao Lu – sooooooo cute – and Aaron Yan as Lu Tian Xing – sooooooo hot – make this drama something above average despite the unoriginal supporting characters and the "There is NO WAY that could happen" premise. Notice I will not be discussing the plot, because it just doesn't matter. The writers rely very heavily on their viewers' ability to suspend disbelief in just about every scene. Trust me, though, it's OK. Why? A2.
Tia Li plays Tao Le Si, the female lead in our couple or triple, rather. Before this show, she has played only second leads. Now given her chance to shine as the indy advertising agency's floundering executive, she does…fine. Her job requires her to be believably attracted to handsome men, and she does that well. Why? A2.
Except for quirky, truth-telling, strangely attractive Butler Fu, perfectly acted by Chen Bo Zheng, everyone else adequately fills the shoes of
bestfriendrivalunrequitedcrushsillyofficeworkerfiercemomlovingdad.  Their unremarkableness is fine. Why? Yes, you know by now. A2.
Aaron Yan is brand new to me, so it wasn't his looks drew me to watch. I liked the picture of Aaron sitting on the bus stop in front of Aaron.
After one episode though, I fell in love with him, as the title directed me to. The fact that he plays two of the most terrific lead males this season blows me away, and each episode keeps doing so. Arrogant, sexy and rich LTX wears suits and shiny shoes. Upswept hair that won't sway in the breeze.
Sweet, warm and cuddly XL wears colorful and relaxed clothing, oversized glasses and bangs (or a fringe depending on whether you wear sweaters or jumpers).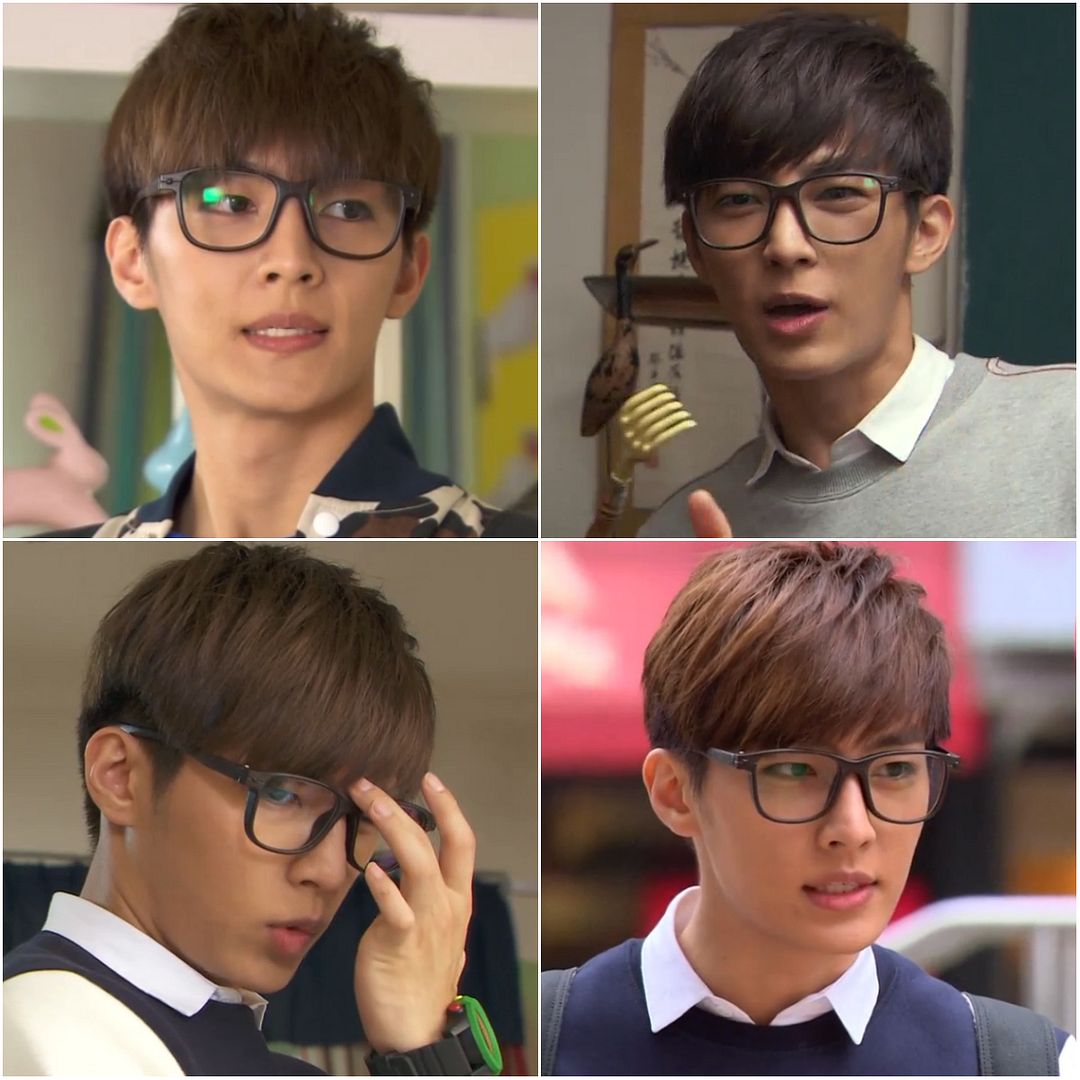 Yan isn't known as a great thespian, but as these vastly different men, he does have an ability to piss me off when he wears bow ties, and make me wish I was single again when he wears shorts. So far, I don't really know which of the two I like better. Yes, you can question my sanity, as I should be saying which one of the one.  Still, after eight episodes, I am not unconvinced he is two people. Even though I see him change into and out of the clothes with regularity. (This is also fine with me.) How does he do this? I don't know. A2? Maybe.
The simplest explanation is he plays LTX inflexible and large – wide smile, hand movements, rigid posture, and loud voice, while XL is soft and small: eyes cast down, rounded shoulders, amiable smile, and even smaller steps.
Aside: In this world of the A2, hair and wardrobe might fool those who stay feet away from him. How Le Si could not know he is the same person by his scent is rather unbelievable. Even without cologne or aftershave, his shampoo, soap and deodorant would give him away, and even if somehow he uses scent free toiletries, his own (cause you know it's sexy) smell would be so obviously similar.  BUT this is NOT supposed to be real, remember, jomo?)
Wardrobe helps, but I have to give the actor credit for selling it. You believe that XL is willing to sweep up after everyone, but you can't imagine LTX even knows where the brooms are. Somewhere in the middle is the M&A of A2. He looks like this:
Their/his interaction with Le Si differs as well. Since LTX is the big boss man, his closeness makes her slightly more nervous. She catches her breath near him. When he provokes her, she responds by rising to his expectations. With XL, she can relax, hold hands and sit side by side in a very friendly manner. Nothing about him threatens her, but nothing challenges her either. This is why LTX, in the long run, makes for a better partner. He needs to merge his good halves into one great and genuine person that Le Si will fall and stay in love with.
The heart of LTX's problem – the woman he loves loves him but not him – fascinates me.  I think they are handling this aspect very well and how it will unravel keeps me watching. Soon, the Angst will happen along with Tears, his Lack of Honesty with her will cause the Rift, but I don't worry.
Knowing how hot fudge sundaes work, I expect plenty of delightful heat to melt ice into a lovely sweet soupy finish with lots and lots of A2 to top it off. I will scrape the bowl for every last drop. At least we don't have to try to guess who she will end up with, right? A2.
[Thank you for the wonderful impressions of the drama, jomo dearest. Now have some more Aaron crooning to lull you into a state of bliss. Don't I always come bearing goodies?]
"This is Not Me" Official Song MV featuring Aaron Yan with cameo by Tia Li:
"This is Not Me" Official Drama MV by SETTV: