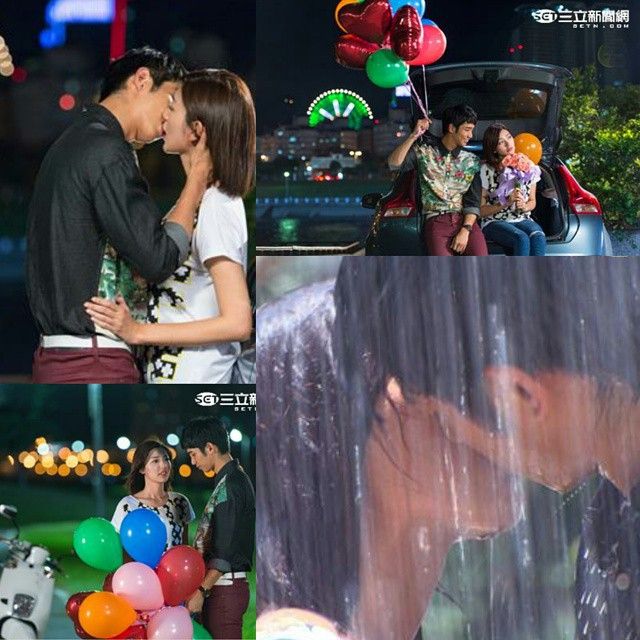 I normally don't post episode updates on Pleasantly Surprised (Love Myself or You) since I'm not recapping and also because it's been relatively uneventful to follow along with this drama. I said before it lacks sizzle from the crescendo excitement of a more passionate OTP romance but conversely hasn't tripped up on stupid plot developments either. Coming from the same network as Fall in Love with Me, it's like watching the same set of parents produce two kids, one a quiet unassuming Rhodes Scholar and the other a high school dropout in jail for selling crack. So weird is an understatement. With that said, PS is now heading towards dialing up the volume in the romance department after male lead Ah Jie finally made the move in a major way in episode 12 with two big kisses that won him the girl.
I still feel bad for Hao Wei who honestly would have been just as good for Kai Qi, but his situation reminds us all that missed opportunities sometimes doesn't lead to second chances. This drama has produced two great male leads, one a childhood best friend and the other a college first crush, and lucky Kai Qi can't lose either way she chooses. I did wonder if her relationship with Ah Jie would be more chaste but it sure doesn't look that way with all the skinship coming up in just released preview for episode 13 as the new couple head down to Pingdong to visit the aquarium and get in some night out together. I'm pleased that Kai Qi has opened up fully now that she's in a relationship with Ah Jie, her beaming smile in the episode 13 preview was breathtaking, and all I ask of SETTV is to keep bringing on the cute kissing and cuddling and hand holding for as long as it can until the inevitable angst hits.
It's reassuring at least that Ah Jie isn't going to bend over backwards anymore to listen to his bitter and unreasonable brother's demands that he has to leave Taiwan. Stay put, dude, and stop groveling for an accident that happened twenty years ago and merely led to a change of professional dreams. Big freaking deal, annoying older brother, keep crying us all a river and then get the heck off my screen.
Preview for episode 13: