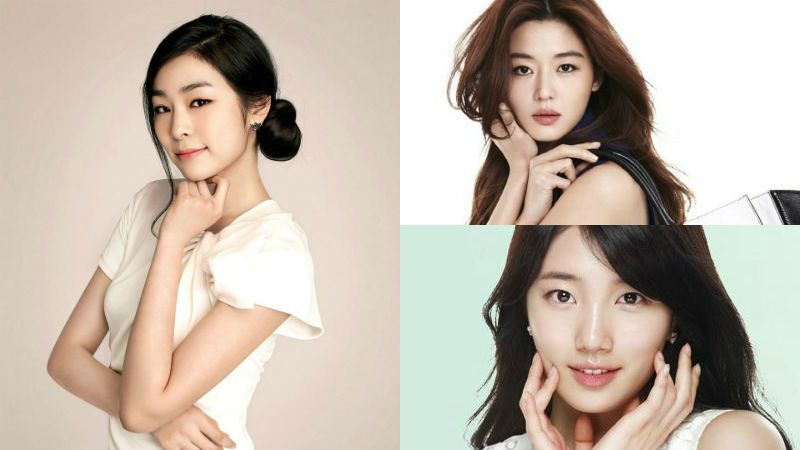 I don't cover the monthly Korean Advertising Agency rankings for top CF stars in Korea since it mostly stays the same from month to month. But the end of 2014 is right around the corner and a quick glance at the October rankings shows who's been the most popular Korean stars for 2014 as the list has stayed more or less the same this year. Some are perennial favorites like Jeon Ji Hyun, Yoo Jae Suk, and Kim Tae Hee on the list in different spots year after year since forever. The non-news is seeing figure skating champion Kim Yuna regained her top seat after Jeon Ji Hyun resided there for six months post You From Another Star.
Despite the industry being so male-dominated, the top three CF stars of this year, in varying orders, have been all ladies: the most decorated figure skater in Korean history Queen Yuna, A-list movie star Jeon Ji Hyun, and super young idol-actress Suzy. I like that the ladies own the CF love, at least it's an area they don't need to immediately get overshadowed by the men. After Suzy is the first guy on the list and it's adorable that Lee Seung Gi keeps on being the Nation's favorite son-in-law (i.e. the guy all ahjummas wish their daughter could marry). Rounding out the top five is Ryu Seung Ryong riding the double high of Miracle in Cell No.7 and The Admiral: Roaring Currents.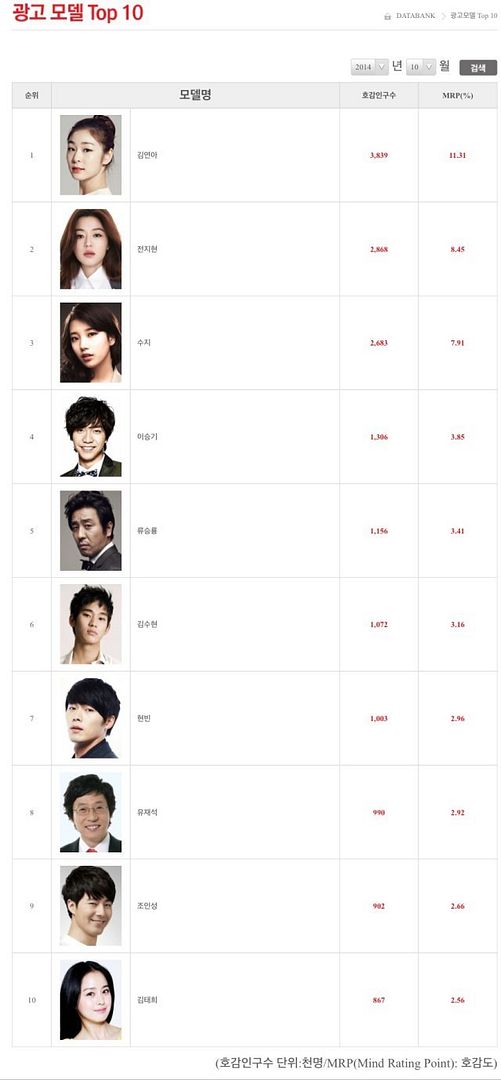 The top 10 Korean CF stars for October 2014, but the list has stayed more or less the same all year with the exception of Jo In Sung being a recent addition due to the popularity of this past summer's drama It's Okay, It's Love. I'm most impressed that Kim Tae Hee is still in the top 10 (year after year, baby, that's what I call longevity) even despite Korean netizens cluck cluck disapproval of a Seoul National grad dating beefcake Rain. It's like the Korean public can't help but eat up her smart toothy visage whatever she's selling (or shacking up with).
1. Kim Yuna
2. Jeon Ji Hyun
3. Suzy
4. Lee Seung Gi
5. Ryu Seung Ryong
6. Kim Soo Hyun
7. Hyun Bin
8. Yoo Jae Suk
9. Jo In Sung
10. Kim Tae Hee
I personally like Suzy, despite finding her a terrible actress, because she has this fresh-faced wholesome appeal that comes across as natural rather than artificially constructed. With that said, I do not get why she is this popular in CFs to be always in the top three for the last two years running. It's not like her girl idol group is all that popular as well. Whatever the reason, she's still riding high on the Nation's little sister train.
Kim Soo Hyun can expect to park himself in the top 10 for the foreseeable future if he does at least one good drama and/or movie a year, kinda like the Hyun Bin effect which also shows no sign of waning. Won Bin appears to have finally dropped off the top 10 and much as I like him it's ridiculous that he could rake in that much CF dough year after year while only doing one movie every few years and acting like he doesn't even give a f*ck about his day job (i.e. acting).