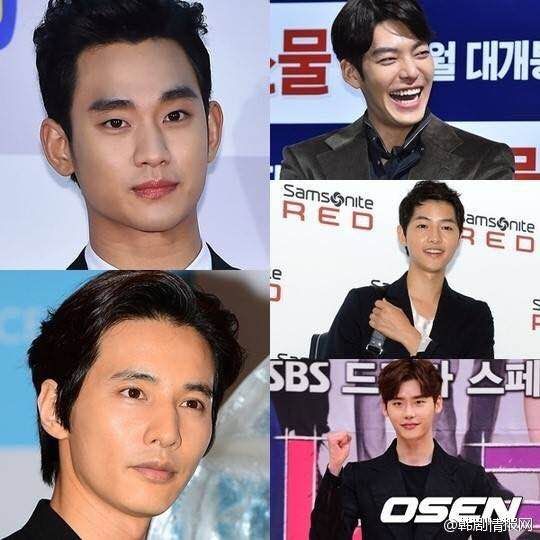 Now that the first batch of 2015 K-dramas have shaken out the ratings rankings and audience feedback – wins for Punch, Kill Me Heal Me, Shine or Go Crazy, losses for Hyde, Jekyll, Me, Blood – the media is looking ahead to the possible big name castings to come. One drama that just got a leading man is Yoochun for Sensory Couple so that's one popular name certain to be returning to the small screen soon. Up next is Kim Woo Bin getting the offer for the Hong sisters upcoming island rom-com Jejudo Gatsby, an offer that I pray he accepts so that he can finally flex his drama leading man muscles. The media remains forever wondering if this is the year Won Bin acts again.
Kim Soo Hyun has already made it known that he plans to do a drama this year, and whether it ends up being the KBS Friday night drama Producer penned by his You From Another Star scribe remains to be seen. No matter what he picks he'll have no shortage of offers. Eyes are also on Lee Jong Seok, who has done back-to-back-to-back dramas starting from I Hear Your Voice to Dr. Stranger to Pinocchio, all with good to great results. He's a steady workaholic, plus SBS loves him, so the media is wondering if he'll be on the SBS line up towards the end of the year. Finally there is much attention on the returning from the army Song Joong Ki, confirmed to have received the offers for Kim Eun Sook's upcoming Descendants of the Sun as well as the fantasy movie Fist Fighting.
The K-media also has its spotlight trained on Lee Min Ho, riding on the success of his first movie Gangnam Blues, but hasn't done a drama in over a year. He's mentioned definitely doing another acting project this year but there hasn't been any news on specific offers he's received or considering. His good friend Jung Il Woo actually got decent ratings for the crappy fusion sageuk last year Records of a Night Watchman, if he comes back to drama land chances are high it'll be another MBC drama.
And finally there's media darling Yoo Seung Ho, who basically can't do anything wrong right now after serving the military young and doing a humble whiz bang job at it. Bonus points for being a popular child actor grown up right who is also widely viewed as a great acting talent. He's currently filming for the movie Joseon Magician but the media is wondering which drama will lure him back to the small screen this year. Which popular male actor are you guys looking forward to drop an acting project this year?