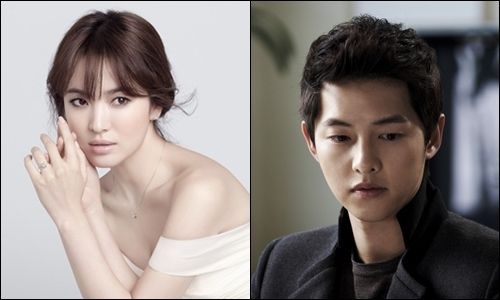 It's much appreciated for KBS to provide a complete news update on the casting status of upcoming high profile prime time drama Descendants of the Sun. The drama didn't just confirm the two leads today, it went ahead and confirmed the second leads as well. For many folks this news is both a relief that casting is done as well as something to look forward to if any or all of of the actors or actresses participating is right up your alley.
The drama leads will indeed be the rumored coupling of Song Joong Ki with Song Hye Kyo, making a new Song-Song onscreen couple that hopefully will sizzle rather than fizzle. Joining them to round out the main leads will be mostly movie actor Jin Goo and rising actress Kim Ji Won as the second leads. The drama heads into full pre-production this June with an eye towards an October air date in Korea, with reportedly a simultaneous airing in China whether streaming online or on a television network.
This will be a drama land return for three of the four leads after a few years away. Song Joong Ki's last drama was Nice Guy in late 2012 after which he shipped out to the army (has it really been that long?) while Song Hye Kyo did That Winter, the Wind Blows in early 2013. Jin Goo's last drama was also in early 2013 with the lowly rated Ad Genius Lee Tae Baek but he will be seen on the small screen next week in a cameo role in the jTBC drama Falling for Innocence. Kim Ji Won worked with DotS screenwriter Kim Eun Sook's last drama Heirs so it's no surprise to see her make a return as the second female lead here.
DotS will be set in a fictional war torn country that is currently dealing with a humanitarian crisis after a recent earthquake hits the already beleaguered nation. Song Joong Ki plays a UN peacekeeping troop commander while Song Hye Kyo is a doctor from Doctor's Without Borders working in the crisis zone. Both second leads will be subordinate officers reporting to Song Joong Ki's commander in the troop, and they will also be exes who are still not fully over their breakup. Filming will take place overseas and within Korea, all standing in for the crisis territory as the story line will be set almost entirely outside of Korea.