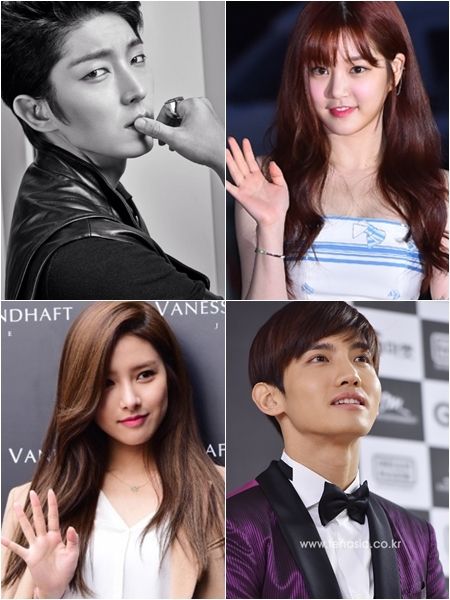 And it's a wrap! At least the casting portion is for upcoming vampire fantasy sageuk drama Scholar Who Walks the Night. I think this drama officially trumps the casting carousel of Kill Me Heal Me, we'll have to wait until July to see if Scholar turns out as good as KMHM made out with its final cast. Night Scholar held a script reading this past weekend (so secretive!) with the full main cast in attendance, thereby confirming that the casting is done and the assignment of characters have been finalized.
Lee Jun Ki plays the titular vampire night scholar, Changmin is the second male lead Crown Prince, Lee Yoo Bi is the female lead cross-dressing bookseller, and Kim So Eun plays the second female lead a noblewoman engaged to the Crown Prince but in her former life she was the first love of Lee Jun Ki. For those confused, Kim So Eun's character is described as new character that is not in the manhwa, while the manhwa's second female lead of the spurned gisaeng is now just a supporting role.
I have zero problems with this final confirmed cast, mostly because I'm so over actually nitpicking on this particular drama casting choices. For the female leads, from Han Groo to Jin Se Yeon to either Lee Yoo Bi or Kim So Eun, there has been an unending stream of commentary as to which actress is better suited for the role, leading to exhaustion when the drama hasn't even started filming yet. I'm ready to sit back and wait for this drama to arrive in July and review it substantially. The drama antagonists are also lined up with Lee Soo Hyuk as palace vampire and Jang Hee Jin as the gisaeng. 
It's also clear now that the drama adaptation is differing significantly from the manhwa. The second male lead in the manhwa is actually the female lead's childhood friend/future fiance, while the Crown Prince is only a supporting role. In the drama, the Crown Prince character has been elevated to second male lead and given his own love interest. I'm fine with that, aside from the male and female leads in the manhwa, all the rest of the characters are fungible narratively. I'm just sooooo happy this drama is finally done with the main casting, even to the end the production confused me since last week it was confirmed that Kim So Eun was the female lead. I hope to never write another casting post surrounding Night Scholar and just sit back and wait for the actual drama to arrive.