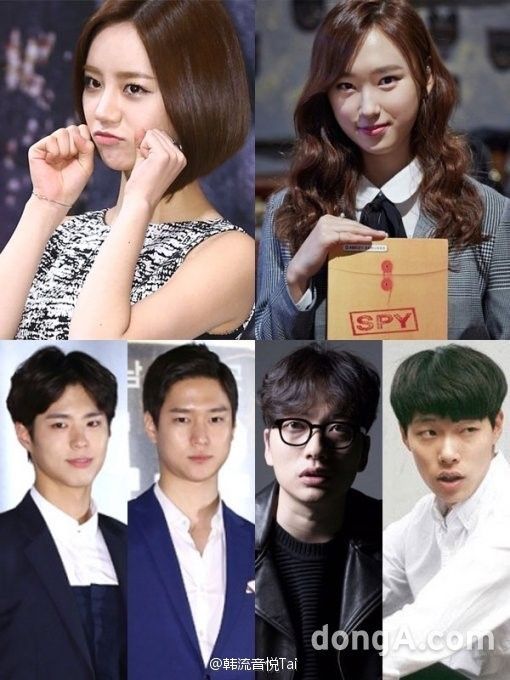 The casting has been finalized for Answer Me 1988, the third installment of the popular tvN Answer Me series, and it basically boils down to one rotten apple potentially stinking up what would otherwise be a perfectly fine dish. The production just released the confirmed cast and it includes the following: Hyeri of Girl's Day as the female lead, Park Bo Geum is the male lead, and the supporting cast consists of Go Kyung Pyo (a Tomorrow's Cantabile reunion), newbie actress Ryu Hye Young (last seen in Spy), movie actor Ryu Jun Yeol, Lee Dong Hwi (Lee Jun Ki's buddy in Joseon Gunman), rising young actor Ahn Jae Hong, with the parents played by third time returning veterans Sung Dong Il and Lee Il Hwa. Filming is scheduled to start in the summer with an eye towards a fall air date on the cable network. One guess who I think is the rotten egg casting of the bunch before I vent a little below?
I can't even get excited about the casting of talented Park Bo Geum and Go Kyung Pyo as the male leads of this series (they are both so due for breakout roles), not when the female lead ended up really being Hyeri. Don't even compare her to the previous female leads Jung Eun Ji (a straight up newbie) and Go Ara (at times criticized for her acting) when it comes to acting inexperience. Prior to landing the Answer Me female lead, with Eun Ji no one knew what she could do as an actress so it was a shot in the dark whereas Ara has weathered her share of criticism but also a steady commentary on her improvement over the years before she landed the AM gig. Hyeri has been in two dramas recently (not a while ago) in Hyde, Jekyll, Me and Seonam Girls High School Investigators and she was absolutely shiteous in both.
I'm not even going to hold back my hatred of her acting (and yes, it's just her acting, don't know what she's like as a star or idol), she cannot act one whit. At all. Not even a little. She makes Suzy's performance in Dream High Baeksang worthy, she makes Lee Yeon Hee's performance in Paradise Ranch seem like the height of amazing, hell I would even take all the bad acting in Blood and still find it way way way better than anything I've seen from Hyeri. And her cutesy act just grates, whenever I see pictures of her making the aegyo I just want to metaphorically punch her in the face because it looks so fake and manufactured. With that said, and I'll leave this as a big MAYBE, the Answer Me series has done wonders in turning lesser actors and actresses into bona fide decent acting talent, so who knows what the PD can pull out of Hyeri. Maybe he can turn a sow's ear into a silk purse, and if that happens then I'll say a hallelujah and go off to enjoy the drama. Until then imma go pout in the corner.