Forget star power, which is already bling bling blinding in the collective intensity, the joint awards power of these three together is also something to marvel at. The rumored casting news leaked a few weeks ago but I didn't to jinx it by writing about it too early, I've been waiting close to ten years for these two to work together and I am not taking any chances for this to fall through. Now I can finally write about it because filming has started on the sequel to the 2010 hit C-movie Go Lala Go!, this time with a whole new cast including three of the biggest Taiwan acting stars in Vic Zhou, Ariel Lin, and Bolin Chen.
Even writing Zai Zai and Ariel's names next to each other makes me quiver with glee, tossing in Bolin to form a love triangle is like someone giving me a free house and then offering to pay all the property taxes going forward. So much win I can't even. The three of them also collectively own a lot of awards hardware, in Golden Bell Awards alone Ariel has two for In Time with You and They Kiss Again, Bolin also won for In Time With You, and Zai Zai finally got his due for Coming Home after losing out in Black & White. Go Lala Go! 2 can be a series of nonsensical scenes strung together and I'll still watch and probably love it on the strength of this cast alone.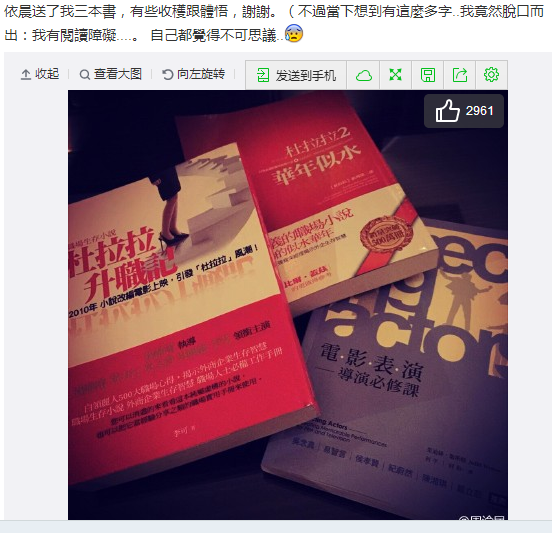 Filming has been low key so far (just started last week), but Zai Zai posted on his SNS three of the books that form the source material for this series, revealing that Ariel sent him the books to read prior to filming. Zai Zai joked that he was very grateful but couldn't believe how long the books were (so many words!), ahahahaha. It's been 8 years since Zai Zai's ex-girlfriend and one of Ariel's best friends Beatrice Hsu died, and for the longest time the industry thought Zai Zai would never work with Ariel and Rainie Yang because of any lingering awkwardness.
But time really does smooth things over and now I'm finally getting the Zai Zai-Ariel onscreen pairing I've been dreaming of. I love Bolin to pieces as well but he's acted with Ariel twice now so I'm tossing my lot with Zai Zai to get my Ariel in the end. There is no synopsis so I don't know which guy is playing which character but I'm sure Ariel will have no problems believably being torn between them. Having Bolin in this movie is just icing on top of the Zai Zai-Ariel cake and can make my decision change in the last minute based on story narrative in the end. All in all, Yay and yay and yay!