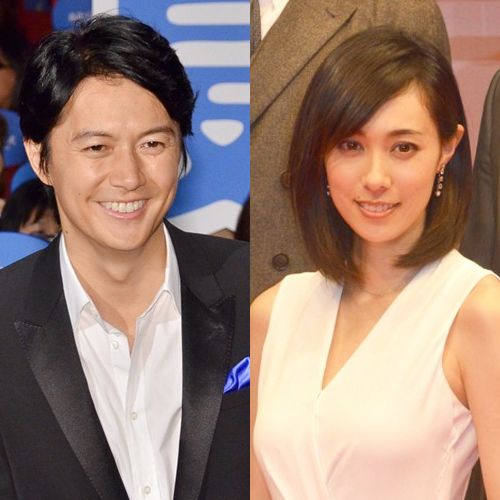 Japan woke up to a huge entertainment world news shocker Monday morning – top singer-actor Fukuyama Masaharu got married to secret actress girlfriend Fukiishi Kazue. There is a 13 year age gap between the couple, with Masa being 46 years old while Kazue is 33 this year, but the couple have apparently been dating for a few years now if rumored gossip from way back when is to be believed. Which it should be believed since the two got married, lol, but rumors a few years ago said they were dating but both denied it.
Masaharu getting married is as unexpected as when longtime star bachelor George Clooney tied the knot last year, both had the reputation of being decided bachelor and playboys in their respective entertainment industries. Fukiishi Kazue is a well known actress in her own right, with a long list of doramas under her belt, but she's nowhere near Masaharu's level in popularity so chances are she'll now be known as Mrs. Fukuyama, much like what happened when Kudo Shizuka married Kimura Takuya fifteen years ago and then became Mrs. KimuTaku forever.
I really like Masa but honestly thought that he was never going to settle down. The news articles are all trying to parse how Kazue landed J-ent's most illusive bachelor, but I like to think it's just good old fashioned love between two people who get along. Not exactly rocket science.