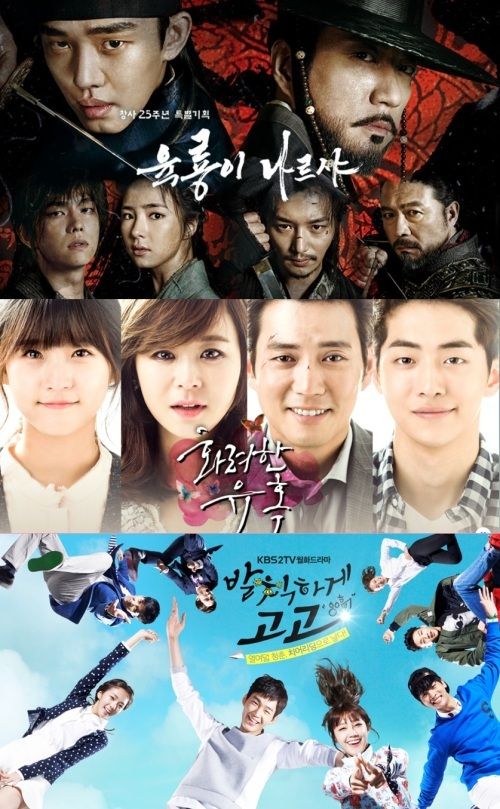 It's been soooooo long since the all three big networks simultaneously premiered a new drama during a prime time slot. For example, I still remember the "which one will I watch first?" conundrum and excitement around epic three-way premieres like Cinderella Unni, Personal Taste, and Prosecutor Princess. There are many different ways to slice a premiere night ratings three way, but what happened this particular Monday certainly makes for easy writing in handing out success and failures. SBS long sageuk Six Flying Dragons roared out to first place, netting 12.3% AGB ratings nationwide.
That's about what MBC's long sageuk Hwajung did when it premiered, but of course that drama went on to suck in quality and ratings, so let's hope Dragon fares better in quality and reception. In a comfortable but distant second place, MBC's modern day long drama Glamorous Temptation got a decent showing of 8.5%, which isn't bad since the length allows it time to grow an audience week after week. Sadly the little drama that wants to cheer people up might need its own cheerleading squad after today – KBS continues to be the ratings blackhole as Sassy Go Go started off with an embarrassing and abysmal 2.2% ratings. Talk about OUCH.
I do feel bad for KBS since the network's Mon-Tues dramas this year haven't all been unwatchable and thus deserving of being the perennial rating pits. Aside from the blood curdlingly bad Blood, I watched and enjoyed Who Are You: School 2013 and Eccentric Daughter-in-law, and skipped I Remember You for my own lack of interest. One can argue that the new low ratings landscape means lowering expectations, but even if 5% is the new 10%, even in that case a 2.2% first episode ratings is still bad beyond belief.
On the other hand, School 2015 wasn't ratings hot out of the gate either and still managed to increase incrementally each week and get good online buzz with the younger audiences, so there is hope yet for Sassy Go Go. It's such a shame since I like all three leads in Jung Eun Ji, Lee Won Geun, and Ji Soo.  As for Six Flying Dragons and Glamorous Temptation, I have plenty of time to bank those dramas to marathon over the holidays, which is what I'm planning to do since a full time lawyer, mom, and write whatever I want blogger needs to be selective with her limited drama watching time. Even the ability to multi-task like you wouldn't believe has limits when a day only has 24 hours.