Holy cheesy crabapple goodness! I guess we have a bona fide hit on our hands, not that I was doubting it but the speed is certainly impressive and surprising in this day and age of K-drama depressed ratings. Famed screenwriter Kim Eun Sook's new drama Descendants of the Sun aired episode 3 today and basically went to town on the competition in terms of ratings. DotS episode 3 broke the 20% mark in ratings, garnering 23.7% AGB nationwide, which is an increase of 7.9% ratings over episode 2.
The competition was obliterated, with poor Please Come Back Ahjusshi only getting 5.2% AGB nationwide, a drop of 2.4%, while limping to the finish One More Happy Ending had a negligible drop which plopped it at a sad 3.8%. Even the usually lower TNmS ratings had DotS breaking 20%, specifically getting 21.8% nationwide (a rise of 8.3%) and 22.7% in Seoul. While Song Joong Ki's Shi Jin and Song Hye Kyo's Mo Yeon are saluting the Korean flag in that scene above, they definitely deserve a salute for doing their part in bringing audiences in.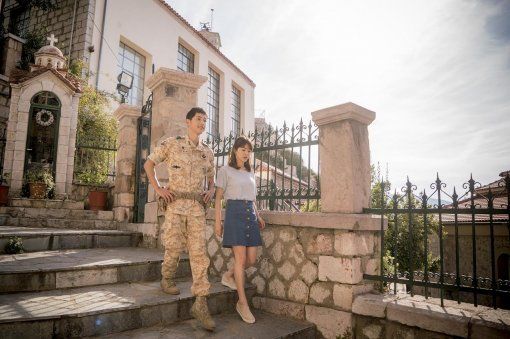 This isn't just Kim Eun Sook's magic touch working all on its own – in her recent year dramas, Heirs didn't break 20% ratings nationwide until episode 13, it was episode 10 for A Gentleman's Dignity, but this does put DotS on par with Secret Garden which broke 20% ratings by episode 4. Congrats to the hardworking cast and crew on the impressive achievement. This might be the happiest I can imagine KBS TV execs being in a long loooooong time.