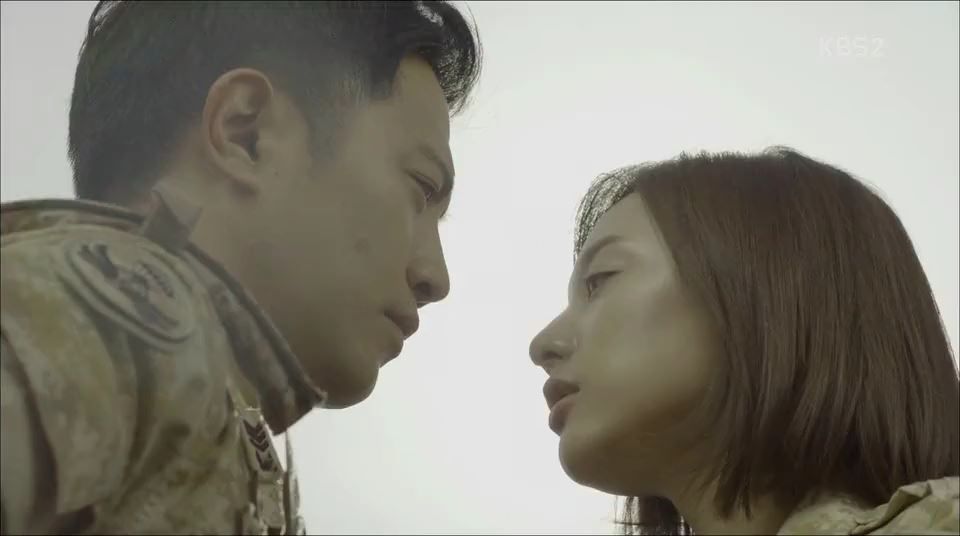 Yet another entertaining episode of Descendants of the Sun today, with more cute and interesting plot developments in equal measure followed by a gut punch ending. Nothing rises to smarty pants stuff but remains plausible enough with slick execution to sell the scenario. Dating for real Mo Yeon and Shi Jin, along with the same development with second leads Myung Joo and Dae Young, yield plenty of lighthearted jealous and heartbreaking angst all in the same episode. It feels like these four could forever go on double dates and time the birth of children and retirement and have each other's backs.
Seeing four intelligent and capable people making a go at love in a danger zone keeps the lame conflicts to a minimum and allows every moment spent together to feel meaningful. Quick stolen dates are treasured and evading peril feels exhilarating. Episode 10 showed that armed conflict wins can't solve bigger problem and saving the life of an injured person can be risky to the greater good. Being a doctor is also a danger zone profession and this episode highlights that for both couples even if the ending cliffhanger reveals who dodged a bullet and who has to face impending life and death.
Episode 10 recap: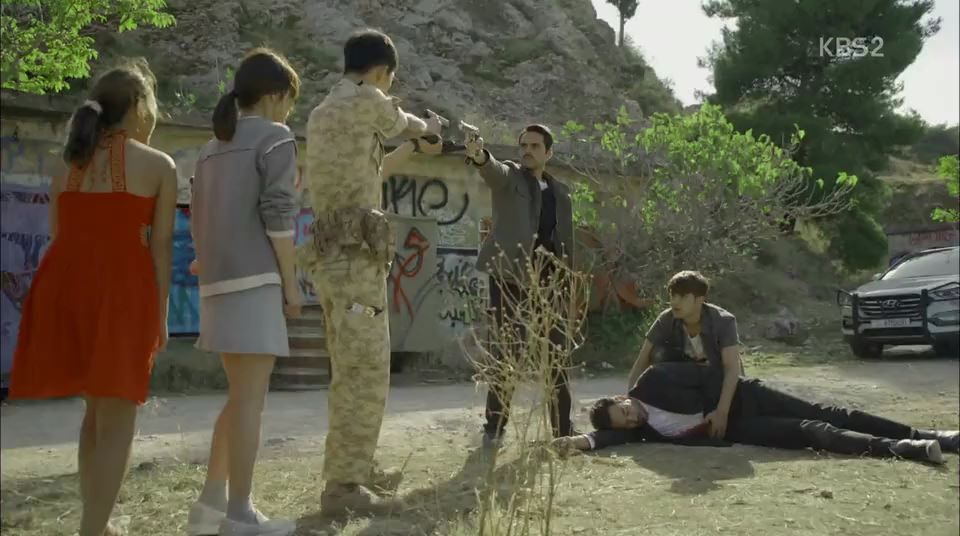 Mo Yeon and Shi Jin inadvertently get pulled into the child trafficking ring run by mercenary turned baddie Argus. He's turning out to be not terribly bright after being hoodwinked by the Manager who took off with the diamonds and now shot by the little girl he was trying to sell a pimp. Not that I'm feeling sorry for him, more that he's mostly bluster. Mo Yeon doesn't want to save Argus but Shi Jin keeps her on the straight and narrow, telling her to do her job as a doctor. The little girl pleads with Mo Yeon not to save Argus and to let him die.
Argus passes out from the blood loss and Mo Yeon makes her decision. Shi Jin orders Argus's henchman to put the gun down and let them treat Argus or else he's dead.
Mo Yeon operates on Argus to remove the bullet without anesthesia and with only his henchman holding him down. Shi Jin's walkie talkie blares out a call from the arriving soldiers so Argus and his men prepare to make a quick getaway.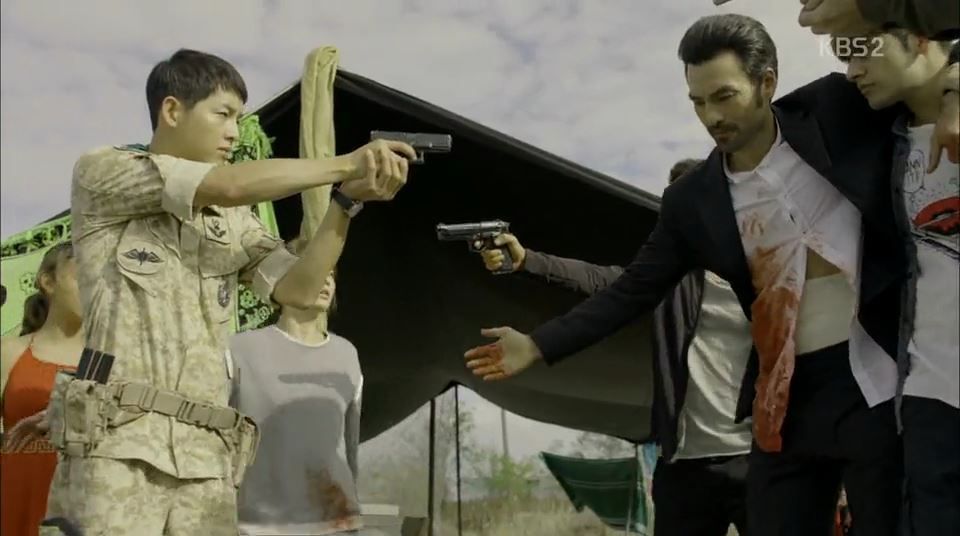 Mo Yeon prevents Argus from taking the little girl, telling him that she merely kept him from dying immediately but he still needs to go to the hospital. Argus tells the little girl that he'll see her soon and he'll make sure to pay her back for this. Argus reaches out a bloody hand to Shi Jin who refuses to shake it and tells Argus that their friendship from the past is effectively over.
The kids from the village are taken away to safety once the Korean soldiers arrive. Shi Jin updates Dae Young on Argus's new profession and laments the reality that there are limited career paths for retired special forces soldiers, a huge foreshadowing if any. The kids from the village are taken to the medical facility to be treated for measles. Dr. Song says they can handle the measles outbreak and tells Mo Yeon to go change out of her bloody clothes.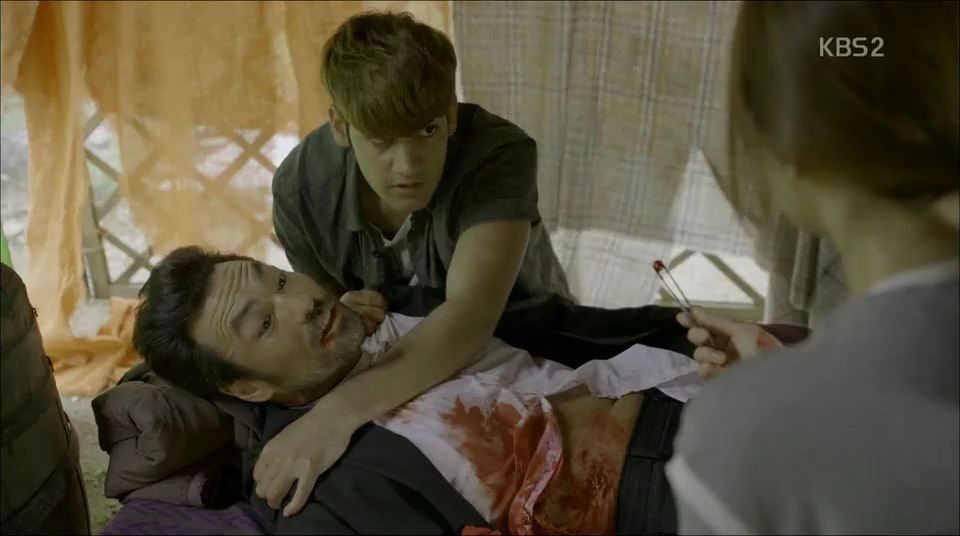 Mo Yeon washes up and remembers Shi Jin telling her to do her job as a doctor and leave the killing to him. During the surgery, Argus cackles manically to Mo Yeon that dating a dangerous man means always being close to danger. No shit Sherlock.
Min Ji informs Mo Yeon that the little girl is asking to leave now. The little girl takes out her anger at Mo Yeon for saving Argus and doesn't accept that Mo Yeon prevented the little girl from becoming a murderer. Even if she doesn't kill others can still kill her, and she doesn't trust soldiers one bit in keeping her safe. The little girl knows that Mo Yeon has never been through a war before so she doesn't know anything. Mo Yeon keeps the girl from leaving, telling her to eat first.
The returning doctors regale their Seoul colleagues with stories of their medical bravery after the Urk earthquake. Chi Hoon's wife asks why he's not back since his name was on the passenger manifest. She hears that he gave up his spot to someone who needed medical assistance but the wife thinks it's suspicious because Chi Hoon doesn't answer her calls either. She asks if Chi Hoon has another woman there and whether there is anything suspicious about the way he's acting?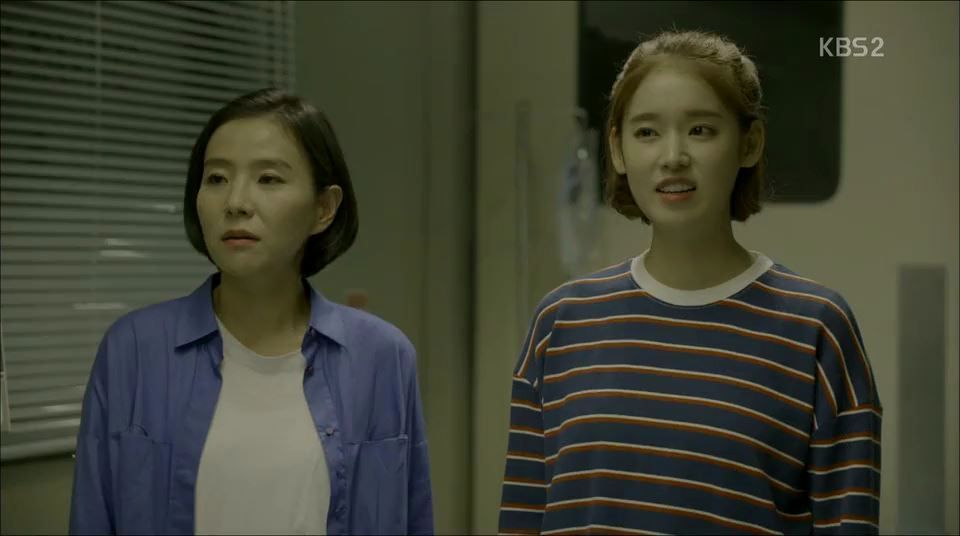 Dr. Song, Nurse Ha, and Min Ji discuss how the Manager must have been faking an injury to get on the flight back to Seoul on the spot that Chi Hoon gave up and was likely trying to avoid someone pursuing him. Yet in the end he didn't get on that flight which left with one seat empty.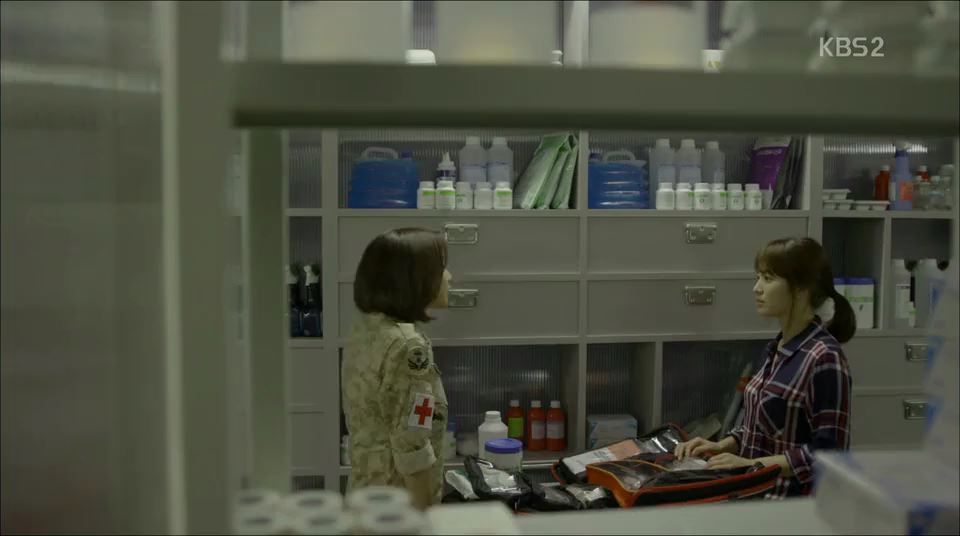 Myung Joo and Mo Yeon are dealing with the measles outbreak and now the UN is already declared an emergency in the area. Myung Joo assures Mo Yeon that they have enough MMR vaccines and plan to go to the village to inoculate the kids. Myung Joo doesn't need a civilian involved but Mo Yeon takes charge and wants to go, leading Mo Yeon to think that she's not scared of a future little sister anymore.
Dae Young ends up accompanying Myung Joo to the village which makes her super happy. He asks what she thinks if he changes professions because this one is dangerous and they don't get to see each other much. Myung Joo doesn't care about what Dae Young does but in her world there is only the soldier Dae Young and if she had a choice she wouldn't take off his uniform. Myung Joo and Dae Young arrive to find the village empty and cleared out.
Shi Jin reports to General Yoon about the band of traffickers operating in Urk led by Argus and General Yoon remembers the death of Shi Jin's colleague in the rescue mission to save Shi Jin and Argus. General Yoon explains that Argus is supplying arms to a warlord trying to destabilize Urk. They are aware of the operation and want to use Argus, and the US special forces are monitoring from behind the scenes. General Yoon wants Shi Jin to avoid any confrontation with Argus during this time and he makes it an order before leaving Urk. From now on the Korean army is not to get involved with the situation.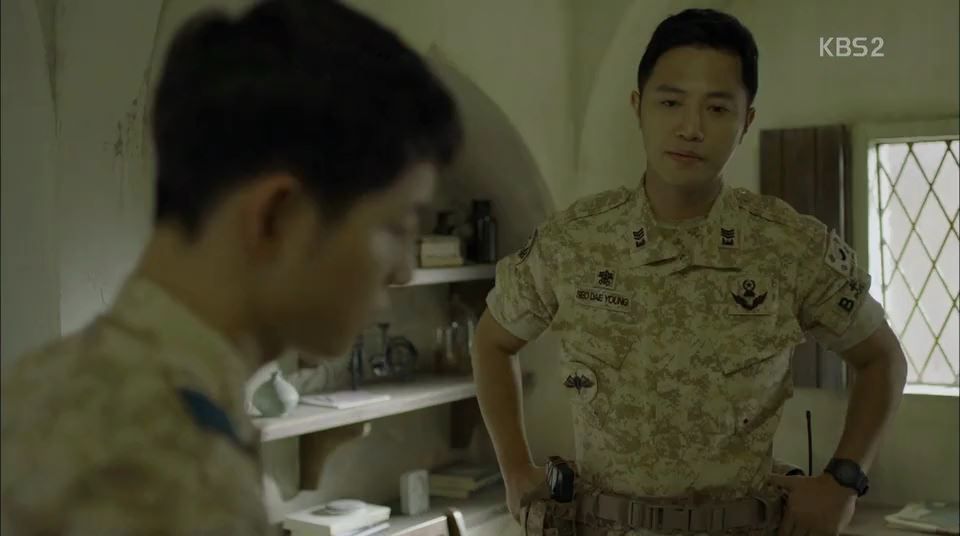 Dae Young updates Shi Jin that the local police claim kids have reportedly been moved to an orphanage in the city but he finds it suspicious. Shi Jin looks troubled and gives the official line that they are to keep out of the situation involving Argus.
Shi Jin is brooding by the ruins when Mo Yeon chances upon her boyfriend and offers him a cup of coffee. It's the last cup and she's offering it to him since he looks like he could use something sweet. Mo Yeon asks about the kids in the village and Shi Jin says the kids have been taken somewhere safe by the Urk government.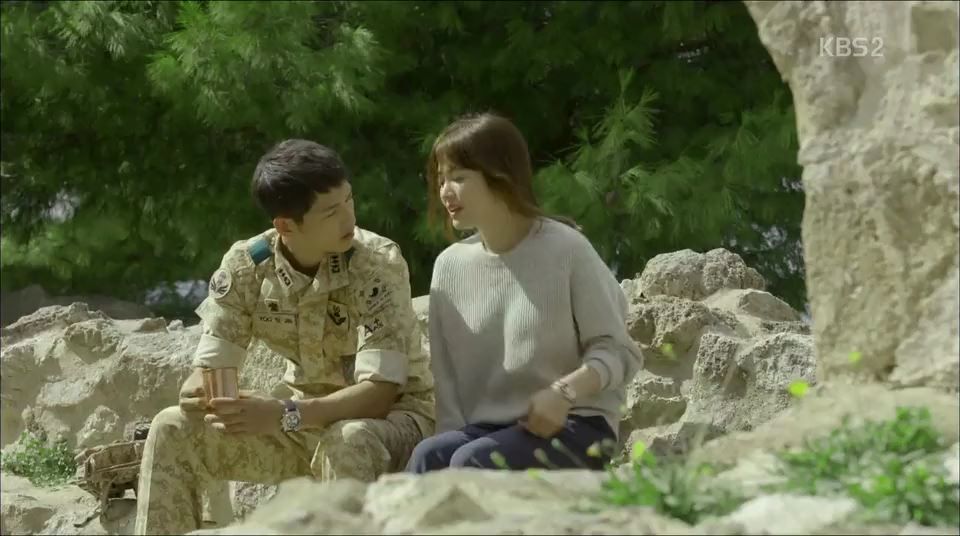 Shi Jin notices that Mo Yeon's hair is messy and hands her back the cup so that he can fix her hair. She leans back because she didn't wash her hair but he doesn't care, dating means doing things for the other even if one can do it. Mo Yeon asks what Shi Jin wants her to do for him and she'll be happy to do it.
Mo Yeon gets a call over the walkie talkie about an arriving package and runs off which leaves him pouting that she's choosing a package over him. She assure Shi Jin that she still choses him before running off to get the packages.
Mo Yeon takes her packages from Nurse Ha and then Dr. Song runs in to open his package. It's a pair of new shoes for Nurse Ha, except he gets her size wrong lol. But she's still happy with it after grumbling a bit.
Mo Yeon radios over to Dae Young to come get a package addressed to him from a Shin Ji Yeon. Both Dae Young and Shi Jin look alarmed before tossing all their papers and literally flying out of the tent towards the dining hall where Mo Yeon is.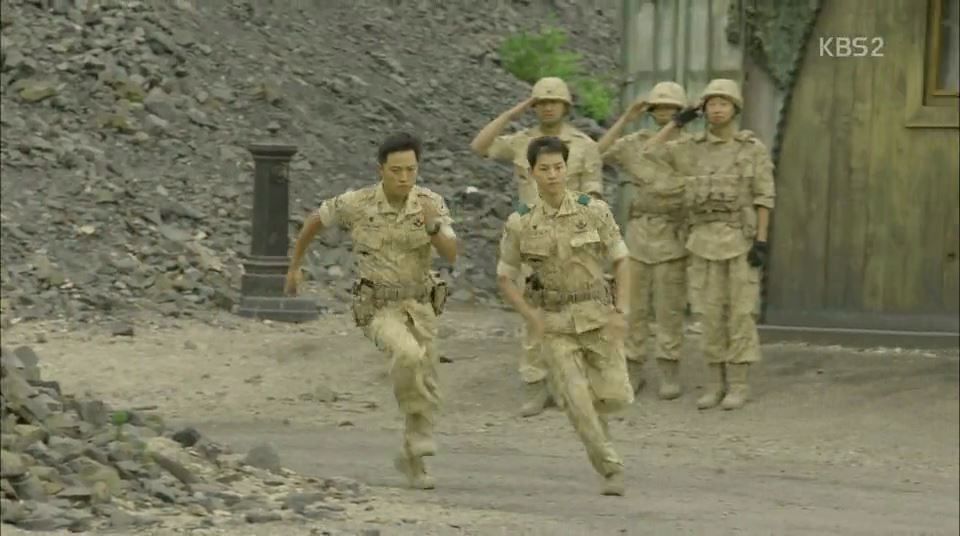 The two whipped boyfriends run past a row of saluting soldiers clearly aware that their superior offices are heading to their doom.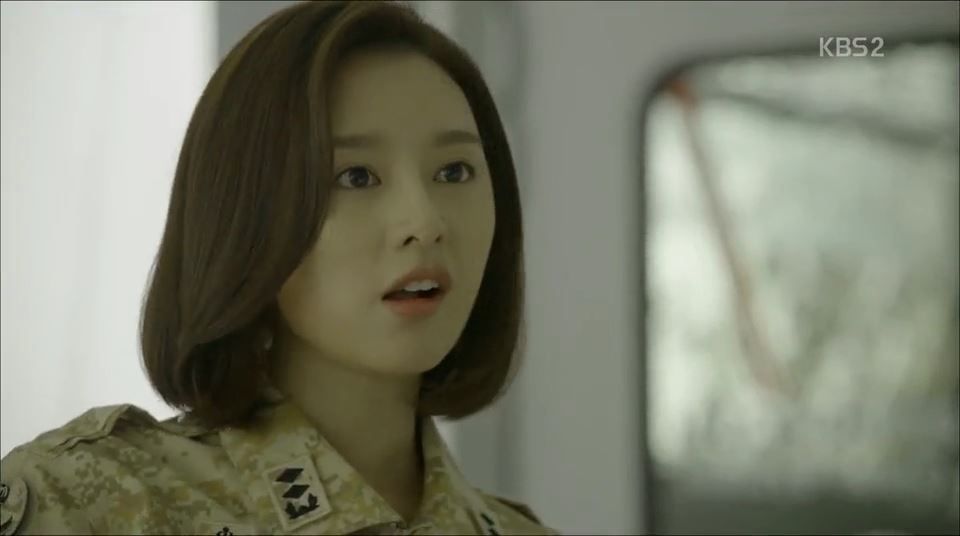 Myung Joo hears this same call over the radio and looks pissssssssed, throwing her things down and rushing out of the medical facility. Shi Jin and Dae Young are running like their lives depend on it but Myung Joo gets there first. She takes the box and reads the note on top "oppa, take care, heart; oppa, miss you, heart".
Myung Joo opens the box and even Mo Yeon peeks inside to have a look. Myung Joo opens the note and inside is a picture of Dae Young, Shi Jin, and two pretty flight attendants sitting in a restaurant. The note reads that this is a memory of the day she met Shi Jin oppa with Dae Young. Dayum, there is going to be HELL TO PAY. Mo Yeon says "those damn bastards" and orders Myung Joo to get her gun.
Shi Jin and Dae Young arrive looking like errant school boys completely out of breath and sputtering that it's all a misunderstanding. Myung Joo holds up the picture which is hard to misunderstand, while Mo Yeon thanks Shi Jin for allowing her to see such a happy smile on his face. Shi Jin says that's not a smile, he was just born looking smiley, before prodding Dae Young to explain. Dae Young barks out that his cousin is a flight attendant and was sending a care package.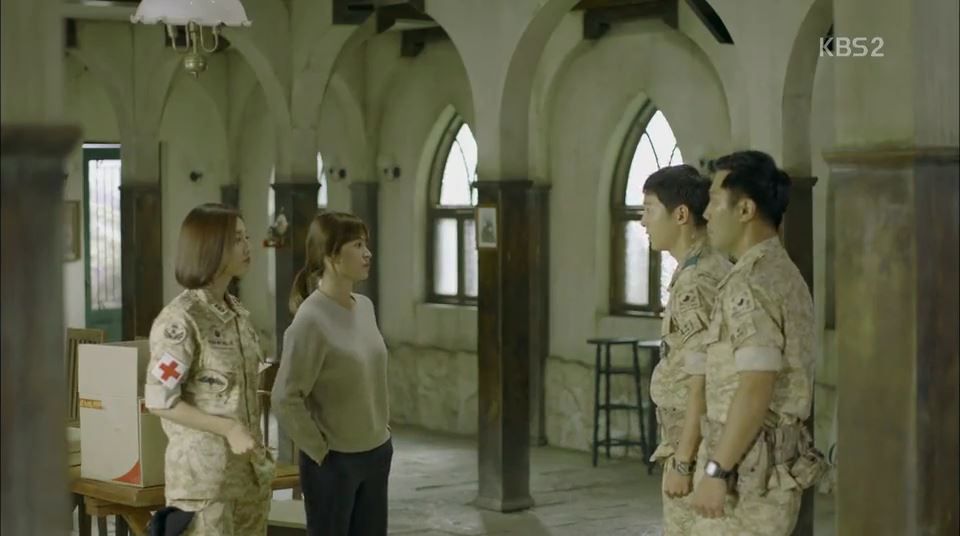 Mo Yeon points out that both guys rushed here like their lives depended on it. Myung Joo holds up the picture and asks them to identify which girl is Dae Young's cousin. The guys exchange a look and Shi Jin says the girl on the right at the same time Dae Young says the girl on the left. D'oh! They try again and fail again by saying the exact opposite. Dae Young then throws Shi Jin under the bus, saying he was just introducing a girl to her.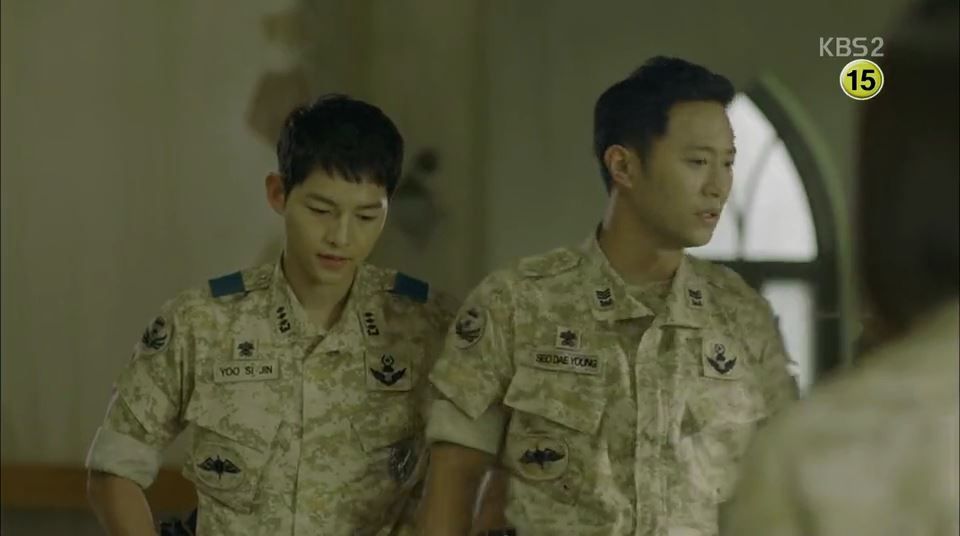 Mo Yeon points out that Dae Young must have kept in touch with the other girl if she knows how to send a package to him in Urk. That gives Shi Jin an out and he turns to berate Dae Young for doing that before smiling sheepishly at Mo Yeon. She orders Shi Jin to come with her before walking off, leaving Dae Young to face Myung Joo. Dae Young salutes Shi Jin off to battle before trying to explain to Myung Joo that it's all in the past. She points out the package was sent now so is the present.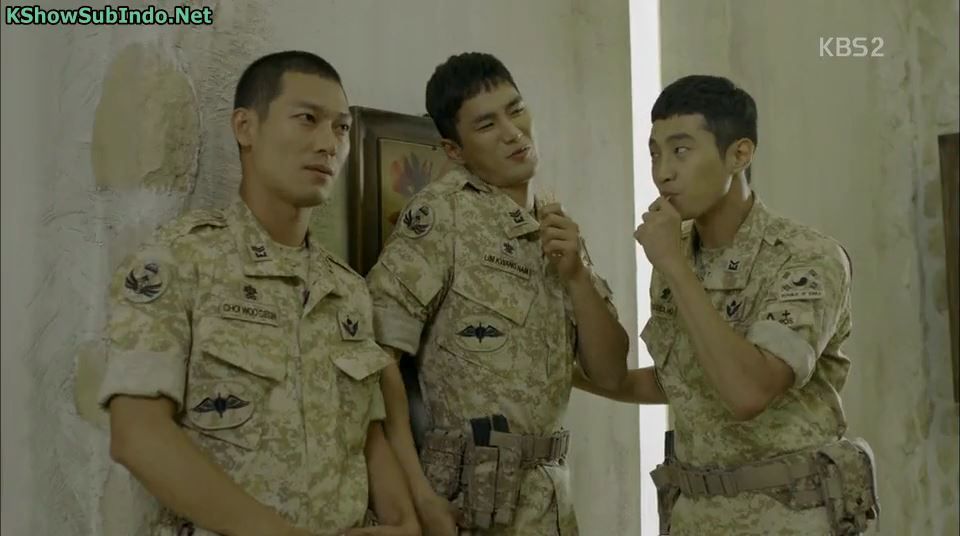 Sargent Choi and the soldiers are eavesdropping and collecting on bets. The other soldiers corrected guessed the two superiors took off like the wind the day of their comrade's baby party because of matseon dates. But they lied that they were going to a high school friend's death of a father, but it's not believable that they would have the same high school friend.
Myung Joo is disappointed in Dae Young since she thought their only obstacle is her dad. Dae Young jumps on that and sticks his foot further in his mouth by agreeing that her dad is a giant obstacle. Myung Joo doesn't believe Dae Young's explanations about that date, asking if they got in a car after having tea? Dae Young admits getting in a car afterwards but it was Shi Jin's car, and he doesn't know why Shi Jin drove that day.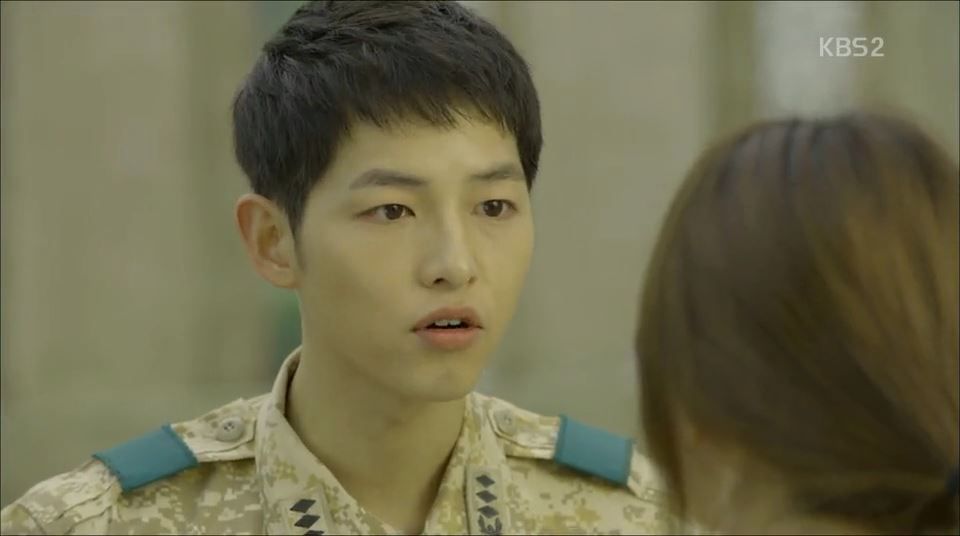 Outside by the ruins, Mo Yeon wants to know how far it progressed for Shi Jin and he claims it was just having tea and totally innocent. Mo Yeon thought Shi Jin was all depressed after their breakup but clearly he moved on fast. Shi Jin claims he was depressed but held on for his friend, and puts on a solemn expression to convince Mo Yeon that he looked super stoic during the tea.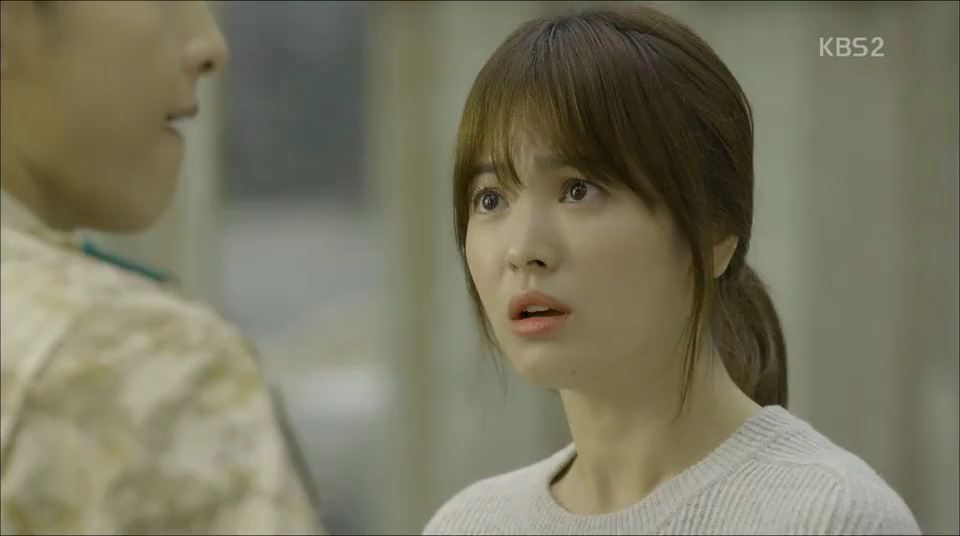 Mo Yeon continues to be pissed and doesn't believe Shi Jin. He claims to not even remember the girls names but Mo Yeon points out how fast they ran once they heard the name over the radio. She gets a call from the hospital and storms off to answer it.
Ji Soo is calling because Mo Yeon didn't call to thank her for sending the care package. Ji Soo can guess that Mo Yeon is too busy in love and figures that she got in a fight today with her lover boy. She passes the phone to Chi Hoon's fiancée who asks if he's dead or doesn't want to marry her anymore. Mo Yeon assures her neither is the case.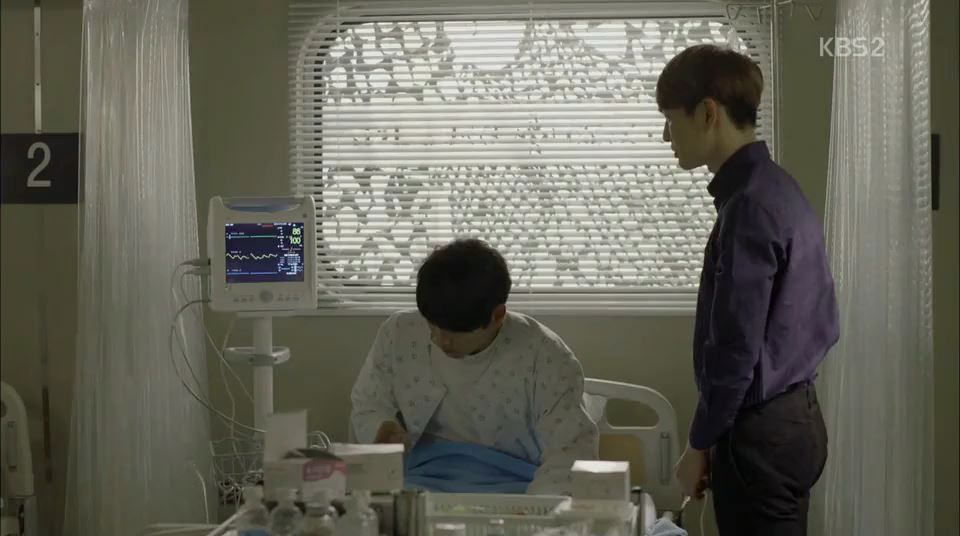 Chi Hoon is still tending to Min Jae who refuses to accept his care and continues to berate him for abandoning him and shirking his duty as a doctor to save lives. Chi Hoon tearfully says "save me, please save me" which is what Min Jae cried out at that moment.
Chi Hoon admits he was scared and ran away so he wasn't a doctor at that moment, and for that he's really sorry. Min Jae calls out Chi Hoon for being selfish and trying to absolve himself just by apologizing. Chi Hoon knows that's not enough and asks what Min Jae wants him to do to make it up. Min Jae chews out Chi Hoon for not taking his hand that day, and for that Min Jae won't take Chi Hoon's hand today to help. Chi Hoon tells Min Jae that he'll get Dr. Song to come administer the shock and leaves all dejected.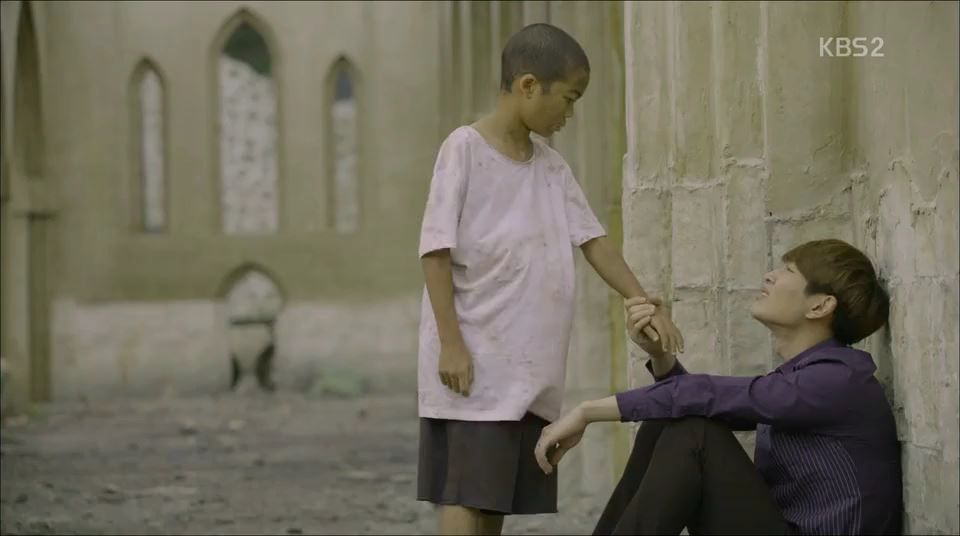 Chi Hoon goes outside to sob alone in the ruins until the little boy he helped earlier comes by and touches his forehead wondering if he's sick. Chi Hoon cries to him and the little boy continues to ask if Chi Hoon is really sick but takes his hands.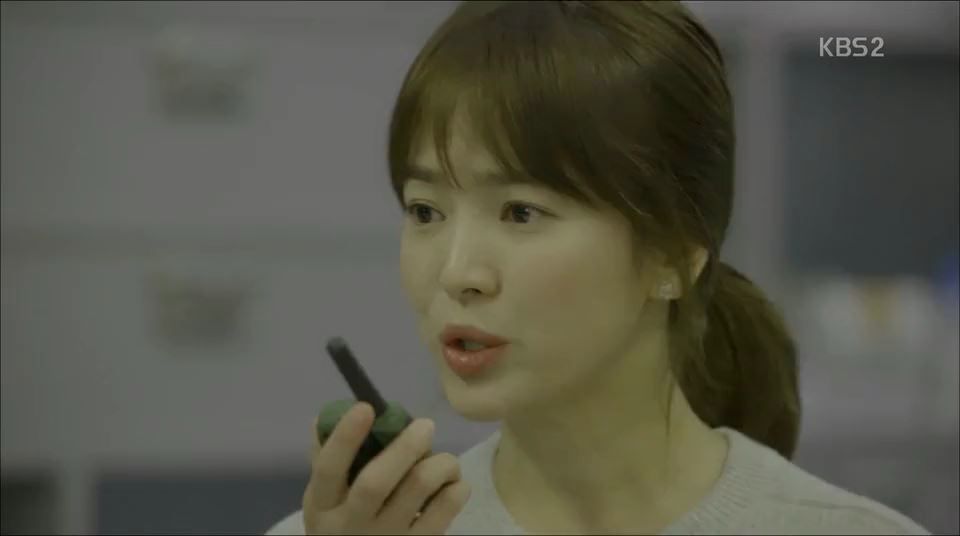 All the doctors are summoned to the medical facility where the locked anesthesia medicine have all been stolen. The little girl has taken it all and places a call to someone named Tommy saying they can sell it and have the money to leave.
Shi Jin takes Mo Yeon back to the bar to ask the waitress for information on the little girl, asking if she's been seen trying to peddle medicine. He manages to convince her to help before others get to the little girl.
Shi Jin and Mo Yeon drive to a warehouse area and find the little girl being slapped around by a gang of young men. They all whip out guns and point it at Mo Yeon and Shi Jin. She wonders why she's always facing guns and Shi Jin says she's always acting before making plans. Shi Jin jokes that they can handle it, he can take the ones on the left and she'll take the ones on the right. Shi Jin gets serious and tells Mo Yeon to run when he tells her to and wait outside for 5 minutes in the car. If he doesn't come out then she needs to drive away.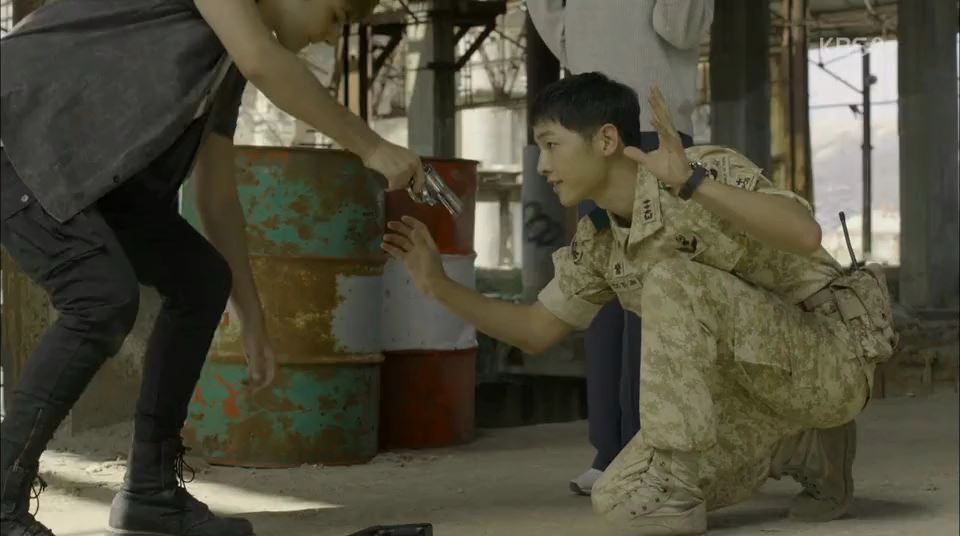 Shi Jin puts his gun down and says in Korean that he can't use it anyway because if he did he would have to write a report. He disarms the head guy and takes his gun before singlehandedly taking out all the guys one by one. The little girl runs off to hide and Shi Jin is about to escape with her when the men get more guns.
Mo Yeon drives her car into the warehouse and picks up Shi Jin and the little girl. After zooming off, she's super excited about the adventure and saving the day while a less enthused Shi Jin points out that her planning is mostly terrible and wonders how she got into medical school. The car stalls by the side of the road after Mo Yeon's battering of it and Shi Jin sighs that she's now ruined three cars.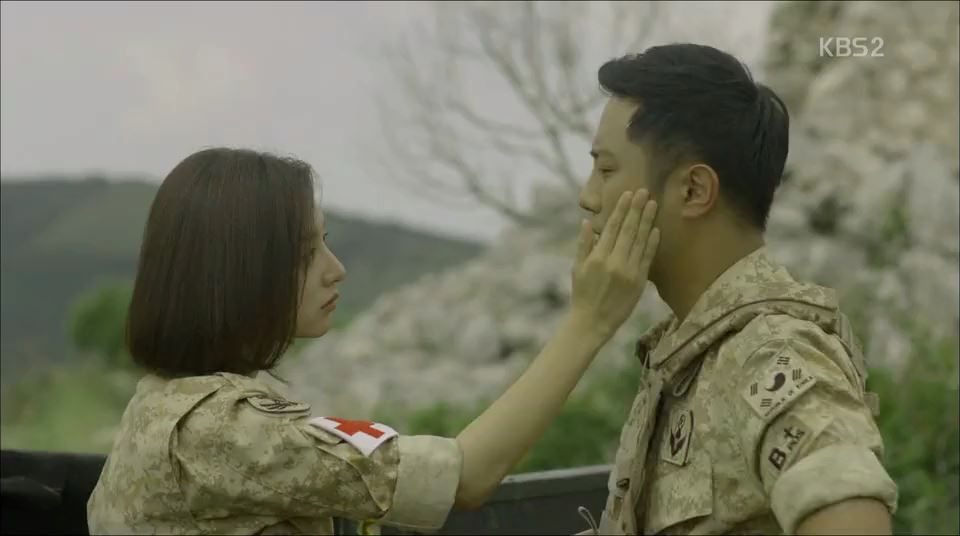 The soldiers are clearing the landmines and Dae Young sees Myung Joo arriving and is upset because he told her to stay away since this area is dangerous. Myung Joo is bored being in a safe zone and orders Dae Young to walk up to her. She applies sunscreen on his face as pure skinship and not a sign that she is forgiving him. Dae Young strokes her hand and then pulls her close despite others being around. She closes her eyes for a kiss and he's about to plant one on her when Shi Jin radios in asking to be picked up.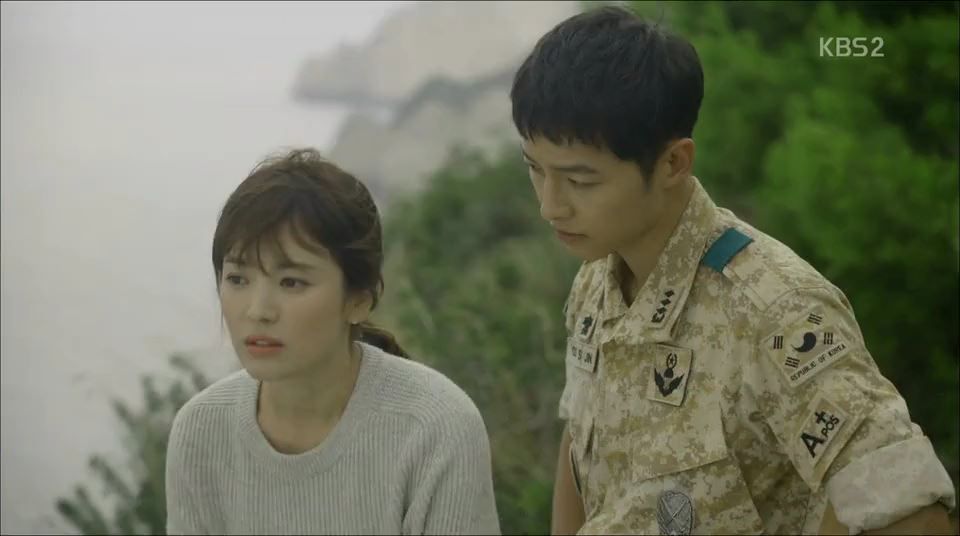 Shi Jin and Mo Yeon wonder why the little girl knew to take only the anesthesia and figure she learned early on what was valuable. Mo Yeon orders her to start going to school from now on, she's willing to pay for school (as a loan) so she wants her to attend. Shi Jin strokes Mo Yeon on the head until she tells him that she didn't wash her hair and then he stops lol.
Mo Yeon is sitting in the dining room air drying her washed hair when Shi Jin joins her. He asks to have ramyun before going to bed and brings out two packs. Ki Bum comes by to take the ramyun to cook for them. Shi Jin tells her that the broken car is getting fixed so now she owes more fees, plus she agreed to pay for the little girl's school, so does she make so much money as a doctor. Shi Jin tells her not to help everyone she meets because she can't change the world but Mo Yeon knows she can change this one little girl's life.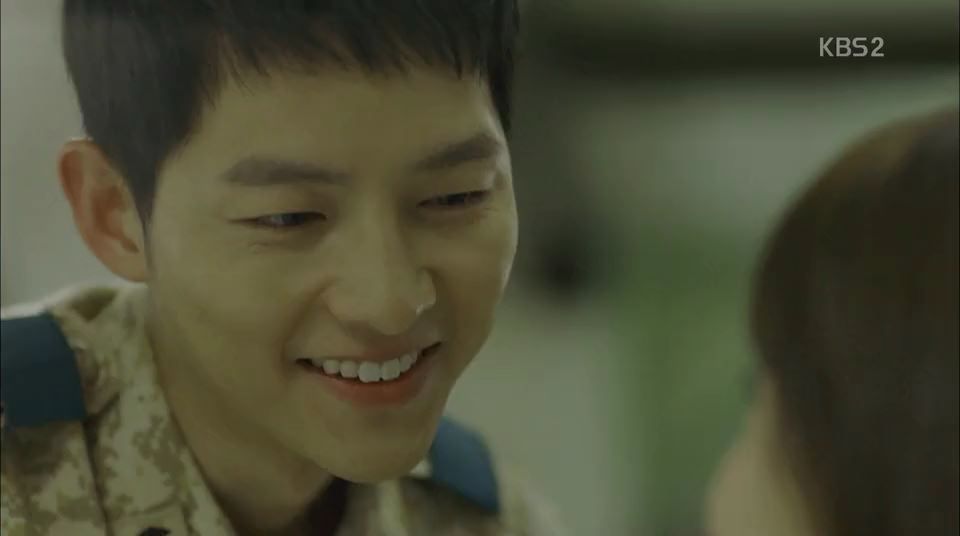 Shi Jin likes her for being this kind of doctor and finds it very attractive but she doesn't need to keep being so attractive because he's already hooked on her. She's happy to hear that because she's a doctor with a lot of debt and is at high risk of being dumped. Their ramyun arrives piping hot.
Shi Jin's idea of a ramyun date is indeed unique when the lights suddenly go out. He has her wear night vision goggles so they can eat the ramyun in the dark and teases that she's totally got the hang of it.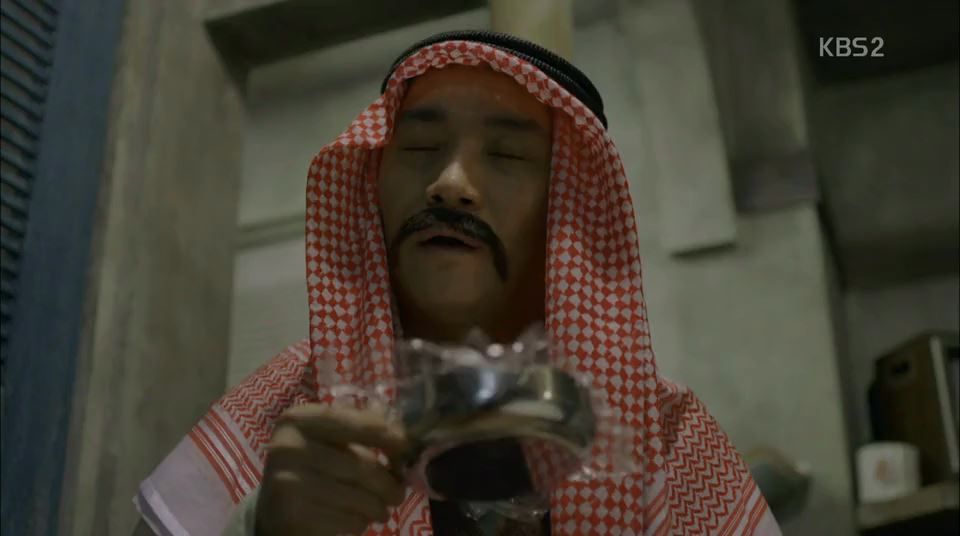 The Manager is hiding in some dingy hotel trying to poop out the diamonds, which is so lol and gross. After the diamond pooping he takes a delivery of a black market fake passport. He then has to re-swallow the diamonds which have been pooped out earlier.
The Manager tries to leave Urk on the fake passport but is arrested at customs. Dae Young and Shi Jin get wind of the arrest are wondering why someone would want the Manager and Min Jae overhears so share what he saw before the earthquake –the Manager hiding diamonds in the office safe and how he was driving himself in the days prior and even had blood on his trouser legs. Dae Young now understands why the Manager kept wanting to get back in the office after the earthquake.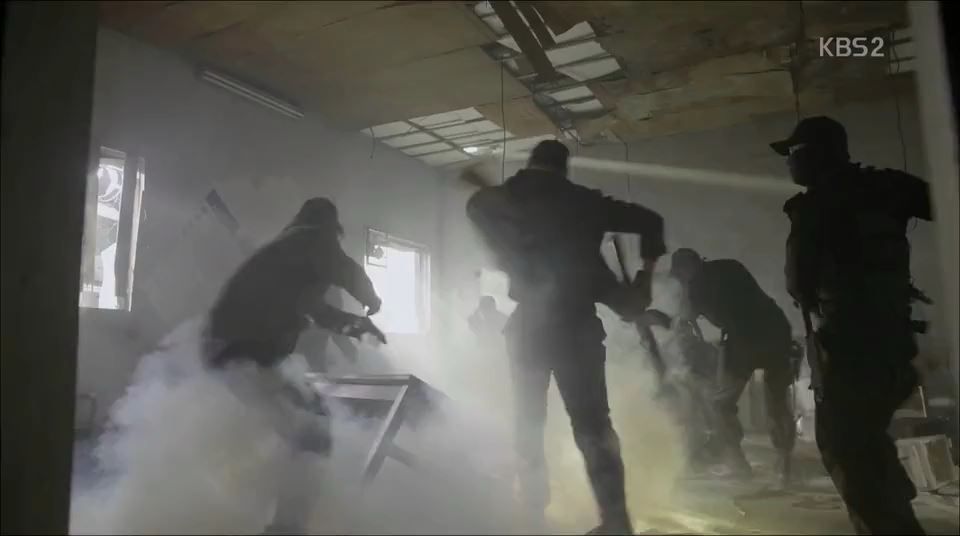 Argus has gotten a hold of the Manager and a strip search does not unearth any diamonds. Argus has him tied to a table and is about to disembowel him when Shi Jin and his team stage a covert black ops rescue.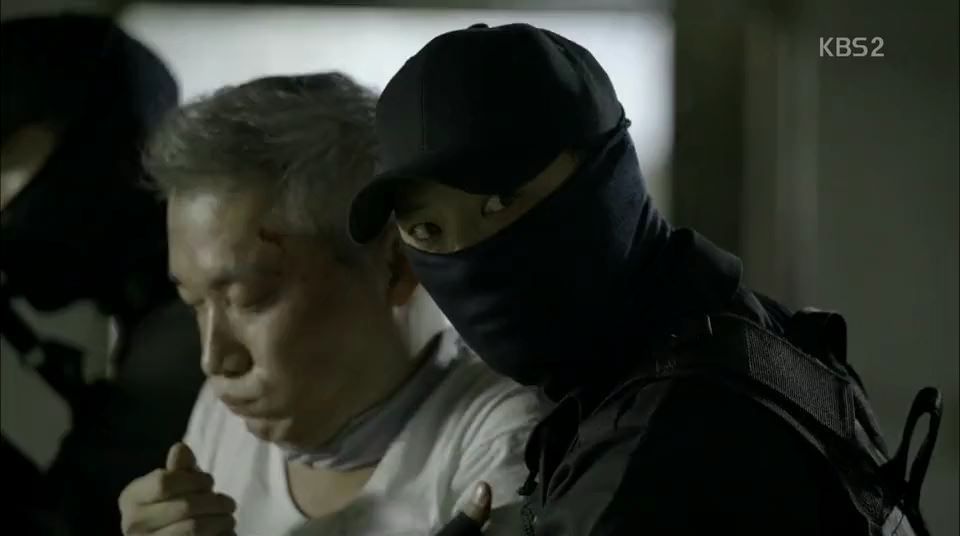 Argus is trying to escape when Shi Jin locks target directly on his forehead. He orders Argus not to move and removes his face cover. All of Argus's men are rounded up. Shi Jin tells his men to let everyone go and they will only take their citizen who has committed a crime. They take the Manager and leave behind a very pissed off Argus.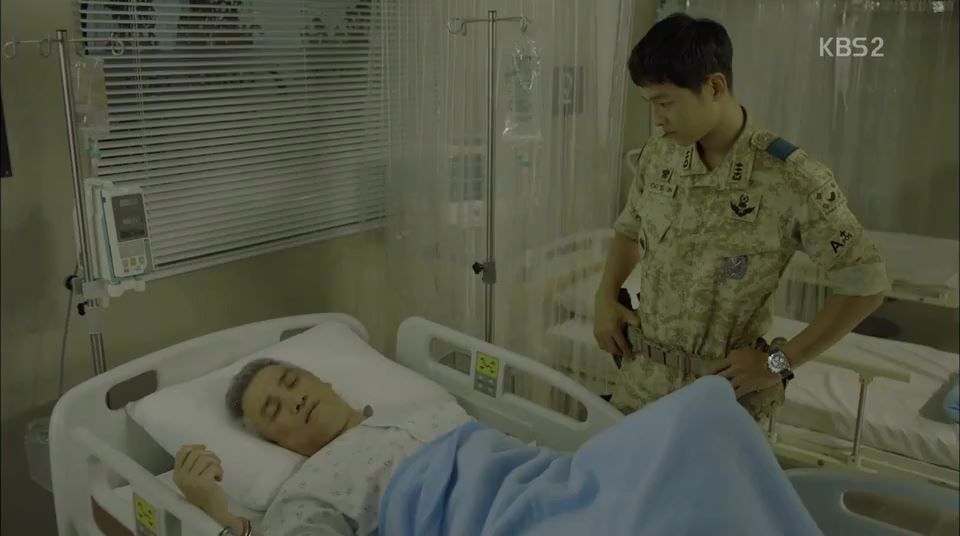 The Manager is handcuffed to a hospital bed and still refusing to admit to the diamonds. Shi Jin tells him to wise up otherwise he'll give him back to Argus. Mo Yeon arrives with an X-ray of the Manager showing that he's swallowed the diamonds. They think he's faking being sick until he coughs up blood which indicate the diamonds are likely causing internal bleeding.
Mo Yeon and Myung Joo operate on the Manager to retrieve what are now genuine blood diamonds. It's a pretty bloody operation until they get inside and realize it's not the diamonds causing internal bleeding but a highly virulent infectious disease M. Mo Yeon orders everyone out of the operating room but herself and Myung Joo because the Manager's blood has spurted on them already.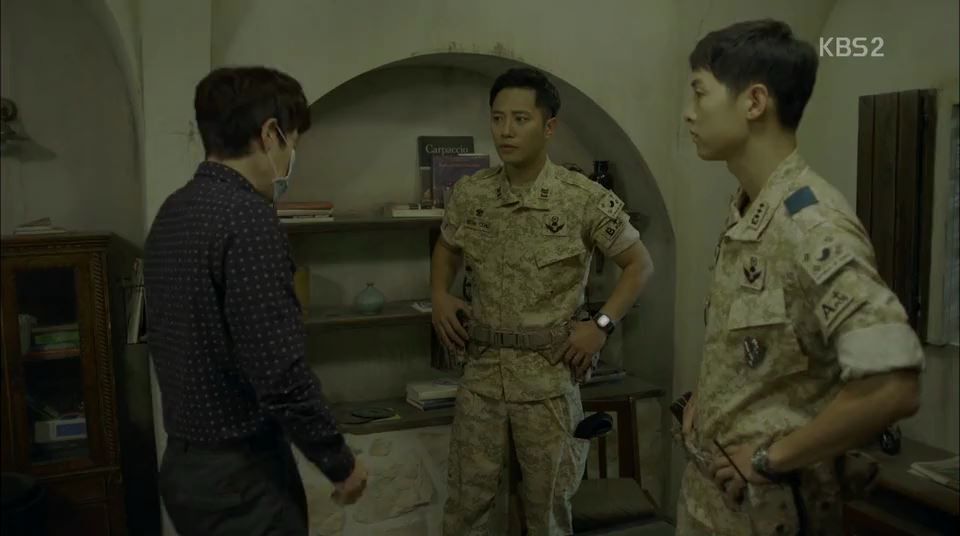 Dae Young and Shi Jin are updated on the situation by Dr. Song, who is himself sick with a cold and that's why he wasn't in the OR earlier. He explains that it can be M2 or M3 strain, one is more curable and the other is equivalent to Ebola.
Dae Young and Shi Jin rush to the OR and find Myung Joo and Mo Yeon quarantined inside. Mo Yeon assure them that it's too early for either to manifest symptoms and Myung Joo is happy that the guys rushed here faster than when they were trying to waylay the package.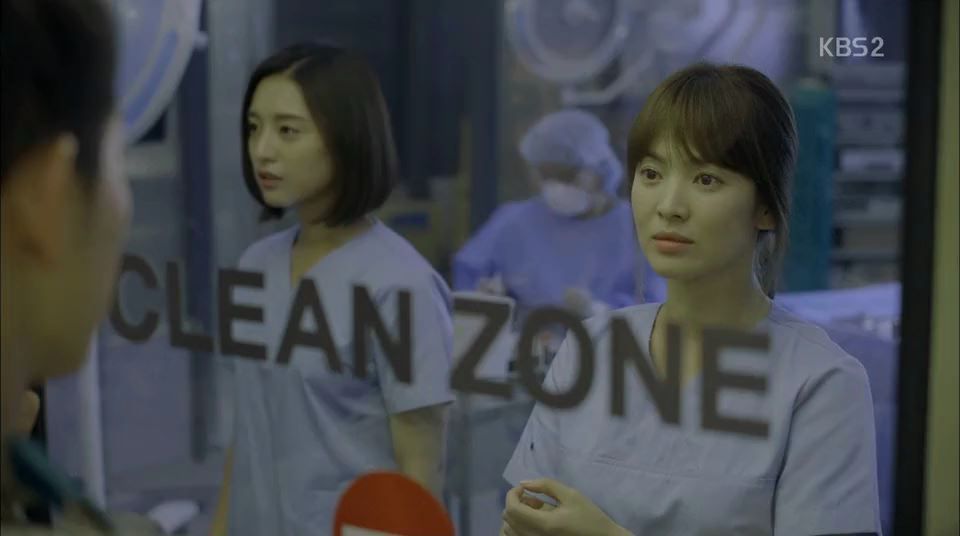 Shi Jin asks Mo Yeon what he can do for her. She wants to know who wrote the note about Shi Jin oppa and he honestly answers that it's the girl on the right who is very good at aegyo. Nurse Ha takes both Myung Joo and Mo Yeon's blood samples and Dae Young offers to rush it over to the US military base with the facility to test it. They turn it over to the US special forces commander who did the Afghanistan mission with them.
The results are back in and the Manager does have the virulent M3 strain. But only one of the two doctors have tested positive to being exposed to it. Shi Jin asks which one?
Shi Jin and Dae Young rush back to the OR and Dae Young immediately storms inside to pull Myung Joo in for a tight tight hug. She calls him crazy and tries to send him out but he's not letting go of her. Myung Joo's hands fall slack as she realizes that she's been infected.
Thoughts of Mine: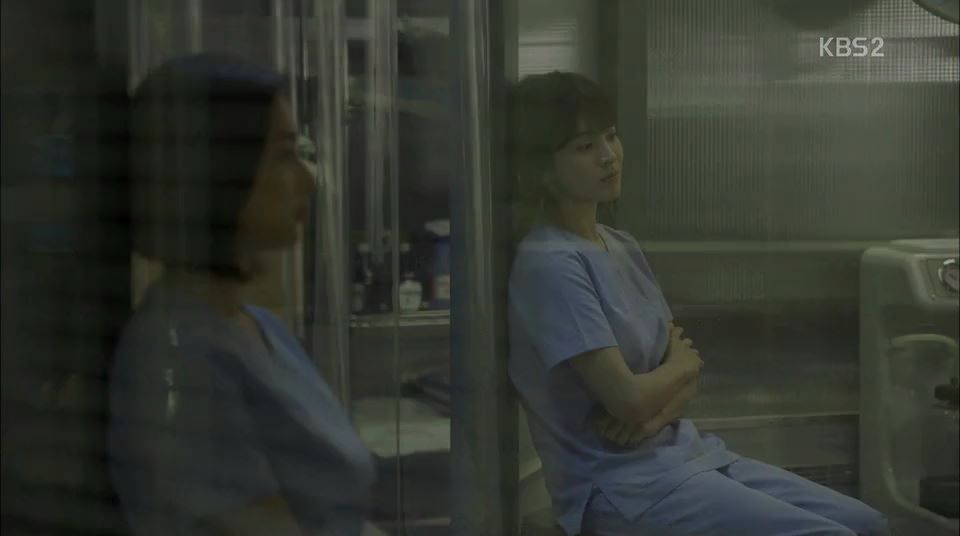 I suppose it's to be expected that the story would tackle an infectious disease scenario, especially in a third world country disaster zone, but I was quite impressed with how smoothly the narrative flowed into it. With the diamond smuggling Manager I thought he would be collateral damage or have a blood diamond induced mess in his intestines, to have him be a carrier of a fictional virulent strain of deadly infection raises the odds just like that. It works for Myung Joo to be infected to make her story with Dae Young suddenly higher in stakes. Not every bad thing needs to happen to Mo Yeon and Shi Jin, and with this turn of events Dae Young can truly cast any linger doubts aside and zero in on what is most important to him. Both soldiers are 100% committed to their lady loves but their loyalty above that is to duty, so I wonder what Dae Young is willing to do to save Myung Joo's life, if there is something he can even do since he can't defeat a virus. I think the Manager will die soon making it clear that M3 is an enemy scarier than any the Alpha Team dynamic duo has ever faced.
This episode ended on such an intense worrying moment it took me a moment to rewind back so I could write about the lighter moments. The care package debacle was brilliant, I laughed through every second of it and can't wait to watch it again. From Dae Young and Shi Jin's millisecond response time when they heard the name of the sender to how they ran faster than the wind (past saluting comrades like they were being sent to the gallows), the two men tapped into every ounce of their military training to avert the disaster of angry girlfriends. It's only Myung Joo being equally quick to react that the ladies got to partake of a flirty care package from a flight attendant admirer sent to Dae Young, with a side note about Shi Jin. I love how Kim Eun Sook has brought in so many earlier moments to close the loop, now we know that Dae Young and Shi Jin did meet cute flight attendants like Dae Young promised if Shi Jin didn't answer Myung Joo's call. Shi Jin trying to smooth talk his way out of the mess contrasted with Dae Young's wide eyed terror, and how they couldn't even get their story straight, it's all so entertaining and a great balance of levity to the serious stuff.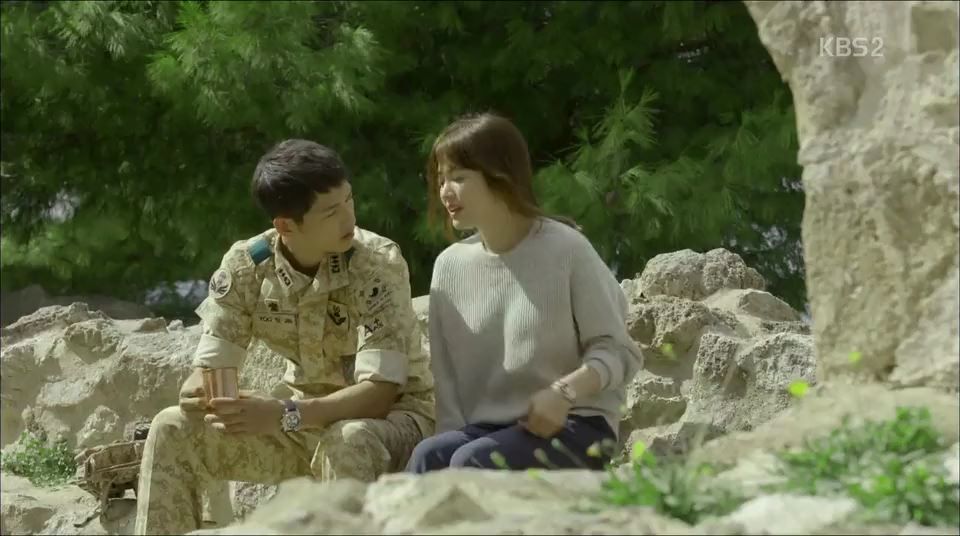 I was less impressed with the side story of the child trafficking, it was realistically presented in that I could totally imagine it happening in Urk, it's the individual elements that didn't feel as seamlessly packaged together. It was nice to see Mo Yeon take the little girl under her wing and want to help, showing her true colors as a giving person despite all her claims to being a doctor just to make lots of money. I don't have a problem with that either but no one is that one dimensional, and the same goes for Shi Jin, I think he feels a sense of obligation to serve but I can't get but feel that he also loves the challenge and thrill of the fight. Being born into a military family, Shi Jin and Myung Joo wear their soldier stripes like second skin, at ease with joking as with snapping to attention, but Dae Young is always on like the enlisted soldier who is constantly aware of his station. Maybe General Yoon will rethink his requirement for Dae Young to leave the military after Myung Joo falls sick, maybe his dream for her to ascend the ranks means making sure she's got the best husband protection around that can be found.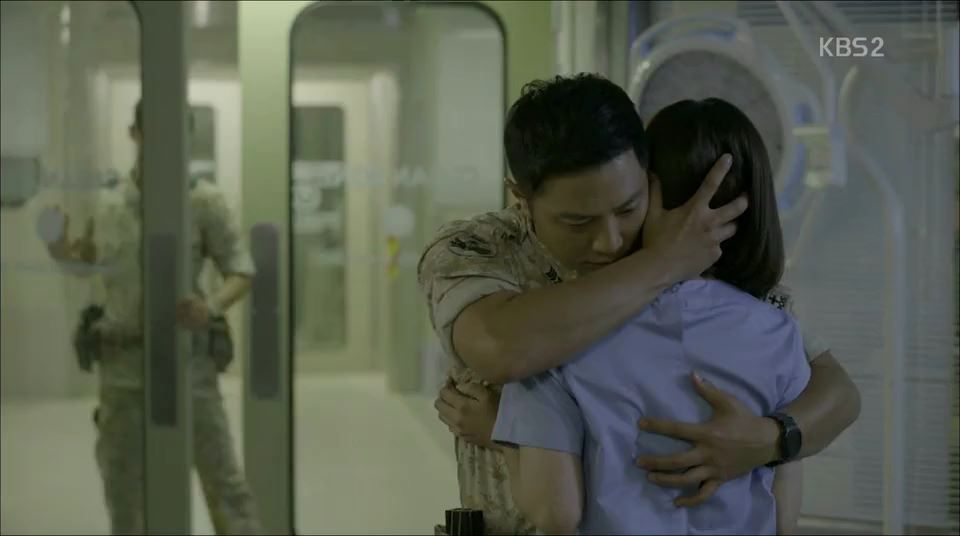 I really had a lot of doubts when I first heard of Descendants of the Sun, even more than when Kim Eun Sook announced high school rich kids drama Heirs. That just sounded silly but DotS seemed impossible to pull off. A drama filmed almost entirely overseas, about military endeavors and medical missions, in an area besieged by conflict and natural disaster – all of that added up to needing a huge budget and a capable production crew to tackle. Ten episodes in DotS has surpassed my admittedly low expectations, but beyond that it's made me happy as a viewer. It's so easy to watch and the cheesy parts are oddly endearing to me, likely because it's done a touch tongue in cheek and self aware. The leads aren't perfectly professional as their professions would require, Shi Jin is too jokey, Mo Yeon prone to childish moments, Myung Joo too man crazy, and Dae Young all work and no play. But these flaws actually humanize these characters for me and make the outlandish situation somehow workable in context. I'm so worried for Myung Joo's health but an looking forward to see how the secondary couple deals with a genuine threat to their love for each other.
Click here to watch Descendants of the Sun.