What a roaring return to form for Descendants of the Sun in this fantastic episode 12, putting to rest my worries from the last episode and delivering more than I hoped for. The Argus arc mercifully comes to a swift resolution, and while his villain character was never fleshed out at least Shi Jin's emotional response feels real and gives this story line the depth it needs to be worth the while. The rescue may be perfunctory but gave Mo Yeon the eyewitness insight into Shi Jin's world and this time her conclusion makes me want to give her a high five.
Episode 12 may have wrapped up the Urk sojourn so it's fitting that a lot of time is spent on vistas and interesting locales, showing off that every penny used for overseas filming went to good use. Both sets of main couples make happy breakthroughs but not without some typical inadvertent jealous bantering, while all the side characters wrap up their own issues to ready for the trip back to Seoul. There's still four more episodes left but Urk has run its natural story line course and I'm ready to head back to Korea for a different set of hijinks. Hopefully it involves Mo Yeon and Shi Jin finally getting to watch a movie together, among other more standard couply activities.
Episode 12 recap: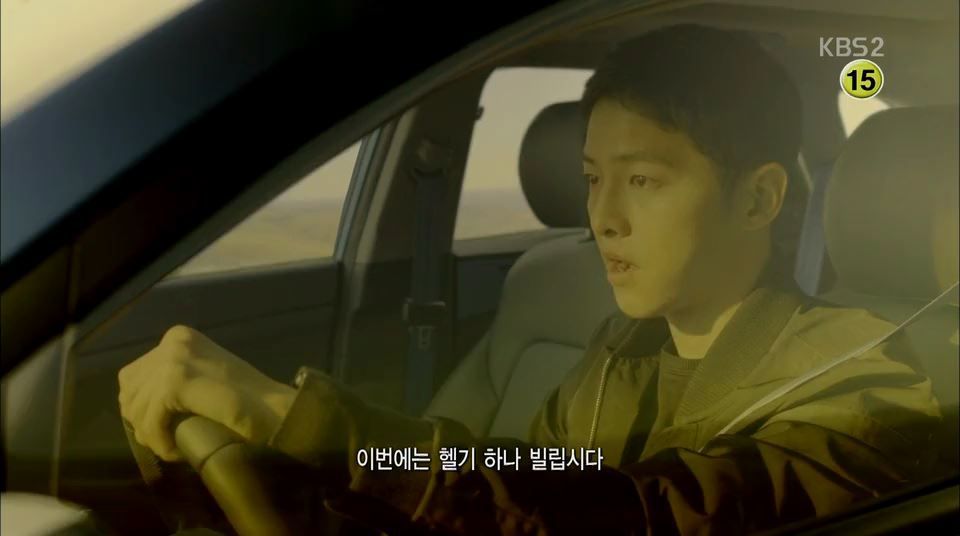 Mo Yeon gets herself kidnapped by Argus, and I know she's not all at fault but a bit more savvy in a third world country would be prudent. Shi Jin sets off to rescue her in a solo operation, but he comes prepared by calling in favor for a chopper from the VIP patient Mo Yeon saved earlier.
Myung Joo is recovering nicely in the hospital and wakes up to see Dae Young looming over her. He's relieved to hear she's getting better and astute Myung Joo wonders why he's dressed in black ops gear. Dae Young explains that he can't get a hold of Shi Jin or Mo Yeon and believes she's in danger and he's gone on a rogue operation.
Dae Young asks for a present from Myung Joo, leaning in to kiss her on the forehead, before dropping his dog tag in her hand. Myung Joo holds back her tears and asks only that he come back alive.
Dae Young assembles three of his Alpha Team subordinates and explains that this is a black ops mission. They suit up, grab their gear, and set off.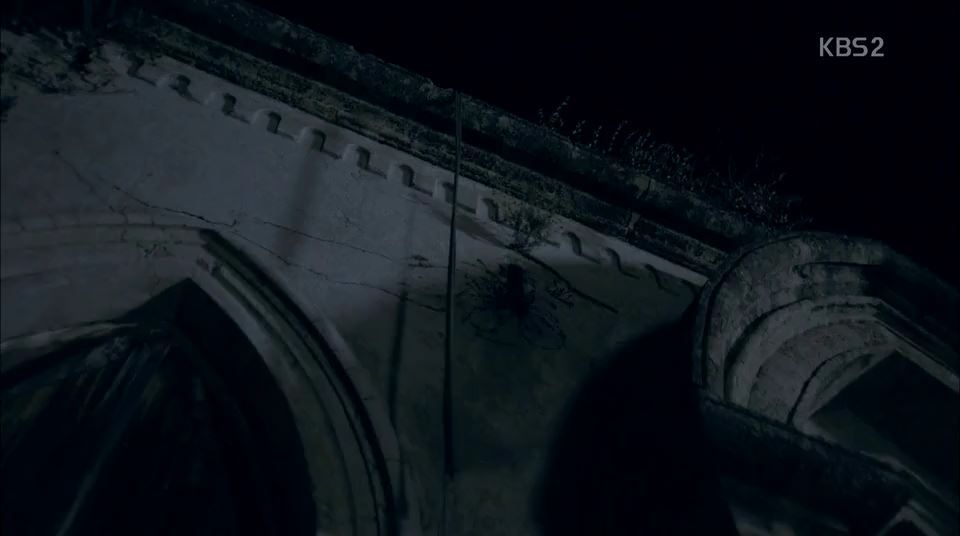 Shi Jin arrives at the residence where Argus has stashed Mo Yeon and makes his way in after easily subduing Argus's minion stationed outside.
Shi Jin takes down one man after another and chances upon a group of smuggled kids locked in a room. He shoots down a CCTV camera.
Argus gets confirmation that the wire transfer has gone through and he's super stoked about being rich now. He takes the diamonds out of a safe and is asked about the kids locked up and what to do with them. He callously answers that things they can't take with them need to be discarded.
Shi Jin is powering through the facility and cornered by one minion who orders him to drop his gun. He does so and is about to be shot when Dae Young and his arriving backup shoot the man first. Dae Young is upset Shi Jin went solo without asking for their help but they are here now. Shi Jin orders two soldiers to save the kids and take them to safety now, while Dae Young and Sargent Choi stay with him to rescue the hostage.
General Yoo sits in a meeting back in Seoul looking very concerned. He's getting chewed out by the Blue House aide for Shi Jin's rescue mission but General Yoo sticks up for the decision to save a citizen of South Korea. The aide wants to leave the rescuing to the US forces and they handle it diplomatically. General Yoo gets pissed and calls him a politician, explaining that this isn't about diplomacy as his men are doing their jobs to protect the country and its citizens. He will now take responsibility for anything that happens. If it's doing something honorable then he can even take off his soldier uniform for this. Booyah!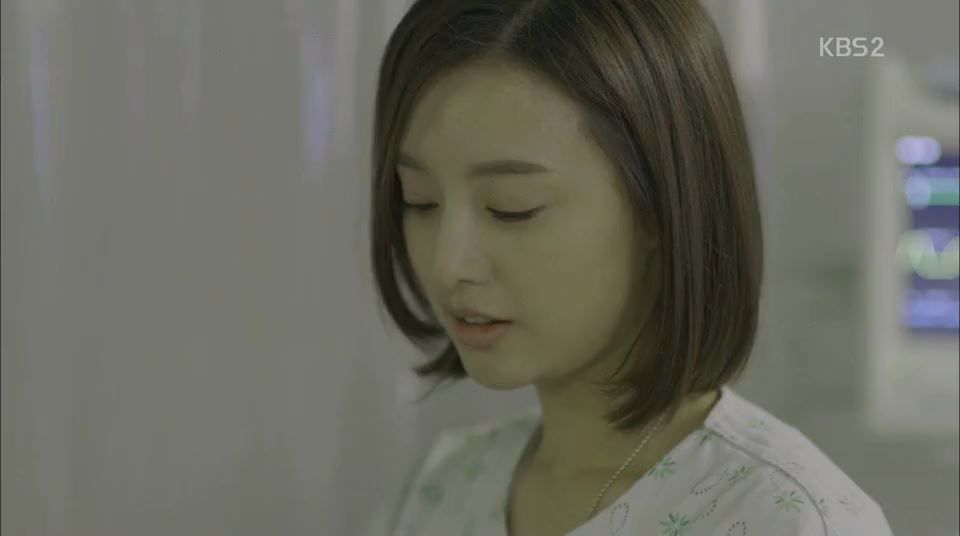 Myung Joo is being tended to by Ki Bum bringing food and Dr. Song and Nurse Ha checking on her. Dr. Song asks about Mo Yeon and whether she's really been kidnapped? Myung Joo assures them that Mo Yeon will be returned safely but she can't divulge the method.
Argus is checking out Mo Yeon all tied up and giddily announces that time's up, wondering if Shi Jin will keep his promise. He takes Mo Yeon with him to head up and encounters Shi Jin waiting for him. Shi Jin has Argus's escape route readied and Argus expected that but didn't think Shi Jin would come personally. Shi Jin tells Argus to let Mo Yeon go and then angrily draws his gun when he sees Mo Yeon has an injury to her face.
Shi Jin calls his backup to ready and we see Dae Young and Sargent Choi outside as sharpshooters. He then orders them to stand down when he sees that Mo Yeon is wearing a bomb vest and Argus has the detonator in his hand.
The sound of a chopper arriving has Shi Jin and Argus negotiating on releasing Mo Yeon now, which Argus refuses to go until he's safe but Shi Jin won't let the chopper land unless she's released.
Shi Jin and Dae Young speak in Korean about the bomb, with Dae Young asking Shi Jin to delay. Argus asks Mo Yeon to translate and she says they are talking about the weather which pisses Argus off and he points his gun at her head. Shi Jin shoots that gun and Argus calls him insane. Shi Jin orders Argus not to do anything to Mo Yeon because his target is Shi Jin. He is willing to be the hostage in lieu of Mo Yeon but Argus refuses.
Dae Young tells Shi Jin where the bomb connection is on the device. Shi Jin lowers his gun and apologizes to Mo Yeon for coming late. He asks her not to move and trust him. Shi Jin raises his gun and fires at Mo Yeon, shooting off the detonator on her vest in a perfect shot. Dae Young and Sargent Choi take out the other minions and Shi Jin also keeps shooting.
Sargent Choi gets to work trying to disarm the bomb while Mo Yeon tries to remain calm. Shi Jin explains that he's never seen Sargent Choi be unable to disarm a bomb and is the best expert in the Korean Army. He promises that Mo Yeon won't die but the time ticks down to 30 seconds so she wants them to move away from her.
Sargent Choi disarms the bomb and throws it out the window where it explodes dramatically. Shot but not dead Argus gets back up and fires towards Shi Jin so he shields Mo Yeon from the gunfire. Shi Jin covers Mo Yeon's eyes with one hand as his other hand fires towards Argus and kills him
.

Shi Jin and Mo Yeon are on their way back to the army base and he reports back in that the hostage is safe. He's willing to accept any punishment. General Yoo tells Shi Jin that he did a good job and there will be no punishment. General Yoo is willing to take all responsibility so the aide orders his men to write a report and mete out punishment.
The President arrives and the aide tries to explain that the soldiers acted out of protocol and went on a solo rescue mission. The President asks General Yoo what happened and hears that he's willing to take responsibility. The President says there is no responsibility as the hostage was rescued and as the President he'll handle the political fallout as that's his job. The President thanks General Yoo and his men for saving a citizen of the country and asks that all soldiers return home alive.
Myung Joo hears a noise and pulls off her IV to run out of the hospital room. She nearly stumbles and is caught by the returning Dae Young. Umf, so smexy! They dramatically stare at each other.
Mo Yeon finds Shi Jin brooding by the ruins staring at the old picture of him and Argus as comrades-in-arms. Shi Jin pulls out a lighter and burns the picture.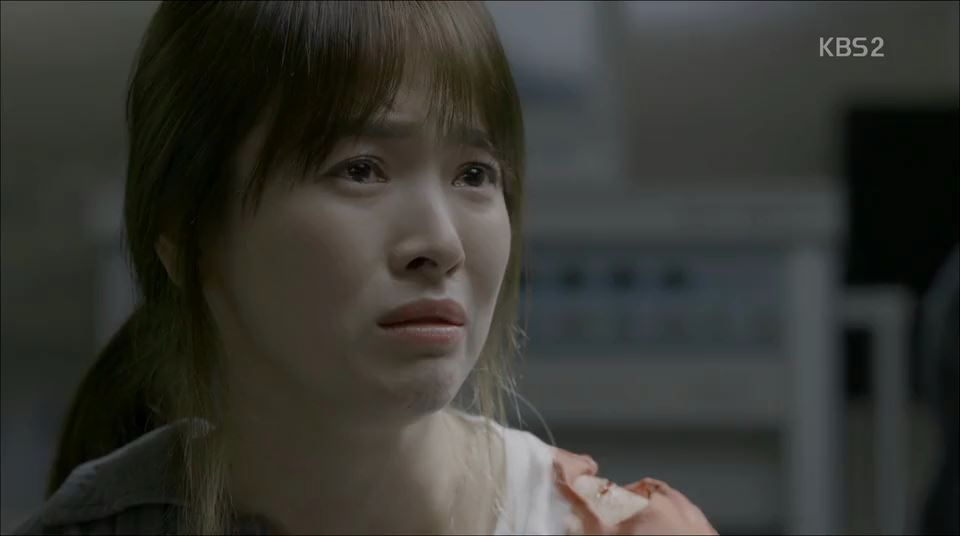 Nurse Ha and Dr. Song tends to Mo Yeon's shoulder bullet wound but she loses it and starts sobbing. They know she's been through a lot and assure her that they are there for her.
The soldiers are out on their shirtless morning jog and this time they wave back at the admiring females. Dr. Song gets so jealous he pulls Nurse Ha aside and runs out to summon Dae Young back to question their lack of propriety in jogging shirtless. Dae Young just chuckles and gives him a reassuring pat.
Mo Yeon and Shi Jin encounter each other outside and he asks about wound while she hears that the little girl is safe and being taken care of. Mo Yeon calls out Shi Jin for not telling her the truth, he said the kids from the village were safe yet they were locked up in the house by Argus. Shi Jin apologizes for lying and did so to not worry her.
Mo Yeon asks what else he's lied about so she's not worried? Shi Jin thinks about his lies on his gunshot wound and other times and claims he's never lied to her about anything else. Mo Yeon calls him a liar to his face because his lies are so big but she couldn't use it as a reason to break up type lie. And he lies because there is danger behind those lies and things that can't be made public, which he glosses over by joking all the time. And if they continue will they one day have nothing to say to each other left?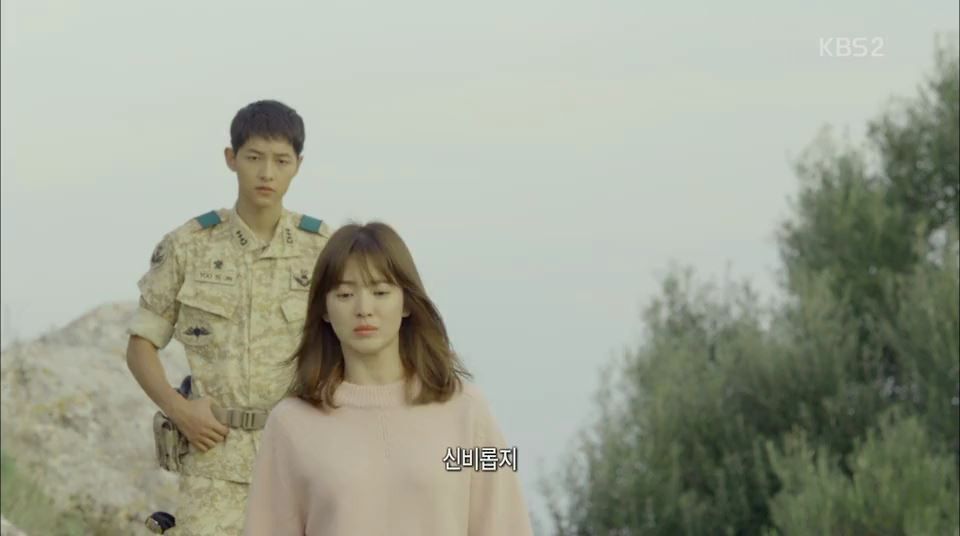 Mo Yeon cries as she explains her day back in Seoul, getting annoyed and upset at people over mundane things. When she's with him she wants to talk about insignificant things that happened to her and Shi Jin tells her that he wants to hear about those things. Mo Yeon knows that he wants to listen but she can't bring herself to talk about those things to a man who lives on the precipice of life and death. Mo Yeon pauses and then explains that she's thinking about whether Shi Jin is a man that she can handle, i.e. have the capacity to be with. Mo Yeon walks away leaving Shi Jin brooding over such a heavy and valid concern.
Shi Jin goes to send off Argus's coffin as its being shipped off. The US special forces thanks Shi Jin for giving him hundreds of new reports to write, but it's something he's happy with because it's worth the price for lives saved. They glance towards Argus's coffin and mourn a man who has no country to go back to even in death. The commander bids Shi Jin farewell with an admonition to stay alive no matter what.
Mo Yeon meets with the remaining medical staff as they ready for their return to Seoul. Everyone's feeling a bit sad and reluctant to leave.
Mo Yeon leads the team to make one final round in the medical facility and the first stop is Myung Joo's bedside. Mo Yeon is impressed at the speed of her recovery which Myung Joo attributes to being so young. Myung Joo stops Mo Yeon as she's leaving to be her doctor, checking on the shoulder gunshot wound and reminding her to change the bandages and wait two more days to shower. Everyone smiles at the girls finally getting along.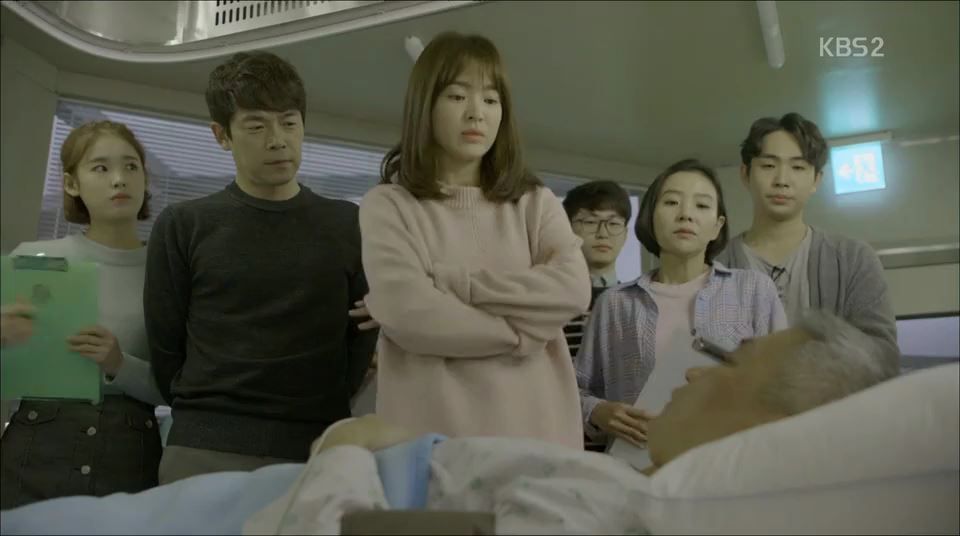 Mo Yeon next stops by the Manager's bedside as he's also pulled through, telling him that once he's recovered he will be sent back to Korea to be prosecuted. He asks about the diamonds and Mo Yeon is happy to tell him that the diamonds have been given to the US.
Mo Yeon goes to check on Min Jae who is all recovered and Ki Bum happens to deliver the test results from Chi Hoon's blood work. Min Jae offers to take it to Chi Hoon with happy results that he's tested negative. Chi Hoon is happy that he's not going to die and Min Jae says he's happy as well that Chi Hoon won't die. He tells Chi Hoon not to say thanks or anymore apologies because Min Jae won't be saying the same back.
Chi Hoon is so happy to finally have all the clouds lifted from his life. He splashes water on his face outside and the little boy he helped earlier comes by to check on him. Chi Hoon gives him a pair of expensive sneakers and the little boy doesn't want it, he wants a goat to raise. Chi Hoon doesn't understand and just gives him a hug.
Mo Yeon can't stop reliving the memory of Argus shooting at her and Shi Jin and how Shi Jin shielded her from danger. She also remembers him burning the picture that he took with Argus before breaking down in tears. Mo Yeon also remembers Shi Jin crying as he was shooting Argus while shielding her eyes so she walks over to reach out her hand to cover Shi Jin as he sobs.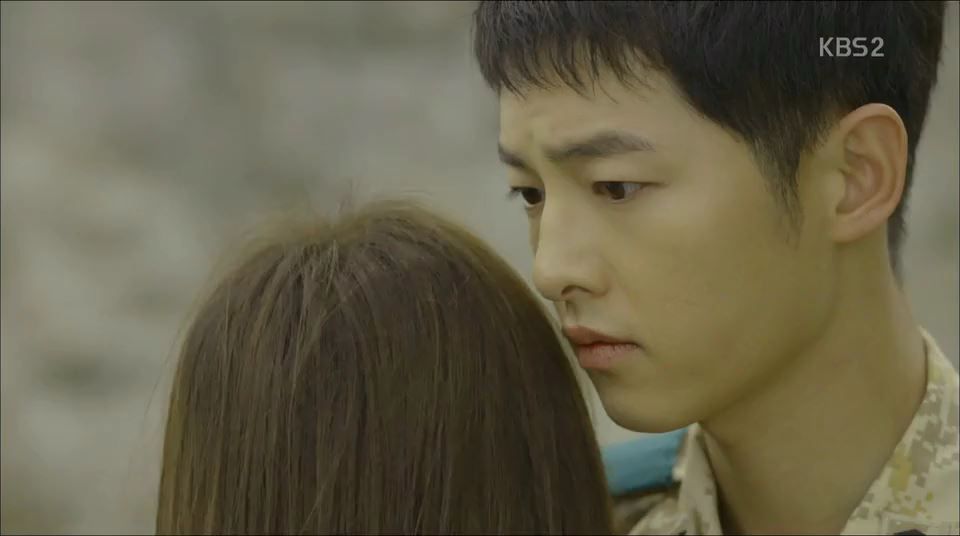 Mo Yeon washes the tears off her face and invites the arriving Shi Jin to coffee. He brings two cups outside and offers Mo Yeon her cup but she walks past his hand to grab him in a tight embrace. Awwwwww. Shi Jin stands there getting a much needed hug and listening to what Mo Yeon has to say. Mo Yeon did her rounds before he got here and saw that Myung Joo is getting better so that made her happy. She was looking for a rubber band to tie her hair up but couldn't find one. These are the little things she wants to share with him, because she wants to take the chance to get used to his life.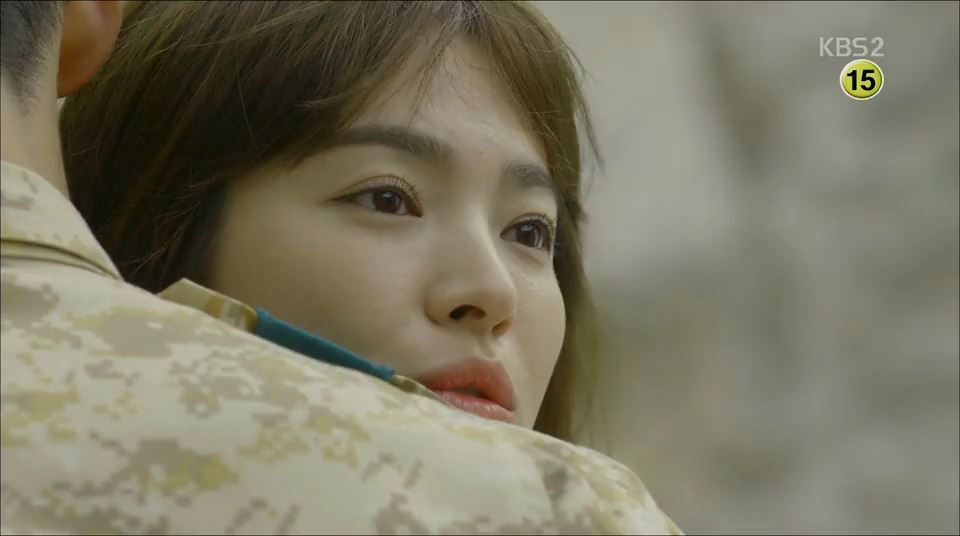 Mo Yeon asks that he not lie to her when it's a life or death situation but on other matters she'll let slide. If he tells her that he's going to the department store then she'll know he's off on a mission and she'll tell him to work hard and be safe. She asks that he also get used to her nagging and worried about him, and give her that chance to be concerned. Shi Jin can only nod to everything she's asking.
Mo Yeon then steps back and asks one final question – does he love her or love his country? Ha, such a trick question, and even Mo Yeon knows it as she tells him to answer carefully. Shi Jin just pulls Mo Yeon in for a hug and promises not to worry her. He calls her cute and she sasses back that she knows it. They hug each other tightly.
Myung Joo is checking out of the medical facility and finds herself really hungry now. She wants bbq and soju and all sorts of delicious foods. Myung Joo takes off Dae Young's dog tag and puts it around his neck. She smiles and says "I love you" and he smiles back at her.
Ki Bum is in charge and directing Dae Young and Shi Jin on preparing a dinner for their girlfriends. The men ladle out their hand cooked meals and place it before Myung Joo and Mo Yeon. The ladies are impressed with how tasty the food is.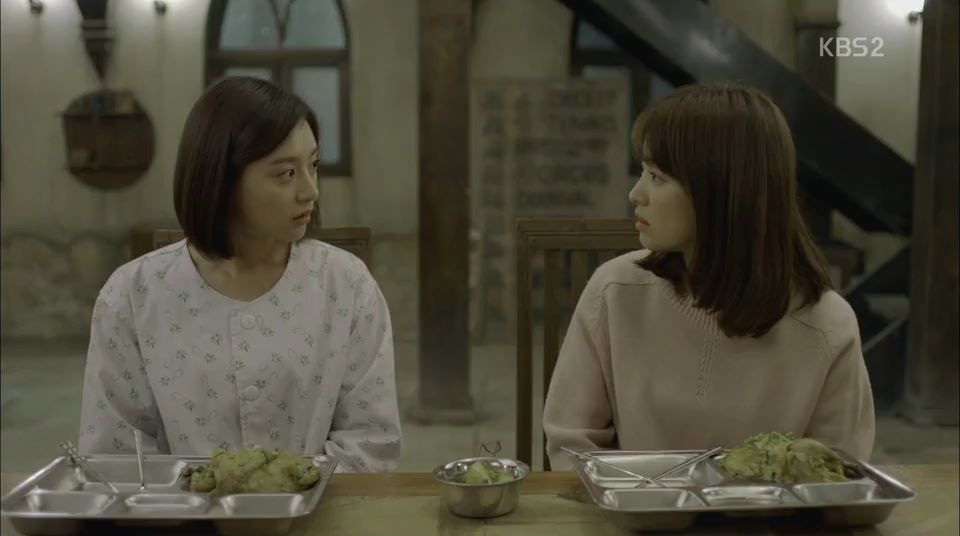 The chicken soup brings back a memory to Myung Joo about eating it in med school, and triggers a memory in Mo Yeon who brings up how Myung Joo had chicken soup with their medical school sunbae. Myung Joo wonders why Mo Yeon is still upset about that, it was the sunbae who followed her to the restaurant wanting to talk, and he claimed to be just classmates with Mo Yeon. She says they were flirting and went to dinners in April. Myung Joo says she dined with him in March so Mo Yeon clarifies she meant April from the year before.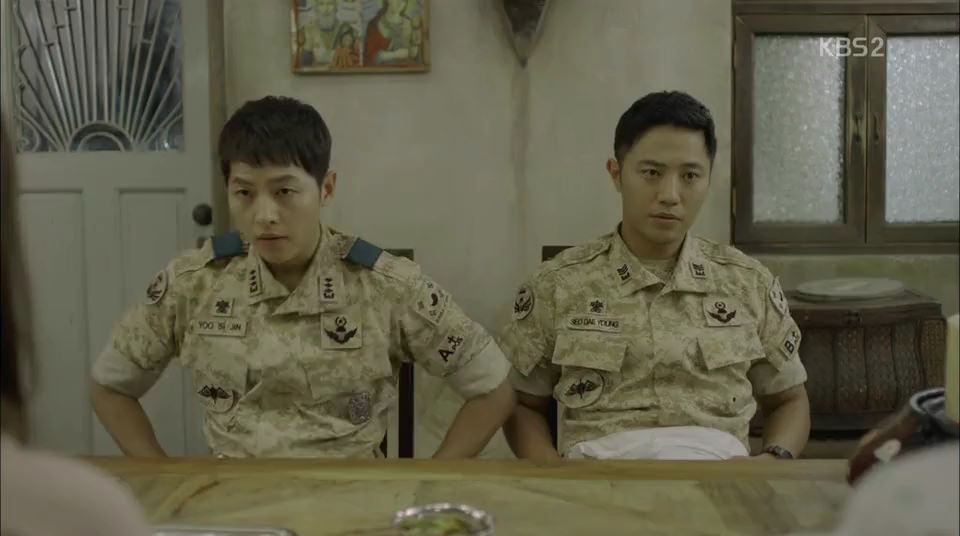 The two girls stop bickering when they realize their boyfriends are sitting across from them looking very stern. The guys finally understand why Mo Yeon and Myung Joo don't get along, and now Shi Jin wants to meet this medical school sunbae (I bet money it's Yoo Ah In's cameo role lol). Myung Joo and Mo Yeon are all contrite and claim it's a misunderstanding.
Shi Jin can't believe Mo Yeon would get so mad at him over a picture and here she is having a backup option. Dae Young can't believe that medical school sunbae is so good at playing women to line up replacements, makes him want to kill the bastard. Shi Jin and Dae Young toss their aprons aside and walk off to plan their attack operations on the sunbae. Myung Joo and Mo Yeon are upset at how they went back to discussing the past. Myung Joo thinks Mo Yeon is worse off since all she needs to do is pretend to be sick and Dae Young will stop being mad.
Mo Yeon pretends to be sick when she goes to see Shi Jin but he can tell she's faking it. In fact she looks rosy cheeked probably because she's thinking of that oppa. Mo Yeon decides to go with it and takes out her phone to call the oppa and hear his voice. Shi Jin warns her not to call and tries to take the phone away. Mo Yeon tells Shi Jin to hear her well, of all the men in the world the one she likes is Yoo Shi Jin. For him she's almost died many times, that's how much she likes him. To her, everything about him is attractive.
Shi Jin and Mo Yeon are wondering what to do about the little girl and Shi Jin suggests putting her in the care of the waitress as the guardian. He trusts that she can help the little girl and she agrees, thanking him for being a good patron and wishing him well heading back to Korea. Mo Yeon asks the little girl for her contact information but she doesn't want to give it. The little girl thanks Mo Yeon for everything she's done and Mo Yeon wonders how she'll be when she's all grown up.
Shi Jin and Mo Yeon take in the view from the rooftop and the sun dappled city is breathtaking. Mo Yeon can't wait to go home and take a hot bath and asks what Shi Jin is looking forward to. He teases that he wants to see her doing that and then get serious that they need finally watch that movie.
Shi Jin tells Mo Yeon that he'll see her back in Korea but she's not to have dinner with the hospital Managing Director or start flirting with the medical school sunbae. He tosses the rock from the island into Mo Yeon's hands and she's so surprised he's kept it this whole time. He asks Mo Yeon to hold the rock and see if she returns one day.
Shi Jin reaches out to take Mo Yeon's hand and they smile at each other. The camera pans across to them kissing.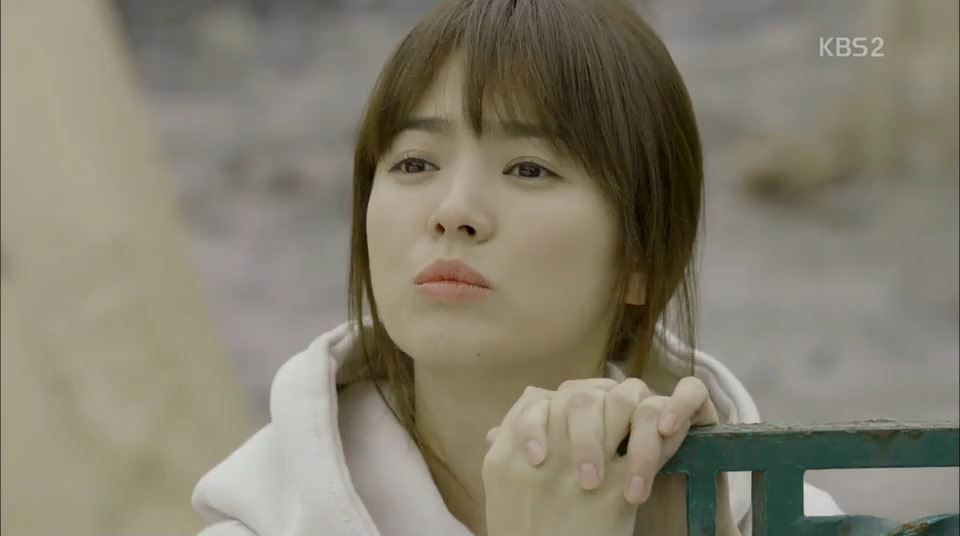 The ladies admire the morning jog shirtless soldiers one more time and notice one unfamiliar physique which turns out to be shirtless Dr. Song jogging at the front of the pack lol. It's his surprise to Nurse Ha and quite adorable. Min Ji asks why she can't just date him now and Nurse Ha quickly takes off. Min Ji wonders if she said anything wrong but Mo Yeon assures her it's fine.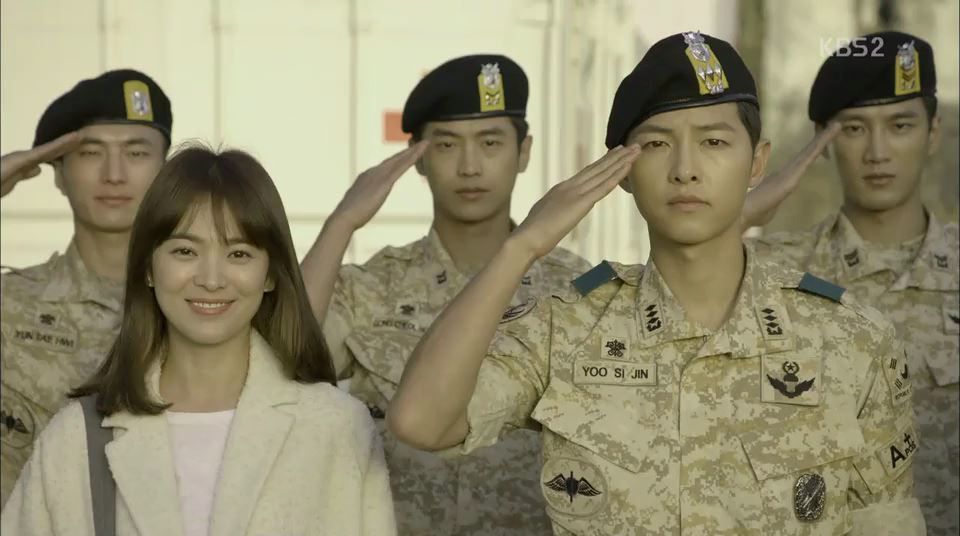 The medical team waits outside for departure and watches as the Korean flag is raised over the clock tower. Mo Yeon remembers the aftermath of the Urk earthquake and everything they did as medical personnel to save lives. The soldiers walk out and everyone lines up to snap a picture.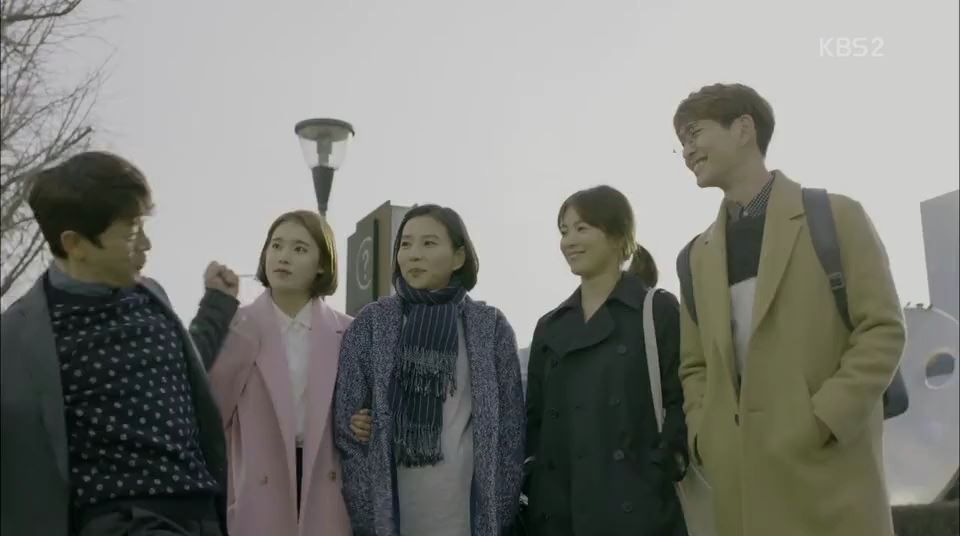 Mo Yeon is back in Seoul now and meets up with Nurse Ha as they arrive to the hospital for work, joined by Chi Hoon and Min Ji and finally Dr. Song. The team is back together and stand outside the hospital wondering what lays in store for them.
Thoughts of Mine:
A big sigh of relief to start off this section, thank goodness this episode went back to all the things that work so well in this drama. Shi Jin's big rescue of Mo Yeon and the smuggled kids was as simplistic in action execution as to be expected but done with just the right amount of sleek confidence it sells the situation. I'm not upset Shi Jin broke protocol to rescue Mo Yeon, it wasn't just that she was his beloved, I see him as also being more willing to question authority when it stems from political underpinnings. He's loyal as a soldier but isn't a political chess piece, so this solo rescue mission fits into his MO. It's nice that he has such capable Alpha Team comrades who have his back, and come equipped with expert skills in sharpshooting and bomb defusing. The drama makes everyone larger than life in ability and personality, which fits in the exotica of Urk and the world of special forces, but sometimes seems silly in medicine just to create angst. At least this episode was less doctoring hence less head desking. I've never liked a character as much as I like Chi Hoon while simultaneously rolling my eyes at his entire story arc.
It's been a long trek to see Mo Yeon go from attracted to Shi Jin to agreeing to be with him knowing the entire heavy package that comes along with. Her conversation with him was lovely, just candor and respect and sincerity, she laid out her worries but put forth what she wants from him to make it work. It's not too idealistic, yet she's being optimistic. If Shi Jin dies I think she won't regret loving him no matter how much it hurts. Sometimes we just need to love and live rather than passively keeping ourselves from the prospect of heart break. The rescue operation was nothing special other than the last scene when Shi Jin shot Argus while crying and shielding Mo Yeon's eyes. That was nicely framed and delivered, making Shi Jin human in a moment when he's being super soldier yet feeling the emotions of death from his hands. That Mo Yeon was there alongside likely gave her the full picture she needed to make her decision, she can be told how dangerous Shi Jin lives but seeing it is a different story. Myung Joo can love Dae Young without reservation because she's a trained soldier who also lives in the same world, for Mo Yeon it really is like going into a different dimension where guns are aplenty and people rappel out of helicopters. I'm happy that the couple chose each other under such open circumstances, now it's just onwards to getting Shi Jin a new job that doesn't involve black ops missions.
My favorite scenes in this episode were, of course, the dinner scene when two incredible capable soldiers watch their lady loves bicker because of a past beef over a man. All four are such quick to jealousy types, which makes the passion burn bright for a fun dramatic watch, but likely will get tiring soon in real life. It's cute how the tables are turned this time and the guys can get upset at their girls, and even cuter in threatening to take out the unknown medical school sunbae who can still cause Mo Yeon and Myung Joo to sass each other over. I find the two couples more fun when they are jealous, moping doesn't suit them, and with jobs such as theirs who has time to waste on the mundane. Shi Jin needs someone as quick thinking and fast talking as him to keep up, and Mo Yeon's quips are as flashy as her smile. She's becoming prettier and prettier in this drama as her character falls in love with Shi Jin, she's fairly glowing onscreen. Urk has been good for her, stepping out of her comfort zone and world of medicine and little inconveniences, and having her in Urk is good for Shi Jin, pushing him to see just how extreme his life is compared to that of the average person. If he wants to be with Mo Yeon he'll have to tone it down in the long run, and I don't know any more if being a General is a good goal if it means playing the politics game. It'll be interesting to see how the drama plans to give our four intrepid leads a happy ending, and I'm not even going to entertain anything less than that.
Click here to watch Descendants of the Sun.