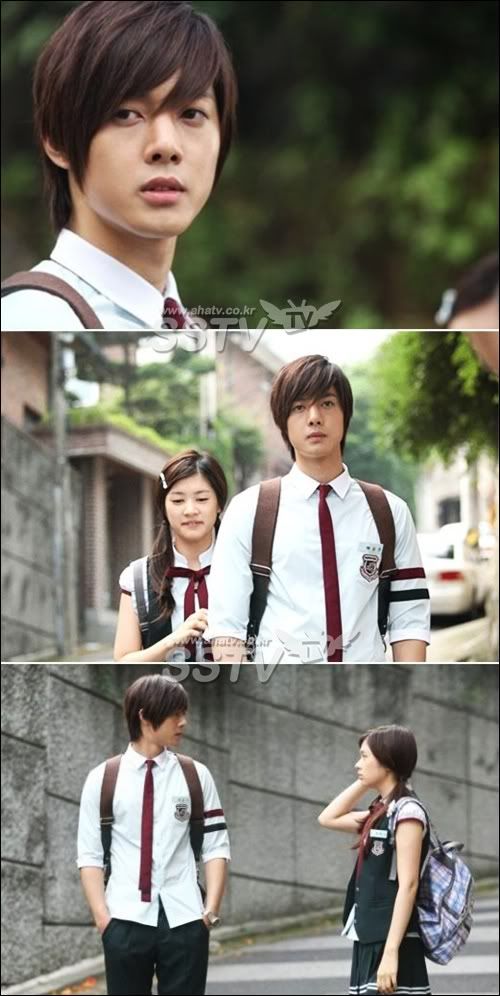 I've gotten some pings for some more Playful Kiss ("PK") thoughts, and since Dramabeans won't be recapping PK right away (due to their schedule and the voting swaying to recapping My Girlfriend is a Gumiho first), let me see if I can keep up with doing succinct recaps for this drama. There will be hardly any screen caps to accompany my brief recaps. I'm sad about that, too, but I'm terribly technologically unsavvy.
I have to encourage all of you interested in this drama to actually WATCH it, because really not much happens in the way of plot, but a lot happens in the way of interaction. It's all about how the OTP spend time together (going from strangers to distant classmates to reluctant friends to a romantic couple), and that is something no one can recap with words. You have to watch it unfold, that is the sole enjoyment of PK in my mind.
Let me start off by saying that I simply adored episode 2. The problem with episode 1 was that it was soooooo slow, not much happened and way too much time was spent on filler daydreams (one would have been enough, three was overkill). But episode 2 kicks off the main story and everyone has settled into character and we're off to the races.
Quickie recap of episode 1:
Oh Ha Ni is a thoroughly ordinary high school girl, who day dreams. A lot. The subject of her day dreams is her crush, resident high school cold genius Baek Seung Jo. Ha Ni is not terribly bright, and her lack of academic focus means that she's in the slacker class at school, with her slacker friends. Bong Joon Gu is her classmate who worships her – alas, Ha Ni only has eyes for Seung Jo, who barely knows that she is alive.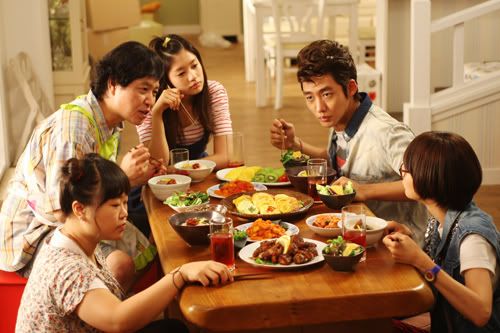 Seung Jo humiliates Ha Ni at school when he publicly rejects her love letter and tells her that he would never be interested in a girl as dumb and academically-challenged as she is, testing at the bottom of the class. Seung Jo tells Ha Ni that he will give her a piggy-back ride if she tests high enough to enter the self-study classroom (which only the top 50 test scorers can enter into).
As fate would have it, the house that Ha Ni and her father lives in collapses, and they are invited to move in with good friend of Ha Ni's father, who happens to be Seung Jo's dad. A fortuitous house collapse puts our Ha Ni and Seung Jo in the same house. Will sparks fly? Oh you betcha!
Episode 2:
Ha Ni is shocked to find out that Seung Jo lives in the house, and is the son of her father's good friend. As the family gets acquainted, Seung Jo's younger brother humiliates Ha Ni when she cannot even answer a problem in his elementary school text book. But Ha Ni has an ally in Seung Jo's mom, who has two sons but always longed for a daughter, and Ha Ni is like a present that has fallen into her lap.
Mom has prepared a girly room for Ha Ni, and treats her like the daughter she never had. At school, Ha Ni continues to be unable to focus on her studies, while it's clear Seung Jo is smarter than everyone around him and rather bored with it. Ha Ni is late coming home one night and gets accosted by a perverted flasher.
She tries valiantly but futilely to dissuade the flasher from flashing her, who makes off with one of her new shoes that was a gift from Mom, and she agrees to view his flashing if he'll give her back the shoe. Thankfully Seung Jo actually was a teeny bit worried about her (after glimpsing the flasher in the neighborhood earlier in the day) and arrives in time to shield her from seeing his man parts, and gets her shoe back for her.
Ha Ni vows to test higher at the next exam, chafing at Seung Jo's dismissal of her as not up to his intelligence standard. But she really isn't that bright, and can't focus on studying. Mom shows her hilarious pictures of Seung Jo when he was a kid (Mom dressed Seung Jo as a girl since she bought only girl stuff when she was pregnant thinking she was having a girl baby), and Ha Ni uses the picture to blackmail Seung Jo into tutoring her. Smart girl!
When Seung Jo gets Ha Ni to step outside to exchange their P.E. uniforms (which likely Mom mixed-up on purpose), she proclaims that he should have just worn it since he's used to girl's clothes.
First Seung Jo tries to take that picture back forcibly, and he chases her around the school yard while the entire school watches, transfixed by a scene that looks like a boy who likes a girl chasing her around. Hee.
When Seung Jo realizes that he has to tutor Ha Ni to get that picture back, he's aware that it means he's tutoring her to win over himself, since he has to piggy-back her if she tests high enough. Ha Ni says that if Seung Jo tutors her, that pledge is no longer valid, she's not that pathetic. Plus, she has no interest in him anymore. Seung Jo corners her against the tree after Ha Ni proclaims that she no longer has a crush on him, as a tacit reminder that she is full of crap, and clearly he makes her heart beat wildly still.
At home, the parents are all giddy that Seung Jo is tutoring Ha Ni (and they are spending lots of quiet time together). Seung Jo gets exasperated with her inability to learn and remember anything. Ha Ni shows off her super Super Junior memory skills by rattling off all the names of the members (haha, so meta). They fall asleep studying and Mom comes bearing snacks and is all ecstatic at seeing her dream come true take a small step forward, Ha Ni becoming her daughter-in-law.
D-day comes, and the test results are released. Ha Ni is the last name on the list of the top scorers. She barely made the cut, but its light years better than her dismal showings of the past. Seung Jo acts like he just wants his picture back, but a small smirk shows that he's not unhappy about Ha Ni's academic improvement. Ha Ni's teacher is so proud of her that she announces that Seung Jo needs to fulfill his vow to piggy-back Ha Ni around the school yard!
Some PK Thoughts:
This drama has launched with abysmal ratings, which means nothing to me as to whether I want to continue watching it. And I've decided to continue to watch it, because I find that I do like it. I LOVED It Started With a Kiss, and the story was always so very sweet and charming to me. PK is tickling my cute spots all over, even if it's not terribly innovative or well-done.
The pace is really my biggest gripe – it's like a half step too slow in everything. For example: episodes 1-2 could be condensed into one episode. Which is why this drama may not be for everyone, the story is not exciting, the plot is rather ordinary (opposites attract), and currently the visual feel is identical to Goong (with less visual eye candy from all the glorious Goong set pieces) so you won't see anything new there.
But Kim Hyun Joong has absolutely stepped up in episode 2, and Jung So Min continues to just own her character and shine in every scene. They have a very nice chemistry (which is critical for this drama to succeed), like they are actually aware of each other and connecting via their characters. And like ISWAK, the quirky and loveable secondary characters, like Mom (best mom evar!!!) and goofy Joon Gu, are wonderfully brought to life here and a treat to spend time with.
I hope the writer and Hwang In Roi ups the pace soon. I have a feeling they will, since they finished the test-taking sequence by the end of episode 2 already. I think they will transition to college by the end of episode 6 or 7.
I like this story because there are no evil villains, no makjang histrionics, no life-or-death situations – it's a story about falling in love and finding your soulmate, and done with lighthearted flair. Most importantly, it has a genuine heart inside of its fluffiness, and that warms my cockles immensely.
Playful Kiss recaps: 1-2, 3, 4, 5, 6, 7, 8, 9, 10, 11, 12, 13, 14, 15, 16
Playful Kiss Youtube Episodes recaps: 1, 2, 3, 4, 5, 6, 7