There was a lot of talking (and drinking) in episode 8 of Protect the Boss, a lot of talking that actually shows that the conflict in this story is organic and not manufactured by withholding information. The elders all know about the mess the youngsters are in (the foursquare of complicated love), and the youngsters know their parents are trying to interfere and/or resolve things for them. And tell them to butt out. Heh.
Immediately after I bring up the Eun Seol as a safety net for Ji Heon possibility, the characters immediately discuss this issue head on. I'm now getting a very strong vibe that PTB will have a time jump. Not anytime soon, but towards the end of the drama, it makes sense for the OTP to be separated and achieve their dreams before getting their happily ever after. I wouldn't even complain, because I have so much faith in PTB that I know it will keep surprising me with any plot development that happens.
Episode 8 baby recap:
At the behest of the Chairman, Eun Seol goes running to look for Ji Heon, almost getting hit by a car and scraping up her feet running in high heels. When she finds Ji Heon, he's relieved to have her show up to his surprise, but she's annoyed that he keeps needing her. She calls the Chairman and informs him that she found Ji Heon. The Chairman yells over the phone at Ji Heon for taking off without his wallet and phone, and uses reverse psychology and tells him to not come home. Grandma overhears just shakes her head at her dense son and troublesome grandson.
Moo Won gets a text from Eun Seol apologizing for being late. Na Yoon calls him asking if he can join her for dinner, since she's dining all alone. Ji Heon apologizes for worrying Eun Seol, but she reminds him that she might not be around him much longer. She confesses that she wants to quit, and he refuses to let her. He complains that he's tired from looking for her, and Eun Seol retorts that he's not the only one aching around here. She shows Ji Heon her bloody feet and explains that she's tired as well and wants to lean on someone, he's not the only one tired around here. Eun Seol is not a superwoman, or Ji Heon's mother, so she can't keep taking care of him for his entire life, and he can't keep relying on her. Does he understand? She doesn't want to spend her entire life running around taking care of someone. She's no one special, she just wants a job and pay her bills.
Ji Heon understands, but Eun Seol gets a text from Moo Won and takes off to meet Moo Won before they can discuss further. She warns Ji Heon not to follow her, but Ji Heon follows Eun Seol on the bus as he yells at her to finish this discussion with him. She pays his fare, and he sits behind her and grabs her shirt because he's so nervous. But when the bus brakes Ji Heon accidentally grabs Eun Seol's ponytail. Poor Eun Seol, so tormented by the men around her. He follows her to the restaurant as she goes in to meet with Moo Won. Ji Heon stands outside and watches them. Moo Won and Eun Seol sit down to eat in silence. Moo Won breaks the ice and shows Eun Seol a watch that belonged to his dad, which he found when he was getting dressed. He thinks it's a good sign. Eun Seol confesses that her decision is to reject both Cha men.
Eun Seol explains that she does feel something for Moo Won, but for Ji Heon….. Moo Won cuts her off before she can continue. Na Yoon finds Ji Heon near the restaurant, and is first excited but then covers her face thinking Ji Heon will get upset when he sees her. He tells her to cut it out, he's fine. He asks if it hurts to run in high heels, and Na Yoon says it hurts to even walk in high heels. Ji Heon borrows some money from her and buys a pack of bandaids. They head back to the restaurant and Na Yoon realizes the bandaids are for Eun Seol, and that she's with Moo Won. They see Moo Won get on his knees to put a bandaid on Eun Seol, who tells him it's not necessary.
Eun Seol and Moo Won walk out of the restaurant and run into Ji Heon and Na Yoon outside. Ji Heon wants his turn with Eun Seol now. The boys bicker over who is going to drive Eun Seol home until Na Yoon steps up and says she'll do it. The Cha boys go drinking and Moo Won confirms that Ji Heon now knows about him and Na Yoon. Ji Heon just realized it, but he's not upset. Moo Won won't apologize because he was sincere in his feelings towards Na Yoon back then. The ladies go drinking. Eun Seol explains that Moo Won told her to just date both guys. Na Yoon says Eun Seol will lose both guys if she does that. Eun Seol asks Na Yoon why it didn't work out with Moo Won, and Na Yoon says she wanted to not rely on being a chaebol heir and make something of herself.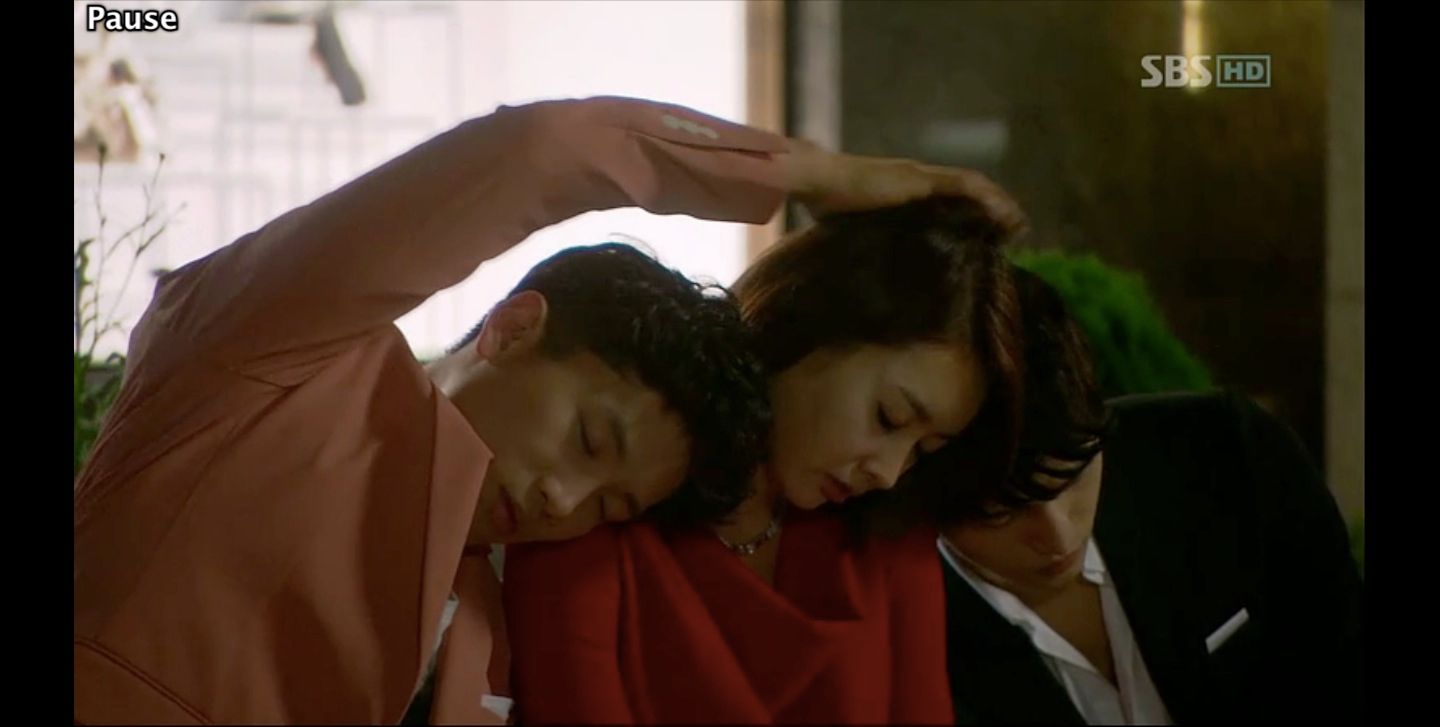 Everyone gets wasted but for Eun Seol, who first drags Na Yoon to join the drunken men, and then carts them all outside to wait for the parents. She calls the Chairman, who calls Moo Won's mom, who calls Na Yoon's mom. Eun Seol looks at the drunks and does eeny-meeny-miny-mo as she points at each of them, though she ends up staring at Ji Heon the longest. Each of the parents arrive to schlep their drunken offspring home, all chiding Eun Seol for getting them drunk. Ji Heon hilariously calls out for Eun Seol as the Chairman shoves him in the car. Eun Seol tiredly trudges home, and gets picked up by Myung Ran. The friends sing in the car to relieve stress as they drive home. Eun Seol wants to find another star to make a new wish – she wished for a job, but ended up with both directors liking her.
Ji Heon wakes up and finds his dad outside pruning the yard, and demands to know what he did with Eun Seol? The Chairman is pissed, because Ji Heon called for Eun Seol all night until even the Chairman dreamt about her. Ji Heon thinks his dad should be happy about him having Eun Seol, because he's starting to make a man of himself because of her. The Chairman asks why her, and Ji Heon says she sees him for who he really is and doesn't judge him. The Chairman wonders else there is about Ji Heon that he doesn't know about?
Eun Seol meets with the two moms (Na Yoon and Moo Won's) who continue to threaten her until Eun Seol sasses back that she will in fact seduce the Cha men if they keep bugging her. A call comes in from a Cha, and Moo Won's mom hilariously answers thinking it's her Moo Won, but it's actually the Chairman. Grandma shows up, after Eun Seol smartly called her beforehand, and Grandma warns the two moms again to not bother Eun Seol anymore. Grandma sit with Eun Seol afterwards, apologizing for her grown kids with immature personalities causing so much trouble for Eun Seol. Eun Seol asks Grandma which grandson she will support to succeed the company, and Grandma asks Eun Seol which grandson she has feelings for. Eun Seol says it's a secret, and Grandma notes sadly that it will be hard for the grandson that doesn't get picked.
Na Yoon finds out from Eun Seol that the moms went to confront her. Na Yoon informs Moo Won of this. Ji Heon thinks back to Eun Seol telling him to start relying on himself. He goes to exercise and then sing a song in public. The two moms ask the Chairman to step in and help them, but he gets annoyed with them. Eun Seol runs into the two moms in the elevator and snerks that they sure are busy (trying to get rid of her). Eun Seol meets with the Chairman and asks where he is sending her? He hasn't decided, but agrees with her request that wherever she goes, he'll make her a full employee. He asks if there is anything about Ji Heon that he doesn't know about? Eun Seol tells him to ask Ji Heon directly.
Eun Seol gets a cell phone video from Ji Heon, where he explains that's he's doing things on his own like she taught him so he can stop relying on her so much. But it's hard and he still needs her right now, so can she please promise she won't go anywhere? Eun Seol gets teary watching the video. Ji Heon calls and gets her to come out and meet him. He goes to the office to pick her up. Moo Won and Na Yoon confront the two moms together, and both threaten their moms if they persist in continuing to bother Eun Seol. Afterwards, Na Yoon can't go home yet and doesn't have any friends to hang out with (since growing up her only friends were Moo Won and Ji Heon), and Moo Won reluctantly agrees to have dinner with her.
Ji Heon drops Eun Seol off at home, and as they are walking up the stairs, he asks her to be patient with him. He wants to make himself into a man that she can lean on, but until then, can he lean on her a little and complain a little. He won't ask her to like him back, but just let him continue to like her. Eun Seol can't believe there is a guy like him who keeps confessing his feelings all the time. Ji Heon doesn't even realize he does it, it's just so natural to him since she is all he thinks about. Eun Seol confesses that Ji Heon is kinda stuck in her brain as well, but she doesn't know if he's stuck because she views him as a man, or because he's dependent on her like a child? Ji Heon says all she needs to do is confirm it. He pulls her in for a kiss. Oh Ji Heon, you are definitely a man when it comes to kissing and confirming.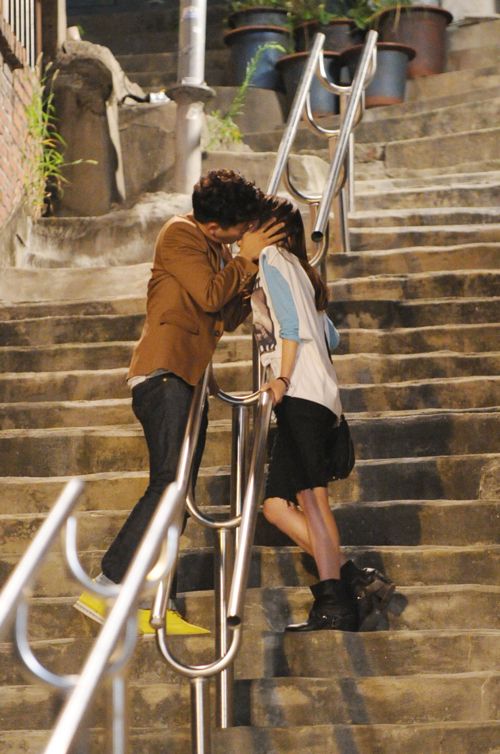 [Credit: Softy at soulsrebel.wordpress.com for providing details that I missed]