I've found myself toggling between four different drama worlds recently, the most expansive watch portfolio in recent memory. I only need to add a TVB drama from HK to complete the quintet (heard LoO is insanely addicting). I've been waiting for the drama-adaptation of Tong Hua's internet time-travel novel Bu Bu Jing Xin since it started filming late last year, but it so happens the short ban on time-travel dramas delayed it's premiere until it's hitting right now when I've got so many other dramas on my radar. But quality cannot be denied, and BBJX is the awesomest drama airing right now, in breadth, depth, and scope.
My spoilery self can't be controlled, so I toddled off to read the novel so I can rest easier knowing what to expect. A bucket of tears, a few jaw drops, and tons of sniffles over the beauty of the story later, I'm bringing you a summary of the ending of the novel. I really don't think it will take away from enjoying the drama to know how the story ends, and will probably add a lot more appreciation for how intricate it's characterization and plot is. As I'm typing it's making me cry again, so be forewarned, this is some gorgeous storytelling coming up ahead.
Story:
The set-up is simple: modern day girl finds her soul transported back to Qing Dynasty in the body of 14-year old Maertai Ruo Xi, the daughter of a Manchu general, and the younger sister of Maertai Ruo Lan, the second wife of the 8th Prince. During the course of the novel, Ruo Xi will spend 20 years living the life of Maertai Ruo Xi in the Qing Dynasty, finding herself unwittingly involved in the record history of the infamous 9-Prince-Succession-Battle.
Amongst the princes that Ruo Xi finds herself interacting with the most are 4th Prince, 8th Prince, 10th Prince, 13th Prince, and 14th Prince. In the beginning of the story 10th Prince has a crush on Ruo Xi (literally adoration at first sight) and wants to marry her pretty candidly. Sadly he's the first to run into the dreaded "duty and obligation and imperial decree" brick wall, forced to marry Ming Yu, the younger sister of the first wife of the 8th Prince. Ruo Xi sees him as a dear and wonderful friend, and is sad and angry at his fate for being forced to marry someone he doesn't love.
Ruo Xi finds herself becoming aware that her brother-in-law the 8th Prince appears to be developing feelings for her. This is perfectly fine in the Qing Dynasty, where one man has multiple wives and is allowed to marry sisters. What is sad is that her sister doesn't reciprocate the 8th Prince's love for her and their marriage was never anything but a bitter reality of one person completely disengaged, so it's not like Ruo Xi is stealing her sister's man. This sister, Ruo Lan, is an beautiful and kind woman who has become an empty shell since the man she really loved died in battle and she was forced to marry the 8th Prince.
13th Prince becomes best friends with Ruo Xi, a platonic and kindred spirits kind of friendship. While the 10th Prince is all happy-go-lucky, not terribly bright but a sweet guy, and 8th Prince is refined and gentle, 13th Prince is the so-called wild one, with a carefree personality that dislikes rules and restrictions, and finds himself curious about Ruo Xi's talk of democracy and equality for all.
Ruo Xi's interaction with 4th Prince is the most complex from the get go. Because she knows that he's the ultimate victor in the battle for succession, she's wary of him and prefers to keep her distance. 4th Prince seems outwardly the coldest and most arrogant of the lot, but he always talks frankly with Ruo Xi. She begins to intrigue him as he takes her attempts to keep her distance from him as a way to engage his interest further. Ruo Xi's relationship with 14th Prince is the wild card, and ultimately one that is selfless and unrequited on his part.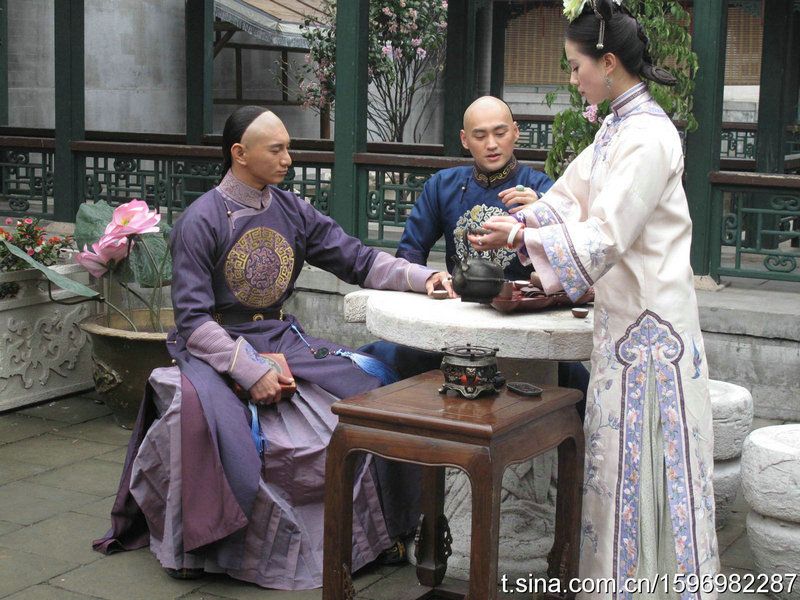 Up to episode 10 of the drama, Ruo Xi has already spent a few years in the Qing Dynasty. At 16 she enters the palace to be part of the selection group of aristocratic Manchu girls to become a concubine for Emperor Kangxi. To prevent Ruo Xi from being selected, 13th Prince asks 4th Prince, while 8th Prince asks 14th Prince, to ask their mother, the powerful Empress De, to have Ruo Xi's name crossed off the ledger. But the first wife of 8th Prince Ming Hui asks her sister-in-law the Empress Hui to do so as well. The two Empresses butt heads all wanting Ruo Xi to come serve them, so the compromise is that Ruo Xi becomes the tea-serving lady-in-waiting to Emperor Kangxi. Ruo Xi delights the Emperor, reminding him of a favorite daughter of his who has been married off. She gradually gains the opportunity to have the Emperor's ear, which is both a blessing and a curse for her.
Going forward, Ruo Xi and 8th Prince actually fall in love. Initially reluctant to accept his feelings, once she decides to love him back, she tries to change his fate. She asks him to choose between giving up the battle for the throne or her, thinking his love for her will make him agree. He refuses, unable to accept such a choice. They break up bitterly.
14th Prince starts to fall in love with Ruo Xi, but he respects 8th Prince so much he doesn't ever say anything to her. Before parting, Ruo Xi tells the 8th Prince to beware of the 4th Prince among others, giving 8th Prince a list of names of people he needs to be wary of if 8th Prince wants to become Emperor. By giving 8th Prince this information, Ruo Xi unwitting sets into motion EVERYTHING to come.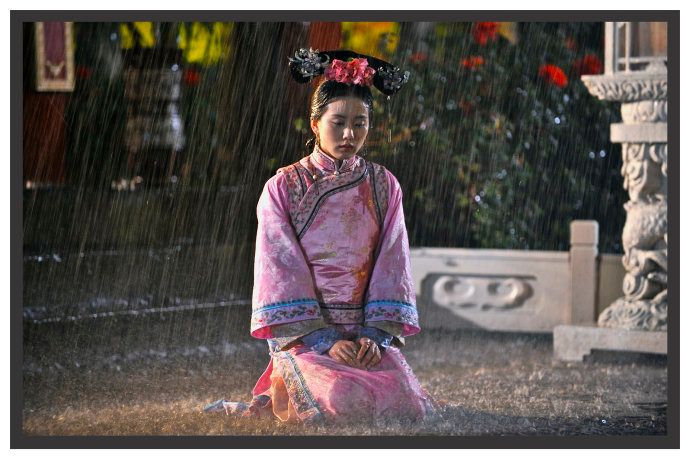 8th Prince and his gang plot to get rid of the 4th Prince. To protect the 4th Prince, 13th Prince steps into the trap and Emperor Kangxi has his 13th son placed under house arrest, which ends up lasting 10 years. Ruo Xi kneels outside in the pouring rain for 3 days and 3 nights to beg Emperor Kangxi to release her best friend 13th Prince from confinement. 14th Prince sees this and goes to beg his father as well.
The only concession Emperor Kangxi makes is to allow the girl 13th Prince is in love with to join in him the house arrest.  During the 10 years, 4th Prince is angry and bitter at the other princely faction, while he and Ruo Xi gradually fall in love. The Emperor finally allows Ruo Xi back to serve him after 6 years washing clothes (as punishment for her refusal to marry 14th Prince), but her health has taken quite a beating doing hard labor.
4th Prince and Ruo Xi finally get together as she realizes that she loves him and he finally lets down his guard and confesses his feelings for her. Emperor Kangxi dies and his will decrees that his 4th son will get the throne. 4th Prince becomes Emperor Yongzheng and immediately starts punishing 8th Prince and his group for plotting against him (I'll keep calling him 4th Prince still for consistency sake, but know he's already Emperor by now). The is a rumor 4th Prince stole the throne and the Emperor meant to pass it to 14th Prince, so 4th Prince's own mother Empress De refuses to accept her eldest son gets the throne over her younger son.
13th Prince is released from confinement, and he's had a little girl with with his sweetheart during the intervening 10 years. 13th Prince no longer can treat 4th Prince like his elder brother, adopting a distant and respectful attitude towards the new Emperor. 13th Prince's sweetheart finally kills herself because she cannot handle the stress of being looked down on by the other wives in the household, a truth which 4th Prince and Ruo Xi conceal from 13th Prince, who is already in deep grief thinking she has merely left him.
Ruo Lan falls ill and Ruo Xi is able to see her before she dies. Ruo Xi sees her sister worried about meeting her beloved in the after life when she is still the wife of 8th Prince in name, so Ruo Xi begs 8th Prince to divorce Ruo Lan and free her from her marriage vows. 8th Prince agrees and Ruo Lan passes peacefully. Ruo Xi finds herself admiring Ming Hui for her strength in sticking besides 8th Prince after he was stripped of power, and Ruo Xi also becomes friends with Ming Yu after so much time has passed. Ming Yu and 10th Prince have become adorable bickering spouses who have grown to love each other.
Ruo Xi becomes pregnant with 4th Prince's child. 4th Prince is ruthless in getting rid of supporters of the other princes that are still left in the palace, and his cruel tactics make Ruo Xi increasingly disillusioned with him. 8th Prince's first wife Ming Hui tells Ruo Xi that the reason 8th Prince plotted against 4th Prince initially was solely because of the warning Ruo Xi gave 8th Prince years ago, for 8th Prince to beware of 4th Prince. Ruo Xi realizes that she bears a huge responsibility for the tragedy that has happened, despite how careful she has been each step of the way not to interfere with history. Ruo Xi's shock causes her to suffer a miscarriage.
4th Prince blames Ming Hui for causing Ruo Xi to be so upset as to miscarry his child and orders 8th Prince to divorce her (i.e. cast out his wife). 8th Prince has no choice but to comply once Ming Hui begs him to do so. But when he goes to deliver the papers, Ming Hui has killed herself by burning her own residence with her inside. 8th Prince is utterly devastated, and even 13th Prince cannot accept all of this is happening.
All of this, combined with Ruo Xi discovering that she cannot bear any children, makes her decide to leave the stifling palace. Ruo Xi confesses to 4th Prince and 13th Prince the truth, that she is the inadvertent cause of everything that happened. She was the one who told 8th Prince to be wary of 4th Prince, which caused 8th Prince to single out 4th Prince as his main rival. She tells 4th Prince to hate her, treat her as his enemy and let his vendetta against the other princes go, but 4th Prince refuses to process this information.
Years ago, 14th Prince had actually begged his father Emperor Kangxi to bestow Ruo Xi to him. Emperor Kangxi wrote a marriage decree, which very few people knew about because Ruo Xi told 14th Prince she wouldn't marry him so 14th Prince kept the decree and didn't release it. Kangxi was angry at Ruo Xi back then and punished her by making her become a washer woman for 6 years.
Ruo Xi finally tells 14th Prince that she is willing to marry him, sending him two simple words "I do." 14th Prince marches to 4th Prince and reveals the marriage decree signed by Kangxi, which 4th Prince must honor. Everyone knows 4th Prince will never let Ruo Xi leave and will find a way to negate that marriage decree, so 8th Prince steps in. He goes to 4th Prince and tells him all about his love story with Ruo Xi way back when, including kissing and pledging their troth to each other. 4th Prince is so jealous and furious that he pushes Ruo Xi away, angry and disillusioned that Ruo Xi loved 8th Prince so much back then that she worried about his safety and told 8th Prince to beware of him.
Ruo Xi marries 14th Prince, who has always loved her and cherishes her after she becomes his wife. But by then she is very weak and quite ill. The time when she spent 3 days and nights in the rain to plead for the release of 13th Prince caused her to develop severe arthritis in the subsequent years, and her 6 years as a washer woman weakened her constitution even further. Coupled with the miscarriage, the royal doctor has told Ruo Xi that she only has a few years at most to live.
Ruo Xi spends the last few months of her life peacefully with the tender and kind 14th Prince, though they never consummate their marriage because she is so weak and distraught. In the days before her death, Ruo Xi knows her time is near. She writes a letter to 4th Prince and entrusts 14th Prince to deliver it to him.
14th Prince sees the letter and is stunned to discover that Ruo Xi's handwriting is identical to 4th Prince's, a testament to how much she loves him that she's unconsciously adopted his every brush stroke.  To avoid outrage (no one can mimic the Emperor's writing, which is a treasonous offense), 14th Prince puts Ruo Xi's letter in an envelope that he addressed to the Emperor. But 4th Prince is pissed at 14th Prince for marrying Ruo Xi, coupled with 14th Prince recently sending poems filled with hidden meaning meant to deride his older brother, so when he sees the letter, he doesn't open it thinking it's another annoying missive from 14th Prince.
Ruo Xi dies peacefully in the arms of 14th Prince as she cannot wait any longer for 4th Prince to come see her. 4th Prince receives her death notice 7 days later, via official updates about the deaths of notable Manchus. He's completely distraught and goes to the 14th Prince's residence and the brothers fight over the ashes of Ruo Xi, who asked to be cremated. 4th Prince and 13th Prince scatter her ashes in the mountains amidst the flowers she loved so much.
4th Prince finally sees the letter from Ruo Xi that was hidden in 14th Prince's envelope. He's stunned that Ruo Xi's handwriting looks exactly like his. She tells him that he's the man she's only ever given her heart to. In the later years, 8th Prince and 9th Prince are imprisoned in the dungeons as 4th Prince becomes ever more bitter towards those brothers, blaming them for everything that happened.
13th Prince goes to see them and hands them poison, saying that this was what Ruo Xi asked be offered to them before she passed away. Both Princes commit suicide and end their suffering. 13th Prince dies a few years later, followed shortly by 4th Prince himself, whose 12-year reign as Emperor was the shortest in Qing history. 14th Prince lives on but does not find another wife. Only 10th Prince has a happy ending with his wife that he grew to love, watching Emperor Qianlong ascend the throne.
Story discussion:
When Ruo Xi died, she was only 34 years old, yet she experienced 20 tumultuous years in the Qing Dynasty. Let me parse through her relationship with the major characters as I discuss how brilliantly the author Tong Hua was able to weave a love story into real historical annals of the 9 Prince Battle. 10th Prince was Ruo Xi's first friend, because he was so candid and forthright. Even if he was a tad bumbling, compared to the other princes, his feelings for Ruo Xi was always innocent and pure. He's the only prince to get a comparatively happy ending, living to a ripe old age.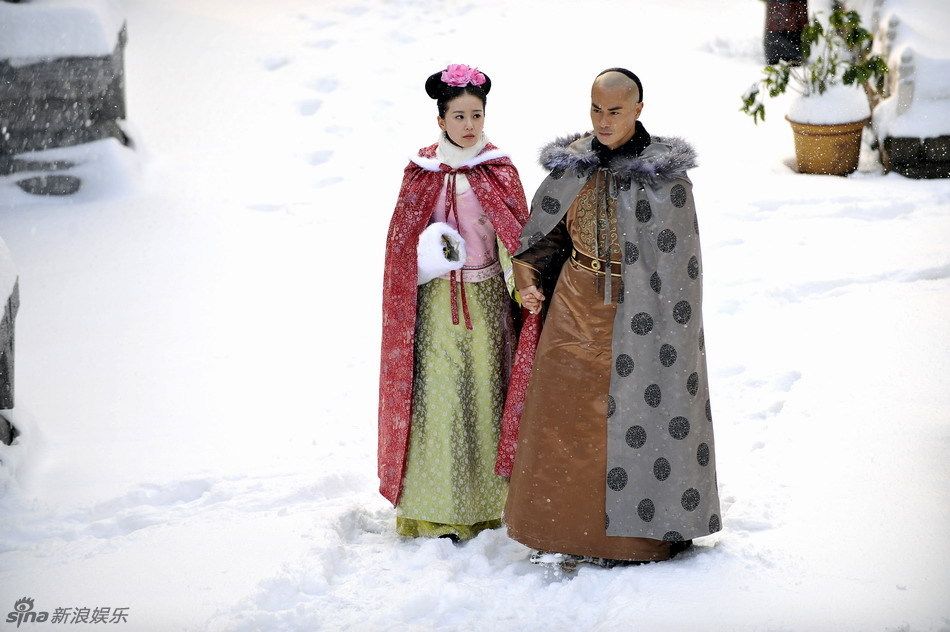 8th Prince is Ruo Xi's brother-in-law, a tender and gentle man, who is possibly the most ambitious one of the lot. The writer portrays Ruo Xi's relationship with 8th Prince as beautiful but fragile, a love that grows like a flower in the snow. There were many scenes showing delicate their relationship was: the walk in the snow, when he gave her the bracelet he so treasured which he bought for a Ruo Lan that never wanted him, their walk in the Manchu plains, when she returns the bracelet to him and he takes it with a smile and then shatters it when he knows she's chosen 4th Prince.
He knew she loved him at one point, but he could never make it work between them. Their relationship blossomed when they went to Manchuria with the Emperor for a few months, away from the politics of the capital. When he gets injured and she feeds him, he says "if this is the last time you feed me, I hope to save it for a later date; if this is the first time you feed me, then it's something I will forever look forward to." Ruo Xi struggles against 8th Prince for awhile because she can't accept the polygamist mores of this time, and later hopes to change history through him. But ultimately she sets in motion the tragedy to come.
13th Prince is a fan-favorite character in the novel. He is Ruo Xi's confidante and best friend, and perhaps the only person who knows Ruo Xi the deepest. He protects Ruo Xi in his own way, looking out for her, treating her as a true friend without ulterior motives. The scenes where they go drinking, exploring the city, where he saves her from the brink of death – he is the Prince she will kneel for 3 days and 3 nights in the rain to save from continued confinement.
After 13th Prince emerges from 10-years of house arrest, he's no longer the carefree young man Ruo Xi remembers, but their friendship remains intact. He's also a big reason why Ruo Xi is so torn between the two princes she loves. It's 8th Prince's trap that caused 13th Prince so much suffering, and also leads to a big reason why 4th Prince is so vengeful towards 8th Prince. And this ironic truth is a major reason why Ruo Xi decides to leave the palace and 4th Prince.
14th Prince is the man Ruo Xi ends up marrying (4th Prince never got around to giving Ruo Xi an official title before everything went to pot). He's the one who always loved Ruo Xi from a distance, respectfully holding his feelings when Ruo Xi got together with 8th Prince. Later when Ruo Xi broke up with 8th Prince and 14th Prince asked Emperor Kangxi for her hand in marriage, he nevertheless never pressured her to marry him once she refused him. But he kept that marriage decree the entire time, waiting and waiting for her.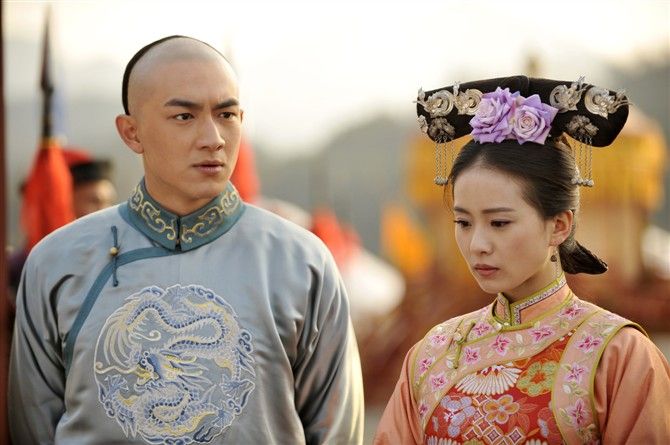 He tells Ruo Xi that if the day comes she wants to leave the palace, all she has to do is let him know and he will take her away from it all. When Ruo Xi tells him that she wants to leave, after having lost all of her spirit after nearly 20 years inside the palace having endured a life lived tip-toeing tentatively around political landmines, 14th Prince bravely reveals the marriage decree to 4th Prince, despite knowing how vicious his older brother can be, all so he can protect Ruo Xi from more pain and suffering.
Ruo Xi ultimately dies in the arms of 14th Prince, who cradles her in the garden under a sea of cherry blossoms. She murmurs that she's so tired, yet she tries so valiantly to wait for 4th Prince to come, having sent him a letter letting him know she doesn't have much time left. She tells 14th Prince that her final wish for them (the princes) is to forget about her. Yet even in the face of death, this once fearless girl confesses to 14th Prince that she's afraid of the dark and being all alone in the after life.
She plans to ask Meng Puo (the deity in the after life who hands out water that the spirits drink to forget about their past life and can go on to be reincarnated) for a few extra cups of that water, so she can forget everyone. It's only after Ruo Xi closes her eyes for the final time that 14th Prince finally kisses her for the first and last time, dropping a tender kiss on her forehead as she leaves.
When 14th Prince finally learns that he was the inadvertent cause for why 4th Prince and Ruo Xi never saw each other before she died, because he put her letter inside an envelope he addressed to the Emperor, 14th Prince breaks down sobbing. He had no idea his decision to protect Ruo Xi could have caused her final wish to be thwarted. He would have done anything to make Ruo Xi's final wish to see 4th Prince come true. His marriage to Ruo Xi was so happy for him, even if he never touched her, just having her by his side was comfort enough.
4th Prince and Ruo Xi's love is the most complicated and heartbreaking relationship in this book. When he hears of Ruo Xi's death, his anger, his sorrow, his disbelief, unable to confront the reality of her passing without him being able to see one more time. When he sees the belongings she's left behind, he sees the arrow that he once took in the shoulder to protect her. The arrow tip is shiny and smooth, like it has been rubbed constantly for many years to wear it down. He won't ever know that when Ruo Xi died, she was wearing the outfit that he first asked her to wear that one day years ago.
When 4th Prince asks Ruo Xi's maid if she said anything about him before she died, he doesn't believe the maid's answer that Ruo Xi didn't call for him. He rages, unable to believe that Ruo Xi would hate him that much, not knowing that Ruo Xi died thinking he refused to come see her because he was still so angry with her. Ruo Xi died about 8 months after she left the palace, so her passing was not something 4th Prince anticipated, and he was purposely avoiding hearing about her life with 14th Prince. They are like two ships passing in the ocean, unable to cross paths. The Chinese phrase would be fated to fall in love, destined to never be together.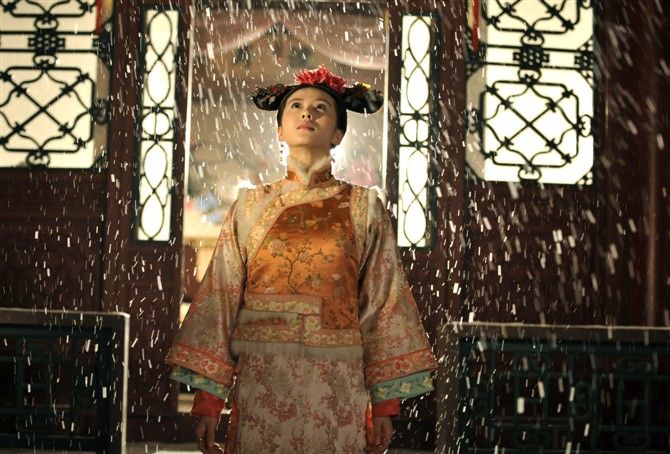 4th Prince's love for Ruo Xi always existed within the confines of palace battles and intrigue, so he was never able to love her freely. He had responsibilities and agendas that he could never discount, yet Ruo Xi similarly could not accept that he could be so cruel in dealing with his enemies. Their love was always fraught with tension, because it was always premised on Ruo Xi knowing from the get go that 4th Prince would become Emperor Yongzheng. She wanted to change things, but she set things in motion, and ultimately she changed nothing but gave herself to the lives of these princes.
What's striking about this story is that Ruo Xi ultimately lived an incredible and I daresay meaningful life in the Qing Dynasty. Once she accepted her fate to stay in that time, she lived her life with purpose and integrity, keeping her 21st century beliefs while adjusting herself little by little to survive in that era. She loved two men in her own way, ultimately her love for 8th Prince was more romantic while her love for 4th Prince was passionately dysfunctional. While 13th Prince was her platonic soulmate and 14th Prince her white knight, in the end, it was 4th Prince who had her heart that she left behind when she left the palace. When she left 4th Prince, she lost her will to live, dying 8 months later when she could have lived for a few more years.
The biggest dilemma in Ruo Xi's life as Maertai Ruo Xi is knowing history from the lens of a modern person, but tempering her inclination to cast judgment on the events unfolding before her as a Manchu woman. While the novel ending is bittersweet, it feels real and raw, with a profound sadness that these people couldn't escape their fate. Contrast the ending to the happiness of all the princes and Ruo Xi at the birthday celebration for the 10th Prince at the beginning of the drama, I can only feel in awe of the masterful storytelling taking all these characters through such a riveting story until they feel so real to me. I also applaud the writer for not writing any character with black and white, making situations and misunderstandings and mistrust the root of all conflict.
Ultimately the princes who loved her did so in their own way, which aligned with their personalities and their objectives. 8th Prince waited for 10 years until Ruo Xi reciprocated his feelings, never taking another wife in the meantime and always being considerate of her. But ultimately he didn't love her as much as he couldn't let go of the pursuit of power that he rightfully felt he was most capable of wielding. 14th Prince was the completely selfless one, and would have given up everything for Ruo Xi if she loved him and asked him to not join in the fight for succession. And 4th Prince loved her enough for the novel to imply that he passed young because he simply lost the will to live after his best friend and his true love were gone.
I would love to have a discussion about what folks think about the novel. Feel free to rant and rave. Only know that the ending of the drama supposedly will add an epilogue of sorts that may or may upset fans of the novel's melancholy ending that nevertheless felt so unforgettable. My takeaway from this particular story is that one cannot fight against one's heart, which ultimately is sacrificed when it goes up against the immovable force that is history.