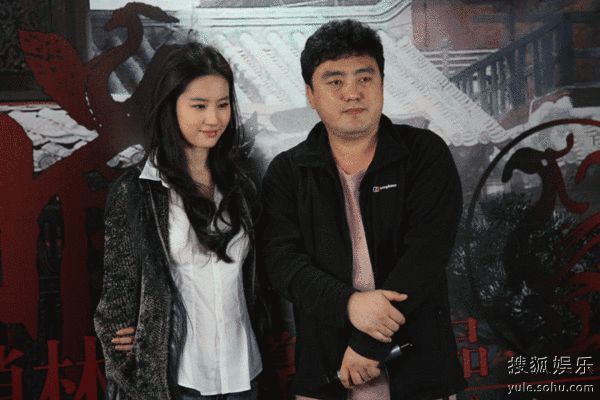 The production of the upcoming C-movie Tong Que Tai (銅雀台) held it's opening day media event to herald the start of filming. None of the male cast were on hand, but Director Zhao Lin Shan was able to finally confirm and introduce his leading lady to the media. For whatever reason, Yoon Eun Hye will not be participating in this movie contrary to early rumored news reports. While it's true she was offered the role, but in the end it didn't pan out.
The leading lady will instead be Crystal Liu (Liu Yi Fei), who is no stranger to playing historical femme fatales and/or the most beautiful woman in the world type characters (Xiaolongnu in Return of the Condor Heroes, Wang Yu Yen in Demi-Gods and Semi-Devils, the ghost Nie Xiaoqian in the 2011 remake of A Chinese Ghost Story, etc.). Crystal isn't the best actress in the book, but I haven't watched her recent movies to see if she's improved any. Acting opposite Chow Yun-fat, she's going to have to bring it.
The male leads will be Chow Yun-fat (with whom Crystal's character will have a May-December romance), Alec Su, and Japanese actor Tamaki Hiroshi. The story centers around famed historical figure Cao Cao and depicts him in his later years not as a power-driven master tactician, but instead a man striving for peace. I'm torn about swapping out Eun Hye for Crystal. I would have loved to see Eun Hye do a big budget C-movie with an A-list cast, but I wasn't completely sold on the story or her character. For now, this movie remains interesting to me, but I'm not a big Crystal fan so I'll probably check it out when it's available.
[Credit: Xinhua news]