Not sure what to say about episode 21 of Office Girls, other than plot development-wise I'm not certain this drama can wrap up with two more episodes to go. Which is where I ought to tell you all that both PPTV and Baike have just revised OG as ending in 30 episodes, though there has been no official confirmation from TTV on this unofficial news. If this happens, it would officially make OG the longest running once-a-week idol drama ever. If anyone wants to get off the ride now, I wouldn't blame you. But even if I get just 10 minutes of wonderful OTP moments per episode (which I get in every episode), that's enough for me.
This week's episode was overall pretty painful to watch, with the two bitches running the show way too much for my blood pressure to take. I appreciate that the OTP doesn't waver about their feelings and trust issues much, but I knew that Xing Ren would have a truly difficult time when she discovers that Zi Qi is a real rich boy. I hope that she can remember everything he keeps telling her about his feelings for her and let that guide the course of their relationship rather than these external landmines. While this episode was just meh, it came with one of the cutest BTS segments ever, with the cast exchanging Christmas presents plus having fun filming through the holidays. Their cheer is my reward for sticking through some bumps for the good stuff.
Day 21 – Objection overruled:
Zi Qi firmly tells his father that he will give up his succession chance to save Xing Ren's mother. Daddy is pleased that his son made the right choice and wants to help him this once as an exception. He asks Zi Qi to treat his career with as much sincerity as he's treating his love life. Zi Qi thanks his dad and smiles even though he was nearly in tears.
Zi Qi is working when Kai Er approaches and asks to visit Xing Ren's mom with him. He is pointedly cold towards her, including lurching backwards when she tries to touch his forehead to see if he's sick. This pisses Kai Er off. When Zi Qi is headed to the hospital, he gets a text from Kai Er asking him to come save her. Xing Ren gets an anonymous text from Kai Er telling her that Zi Qi is meeting with Kai Er outside a motel and is cheating on her. When Zi Qi arrives, Kai Er hugs him (while he looks really grossed out), which is when Xing Ren drives past in a taxi and sees the tableau.
At the hospital, Xing Ren dejectedly meets up with Le Le, who says Mama Shen was in good spirits this afternoon. When Zi Qi calls, Xing Ren won't answer which leads Le Le to wonder what is going on. Xing Ren tells Le Le what happened today and shows her the text message. Mama Shen overhears this and looks worried. Le Le is furious at Zi Qi and confronts him when he arrives at the hospital. Zi Qi reads the text and explains that Kai Er called him for help because a client tried to molest her today at a business meeting. He asks Xing Ren to believe him, but Xing Ren sadly tells him that she wants to trust him but she saw them hugging. Le Le prevents him from following Xing Ren into the hospital room to explain further as to not upset everyone.
Zi Qi goes home and reads Kai Er's text seeking his help. He looks baffled and is likely connecting the dots more and more. Kai Er is in her office looking all pleased. Zi Qi calls her and she purposely doesn't answer and turns off her phone. Kai Er meets with Zi Qi's mom to discuss work and finds her looking distracted. Zi Qi's mom confesses the Zi Qi-Xing Ren situation (pretending it's her friend's son and his girlfriend). Kai Er suggests that if the son won't break up with the girl, then why doesn't Zi Qi's mom approach the girl to ask her to break up with the son. Zi Qi's mom asks if Le Le has been fired? Kai Er says Le Le hasn't been fired or punished and is merely taking a long vacation.
Mama Shen asks Xing Ren where Zi Qi has been these past few days. Xing Ren lies that he's working late. Mama asks to see Zi Qi. The doctors arrive to introduce a new specialist who has just arrived from New York and will be participating in Mama Shen's care. When Xing Ren asks about how the hospital can afford to bring in such a specialist, she's told that Zi Qi's mom brought the doctor over. Xing Ren thanks Zi Qi's mom and wonders how she knew about her mother's illness. Zi Qi's mom cuts to the chase and asks Xing Ren to do something for her since she did something for Xing Ren. Zi Qi's mom asks Xing Ren to break up with Zi Qi, and never to see him again.
Xing Ren asks why she needs to break up with Zi Qi? Zi Qi's mom says the reason is that she doesn't like Xing Ren. Xing Ren refuses to break up because they are in love, and neither of them can be bought with money. When Xing Ren walks away, Zi Qi's mom drops the bombshell about her identity, that she is Zi Qi's mom. Xing Ren stands there in shock and finally makes the connection about the weird sensation she's been getting between Zi Qi and his mom.
Zi Qi's mom knows she may seem shallow and cruel, but the most important thing to her is Zi Qi's future. She doesn't care about anything else. Zi Qi needs a woman who can help him, whereas he is always helping Xing Ren solve her problems. Xing Ren can only apologize. Zi Qi's mom promises to pay for all of Xing Ren's mom's medical bills and give Xing Ren another sum of money if she agrees to leave Zi Qi. If Xing Ren really cares for Zi Qi, she shouldn't ruin his life. ZI Qi's mom tells Xing Ren to keep today's conversation between the two of them, and not purposely ruin her mother-son relationship with Zi Qi.
Xing Ren sits in the stairwell of the department store and cries, remembering back to all their happy times together, and Zi Qi's promise to her that he may not have money now but one day he will make all her dreams come true.
Zi Qi visits with Mama Shen and explains to her what happened that day with Kai Er. Mama believes him. Zi Qi notices that she's not eating, so he takes the bowl and feeds her. Mama compliments Zi Qi on being well-raised by his mother. She's curious about what kind of mother he has. Zi Qi says he is not very close to his mother, who moved to the US after his parents got divorced. His mom buys him gifts more than actually seeing him in person. It wasn't until Zi Qi met Mama Shen that he learned what a family is supposed to be like.
Xing Ren arrives and listens to this conversation outside. Mama tells Zi Qi to understand that perhaps his mother has her own reasons. Mama tells Zi Qi that a foreign doctor was brought in to check on her and is worried that it will cost a lot. Zi Qi tells Mama not to worry about the cost, he thinks the doctor was hired by President Qin who cares about the company's employees. Xing Ren heads out to buy some fruit and Mama tells Zi Qi to hurry along and join her.
Zi Qi and Xing Ren sit outside and he tries to convince her that with the NY doctor here there is nothing to worry about. Xing Ren reveals to Zi Qi that his mom visited her and confirmed that she hired the NY doctor. Zi Qi looks stunned and asks what else she said to Xing Ren? Xing Ren asks Zi Qi why this rich woman would agree to help Xing Ren pay for all the medical bills since they are just strangers. Zi Qi makes up an excuse that super rich people have their own logic and may help others out of the kindness of their heart. Xing Ren doesn't see that massive amount of money like pocket change the way rich people do. Though she notes that Zi Qi appears to have the same view of money as the really rich do.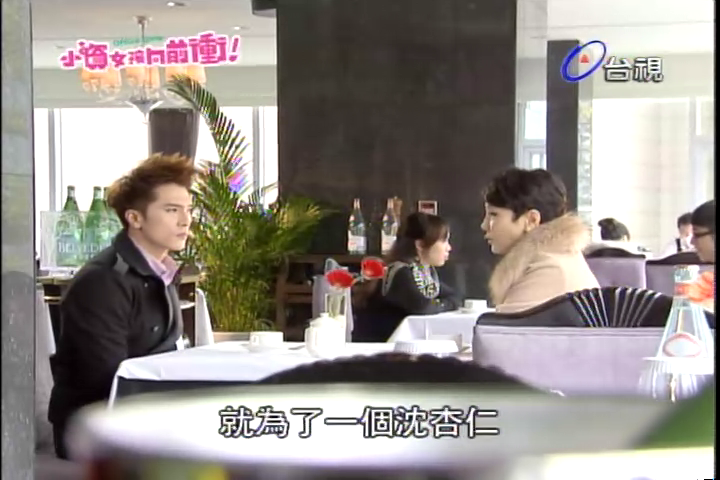 Zi Qi asks his mom why she didn't tell him that she brought in a doctor from NY. His mom lies that she didn't say anything to Xing Ren, and just wants to remain on good terms with her son. Zi Qi tells his mother to start learning to like Xing Ren, because she is the best decision he has ever made in his entire life. His mom keeps criticizing Xing Ren and each time Zi Qi stands up for her. Xing Ren's beauty is within and not like the superficial girls around. Zi Qi thanks his mom for finding the doctor for Mama Shen, but he will not be agreeing to any of her terms for doing this. Whatever he owes her, he will repay it.
Zi Qi's mom vents to Kai Er that the girl won't break up with her son, and asks Kai Er for more ideas on how to break up the couple. Zi Qi reads over his contract with his dad which stipulates that he cannot reveal his identity to anyone. Le Le asks him to go upstairs to talk. She offers him water and he wonders what's gotten into her since she's so polite to him. Le Le wants to know if the rich lady paying for the medical bills has anything to do with him. Xing Ren appeared quite upset yesterday. Le Le offers to lend money to Zi Qi, telling him not to sell himself to a rich lady to be her plaything. Le Le blames both of them for any misunderstanding that might haven arisen.
Zi Qi admits to telling some white lies, but it is only because he wants to protect the most important person in his life. Le Le reminds him that white lies are lies nevertheless. Zi Qi can't explain right now, but he really cares about Xing Ren and won't do anything to hurt her. Le Le reveals that she's always disliked Zi Qi not because he was poor, it's because he used to be so shallow. But she's seen him change these days, and tells him to protect Xing Ren since she's so innocent and naive. She has Zi Qi promise to tell Xing Ren whatever he's keeping from her, because Xing Ren will surely understand him.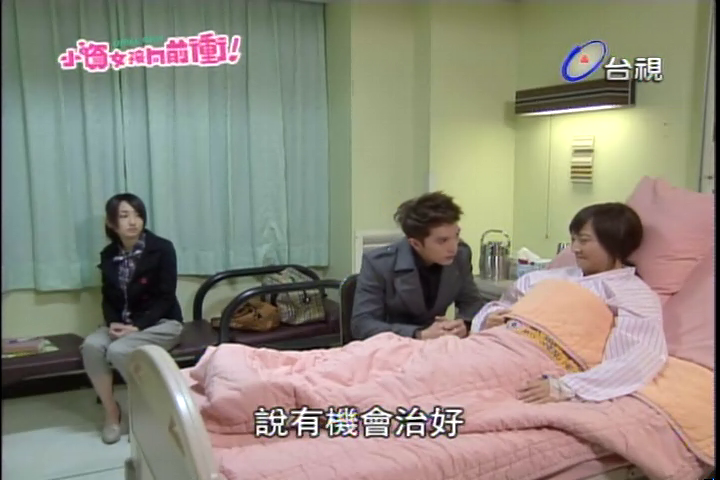 Xing Ren is at the hospital keeping her mom company, and she keeps thinking about what Zi Qi's mom requested of her. Mama Shen worries that Xing Ren's health can't take working every day and then running to the hospital every night. Zi Qi arrives to check on Mama Shen and hears that the doctor gave her a some positive news. Mama tells Zi Qi and Xing Ren to head out and buy her some dinner because she's suddenly got an appetite after seeing Zi Qi.
On their walk to buy food, Xing Ren stops and asks Zi Qi what he likes about her. He's said it before, but she wants to hear it again. He likes the way she looks, he likes her personality, he likes the way she works hard, she taught him how a person can take responsibility for their lives, she is filial and loving towards her mom. It was Xing Ren that taught him that a dinner eaten alone is just a meal, but a dinner eaten with a family is love. Xing Ren swallows her tears as she listens to all of this. She tries to point out he has so much but she's so ordinary compared to him. He stops her and tells her that she's got a lot that he doesn't have. But none of that is important. The only thing that matters is that he likes her.
Xing Ren asks what will happen if his parents don't think this way. What if they think Xing Ren isn't good enough for Zi Qi and forbid them from being together? Zi Qi hugs Xing Ren close and tells her that any objection will be overruled. For him, she is one-of-a-kind. Xing Ren cries and hugs him tightly. The camera pulls back and we see someone secretly photographing this moment between them.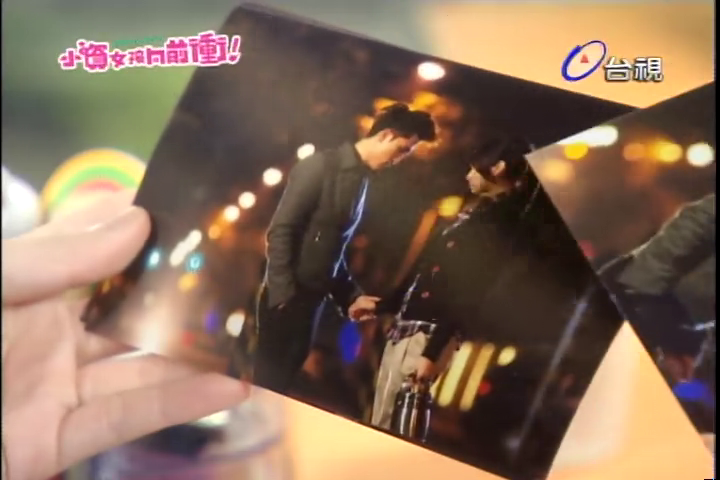 Xing Ren arrives at work and finds an envelope on her desk containing pictures of her with Zi Qi. Zi Qi's mom calls Xing Ren and asks her to please let her son go. He's someone who needs to focus on his career and now all he does it run to the hospital every day. Xing Ren doesn't answer because she's so stunned, so Zi Qi's mom hangs up thinking Xing Ren is rude.
Zi Qi arrives at work bearing breakfast for her. She tells him not to buy breakfast for her anymore, she'll do it herself. She wants him to work hard and stop running to the hospital all the time. When he persists, she snaps at him that it's annoying for her to have him around all the time. He can tell she's not her usual self, but she just takes off rather than explain.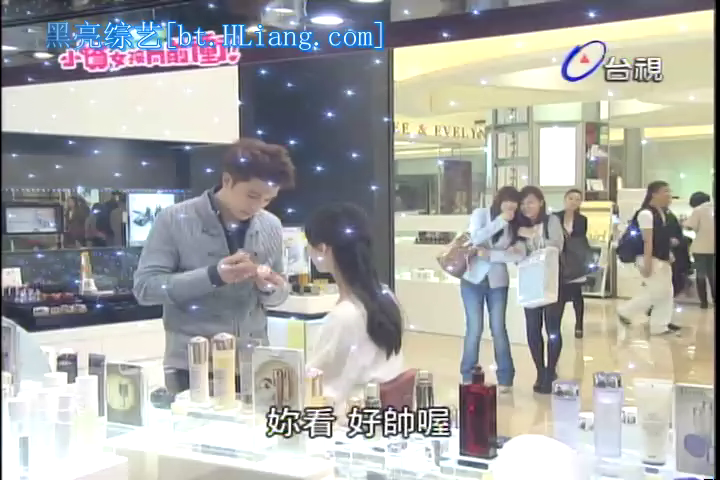 Zi Qi is called to assist at the make up counter where there is a pregnant employee trying to get a picky customer to buy something. Zi Qi immediately makes her happy with any of his suggestions. Other girls see him there and run over to flirt with him. Xing Ren sees him surrounded by fangirls. When asked if he has a girlfriend, Zi Qi happily confirms he has one. When he makes eye contact with Xing Ren, she turns to leave and runs into the pregnant employee.
The employee immediately says her stomach hurts. Xing Ren goes to call for an ambulance while Zi Qi tries to help the pregnant employee calm down.