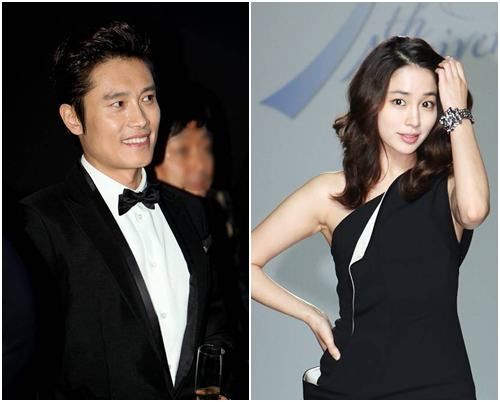 I didn't post about the Lee Byung Hun and Lee Min Jung dating rumors back in April because both sides quickly denied it and I figured that if it was true they would reveal it when they were ready otherwise quietly break up and none would be the wiser. My gut instinct told me it was true since it was too far out to be the conjecture of fan shippers, plus rumors had him bringing her to meet his family and that was pretty specific instances of dating. Cut to four months later and finally the rumors can be laid to rest – both Lee Min Jung and Lee Byung Hun have just released public statements mutually confirming their relationship. I….don't know what to think honestly.
I like them both, but this pairing immediately brings to mind Tom Cruise dating Katie Holmes. We have one huge K-superstar dating a younger up-and-coming actress. They definitely look gorgeous together, but I don't have a good sense of their real life personalities and interests to say whether or not this is one union that will last. They've been dating since early 2012 and when the rumors first broke back in April, it was yet early in their relationship so neither side wanted to confirm it at that time. Understandable. Now they have decided to go public because the relationship has turned serious. But contrary to the latest rumors that a wedding has been scheduled for November, Lee Min Jung has stated that there are no wedding plans at this time. Since it doesn't matter what I (or anyone else thinks), I want to congratulate the happy couple on finding each other and deciding to go public to share their happiness with their fans!
Lee Byung Hun's most famous ex-dating history was when he dated young Song Hye Kyo after they did All In together. The relationship lasted for about two years and then quietly ended. Lee Min Jung has never been romantically linked with any public entertainment figure since she entered the industry. There actually isn't a huge age gap, as Lee Byung Hun was born in 1970 while Lee Min Jung was born in 1982, giving them a twelve year age difference (which is just a year more than Lee Byung Hun and Song Hye Kyo who is a '81er). I usually try to keep mum about celebrity dating rumors until the couple in question decides to go public, because chances are the rumors are true (where there is smoke there is fire), but that doesn't matter since that couple can easily break up before walking down the altar.
With that said, since its yet another case of dating-rumors-confirmed, I'll throw out a couple of long standing dating rumors in K-ent. Gong Yoo has been rumored for a long time to be dating Im Soo Jung, and the rumors even heated up this year that the two secretly got married and filed for a marriage certificate. Both sides continue to deny it. Other notable dating rumors are Kang Ji Hwan and Jang Hee Jin which started in 2010, and most recently Gong Hyo Jin just broke up with Ryu Seung Bum after ten years of dating amidst rumors that she and her Love Fiction co-star Ha Jung Woo are now together. While the above three possible couples remain just rumors, Lee Min Jung and Lee Byung Hun have just outed themselves as Korea's newest power couple.