Now that the adult actors have arrived, the ratings for Missing You keep rocketing upward likely due to the combination of super weak competition (The Great Seer is a complete failure and Jeon Woo Chi has started off awkward and not very coherent) and a solid one-two-three acting punch in popular young actors Yoochun, Yoon Eun Hye, and Yoo Seung Ho (heh, I'm so tempted to start referring to them as the 3Ys). I've expressed reservations with Seung Ho being paired with his much older noona in Eun Hye, plus he was coming off a truly mindnumbingly dull performance in Arang and the Magistrate, so I dialed my expectations way low for this role. Happy for me, he's exceeded all my expectations and now I only wish the writer would spend a bit more time developing both Hyung Joon and Soo Yeon's characters. The writer is really doing an outstanding job of writing Jung Woo, which helps smooth over her lazy writing when it comes to plot contrivances. But unless the writer delves deeper into Hyung Joon and Soo Yeon as well, it'll end up relying on even more silly plot twists to generate conflict.
Hyung Joon has the potential to be such a great conflicted character that can do bad things because of good reasons and make it hard to either love or hate him. Soo Yeon, I want her to reunite with and get over her pain that is tied to Jung Woo, and then decide which guy she wants to be with, the one who has been her other half for the last 14 years, or the one she has never been able to forget or let go of. I really didn't care much for young Jung Woo, but I'm loving adult Jung Woo with his goodness mixed with ferocity that just works because we know how he got to be the person he is today. Missing You is still stupider than a school of jellyfish but the little bits that work for me keeps me interested and appears to be hooking new viewers in Korea. My recaps, for as long as I am interested enough to write them, will be much more screencap heavy for this particular drama than usual. The visuals are so pretty in its palates of ochre and blue but the narrative isn't nearly as interesting.
Episode 6 recap:
Jung Woo manages to scale that gate after all (go Jung Woo!) and catches up to Soo Yeon. He yanks her around and stares at her, trying to confirm whether or not she's Soo Yeon. Not sure if Soo Yeon recognizes him on sight but she's affected and stares back. When Jung Woo's partner arrives, Jung Woo releases Soo Yeon and walks off, mumbling that she can't be her. Soo Yeon stands in the rain and stares after him.
Hyung Joon stands before the portrait of him and Soo Yeon and stares at it. I know you're handsome, baby boy, but that's taking narcissism to a whole new level. But chances are you are staring at Soo Yeon, which I don't blame you for doing.
When Soo Yeon gets out of the shower, Hyung Joon turns to leave and she can tell he's not terribly pleased she came to Seoul without letting him know where she was headed. Hyung Joon asks that she never make him that worried again (not knowing where she was). She promises, but then blames him for turning off his cellphone first. They both realize the other isn't really all that angry or contrite because they know each other so well.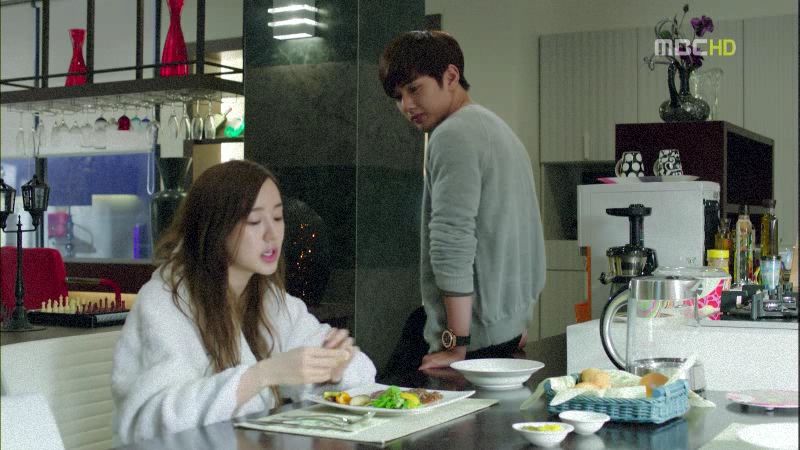 Hyung Joon fixes Soo Yeon a meal and she brings up running into a cop outside. She says the guy tried to talk to her, but laughs it off that she's too pretty. Hyung Joon hears she ran into a cop and looks pensive.
Hyung Joon puts his hand on Soo Yeon's shoulder and her hand reaches over to touch his as well. They have such a natural and almost seamless interaction with each other, albeit not quite healthy since their world consists of only each other.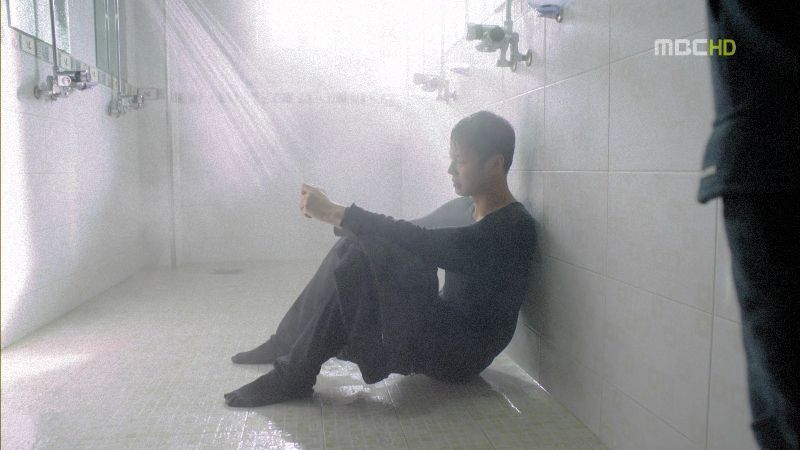 Jung Woo goes to take a brooding shower while fully dressed.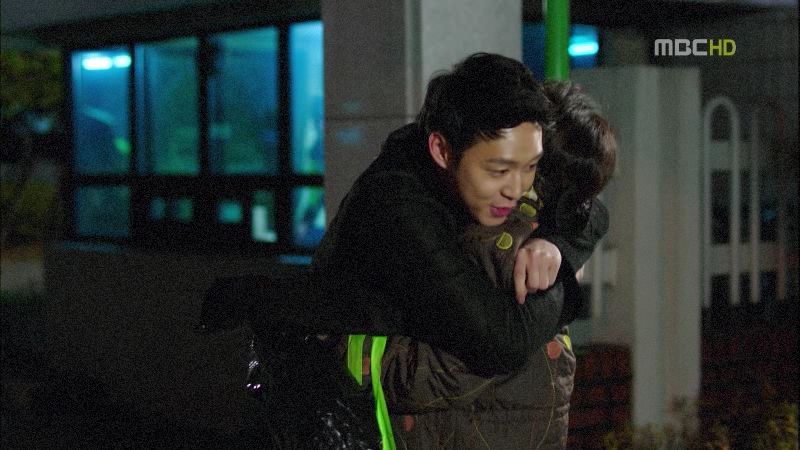 Soo Yeon's mom buys "her son" a new coat and brings it to Jung Woo at the police station. I love their relationship. If for no other reason, Soo Yeon should end up with Jung Woo because he's taken care of her mom for the last 14 years and they have a chance to be a functional happy family after all is said and done.
Jung Woo calls Hyung Joon to brief him on updates with the investigation into Nurse Hye Mi's death. Hyung Joon asks Jung Woo to call him first before showing up at the house and Jung Woo agrees.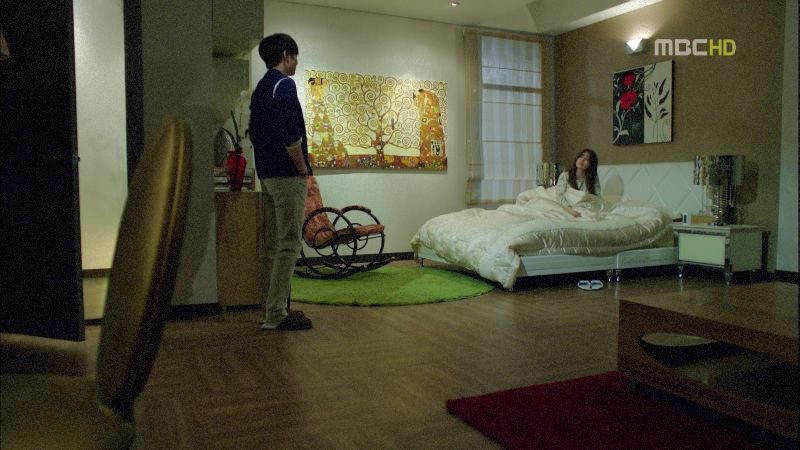 Soo Yeon can't sleep at 4 in the morning and Hyung Joon knocks before entering her room to keep her company.
She tells him to sit next to her and he teases back that it should be more than just sitting. He asks if he can lay down. I love how respectful yet flirty he is.
Hyung Joon and Soo Yeon lie in bed together staring at each other. She touches his cheek where he has a scar from the childhood injury and says its visible now that he got short hair. She use to think that if Hyung Joon ever left her, she would use his scar to find him. Hyung Joon points out that he's got a crippled leg, how could be possibly leave her? He asks that she not run away because he can't possibly chase after her.
Soo Yeon asks if she can stay here until he finishes his work. Hyung Joon sighs that he doesn't want to work when she's around. She raises her hand to promise him she won't distract him. Hyung Joon smiles and tells her to do whatever she wants. Hyung Joon wonders why she hasn't asked about Nurse Hye Mi's passing? Soo Yeon assures him that she's really discarded all those bad memories. Soo Yeon and Hyung Joon cover each other up to sleep.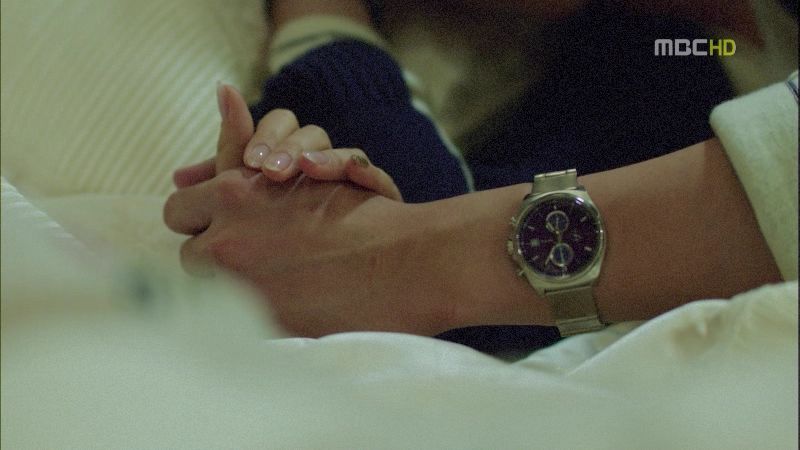 Hyung Joon reaches out his hand and clasp Soo Yeon's, and she grasps his back. After Hyung Joon falls asleep, Soo Yeon waves her magic memory forgetting fingers over his face as if to wipe away his bad memories.
Jung Woo looks at the CCTV footage and tracks down Han Tae Joon's secretary, who claims to not know Nurse Hye Mi. Riiiight. Jung Woo doesn't buy his story so continues investigating. Secretary hears that Nurse Hye Mi has a nephew and asks to get in touch with him. When Secretary sees the dossier on the nephew, he realizes that its the now-adult Kang Hyung Joon.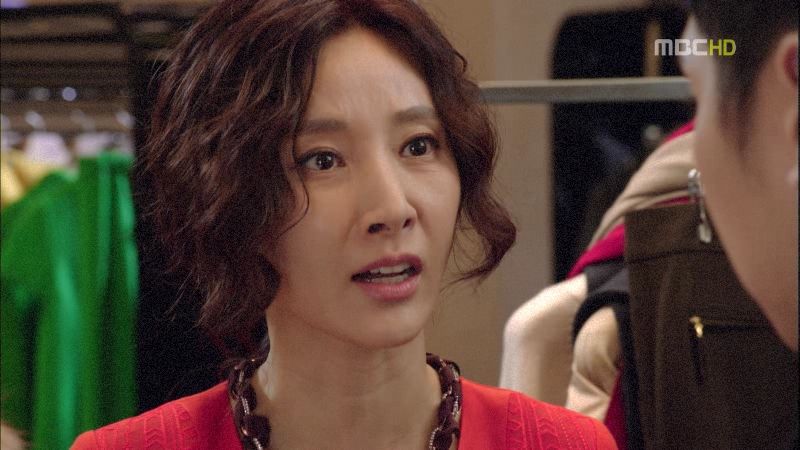 Jung Woo goes to his stepmother's store and asks if she knows the deceased Michelle Kim (Nurse Hye Mi). Stepmother says she's never met Michelle Kim, and someone suggested that woman as a potential investor in Stepmother's clothing boutique.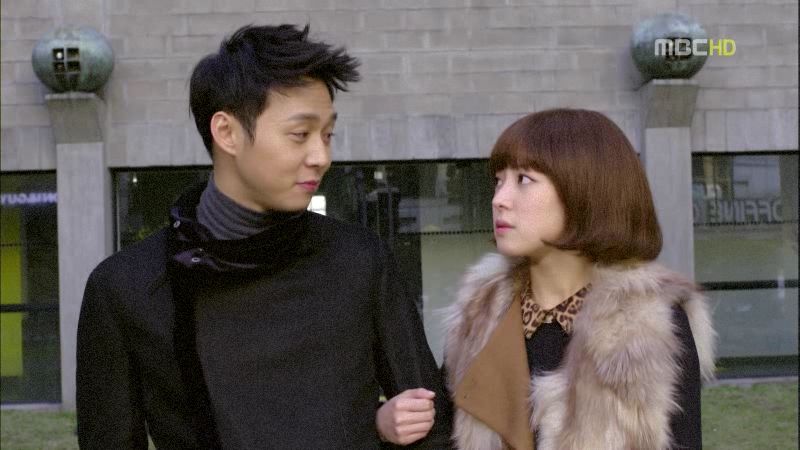 Ah Reum arrives and walks out with Jung Woo, grumbling about going to a matseon today. She wonders if her oppa has a girl he likes and Jung Woo says there is always a woman in his mind and his heart. Ah Reum teases that even if he found Soo Yeon unni, she won't like him because he's changed so much. Jung Woo says he's not changed at all.
Jung Woo's partner goes to Hyung Joon's house to wait for him. Soo Yeon calls Hyung Joon and he says he will be right back. Soo Yeon is cooking when Jung Woo arrives.
When Jung Woo's partner calls his name, Soo Yeon freezes and she repeats it, now aware of who he is.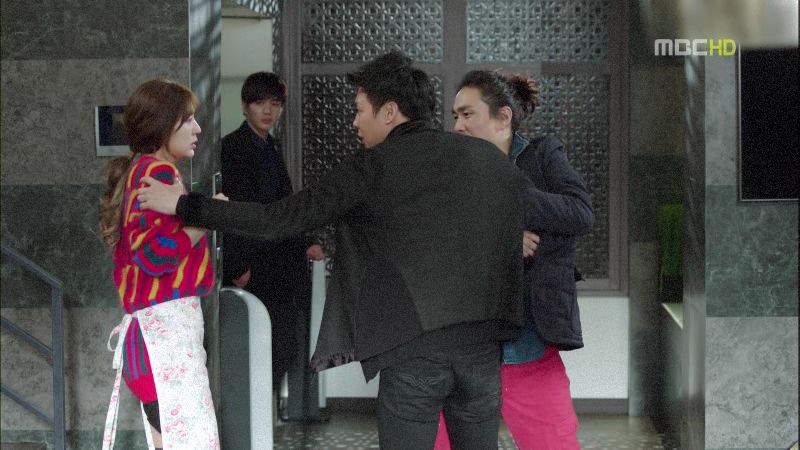 Jung Woo hears her say his name and he grabs her, demanding to know who she is. Jung Woo screams at Soo Yeon to says his name again. Soo Yeon doesn't answer and Hyung Joon returns home.
Jung Woo's partner briefs Hyung Joon, who stares at Jung Woo, who stares past Hyung Joon's head at Soo Yeon who is in the kitchen. Apparently before the accident, the lights in Harry's locked room was turned on for 30 minutes and then turned off. Hyung Joon says his aunt has the keys to his room. Hyung Joon cut to the chase and asks Jung Woo if his fiancee did anything wrong?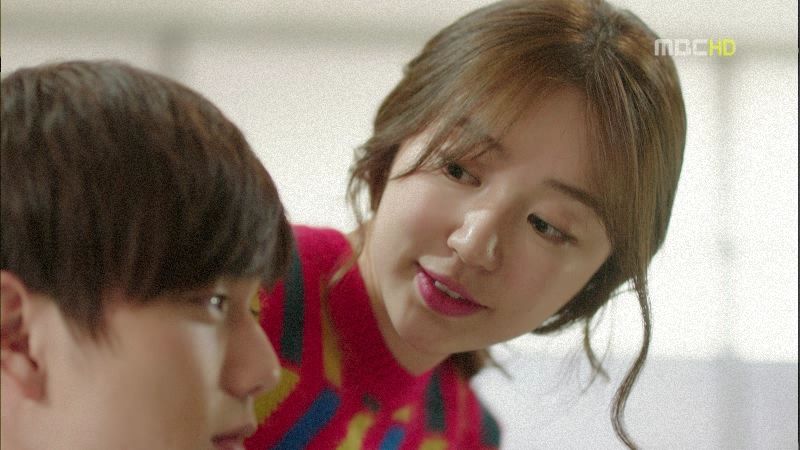 Jung Woo asks to speak with Hyung Joon's fiancee. Hyung Joon smiles and asks if Jung Woo is interested in his fiancee and using this case as an excuse. Hyung Joon sighs and says what to do about that? Soo Yeon walks over and puts her hand on Hyung Joon's shoulder and says there is nothing that needs to be done, since she only loves Hyung Joon.
Hyung Joon teases that he ought to be nervous since his fiancee is so popular. When Soo Yeon turns to leave, Jung Woo stands up and asks her to stop. Soo Yeon walks over and touches Hyung Joon's shoulder while looking Jung Woo in the eye and asking what he wants. Jung Woo apologizes for his untoward behavior earlier.
Then Jung Woo asks who taught Soo Yeon the "will the rain stop" chant. Soo Yeon freezes, and Hyung Joon turns around and asks Soo Yeon to share where she learned it. Soo Yeon steels herself and turns around, saying that she doesn't remember anymore.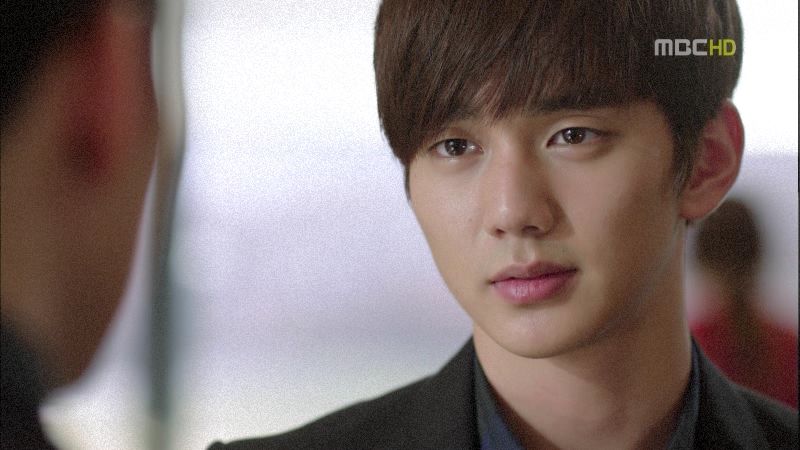 When Jung Woo moves towards Soo Yeon, Hyung Joon stands up and tells Jung Woo to contact him when the autopsy results are out.
Jung Woo goes drinking with his cop buddies and gets adorably drunk. He's such a decent guy, I wish he could move on even without getting Soo Yeon back, that he could work through his issues first. Afterwards he goes to the warehouse where Soo Yeon was raped and sits there in the dark.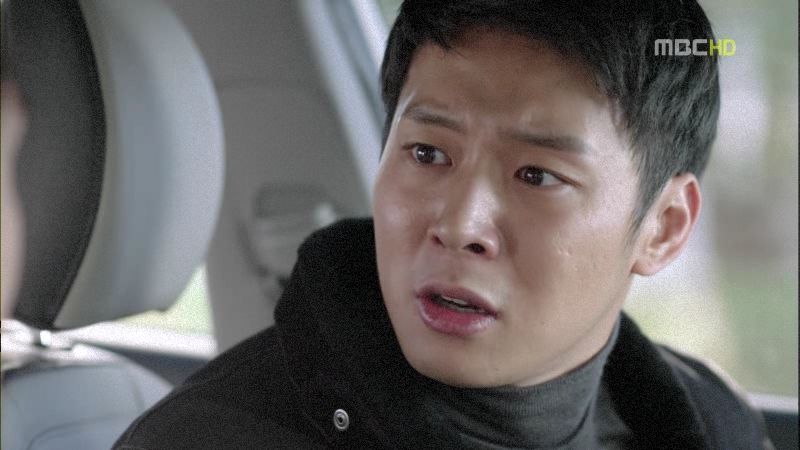 The next morning, Jung Woo's partner grabs him and slaps handcuffs on him because today is the day the rapist will be released.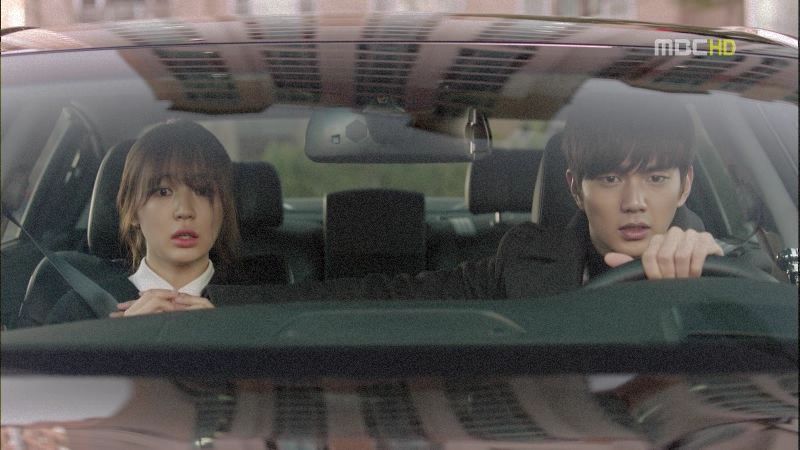 Soo Yeon and Hyung Joon are driving home when their car hits the just-released-from-jail rapist as he crosses an intersection. SERIOUSLY?!?! *headdesking forever here*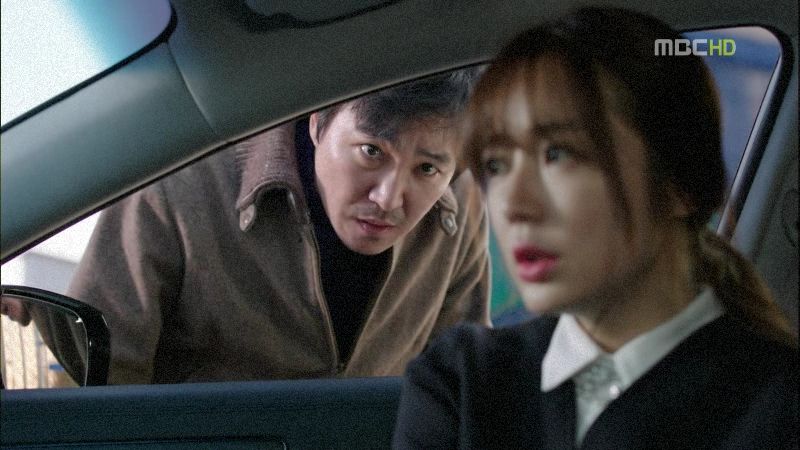 Hyung Joon gets out to check on the man, and Soo Yeon recognizes him when he makes the same mouth swipe gestures. She starts to freak out inside the car and the rapist notices her and walks over. He reaches into the car and grabs Soo Yeon's phone.
Hyung Joon manages to get rid of him, promising to pay for his medical costs and compensation. After the rapist leaves, Hyung Joon reaches into Soo Yeon's window and finds her trembling in fear.
Soo Yeon locks herself up in the bathroom under the running shower. Hyung Joon tries to get her to open up but she doesn't respond. He finally gets inside and pulls her into his embrace as she screams in pain.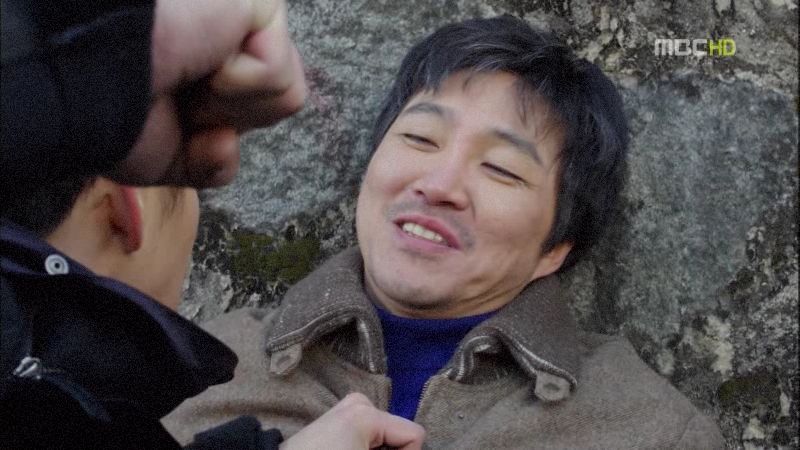 Jung Woo finds the rapist but this guy is no joke and proceeds to beat Jung Woo up. He tells Jung Woo that he knows where Lee Soo Yeon is. Eun Joo arrives and stops Jung Woo from being beaten further. The rapist leaves.
Hyung Joon sits beside a sleeping Soo Yeon and stares at her. He gets a call from Secretary asking to meet. Secretary says he hasn't told Han Tae Joon (Hyung Joon's half-brother who is also Jung Woo's dad) that Harry's real identity is Kang Hyung Joon. First this drama makes it so hard for the evil side to track down Hyung Joon, and then makes it super duper easy when it feels like it.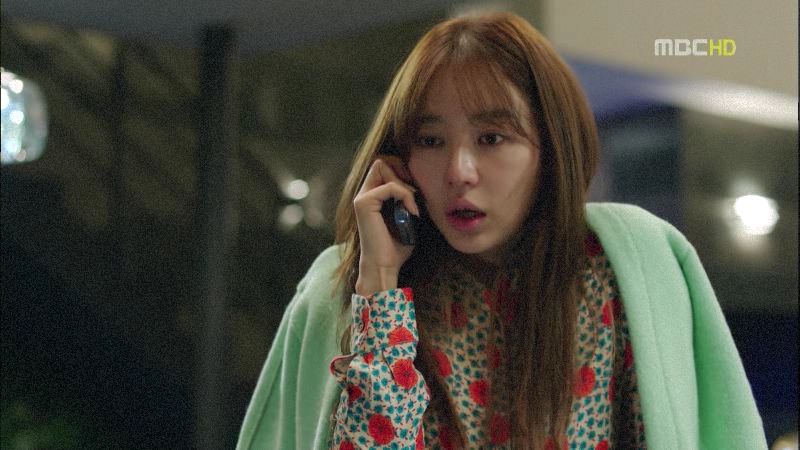 Soo Yeon wakes up and its nighttime. She gets a call at home and its from her own cell phone and its the rapist calling. He claims he's injured and needs help, otherwise he'll report the driver to the police and her boyfriend will go to jail. Soo Yeon stammers out a "wait".
Hyung Joon meets up with Secretary at the banks of the Han river. Secretary blackmails Hyung Joon for money to keep quiet about his return to Korea. He knows Hyung Joon is also with Soo Yeon now and they disappeared together. He reminds Hyung Joon that the police have an open file still looking for Soo Yeon. He asks how much Soo Yeon is worth to him? What a scumbag. Hyung Joon asks how much Secretary was paid to get rid of his mother?
The rapist is at home and gets a delivery box. The top layer inside the box is the front page news from Lee Soo Yeon's rape and murder 14 years ago. Before he can open the inside box (if there is a severed head inside imma calling super foul with the writing), the door bell rings again.
He peeks through the eye hole and sees the silhouette of a girl (which clearly means its not a girl and is some guy dressed like a girl, if my suspicious mind is correct). He thinks its Soo Yeon and stars to act like his neck hurts. He opens the door and is promptly tasered.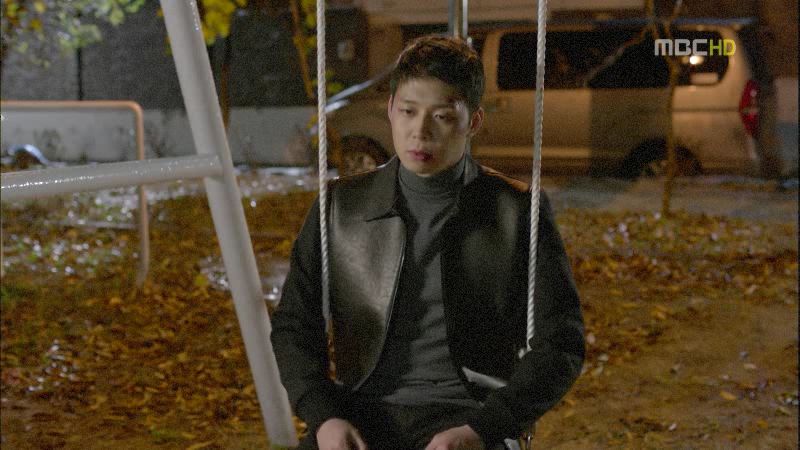 Jung Woo sits in the old park on a swing and thinks of Soo Yeon as he twists the swing around like Soo Yeon used to do.
Jung Woo's partner goes to the rapists apartment and knocks on the door. But the rapist has been bound and gagged in the bathtub so cannot answer. A towel is placed on top of the rapist's face and we see him slowly suffocating.
Soo Yeon drives home and sees Jung Woo waiting for her outside the gates. She gets out to talk with him. Hyung Joon sits in his car and checks his tablet which is wired to surveillance his entire residence. He sees on the gate camera feed that Soo Yeon is talking with Jung Woo outside the house.
Jung Woo asks Soo Yeon to call his name. He knows she's not the girl he's looking for so he needs some closure before he goes crazy. Soo Yeon calls "Han Jung Woo" and Jung Woo cries. He turns around and stares at her.
Click here to watch Missing You.