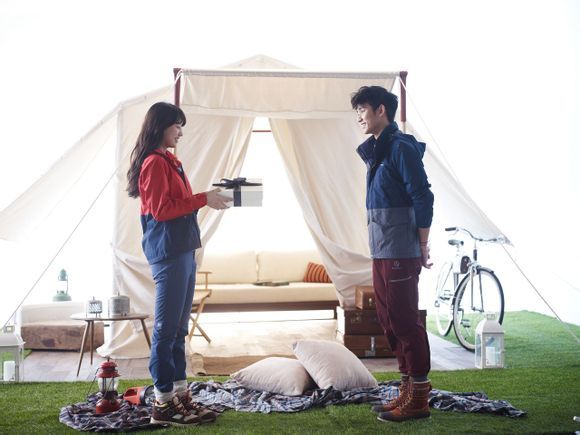 What? I can't hear you over the CUTENESS OVERLOAD that is Kim Soo Hyun and Suzy for the Spring collection of sportswear brand Beanpole. When I posted last week about all these sportswear brands like K2, Kolon Sport, et. al, I realized that the craze has even spread to the teen and young adult market with Beanpole using the Dream High epic couple of Soo Hyun and Suzy to rep their wares. This is the third collection they've modeled – they did the Summer/Fall collection last year which was shot in New Zealand, and also went back to the same picturesque locale for the Winter line. In mid-January, Suzy and Soo Hyun jetted off to Thailand to film the Spring 2013 ads and were spotted by the fans and media cheerfully waving goodbye at the airport. Beanpole really knocked this one out of the park in terms of selecting this onscreen pairing to keep making magic together. Soo Hyun and Suzy have this completely wholesome vibe, not too skinny and with smiles that light up their whole face. Neither give off the impression of being too cool for kicks and they always seem to enjoy each other's company doing things together. What more can one ask for in a spokescouple, right?
For the Spring collection, I have to say my disappointment is in the stylistic offerings. The outfits all look so fugly! What gives, Beanpole. The clothes in the previous seasons were suitably young and sporty, but these just scream "trying too hard." And it doesn't help that Kim Soo Hyun's hair is styled like he was a victim of a failed perm and then used his mother's rollers to tame the ensuing monstrosity. It's so incongruous with outdoor clothing – but then again, with South Korea's penchant for dolling up to engage in outdoor activities, its not inconceivable that some guy will primp his hair to the nines before donning some Beanpole threads and heading to the local hillside for a leisurely hike that won't break a sweat. It's all about the see-and-be-seen. Suzy's clothes are slightly better, and I love the first picture above where they are getting ready to camp out and exchange presents. If this follows their previous pictorials for this brand, there is bound to be more goodies to come and I'll be eagerly waiting to lay my grubby hands on more cuteness.
© 2013, ockoala. All rights reserved.