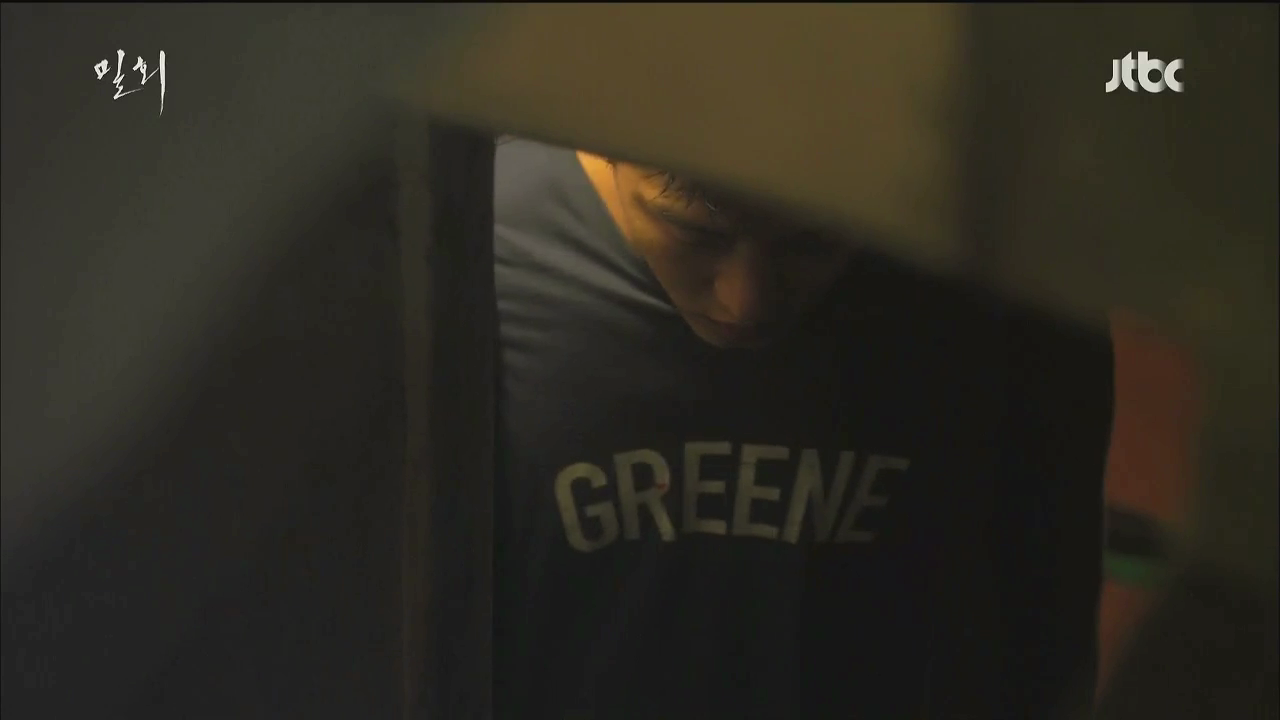 I am not sure what to think of Sun Jae. I would hate to say he's perfect. He is confident, clear-minded, hard-working, and let's not forget clean. To make it more interesting, let's compare him to Hye Won. Where she is afraid, he is brave. Where she lies (and lies and lies) to him, he tells her the truth. Where she manipulates, he treats people well whether he wants something from them or not. Where she thinks only of herself, he worries about her. Where she scoffs, he speaks from the heart. Where he sees her as a person worth loving, she allows others to continue to abuse her and thanks them for it.
Where she seeks to put distance between them, he knocks down those false walls at every time. Hye Won has no chance against him, really, because at least for now, he is ten times stronger than her. When she is with him, her smug attitude disappears. Even when spiteful words leave her mouth, the hurt of them doesn't land on him. He listens to only what counts, and lets the rest fall away. Where does he get this strength? What built up this BS shield? What about her activates it? Her scent? The boy has had to put up with a lot of crazy from this broad. From the beginning, she has attempted to demean him, and keeps treating him less than a worthy partner. Perhaps it was as simple as disarming her the first time with his music.
Whatever that power is, it should be respected. Is it love? Let's see: He is patient, kind. He does not envy or boast, he is not proud. He does not dishonor others, is not self-seeking, is not easily angered, and keeps no record of wrongs.  He does not delight in evil but rejoices with the truth.  He always protects, always trusts, always hopes, always perseveres. He never fails Hye Won.  Yep, I have to say, Sun Jae is love.
Episode 8 recap: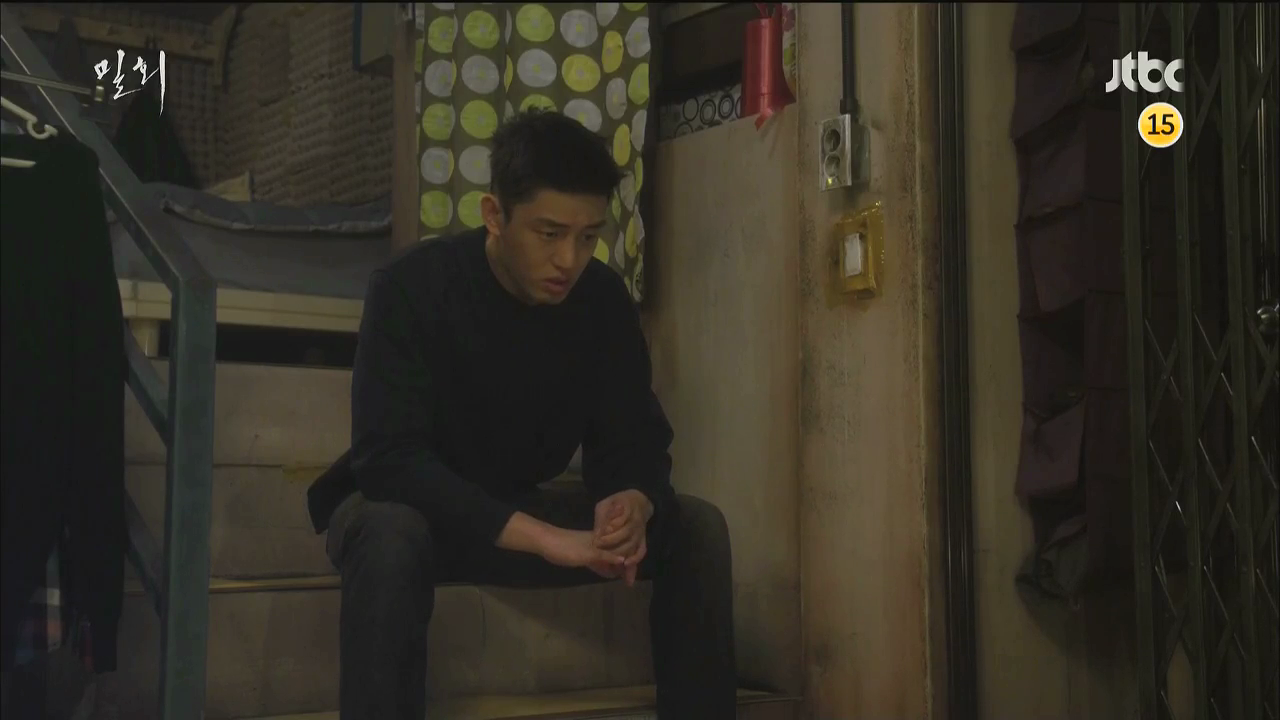 Home again after his scholarship award presentation, Sun Jae sits on his steps recalling Young Woo's insults to Hye Won, as well her bruises. He doesn't like her being called, corrupt, and someone's errand girl. There isn't anyone to talk about her to, so he goes online looking for "Tone-Deaf" Hyung. He wants to tell him how much has happened since they spoke last, and how miserable he is. But it's not because of how bad she treats him, but how much he doesn't like that someone is treating his woman.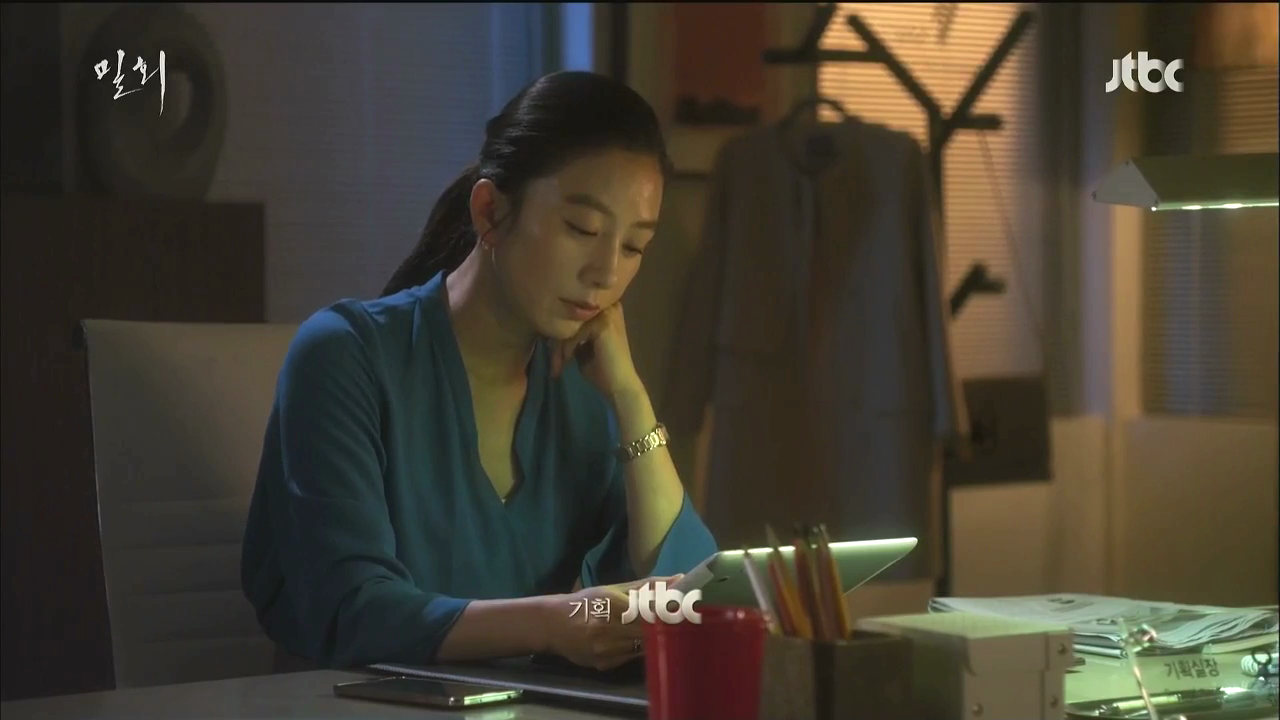 Hye Won, still at work, picks up her tablet and reads these sad words about her own scrapes and bruises on her face and hand. Sun Jae accuses himself and his love of being useless. Bad Hye Won, as False Hyung notes that the goddess dropped to being a woman, joking she's human after all. Sun Jae won't admit that, but says he is angrier because he was there to see her humiliated. Would she be upset if he wanted to see him after that?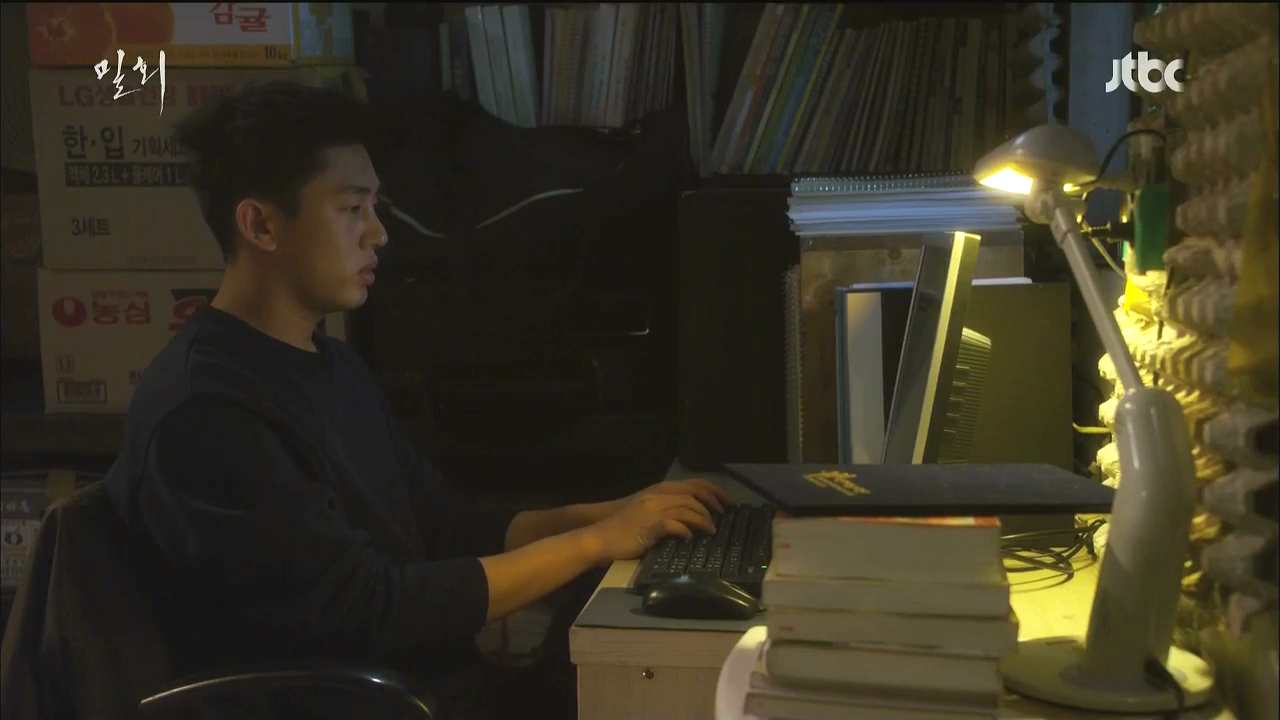 She replies, "Well, you are annoying, so just do what you feel like." along the lines of "It never stopped you before, so go ahead." They both wait, thinking about what the others said. Wiping his mouth before picking up his cell, he goes for it. Hye Won coolly reads the text, an extremely assertive one. "I need to see you, Teacher," and he's not waiting until the weekend lesson, not with the way things are unsettled between them.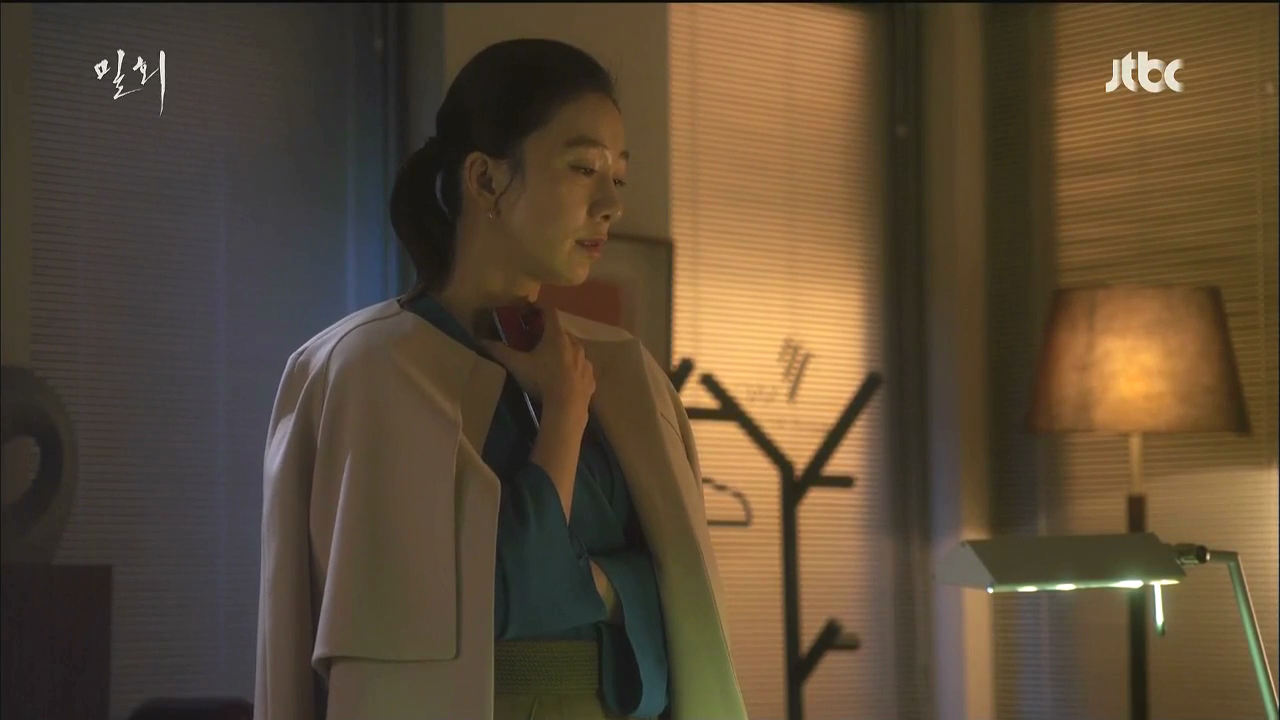 Whether it was exactly what she wanted do hear, or whether it was what she dreaded hearing, she closes her eyes and doesn't respond, but has a wistful look on her face, "I won't ask you anything, I'll just be with you. I won't reserve a hotel room." He invites her to his house because "Don't you like it there?" The way she looks at her phone, I'd say she does.
A very large rat, as in Joon Hyung is out in the hall peering in through the keyhole.
I actually LOL'd at this. Slowly and very very quietly, he changes his position to try to look through the crack in the door. If he had a cup on him, he would have put it up against the door to listen.
Sun Jae throws himself down miserable, wiggles his foot in impatience, and checks his phone.
Joon Hyung tip toes down the hall out the stairs, only to run into Da Mi going up, who gets a good look at him and keeps going to Sun Jae's door.
She wasn't whom Sun Jae wanted to see; he reminds her she has to call before coming over. Well, if the professor shows up, she can always leave, right?
The panic on his face shows how badly he wants her out of there and they decide to go out to eat.
Hye Won arrives and parks. She breathes deeply a couple times before spotting the young pair coming down the stairs.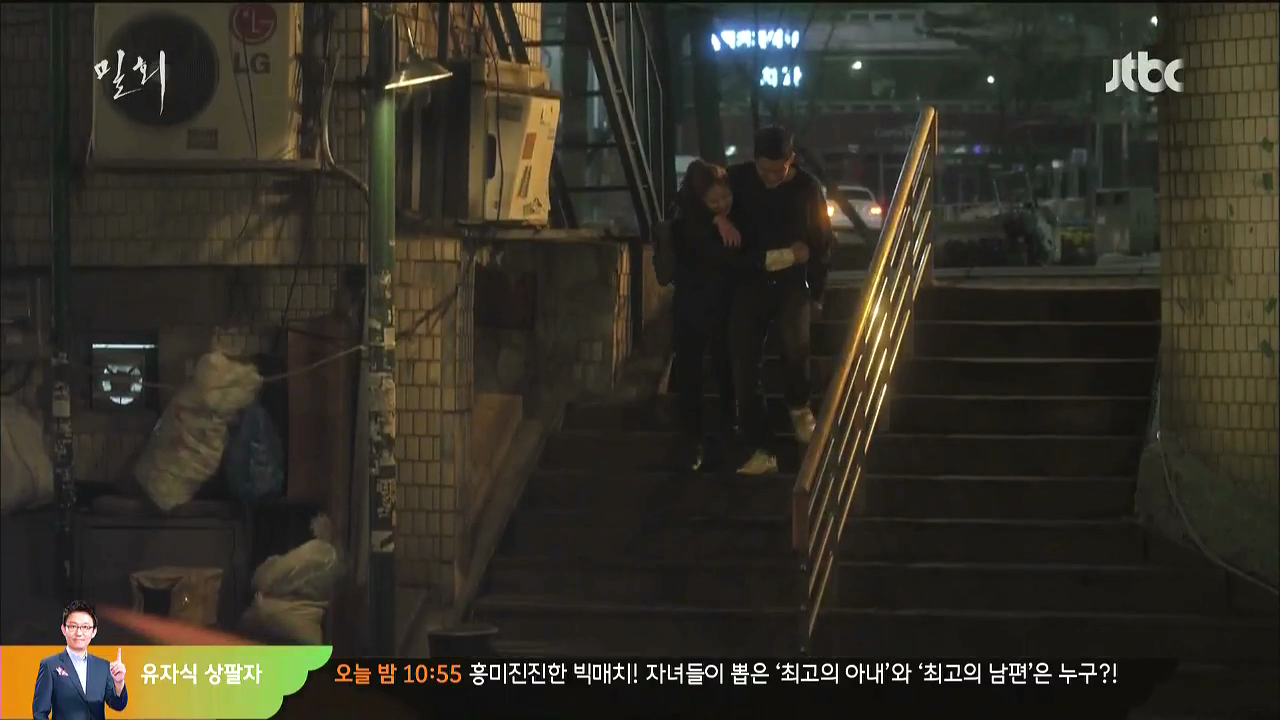 They hug companionably. She ducks before they can spot her,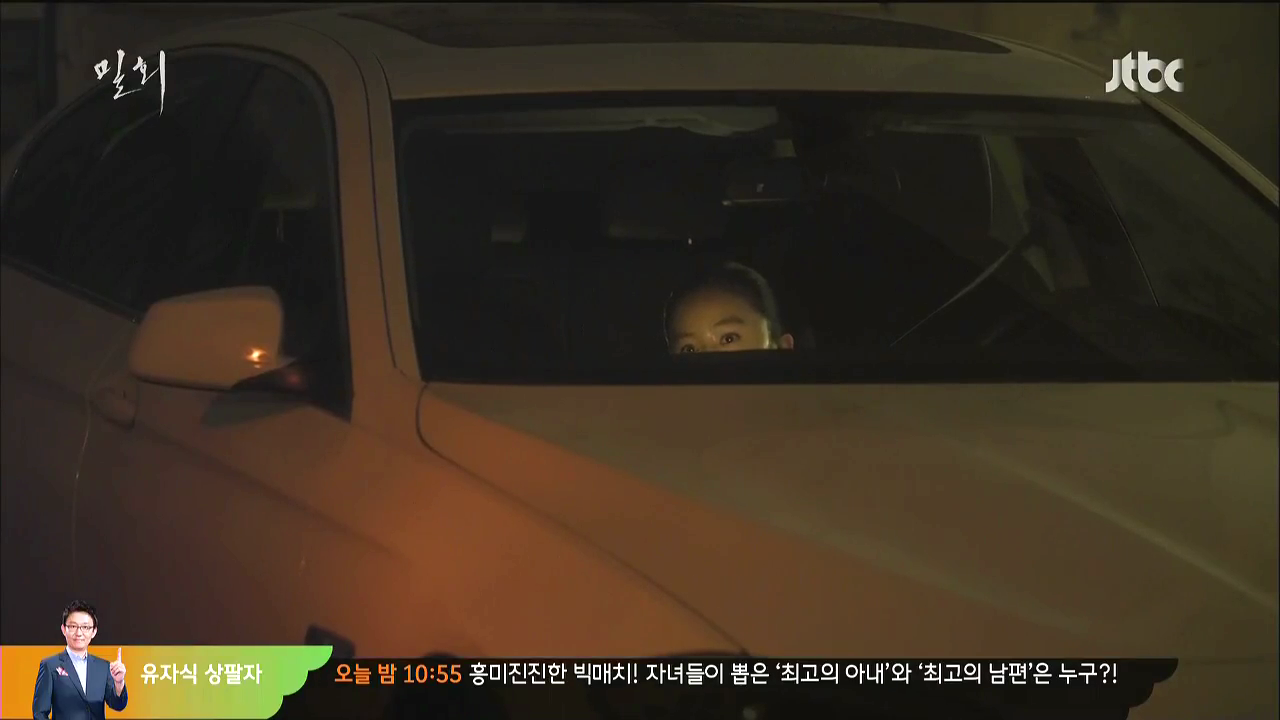 and she is NOT happy with the sight.
Big Rat, Joon Hyung is helping himself to drinks chez Young Woo, who is whining.
"Why are you acting like this? I'm going out." He pouts, "Are you going to dance? Go out then, I'll get drunk alone." Exasperated, she calls Hye Won demanding to know what the heck is up with her hubby coming to see her suddenly. "You and I both have a marriage of convenience (OH!) But isn't this a little ridiculous?"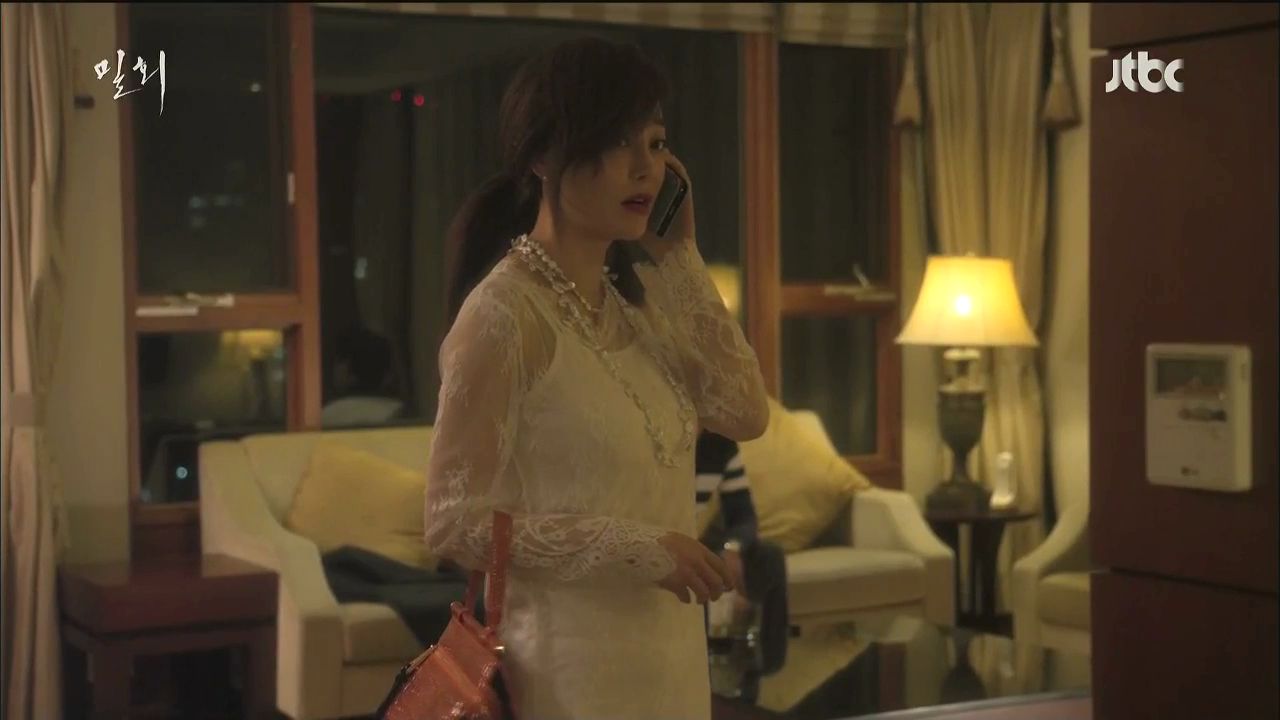 Hye Won tells her over a 25 year friendship, this is nothing but a minor irritation to deal with and hangs up. The call interrupted her jealous glaring, which she resumes, taking some calming breaths.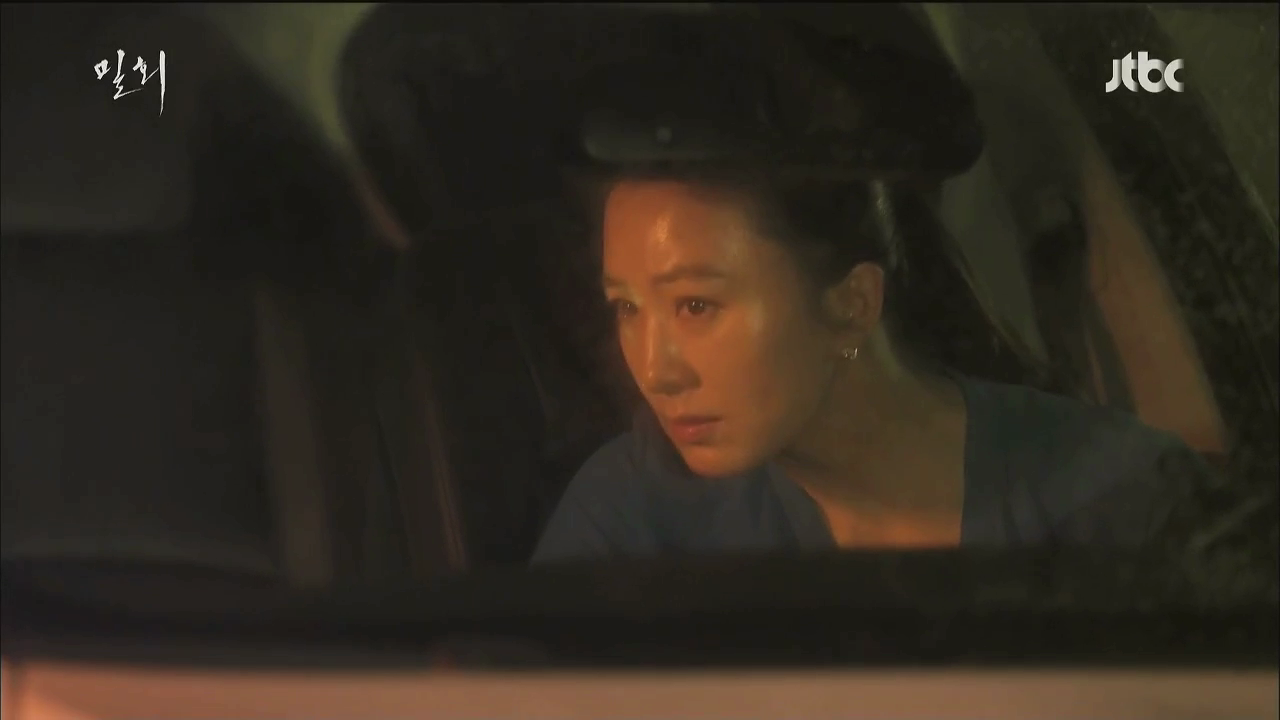 Sun Jae and Da Mi are gobbling up noodles at a food tent; Da Mi tells him about her self-improvement plan so she can one day measure up to his success.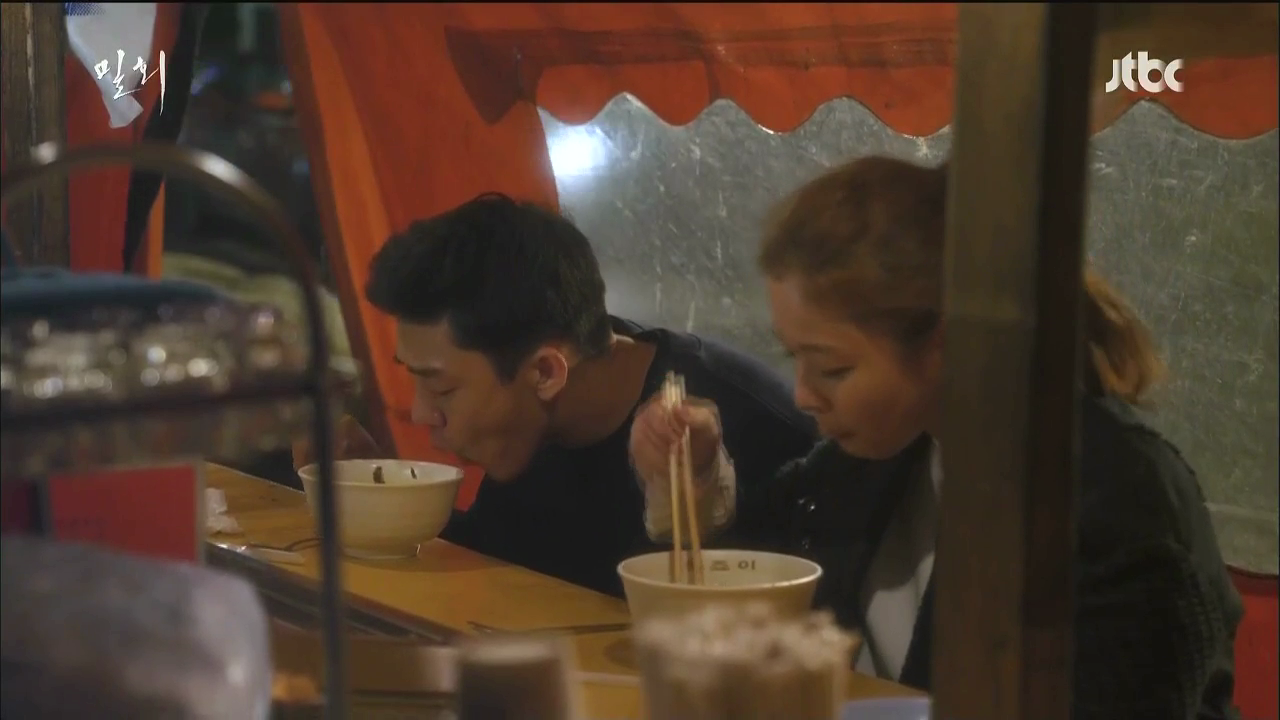 She talks of going to junior college and maybe university. Being only a high school grad and begging for kisses, that won't work. She may not be able to become like her adjunct professor in Cosmetology, but she'll have to make some progress if she wants to marry him. The young man impatient to leave, and checks his phone in his pocket. "Park Da Mi," he begins, "You…" She is curious, "What?" Whatever he planned on saying, he stops now, "Forget it."
Hye Won looks off dejectedly; someone scares the heck out of her knocking on the window.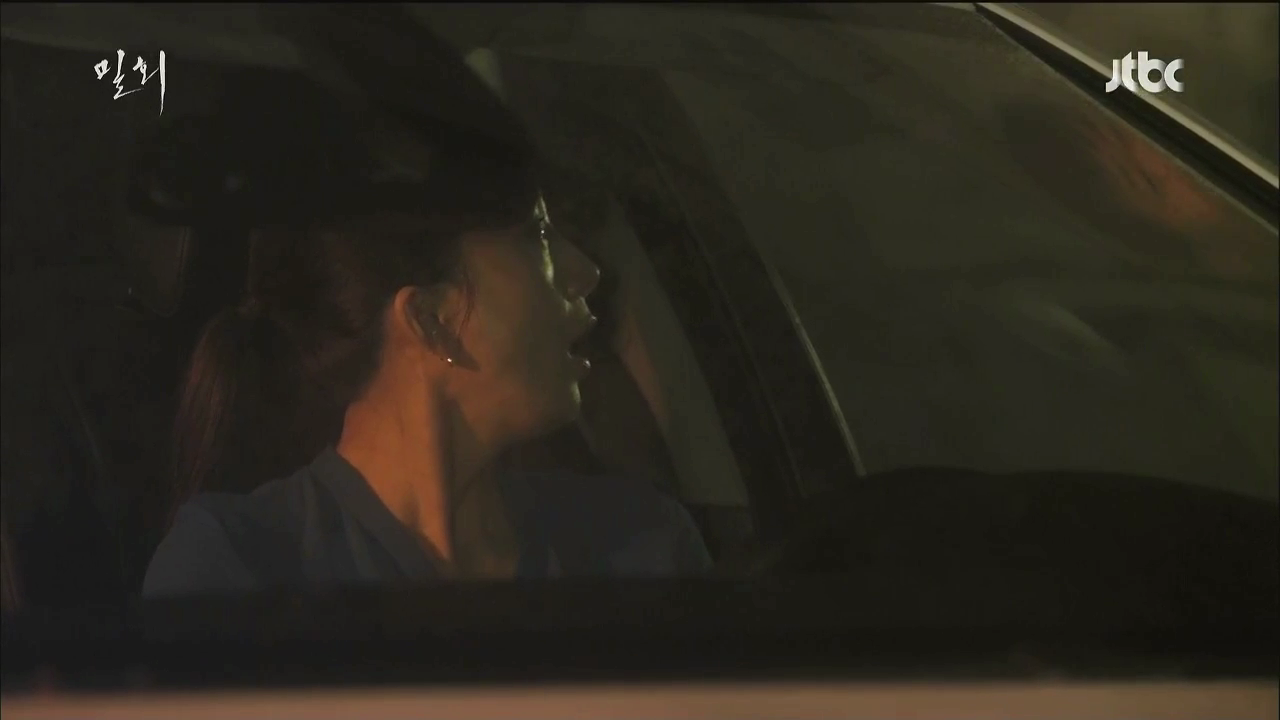 Flustered, she brings the window down. The guy is telling her she has to move her car. Can't she see she is in a "Residents Only" spot? She apologizes and says she'll park elsewhere. Dropping polite speech, he informs that the whole place is a fire lane; she's got no place to park. Of course, she takes exception to his informality. "Are you using banmal with me?" Not impressed with her, he calls her ahjumma, and tells her to hurry up. She is shocked. "What?!" To which he replies. "Move it!" So she does, stuttering for him to get out of the way, then.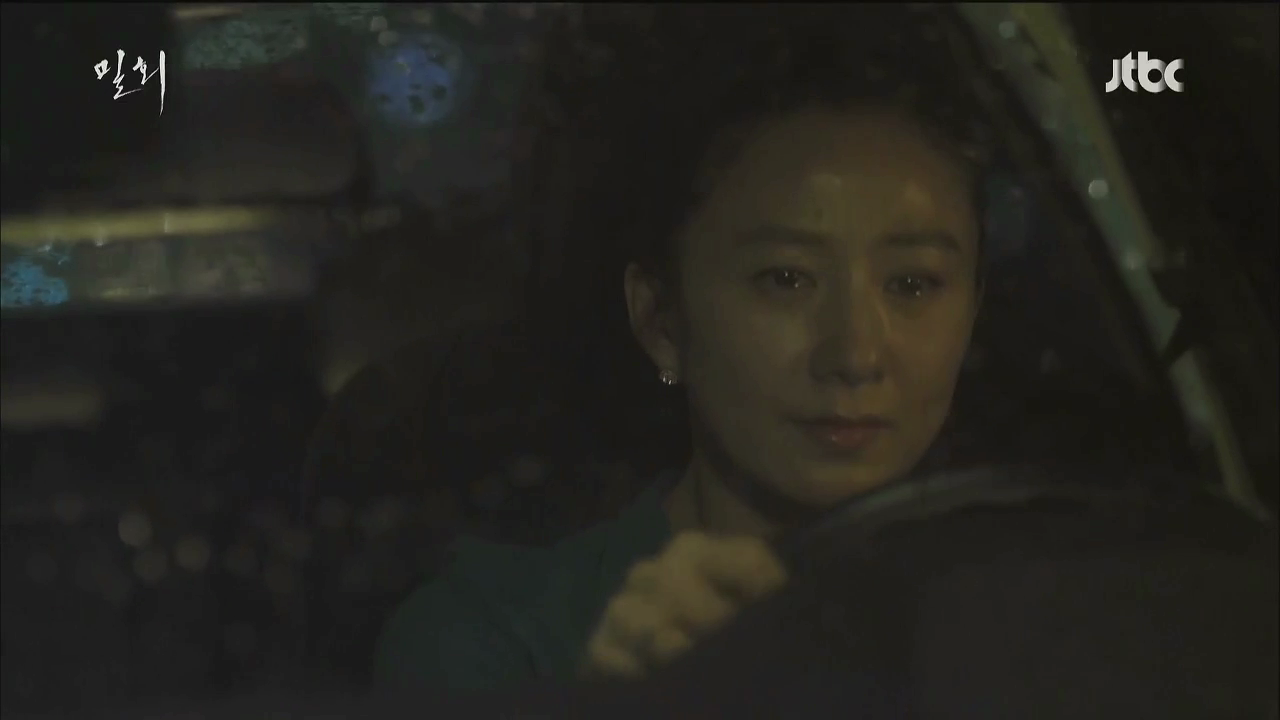 With her need to be comforted thwarted, she weeps on the drive home. The tears well up from a source deep within, and they keep flowing. It is as if the well has been there for a while just waiting to be tapped.
The next morning, near her Sun Jae window, she sits forlorn, drinking her tea when the door bell rings.  The maid lets Sun Jae in, and he makes his way to the Piano Room, while Hye Won puts the finishing touches on her make up and gathering her strength.
I think she puts it in her hair. The cardigan of elegance draped on her shoulders, white flowing tunic over soft white leggings, she epitomizes grace as she enters the room. She greets him and stares, grasping her fingers, then…"Did you have a FUN fiery Friday night?" More staring, now with a disdainful head tilt, "Don't you have dreams? You don't have ambition? Can you spend so frivolously the talents that other people don't have?" Each word gets progressively heated. Sun Jae, whose reaction we can't see, replies. "What did I do?"
She jeers "What did you do? Why are you asking me?" She shoves him onto the piano, "Don't you know better?"
He stays silent. "Then why do you bother coming here?! Huh?" Second louder crashing shove. Wisely he jumps away from the piano. She continues to rant, and he keeps backing away, trying to read between her lines.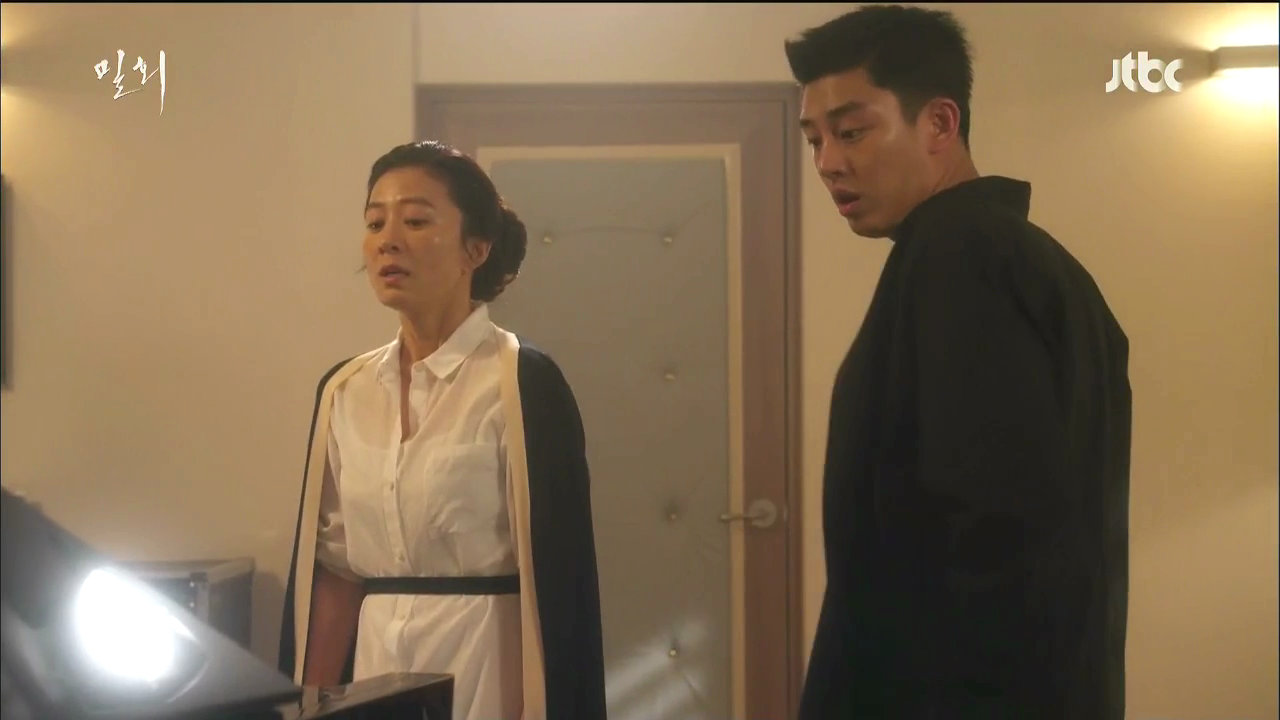 After the third shove and the question, "Why don't you play around with your girlfriend?" He understands, suppresses a smile, and stops her by holding her arm.
"So you did come, right?" She won't admit that, she was just passing by and didn't purposely go there…She struggles with him, yelling about how the two of them were completely grabbing on to each other and having a great time.
He lets her go for a bit, wincing at the heat of the accusations, then takes her by the shoulders and sits her down on the sofa, "All right, Sparky," he does a little calming squeeze to her upper arm, "It's fine."
"What's fine? What do you know?" She pretends to contain herself. Moving to neutral territory, he seats himself a few cushions away. There are a few good things that happened as a result, actually, she showed up.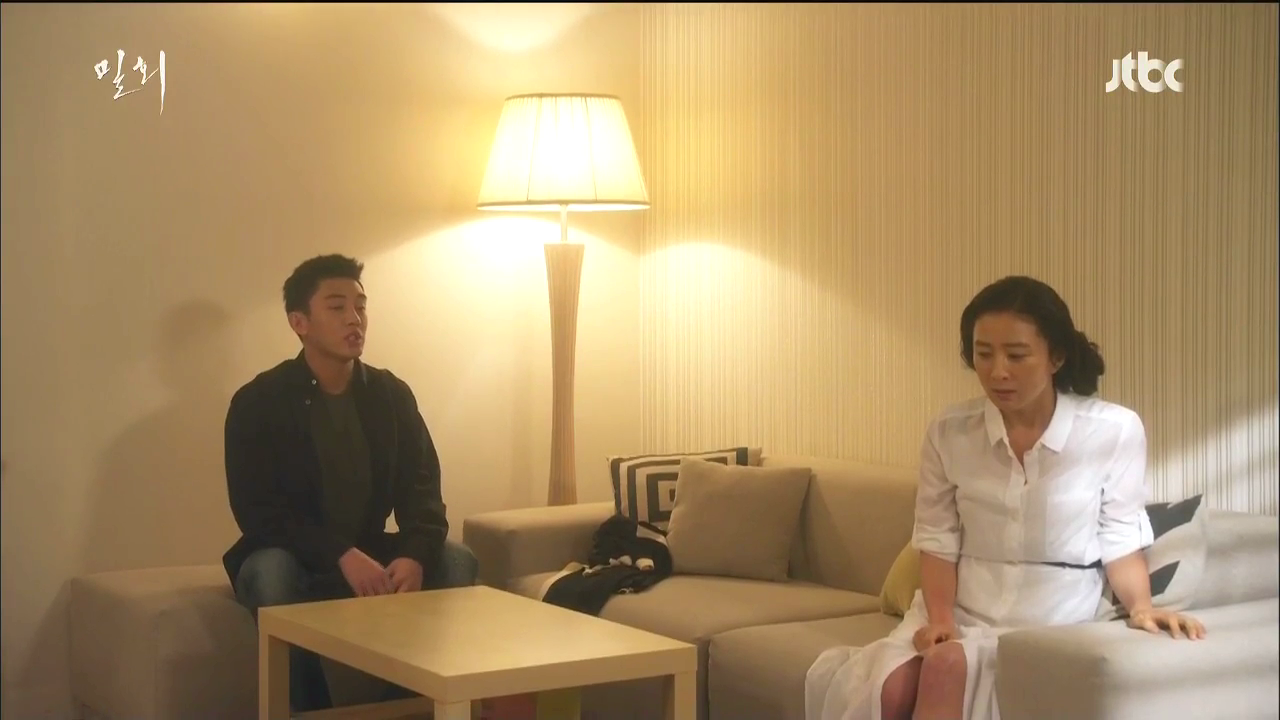 She's jealous, so he is happy, and it's awesome. He points to his heart. He feels confident to ask her –  Hye Won has her hands up in her hair.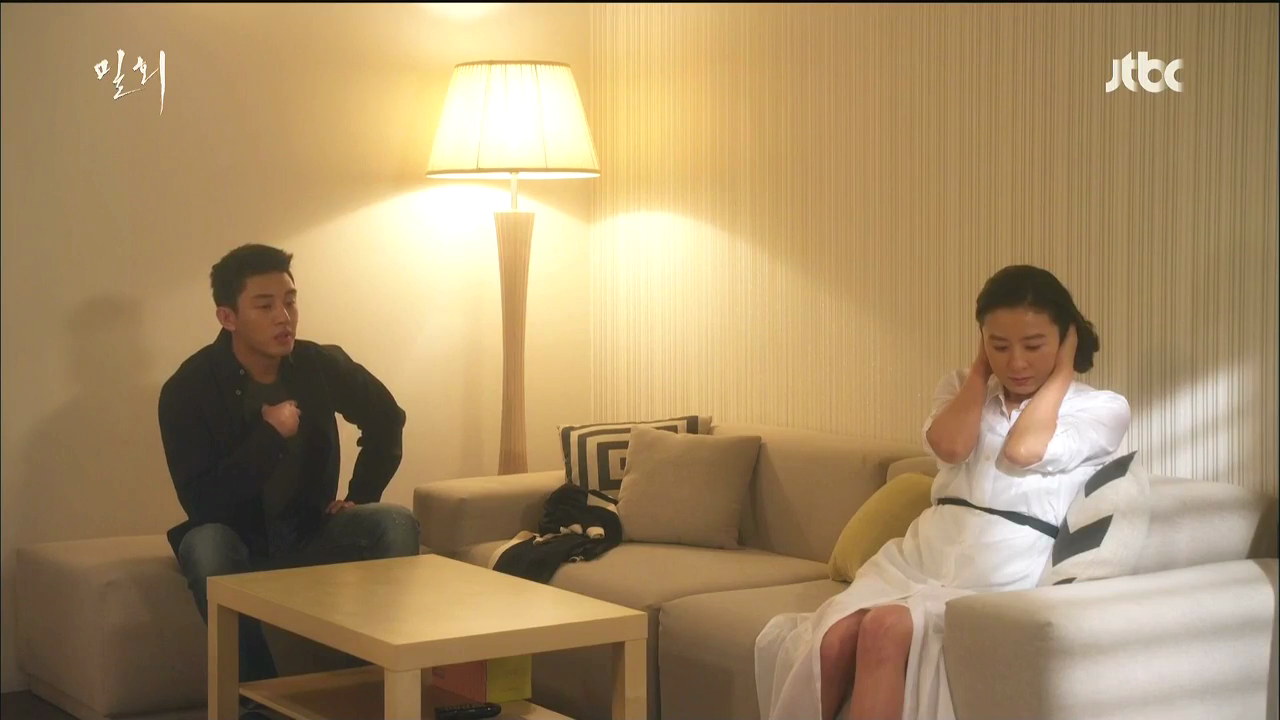 "What?" not looking at him. He looks down, feeling all the unfairness all over again.
"Who is that woman to be insulting you?"
Those aren't insults, she tells him, "Don't look at me!"
Her body is at a right angle to his, gazes not meeting.
Sun Jae tries to obey, and even shuts his eyes tight, but only succeed for a two count, "I felt like a complete fool. In movies, you see the lead male completely flips out in that situation." He's so sad. She tells him he must have only seen cheesy movies, which makes him even more of a fool. He wants to know why, and she repeats what she told him earlier, to think of it as learning a life lesson.
He gets mad, "What kind of lesson is that?" She reminds him of how poor he is – Instead of working as a delivery man to pay for his measly cup of noodles, utility bills… He covers his head with his hands, if he plays the piano well, using the scholarship, he could have a better life, right?
Sure, he admits, but not meaning it. Taking a tissue, she tells him not to worry, that he is worth more than that.
But what about her? She seems to want to respond, but stops herself, and bitterly explains, "I help them enjoy spending their money, and I make money doing that. "That's my job." He listens, but doesn't look convinced. "Food chain, social class. Has he heard of these things?"
Yes, he has.
She councils him to read more books, which he understands, "I know, right?" She puts herself in the middle, as an elegant slave. The idea makes her giggle, eyes closed.
"Is that woman at the very top, then?" Sun Jae wonders.
"No, at the top is not that woman, but money, but that's not it, either. What's really at the top is something that endlessly whispers you can buy anything with money, a demon." Her head drops and he watches her sob, which moves him.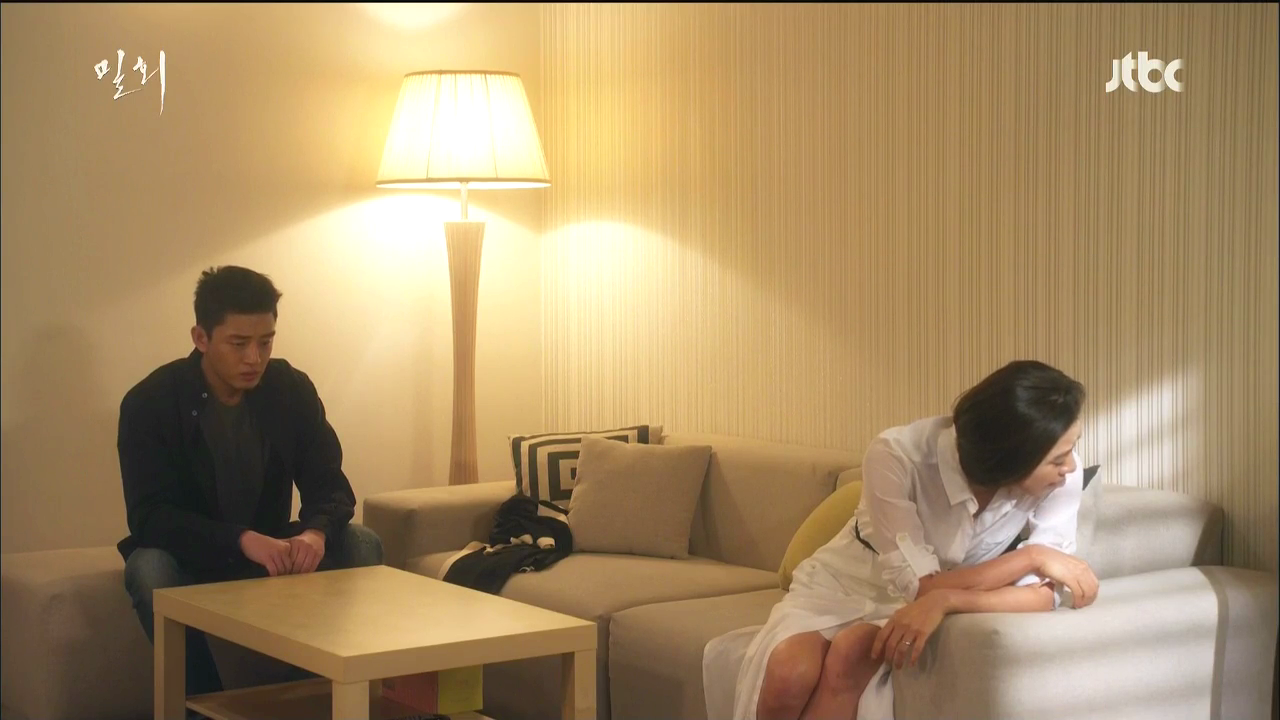 Her husband comes home and goes into the garages.
"Are you crying?" she asks. He laughs, "It doesn't matter if you know this about me or not." He agrees. Her elegant hair has fallen quite inelegantly, and she puts it back up.
Hubby arrives in the garage, but has an inspiration. He sneaks into her car checking for clues.
He finds a clipped pile of receipts, but nothing interesting. Sun Jae's sneakers greet him at the entrance, and he goes towards the Piano room door, listening for something.
As if to catch them in the act, he opens the door abruptly, but only finds them sitting quietly, meters apart.
Hye Won pretends she was criticizing him for not working hard enough. Hye Won is so harsh, it makes the Professor feel bad for the kid, "You can't just discipline him like that."
Sun Jae makes enough of a repentant figure that it seems believable. Joon Hyung skedaddles. When he leaves, Hye Won falls back to the sofa and returns to Teacher mode, suggesting they prepare and record a concerto.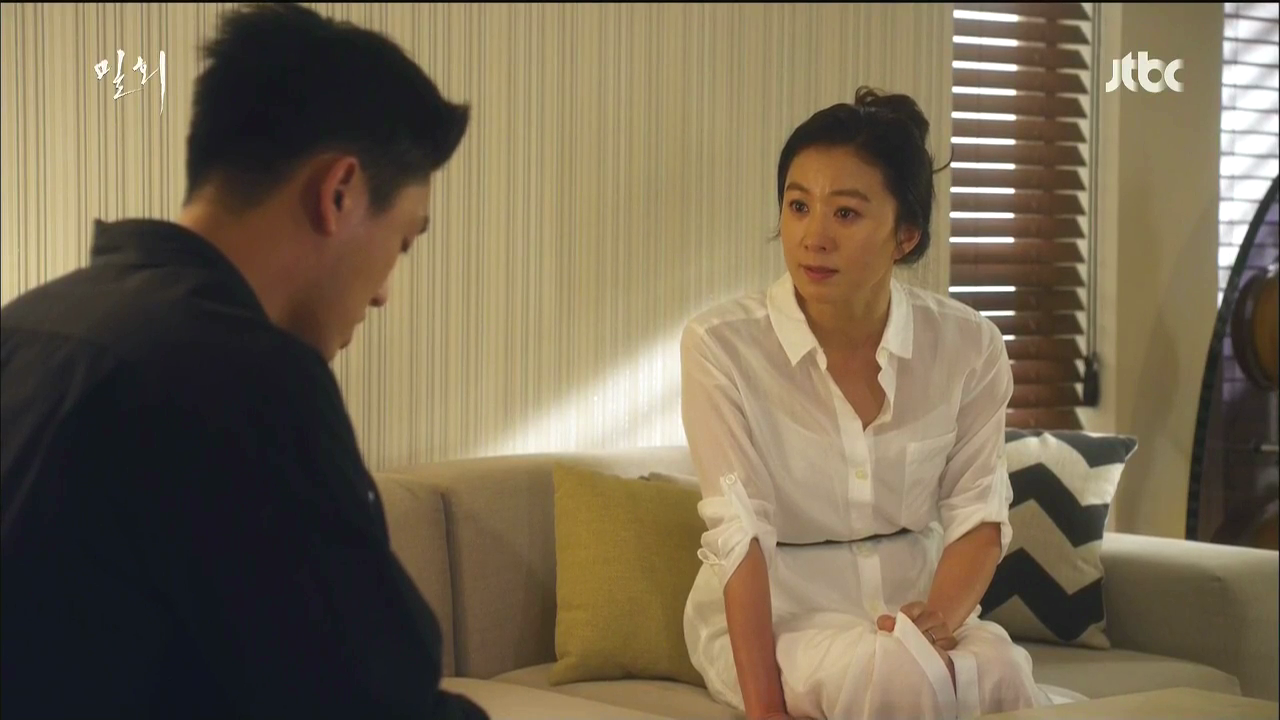 Rather than respond to this tangent, Sun Jae keeps the subject on music and brings up Mozart's life. The genius musician who stopped accepting commissions from nobility, but composed only the music he wanted.
To Sun Jae this is one of his options, and results in Hye Won's surprised response, "He died early doing so. Of course, he fell into debt and illness." She tells him not to think of useless things. Living off rich people, you can also do anything you want.
Sun Jae's too smart to believe this and tells her so. She explodes. "I'm saying you can!" His response, silence, makes her hear the falseness of those words. She moves a little closer. Sun Jae, eyes down, hides his thoughts playing with his fingers. Gentler now, she gives him the dates of the Busoni Competition and asks him to get his repertoire in order. Which concertos has he memorized?
Note: A piano concerto is a piece of music written for orchestra with the piano out front on stage. Not every pianist has the skill to hold his own as featured soloist, not to mention the opportunity to have a "back-up" orchestra. There are usually three movements with different moods so there is a lot of music to learn.
He lists three: Schumann's concerto (Piano Concerto in A minor, Op. 54), Rachmaninoff and Paganini Variations, but struggles talking. She asks how he memorized them. He tells her how he followed the score, printing out the piano part separately. This is all too much for him and he is weeping. She calls him a crybaby and leaves the room to retrieve sheet music and CDs. This allows him the time to really let the tears flow. Awwww, poor Sun Jae…
Hubby does a walk by out of curiosity as Hye Won opens the door to go back. He picks up on the intense mood and keeps going.
Because she is insane, Hye Won says, "Tell everyone to stop messing around. Music wins all!" putting a CD in the player. They listen together.
Joon Hyung is on the phone with Young Woo, checking on her fun night.
He tells her not to worry about what Hye Won would think or say, and asks for a fortune teller's name, but not Baek. Not his student's parent. He gets a name and makes an appointment.
Hye Won and Sun Jae listen and sway to the concerto recordings, Sun Jae following the notes with his fingers,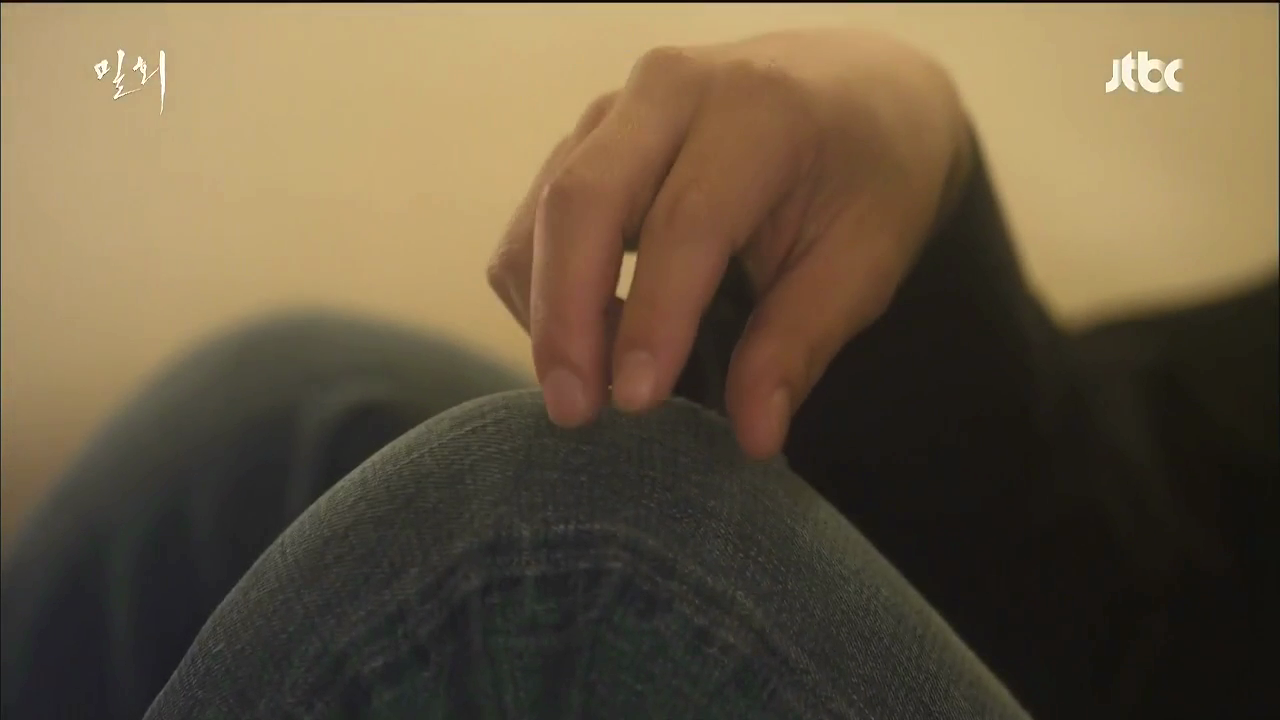 and Hye Won lets the sound soothe her. They sit apart, but what they hear connects them. It feels like Hye Won is letting go of all the crazy as time passes. She ends up near the window in the sun, and he on the floor in front of the sofa.
She wonders why he likes this one. "Just because there's something about it that demonstrates perfection."
He needs to show people that, and not being able to let her point go adds, "That's how you take rich people's money."
They talk about his lesson schedule. He will add time with her three days a week to work on the concerto. He needs to bring the full scores to the office. She looks relaxed and lovely now that the storm has passed. Sun Jae's full on gazes force her to tell him what he's thinking, and it's another doozy. "When I say I'm in love with you, Teacher, it must feel really trivial and baffling to you. You live in a really frightening world."
"Just focus on yourself and pretend you don't know," she requests and leaves, elegant veneer regained. "Be on time." Sun Jae is left alone, seemingly at a loss, to process all of what Hye Won shared and just how wrong she is about life.
Hye Won ascends to her quarters, Sun Jae is back home printing out all the music she requested one sheet at a time.
We get a montage of the two of them practicing their parts, which brings pain to Hye Won's hand. Joon Hyung witnesses her dropping the top to a lotion bottle. When he asks what's wrong, she replies menopause, but he thinks she's too young for that.
Sun Jae arrives in the office, on time as ordered. After waiting a few minutes, he is sent by Hye Won's secretary to the practice room in the basement where Hye Won awaits. He just about runs there, but keeps himself outside a bit, putting his head down then carefully opens the door;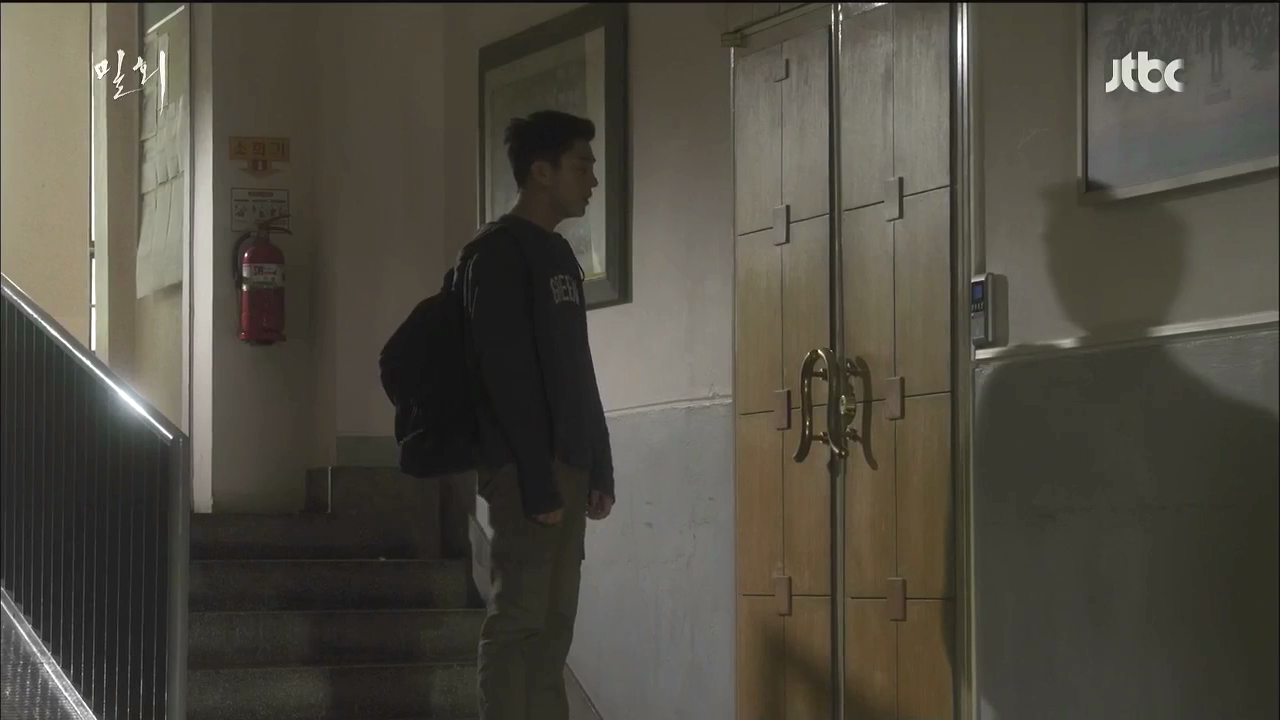 Hye Won is on the phone trying reserve a room where the two pianos can face each other, but finds out Cello Snob has rented out the only space large enough to one of her students. Well, Hye Won isn't fighting this battle and lets it go. She thanks the person on the other end nicely, but she's pissed.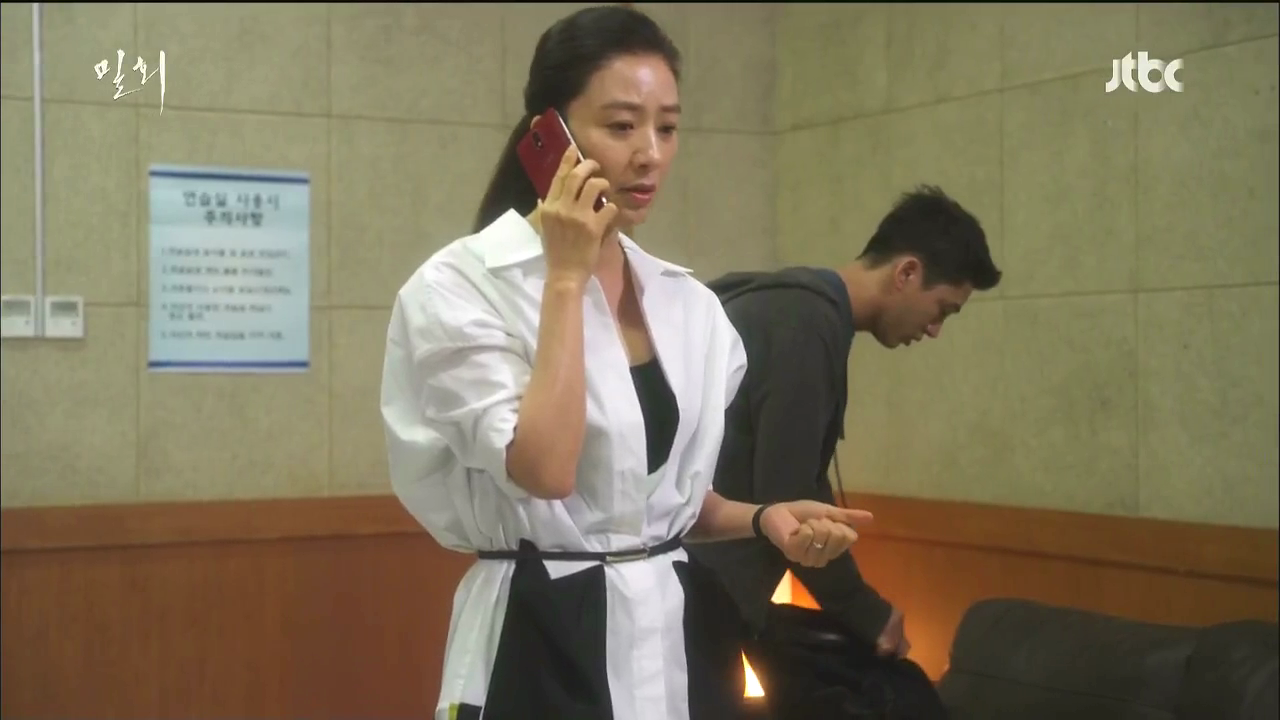 Sun Jae, who placed the music books on the pianos says he likes being side by side, She complains, "What do you have trumpet ears?" (Poor Yoo Ah In!) Even though it isn't the optimum arrangement for sound, he tried it out with a recording yesterday and the synchronization works. This seems to mollify Hye Won, "Just flex your fingers." His steady gaze again forces her to ask, "What?" He doesn't want to hide his concern, and probably couldn't if he wanted, inquires if she is better. "Just focus on yourself." She tells him, again.
She picks up the booklet of music he put together for her and hesitates after reading the cover. He sits down at the keyboard, and we get a glimpse of what made her stop. "Hye Won" is printed on the cover. It definitely affects her. Oy! This boy!
They start, Hye Won using the metronome at first, "Play as if we have the orchestra." As he did the first time in the piano room, he waits to begin. It is an aggressive powerful piece right out of the gate. His timing is slightly too fast, and she makes him start and restart a couple of times before he gets it.
She requests he play the second variation by himself, which he does well.
Dean Min is on the phone talking politics about amendments related to private institution law. Joon Hyung is asked to put together an ensemble with voice to please an influential Christian group.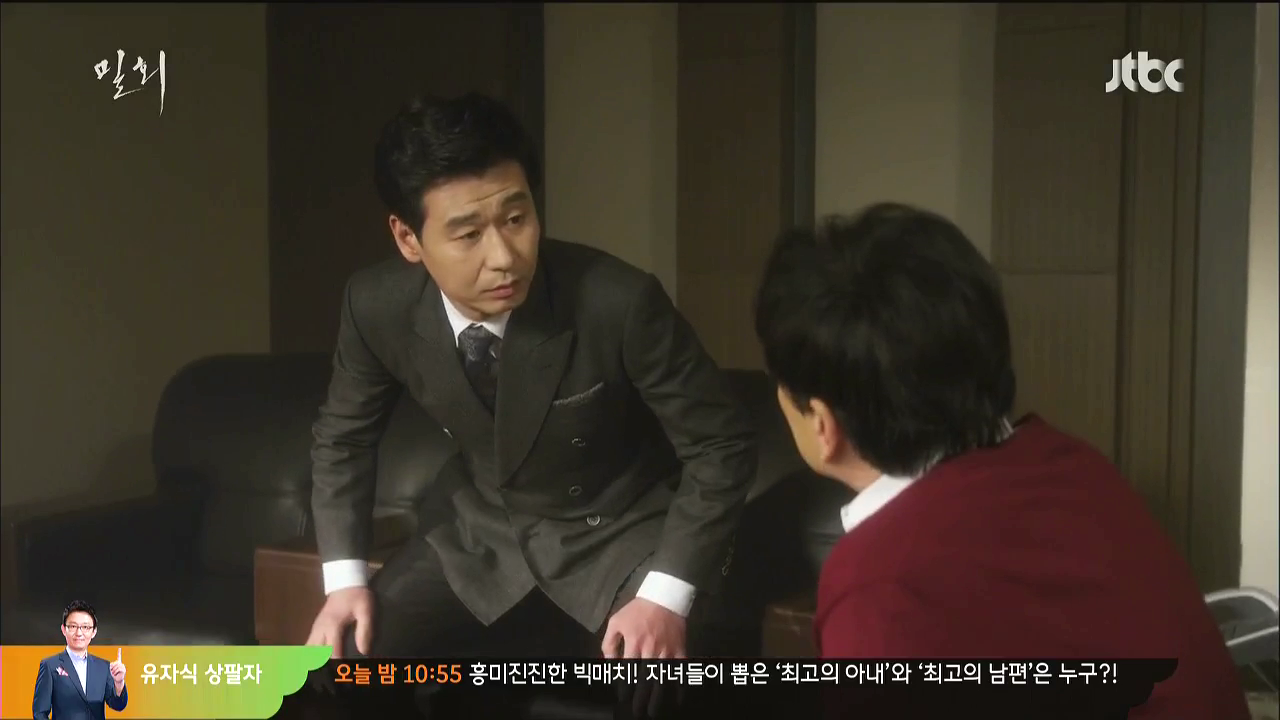 The request rolls downhill to his assistant. Even though he tries to make a play for the already busy musicians to get performance fees, and traveling expenses since they have to use a taxi to haul their instruments around – Joon Hyung will not comply. How could it be truly praise music if they make money? As soon as Joon Hyung is out of earshot, the assistant calls him a son of a bit– but gets interrupted by the son of the bitch who commands that his royal car be washed. Aigoo!
Sun Jae and Hye Won play furiously, then she halts, rising to her feet to reprimand him, "Where is the emotion?" He actually appears hurt by this criticism, his eyes wide and head pulled back defensively,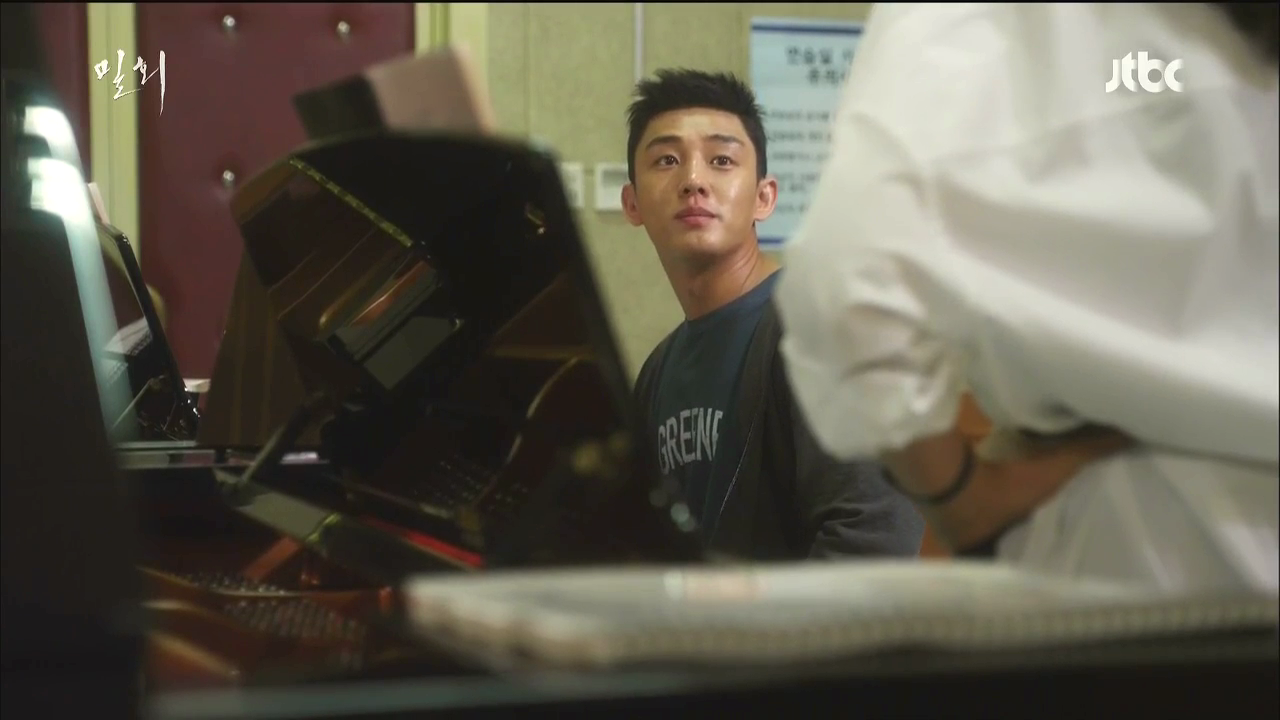 but then, he tells her she looks awesome, like Son Yeol Eum who stood up like that playing Kapustin.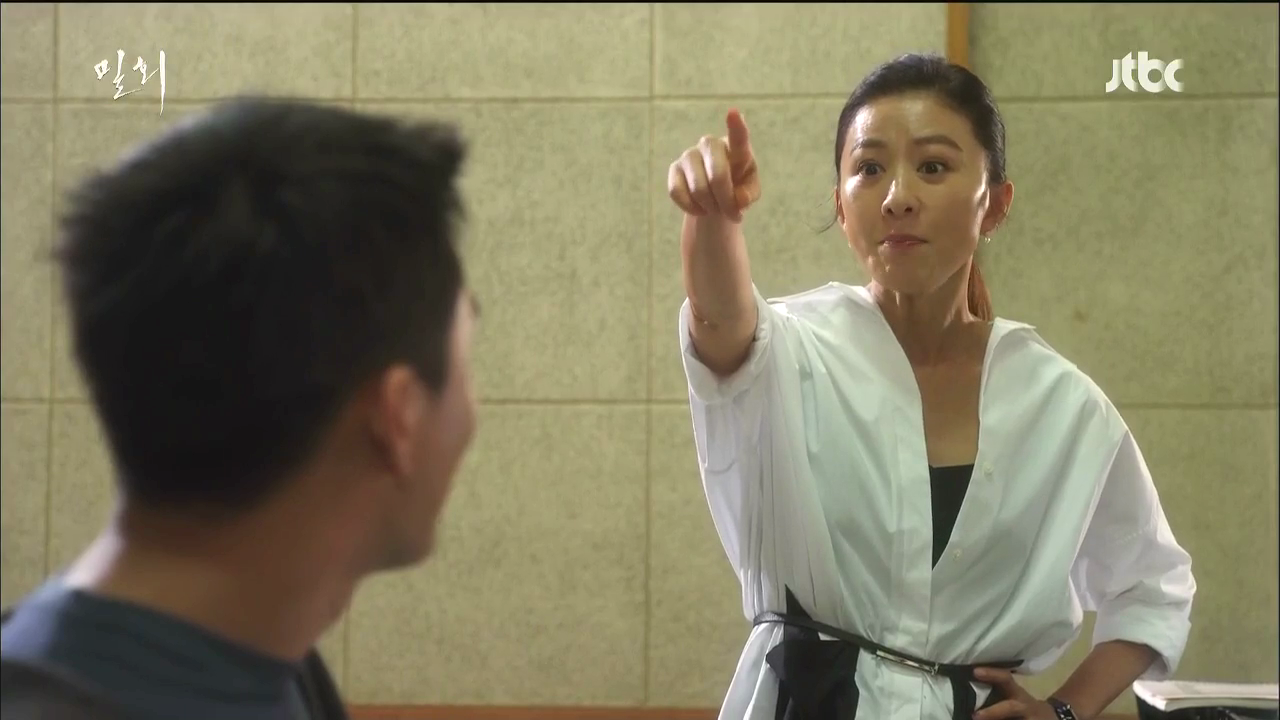 Without as much as a flinch, she tells "Hot-for-Teacher" to go splash cold water on his face, and he goes meekly.
She glances at the door closing unable to respond to this onslaught of Sun Jae. Hiding in a restroom stall, Sun Jae looks for solace in his online Hyung,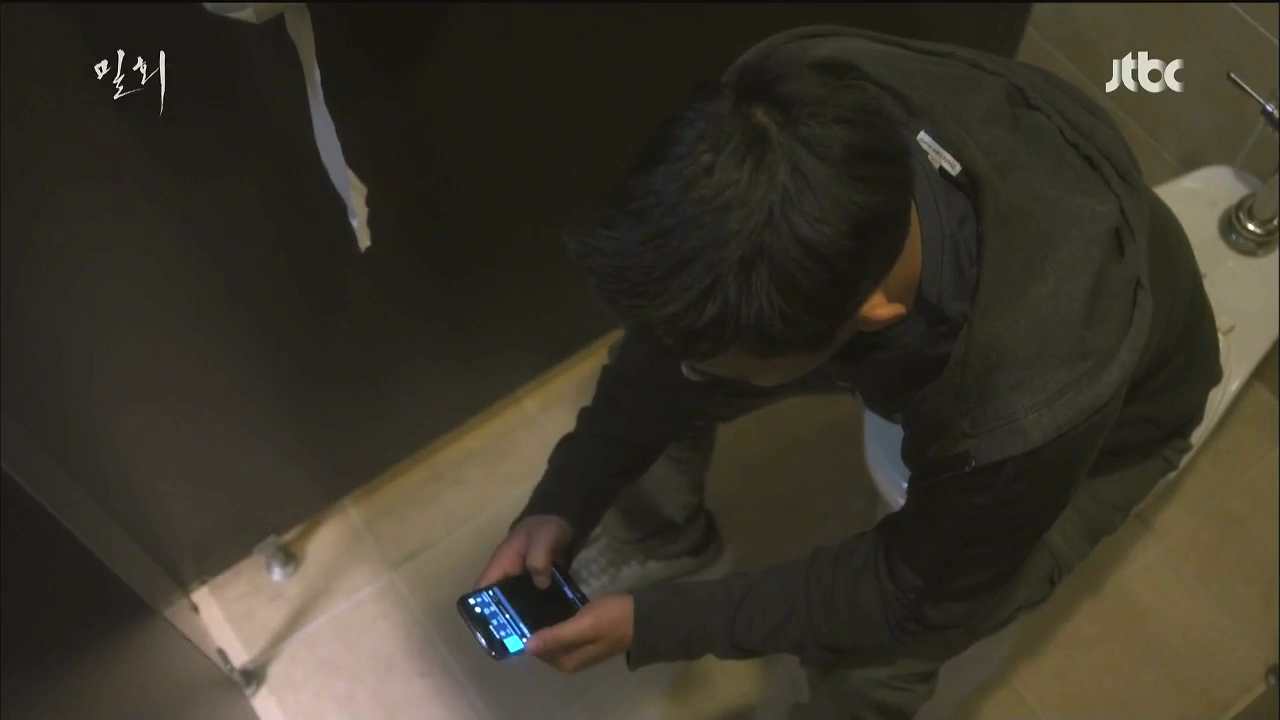 complaining she keeps yelling at him while they practice a concerto when she was the one who messed up.
She laughs reading this and as False Hyung tells him he should be grateful that someone is helping him with this at all. Sun Jae admits it is a dream come true, but is concerned he made her reveal too much about herself. It's suffocating him hearing her self-loathing words. "Food chain" and "slave" pierce him; he can't imagine how hurt she would be. False Hyung, resting on the practice room couch head on arm, suggests he let her be angry after all she is outed. It is a big fall for her from goddess to slave in his eyes. She bared herself to him. He considers that for a bit and asks for advice on what to do next. "No need to do anything, if you act true to your heart, it will move her."
What? Is he supposed to take his heart out and show it to her? The quiet despair of those words amuse Hye Won, but Sun Jae feels frustrated enough to bang his head against the stall wall. False Hyung suggest he considers she may be a desperate older woman, which prompts him say, "Should I just carry her and run off somewhere?"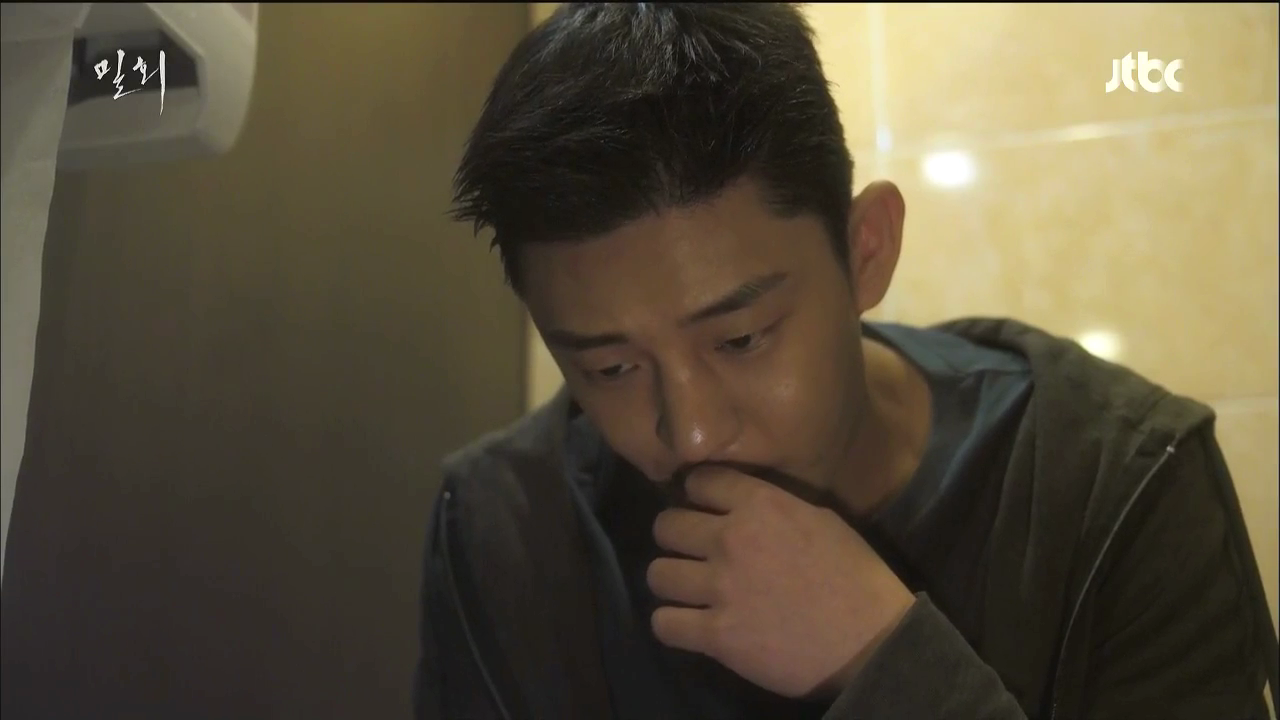 To which I reply yes, but Hye Won simply enjoys the sweetness.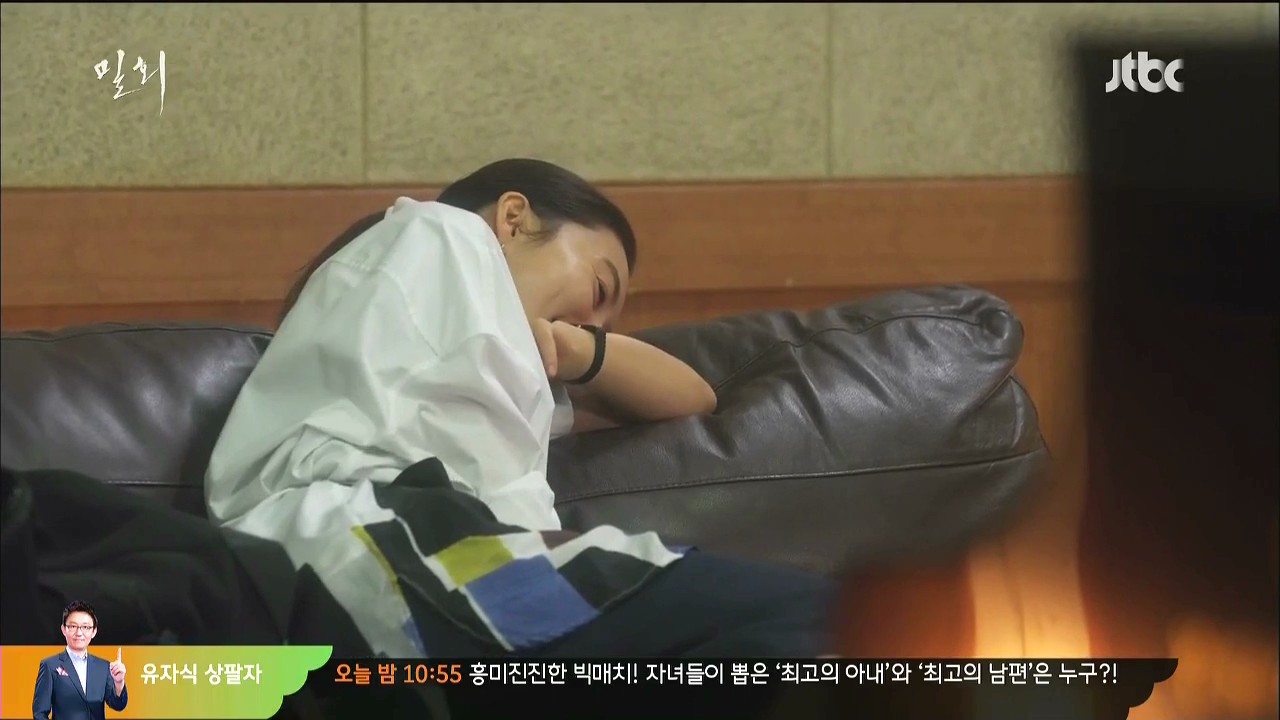 At that moment, her secretary comes in and lets her know Young Woo wants to see her. She shoves the Ipad into her purse and runs out, instructing that lunch be brought in for Sun Jae.
Sun Jae sees Hyung has logged off and goes back out into the world.
Young Woo throws down a notebook, and tells Hye Won to sit. She heard that Sun Jae would be recording a concerto. In a snub, Hye Won tells her to pay attention to her own business, it's what the Foundation does every year.
Hye Won gets a call from Sun Jae who is looking for her, so she tells him to eat his lunch and review the part they discussed. Young Woo has her Love radar highly tuned, and says with scorn, "You're teaching him?"
Hye Won pretends it's such.a.chore replying, "It's hard for me, too." Young Woo wants to know what exactly is so hard about being alone with a fresh young boy in a closed room? Must be suffocating, huh? She mocks her and comments how nice it would be with a young boy not costing her a dime. Ut-oh! Without realizing it, she lands a bulls-eye and sets Hye Won off, "Shut up. I'm leaving."
Young Woo asks how she dares (talk to her like that) Hye Won, however knows what this game is. "Why would I stay here and put up with the fight you picked out of boredom?"
Young Woo shows some vulnerability, "You're supposed to be helping me here. That is why you have the Vice CEO title. Why are you doing other projects?" Hye Won looks her in the eye and says good-bye with more finality. Right before escaping, Young Woo brings up Mde Han buying up shares. Hye Won feigns ignorance, and suggests she ask the older woman herself. Young Woo loses this round by tossing the dossier at her, giving Hye Won the chance to return it, leaning in and taunting, "Use your brain for once."
Young Woo is all, OK, I'll use my brain, lady…but Hye Won walks out without a look back, "Looking forward to it," leaving the Princess to throw a mini tantrum in her leather skinny pants.
Joon Hyung meets with the shaman, handing over birth information for the husband, wife and student. Shaman is curious why include the student?
Is there a chance of an affair? For some reason, Joon Hyung poo poos the idea. It's because the boy is talented but grew up in such poor environment he'll need extra nurturing. "Is he a good fit for my wife and me?"
Just then, Young Woo sends him a gossipy text: "Practice Room #3. Lee Sung Jae and Hye Won are alone. Aren't you pissed?" Irritated, he replies, "Just sleep if you have nothing to do." LOLing here.
Hye Won and Sun Jae are playing through the Tchaikovsky and it is truly lovely. Pretty, dramatic, a little melancholy…She gives him the adoring look he never sees.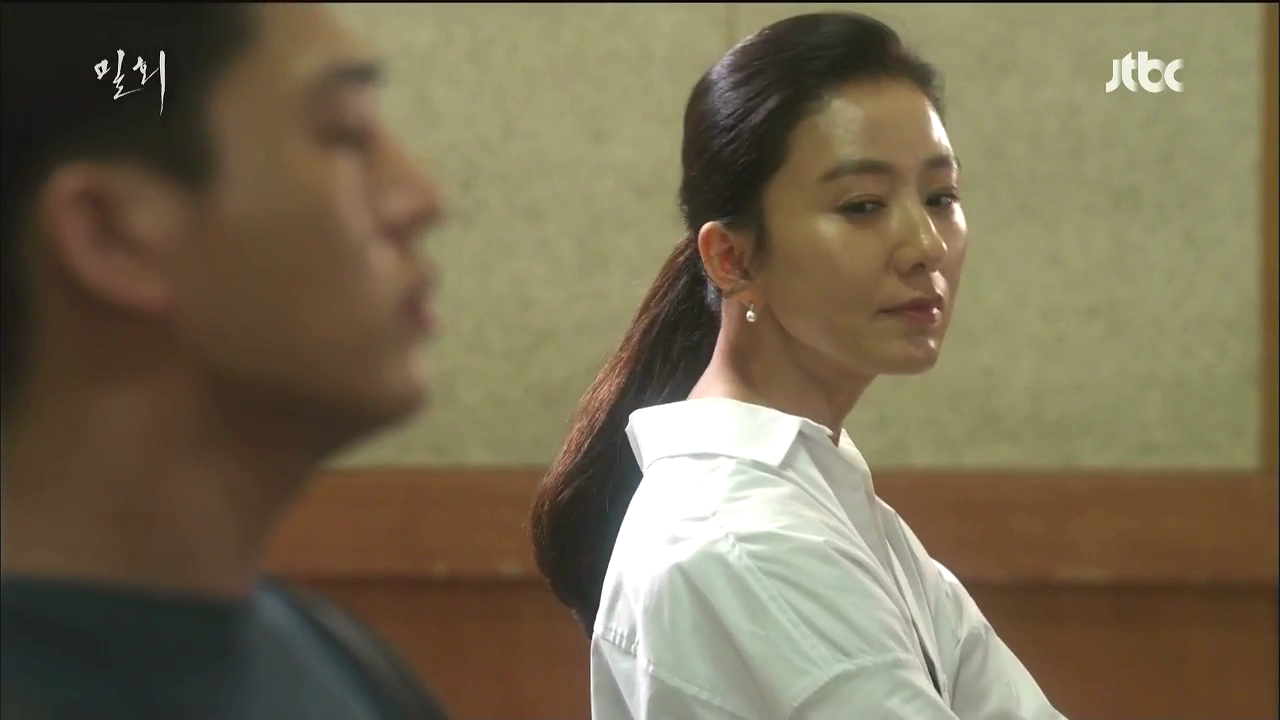 Shaman gets a few things right. This guy is not ordinary. He is extremely valuable – calling him a tree in a bare mountain, rice in an empty storage AND a magic stone. Wow.
Hubby wants to know "What about my wife?" The shaman shares more: "I see four ranks. All government positions at that. She's the type of person who puts work and honor before men." This I believe the Shaman gets slightly wrong. Hubby has to admit their marriage isn't comfortable, but never considered divorce, but what about his wife and the student? Scolding him for not listening, Shaman repeats it isn't her fondness for him, but in her temperament with her personality such a thing would NEVER occur.
Oh Lordy. Not only should he trust and keep the wife, but never send the guy anywhere else. His overflowing positive energy is keeping the bad from affecting Joon Hyung. He should use him as a stepping stone to advance himself. As a result of this kid, he will go even higher than he is now.
The very small world Hye Won lives in shrinks a little more. At the salon, Da Mi returns something to Baek, and over hears cello snob complaining about how Prof Kang's is allowing Lee Sung Jae to take the concert hall.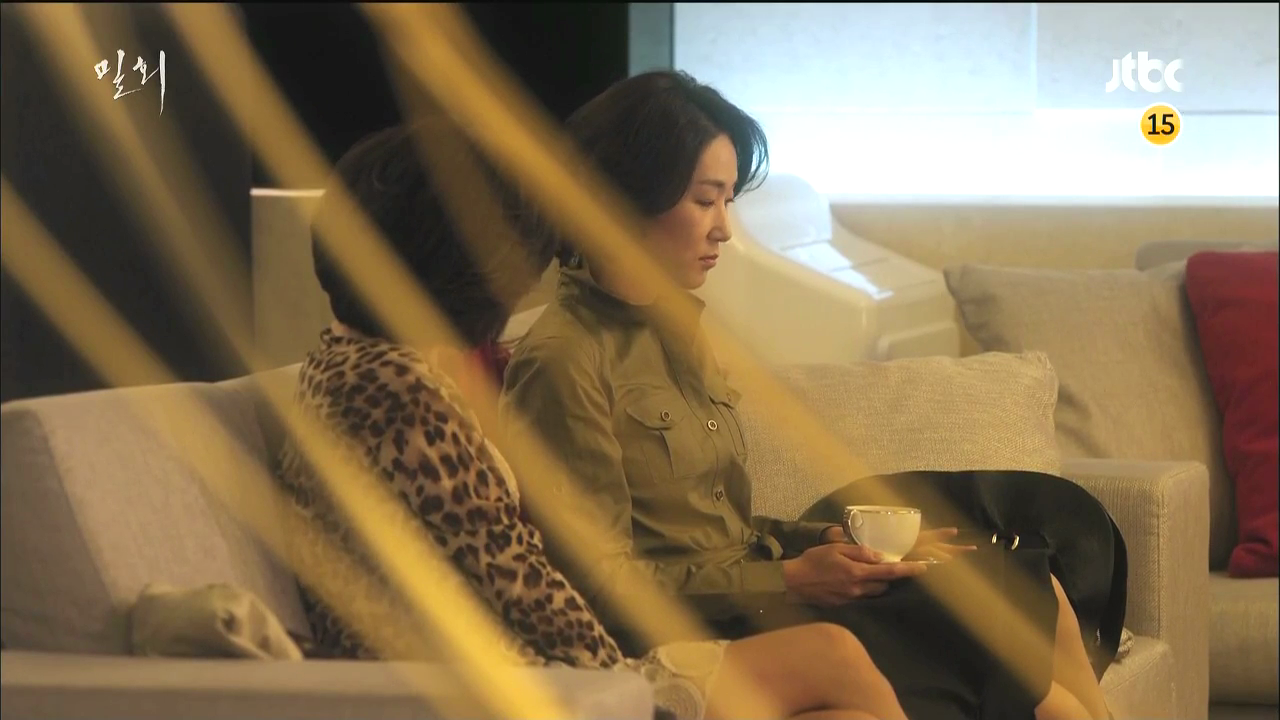 They admit his pretty good, but allude that there must something else to the story. It is enough to get Da Mi on the phone with Jang Ho. She doesn't feel too good hearing about Sun Jae and the wife. Get Yoo Ra to dig up some info.
Hye Won and Sun Jae finish up the concerto piece. She tells them they are done for the day. They both look rather exhausted. She holds up her name on the music and asks if he's kidding. He knows she actually likes it, and says he did it to please her. At this rate, she says, he'll be using banmal with her soon, dismissing him with a command to turn out the lights.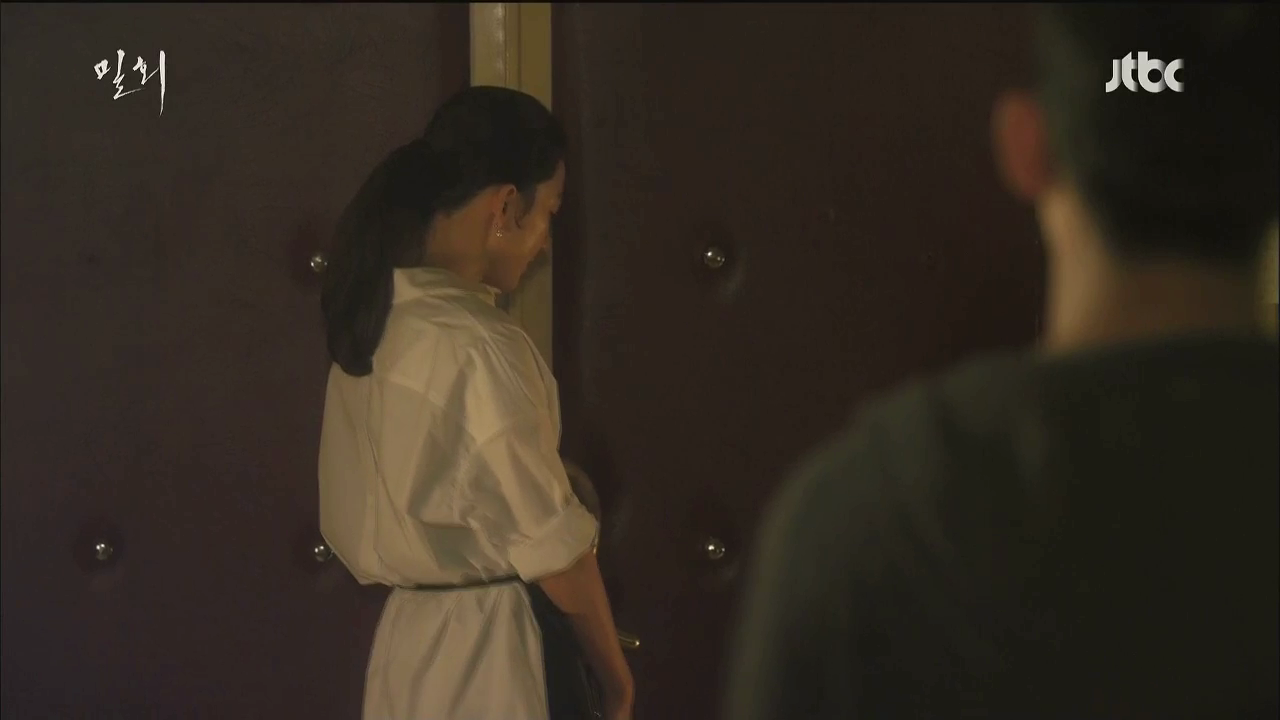 Speaking to her back, he tells her he wants her to be more considerate of his feelings.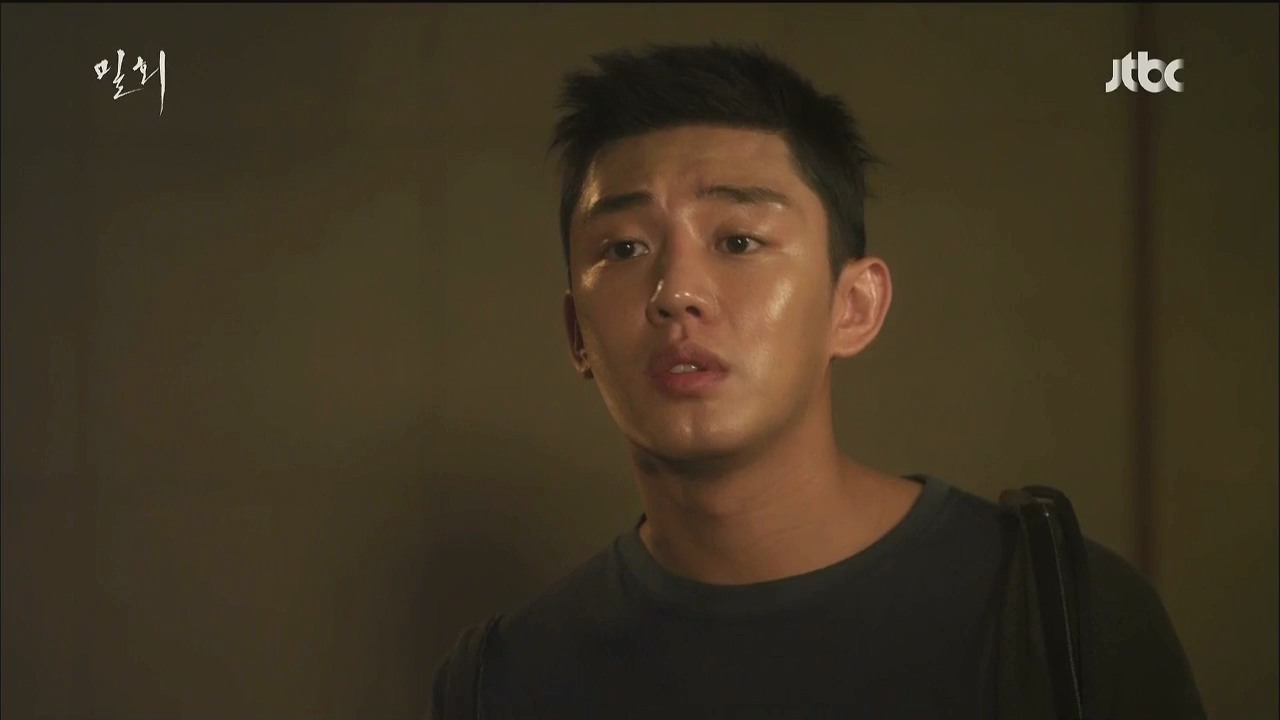 He quotes back to her from his conversations with Hyung online. "You don't need an impressive CV. Just live enjoying music." He gives her his idea of love. It's work, practicing until his arms fall off and trying to figure out the rhythm in tiny measures of time, and makes him pissed off from the details, but one day, it all works and that makes it all worthwhile. That is what loving is in the best possible way. Rachmaninoff and Paganini would even be happy to see that. That's "jang tang" or all that matters. Forget the food chain, slave or whatever. She won't reveal if his words mean anything to her, and tells her she'll see him Thursday and departs. He is left again, alone with his giant heart with nobody to take it.
We see, however, how those words touched Hye Won as she stops right inside her office.
As she puts on her elegant sweater, she notices his jacket on the sofa.
Meanwhile, Sun Jae makes his way home in the rain lost in thought. At the foot of his stairs, he remembers he forgot his jacket, and calls Hye Won. He tells her he's in front of his house. "What? Now?"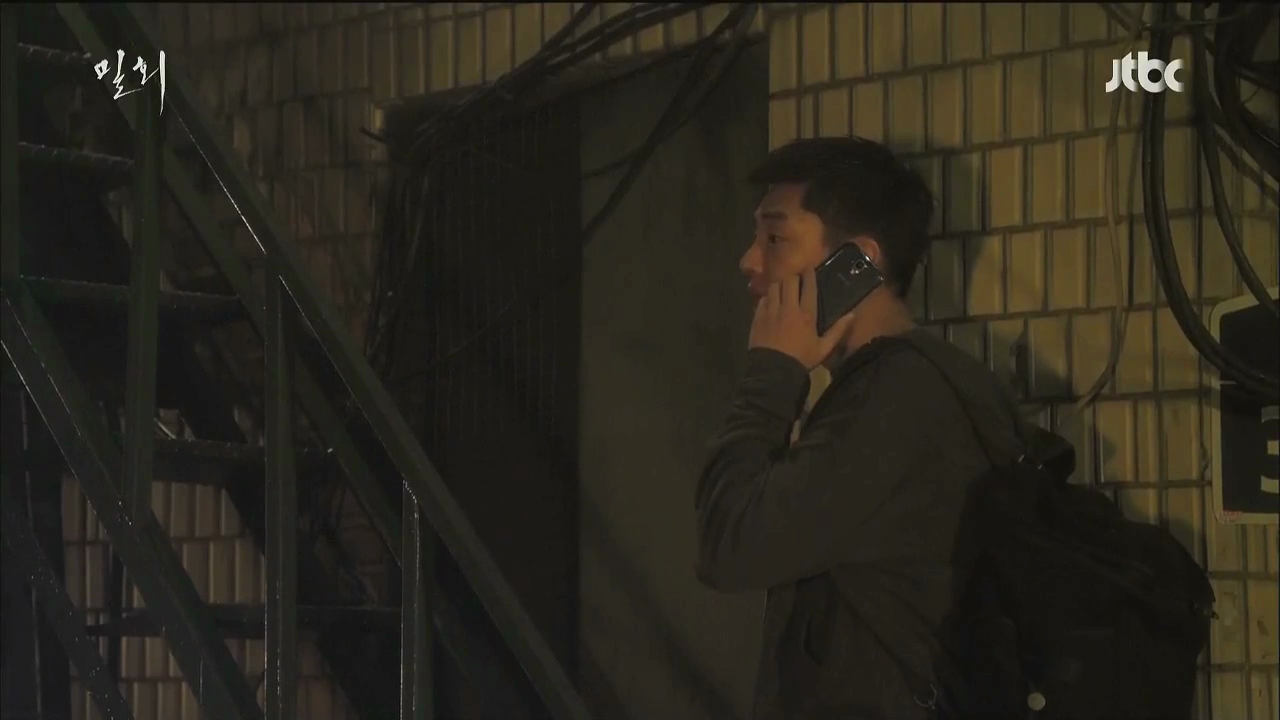 Tearing up the steps at first, but pauses to collect himself, makes his way up his tower to his lady. Once inside, he hears her tell him not to fix their shoes. Hye Won is sitting on his bed, hair down, "I'm going to hang out here for a while today." She thanked his mother for raising him so well before, and that makes him glow. She is wearing some of his clothes, "What do you think? Cosplaying your girlfriend?"
But he says the last time he saw DM, she was wearing his mother's clothes, so that makes her family, not a girlfriend after all, Hye Won tells him she's right. Playfully, he warns if Da Mi catches her, Hye Won will lose. Hye Won, well aware of the danger, whispers, "I already got the escape route figured out."
"You're hella sexy" he grins like his face will split. She vamps it up a little, asking why he's standing so far away.
But the boy's got his tidy habits, and needs to wash up and brush his teeth. She smiles a big happy smile and he.just.adores.her. It almost alarming how just being near her lights him up.
Now Hubby is still tracking the pair and finds out from Security they left hours ago. He grabs his tablet and puts on his glasses, examining the audition tape. This time, he blows up Hye Won's face and sees her reaction. "She fell for him early on."
In the bathroom, he takes some pills, and goes to bed alone recalling the Shaman's words that his wife would never cheat on him, and he needs the boy to get ahead.
Back chez Sun Jae, we hear Sun Jae and Hye Won talking, but don't see them.
Sun Jae confesses, "I might not be that good."
Hye Won gives him back his words about enjoying life and living to the fullest. "You said that's love."   Sun Jae realizes how corny he must have sounded. "Seriously. Why did I even say that?" LOL
Hye Won asks if it's really his first time, and he confesses that something may have happened when he hugged her last time after listening to the Liszt, he's sorry.She jokes that he must have had an inkling back then, that she wasn't exactly experienced with men, and she could be worse than him.
The intimacy of the conversation we hear differs with the series of images of his tidy apartment.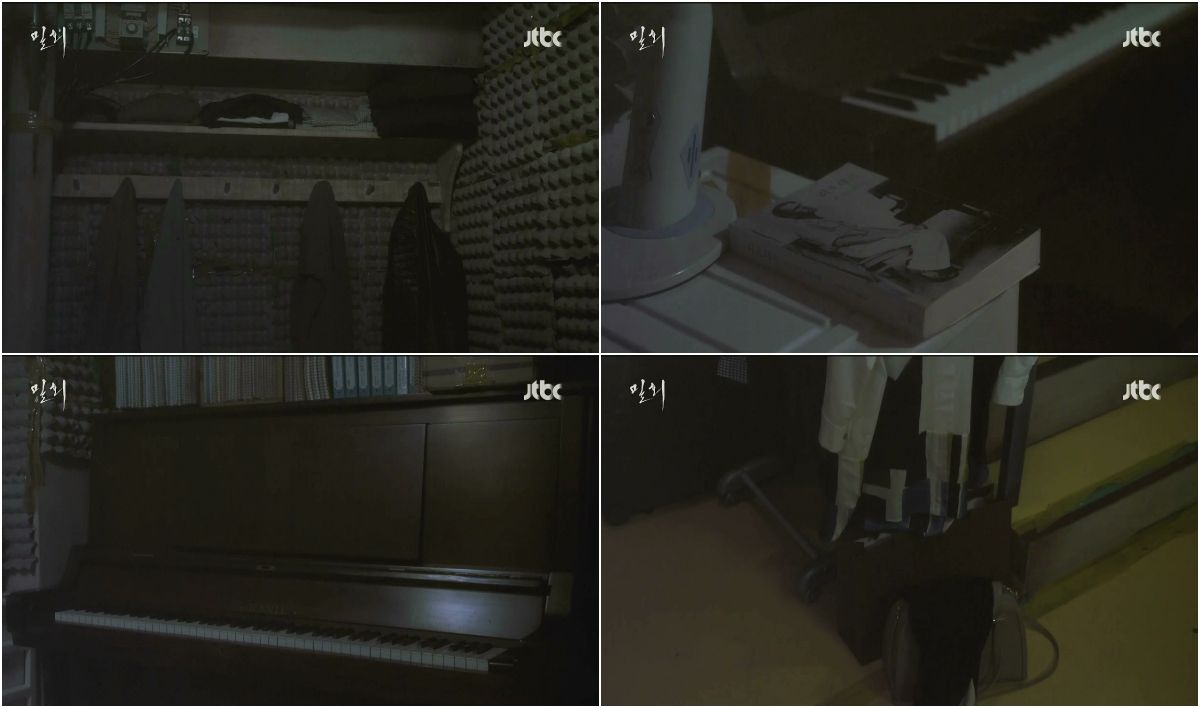 Seeing the sound-proofing, which insulates them from the world, the shelves and shelves of music, his belongings, arranged neat and orderly. His piano, and her "outside" clothes put away temporarily. We understand why this place is the lovers' haven. Far from the luxurious chaos of her life, she is safe with him.
He reassures her "I'm the one who'll decide that. It's fine. Let me know if it's uncomfortable." His words don't make for unbridled pillow talk, but they do reflect his protective feelings towards her. Hye Won catches her breath a few times, but that is all the passion we hear.
Our tour of his small space ends with them sitting up near his bed talking about his drinking education back in high school. He asks about hers, and she tells him she did all the proper things, like a fox. She was born 40 years old, and when Sun Jae's her age,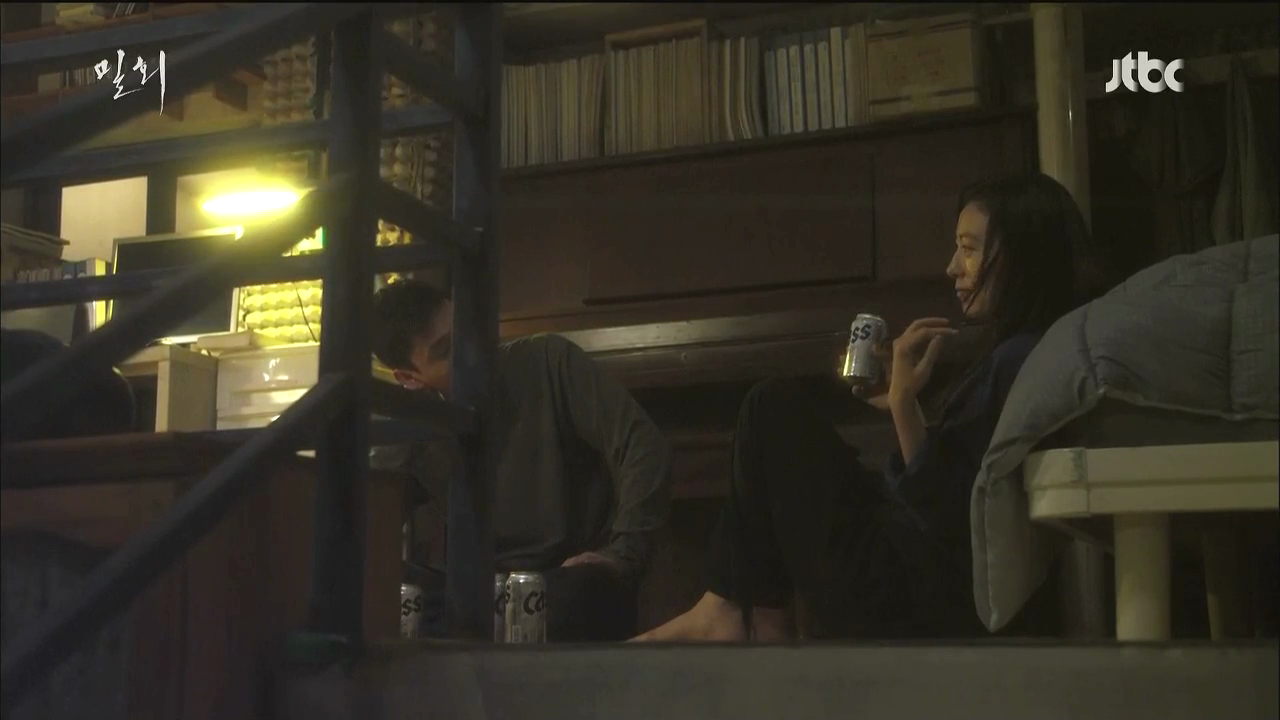 she'll be 60. "Wow." It's tough to imagine. He pulls out a music book of Maria-João Pires, "You'll end up like this."
Hye Won hopes to have as pretty a facial expression like that at the age of 60, and considers how does one need to live to achieve that?
He flirts, "You'll be prettier." She tries to pretend he didn't say that.  With a lot of expensive pampering, maybe, but what really shapes the face is you inner thoughts and sensitivity.He charms her, "I still think you'll look gorgeous. Even your brain's sexy."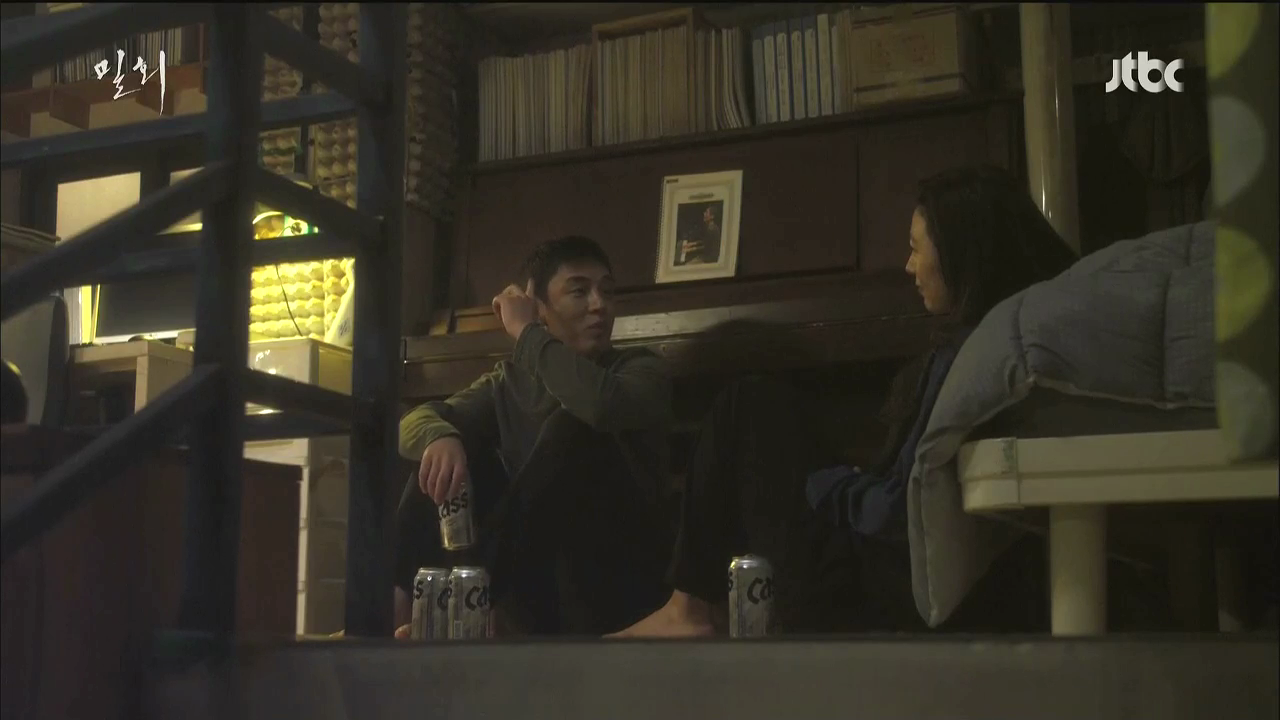 Hye Won calls him out on these brazen comments, doesn't' he get goose bumps?  Her reaction puzzles him. Why is that so weird?  She tells him they feel like lies, but when he spoke truthfully – Here she mimics his relaxed speech yelling at her, which makes him beam, and then cover his face in embarrassment. That felt real.
"Then how about this?" He leans over towards her and in a low voice says, "Hye Won-ah."
I just about die of feeling many things all at once, but she shoves him with her foot. "Oh yeah?"
He confesses female feet weaken him, but more specifically, Oh Hye Won's feet.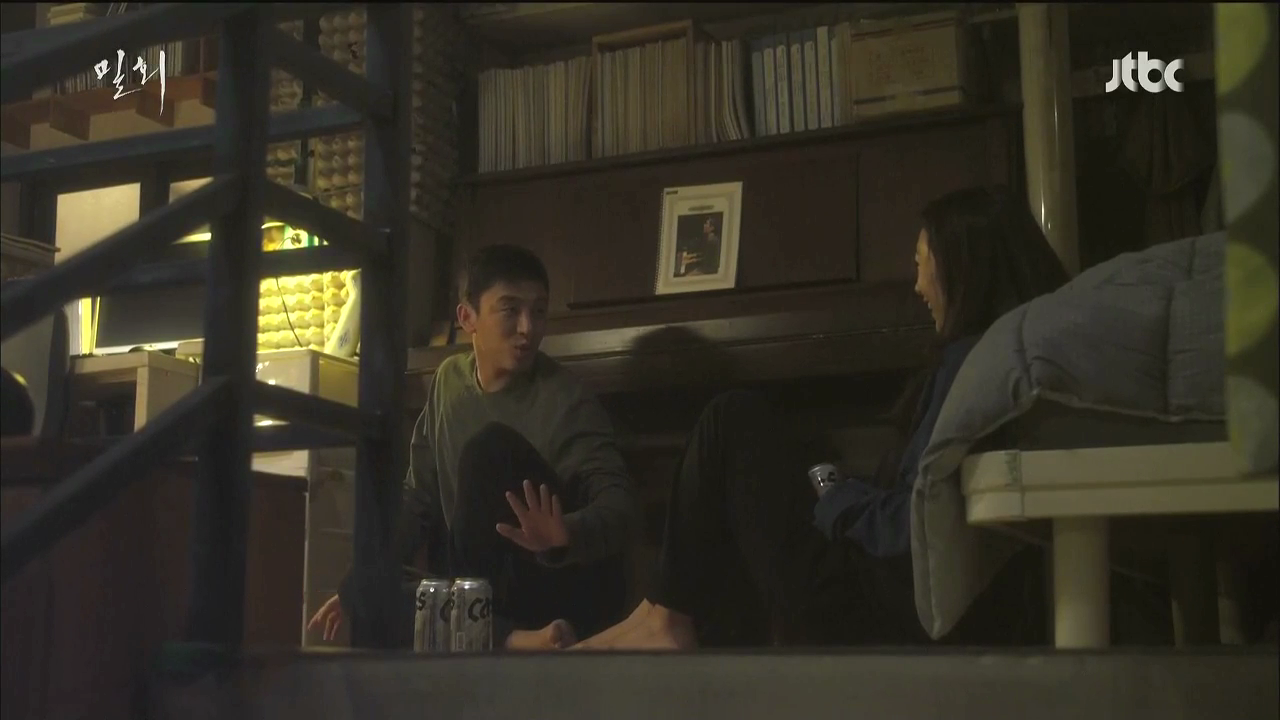 He grabs her and dumps her on the bed, and they have a giggle fest. OMG I love them here and now. The camera pans away, but returns to him playing softly for her while she lies in his bed, her face all pink and relaxed from…joy.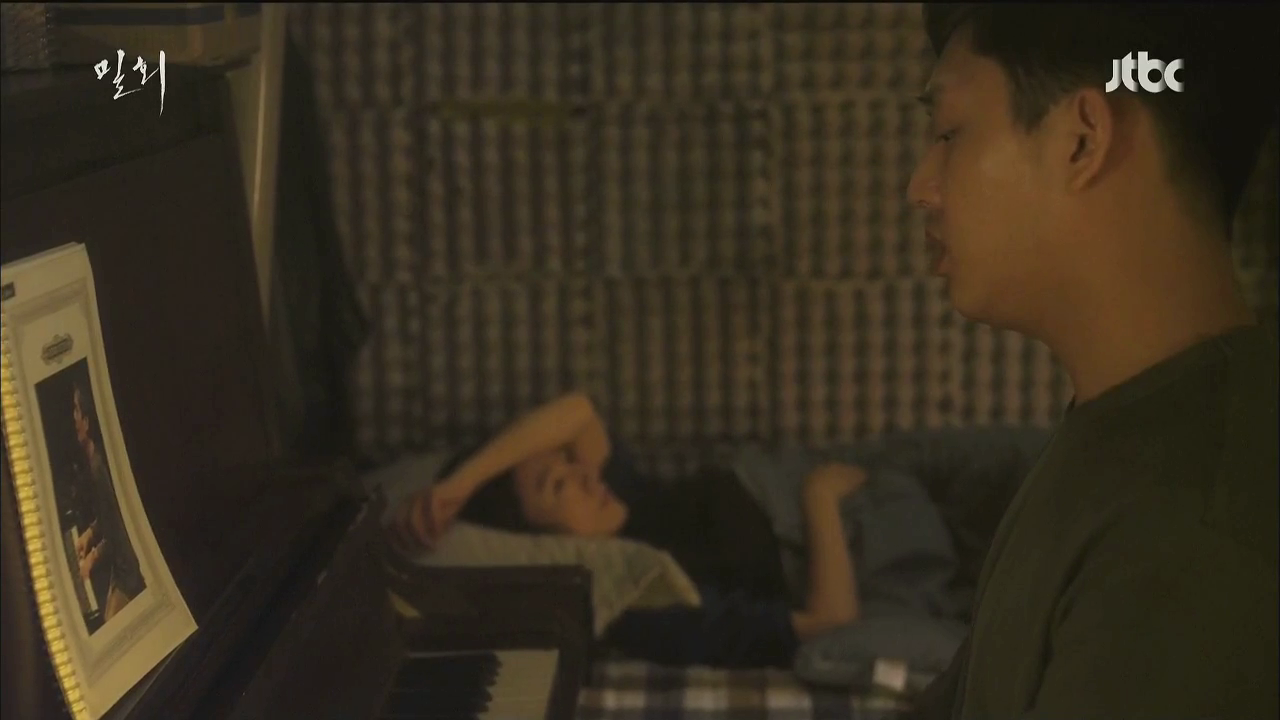 She gets changed while he sleeps, takes her stuff, puts on her shoes and leaves without saying good-bye.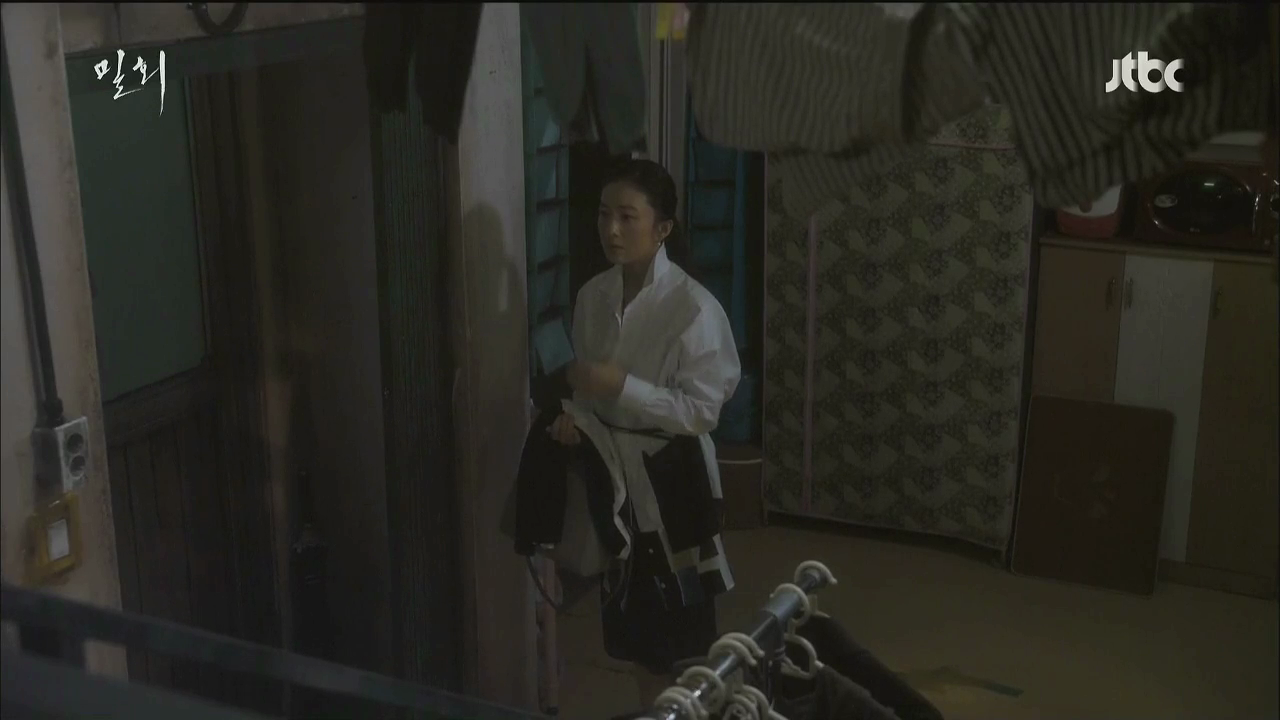 Immediately out the door, she is on the phone with Mde Han.
Sun Jae wakes up with a start to find her gone and accepts this fact glumly.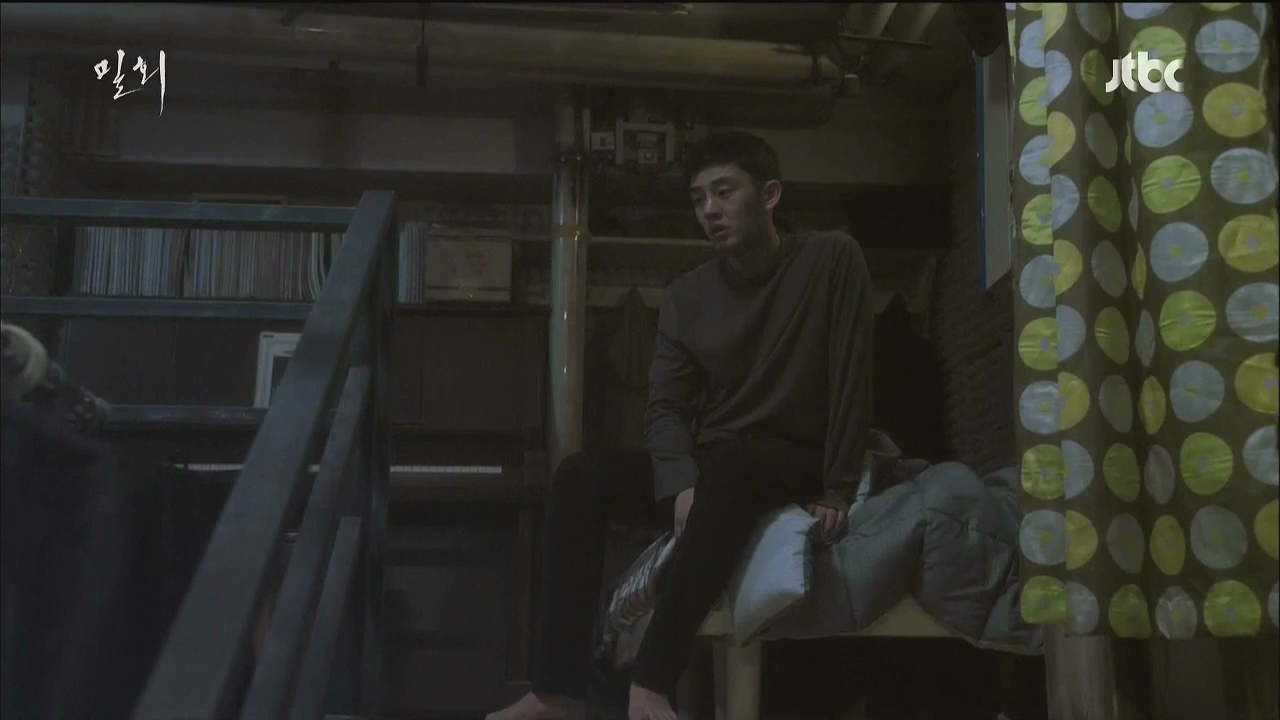 End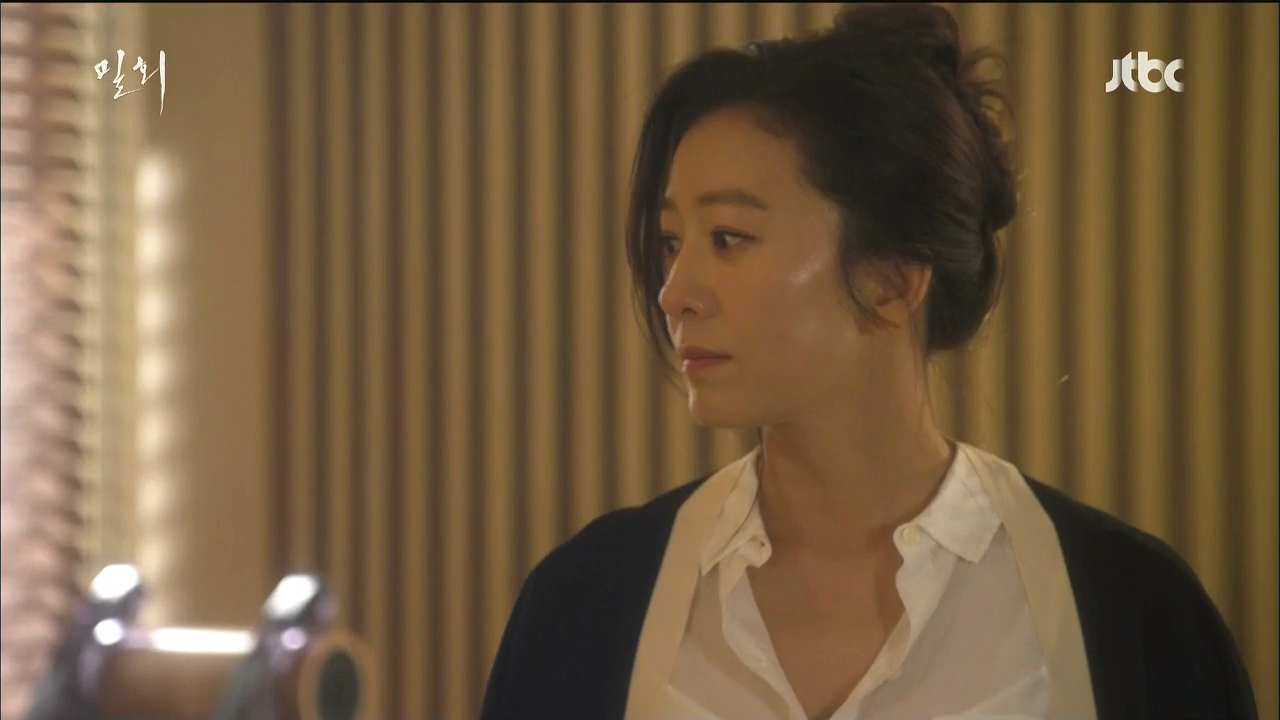 My Thoughts
This was a darkly funny episode. The writers took pity on us and gave us some time to enjoy their characters that we love as much as they do. Hubby, unfortunately, seems to bear the brunt of most of the humor. His self-image of a powerful, influential professor who has every right to be rude and condescending to those who serve him gets shattered in the face of his wife's indiscretion. But he's so dumb in how he reacts to this affair. Shouldn't he jealously confront her and ask what is going on? Isn't their marriage meaningful enough for him to fight for her? No, instead he creeps around looking for evidence like he's some brilliant detective, then consults a fortune teller. What? We really are transported back to a Joseon court where the cowardly trusted superstition and trickery over what was right in front of their eyes. The Shaman confirmed one of his biggest fears. He can't upset his dazzling future just because his unloved wife fell for his hidden gem of rice and trees on the mountain. Putting up with it seems to be his only choice. Let's see how long that lasts.
Hye Won's layers and layers of self-inflicted haughty varnish get chipped at big time in the last few episodes. It isn't just Sun Jae and Young Woo who are conspiring to unmask her. The Soup Ahjumma and Street Parking Attendant couldn't care less about who she is and what brought her to them. Her puffing and sputtering don't stop them from wanting her to just get out of their way. Her rage with Sun Jae was so cute. It felt like I was watching a 16 year old pretending to be a 40 year old ahjumma as she finally finally admitted her jealousy. I am so relieved on Sun Jae's part, that Hye Won accepted him. I don't know if I could have endured another week of his intense and unrequited adoration getting thrown away.
Their sex scene that wasn't makes sense in the context of how their relationship began. The passion they share above all is with the music. We already witnessed their orgasmic coupling at the piano, and his excitement before his Liszt hug. Alone, in his clean, insulated tower, they can share quietly romantic moments that wash away the dirty fake goings on of reality. They deserve at least this much. Things will only get louder and more foul in the days and weeks to come.
Lastly, I would like to officially and belatedly thank Koala and everyone who has given me support over the last couple weeks. Your insights and interest are wonderful; your comments make all the time and effort worthwhile.