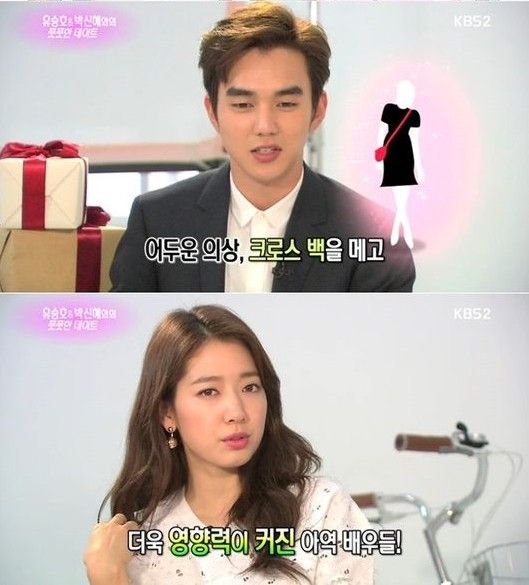 Yoo Seung Ho's first sit down interview since he was discharged from the military three months ago is tailor made for a super fangirl like me. KBS Entertainment caught up with him during a photoshoot with Park Shin Hye (I'll be on that pictorial like cat on cream when it's released) and the two cuties set down for a giggled filled chat. It's been exactly two years since the two last worked together on an extended music video for So Ji Sub's last mini-album, and Park Shin Hye has the distinction of being the last K-actress Yoo Seung Ho worked with right before he went off to the army.
It's only fitting that Seung Ho and Shin Hye are paired back together so quickly after his discharge, they have mmmmnnnn levels of chemistry and look insanely good together. This interview is ridiculously adorable from beginning to end, with the biggest talking point being Yoo Seung Ho sending ladies everywhere scrambling to find a black dress, a book, a cross bag, and a dog in order to dress up like the very specific ideal girl he described. Either my boy has a girlfriend who looks exactly like that, or….can't really come up with a second reason for the detailed description LOL. Check out the interview below and my quickie recap.

Yoo Seung Ho admits he's settled back into civilian life but feels bad he's left so many of his army buddies behind who are still serving. He was apparently reknowned for being a demon drill sargeant who got the soldiers up even before gathering time. He admits that the K-pop girl groups were beloved by all the soldiers and helped the men unwind after a long day. When asked who his ideal girl is like, Shin Hye teases that she thinks Seung Ho's ideal is IU while Seung Ho sasses back that his ideal is Shin Hye, to which she screeches at him to stop messing with her LOL.
He then launches into his incredibly specific image of his ideal girl wearing a dark dress, holding a book, walking a dog, and having a bag slung across her chest. Yoo Seung Ho admits he could imagine an alternate reality where being a soldier is his job, but for this real life career he's back hard at work and wants to do his best to continue to entertain audiences. Both now grown up former child actors are asked about the next generation of talented child actors, with Shin Hye bringing up Kim Yoo Jung and Kim So Hyun while Seung Ho names Yeo Jin Gu as someone he sees walking in his own footsteps.
KBS Entertainment Interview with Yoo Seung Ho and Park Shin Hye: