Let me start off by saying that AKP exploded this week. There were over 15,000 hits yesterday alone, which once again confirms the rabid love of Playful Kiss (Mischievous Kiss) online and in the international community.
I had no clue this was going to happen when I first wrote about PK – I recap and share PK goodies because it happens to be one drama I am thoroughly enjoying. Nevertheless, I'm glad to have the opportunity to enjoy PK with folks around the world. I read every comment, but at this point I would need 48 hour days and two extra sets of hands to respond to everyone.
Episode 13 of PK was probably the single most anticipated episode yet, and rightly so. It's the episode that finally arrives at the big confession we've all been waiting for. There are two ways to view it. If I compared it to the same episode in It Started With A Kiss, then PK's execution is indeed tamer and less intense. But I've never watched PK with an eye towards ISWAK, and I won't start now. With that said, overall I loved episode 13!
For a sweet little drama, this episode was surprisingly heavy on the emotional heft, ending with a kiss that ranks amongst the best kisses by a young actor to a young actress in a young drama (sorry for so many caveats, without it the PK rain kiss is just a kiss, but I liked it enough that it ought to merit some distinction).
It was actually all the meaty scenes leading up to the kiss that really made me love this episode completely. Joon Gu got his dream date with Ha Ni, Hye Ra got to date an empty-shell of a Seung Jo, and both Ha Ni and Seung Jo really got down to thinking about their own feelings as well as state of their relationship.
More importantly, Seung Jo and Ha Ni make a decision! Independent of each other, they make a decision which does bring them to the same critical juncture in their lives. They love each other, and Seung Jo finally puts it all on the line. He wants Ha Ni, company financial needs be damned.
Lastly, over at Dramabeans, Girlfriday's Episode 12 recap really lit a spark that ignited into a veritable discussion on individual identity, self-respect, ambition, and the meaning of loving someone. For a rather simple drama, PK really has a lot of worthy issues for discussion hidden within. My thoughts are thus: while I am a Hye Ra in real life, I rather envy the honest and unwavering determination of a Ha Ni to keep pursuing her heart's desire.
But there is no objective right or wrong way to view Ha Ni, and it really comes down to personal experience and judgment. On this topic, the rest of my thoughts will be available after the end of this recap.
Episode 13 recap: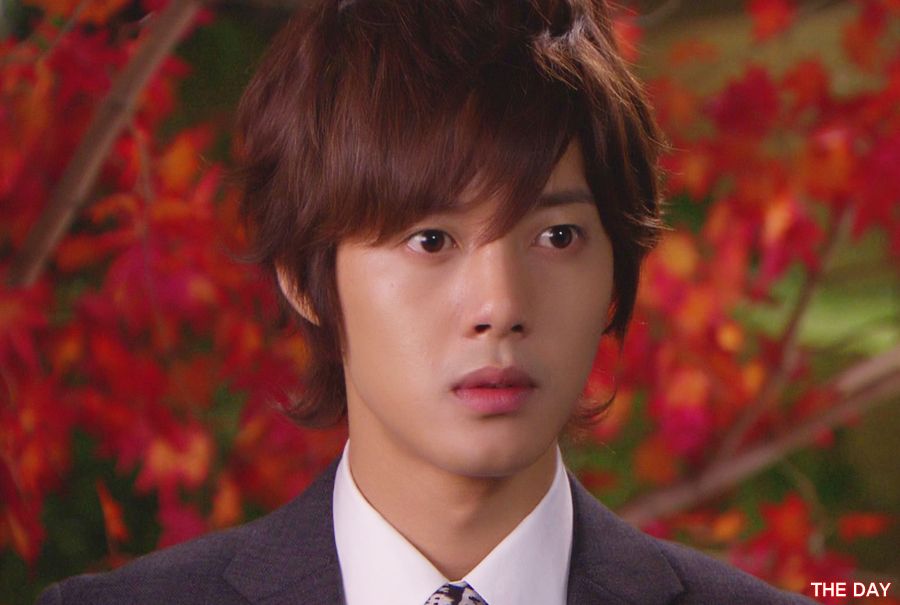 Seung Jo is taken aback when the door opens and Hye Ra greets him as his intended matchmaking partner. So am I, but for different reasons. I was expecting someone…blonder, and less bitchy. Hye Ra is all smiles and banter, while Seung Jo looks frozen and in a daze. Hye Ra confesses to being surprised to hear that Seung Jo was her intended set-up, otherwise she never would have come.
Matchmaking grandpa remarks that the couple must be fated since they are already classmates from university. Really, gramps? Then Hye Ra is fated to be with tennis sunbae, too! Back to the awkward lunch, Gramps tells the kids to enjoy a delicious meal, and Hye Ra jumps in to order some non-oily food for Seung Jo which suits his tastes. Gramps feels like Seung Jo and Hye Ra act just like a married couple. No, gramps, it's just your granddaughter acting like an overeager mistress, is all.
Back at the Baek house, Mom comes home in a tizzy yelling for Seung Jo. When she finds out from Ha Ni that Seung Jo left the house dressed in a suit, Mom has a look of consternation. After the meal, gramps leaves and the kids go outside. Hye Ra tells Seung Jo that when her gramps showed her a picture of the guy she was getting set-up with, she initially had no interest until she heard the guy was running a gaming company and she wondered if it was him. Seung Jo asks what's going to happen now – does he have to marry Hye Ra to get her grandfather's financial backing?
Hye Ra says maybe. She asks Seung Jo if that would be upsetting for him. He throws the question back at her. Wouldn't that upset Hye Ra more? Boy is either purposely obtuse about her feelings for him or just jerking her around. I vote for the latter. Hye Ra and Seung Jo actually flirt a little around a water fountain, and I threw up a little inside my mouth.
Seung Jo tells Hye Ra that under these circumstances – the employees haven't received their salaries and he can't give up on the gaming company – he's willing to go forward. He asks whether she's unhappy about it. Unless Hye Ra got replaced by tennis sunbae dressed as Hye Ra, then no, she's clearly happy as a jaybird about this latest development.
Seung Jo is relieved that his intended partner is Hye Ra, which leads Hye Ra to confess that she came into this matchmaking with full knowledge that the other person was Seung Jo, whereas Seung Jo appears to have been willing to sell his hardened self to any random chick. Hye Ra's pride is hurt knowing that, but she still dressed up to the nines to come meet Seung Jo. She openly states that she likes him a whole lot.
Hye Ra doesn't want to use third-rate tactics to get Seung Jo, so she is treating this as just an opportunity for them. She asks Seung Jo if they can start dating. Play at fair go casino here! When Seung Jo agrees right away, her relief and happiness causes her to jump around like a giddy school girl. Hye Ra continues to be a woman who may be bitchy, but is always forthright and never conniving. I like her as a woman, hate her as a rival for Ha Ni.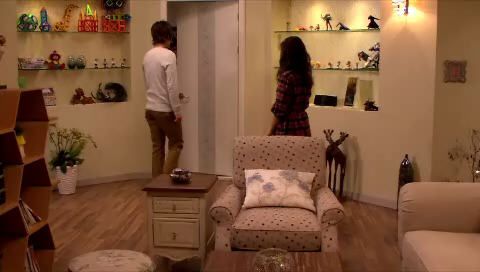 Mom tells Ha Ni not to be worried, which woman could possibly like Seung Jo with his cold personality. Only Ha Ni can put up with Seung Jo's attitude problems. When Seung Jo comes home, Ha Ni tentatively asks if he went on a matchmaking date. He admits he did, asking her in return whether she knows who the prospective partner was. Ha Ni knows that it's Hye Ra, and Seung Jo adds that she's an ideal candidate. When Ha Ni wonders if he means to marry Hye Ra, Seung Jo flatly replies that the point of going on matchmaking dates is to get married.
Seung Jo walks into his room, leaving Ha Ni outside uncertain of everything. She falls to the floor, and as the tears fall you can actually see her little heart breaking into pieces. Eun Jo creeps up the stairs and witnesses Ha Ni's emotional collapse. Seung Jo sits in his room, deep in thought. This is clearly not as easy for him as he likes to pretend.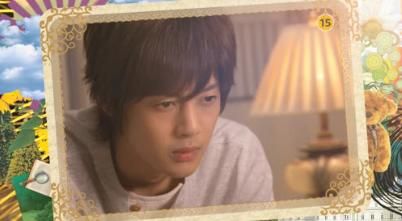 Ha Ni talks with her best friends about this latest development in her sad sack of a love life. They tell her to give up Seung Jo for real this time, and find a guy who loves her. At work, Seung Jo gets an encouragement text from his newly acquired girlfriend, and he does not look happy. Instead, he texts Ha Ni, who is studying at the library but more likely completely wallowing in Seung Jo misery. He messages her that he's going to dock her pay because she didn't show up at the company for work today.
Ha Ni is enjoying a meal made especially made for her by Joon Gu. He confesses that everything he does is for Ha Ni. When he made the noodles, he thought specifically about what Ha Ni would enjoy eating. He washes his hair and changes into presentable clothes everyday just in case Ha Ni came by. He tells her that she is his sole reason to live.
Ha Ni says that Joon Gu is making her sound larger than life, when she is but an ordinary girl. She tells him that the food is truly delicious, and that he did great. Joon Gu is tickled with glee, and works up the courage to use this opportunity to ask Ha Ni out on a date. Ha Ni is so touched that she agrees to go on a date with Joon Gu.
Seung Jo and Eun Jo are having breakfast. Seung Jo pretends to casually ask where Ha Ni is, and is told that she's gone out on a date. Eun Jo notes that she decked herself in all red from head to toe. Seung Jo shakes his newspaper a tad too forcefully and replies that she's probably out on a date with someone with weird taste.
Joon Gu looks OMG-so-fine and is out on his dream date with his beloved Ha Ni. He came three hours early to wait for her. Seriously? This boy. Is beyond sincere. I dies. Revived myself, back to recapping.
They catch a movie, enjoy a fancy meal, go shopping – all the requisite date things to do. While walking on the street, he grabs her bag to hold it for her. While eating, Joon Gu actually rolls up the food and feeds it to Ha Ni. He is seriously a wonderful guy. Ha Ni actually looks happy, and seems to really be enjoying herself.
Ha Ni and Joon Gu go to the batting cages, and Joon Gu shows off his awesome swinging form (for those of you who've watched Lee Tae Sung in 9 Ends, 2 Outs, this is a total wink wink to his baseball player role in that drama). As the cute couple walks through the park, they flirt by poking daffodils at each other. I don't think I've ever felt as satisfied watching a second lead get his date with the heroine in any drama.
They get a passerby to take pictures of them, and the pictures are so candid and sweet it brings tears to my eyes. Because I know they are not meant to be, and yet in an alternative universe where Seung Jo does not have any feelings for Ha Ni, then this couple would be perfect and happy and have a dozen children together.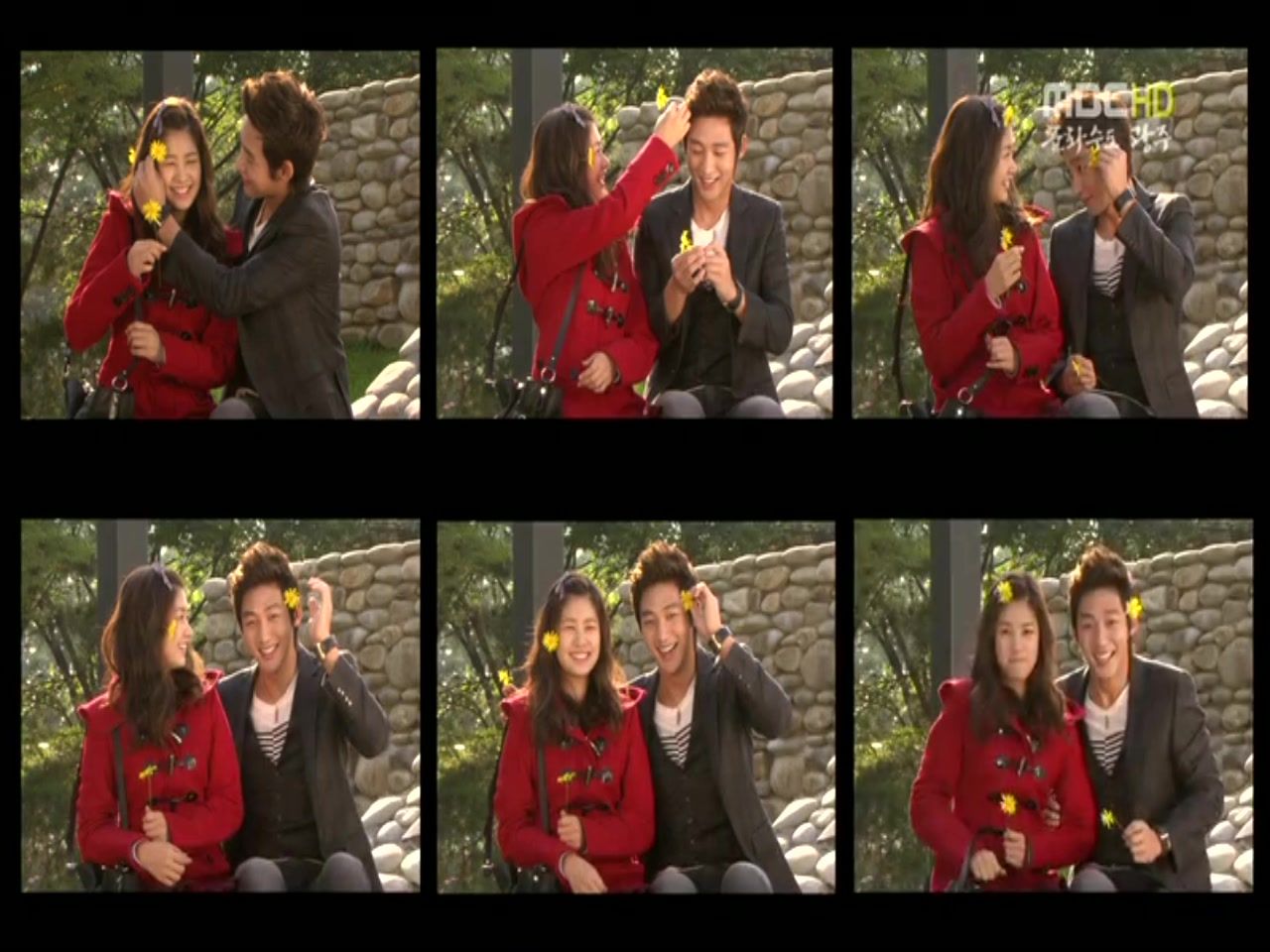 Gramps goes to the hospital to visit Seung Jo's parents, and explain his desire for the unholy union of Seung Jo and Hye Ra to take place. Dad tries to suggest that they are yet young and should at least finish college first. Gramps says they can still go to school after they are married, and possibly even study abroad together. He thinks their kids would be unbelievably intelligent (and have shitty personalities). He tells Seung Jo's dad not to worry about the company, he will provide the financing.
Seung Jo and Hye Ra are out on a date, watching a clown performance at the park. Seung Jo appears to be enjoying himself until his eye spots a couple playing tennis, and his face tightens up. He flashes back to a scene not shown in any episode thus far, of Ha Ni practicing her swing in her room while raging at Seung Jo and Hye Ra. All the while, Eun Jo and Seung Jo have been sitting outside enjoying the one-woman show.
Still out on their date, Ha Ni tells Joon Gu that she had a good time. Joon Gu one-ups her by saying today was the best day of his entire life. She smiles, and he notes that Ha Ni looks radiant when she smiles. For Joon Gu, if he can see her smiling face every day, he wouldn't even need to eat any meals.
When Ha Ni smiles back at him, he wonders if he has something on his face. She shakes her head no, and tells him what a wonderful person he is. No shit Sherlock! At this very second, I almost forgot about Seung Jo and just wanted Ha Ni and Joon Gu to be with each other. Ha Ni has always known what a great guy Joon Gu is, but it's clear this is a new sensation for her seeing him in this light.
Hye Ra and Seung Jo move their date by the Han River, and discuss his work at his father's gaming company. Seung Jo discusses how he is changing the company's product lines away from the current craze for 3D gaming. Ha Ni and Joon Gu are on a date and happen to stop by the same coffee house. The boy is as excited as a puppy at the beach, remarking that he would have never been to such a place if not for Ha Ni.
The two couples run into each other, and Seung Jo's face immediately freezes and Ha Ni's discomfort is palpable. Hye Ra invites the other couple to double date at a jazz concert, and Seung Jo shoots down the idea saying Joon Gu and Ha Ni should be going to an amusement park. Joon Gu rightly gets in Seung Jo's face about the insult, but Ha Ni tugs Joon Gu away and says that Seung Jo sure knows her very well. Both guys comment that the other couple is such a perfect match for each other, though only Joon Gu means it.
Ha Ni's good mood is completely gone, and Joon Gu works up the courage to put it all on the line and proposes to Ha Ni by the bank of the Han River. Back to Seung Jo and Hye Ra, he opens the car door for her, and she pauses. She notes that if she were Ha Ni, he would have told her that she had hands of her own and to open her own door. Hye Ra wonders why Seung Jo is so mean to Ha Ni, and not being stupid she perceptively wishes that Seung Jo could be as cold to her as he is to Ha Ni. Ha, dream on, sister.
Ha Ni sits at home and flashes back to Joon Gu's marriage proposal earlier in the evening. Joon Gu tells her he's loved her for 4 years as she has loved Seung Jo. He would be willing to wait forever, but now that Seung Jo has a prospective marriage partner, isn't it time for Ha Ni to finally let go. He asks her to marry him. He tells her than he has always been behind her, all she needs to do is turn around and look. Omo, this was a heady and emotional raw speech. I felt so proud of Joon Gu for going after what he wants most in life.
Mom is waiting for Seung Jo when he gets home from his date with Hye Ra, and she is mad at him for agreeing to be set up for the sake of saving his dad's company. Seung Jo replies that he's not doing it for his dad, and when his mom pushes him further he says that he likes Hye Ra, isn't that a good enough reason for dating her. It's clear that Seung Jo notices that Ha Ni is overhearing this entire conversation, and that his declaration about his non-existent love for Hye Ra is meant for her ears.
When they run into each other outside their rooms, the conversation is pointedly mean. Seung Jo asks whether she had fun on her date, and she says she had a great time unlike some other people. Seung Jo tells her to keep dating then. These two are now hurting each other in circular ways, it's both hard and easy to resolve. Seung Jo really is dating Hye Ra for the company's sake, but he can't let his parents know. And when Ha Ni went on a date with Joon Gu, Seung Jo is hurt, and thus he lashes out at Ha Ni again and again.
After the confrontation between Seung Jo and Ha Ni in the hallway, Seung Jo walks into his room. We see Eun Jo has been awake in his bed and likely overhead the conversation. Eun Jo has a very disturbed and worried expression on his face.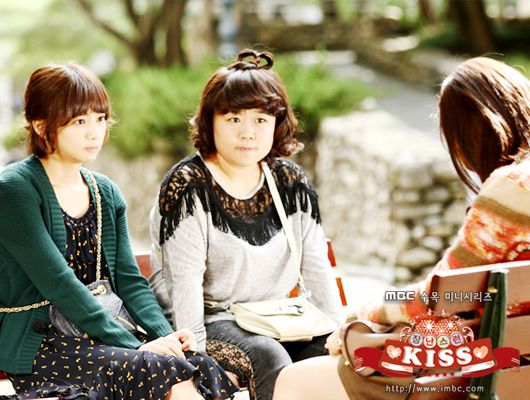 Ha Ni tells her friends about the proposal. She says that the date and the proposal were wonderful, but neither caused her heart to beat faster. Her friends remind her that no one has ever loved her the way Joon Gu does, and they think she's a better fit for Joon Gu than Seung Jo. On paper, maybe, but the heart wants what the heart wants, however ill-conceived.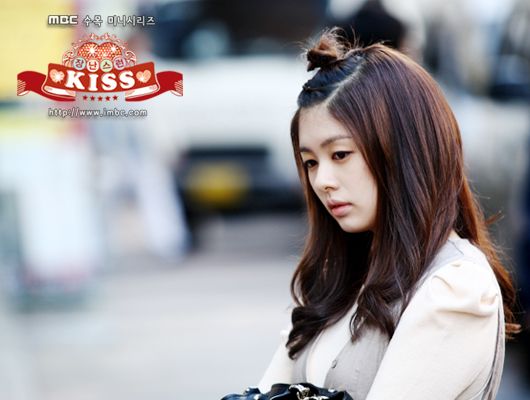 Ha Ni walks down the street in a daze, considering the possibility that Joon Gu is the man for her. Even though her heart doesn't beat around him, it's comforting and he feels like family. Great rationale to consider marrying someone, Ha Ni. She encounter Seung Jo and Hye Ra passing by during a shopping excursion. Hye Ra announces that she and Seung Jo are about to have dinner. Seung Jo blurts out an invitation to Ha Ni, much to the surprise of his girlfriend, who quickly joins in asking Ha Ni to join then.
They decide to have dinner together, and Hye Ra has coincidentally selected Ha Ni's dad's restaurant. At the restaurant, Joon Gu looks at the pictures he took with Ha Ni on their date and gives a million watt grin. When the trio arrive, Ha Ni's dad is surprised to see Seung Jo with Hye Ra on his arm, especially after Joon Gu proclaims that those two are planning to get married.
After the meal arrives at the table, Hye Ra is about to dig in when Joon Gu shows her the proper way to add vinegar to the cold noodles. After he walks way, Hye Ra tells Ha Ni that Joon Gu sure has changed, implying for the better. Seung Jo bitingly adds that it must be great for Ha Ni to have a boyfriend that knows so much. Hye Ra immediately notices the atmosphere and grabs a piece of food to feed Seung Jo, who eats it with as much enjoyment as eating crap. Hye Ra ends the night telling Ha Ni to stop looking so much at Seung Jo lest she bore holes in his face. I'd like to bore a hole in Hye Ra's head, and maybe suck out her brains.
Seung Jo gives a work presentation to the applause of many. When Seung Jo wants to leave afterwards because his father is coming home from the hospital, gramps tells him to bring Hye Ra along since its high time she meets the family. Mom welcomes Hye Ra with a hey, and grabs Ha Ni to sit down and join the increasingly uncomfortable family gathering. Mom makes several pointed remarks that clearly show she does not welcome Hye Ra as her perspective daughter-in-law, and that she has set her heart on Ha Ni.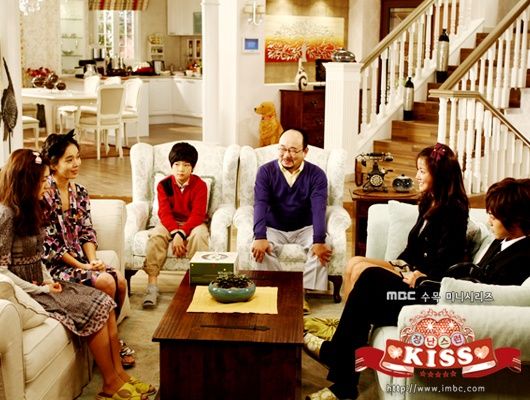 Mom tries to put down her own son as a suitable future spouse, but to no avail. Hye Ra sees right through it. Later that night, Seung Jo confronts his mom's earlier behavior as immature. While he can't stop Mom from liking Ha Ni, she can't force him to like her. Oh geez, really, Seung Jo? Just man up and say you are going to sell your body to Hye Ra.
Mom says that he's purposely being difficult. Oh, you think, Mom? Seung Jo is her son, and she knows him best. He's refusing to acknowledge it, is all. Seung Jo responds like the EQ of 10 guy he is, telling Mom that he is refusing to think about it, so what's that to her. Mom thinks Seung Jo was being inconsiderate bringing Hye Ra home with Ha Ni around, but Ha Ni pipes up that she's fine with it.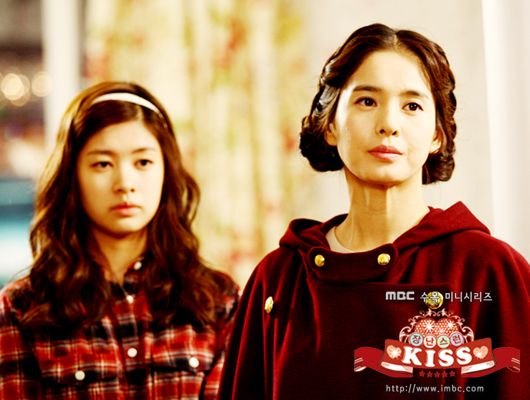 Seung Jo tells Mom to continue to respect his decisions, even with respect to this arrangement. Mom and Dad are worried about Seung Jo and Ha Ni. Mom reiterates her belief that they are made for each other – making up for what the other person lacks, and sharing what the other person has. As they are discussing the situation, Mom cries, worried that she did something bad by encouraging Ha Ni and Seung Jo. Eun Jo comes running over and tells his mom not to cry. He reveals that Seung Jo likes Ha Ni.
Eun Jo runs back to his room and confronts Seung Jo about whether he is really going to get married to Hye Ra. Eun Jo asks if Seung Jo likes Hye Ra, and is told that he probably will if things continue down this path. Eun Jo wants to say that Seung Jo likes Ha Ni, but is cut off by Seung Jo's response that Hye Ra is a perfect match for him, smart and good at tennis. Once Eun Jo gets to know Hye Ra, he'll grow to like her, too. Eun Jo mutters under his breath that Seung Jo is lying.
We flash back to the kiss at the resort. Eun Jo is wandering around on a bug-catching expedition. He sees Ha Ni dozing at the bench, and is about to go play a prank on her when Seung Jo walks by. Eun Jo hides behind a tree, and sees Seung Jo sit down and lean in to kiss Ha Ni. Poor boy looks absolutely traumatized. I wonder when they teach Korean elementary school kids about the birds and the bees?
It turns out that Seung Jo wasn't unaware that there was a witness to his surreptitious kiss. After the kiss, Seung Jo looks up and sees Eun Jo watching him from behind the tree. Seung Jo puts his finger to his lips in a shushing motion asking Eun Jo to keep it a secret. Eun Jo nods his head in agreement. Back to the present, Eun Jo tells himself that he can't reveal the kiss to Mom yet, but it's clear that Seung Jo likes Ha Ni, despite Seung Jo's refusal to admit it.
Hye Ra realizes that things aren't progressing ideally with Seung Jo, but she declines gramps offer to help her speed it up (with financial arm twisting, I presume). But she concedes that she may take gramps up on that offer should things not work out. Hye Ra, I hope you were just saying that to make your gramps feel more important, because resorting to blackmail is so beneath you.
Mom tries with no success to bribe Eun Jo with dessert to explain what he meant when he said that Seung Jo likes Ha Ni. Ha Ni has a conversation with her dad, who tries to sell new and improved Joon Gu to Ha Ni as a prospective partner. Dad is regretful of his decision to return to the Baek house, now that Seung Jo is rumored to be marrying another girl. He tells Ha Ni that he approves of Joon Gu, who genuinely loves her.
Back to the antics of the absent from the drama tennis club, demon tennis subae is training his students hard. When one of them remarks that it's supposed to rain, does that mean they still have to come tomorrow, tennis sunbae responds that is sunny as all hell and could not possibly rain. Oh, the drama gods will make it rain, tennis sunbae.
Seung Jo shows up at the tennis club to collect his belongings, telling tennis sunbae he won't be coming in the short term. He looks around and wonders where the ball boy is. Tennis sunbae says that perennial ball boy Ha Ni has been skipping class recently, what with her dating noodle shop boy. This comment clearly affects Seung Jo, who I fear will completely shut down soon if he doesn't release all that pent up frustration. In a healthy way, of course. Seung Jo encounters Ha Ni's friends who happen to be walking by.
The two friends talk loudly amongst themselves, clearly intended for Seung Jo's ears, that Ha Ni might get married to Joon Gu. She got all dressed up and is planning to give him a response tonight. They conclude with laugh that Ha Ni might end up married before Seung Jo. Seung Jo's face turns into marble this time.
Ha Ni is at the restaurant with Joon Gu. Joon Gu asks for a response, and Ha Ni replies that she needs more time. Joon Gu asks what more does she need, now that Seung Jo has moved on. He asks her what's so good about cold, indifferent Seung Jo anyways. When she doesn't respond, Joon Gu reminds her that he once compared himself to her home, a place for her always. But a home that remains empty for too long can go bad.
When Joon Gu tries to kiss her, she stops him and leaves. Ha Ni takes the bus home, but it's pouring when she arrives at her stop. She ducks for cover, and runs into Seung Jo, who is sitting by the side of a store holding an umbrella. They walk home in the rain. Seung Jo queries what her response was to Joon Gu, regarding his proposal. Ha Ni questions if she's not allowed to get married?
Seung Jo asks again what her response was, and Ha Ni tells her its none of his business what her response is. She tells him that she is planning to move out, staying in the house isn't good for anyone. Seung Jo stalks off leaving Ha Ni running to catch up to his umbrella. She continues telling Seung Jo that Joon Gu is working so hard and doing such a great job, she wants to work with him and help her Dad.
When Seung Jo asks if she likes Bong Joon Gu, Ha Ni replies that he's loved her for so long. To which Seung Jo questions whether she should like Joon Gu simply because Joon Gu likes her. Ha Ni finally gives Seung Jo a piece of her mind – she's tired of being in a one-sided love and wants to have someone love her for once. She says that she likes Joon Gu.
To which Seung Jo confidently states that the man Ha Ni likes is him, and she is not allowed to like another guy. Not allowed? Oh Baek Seung Jo, normally that would make you persona non grata in my drama heart. But since you are close to an autistic genius, what with the lack of social graces, I shall give you a warning not to take this allowed shit too far. She is allowed to like whomever she wants. You're better off just begging for her to keep loving you forever.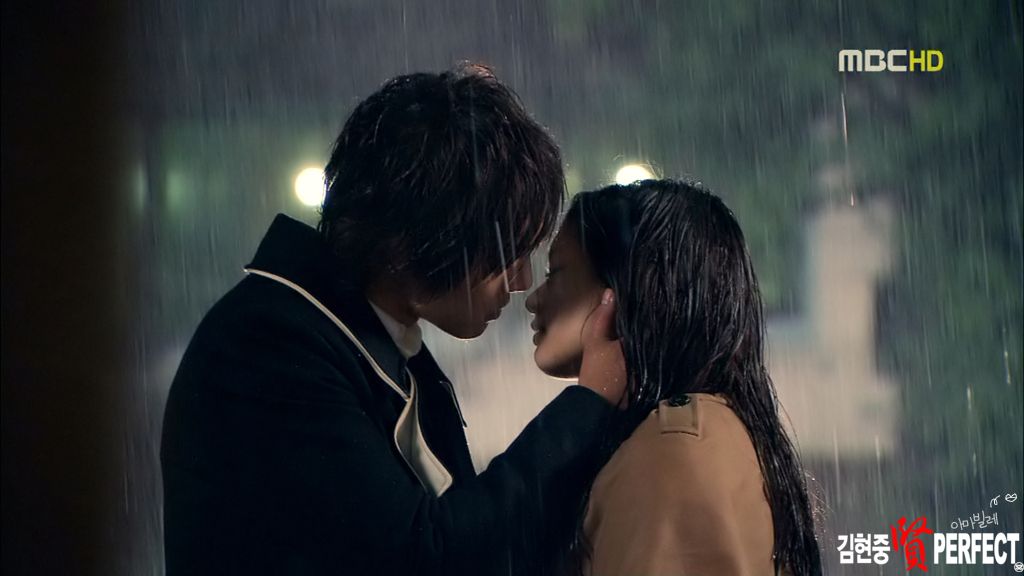 Ha Ni wonders where Seung Jo got this confidence all of a sudden. But she concedes that, yes, the man she likes is and always has been Seung Jo. But she can't continue this anymore. Seung Jo doesn't even spare her a passing glance. At which point Seung Jo lets go of the umbrella, and grabs her face for a real kiss. Not some weak lip press, but a real heated kiss.
When Seung Jo ends the kiss, he once again tells her that she can only like him (second warning, Seung Jo, cut it out with the demanding statements, dude). Ha Ni is in a daze and agrees, noting that this is their second kiss. Seung Jo corrects her by saying it's their third kiss, but then pulls her in for a hug, telling her that it doesn't matter anymore.
Thoughts of Mine:
With the anticipation so incredibly high for episode 13, there is no well in hell the episode would be as good as our feverish daydreams have conjured. Regardless, I tried my best to enjoy the episode as is, with as little expectation clouding my judgment as I could muster. As such, it really did provide the satisfaction I was looking for as a viewer – like my emotional investment in PK finally paying off in the same way Ha Ni's unwavering love for Seung Jo finally paid off as well.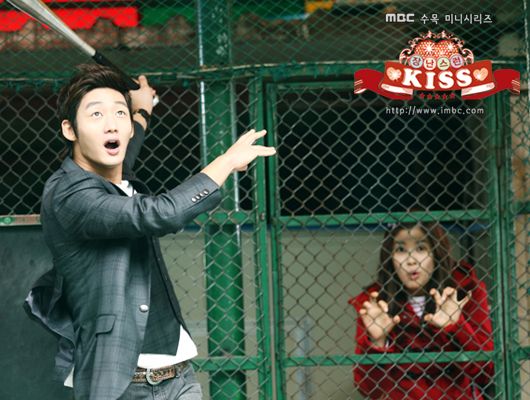 To my surprise, my favorite scene in this episode was actually NOT the rain kiss. It was Joon Gu's date with Ha Ni. The sheer joy the boy exhibited, the simplicity and ordinariness of the date underscores exactly how momentous this occasion was for Joon Gu. It made me tear up actually. Because as much as Ha Ni's love for Seung Jo feels one-sided, it isn't because Seung Jo the robot merely could not and/or would not process the knowledge that he loves her back without it short-circuiting his wires.
Conversely, Ha Ni really doesn't love Joon Gu back, and has not done anything (up until now) to give Joon Gu the hope that he had a chance with her. So Joon Gu really carries the most emotionally heavy torch in PK. I was happy to see him have his dream date with Ha Ni become a reality, I was also ready for him to request that Ha Ni make a choice. Him or Seung Jo. If Ha Ni doesn't do so, Joon Gu can never move on. And I know he'll be a perfect guy for some lucky girl out there.
The confession in the rain was nowhere near as powerful or electric as ISWAK, but that's okay. PK has always had its own style, and it suits this story to have it be more tender and quiet. I'm upset the PD cut away to the umbrella mid-kiss, but then the PD's shot selections and editing in this drama has been all over the place so I should be happy the kiss lasted as long as it did.
While some may worry that this confession and confirmation of their mutual love for each other would render the last three episodes of PK devoid of conflict and challenges, I'm pretty sure that won't be the case. I actually enjoy the lighthearted moments in PK more, and am eager to put Hye Ra and Joon Gu behind us and enjoy Seung Jo and Ha Ni's shenanigans as couple.
I'm hoping Hye Ra retains her spirit and pride when she gets rejected by Seung Jo, because devious and destructive tactics are really not her style. I like her confidence, and she of all people notices each time that Seung Jo is around Ha Ni, the atmosphere and his attitude changes. She's not stupid, she hopes she can get Seung Jo to fall for her by dating. With that in mind, my hope is that when she realizes he is in love with Ha Ni, she will gracefully bow out.
As for Joon Gu, the boy needs a really good cry, and then a good pat on the back for loving a woman for so long and with so much devotion. Someday a worthy woman will come along who will love him back. Ha Ni is unfortunately Seung Jo's burden to bear, and Seung Jo is fortunately Ha Ni's baggage to carry. Frankly, both Hye Ra and Joon Gu should count their blessings they got out while they can. Let Seung Jo and Ha Ni drive each other crazy – with love, with fights, with laughter, with tears.
A Subjective View of Noah's Snail:
Women may tout the feminist horn, and bemoan the example set by Ha Ni that she would dare to center her life's ambitions around what the guy she likes ends up doing. But they are missing two crucial elements that temper my gut reaction to reach into the screen to shake some sense into Ha Ni.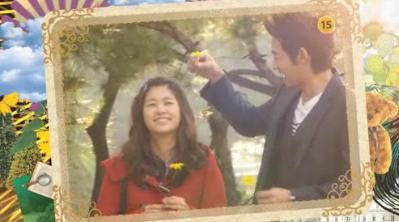 For one thing, Ha Ni is only nineteen. How many people know what they want to do in life at that age, and end up achieving the goal set at so young an age? Along the same vein, Seung Jo is pretty clueless about his own life's goals. But he gets a pass because he's a genius, and because ultimately he picks a rather honorable profession as decreed by society, a doctor. Ha Ni gets raked through the coals, and I find that rather hypocritical.
The second point is that Ha Ni does have a goal at this juncture in her life, her goal is to love Seung Jo. To cast aspersions on this goal is a purely judgment call. We as a society no longer subscribe to love as a honorable goal – because we understand that love is fleeting, divorces are a dime a dozen, and love cannot sustain us in the long run. Love does not buy bread, right?
We reject "loving someone" as an admirable calling because the harsh realities of experience show us that loving someone usually ends up with a person heartbroken, with three kids, fighting for alimony and child support, bitter at the world, etc. Yet "loving someone" is indeed as valid a goal as aspiring to be an astronaut, working to become a teacher, training to become a doctor.
I find that choosing to love someone as one's lifelong ambition takes more guts than deciding to be a lawyer because you are smart and can argue very well. Ha Ni knows the pitfalls of loving Seung Jo, of doing everything to conform to Seung Jo. And yet she is both naïve and idealistic, and willing to take the chance. Perhaps when she is 24, she will look around and realize that she wants to pursue other interests. And that would be fine. It is presumptuous to find Ha Ni's current dream pitiful or mockworthy.
If we were to cast stones at her, it strikes me as rather judgmental and sexist. If a young man made it his life's goal to love a woman and cater to her every need and support her, we'd likely crown him boyfriend of the year award. By saying that Ha Ni needs a professional and career goal in order to validate her existence as a woman or as a person, that strikes me as narrowly construing a person's value system. To look down on Ha Ni because she values Seung Jo, and not valuing becoming a doctor, lawyer, artist, etc., presupposes that only selecting a profession is an admirable goal to have.
It is not. I knew what I wanted to be my entire life. I accomplished my goal in record time, never once slacking off or making a false step. I am happy with my path in life, because that suits my personality. But others have different trajectories, different timelines, different pursuits of happiness. Their pursuit is no less valid than mine. What I find admirable is having dedication, determination, and perseverance – and Ha Ni has all three. She just elects to use it on Seung Jo, rather than an inanimate goal like professional accomplishment.
While I hope that one day, preferably soon, she also finds a career path in life that she loves, in addition to a happy relationship with Seung Jo, I'm not casting any aspersions on Ha Ni's speech in episode 12. If Ha Ni were 29 and still thinking this way, then whatever respect I have for her goes promptly down the toilet. I think Seung Jo sees it the same way, as he actually quietly accepted that her goals were valid, however silly and youthful they were.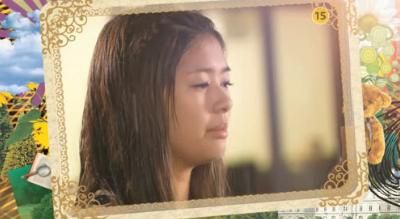 To tie in Ha Ni's intellectual maturation, we have to look at this girl like she really is Noah's Snail. It may take her longer to learn something, longer to figure out a professional goal, longer to realize that she can have her own identity and interests outside of Seung Jo, but I have complete faith she will get there.
As time passes, I find myself mellowing out more, willing to accept alternate points of view and life styles. I don't find Ha Ni annoying me as much as Xiang Qin did in ISWAK, so I cut her more slack. Don't get me wrong, Ha Ni really is the antithesis of my real life personality, but that's why it amuses me to no end to watch her grow.
[Credit: screencaps and stills from MBC official releases, Baidu, and DC Playful Kiss forum]