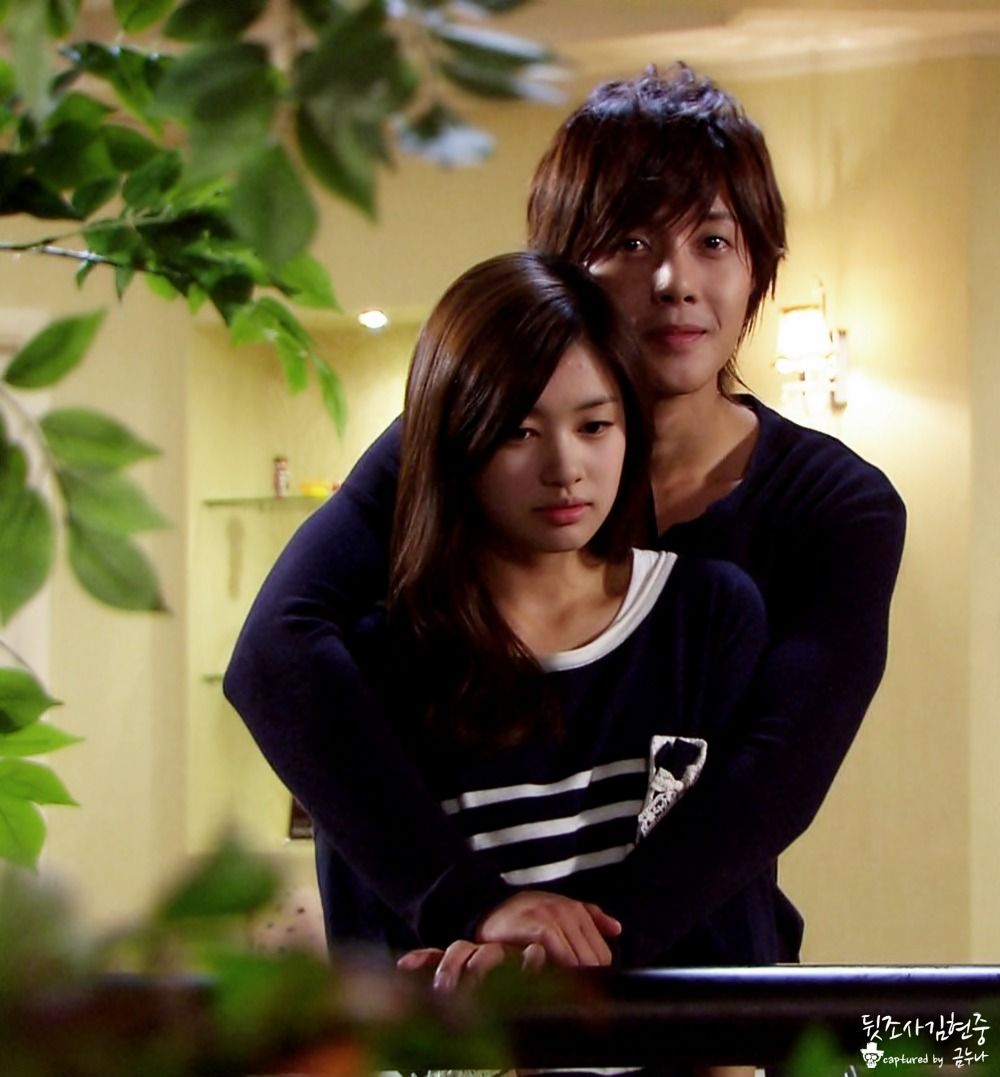 Episode 14 of Playful Kiss (Mischievous Kiss) was a soft landing for everyone involved, be it the participants of that rainy kiss or us viewers. There were heady emotional moments, quiet heartfelt embraces, and plenty of professional development from everyone involved.
Ha Ni annoyed me for a split second before she regained proper use of her brain and finally womaned up and did something without Seung Jo. This episode also showed that, while Joon Gu would treat Ha Ni like a goddess for the rest of her life, perhaps she needs to be with someone who treats her like a human being, for the good and the bad.
Seung Jo as a boyfriend isn't bad overall, but his patience and understanding of Ha Ni convinces me that he's the best fit for her. I already know that Ha Ni is the best fit for him, but now I buy into the coupling both ways.
I finally realized why PK may be so polarizing amongst the viewers. It is quite possible that the character of Ha Ni strikes a raw nerve – liking or not liking her choices in life appear to subconsciously trigger our own validation of our lives. Depending on our own personal values and code of conduct, as well as our age, Ha Ni is either a negative depiction of a young girl struggling with her pursuit of love, or a positive example of a person persevering through all odds to achieve the most ordinary of goals.
So with that in mind, let's all agree to disagree and allow everyone to have their own interpretation and evaluation of Ha Ni, Seung Jo, and PK in general. Whether stand alone or vis-à-vis the other adaptations of Itazura na Kiss.
Episode 14 recap:
The PD appears to know that he has a good thing on his hands, because the episode starts off a repeat of the rain scene, with some edits to sequence in various places. Nothing terribly exciting changes, except the editing monkey was locked back in his cage, because this time the rain kiss doesn't cut away to the umbrella resting on the ground.
Finally, we get to watch the kiss unobstructed, and it's lovely in its poignant way. It's conveying both Seung Jo's heat-of-the-moment expression of his feelings, as well as a softness that matches well with his tendency to remain dispassionate about everything.
Back at the house of Baek, the parents are discussing their living arrangements. Ha Ni's dad has clearly delivered the news that they are moving out yet again. While Seung Jo's parents try to persuade him to stay, Ha Ni's dad is firm that he's not comfortable with the situation.
Ha Ni and Seung Jo return to the house drenched, to the shock of all the living room denizens. They are about to go upstairs to change when Eun Jo blurts out to Seung Jo that Ha Ni is moving out. This stops Seung Jo in his tracks. He laces his fingers through Ha Ni's, and announces he has something to say.
He states his intention to marry Ha Ni, in his usual monotone Seung Jo-no-compute-voice-gradations sort of way. Rather at odds with the emotional heft of the announcement, but whatever, everyone else registers the proper amount of shock and amazement. They won't get married right away, and will wait until after they finish college and the gaming company is back on stable financial ground. Seung Jo finishes his speech requesting permission from Ha Ni's father, again in the same tone like he's ordering a cheeseburger at a drive through. I love you, Seung Jo, but please up the intensity a teensy weensy bit.
Everyone is taken aback, and Ha Ni's dad asks if he is serious. Ha Ni's dad reminds Seung Jo of all of Ha Ni's shortcomings – she isn't very accomplished, isn't very smart, isn't a very good cook. After each insult of Ha Ni, Seung Jo merely answers with a smile that he knows. Why no one is warning Ha Ni she is marrying a robot boy? Ah right, because she knows as well.
Ha Ni's dad continues that while she has many inadequacies, she's got a bright personality and a forthcoming nature. Once Ha Ni decides on her path in life, she will unwaveringly continue down that road. Ha Ni is adorable in her own way, and Seung Jo once more smilingly concurs. That's the power of love, I suppose, the ability to love someone not because they have loveable traits, but because your heart has found its home.
With tears welling up, Ha Ni's dad concludes that since Ha Ni has always loved Seung Jo, he has no objections to this union. With his consent, Mom is beyond ecstatic, jumping up to hug Ha Ni, telling Seung Jo what's with his uber-cool behavior. Everyone is thrilled, and party-pooper Eun Jo sighs and mutters that he knew this would happen all along.
After they shower and change, Ha Ni is standing on the balcony when Seung Jo walks over. He remarks that the rain has stopped, leading Ha Ni to add that after the rain is when the sun seems even sunnier. Seung Jo tells Ha Ni he's off to bed, and she turns and grabs his arm gently. He wonders what she wants, and she shakes her head with a grin, and a little girl worry that Seung Jo may wake up tomorrow and revert to cold indifferent Seung Jo. Good point, Ha Ni. Genius boy robots are notoriously glitchy.
Seung Jo asks her whether she's asking to sleep together tonight, to keep on eye on him, of course. She quickly demurs, and then he envelopes her in a back hug that just warms my cockles. That boy is sure making up for years of affectionless existence, what with the kiss, the handholding, and now the back hug, all in the same night. Ha Ni turns around and hugs him back, both of them remarking that they never thought this would happen, Seung Jo liking Ha Ni back. Mom is watching and recording this entire encounter from the staircase, with Eun Jo the perpetual sourpuss in tow.
Joon Gu is sitting alone at the restaurant, sighing over the events of the night and angry at himself for scaring Ha Ni away with his amorous advance. Seung Jo and Ha Ni are sitting in their respective rooms, looking out the window at the same time. The camera frames them the same way it did in episode 3, except the emotional gulf between them is no longer wider than the Pacific Ocean, but more like a hairsbreadth.
Seung Jo overhears Ha Ni sighing, and asks whether she's going to sleep. She slinks away, but her happiness radiates from her very pores. It's so utterly relatable, when the person you like reciprocates the affection, it generates pure 100% undiluted joy. Seung Jo breaks into a mile-wide grin himself, looking for all the world like a man who has taken a herculean load off his shoulders and is feeling light as a kite for the first time in forever.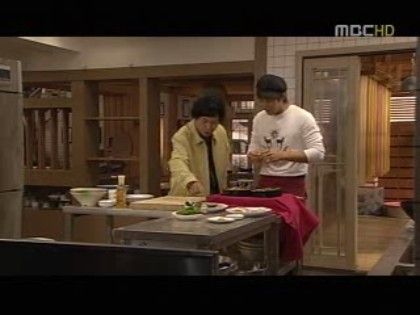 Joon Gu makes a delicious meal intended as his apology to Ha Ni. Her dad comes back to the restaurant and tries the food. His face falls a tad when he hears that the lunch box is intended for Ha Ni, and that Joon Gu went so far as to create food that are play-on words of their names.
Ha Ni tells her friends about the breakthrough in her relationship with Seung Jo. She really needs to thank these two busybodies for it, frankly. They congratulate her, one of them even saying Ha Ni is her personal idol for accomplishing something after four long years of sticking to it. They wonder what's going to happen with Joon Gu, and Ha Ni says that she will talk to Joon Gu, and Seung Jo will be talking with Hye Ra.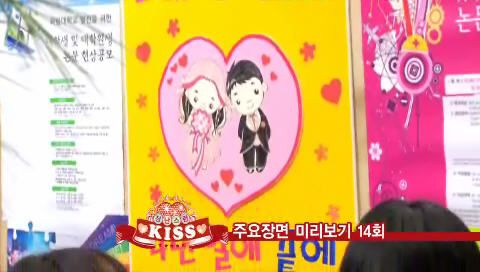 Joon Gu comes to school with his apology lunchbox for Ha Ni, and sees a new sign put up by Mom announcing Ha Ni and Seung Jo's impending marriage. Seung Jo goes to end things with Hye Ra, who confesses that this foregone conclusion has come faster than she expected. She knew Seung Jo would figure out what his heart wanted.
Seung Jo wonders how Hye Ra knew, and she responds that Seung Jo's mom has always known, hasn't she? To Seung Jo, Ha Ni has been around too long, like a problem he couldn't solve. And perhaps he simply refused to solve it, and find a solution he wasn't ready to accept. Seung Jo notes that Hye Ra really does know him very well.
Hye Ra asks if Seung Jo still feels tired now. Seung Jo doesn't feel tired anymore. He was tired because he was struggling and fighting against what was there. Once he gave up and just gave into his feelings for Ha Ni, it feels like all the weight has been lifted. He smiles and says that it's actually quite fun now. Hye Ra tells him that he's here to apologize, so he shouldn't be crowing about his newfounded happiness.
Seung Jo agrees, and delivers a sincere and official apology to Hye Ra. He tells her that he wasn't jerking her around, he seriously thought they were very compatible. It was comfortable being with Hye Ra, who knows that he was running from Ha Ni and chose to be with her. Seung Jo apologizes, to which Hye Ra tsks him for being too candid even about this. She tells him she's not able to pretend she's fine with it. When Seung Jo's face freezes at the thought that he hurt Hye Ra a lot, she jokingly defuses the situation by saying she's just kidding.
She stands up and offers him a handshake and felicitations on his upcoming marriage. He says that its yet early for marriage, so Hye Ra says it an early congratulations then. When they shake hands, she notes how warm it feels, especially since she needs to shake him off her life now. Seung Jo tells her that she really is a great woman.
I've never really disliked Hye Ra, much as I joke about sucking out her brains. She merely represented the other woman, which we viewers are wired to dislike. But from the beginning until the end, she was a great friend to Seung Jo, and an honorable rival to Ha Ni. A salut to you, Hye Ra. You never had a chance, you knew it, but you still went for it without becoming a crazy psycho bitch. For that, I applaud you.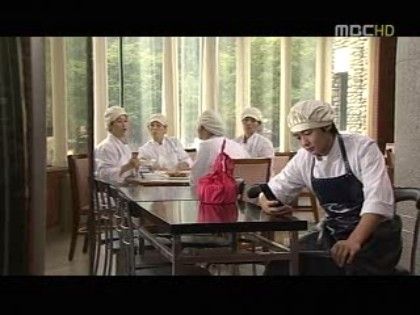 Joon Gu sits in the cafeteria depressed about the sudden announcement of Ha Ni's marriage, and not to him. He looks at Ha Ni's picture on his cellphone, and gives his specially-made lunch box to the cafeteria ahjummas to eat. The ahjummas inhale the food, proclaiming that it's the most delicious meal ever. They tell him he can sell this lunch box and should go into business. Joon Gu has zero interest, only murmuring about whether Ha Ni has eaten yet. Oh Joon Gu, can you stop sporking my heart? I kinda need it functional.
Ha Ni calls Joon Gu, who sees the caller but elects not to answer because he knows what message is about to be delivered. Hye Ra is playing tennis as a way to distract herself after getting dumped. She flashes back to her time with Seung Jo, however brief and inconsequential in the scheme of things. Tennis sunbae watches her over-exerting herself on the court, and he goes to buy a beverage for her from the mini-mart. She tries to open the can and accidentally jerks the tab off. Tennis sunbae tries to comfort her, and she ends up crying on his shoulders.
Joon Gu is releasing fireworks at the bank of the Han River. He hums the song that he sang for Ha Ni at the graduation party, about how she is his life's direction. Ha Ni goes to the restaurant to talk to him. Joon Gu tries to act like everything is normal with his smiling attitude, but he asks Ha Ni to go home today since he's too busy to talk.
Seung Jo unexpectedly arrives at the restaurant and walks up to Joon Gu. He tells Joon Gu to talk with him, to which Joon Gu replies that they have nothing to talk about. Seung Jo just tells Joon Gu right there that he likes Ha Ni. While they don't need Joon Gu's consent to date, they still want to tell him otherwise Ha Ni will feel remorse and guilt. Seung Jo asks Joon Gu to stop liking Ha Ni. If Joon Gu stops, then everything will be fine.
Joon Gu tells Seung Jo that he has liked Ha Ni for four years, what's this nonsense about letting her go. Ha Ni interjects to apologize, and Joon Gu gently tells her she has nothing to apologize for. She apologizes again, and thanks him for everything he has done for her. He turns around and tells her that she sure doesn't have taste in men. If in the future she comes crying for him, he won't take her back, is that okay?
When Ha Ni doesn't respond, Joon Gu tells Seung Jo to be cognizant of that response. Clearly Ha Ni is not certain her future with Seung Jo would be free of tears. But Joon Gu tells Seung Jo, calling him by only his first name rather than his full name, that he will be keeping an eagle-eye on him. If he makes Ha Ni cry, Joon Gu will make Seung Jo bleed. Joon Gu's reaction to having his heart broken made me cry. I watch everything twice when recapping, and I cried both times during this scene.
Ha Ni's dad returns to the restaurant and sees the end of the exchange. Seung Jo walks to his car, and tells Ha Ni to get in. He really doesn't open the door for her, heh. By the way, I hate door opening gestures. Unless I am in a cast, I have hands and I will use them. Ha Ni's dad and Joon Gu talk, and Joon Gu confesses that he really wanted to refer to Ha Ni's dad as his father-in-law.
Seung Jo's dad tries to reason with Chairman Yoon that Seung Jo can't marry his granddaughter. Gramps is a turd and says that he has stipulations when he agreed to invest in the company. Since Seung Jo won't be prostituting his entire life away to Hye Ra, then no ring, no bling, the investment is off. Seung Jo's dad tells gramps that the game is almost complete, and that gramps had expressed approval of the project.
Gramps concedes he's not a professional and is willing to allow his personal feelings to dictate his actions. Seung Jo arrives at that moment, telling gramps he's not here to apologize. He has already spoken with Hye Ra, and today he's here for purely business matters. Seung Jo says he won't apologize, especially since Hye Ra would be cast as a victim, and that would not be her style. Gramps likes Seung Jo's honesty, and agrees to invest again.
Back at home, Seung Jo's dad compliments his son's forthright methods, and thanks him for guiding the company while he was sick. Now he wants Seung Jo to pick a major, and return to the pursuit of medicine. Seung Jo worries that the game isn't a success yet, but his dad confidently says that he can handle the game launch, and run the company at least for the next 20 years. Eun Jo pipes up that afterwards, he can be his dad's successor, since he's better at gaming than Seung Jo is anyways.
One of Ha Ni's friends is writing an internet story loosely based on their lives, while the beauty salon friend is working hard at getting her license. Ha Ni announces that she wants to find a part-time job as well.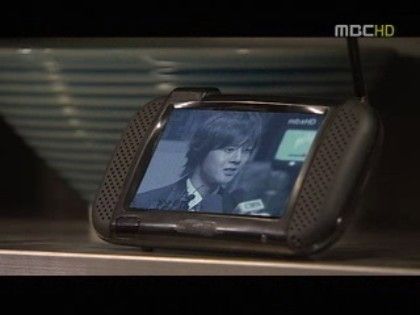 The company's new game is a success, and Seung Jo is interviewed on TV about the launch. Hye Ra and gramps are happy for him, but she still feels a twinge of sadness when she sees Seung Jo. Joon Gu is washing dishes at the restaurant and watching the news coverage of Seung Jo's game launch. He talks to the TV, telling Seung Jo he did a good job. Because of Seung Jo, Joon Gu will also continue to work hard, and prove that he's just as good as Seung Jo.
The family, minus Seung Jo, are having dinner and discussing about how many people around them are working so hard – from Seung Jo's game then medical school, to Ha Ni's friend whose internet novel is a hit. Eun Jo throws a barb that Ha Ni is still the living in happyland type of college student. Ha Ni discovers, to her consternation but no one else's surprise, that she has failed her courses in college.
Seung Jo flatly tells her to retake the courses, and solve the problem herself. Ha Ni tells Seung Jo that maybe she isn't cut out for college, since she tried to study and can't seem to do it well. Seung Jo questions whether she wants to leave school so she can devote all her time to chasing after and fawning over him. Ha Ni says no, but has no response to Seung Jo's correct assessment that when everyone else was working their butts off studying, she was mooning after Seung Jo.
Seung Jo's point blank assessment of Ha Ni leaves her stewing. She says that everything comes so easy for him, he doesn't know how it feels to not be good at something. Seung Jo tells Ha Ni that having this attitude makes her lose her attractiveness. Ha Ni leaves the house in a huff. When Seung Jo asks where she could possibly go so late at night, she says maybe to see a guy. Seung Jo grins, and asks whether she has to courage to do so, to see Joon Gu or maybe tennis sunbae. He tells her to do whatever she wants.
Ha Ni goes out, thinking that all she wanted was some comfort and reassuring words from Seung Jo. Instead he kicks her when she's down. I think you need a kick in the butt, too, Ha Ni. But you're so adorable I'll make it a pinch in the behind to get you to focus on thinking over non-Seung Jo related matters now.
Mom chastises Seung Jo for taking a heavy-handed approach with Ha Ni. Seung Jo disagrees, saying he purposely wanted to rub it in and make Ha Ni upset. She needs to use this opportunity to figure out her life. He says she's probably off to see her friends. He wants her to take time away from him for herself. Mom has no response to this, because Seung Jo is right, as always, with stuff like this.
Ha Ni goes drinking with her girlfriends. As she's headed back to their place to crash for the night, she wonders if she should let Seung Jo know where she is. She concedes she was at fault tonight, what with telling Seung Jo she was off to hang out with another guy. In the morning, Ha Ni goes to school, and sees Seung Jo enjoying himself in the medicine department with other folks. Seeing Seung Jo not suffering over her leaving the house turns Ha Ni into a 3 year old. She vows not to go back home.
The only people worried about Ha Ni are the parents, who tell Seung Jo to go bring her back. Everyone agrees that she's being the unreasonable and immature one, but Mom wants to give Ha Ni an excuse to come back home, pride intact. Ha Ni's friend encourages her to go back home, but that girl still has her goat up and wanders around the city at night.
Seung Jo checks his phone, and when Mom wants to go out to look for her, he stops her. He admits that he's worried about her, but since she's gone so far in running away, he wants her to resolve the situation herself. A chance for her to grow up a bit more. Ha Ni has indeed come to the realization she's never put any thought into herself or her future. She resolves not to go home until she has changed, and made herself a woman well-matched to Seung Jo.
Ha Ni sees a help-wanted ad at a restaurant, and applies to work there. Her friends are talking about Ha Ni's decision to work and likely to quit school, when Seung Jo overhears the conversation. Ha Ni is delivering food and runs into Hye Ra outside a bookstore. Hye Ra stops her and asks what she's up to. Ha Ni has heard that Hye Ra is in the pre-law major, and will be taking the bar exam in the future. Hye Ra notes that unless one is Baek Seung Jo, the chances of passing on the first try is slim to none.
Hye Ra notes that even a genius has to work, and getting first place is never an easy thing. No one really knows how hard Seung Jo works. Suddenly bitchy Hye Ra makes an appearance as she tells Ha Ni that food doesn't fall from the sky, and one needs to earn it.
She asks what Ha Ni wants to do with her life, since she's not good at studying. Perhaps she wants to be a full time housewife? Hye Ra smirks at the platter Ha Ni is carrying and tells her that it looks good accompanying her. Then she flounces off to study. I've come to realize that Hye Ra is naturally bitchy as Seung Jo is naturally cold, end of story.
Seung Jo comes to Ha Ni's workplace to find her. He pretends to be a customer and when Ha Ni brings him an order, he complains that it doesn't taste good. When Ha Ni realizes that Seung Jo is right there, he says that he was told by her friends there was a restaurant serving good food. So where's the delicious food?
They move the conversation outside, and Ha Ni confesses that she's thought about how immature she has been during their time apart. She constantly torments Seung Jo with her willfull ways, and she always thinks about her own wants. When Seung Jo asks what she's decided – Ha Ni announces that she wants to help Seung Jo, she will become a nurse.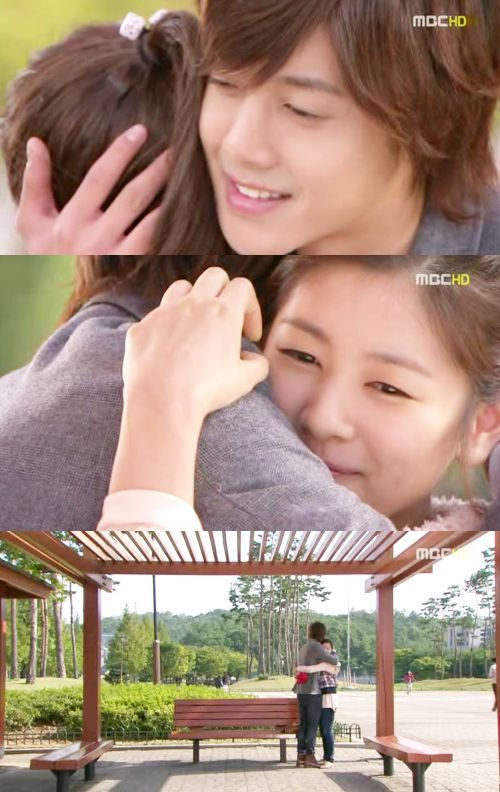 Seung Jo asks her if she put a lot of thought into it. When she says yes, he tells her to put a lot of effort into it. He hugs her and tells her to come home. Ha Ni agrees, confessing that she missed him so very much. Seung Jo responds that he knows how she feels.
Back at home, everyone is chitchatting around the table when Mom drops the bombshell. She wants everyone to clear their calendars for next Wednesday, because she has got a wedding ceremony of Seung Ho and Ha Ni planned. Oh Mom, jumping the gun doesn't even begin to describe you.
Thoughts of Mine:
I confess to really being moved by pretty much every major character in this episode. Hye Ra's grace in the face of being passed over for a girl with a quarter of her intelligence, looks, height, and wealth, was commendable and quite classy. Yes, she did let her inner bitch come out later with Ha Ni, but it's almost like the way Seung Jo uses to tease Ha Ni, Hye Ra can't help it around her.
This episode also marked the end of Joon Gu's devotion to Ha Ni. He'll probably not be able to fully move on until he finds his soulmate, but he still graciously bowed out and left a very credible warning to Seung Jo that he better treat Ha Ni well. Like I said in the recap, I actually cried during the scene where he tried so hard not to face the reality of Ha Ni being with Seung Jo, yet remaining ever so gallant in defeat.
When he told Ha Ni that she had nothing to apologize for, he was right, but I still hurt. Joon Gu has loved Ha Ni with the full realization that she loved Seung Jo. If anyone needed to be castigated for carrying an unrealistic love torch, it's actually Joon Gu and not Ha Ni. In many ways Joon Gu embodies the drama hero ethic. Regardless, in the PK-universe, there are no villains or heroes, no right and wrong, when it comes to love.
This is also the perfect time to talk about why and how Seung Jo loves Ha Ni. His love for Ha Ni is really hard to comprehend rationally, but emotionally packs a punch. He is loving a person who is comparatively quite unremarkable, who also drives him nutty with her brand of willful immaturity. Yet because he genuinely loves her, he puts up with her and tries to push her to mature and reach her own potential. He never gets short-tempered with her, or give up and let her loaf around.
In the same way Ha Ni's love for Seung Jo means that she continuously put up with his crap in the days before he confessed his feeling, now its Seung Jo's turn to be patient and persevere alongside Ha Ni. The tables have turned. I have no problems with Ha Ni deciding to be a nurse because Seung Jo wanted to become a doctor. It's not like she gave up her dreams for him. By being with each other, they have simply mutually chosen professions that are influenced by each other.
I don't find Ha Ni's career choice submissive or lacking. Being a nurse isn't easy, especially not for snail-brained Oh Ha Ni. It's an honorable profession, and one that requires empathy and dedication. As long as Ha Ni's impetus is not based on some sacrificial purpose, then I applaud her for reaching for a loftier goal than she normally would have.
Let me put it this way, being married isn't easy. You constantly have to balance not only what YOU want, but how that will factor into your marriage. For example, I WANT to run off to Korea and watch the PK finale with Kim Hyun Joong in a park. How that will factor into my marriage is that I will come home with the house locked and divorce papers in my car windshield. I kid, of course, but my example is merely to highlight that making decisions while taking into account how that will impact your life with the person you love is important for sustaining a relationship.
If my spouse was working as a doctor in London, and I decided I wanted to become a park ranger in Yellowstone, my marriage probably isn't going to last very long. Yes, why can't the guy pack up his practice and move with me to Yellowstone? Good point, but all my example is intended to highlight is that marriages need couples to mutually assess their life's goals not within a vacuum but also how it will affect the other person. And then make a decision together.
Ha Ni encouraged Seung Jo to become a doctor, she wants him to dedicate his considerable intelligence to helping people in medical need. She is not sacrificing anything for him to accomplish that career objective. With that in mind, since she's never really had her own career objective, finally she's put actual thought into it and decided that she wants to become a nurse. I'm fine with that. My only wish would be that should Ha Ni decided she doesn't want to be a nurse, she picks another profession she does want. Until then, she's taking positive steps forward.
PK is so very true-to-life and relatable, however positively or negatively, with most viewers. Watching the evolution of Ha Ni and Seung Jo's love story and life story was an enriching process for me. Like every K-drama addict, I, too, love dramas that are dramatic, that are larger-than-life, that are fantastical only in ways that can happen on TV. PK was my rare slice-of-life drama, that gave me insights into my own youthful follies, dreams long gone by, and loves that shaped who I am today.
PK is winding down to a sure to be sweet and satisfying conclusion next week. Whether Mom does get them married right now, or we end the entire series at their wedding, I feel like I've not wasted a moment of my time with PK. While the execution of the technical aspects of the drama were underwhelming and merely okay at best, it didn't detract from my enjoyment because I was able to overlook the things that bothered me and find the nuggets of enjoyment in the heart of this story.
Jung So Min has a bright future ahead of her, and she's without a doubt the breakout star of this drama. Kim Hyun Joong acquitted himself admirably, but I feel like he still has a tendency to under-emote when more nuance is called for. But he's not a trained actor, so I acknowledge and appreciate his considerable improvement from his first acting gig. I now have faith that he is not a lost-acting cause, and will look forward to his next acting project with an open mind.
Both Lee Tae Sung and Lee Shi Young impressed and dazzled me with their performance, breathing so much depth and charm into their characters. Considering I barely spared a passing glance at previous iterations of said second leads, these two deserve kudos for a job well done. I'll be sad when PK ends next week. I hope we will all be satisfied with the last two episodes, and be able to raise a virtual cheer to the cast and crew making a drama that brought us, however few in Korea and many elsewhere, so much enjoyment.
[Credits: screencaps from Baidu Playful Kiss Bar, soompi.com, and as marked]