KBS released both the character descriptions and the written preview for epsiode one for the upcoming Mary Stayed Out All Night. Finally, we're given a glimpse at how this whole two fake marriages thing happened, as well as the possible love quadrangle going on here.
I like what I am reading – I am totally in the mood for a serious rom-com. I have a feeling that Mary will start out cute and quirky, and quickly get all romantic and emotional on us. Me likes. Let's start with the written preview for episode 1 of Mary.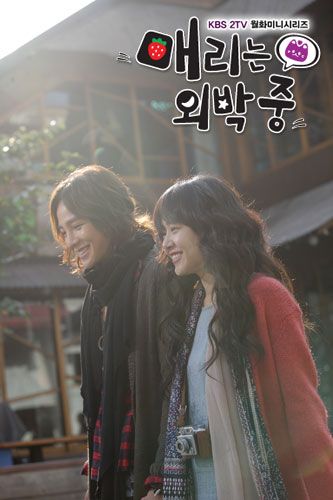 Written preview for episode 1:
A chameleon of a girl, with the vitality of the sun, Wie Mae Ri does not lose hope even when all the furniture in her house has been auctioned off. These types of situations is now commonplace to her, and she already hid all her valuables. She watches her favorite drama on TV and another days passes for this girl with hidden strength, Wie Mae Ri.
She take the job as a chauffer for a rich friend at college, and accidentally hits someone with the car. Because he is already late for a performance, Mu Gyul tells her its fine and walks away. Mae Ri runs after him to make sure he's really not injured, and catches Mu Gyul's performance with his band. They fight, and then get drunk, and do something they can't undo.
On the otherhand, the son of a Korean business man based in Japan, Jung In, is in Korea to produce a television program and is busier than he can imagine. Except his father's sole concern is getting his son married first. Jung In accepts his father's condition that he will provide the finacing for his television production if Jung In gets married. Jung In arrives in Korea, and discovers the actress Seo Jun.
Jung In's father visits Mae Ri's mother's final resting place to pay his respects, and run into Mae Ri's father who is escaping from loan sharks. He learns of the existence of Mae Ri, who looks just like her deceased mother. Jung In and Mae Ri's respective fathers agree to have their children married to each other.
When Mae Ri's ecstatic father comes home, he sees his innocent daughter Mae Ri with an unknown man in the same house. He is shocked beyond belief. Is Mae Ri living with Mu Gyul? And what happened between them last night?
Teaser Trailer for Mary Stayed Out All Night (I've translated the voiceover dialogue below):
[youtube=http://www.youtube.com/watch?v=jvpLoWz9RDo]
Mae Ri: I, a woman who has a husband, Wie Mae Ri, is here to see my groom's scars. Ah, isn't that the same hippie guy from before? He's a lead singer in an indie band. Because of a car accident, we got involved. He has no earning ability, yet he is surrounded by women. As a potential groom candidate, he's the pits. But he is a man who makes an emotional impression.
Mu Gyul: You, go home (pets Mae Ri on the head).
Mae Ri: But I already have another husband? (Mae Ri in a wedding gown holding hands with Mu Gyul and Jung In).
Character descriptions for Mary Stayed Out All Night: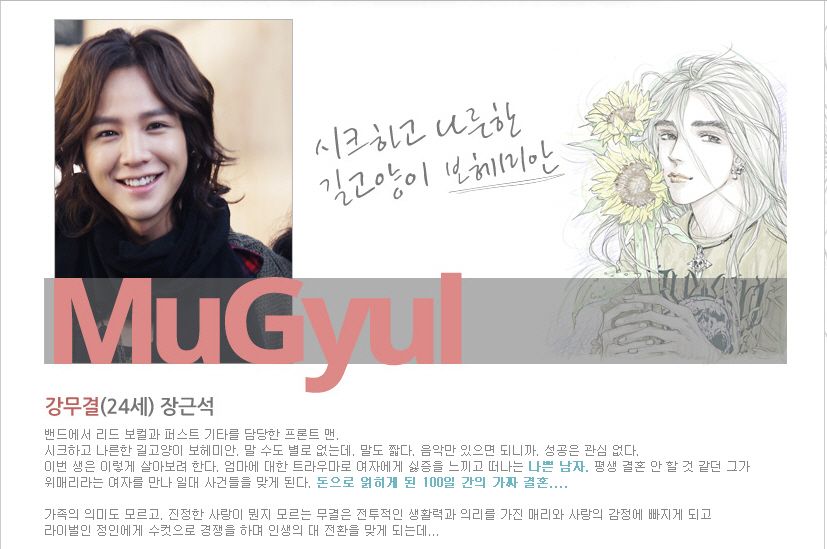 Mu Gyul: The lead vocalist and lead guitarist in a band. Beautiful and languid like a cat. Doesn't like to talk much, and when he does his answers can be short. Because all he needs is music. Successful or not isn't what matters to him.
This is how he wants to live his entire life. He dislikes women because of the emotional scars left by his mother. He's just a bad guy who escapes everything. A man who likely won't ever get married meets a girl named Wie Mae Ri, and from that moment on lots of things seem to happen. Turning into a situation where monetary conflicts result in a "100 day fake marriage"
A man who does not understand the purpose of a family, and doesn't know what true love is – he falls in love with Mae Ri, a girl with loyalty and devotion who struggles to survive like each day is a battle. He and his rival Jung In commence a battle between men. Facing a monumental change in his life.
Mae Ri/Mary: She has the vitality of the sun. She resembles her deceased mother….even though she is quite pretty, she has her father's explosive and irritable temper.
Because of a father who is prone to getting into scrapes, her life has been difficult. But, to Mae Ri, her father is the world best best father to her.
She is currently taking a leave of absence from school because she can't pay her tuition. She doesn't have any talents, so she does odd jobs to pay down the debt. Because of her dad's marriage scheme, she ends up taking fake wedding pictures with Mu Gyul. Resulting in her falling into two fake marriages…..
Jung In: He is the head (representative) of JI, the television music production company. He was born the son of a chaebol. Arrogant and carefree, a bona fide rich boy. The ideal for the ladies. He has the looks, the wealth, and the business acumen. The #1 most desirable husband material. He refuses to allow anyone to interfere in his orderly life, appearing cold to the outside world.
The perfect Jung In's only weakness – his father. To accede to his father's wishes, he must play the kind son. He begins a 100 day fake marriage without any emotional attachment. But then he begins to fall for Mae Ri. To achieve a musical dream, he finds Mu Gyul. On one hand, there is his legally wedded wife Mae Ri, on the other hand is his rival in love Mu Gyul. The three of them become intertwined together in love. At the same time Seo Jun gets involved in the mix and makes an already complicated relationship even more messy.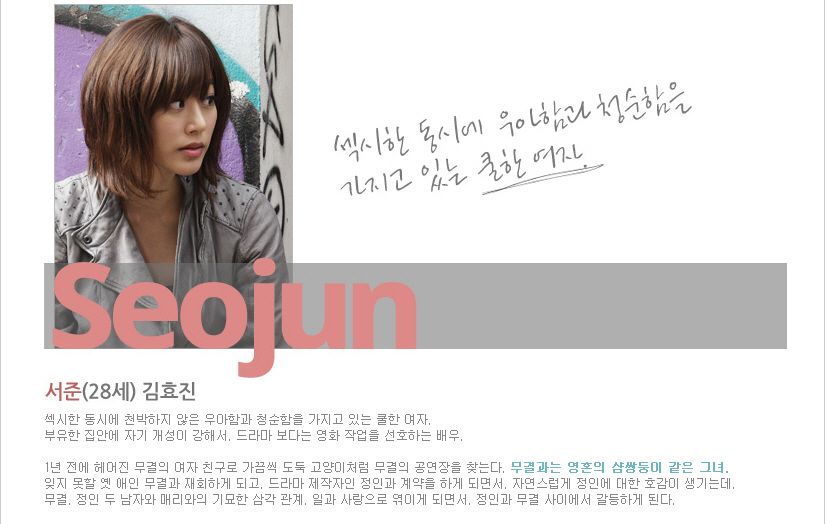 Seo Jun: She comes from a wealthy family, and has a strong personality. An actress who prefers making movies over television dramas.
She was the ex-girlfriend of Mu Gyul, from over a year ago. Sometimes she secretly goes to see Mu Gyul's performances. She has the same soul as Mu Gyul, and finally she meets up with him again. She signs a contract with television producer Jung In, and begins to have positive feelings about him. Between Mu Gyul and Jung In, she is torn.