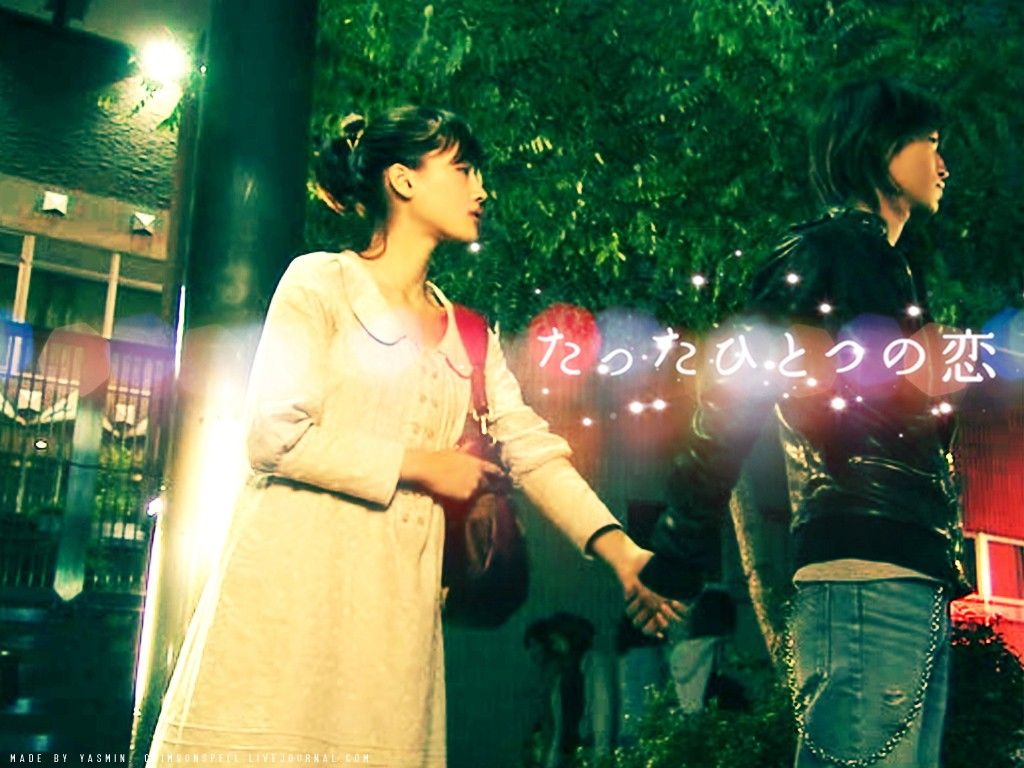 It's time for another installment of Pimp That Drama. The first post was months ago, when I pimped out Hotaru no Hikari, and in the interim I simply got swept up into a veritable tidal wave of love for a certain kissy kissy drama.
While I write formal reviews for Thundie, a PTD post is not a formal review inasmuch as it's a shout-out to a certain drama that I really liked and want to revisit. Today's recipient of my PTD love is none other than J-dorama Tatta Hitotsu no Koi (Just One Love). For those of who wondering why I replaced a picture of Kim Hyun Joong (in the previous post which topped this blog) with a scrawny elf-like dude, don't worry, looks aren't everything. Right, Kame (you know I secretly can't get enough of you or your KAT-TUN boys)?
Do you remember your first love? Likely it wasn't anything dramatic, meaningful, or all that memorable. It happened, and we moved on. Dramas have been gradually shying away from the first love concept, because its antiquated and mined-to-death. How many times can two innocent youngsters meet, fall in love for the first time, and have a soul-searing love affair.
Until Tatta Hitotsu no Koi (THnK) came along, I was of the belief that a honest-to-goodness pure love story wasn't possible anymore as a drama concept. The viewers appear to want exciting and unusual set-ups, outlandish and bombastic creations. I thought so myself, until I got a recommendation to check out THnK. I adore lead actress Ayase Haruka, one of the best young stars in her generation, and drop-dead gorgeous in a down-to-earth way. Lead actor Kamenishi Kazuya and I have a love-hate relationship – I love his acting (he's probably the best acting Johnny of the bunch and can hold his own even against non-idol actors), but I'm pretty turned-off by his looks. I called him elf-like earlier, I'll amend that to say that Kame looks like a very skinny troll to me. Gomen, Kame, you know you love it when I critique you.
Okay, so how can a skinny troll convince he is a believable romantic leading man against one of the reigning beauties of the J-scene? Why, by acting his pants off in a role so perfect for his brand of droll, could-care-less-but-secretly-angsty acting that I had to blink a few times to believe it. Yup, in THnK, Kame is a smoldering, rebellious, angsty, sexy leading man. So this is what people mean when they say a great actor makes you believe. You've made a believer out of me, Kame my boy.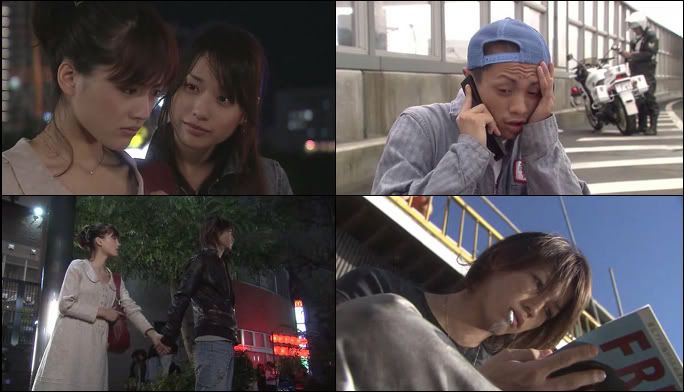 THnK is an old-fashioned love story, the timeless one that never ever gets forgotten. Kame plays Hiroto, a poor boy from the wrong side of the tracks who is the sole breadwinner for his messed-up family consisting of an alcoholic mom and a handicapped younger brother. Ayase plays Nao, the only daughter of a uber-rich family that owns a chain of jewelry stores, who is sheltered and innocently charming. Hiroto and Nao meet cute, then meet cute again, and then continue their keep-attraction-at-bay dance until their resolve melts under the tender and tentative moments of chancing upon a first love in each other.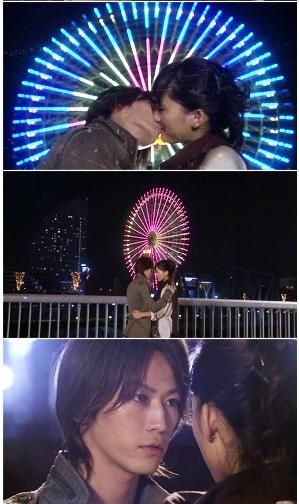 It's a credit to famed screenwriter Kitagawa Eriko that she crafts this seemingly trite love story in a way that feels fresh, moving, and believable. When you watch THnK, you're not bored thinking you've seen it before. You're captivated by this beautiful story regardless of its novelty, or lack thereof. Simply having good writing and great acting is not enough, and what glues together this story is the execution. If PK were directed by the dude who did THnK (who also directed Nobuta wo Produce), then PK may have been good enough to make it to my top-10 favorite dramas of all time list.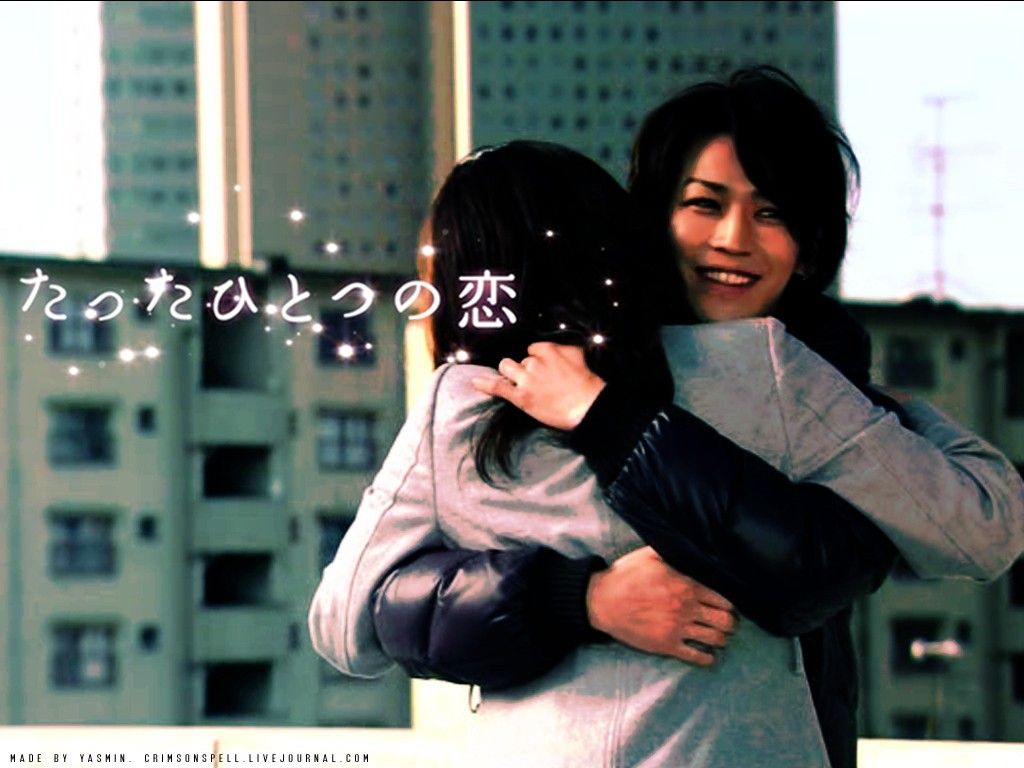 The camera swoops, swirls, and dances over Tokyo. Morning, afternoon, evening, the story moves the lovers through the locales and moments that bathe their relationship in the warm embrace of passing time. The soundtrack is exquisite, elevating each scene a notch, perfectly paired with the emotion and setting the mood. THnK is genuinely romantic – a throwback to a drama that makes us root for the simplicity of love without all the shackles of real life worries. Within moments of meeting Hiroto and Nao, they are instantly relatable as individuals, which makes their coupling something we care about.
I thoroughly enjoyed THnK, way more than I thought I would or could based on the concept of the drama and my previous experiences with the leading man.
Have a MV of the drama, set to one of its lyrical OST scores:
[youtube=http://www.youtube.com/watch?v=n7mw_IJ__vg]
What THnK has is a straightforward approach to presenting the love story between two young people. You get their disparate backgrounds, their interfering parents, their personal struggles and set-backs. But none of it feels mawkish or contrived, and even the side characters have a chance to breathe and feel like real people.
Will Hiroto and Nao get their happily ever after. Maybe? I cried a lot watching it, but I think I smiled much more. It's a love story that may not imprint itself on your heart when you finish, but it will linger on your periphery with its beautiful and elegant approach to sharing the experience of a first love.
[Edit: For a real review of THnK, and not my tourette's PTD version of a shout-out, please see my drama chingu/tomodachi Ender's Girl's eloquent and moving review of this lovely gem of a drama: http://endersgirrrl.wordpress.com/2010/06/13/drama-review-tatta-hitotsu-no-koi-just-one-love-ntv-2006/  *waves Orenji right back atcha, EG-babe!]