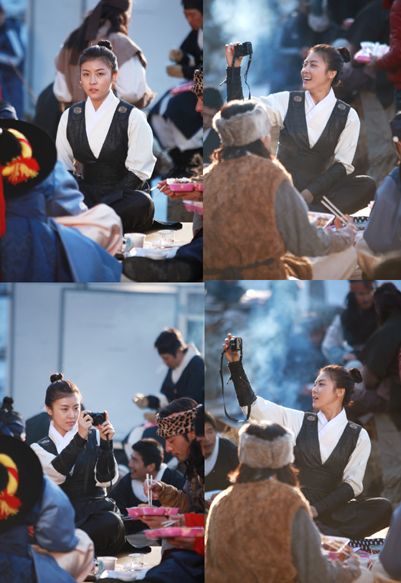 Calling all Damo Paeins (are you there, Ms. thunderbolt?). Do you have your Depends on? Are you sitting down? Do you have a weak consitution? Actually, if you are a Damo Paein – you have the opposite of a weak consitution, you are the strongest drama watcher out there. I salute you, since watching Damo made me so dehydrated by the end I could barely get out of bed. The tears, they taste so salty.
Kim Eun Sook is the Queen of the cameos, as she always gets very famous actors who've previously worked for her to cameo. In Secret Garden, we've already seen Song Yoon Ah and Lee Joon Hyuk show up, the former as herself, the latter as the asswipe movie star that broke up Seul and Oska. Kim Eun Sook is going meta-cameo on us next. Ha Ji Won's character in SG, Ra Im the stunt woman, will be cast as the stunt double for the character of Chae Ohk in the drama Damo.
Let's work this through again – Ha Ji Won, who plays Ra Im, who will be playing Chae Ohk, who was played by Ha Ji Won. My brain, it dies of laughter, happiness, and the chutzpah of Kim Eun Sook to bring back Ha Ji Won's career launching performance in such a fun way. See picture below for the original flavor Chae Ohk, reminding us all that Ha Ji Won has only gotten more beautiful and remained as youthful in the seven intervening years.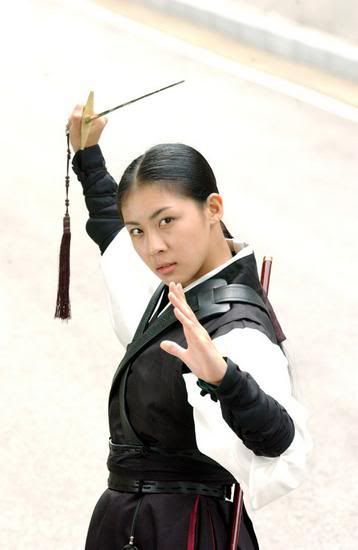 No news yet on whether Lee Seo Jin (Naeuri-ahhh!) or Kim Min Joon (Rebel Leader FTW!) will be cameoing as well. Both guys have worked with Kim Eun Sook before (Lee Seo Jin was the lead in Lovers as the lovelorn gangster, and Kim Min Joon was wasted as the second lead in Lovers in Prague), and both guys have fulfilled their Kim Eun Sook cameo quota by showing up in On Air, along with what appears to be half the Korean entertainment population.
Since episode 1 of SG, I've been talking about how Ra Im reminds me of a modern day Chae Ohk, except with unexpected girly tendencies. Chae Ohk's got the fortitude of an Ititarod lead dog, yet she remains all womanly and sexy as hell. We will see Ha Ji Won reprise her role as Chae Ohk in episode 10 of SG. I love Damo so much it's never leaving my top 10 list. The day I can't fit Damo in, I will expand it and make it my top 11 list so that it can remain as it so deserves. Anyone curious about Damo, I've written a review posted at Thundie's.
MV of Damo (song is from the Damo OST – A Song of Devotion):
[youtube=http://www.youtube.com/watch?v=uiVJy9DxdME]