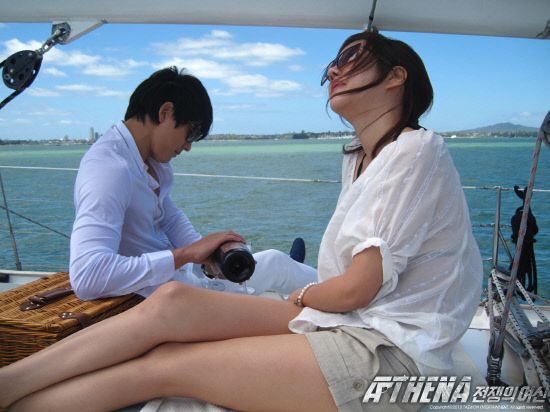 This is the second MV off the Athena OST, and it's also called I Love You (the first being Park Hyo Shin's song with the same name that was released back in August). They really are going to pound this into the ground, aren't they? I relented and watched this MV, but have been avoiding all the extended trailers for Athena this past week.
Athena had a snazzy premiere last night in Seoul at a movie theater, where apparently the invited guests and cast and crew watched 80 minutes of the drama on the big screen. Talk about a splashy drama launch.
On a side note: now that I've released my pent up frustration with respect to the Mary Stayed Out All Night episode 10 preview, I'm done with my bitching. I adore this drama despite all its shortcomings, and even if the storytelling takes a nose dive in quality I'm still happy to watch it and enjoy the things in it that I love. I only watch what makes me happy, and every M&M scene makes me HAPPY, so it's a win for me.
Speaking of wins – confund it, I love this MV and this song. Bring on the love story in the middle of a spy thriller – my Jung Woo Sung looks so damn fine I need someone to hold me upright lest I faint when I watch episode 1 of Athena on Monday.
Taeyeon's I Love You MV for Athena:
 [youtube=http://www.youtube.com/watch?v=U05rRWZH0JQ]
If the YT video doesn't play for you, you can watch it on Tudou: http://www.tudou.com/programs/view/JaegWw3yAAY/
Here's the song lyrics translation:
Is it passing away?
Is our love
A heartbreaking memory?
You are turning back
Is even tear not enough
To hold you back?
My Love~ I love you, I love you
Are you listening?
My Love~ Please don't forget
Please don't erase
Our love
Are my tears
Visible to you?
I long for you the whole day
Even the kiss
That made my heart beat faster
Seems to be memory now
My Love~ I love you, I love you
Are you listening?
My Love~ Please don't forget
Please don't erase
Our love
Everyday I love in longing
I live by longing
But where are you?
I'm so sorry
I'm sorry because I can't forget you
My Love~ Please come back
Don't leave
My side please
[Credit for English lyrics to SNSDlive at Youtube]