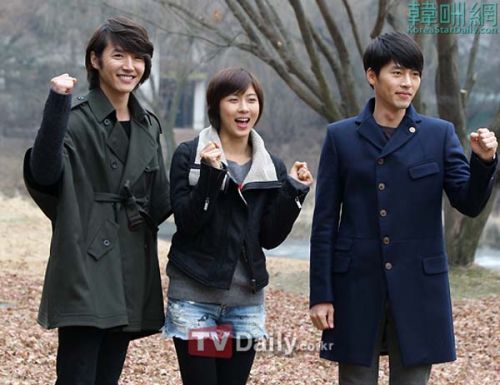 Timing really is everything. Even though Secret Garden and Mary Stayed Out All Night premiered the same week, in different and non-competing time slots, one arrived a few days before the other. Rather like calling dibs on my attention span, M3 parked itself in my conscious, occupying the space just vacated by Playful Kiss, and Secret Garden become the also-ran in my viewing repertoire.
I've enjoyed every episode of SG, even when I've had moments of boredom and doubt interspersed here and there. As a whole, SG has been an entertaining and interesting watch (and is infinitely more challenging and sophisticated a story and production than M3). However, it hasn't become an obsession of mine. Now that SG is about the hit the mid-way mark in its run, I can safely say that I'm rather glad I didn't become obsessed with it.
Because I have no fricking clue what the point of this drama is, Kim Eun Sook. Really, do you have a point, because all I see is a subversion of What Happened in Bali (which was itself a subversion of the classic K-Cinderella drama), without the third wheel. I think the biggest mistake was doing the body-switch without explaining the why behind it. I don't need an explanation of the how, but the purpose of the switch is integral to me in understanding the overarching meaning of your story. 
I'm one of the rare drama-watchers blogging today who actually like quite a few of Kim Eun Sook's works. Most others range from hate to disinterest, and it's her style that is so off-putting for many viewers. Even with respect to the dramas of hers I didn't like at all, I've never once thought Kim Eun Sook was doing a drama for the sake of showing off the talent involved. I've always found she had a story to tell, anchored by a clear vision.
Even if you don't like it, you can't accuse of her of being pointless. Until now. Unless SG gives me something, anything, concrete to munch on, it's veering close to retaining me as a viewer purely on my love for Ha Ji Won, Hyun Bin, and Yoon Sang Hyun, and my appreciation of the great chemistry these three as exhibiting in this drama. I want to love SG so very much, and so far I do like it, and I fear the day is coming that I will be bored with it.
Hopefully, episode 10 will be fun and substantively move the story forward. Right now, I feel like we are at the same place we were at in episode 1 – Ra Im and Joo Won literally haven't taken a real concrete step forward. Maybe this will do the trick. Presenting a spoiler picture of an upcoming kiss between Joo Won and Ra Im, their first proper kiss in their respective bodies.

Trailer for episode 10:
 [youtube=http://www.youtube.com/watch?v=WiZzgZwjCzw]