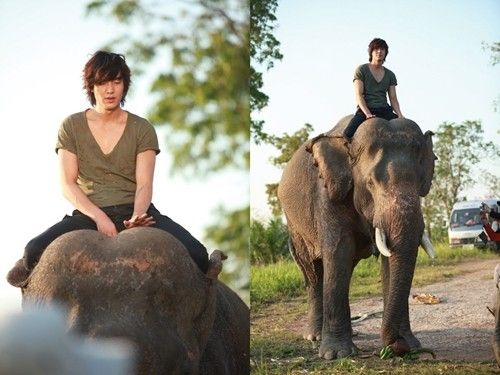 If you asked me to fantasize about an uber-delicious K-actor doing a particular activity in a drama that would make me swoon – Lee Min Ho riding an elephant in Thailand would NOT be on the list. In fact, said scene would be banned from my list, because it's just weird, not to mention totally random in the context of the original City Hunter that I know and love (talking about the manga here).
However, if that scene serves as important purpose for the City Hunter K-drama, then by all means put Lee Min Ho on an elephant. CH also released additional stills from Lee Min Ho's location shoot in Thailand, and the prevaling theme seems to be that his hair defies Thai humidity and he really loves that camo-green v-neck t-shirt.
The more stills from CH I see, it further belabors my point that the K-drama construct bears as much a resemblance to the original manga as the Wayan Brothers' Scary Movie shares with Hitchcock's Psycho. I read CH the manga live during the 90s, following it book by book for a good 9 years, hence my personal objection to randomly throwing a seemingly completely unrelated story and character elements at the screen and calling it CH.
If K-dramas ever remade Buffy the Vampire Slayer and set it in Seoul with Buffy being a hairstylist who is an animal whisperer, then I will officially have cracked my brain from the insanity. Stay away from BtVS, K-dramas. I'll give you CH, but don't overreach. Frankly, I would prefer you stayed away from the untouchable loves of my youth, period.